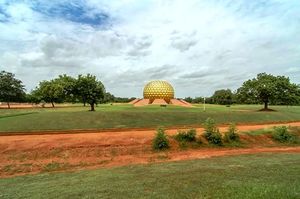 Things to do
staying places
Auroville Visitor's Centre
Very close to the Matrimandir, this was a place for everyone who is a part of mankind. This place was built by Rishi Aurobindo and the Mother as Auroville or the House of dawn. This place aims at removing the gap between all religions, castes and creeds and spread the message of humanity and mankind alike. Also, they had once aimed to get the perfect combination of the past and future also in terms of spiritualism so that they could serve mankind in a better. This is a huge place and serves as a place to stay fopr tourists who are immense search of peace.
Reviews of
Auroville Visitor's Centre
•
2
For my family and I, what made the trip the trip was definetly the food. Since we aren't really into medition or spas, the gastronomic journey was the highlight of our trip. The food was a delightful mix of French cuisine with Tamil flavours and vice-versa. It may sound strange at first, but trust me, you got to exeperience it to truly appreciate it's brilliance. I won't talk about every single meal here since this post would literally never end but two meals that definetly stood out for us were at Maison Perumal in the Indian Quarter and Tantos in Auroville. Maison Perumal, the sister property of Palais de Mahe specializes in authentic Chettinad cuisine. We ordered a portion of shrimp tossed sautéed with coriander, their classic fish curry with apams and prawns ground with spices served with rice. Though I don't remember the exact names of the dishes, till date the flavours are etched in my memory.
Attractions near
Auroville Visitor's Centre