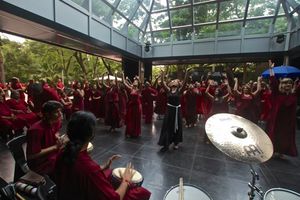 Best time to visit
June to September
Things to do
Have a coffee at Starbucks or visit the German Bakery.
Traveller Types
Couples, Friends
Rank
86 out of 246 attractions in Pune
Koregaon Park
To the south of the Mula-Mutha River in Pune lies a place called KP or Koregaon Park. This place is a city in Maharashtra and is quite a prestigious landmark in Pune. The place used to serve as a residential area but has now grown into a commercial market. A walk through the city allows one to view some magnificent bungalows and sprawling parks. The city is home to famous places like the Osho Ashram, Chabad House, Bund Garden and the German Bakery.People from all over the country pay a visit to this place that was rocked by a bomb blast on 13 February 2010. A number of high-end places like Starbucks and the O Hotel Group.
Places to stay near
Koregaon Park
Aerith Studios by bird of paradise
Reviews of
Koregaon Park
•
4
Attractions near
Koregaon Park