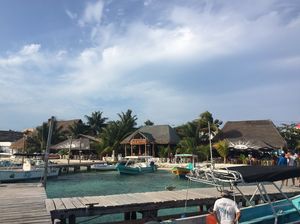 Places to stay near
Isla Mujeres
Mukta atma camping Isla Mujeres.
The Coco Palms Sunflower suite
Lovely and relaxing Studio
Bungalow tropical island paradise
Reviews of
Isla Mujeres
•
1
The first day involved a lot of alcohol so the next day we decided to diversify (but not much). We took a boat ride to the islands in the area, like Isla Mujeres. But this wasn't your typical boat ride. A so called "booze cruise", we could drink, dance and snorkel while exploring the area. There are a number of guides offering deals who you can contact: just be sure to negotiate in order to pull in all the best things possible. For instance, we got a private boat for the cruise despite paying the same price everyone else did for a shared boat. They also let us drive it around, so personalization and negotiation is key to a good budget spring break. My only regret from this day is that we didn't get to see Museo Subacuático de Arte, the aquatic museum.
Attractions near
Isla Mujeres