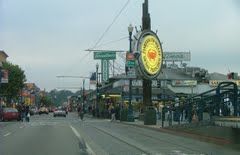 Traveller Types
Couples, Families
Rank
27 out of 487 attractions in San Francisco
Places to stay near
Fisherman's Wharf
InterContinental San Francisco
Galleria Park, a Joie de Vivre Hotel
Reviews of
Fisherman's Wharf
•
3
Pier 39 is a shopping center and popular tourist attraction built on a pier in San Francisco. At Pier 39, there were shops, restaurants, street performances, the Aquarium of the Bay, virtual 3D rides, and views of California sea lions hauled out on docks on Pier 39's marina. Fisherman's Wharf is the best place for families and kids.From the pier one can see Alcatraz, the Golden Gate Bridge, and the Bay Bridge.
It is one of the busiest and well known tourist attraction in the western U.S. where seafood restaurants are available in plenty.
Once I reached the much talked about Fisherman's Wharf, it was difficult for me to decide where to start exploring the hidden experiences of the City of Bay. Truly called a tourist spot, one day seemed just too short a period of time. From the extraordinary view of sea lions at Pier 39, to the world famous statues at Madame Tussaud's Wax Museum, were the kind of sights I got to see. While the food was mouthwatering, I couldn't resist from choosing my favourites in the world fmaous clam chowder, fried fish and the well-known San Francisco sour dough. And this was just the beginning of my tour at Fisherman's Wharf. Later came the international hotspot Musee Mechanique, 1980's arcade games and Ghirardelli Square.
Attractions near
Fisherman's Wharf