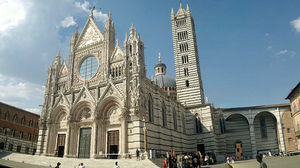 Places to stay near
The Duomo
Loft col del valle / udem
Room with own bathroom, safe zone
Charming penthouse with a view.
lindo departamento con cochera
Cuarto amplio con servicios
Reviews of
The Duomo
•
1
A magnificent black and white Italian Romanesque cathedral including the Libreria Piccolomini, Baptistery, and an attached Museo dell'Opera del Duomo. The construction of the cathedral began in the 12th century, but it was not finished until the 14th. Its bands of dark and light marble make it an unusually beautiful cathedral, and its western façade is richly decorated with statues. Inside, the floor of the cathedral is covered with 56 marble panels with figures from mythology and the Old Testament.
Attractions near
The Duomo