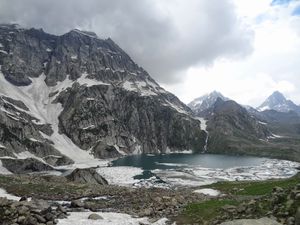 Rank
7 out of 11 attractions in Sonamarg
Reviews of
Gadsar Lake
•
3
Day 4 was to be a longer trek, we were to make our way through the Gadsar pass , past the Gadsar lake and then camp ahead of a army post.We started with walking past the Vishansar Lake, and then moving on towards the Kishansar lake.It was when we were moving ahead of Kishansar that I realised the magnitude of the Gadsar pass. I was instantly dismayed, while, to my chagrin , Prashant was delighted!
Along the trail of the lakes of Kashmir, lies another high altitude lake of India called Gadsar Lake or the Yemsar Lake. It is also known as the 'lake of flowers' owing to the blossoming flowers along the route during the summer season. The name Gadsar in Kashmiri means the lake of fishes. The lake is named so because of the abundance of trout fish here.
I was breathless and my heart was pounding fiercely. I couldn't believe that I made through this path.It was only on reaching the peak did I happen to see what lies beneath and I was taken aback by an exotic view of twin lakes Kishansar and Vishansar.
Attractions near
Gadsar Lake