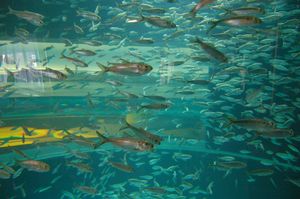 Traveller Types
Families, Couples
Rank
2 out of 438 attractions in Toronto
Ripley's Aquarium Of Canada
Places to stay near
Ripley's Aquarium Of Canada
Private Suite in Condo Downtown
PrivateRoom&Bathroom in Downtown
Bright Living in Trendiest 'Hood.
BrandNew☆3minUNION!Lake,ACC,CNTower
Cozy studio in heart of the city
Reviews of
Ripley's Aquarium Of Canada
•
1
I waited for so long for this to open! And then I waited for so long to visit, but finally I have! The Ripleys Aquarium of Canada, in Toronto, finally opened and it was so fantastic, I honestly wanted to love it, but I am not so sure I did. I would welcome opinions on this! The Ripleys Aquarium is a valuable tool to provide sensory understanding and knowledge to children and adults worldwide about the oceans of our World. The information and the feeling of being in the ocean is so worthwhile. In addition to the knowledge and understanding provided to the public, the Ripleys Aquarium has a fantastic understanding of conservation, they are so wonderful at helping to clean up the shores of Canada, and it is nice to feel like you are part of that.
Attractions near
Ripley's Aquarium Of Canada