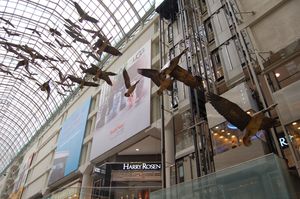 Traveller Types
Couples, Families, Friends, Solo
Rank
22 out of 438 attractions in Toronto
Places to stay near
Toronto Eaton Centre
Private Suite in Condo Downtown
PrivateRoom&Bathroom in Downtown
Bright Living in Trendiest 'Hood.
BrandNew☆3minUNION!Lake,ACC,CNTower
Cozy studio in heart of the city
Reviews of
Toronto Eaton Centre
•
1
Our first stop was The Eaton Centre. Shopping in Canada is still new to me, I don't go to malls very much, so I enjoyed going just as much as Kim - although neither of us bought much! I just like seeing what I could buy if I had the money and inclination! We walked every single floor, trying things on and being silly! We got pizza and watched the Olympic hockey on a big screen TV. The Eaton Centre is huge and has every kind of shop you could want (except Dollarama - my favourite store), whilst I was not exactly the last of the big spenders, I did make a few small purchases in Abercrombie and Fitch (in a sale) - Kim's favourite American store that I had not yet been introduced to! The other thing I liked was that there is a Topshop opposite The Eaton Centre with prices still written on in £'s. I felt right at home and it did make me realise just how confusing I find money and the value of money here. All in all, if you like shopping, it is definitely worth the trip but be prepared to spend hours in there!
Attractions near
Toronto Eaton Centre