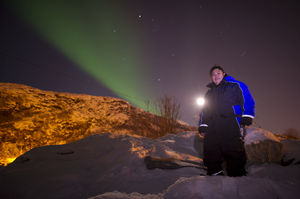 Places to stay near
Fjellheisen
Beautiful view in middle of Tromso
Beautiful house in the Arctic!
Welcome to my house on the island
Amazing View over Tromsø down town
Bed&waffles Cozy room with two bed
Reviews of
Fjellheisen
•
1
First morning look out of the hotel window and my boiler suit. It was a day trip to ride the cable car up to Fjellheisen. The tramway is particularly busy in the summer months, when it is popular with cruise-ship passengers wishing to get a good view of the midnight sun. In winters, the cable car operates from 12 pm till 10 pm if weather conditions are not too rough for comfort. Down when we came, by this time, the snow had come down hard, so we headed to Egon, the restaurant next to my hotel and had a discussion over the Aurora chase and the Fjord over lunch. Geologically speaking, a fjord is a long, narrow inlet with steep sides or cliffs, created by glacial erosion. Tromso is packed with culture and history and surrounded by mountains, fjords and islands. The weather was snowing light flurries, but eventually it really got heavy. But it was worth the ride to see the view and visit the various fjords.
Attractions near
Fjellheisen