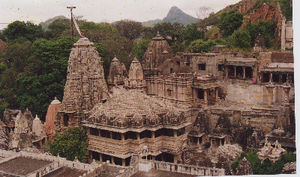 Best time to visit
When in Udaipur
Things to do
Pray, Explore
Eklingji & Nagda Temples
This 1200 year old temple is surely one of the things to do in Udaipur that you should add in your itinerary. It is believed that Eklingji is the official diety of all the Mewar Princely States. The entire temple is made from stones and the best part is that it is well-maintained and clean unlike a lot of other temples worldwide. Also, people who are driving from Udaipur to Jodhpur can easily explore the place because of its location. The actual temple god is God Shiva. It is going to take only 20-25 minutes in the vicinity for prayers and exploration. Do visit this place when in Udaipur.
Places to stay near
Eklingji & Nagda Temples
Hotel Hanuman Ghat & Cafe Helsinki
Reviews of
Eklingji & Nagda Temples
•
1
The Ekling Ji temple complex is said to be 1200 years old and Eklingji is believed to be the ruling deity of Mewar Princely State and the Ruler Maharana rules as his Dewan. The site has a complex of stone temples and is maintained very well.
Attractions near
Eklingji & Nagda Temples