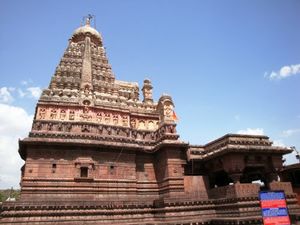 Grishneshwar Jyotirlinga Temple
It is one of the 12 and the last Jyotirlinga shrines stated in the Shiva Purana. It is located in the Verul village which is about 30kms from Aurangabad. It lies at a close proximity to the Ellora caves. The temple attracts alot of people and is made of red rock and is about 185ft tall and has alot fo statues of Indian Gods and Goddesses.
Reviews of
Grishneshwar Jyotirlinga Temple
•
2
Next destination was Grishneshwar Jyotirling which is 3.5 hrs drive(171) from Trimbakeshwar and is near Aurangabad.
"Blessed by VerulNagar, there is no other place like it on this earth, where Lord Grishneswara resides, the best palce on this earth." – Madhwamunishwar On this holy pilgrimage of the JyotirLingas of Lord Shankara, the last one, with out which the pilgrimage will not be considered as complete, is the twelfth JyotirLinga, of Grishneshwar. About 30 km towards the west side of Aurangabad, there is a village called Verul. In this village there is a place of pilgrimage called Shivalay, when the great Holy Trilinga of Ghrishneshwar is located. The stories associated with Verul, Shivalay and Ghrishneswar are like this: This was originally a settlement of the Naga tribes. The place of the Nagas is Bambi, which is known as "Varul" in Marathi "Varul" gradually changed into "Verul" and is known by this name only. River Yelaganga flows here. The name "Verul" is derived from Yelaganga, on whose banks the village is located. There was a king by the name "Yela" here. The capital of his kingdom was Yelapar, or Yelur or Verul.
Attractions near
Grishneshwar Jyotirlinga Temple