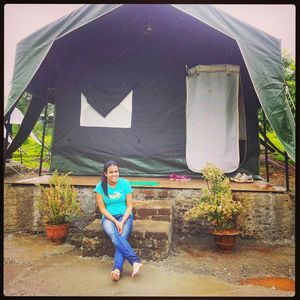 Things to do
Camping, holidays, picnics
Camp Temgarh
If holidaying in the regular resorts sounds too mainstream, try this off beat location in the rustic locales of Temgarh for an exotic vacation. This place has more of a camping feel with the tent like bungalows, tents and cottages. You can enjoy camping, bon fires and picnics out here. Barbeques and also be arranged for you on prior request. You can also play outdoor games such as cricket also over here. You have to stay in one of these beautifully set up cottages or bungalows and the views from here are awesome. The food served is authentically Maharashtrian apart from a number of other types of cuisines.
Reviews •
2
a nice peaceful resort near lavasa. it has the options of tent and cottage. bonfires are arranged every evening. perfect retreat for peace lovers
The speciality of Camp temgarh is that it allows you to do luxury camping. Camp tempgarh is surrounded by mountains on all sides. There are 4 tents at one side and one cottage for bigger groups. Food is included in the package and is good and abundant. The beds are decent and tents have an attached bath too with western style toilet. There sits a tree house, a football ground, a small lotus pond, swings, open dining places, just a perfect weekend getaway!
Attractions near
Camp Temgarh