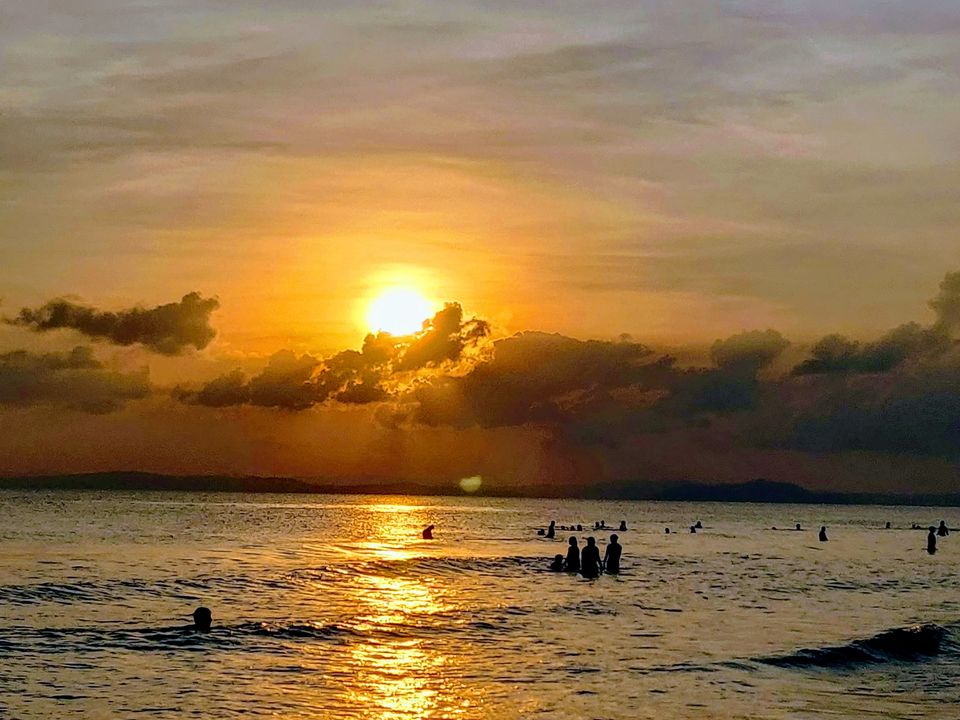 We took an early morning flight from Kolkata to Port Blair. On Reaching to Port Blair we had to reach to Havelock. To reach to Havelock and Neil Island one has to book a ferry from Port Blair. The Ferries are run by Government as well as Private operators. Private ferries (Makruzz, Green Ocean) are more convenient options for tourist but make sure to book your seats in advance as they get filled very fast and also there are very Limited timings and cruises available to reach these islands- typically just three in a day – one early morning, one in the noon and the last one in the evening. The process of boarding the ferry is similar to how it is in Airports .The journey from Port Blair to Havelock is approx. 2.5-2 hours and no you cannot land at Port Blair and then plan to visit Havelock as this might make you lose a day at Port Blair. You have to plan in advance as there are no private ferries available and there are limited timings and cruises available. We were lucky to reach port Blair early but we had to wait for 2 PM ferry to Havelock; so we reached Havelock at around 4:30 and checked in our property –Symphony Palms Beach Resort. This popular resort was located centrally in Havelock gave fun vibe, had eco and concrete huts along with two in house cafes and a beautiful beach.
The evening was spent enjoying pretty calm and demure waves at the resort beach. Loved this delicate beauty of sea; lazily stretched out over miles and rippling in different shades of blue. It had soothing effect on mind; something that instantly washes off worldly worries.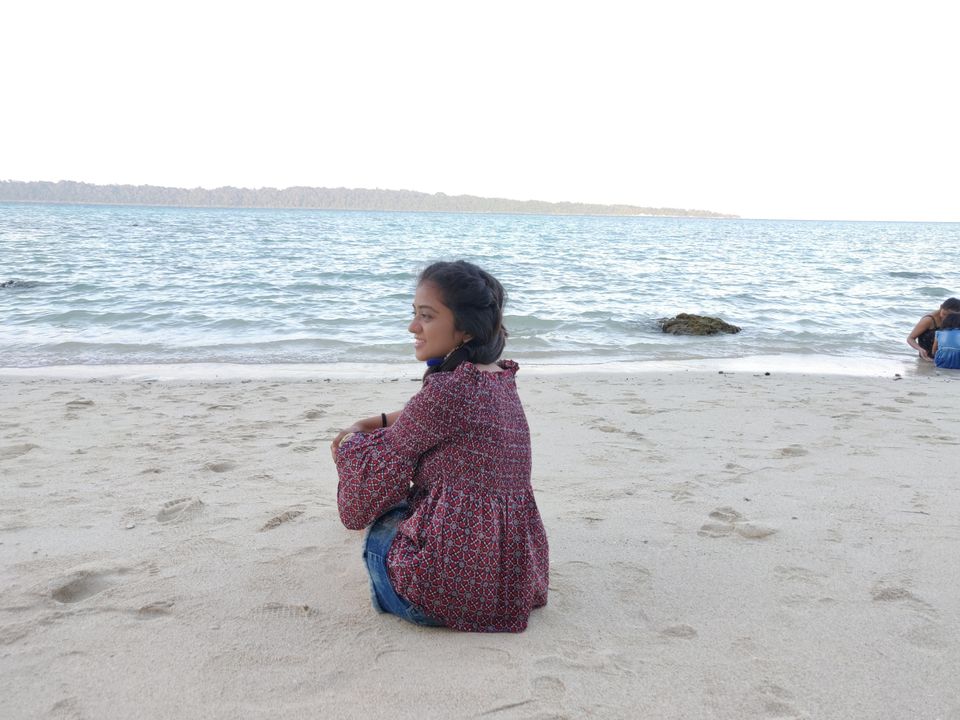 The life of natives of Andaman Islands starts around 4 am to 5 am and as the sun sets early off the coast of India, get set to start your day early! We took breakfast and went straight to jetty to find out the activities we can indulge in to spend our day. All Information about ferries, booking and activities are available at the Havelock Jetty. We selected Scuba diving from Ocean Tribe. I and my husband both of us were first time divers nor we knew swimming but both of us were allotted with a personal instructor who gave us confidence. There was 15-20 mins of demo session and the instructor gave us equipment and taught us to breathe and communicate underwater. Then was the time to get ready for once in a lifetime experience! The experience of Scuba is truly rewarding and gives a glimpse of what the underwater world has to offer. The ocean that appears raucous has a tranquil, vibrant, colorful and peaceful life underneath.
The rest of the day was spent at the resort beach admiring the scenic landscape. We hired a bike for the next few days from a shop just outside the resort to explore the island, try out cafes and commute to and fro from jetty.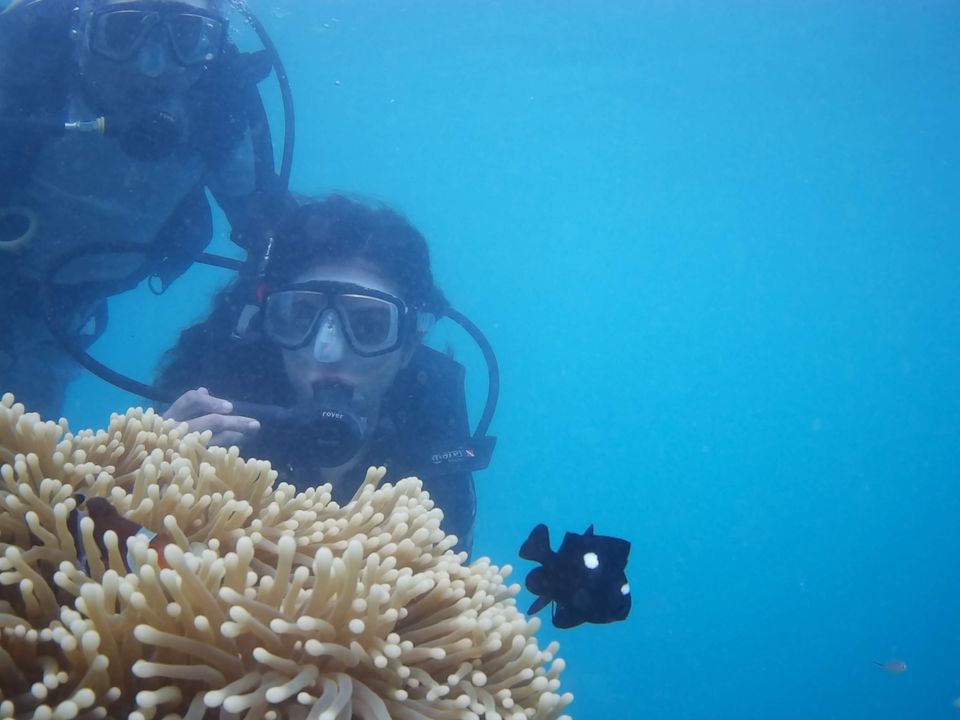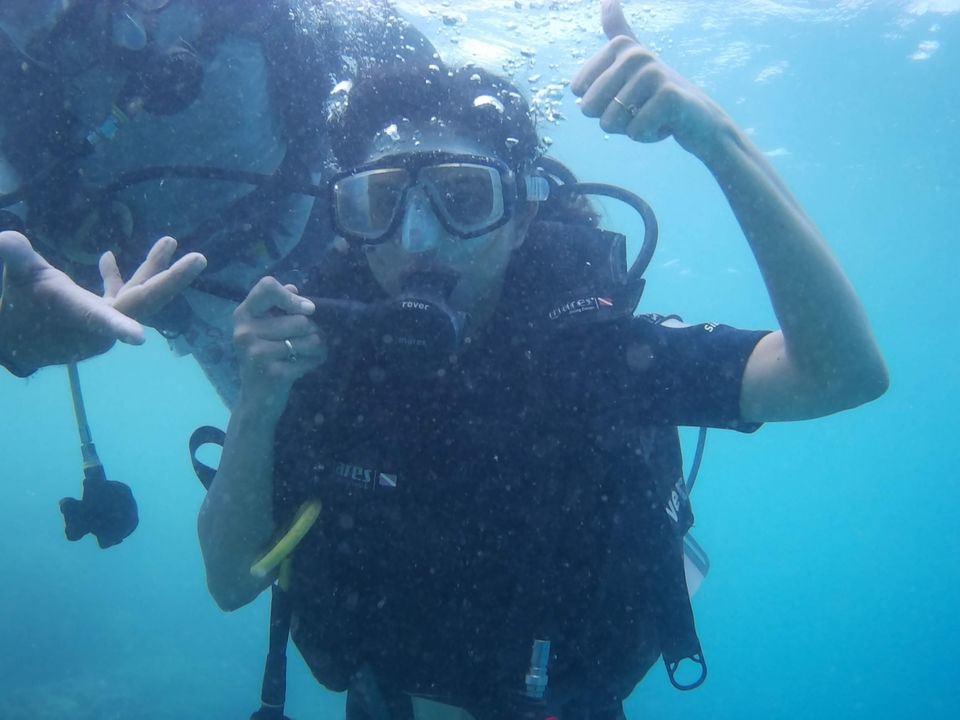 Post breakfast we parked our scooter at Jetty to get set for the day. Elephant Beach was our next destination. Best known for snorkeling and water sports (Jet Ski & Sea Walk), elephant beach is a short ferry ride (20 -30 mins) from Havelock Jetty. The beach was really beautiful and clean and reminded me of my trip to Krabi! Its rich coral reef structure and underwater marine life spellbind us. After spending hours on this beautiful beach we came back to jetty and headed straight towards the Barefoot Café located at the jetty to quench our hunger.
Post lunch we hurried up as it was time for one of the world's much heard best beach – Radhangar.
The journey was the destination. Our two –wheeler ride to this village was an experience.
Forests, fields, hillocks greet you and entire scenery changes. The birds and flowers are all that surround in this little idyllic paradise. Radhanagar beach although bit crowded but undoubtedly was one of the most beautiful beaches. The spotless white sands look like they have been purged of every speck of dirt. The clouds float past and the sea kept changing it colors.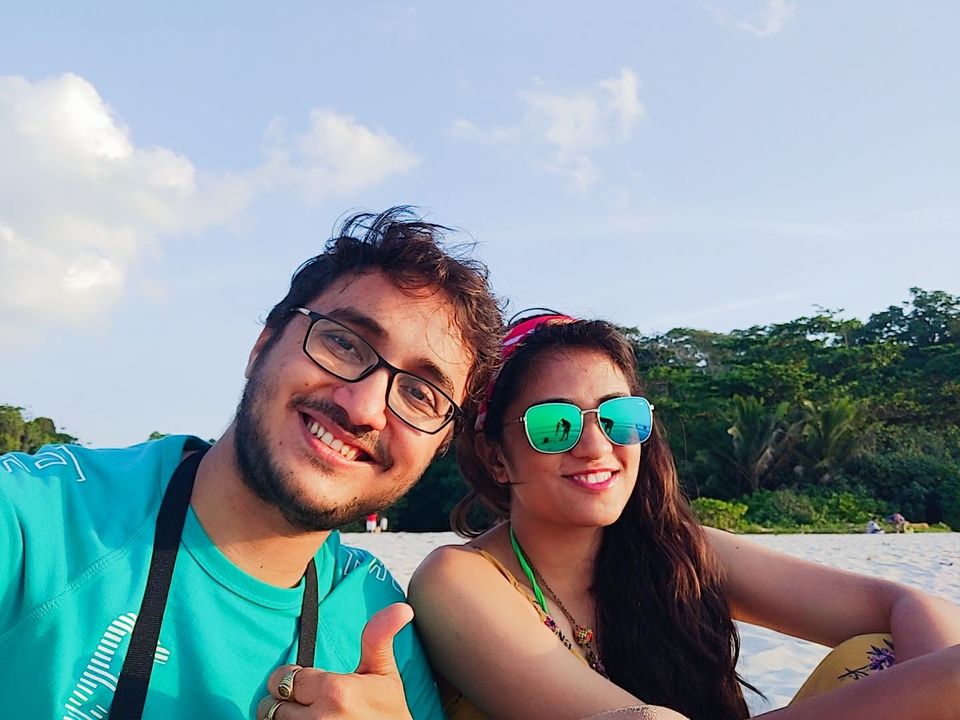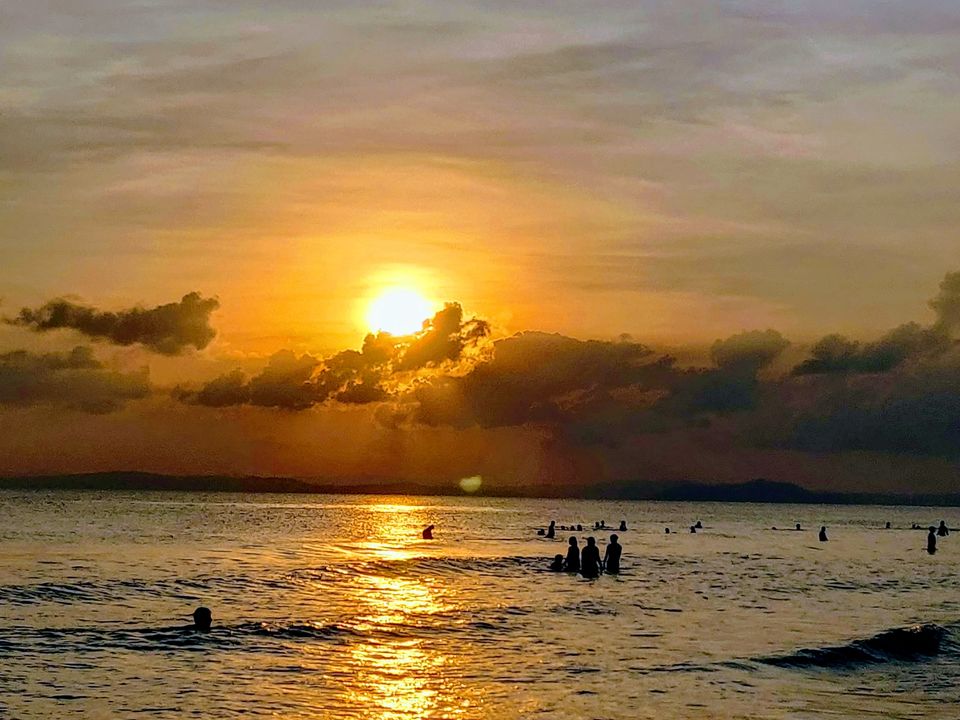 Stealing time for travel, especially when you are a working couple is not an easy task, but this time, when Diwali was round the corner and Kolkata being our home town; we decided to took some time off to loosen ourselves up in this heavenly destination called "Andaman". We planned our entire 4 nights stay at Havelock as we wanted to laze around and relax rather than to go island hopping and putting a tick on the tourist check list. Our trip was last minute, unplanned and impulsive. Booked our flights and accommodation in Havelock and we were all set!
The last day at Havelock Island was to explore the village and relax. We just biked up and down to all the beaches including Kala Pathar. All the beaches in Havelock has a number from 1 to 7.The Beach no 1 is where you land and Beach No 7 is the Radhanagar. Beach No 5 was where our resort was located. Some of our favorite eatery joints were Anju Coco (vast menu), Full Moon Café (candle light set up), Venom Bar (for its groovy jungle vibe). For a relaxing Spa one can head to Sea Shell Resort.
Next day we took ferry from Havelock to Port Blair and spent the evening watching light and sound show in Central Jail and explored streets of Port Blair. Tried mouthwatering and delicious south Indian food at Annapurna Restaurant.
The Andaman Islands are known for their natural vivacity and are perfect to recharge mentally and physically. The relaxed lifestyle of the Islands will make you love its simplicity as nightlife of the Islands is not what one can expect in cities or other beach destinations. So, if you plan to visit the Islands, be prepared to leave the urban trend aside and enjoy the simple pleasures of life – walk on the beach, make sandcastles, enjoy candlelight dinners with and of course take a break from the internet. As internet and phone signals are restricted only to some parts of the Islands.