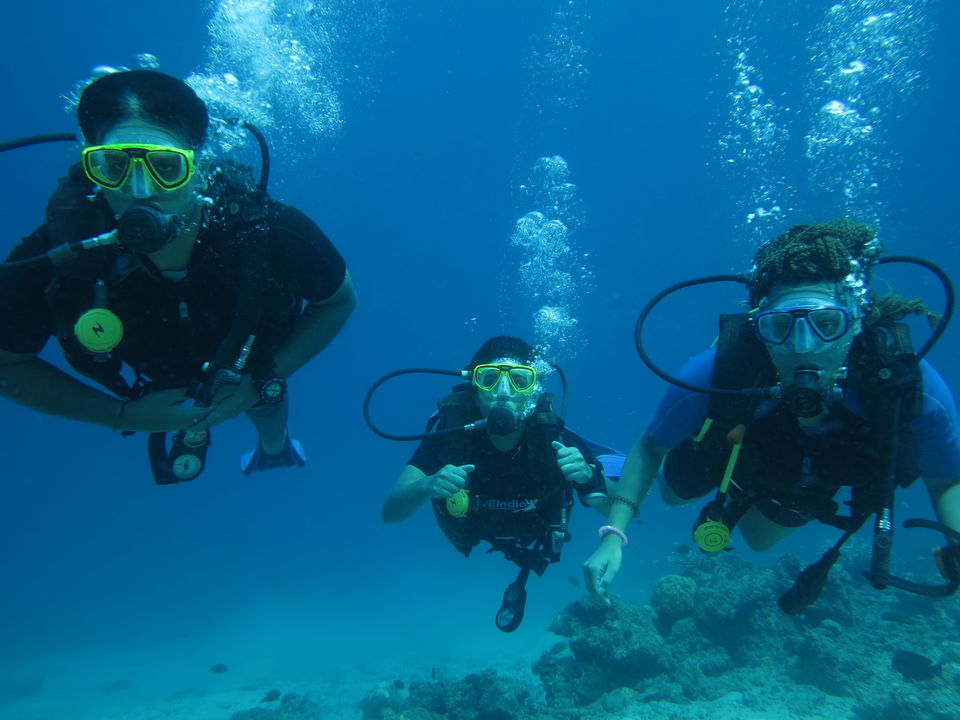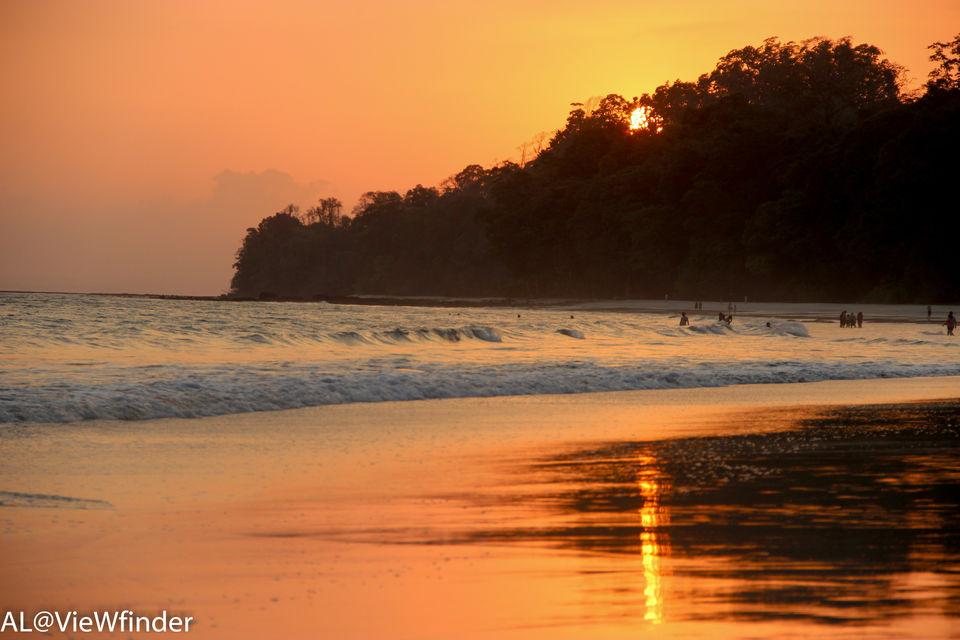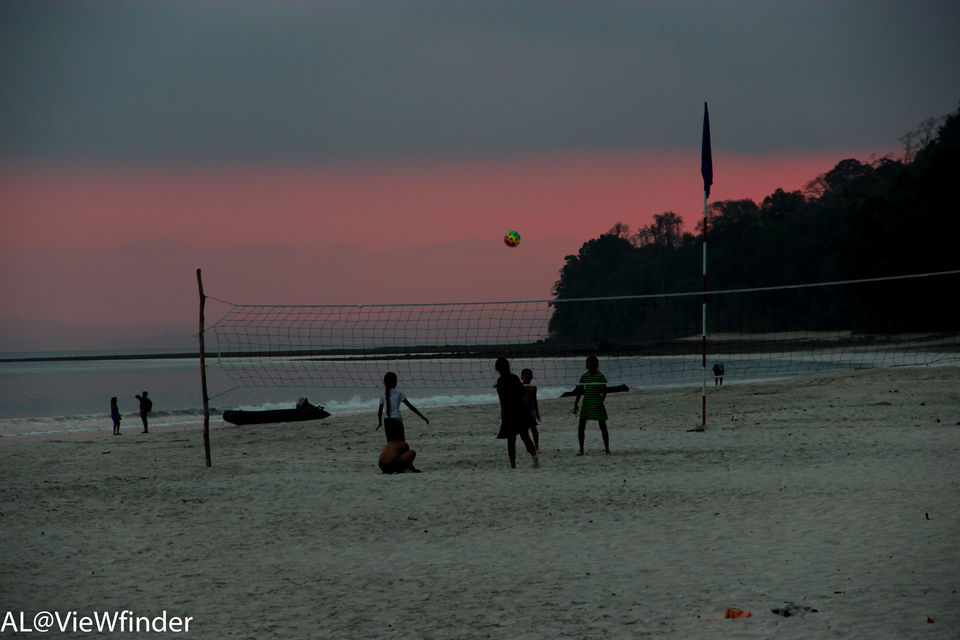 To escape fear, you have to go through it, not around – Richie Norton
Though I know swimming but I have never really been comfortable inside water (Guess, I am still not!!).
Scuba diving has been part of my list since I saw Zindagi naa milegi dobara way back in 2011. More than an adventure, my purpose was to conquer the fear of water. I was contemplating taking Open divers course from Pondicherry, Lakshadweep or Andamans.
After putting up a post in Travel Talk, I got the suggestion to enroll for Dive India in Havelock islands, Andamans. I started looking for tickets for Port Blair in March 2016(Initial cost I saw was 17k) but my plan got pushed to April and I ended up booking tickets for 23k. I decided to book an open diver course for 4 days which had 6 dives with certification from PADI Open diver course with Dive india.
I reached Port Blair early morning and I was hoping to catch hold of the first ferry to Havelock, which didn't really happen to be the case as they were all full. I took a small hotel for rest till afternoon ferry.
Called up Dive India and they were able to help me with an afternoon ferry without any hassles. Ferry took about 90 mins to reach Havelock. Boarded an auto and within 20 minutes I was at Dive India resort.
I had booked a standard hut which was fairly good apart from the fact that it use to really heat up during the day time. After unpacking, I met the staff of dive India who introduced me to the basics and how the schedule will look like for next 4 days. Post briefing, I was handed a tablet to go through the theoretical aspect of scuba diving. Videos of scuba diving were really boring to start with but then slowly and gradually I built some interest and guess what- You have to go through assessment after each video.
Dive India resort had a beach café known as Full Moon café. There was enough space to sit plus hammocks near the beach for you to relax. Awesome place to eat food, barring one meal I had food in the café only. North Indian food options were limited but other options were quite mouth watering.
Another great aspect of Dive India resort was their proximity to beach(less than a minute) and the beach also had a great view of Sunrise. After trying for two days, I had managed to get up at 5am to capture sunrise and it came out really well.
Next morning, I got introduced to our instructor Vikas. And there were two girls (Priyanka & Kia) who joined the same class. After brief introduction about the course, we were ready to head towards the beach for snorkeling & maneuvering class. We were in the water for an hour where vikas & vidya taught us about snorkeling, breathing and how to maneuver under water. I was the slowest to learn out of the three. The class went on for close to two hours for me where girls were already a pro within an hour. I was just not able to adjust and mind you Vikas is a strict trainer. He didn't let me go out till I was close to 100%. Post that we learnt how to buckle up our diving equipment and rest of the day went on with course material and delicious meals at Full Moon.
2nd day was an early morning day (Heck- I am not a morning person forget about early morning). We buckled up our equipment & went to the diving site. Vikas taught us some basics around diving and I was just not able to adapt. There came a point when I wanted to tell him, I don't wanna do this can I please go back. I was just not able to adapt within water. But then I decided to persist and here we go for our first dive. Fact that Scuba course expects you to do most of the stuff on your own makes it an enriching experience. It was a different world altogether under water. Earlier you adapt yourself within water, more you enjoy your stint underwater. Apart from breathing underwater, my first experience went well overall for both dives.
3rd day, we are supposed to go down further 18m at a dive site . We expected to see more life down there. With a deeper dive, there was a time constraint as well to the dive. This meant, if I didn't work on my breathing, I need to come up earlier than my colleagues and it actually came out to be true. But the good part was we got to see more marine life down there and it was very peaceful. After continuous lessons from Vikas, I had finally calmed down a little bit. Out of all the four dives, I remember being so calm for couple of minutes. It felt like world had stopped and I could finally feel at peace with myself and diving too . It's been more than 11 months since I had completed my course but I still remember that experience.
Another good part about diving was the snacks served on the boat. Samosas, Chai & Cookies never tasted better. To end this day, all scuba techniques were taught to us and next day was an independent dive without instructor, which was quite horrifying in itself.
4th day, we were up early as usual and were quite nervous about the independent dive which was supposed to happen around a ship wreck. I and Priyanka were supposed to plan the whole dive on our own and Vikas would just be shooting us from somewhere. To our horror, when we went down visibility was less than 2m which made the entire little difficult than you would ideally want to be. We held together and were regularly communicating to each other. There came a point when we were not able to find the right way and then Vikas came to our rescue to help us find the way. Post that we moved towards that part of ship where there was some marine life to look at and my cylinder got stuck in the ship. I stayed calm and Priyanka was quickly able to help me through that. Within few minutes we realized that it was time to go up (courtesy my shallow breathing) and we went up on our own. Overall, dive was pretty good and had it not for poor visibility it would have been really enjoyable.
Time was to go for the last dive of the course but this time Vikas was accompanying us. Just when we decided to go down, I realize I am not able to breathe at all. I kept signaling to Vikas, something is wrong. He was insisting to go down not realizing that I had forgotten to check my gas cylinder before dive. Thankfully, he understood something is wrong and switched on my cylinder. There was lot of marine life we got to see this time and overall dive went very well. Continuing the trend, I was the first one to come up. Finally after signing our dive log books, we all were certified as Open divers by PADI allowed diving anywhere in the world within 18m depth.
Considering I had an early morning ferry next day, I decided to visit Radha nagar beach on a bike. And I must tell you it is one of the best sunsets you will come across. There are three famous beaches in Havelock: Radha nagar, Vijay Nagar, Elephant and Kalapathar.
I, Priyanka and kia had a dinner at a local restaurant and we happen to meet Govind who was a corporate lawyer and had taken up full time traveling. He did an advanced divers course from Dive India including Night Diving. (Imagine able to see everything under water with a torch---Next time for me I guess).
Not to mention, I didn't really want to come back specially since the diving was over. Next day early morning ferry and back to basics.
Before I wind up, Good to know :
Swimming is not necessary to learn scuba diving. However, more comfortable you are in water, better it is.
Women tend to breathe slower than men under water, which helps to conserve oxygen and stay longer under water. Yes, this is what Vikas said!!

When underwater, Stay calm and keep breathing!!
Wherever you go for Diving, study about dive site and marine life there.
If you wanna learn scuba in Andamans - Dive india is the place to be!!!

With this, I sign out and will try to keep you guys updated about my next diving experiences (Plan to dive in Iceland—Fingers crossed)