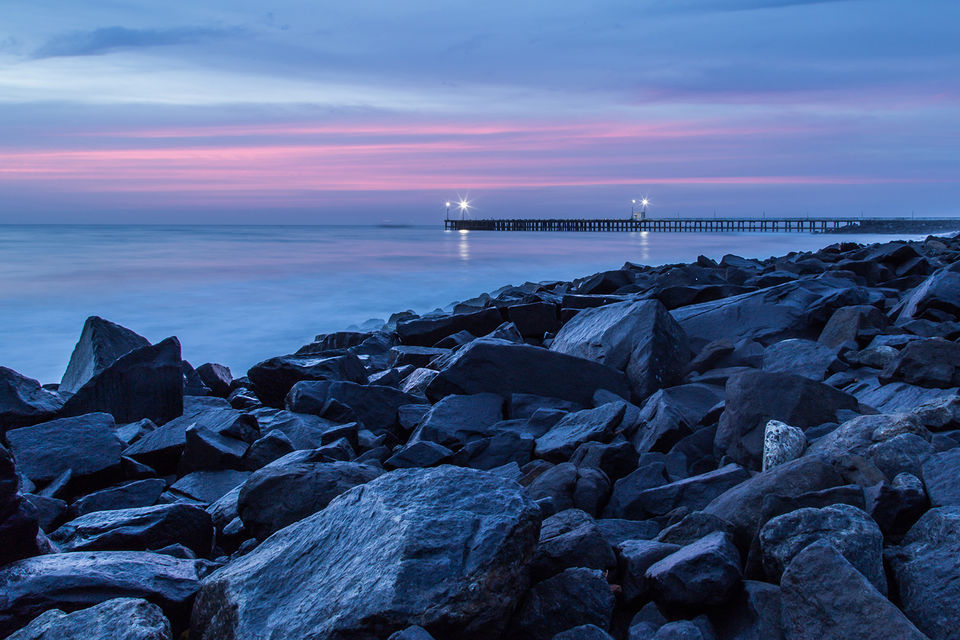 I was sitting on a promenade with my back to the city, as I closed my eyes and felt the wind against my face. Mindful that this moment would be over soon & I would have to go back to my regular life. I breathed in the crisp sea air as droplets of water landed on my arms when the waves crashed against the jagged rocks of the Promenade Beach at Pondicherry. I felt zen.
It had been two days of exploring the cross-cultural union territory and I have to say, it's one of the best places in India. Narrow streets lead to wooden doorways with yellow ochre walls, decorated in foliage. Blue and grey buildings dot the French Quarters. By simply taking a stroll or cycling down the alleys, you are transported to a foreign lane. The last thing anyone would expect when they visit this Indian city for the first time is for it to be so incredibly whimsical and French.
My friends and I started our morning with a visit to Auroville, A universal township where people irrespective of their culture and countries live in harmony. As we entered the town, the path led us to a green trail from where we walked for a while until reaching the Matrimandir, A magnificent golden edifice of spiritual importance. The rest of the day was well spent exploring and sampling authentic French delicacies. Our day ended with a touch of the proverbial French romanticism when we strolled down the Promenade beach just as the last rays of the sun setting bathed the city in a red and orange glow.
While looking over the sea, I was unaware of a certain change that was taking place. From the corner of my eye, I glanced towards my friends and noticed they were getting their palms read by a woman.
"Come on Ananya. Try it." My friend snapped me from my thoughts.
"But, I don't believe in it." I said peevishly. I looked at the Palmist who had shown up where I was sitting, contently mulling over my thoughts.
"Don't be a spoilsport." She urged me. I fell into the inevitable trap of succumbing to peer pressure & let the palmist take a peek at my hands and decide my fate based on a few lines and shapes. The last thing I expected to hear from someone was how I'd get into not one but two major road accidents in my life. Deciding to take whatever she said with a grain of salt, I wondered what went into the process of palm reading. The news of my inevitable 'misfortune' did not deter me. It challenged me to find happiness in travel. The day made me fall in love with the sea. It made me fall in love with Pondicherry.
Frequent searches leading to this page:-
pondicherry family tour packages, pondicherry solo travel packages, pondicherry promenade beach, top pondicherry honeymoon packages