The picturesque French architecture, clear blue skies, colonial buildings, churches and the promenade beach makes Pondicherry the perfect destination for a weekend getaway. We've always been wanting to go to Pondicherry after hearing so many awesome reviews and stories from our friends who have visited Pondicherry before. After months of planning finally we took off to Pondicherry during a long weekend in October.
And the journey begins
We took a 10 am morning flight from Mumbai, since there were no direct flight from Mumbai to Pondicherry, we took a flight via Bangalore. Had a very short layover of about only 15 mins in Bangalore, Finally landed in Pondicherry at around 1:30pm in the afternoon. Tried booking an Ola from airport to hotel, but we had no luck since it was showing a wait time of about an hour! (Uber is not available in Pondicherry)l, the only mode of transport was the "Autorickshaw". We took an auto from the airport to our hotel "The Promenade" for Rs 300. Since it was a long weekend, we had issues in getting hotel rooms, luckily we got hotel promenade for 2 days and we booked "Palais de Mahe" for a day both located in White town, The former French headquarters of Pondicherry. It has still managed to, after all these years, retain much of its French flavour.
As we reached our hotel "The Promenade" checked in to our room and headed out for lunch, we had lunch at Hotel Promenade's sister property called "Le Dupleix" which was located at a walkable distance. It is an 18th century French colonial villa built for the French Mayor. Restored with care and bearing in mind its history, every corner, wall, staircase, door, window, roof, painting, furniture, artefacts, tell tale of a glorious past. This place is also known for its 200yr old mango tree which forms a beautiful canopy in the open air courtyard restaurant where we had our lunch.
Exploring White Town
Pondicherry's former French Quarter is laid out in a grid pattern, with parallel streets cutting across each other at right angles. We have been told thats exactly how it is in French cities as well.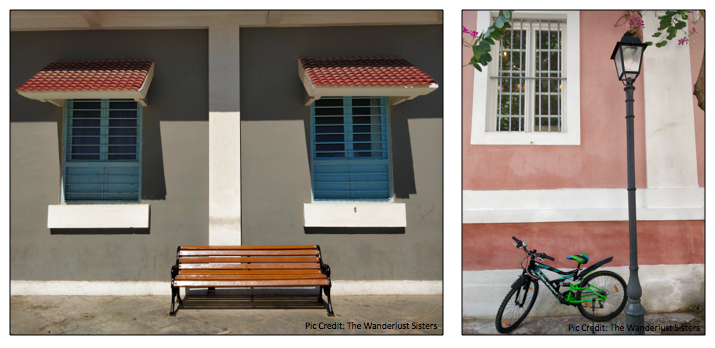 You can experience the French colony by just strolling around the white town as you can admire the French architecture and take photo shoot anywhere, you can see many french schools, office, consulate nearby. While the town can be explored on foot, a ride with a knowledgeable cycle rickshaw wallah is much more fun and will take you to places you might otherwise miss. So we opted for the cycle rickshaw which took us around White town for 300rs/2hrs.
There are several rental bicycle/motorcycle outlets on Mission St and MG Rd. The prices as of January 2016 are ₹300/day for a gearless scooter, and ₹500/day for a geared motorcycle and ₹40-50/day for a bicycle. You will need to provide some identification document as collateral and an advance of ₹500.
Places to visit:
1. Promenade Beach/Rocky Beach: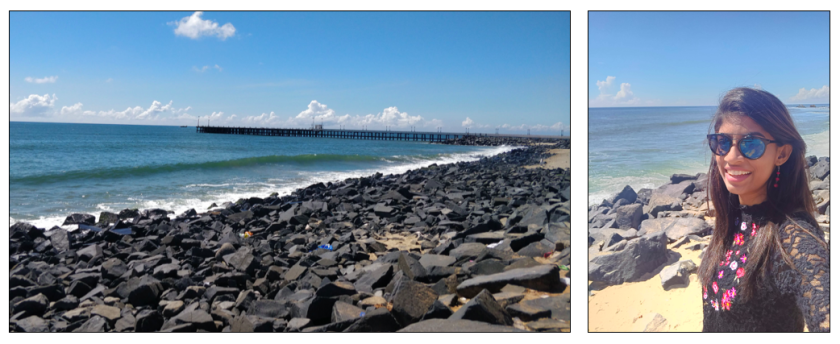 Promenade Beach is the pride of Puducherry along the Bay of Bengal. If you need a calm and quaint place perfect for an evening stroll, this is a place you want to be at. The 1.2 km long stretch of beachfront has the major tourist attractions such as Le Cafe, Mahatma Gandhi statue and War Memorial.
2. Churches in White town:
We visited 3 churches, The Basilica of the Sacred Heart - Beautiful Gothic architecture, colourful stained glass panels, pleasant atmosphere. Secondly the Immaculate Conception Cathedral and third one being Our lady of Angels church which again had stunning interiors.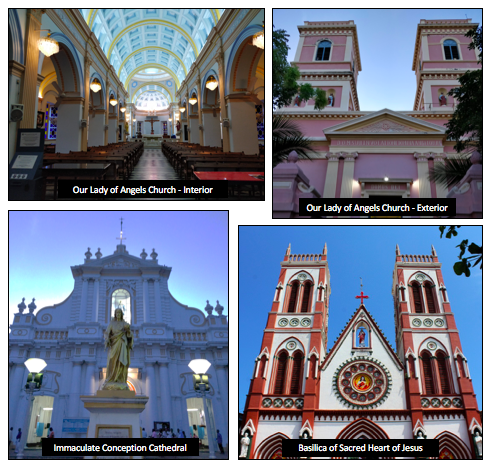 3: Old Light House, Promenade
Built in the 19th century by the French rulers in Pondicherry, the old lighthouse is one of the most important historical places to visit in Pondicherry. It once offered the only light for guiding the ships in the sea coming towards Pondicherry and today stands as an integral reminder of engineering and architecture.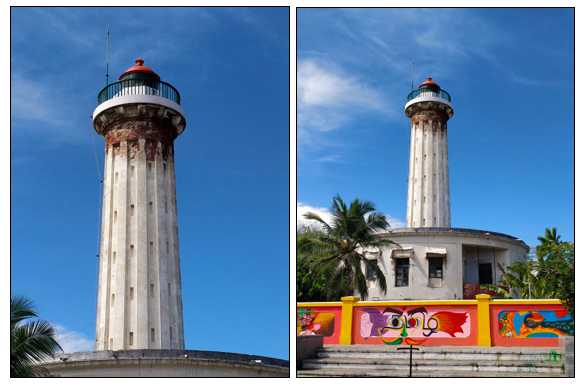 4: Aurobindo Ashram:
First, we went to Sri Aurobindo Ashram. If you wish to escape the ruckus of the outside world, want a calm and peaceful place to sit and meditate, then you must go there. You have to remove your shoes outside the Ashram and there is a tree-shaded courtyard, at the centre of which lies the flower-covered 'Samadhi'. This white marble shrine holds, in two separate chambers, the physical remains of Sri Aurobindo and the Mother. Walk quietly around the Samadhi and you can sit there and meditate. You also need to switch off your mobiles. Cannot use your mobiles once inside.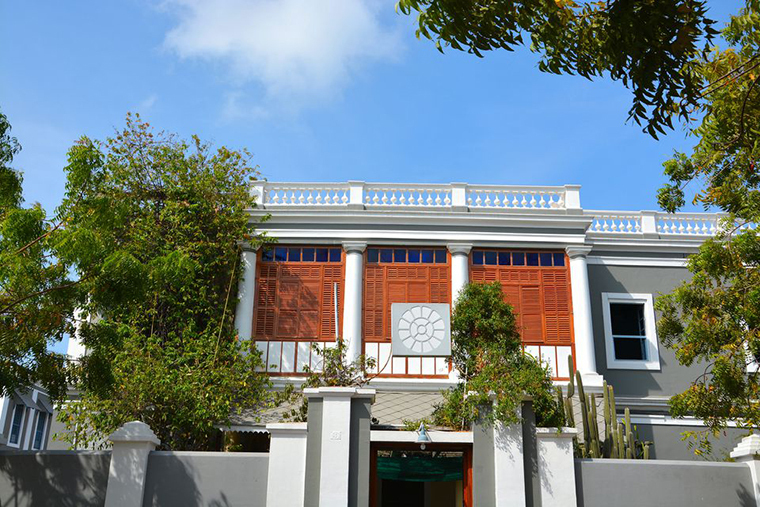 5. French Consulate: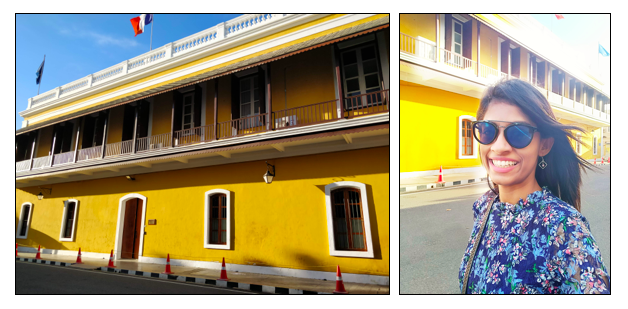 6. Cafe Des Arts:
One of the most Instagrammed cafes in Pondicherry located at Suffren road. Cafe Des Arts is usually crowded so make sure you are there on time to get the best seat. As you wait for your order (which might take a while owing to huge demand), do not forget to check out the cool graffiti on the walls and the French architecture.
https://www.instagram.com/p/Bo6ojQKH9HE/
7. Auroville:
One of the major highlights of Auroville is the Matrimandir, lotus-shaped dome - a modern structure with a high significance for integral Yoga practitioners
With advance booking, you can visit inside the Globe or you can just see it from outside and take a snap. First time visitors are given a tour of the Matrimandir, along with a background on its history and importance, all this with prior booking only.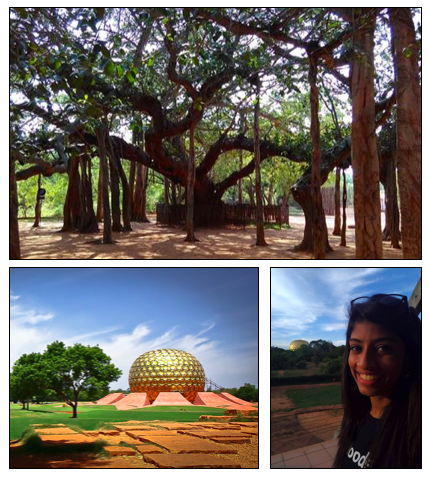 Street Shopping
Walk through any of the streets of the town(Mission Street, Nehru Street, MG Road) and nearly at every corner you'll find a shop on the footpath selling clothes, bag, hats and even decorative things for the house. Nehru Street is the epitome of street shopping in Pondicherry. From high range boutiques to shopping carts, this street has it all. Here, you can find local handmade products like pottery and clothing.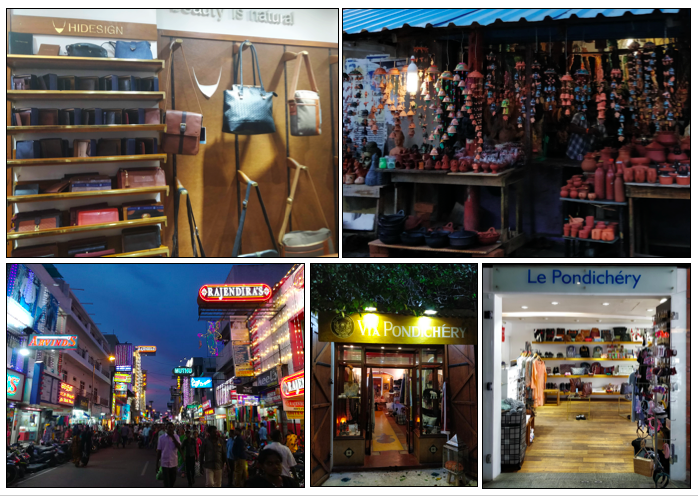 For souvenir shopping you must indulge in purchasing the various locally produced items - such as traditional hand woven dolls, perfumed candles/incense sticks, leather goods, antique wooden carvings and furniture, fine textile as well as many other interesting souvenirs.
The best part is that everything is located within 2-3 km radius except for Auroville. We'd advice you to walk or rent a bicycle and cover all these places in one day.
Other places that you can visit, places we gave a miss cause of the lack of time:
1. Arulmigu Manakula Vinayagar Temple
2. Puducherry Museum
3. Serenity Beach (Specially if you want to go surfing)
4. Chunnambar Boat House
5. Sita Cultural Center
Hotel Stay:
Day 1: The Promenade, White town
With the hotel overlooking the beautiful rock beach, it's got a perfect view and a sunrise to wake up to. If you are looking for a calm place to stay in, this is it. It also has a rooftop restaurant "Bay of Buddha" with a sea facing view which makes it one of the most visited restaurant in Pondicherry. The food is very tasty with the local and French cuisine.
https://www.instagram.com/p/BpHTB2LFBzB/
Placed in the heart of French colony, this is situated perfectly for one to cover all the places. When bored, take a walk on the beautiful rock beach to feel the breeze, enjoy the view. We booked the sea facing room which had one of the bestest views. Perfect place to watch sunrise and sunset.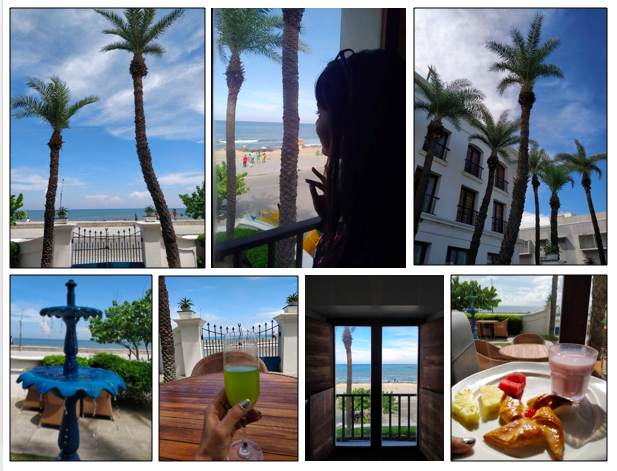 Day 2: Palais de Mahe, White town
If you want to feel the old colonial-style charm of Pondy, this is the place for you to stay. As it is very close to the Rock beach, you can feel the sea breeze, especially at night. The hotel has a nice pool overlooking the yellow building. The hotel is filled with antique furniture giving it a classic ambience.
https://www.instagram.com/p/BolpLxwnQzO/
All rooms have very high ceilings and you have to take a running jump to get onto the bed it is so high off the floor (not that high just a figure of speech) Roof top restaurant is a delight for dinner the food was wonderful. You don't have many options for breakfast, but the food is very good.
Last but not the least some travel tips for Pondy:
1. Wear cotton clothes and carry sunscreen to beat the heat- it's usually hot in Pondicherry
2. Bicycle or a motorbike is the best mode of transport for moving around and exploring in Pondicherry
3. If you want to spend most of your time exploring Auroville and see its way of life then better stay in Auroville which offers various stay options.
4. Don't make your itinerary very hectic. Leave some time to relax and explore
For more travel stories and pictures, visit our
Facebook Page:https://www.facebook.com/thewanderlustsisters/
Instagram Page: https://www.instagram.com/_thewanderlustsisters_/
Frequent searches leading to this page:-
pondicherry 7 days tour package, pondicherry tourism, pondicherry honeymoon tour package, pondicherry itinerary for 5days, pondicherry travel guide, pondicherry tourist places, pondicherry tour plan, pondicherry tour guide, pondicherry tour package from chennai, pondicherry travel guide, pondicherry family package, pondicherry family package from banglore