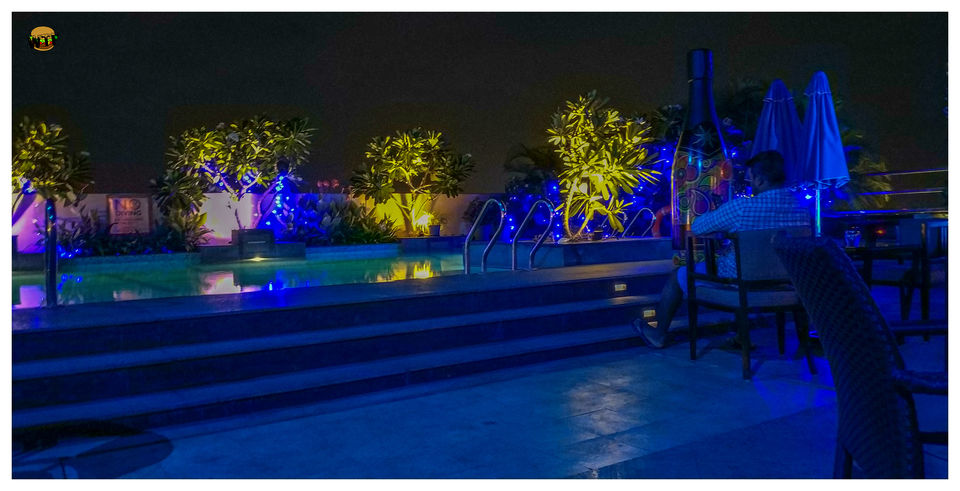 Over the Top is a fine dinning restaurant that specializes in Asian cuisine. The restaurant is well known for its awesomeness when it comes to Pan-Asian cooking Techniques.
The ambiance is simple but yet everything looks so elegant. The roof top restaurant has a pool in the dinning area which looks stunning. Although, We visited the place by night, I'm sure that the place would look heavenly in the daytime, as admitted by the Executive Chef Nishesh Tripathi.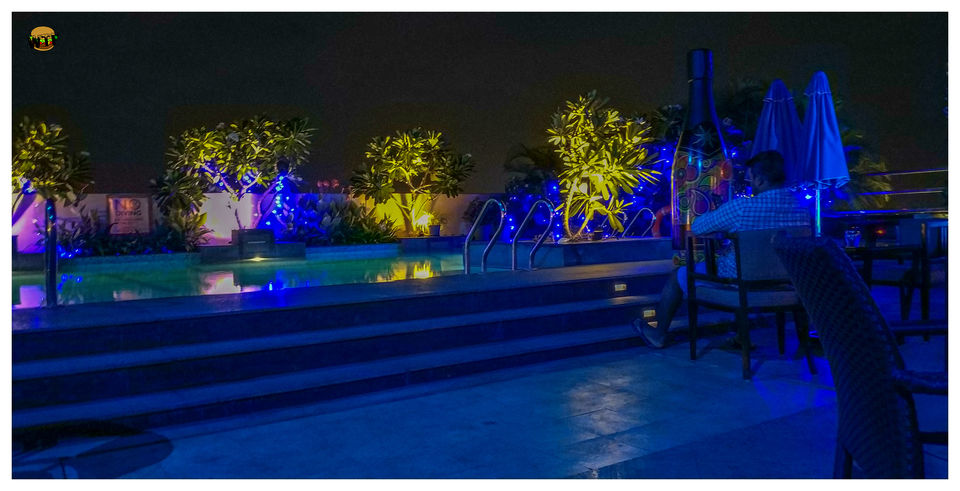 The place has a musical ambiance supported by the live bands performances. The place looks beautiful but whats nicer is the food. The food served here focuses on health and promises to take care of us all. As explained by the Chef, Every food item here is crafted in a way that it looks after your health but still is capable enough to make your taste-buds dance.
The Bulldogs were recently called for a tasting at Over The Top, Pune. And, Given below are a breif of the items that we tasted at the this amazing place that offers a high-end menu which caters to people of all segments.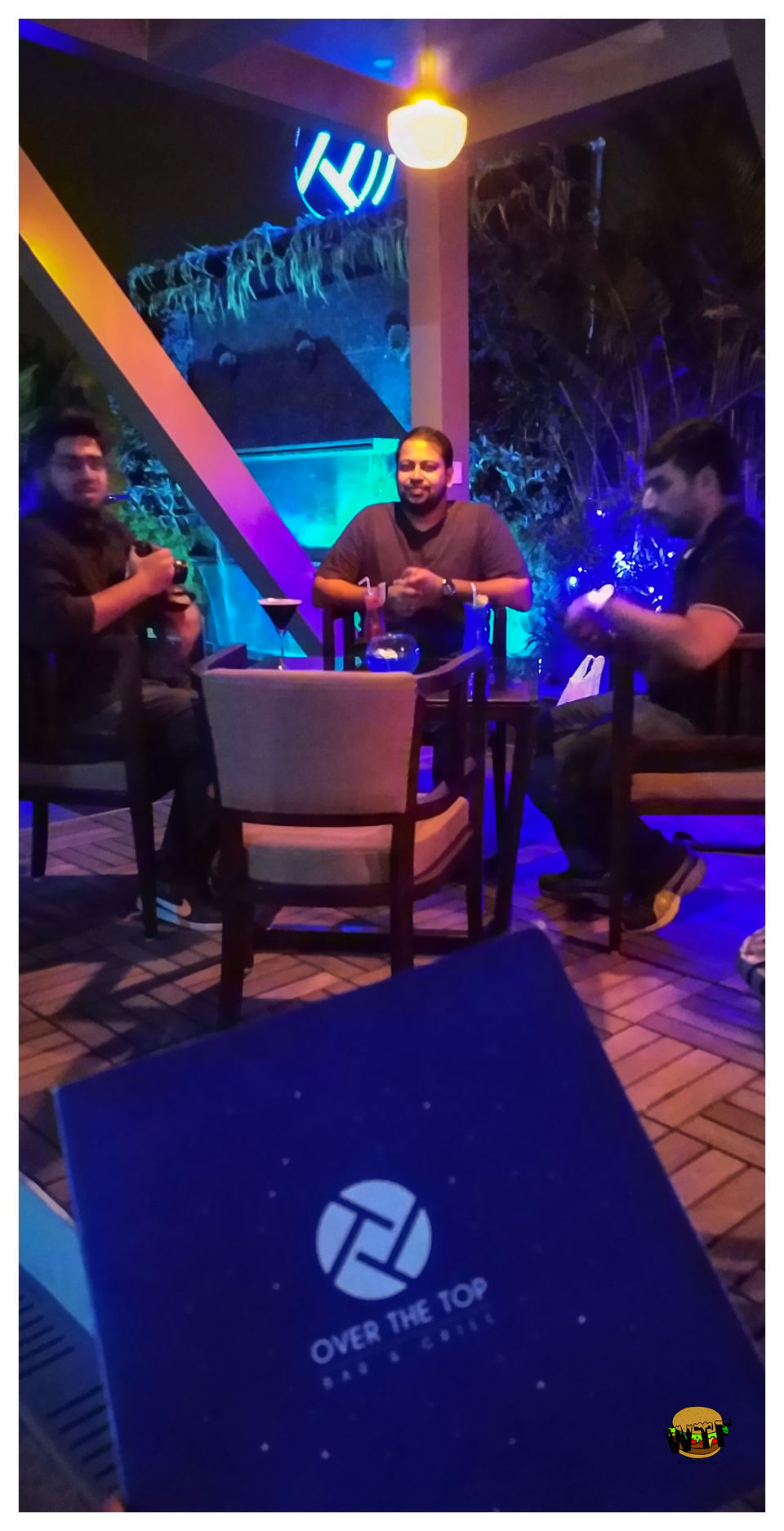 Mint Choco (375 INR) :- For Someone who is a total teetotaler like me; You need to have mocktail that has a pefrect blend of Chocolate, mint and Ice Creams, Like they had at Over The Top.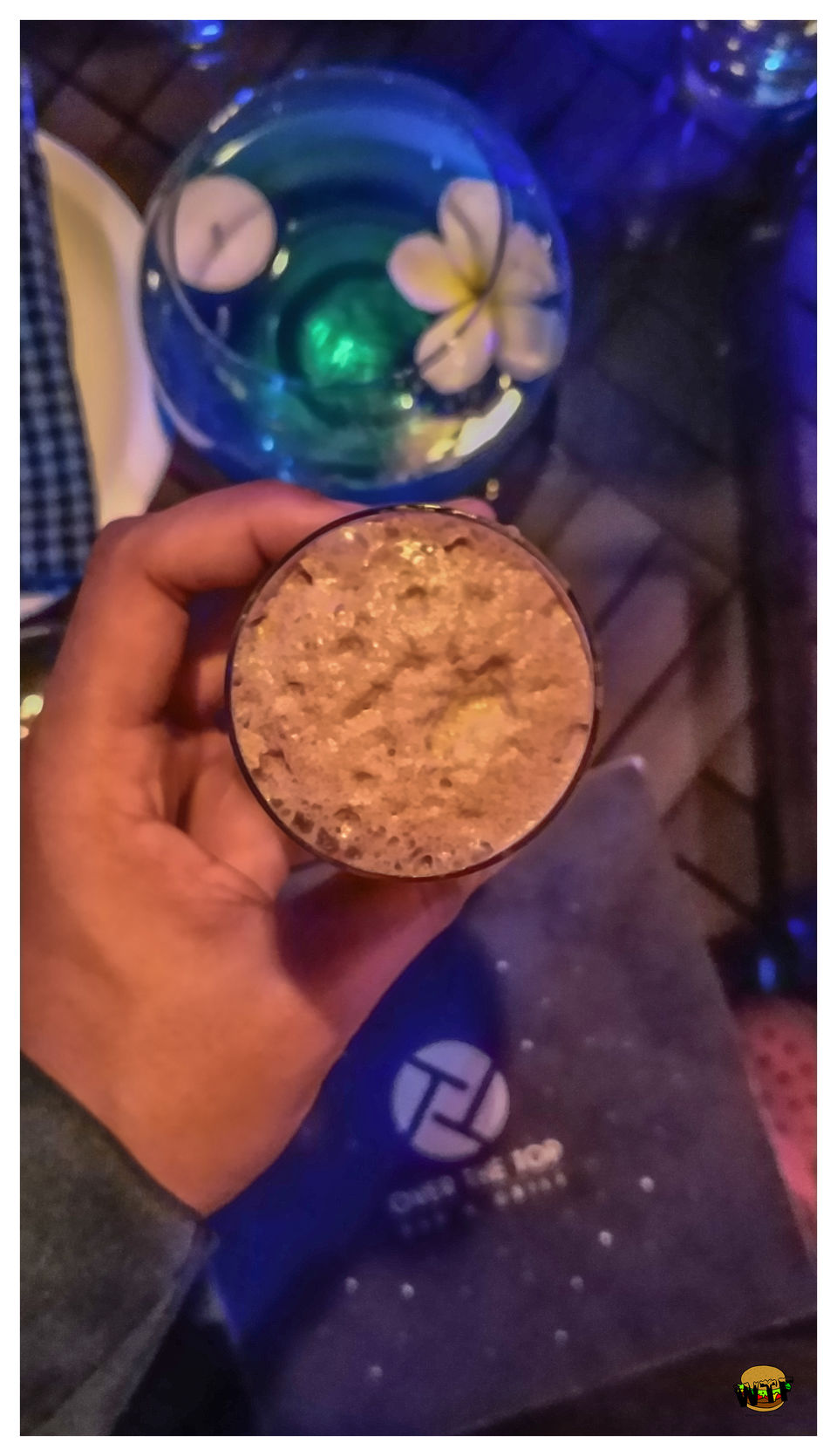 Bhatti ka Jheenga (999 INR) :- Its the crunchy tiger prawns that is burnt for a reason. Half cooked on Sigree and then again slowly cooked in tandoor, this crunchy love is just the perfect justice to my love for prawns. I still remember asking chef- "What is this Special crunch all about?"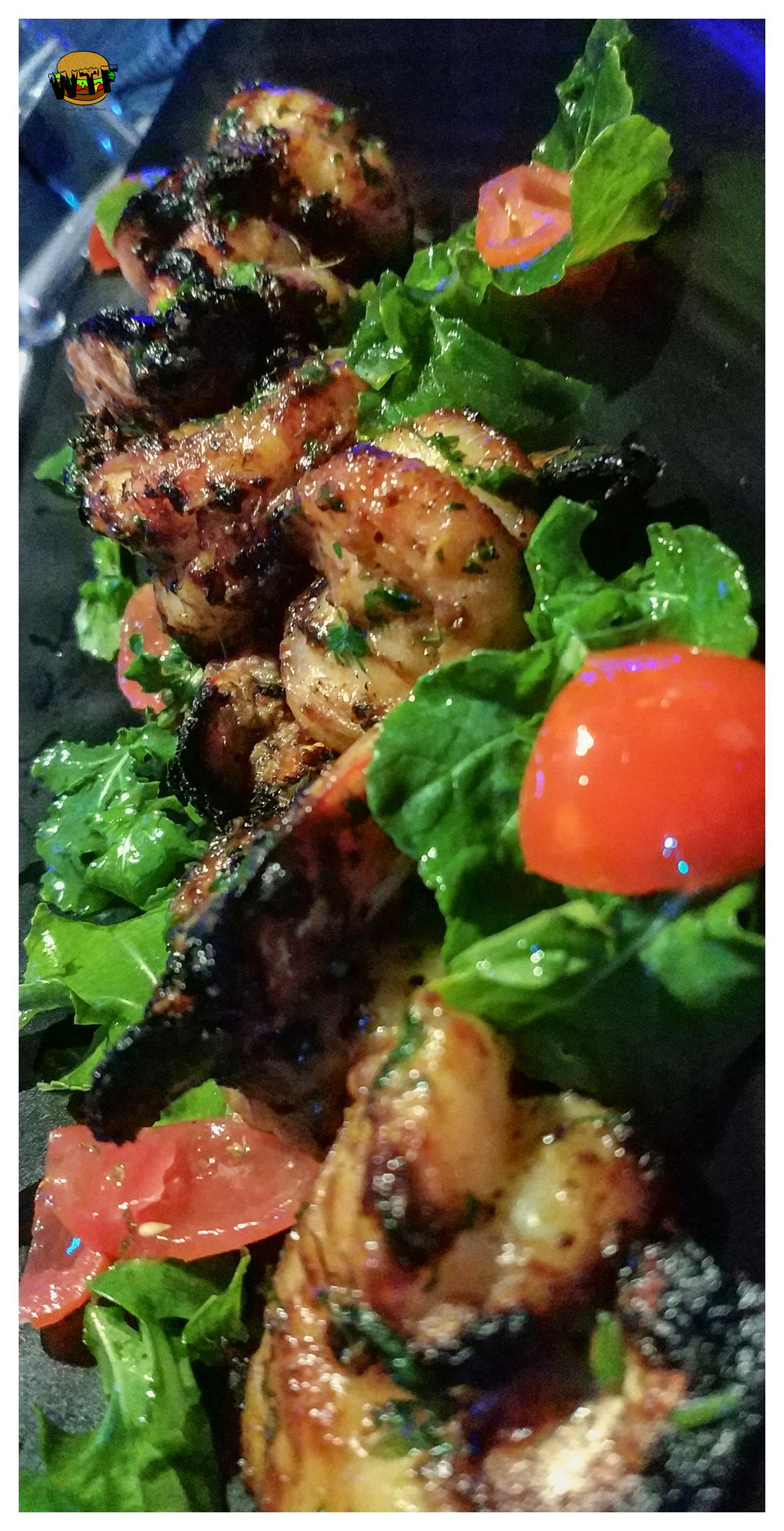 Caribbean Chicken (525 INR) :- Dear All,
If you don't like the skin on, I must tell you that you're missing onto something very special.
The skin on top is so well done that buttery, smoky flavor adds to the Citrus-ey chicken in the most perfect way to announce an altogether different taste that is delicious in every possible way and all set to make your taste bud dance.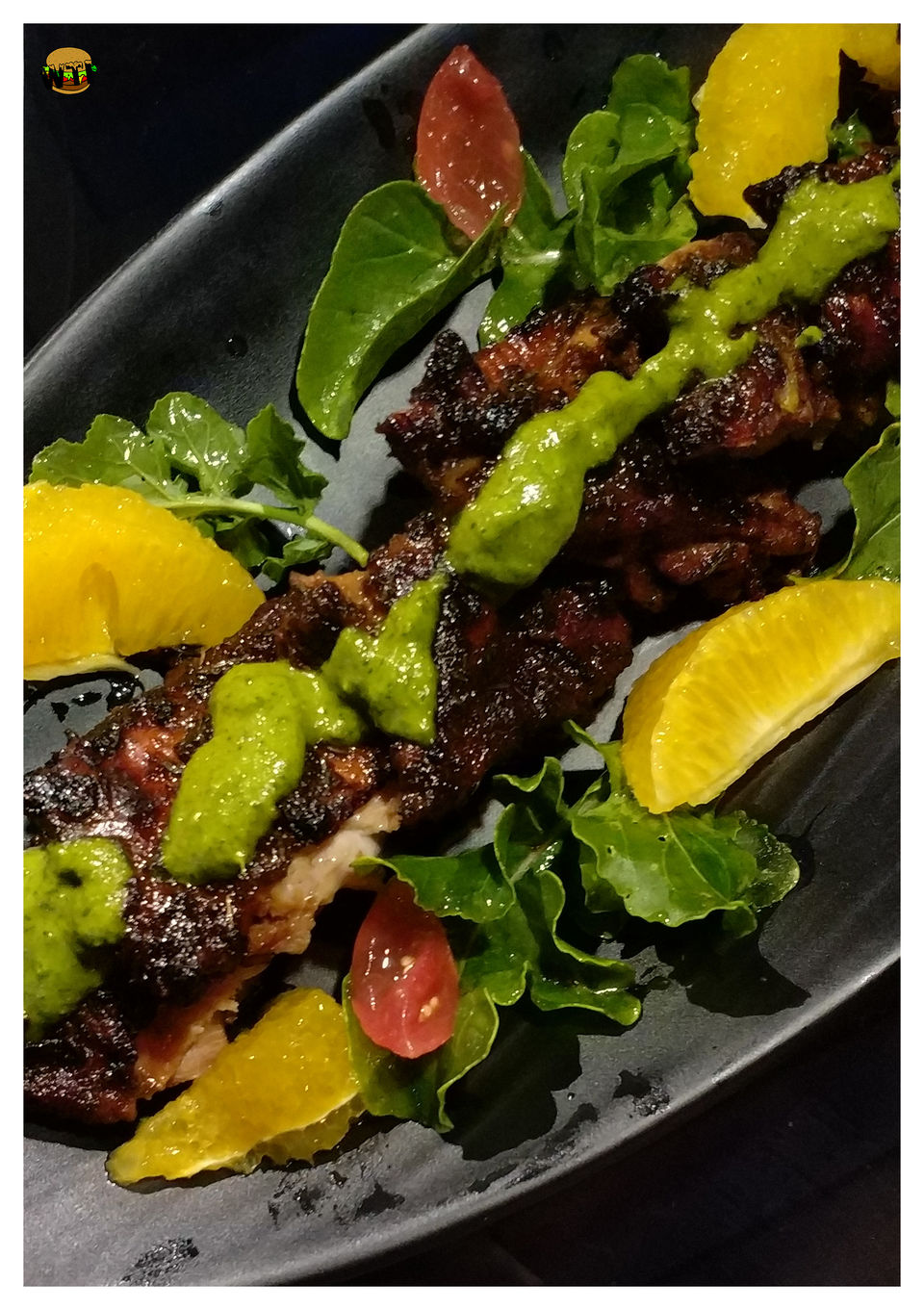 Bruschetta Ensemble (425 INR) :- Bruschetta is an antipasto from Italy consisting of grilled bread rubbed with garlic and topped with olive oil an salt. Variations may include toppings of tomato, vegetables, beans, cured meat, or cheese.
Over The Top serves one of the finest Bruschetta in the town. Although i didn't like the non-veg Brushcettas that much, But i must not forget to say that the veg ones are still stuck to memory.
The Veg Bruschettas came with three different portions(three different bruschettas in this case) namely Corn and Spring Onion, Mushrooms and Caramalised Onions, Cherry Tomatoes and Mozzarella Bruschetta.
Note:- Spring and Onion Bruschetta is highly recommended!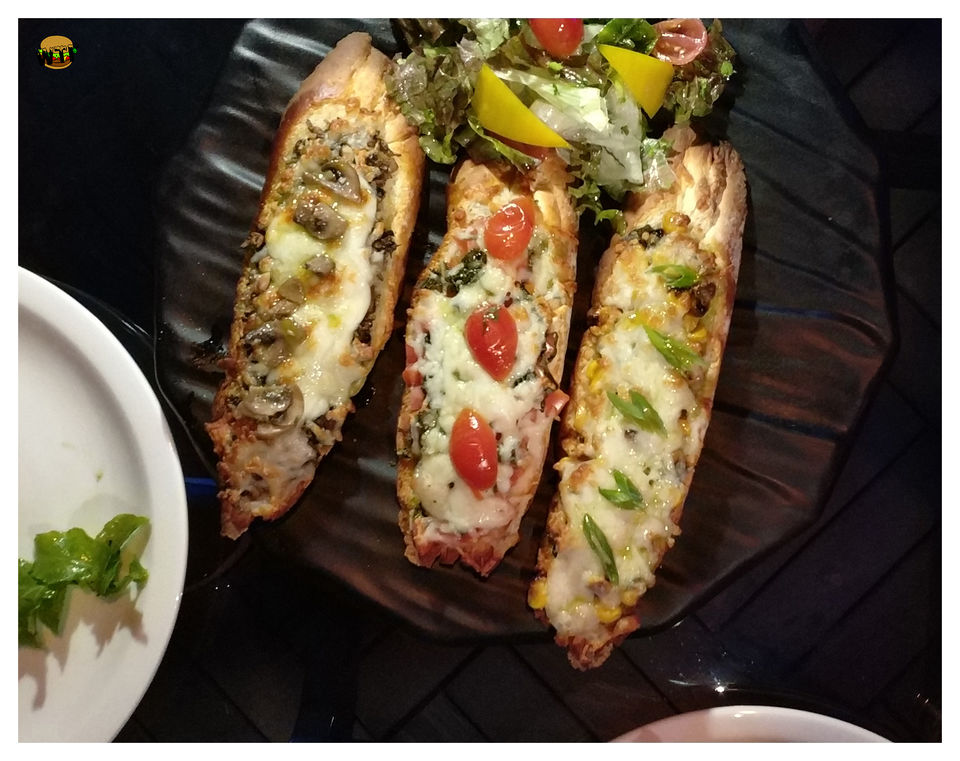 Mojito (375 INR) :- Again, If life gives you lemons, take them, give them to chef and ask for a Mojito! Every Story is incomplete without a Mojito. A Mojito that is not just sweet, but a perfect blend of lime and mint are just doing their job perfectly to chill your day.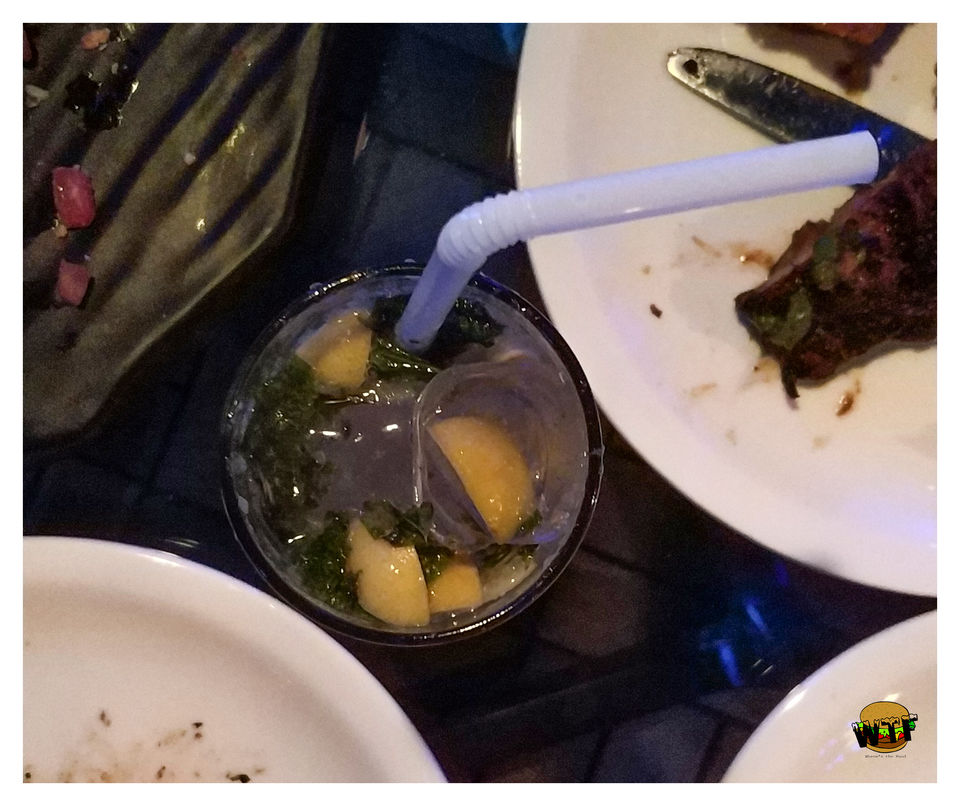 Methi Tacos (450 INR) :- Mehti and Tacos ? Are You Kidding me?
Wait! But No Jokes at all, These tacos are Game. A Tacos made up of Methi and Wheat with the Confit Chicken, Beetroot, Saffron aioli, and Coriander and pine nuts puree.
This small little piece of Taco(which not small at all) is promisingly crafted to take care of your taste as well the health.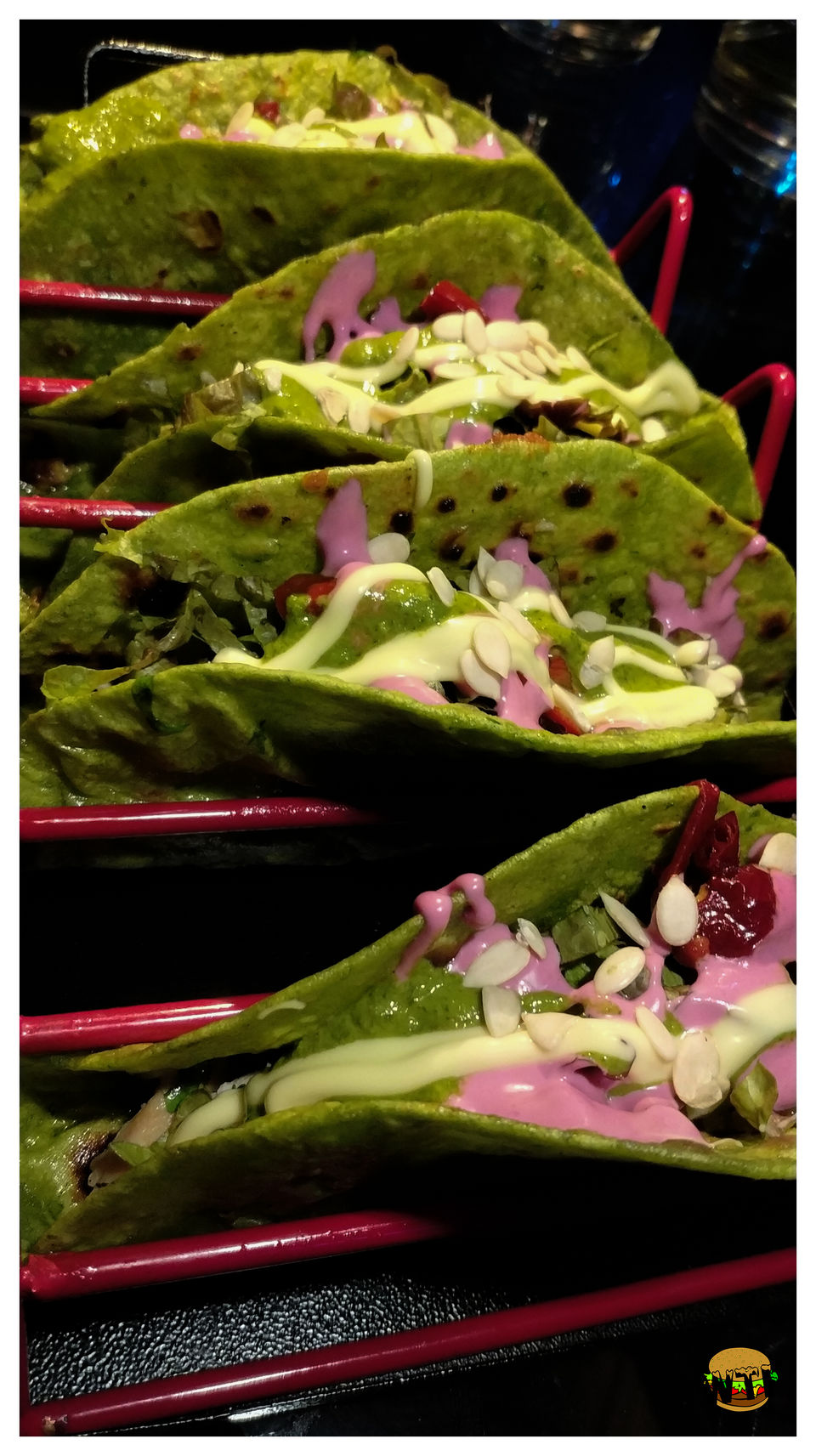 Sphagetti Mushroom Trio (525 INR) :- Everytime i think i'm done with the non-realistic kind of items from the menu; Chef Nishesh Tripathi doesn't get enough to surpise me with another one.
All i can say is just think of a Sphagetti that has Mushrooms, Pine Nuts, Parmesan Cheese Sauce?
Now Stop that Mouth Watering expression, lol.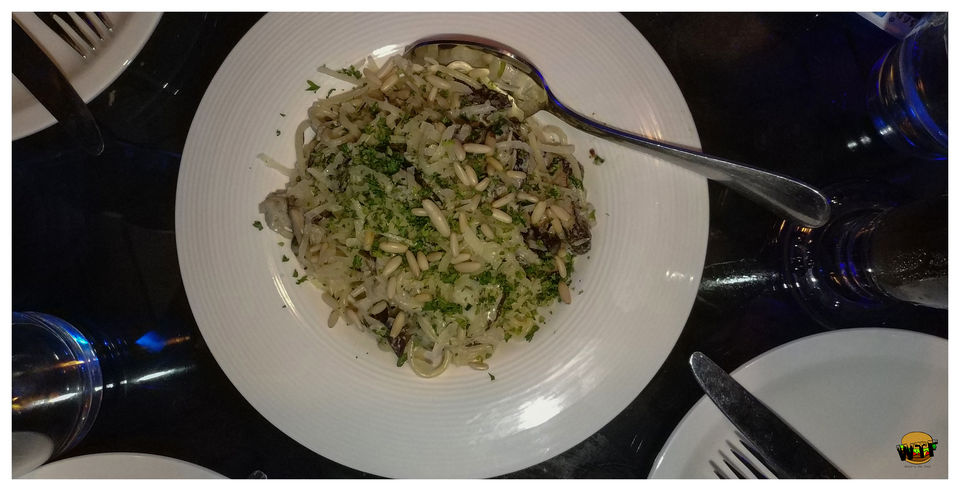 Grain and Seed Risotto (525 INR) :- A risotto that is full of jowar, bajra, pearl millet and sunflower as well as pumpkin seeds.
P.S; Sorry for the missing picture tho!
Blueberry Cheesecake:- How can moment last forever, how can a story never die?
Simple! You order a Blueberry Cheese Cake at Over The Top.
At last, I must say that The various ingridients and spices used in the preparations are all authentic and provide a relishing taste to the diners. Located in Radisson Blu in Hinjewadi, Pune, Over The Top is the perfect place for people who are specific about the superior quality of food and services.
A Big thank you to Bhakti Kenjale for sending the invite and Team Over The Top Pune for hosting us. Also a special Thanks to Chef Nishesh Tripathi for taking his time and being an active part of our evening.