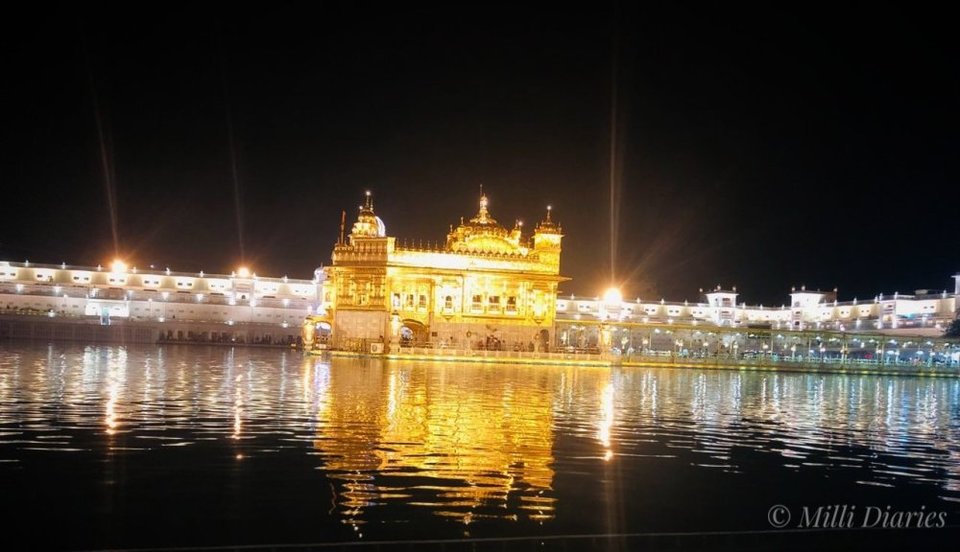 Finally, after a long wait, the day of the trip arrived!!!!!!
All bags packed (Overpacked, I must say !!!!!), my husband and I met our friends at the airport. We started from Pune on an 11pm flight which reached Delhi at 1am and then took our connecting flight to Amritsar at 5am in the morning. After an exhausting overnight journey from Pune, we landed in Amritsar at 6.30 am.
The cab driver received us at the airport and took us to our first destination, Hotel Sakhi Inn, which is located meters away from the Golden temple. The hotel is not a very posh or luxurious place, but the rooms are pretty clean and it is very close to the main market and golden temple. So it is a good option for an overnight stay.
Though we had shortlisted the places to visit and things to do on the trip, we did not have a set itenery. We planned things along the way. Our immediate plan was to rest for a while and then try to get tickets for the retreat ceremony at Wagah Border. The tickets are available for Indians at Border security force (BSF) office which is located around 15-20km from Amritsar. This ticket would ensure smaller queue for security checks and better seats to view the ceremony. Foreign nationals do not need a special ticket and can just walk in at the venue. Couple of my friends had gone to check the tickets, meanwhile, we went out for a quick breakfast. When in Punjab, eat like the Punjabis...... Nothing can beat a butter loaded Aloo onion paratha and Chole khulche for breakfast. There are many good paratha places around the Golden temple, we had ours at AK Amritsari Kulche. First meal at Punjab and it was divine!!!!! Highlight of the dish was a tangy chutney made of tamarind, onion, ginger, garlic and spices. I can have this chutney whole day!!!!!!!!!!!!!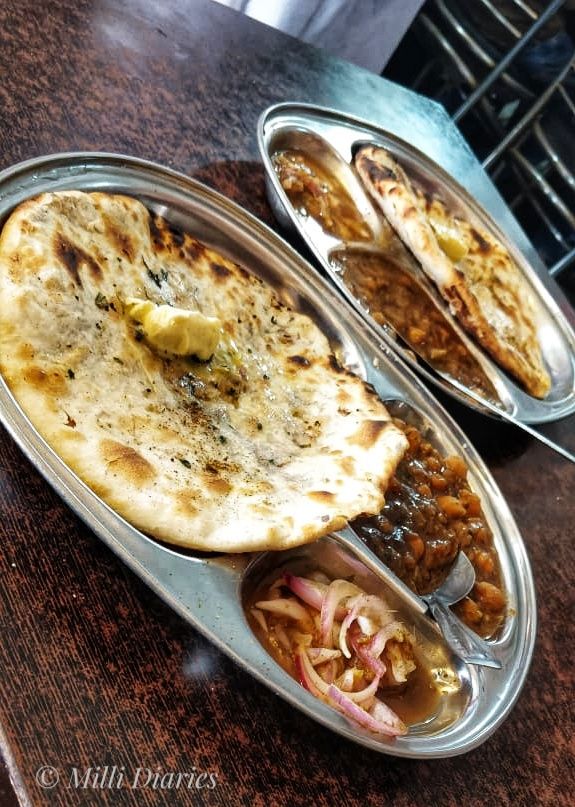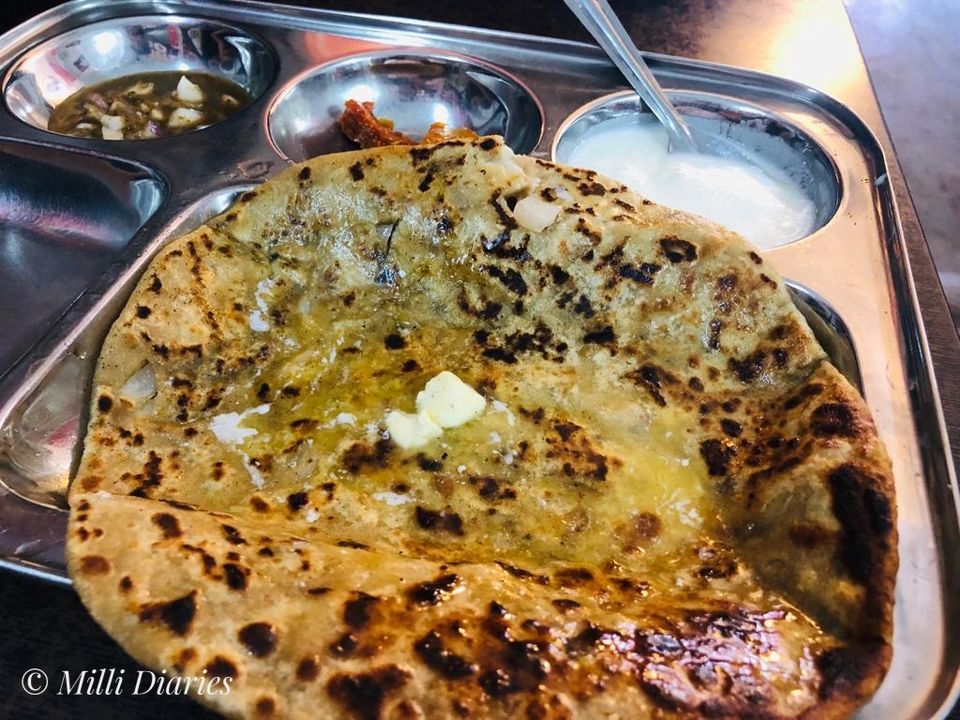 Unfortunately, we could not get those reserved tickets to the retreat ceremony as it was very last minute. The tickets would have been available one or two days prior to the day of visit.
It was almost 1pm by the time our friends returned from BSF office and as the seating at Wagah border was on first come first serve basis, we had to reach there as soon as possible to get good seats. Wagah Border is at a distance of 30kms from Amritsar and it takes around an hour to reach there. We decided to have our lunch and head straight to Wagah Border.
We inquired the locals and chose Bade Bhai da Brothers Dhabba for lunch. It did not disappoint us a bit and every dish on our table was lip smackingly delicious.
After a heart filling lunch, we set out to witness the Retreat ceremony at Wagah Border. The ceremony starts at 5.30 pm during summers. People try to reach Wagah border by minimum 3 pm to get good seats, but we were supremely late and reached there by 5 pm. With the hopes of getting good view dying inside us, we rushed to the auditorium and this massive entrance greeted us.
With patriotism on a super high, we entered the auditorium and were directed to the topmost floor as all other floors were filled with spectators. To our surprise, we got the best seats in the house, top centre seats. Couldn't have asked for more !!!!!! We had a complete view of Indian side as well as Pakistan. We realised that the reserved seats would have given us just the Indian view.. So to get best seats, walk in very early or very late !!!!!!!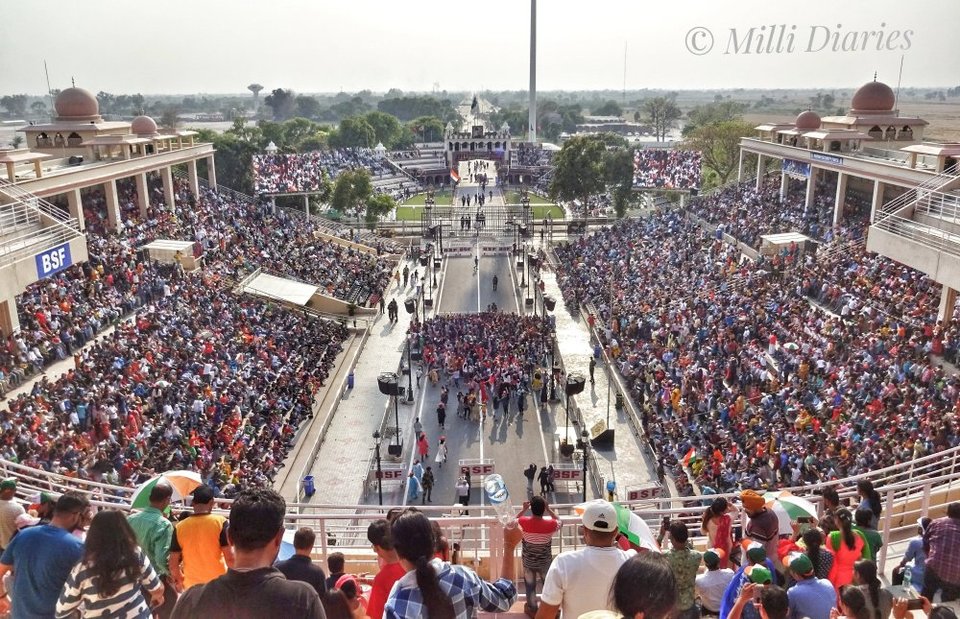 The energy inside the auditorium was electrifying. Chants of Hindustan Zindabad (Long live India) filled the auditorium. Women military personnel of BSF kicked off the drill and this moment gave us goosebumps. The drill displays the strength in Indian BSF in a dramatic way by rapid footwork and raising the leg as high as possible. You have to witness the ceremony to understand the passion that runs inside every Indian at that point.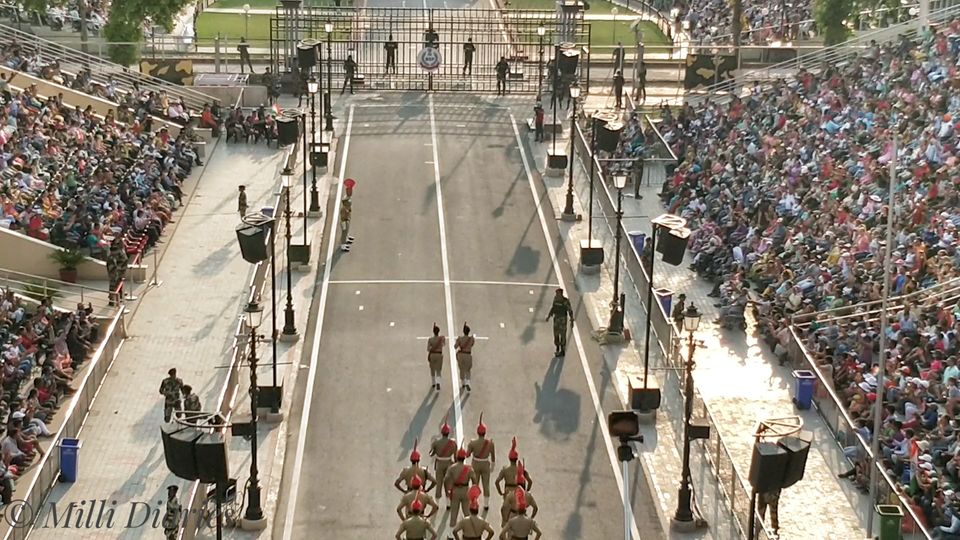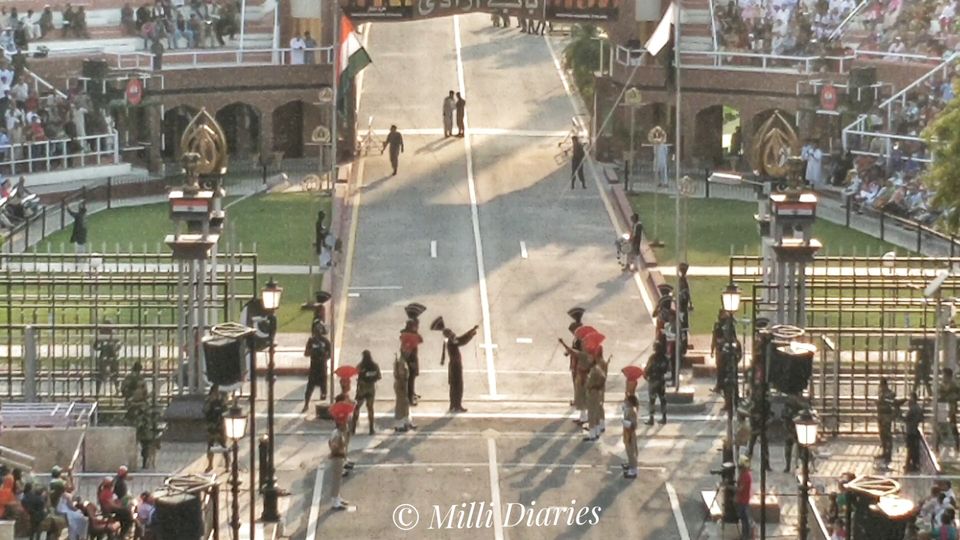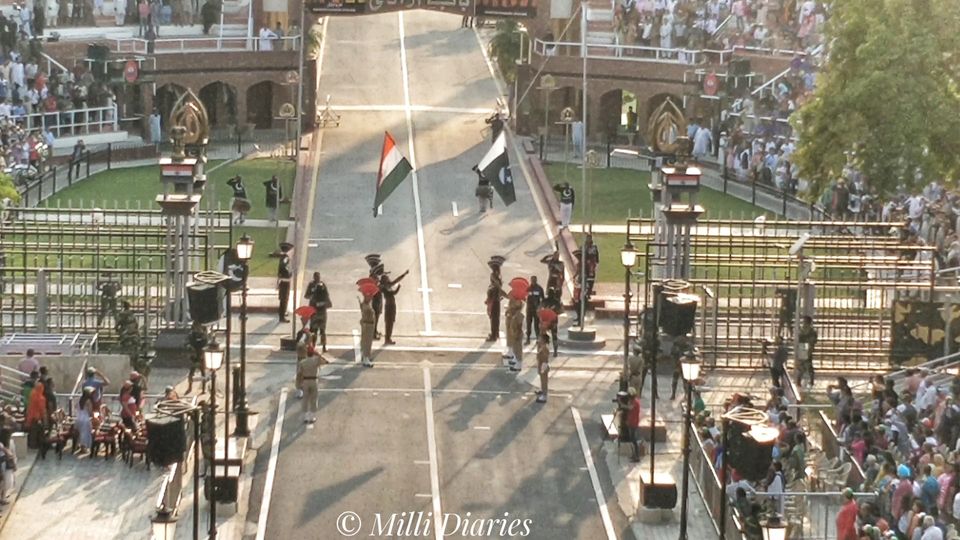 The ceremony lasts for around half an hour, at the end of which the Indian and Pakistan flags are lowered for the day. This experience was the highlight of our day and definitely made us all very emotional as well.
After the ceremony, we reached Amritsar around 8pm and headed for some shopping!!!! Amritsar is a women's paradise for shopping. The market is around the Golden temple and you can buy beautiful Phulkari dupattas, dress materials, colourful jootis (footwear), Patiala bottoms, Punjabi turbans and lots of more stuff.
We decided to end our day with a visit to the Golden temple.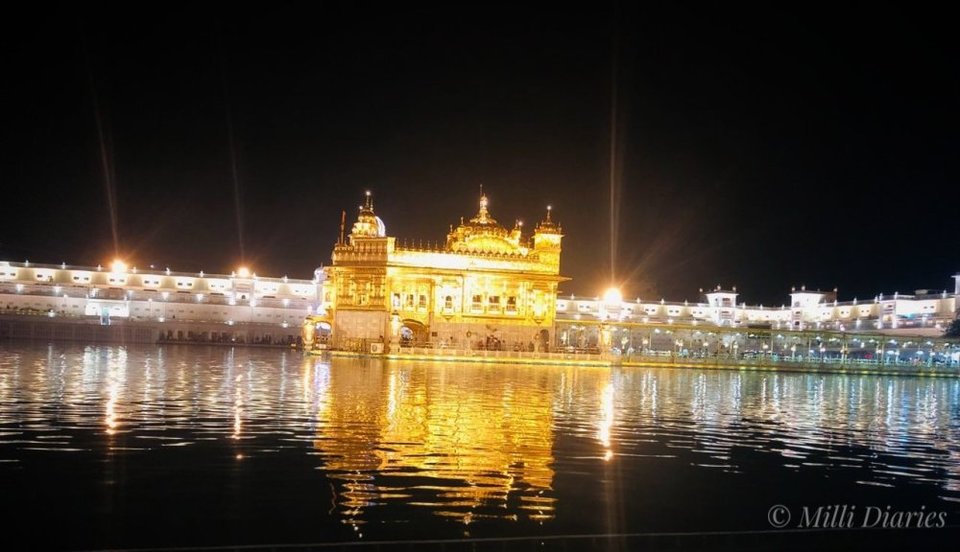 Sitting beside the holy pool, we were filled with peace and tranquillity watching the golden temple in night lights. Time flies by besides this visual and yet it doesn't feel enough.
Other attractions in Amritsar include Jallianwala Bagh, which is also close to the Golden Temple. We did not go inside the memorial as the memory of Jallianwala Bagh massacre in 1919 was very depressing. Below are few visuals from the streets of Amritsar.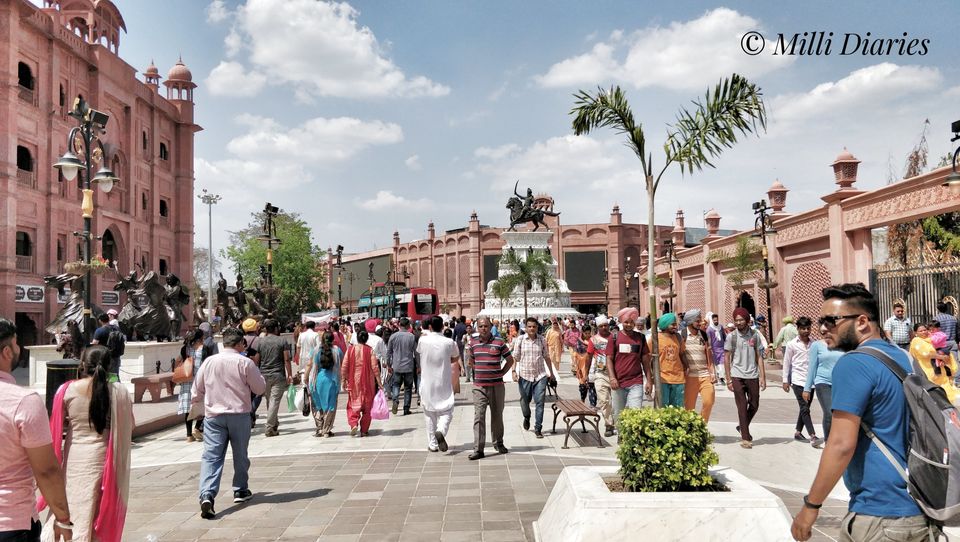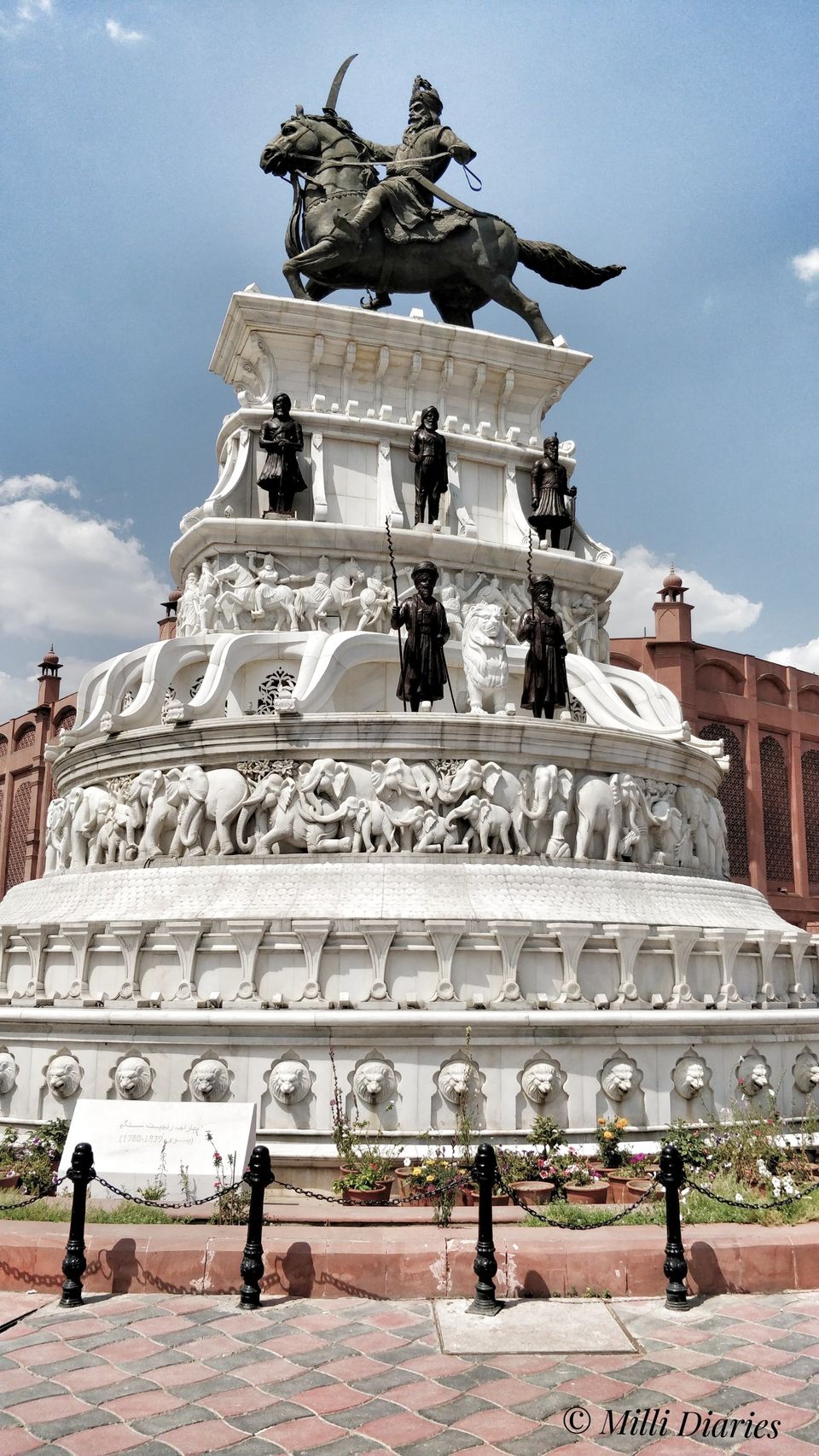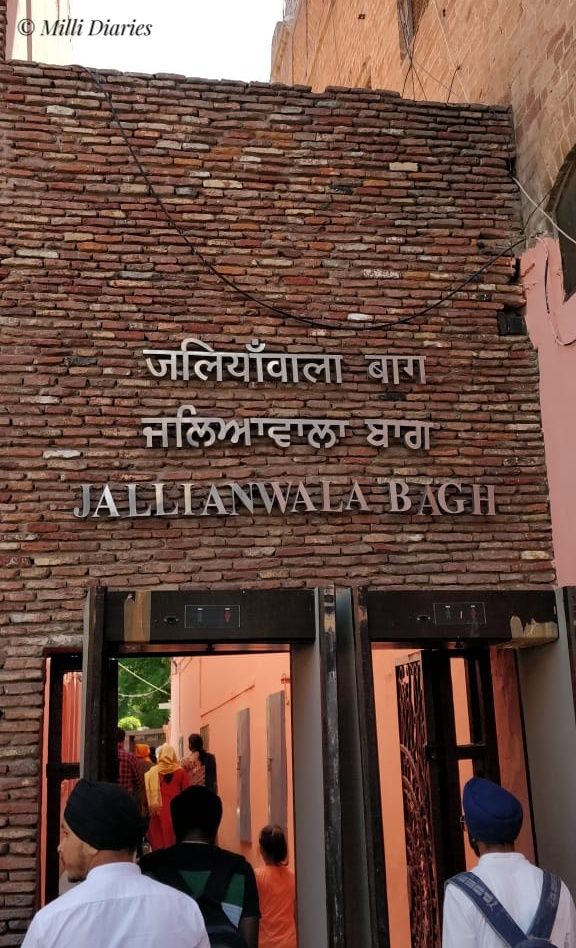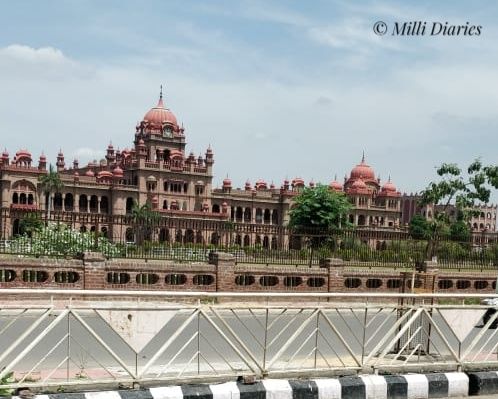 On the whole, our day was more than we expected and Amritsar should definitely be on everybody's vacation list.
Please leave your comments on this blog and hit the follow button to get notified about my future blogs.
Blogs linked to this blog:
Prequel- Punjab & Himachal Pradesh: The Beginning
Sequel- Day 2: Golden Temple & Dalhousie
Day 3: Snow clad mountains, Meadows and Waterfalls- A scenic day at Dalhousie
Stay tuned for experiences from rest of the trip......
You can view all my blogs on https://millidiary.com