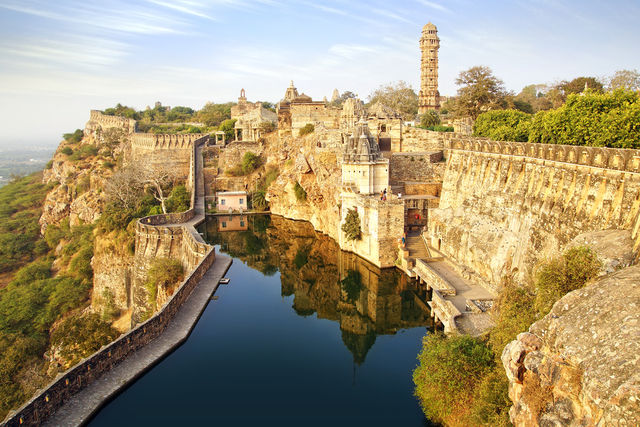 Rajasthan – the very word evokes memories of the rich cultural heritage of India. This vibrance is infused not only in the capital city of Jaipur, but also in each dhani and thikana that reverberate with the sounds of sarangis, beckoning tourists from the world over. Rajasthan is home to a plethora of forts and palaces which have now been converted into heritage resorts and hotels. Only a short road trip away are some of the best hotels near Jaipur, that are must-visits for the perfect Rajasthani experience.
1. The Castle Dundlod, Shekhawati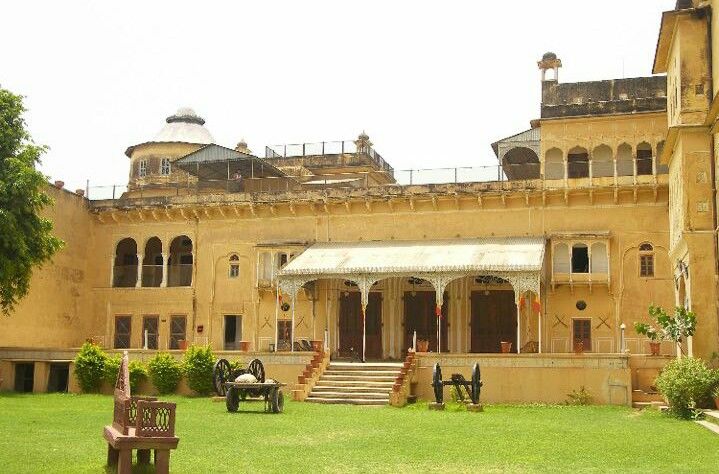 Distance from Jaipur: 150km (3 hours) || Distance from Delhi: 237km (5 hours)
The Castle Dundlod is a medieval castle located in the heart of Shekhawati region. The castle has been tastefully done up and converted into a luxury hotel, especially for those who seek the true royalty of Rajasthan.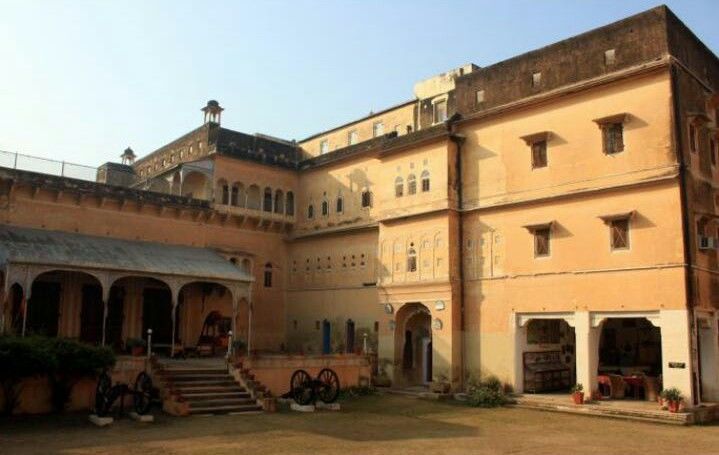 Specialities: The diwan khana or the durbar hall of the castle has a library with rare books from the medieval age that were passed on through the Dundlod family. Moreover, Louis the XIV furniture that adorns the grand halls of Dundlod castle increases the castle's historic value. You are sure to experience hospitality par-excellence that will make your stay a memorable one. Watch the gorgeous hues of the setting sun against the backdrop of this splendid castle, and feel no less than royalty yourself!
Price Range: INR 3,000-INR 4,000 per night with breakfast included.
What To Do: Nearby attractions, Goenka ki Haveli and Maaji Saab ka Mandir will take you back into the bygone era of the Shekhawati lineage. At Castle Dundlod, village walks, horse and camel rides are also organised everyday.
Distance from Jaipur: 160km (3 hours) || Distance from Delhi: 166km (3 hours)
The Dhadhikar Fort is an example of Rajasthan's ancient culture, precious history, and unique natural beauty. It is a kingdom in itself that welcome tourists to experience its grandeur, all around the year. Enjoy the architectural marvel of Dhadhikar Fort while you appreciate the magnificent Aravallis that surround it.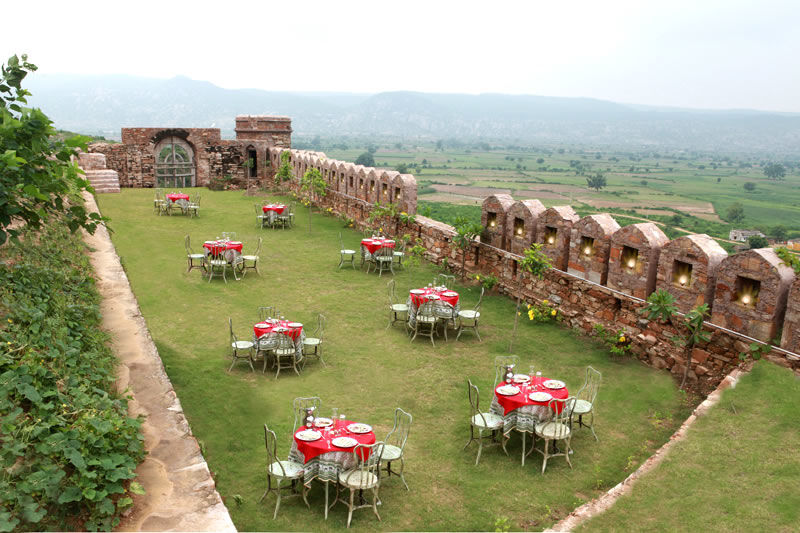 Specialities: The ambience of the fort is bound to make you feel regal, royal and resplendent right from the time you lay your eyes upon it. You can also spend your evenings enjoying cultural shows that are organised by the hotel.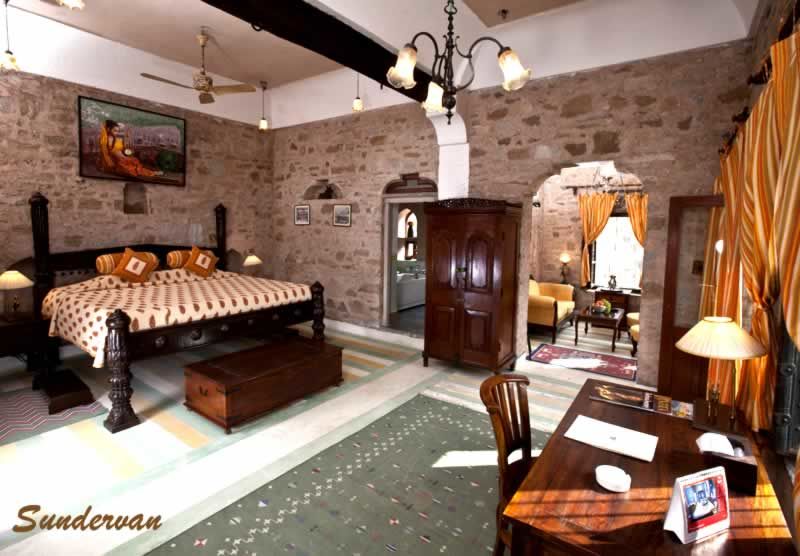 Price Range: INR 4,000- INR 15,000 per night including breakfast.
What To Do: Visit the Bala Qila, Vijay Mandir, Jaisamand Lake and Sariska Tiger Sanctuary that are the key places of attraction around Dhadikar.
Distance from Jaipur: 145km (2.5 hrs) || Distance from Delhi: 415km (7 hours)
The Aaram Bagh in Pushkar is a concept resort that is away from the city, in the midst of Pushkar hills and desert. Home to the only temple of Brahma (the creator), Pushkar is considered the spot where the universe took birth. Based on this myth, the Aaram Bagh is a resort where every kind of civilization finds depiction. Sprawling lawns, a swimming pool facing the mountains, and rooms with personal Jacuzzis make Aaram Bagh the perfect getaway! It is great for those looking for concept-based luxury, along with educational value for children.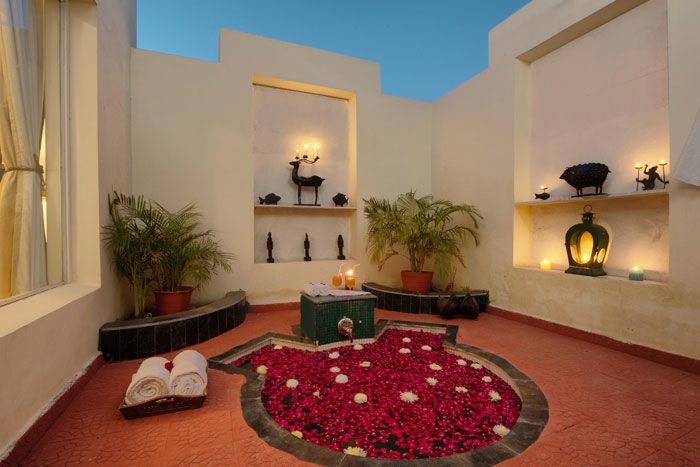 Specialties: Sections of the resort are divided into Greek, Chinese, Egyptian, Persian, Arabian and Indian civilizations. The buildings, rooms and lawns are themed around the specific civilization. So get ready to see huge statues of Zeus, Egyptian pharaohs, Chinese architecture, Arabian tents, Parisian history and tribal culture, all in one place!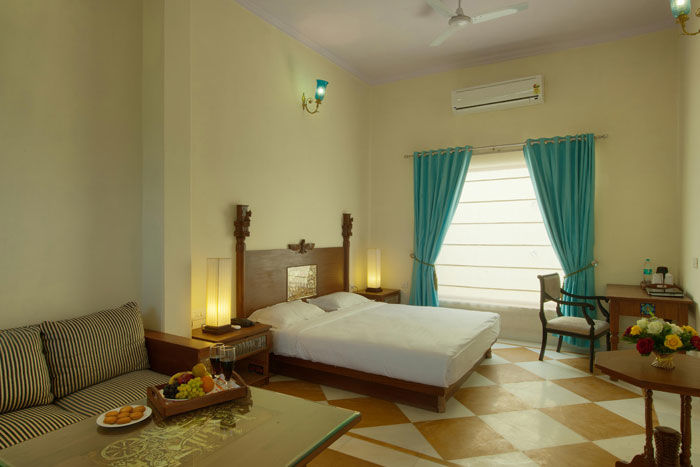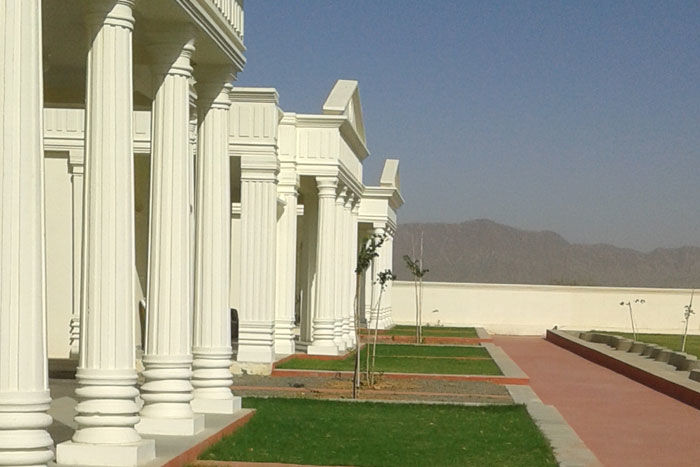 Price Range: INR 6,000 per night onwards with breakfast included.
What To Do: The resort organises tractor, ATV, and camel rides along the hills that surround it. Enjoy the swimming pool, dance club, troupe dances that are organised every night. You can also visit the Pushkar Heritage village and trek to Saraswati Temple.
Distance from Jaipur: 200km (3.5 hrs) || Distance from Delhi: 227km (4 hrs)
Right along charming deserts and rustic old mansions, lies a stunning property- Alsisar Mahal. This 17th century Indo-Islamic fort is known as miniscule Rajasthan. The Mahal is a perfect experience for those looking for a high-end luxurious stay.

Specialities: A stay at Alsisar is sure to take you through all the colours of Rajasthan without stepping out of the mahal. Alsisar Mahal is a must-visit, for it preserves ancient Rajasthan architectural structures like step-wells and cenotaphs, along with precious paintings and artifacts. The mahal also has a special World War II room, which has unique armours and artifacts from that era. The mahal is also known to host the popular music festival, Magnetic Fields, that you can attend every December.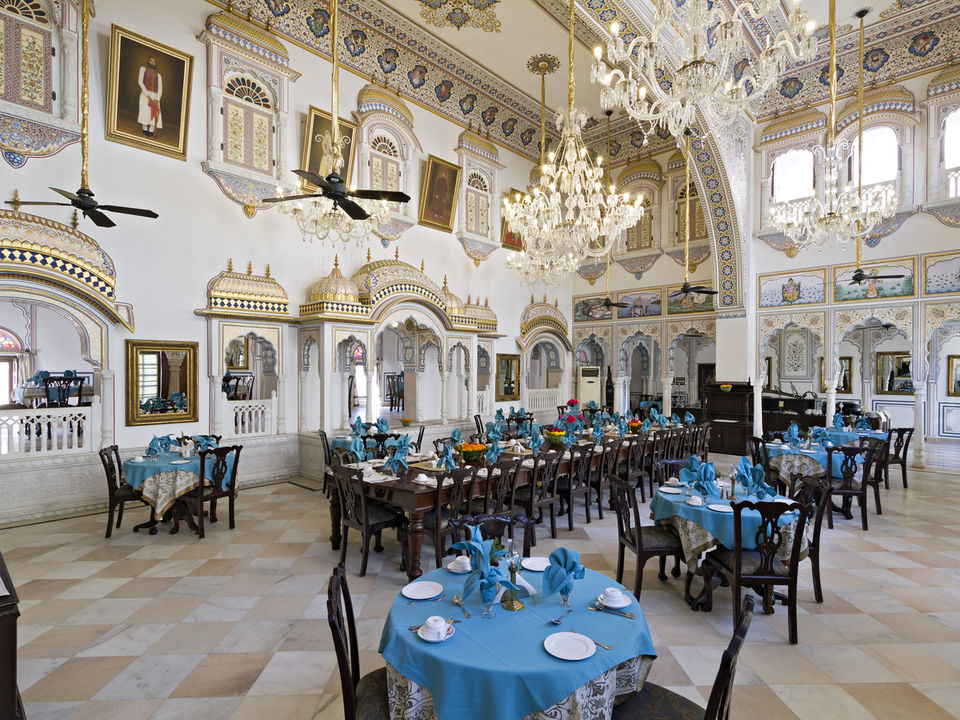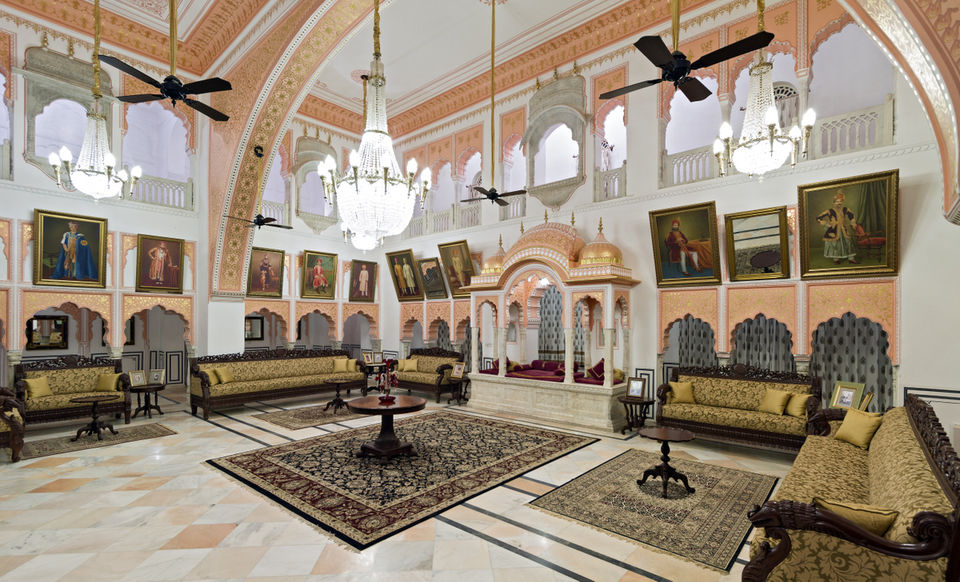 Price Range: INR 10,000 - INR 11,500. Discounted rates reach up to INR 3,120- INR 4,500 per night. This price is exclusive of taxes.
What To Do: Heritage walks, trail tours around ruins of Alsisar, and safaris are perfect experiences in this ancient desert city. Make sure to head out before the sun gets too strong.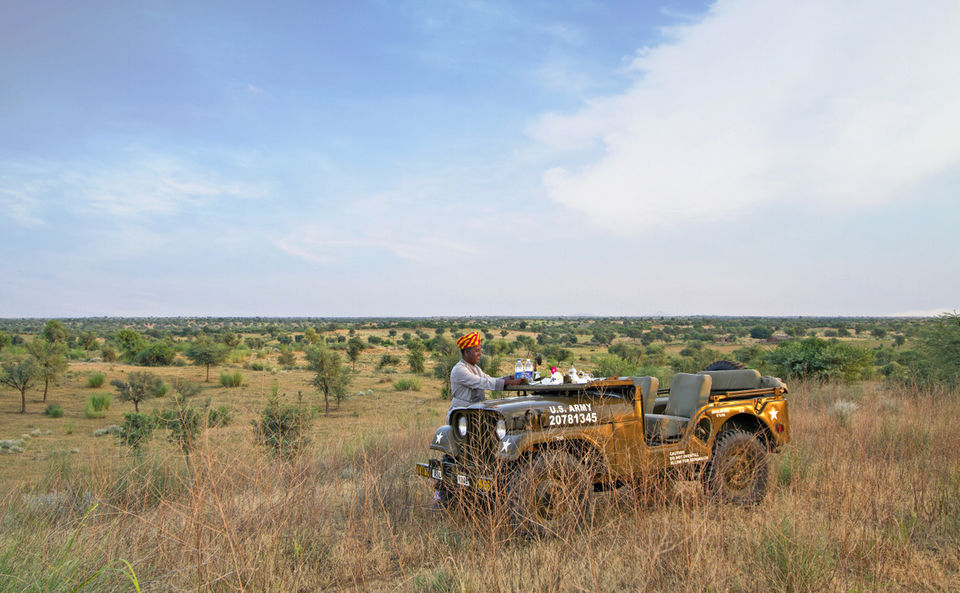 So next time you head to the royal state of Rajasthan, don't limit yourself to the city. Take a road trip that will take you to the lap of true Rajasthani luxury.
Know of more such properties around the country? Share your story with us HERE!