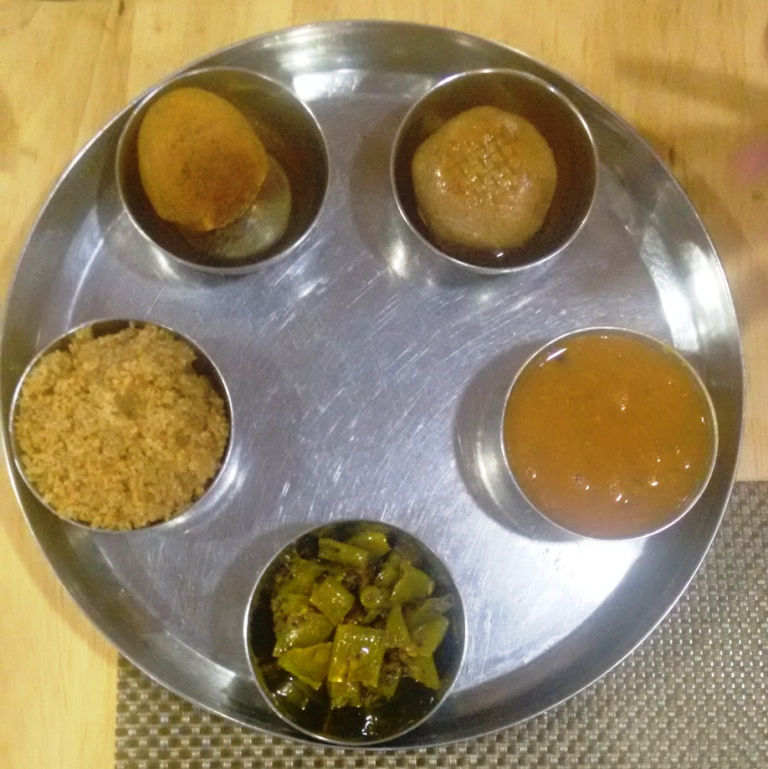 The Pink city is truly a foodies' delight. You definitely don't want to miss the mouth-watering local dishes the next time you travel to Jaipur. Here are some of my favorites:
1. Paneer Ghewar
This delicious disc-shaped dessert is a Rajasthani delicacy made with all-purpose flour and soaked in sugar syrup.The Paneer Ghewar at Rawat Sweets or Laxmi Mishthan Bhandar (LMB) is the best Ghewar you can get in Jaipur.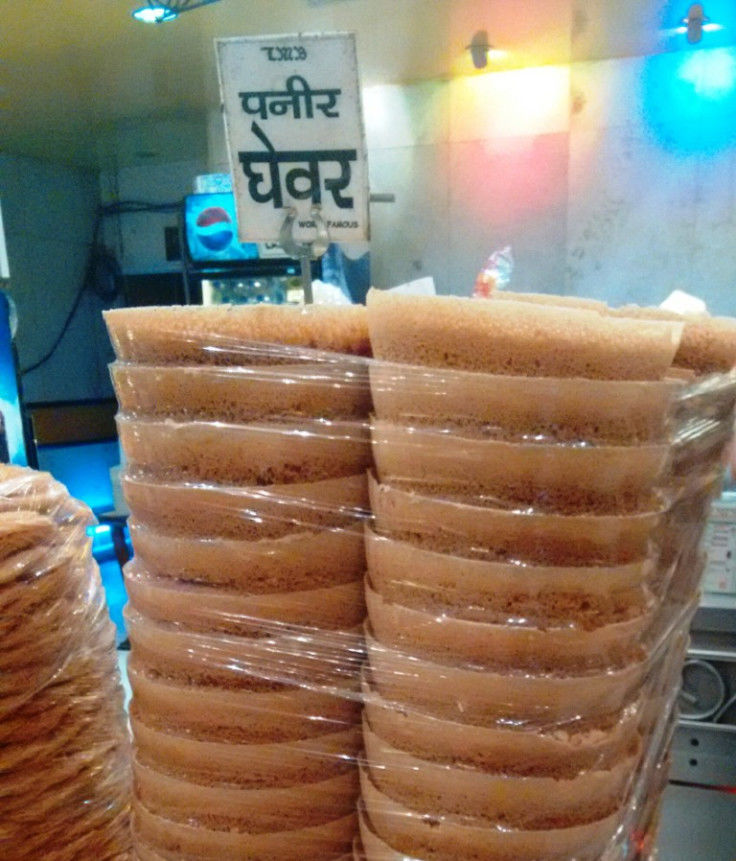 2. Rajasthani Curries
Laal Maas - It is a popular Rajasthani non-vegetarian dish prepared with dry red chillies, Rajasthani spices and red meat. Try Laal Maas at Handi Restaurant, MI Road.
Vegetarian Dishes - Gatta Curry, Kair Sangri (a traditional vegetable of desert beans), Kadhi pakora, and gram flour dumplings with Rajasthani herbs cooked in gravy are some of the popular curries in Jaipur. We tried 'Kadi Chhokanwali' (Rajasthani kadhi Pakora) and 'Bela Rajasthani' at LMB and enjoyed it. Lunch or Dinner at LMB is very expensive and not worth the price. Explore new restaurants to try the local cuisine.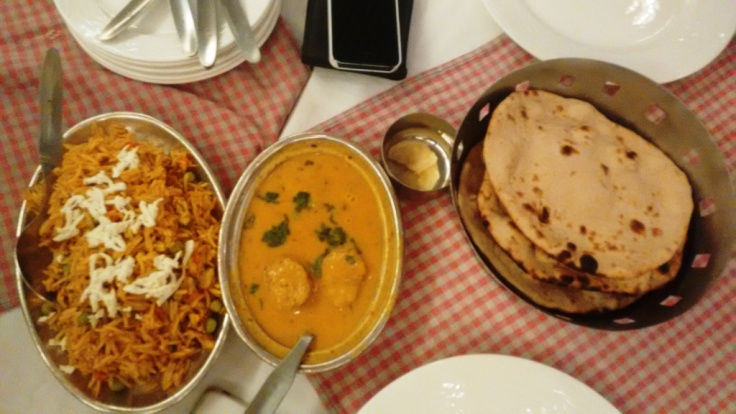 3. Kachori and Mirchi Vadas
Pyaaz Kachori at 'Rawat Kachori' is a must try in Jaipur. The pyaaz kachori has onion (Pyaaz) and potato stuffing. It has a strong garlic flavor. You can pour 2 chatnis (Green Chatni and Red chatni) inside the huge Kachori and enjoy the delicious taste. Dal Kachori, Mirchi Vadas and Mawa Kachori are also popular.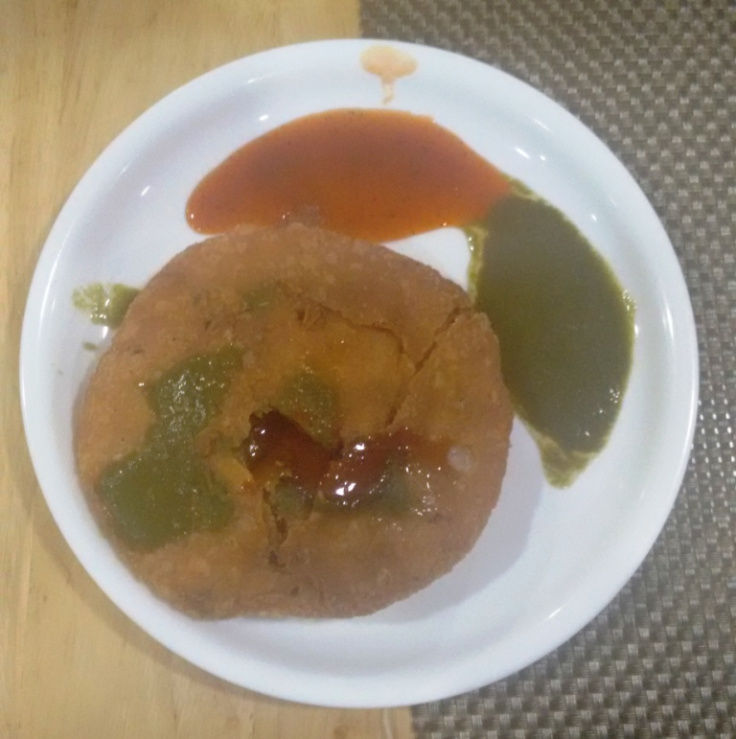 4. Ladoo @ Ganesh Temple
Moti Dungri Ganesha temple is a famous temple next to Birla Mandir. They serve ladoo to the visitors for a price of ₹ 50 and the money collected from sales is donated for a cause. These ladoos (given as Prasad) are very delicious. Try these next time you visit Jaipur!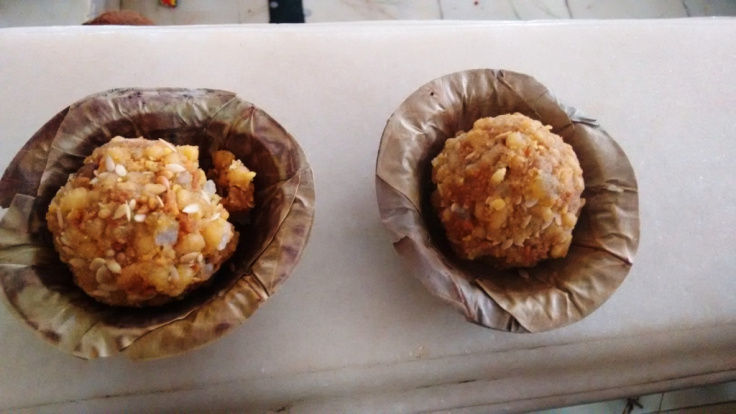 5. Dal Baati Churma
Dal-Baati-churma is a wholesome Rajasthani meal.
Dal - Lentil curry
Baati -Hard bread made up of wheat powder, yogurt, salt and water.
Churma - Prepared by crushing baked/ deep fried Baati and then mixing it with ghee, sugar/ jaggery and dry-fruits.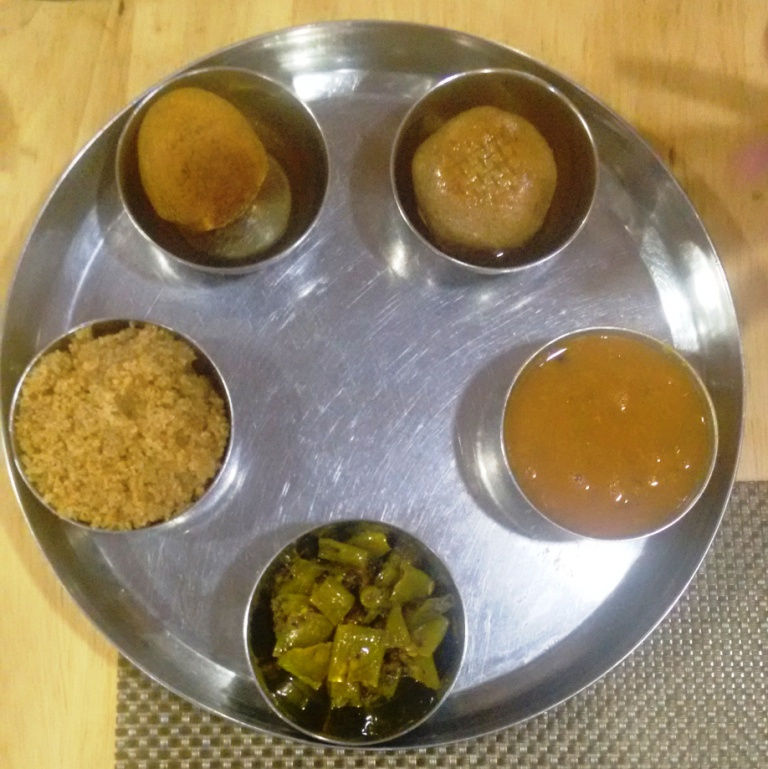 6. Lassi
Lassi is a must have food in Jaipur. You can get delicious lassi at 'Rawat Sweets' in Sindhi Camp or 'Lassiwala'.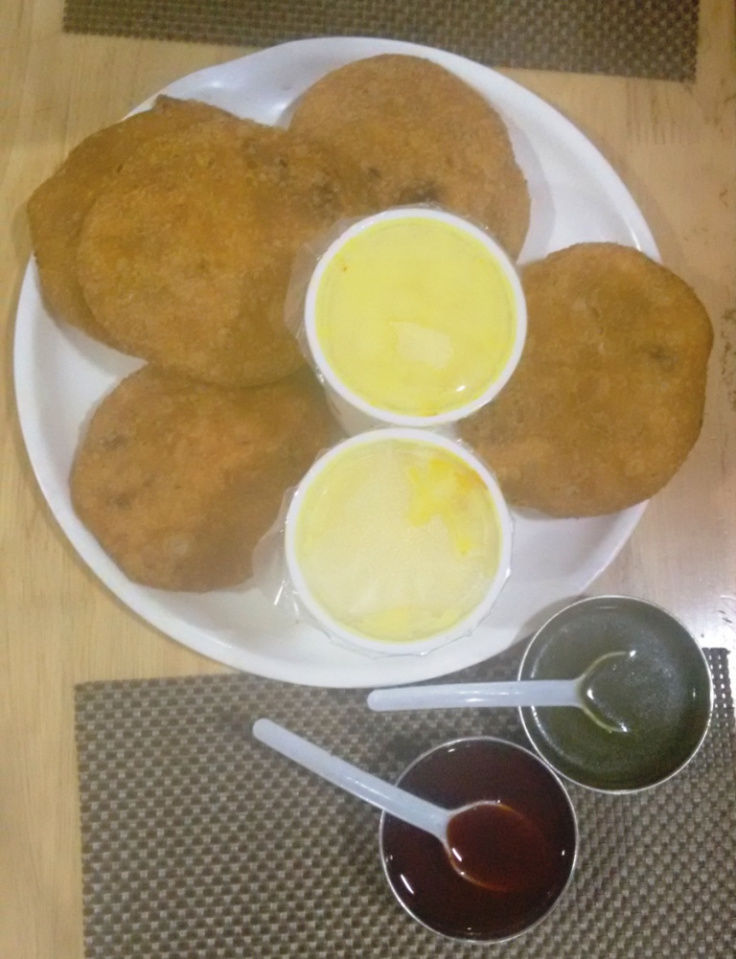 7. Traditional Rajasthani thali at Chokhi Dhani
Chokhi Dhani teaches you the Rajasthani way of life- Local food, handicraft, Rajasthani culture, dance forms and music.Traditional Rajasthani thali at ChokhiDhani is a must try in Jaipur. The vegetarian thali includes gatte ki sabzi, aloo-pyaz, daal, kadhi, 3 types of breads, dal baati churma, buttermilk and many more items. The vegetarian thali costs ₹ 600 whereas the non-vegetarian thali is for ₹ 950.
Trip first published on Happily Tanned