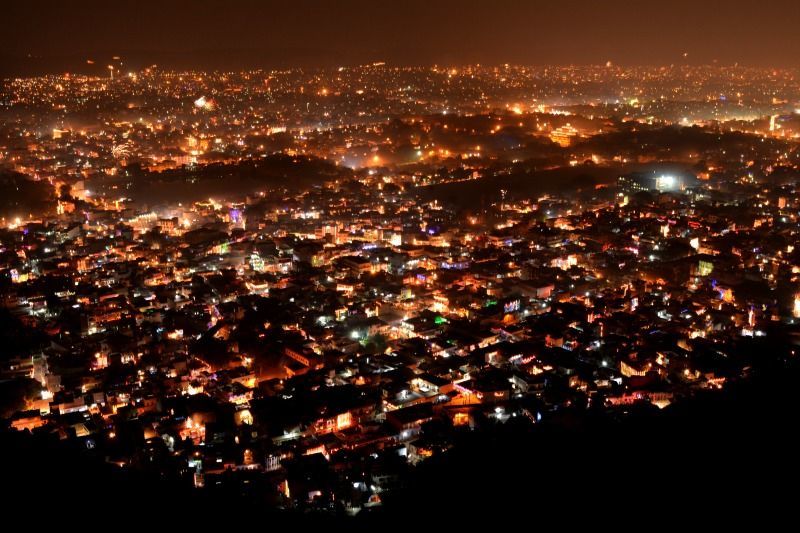 JAIPUR! When this word was around, we always start thinking of about Magnificent Forts, Hawa Mahal, Jantar Mantar, Planned city . But believe me Jaipur can offer more beyond these places and heritage sites.
I have been in Jaipur for 3 times and I always found something new to fall in love with pink city. In first time, it was a sunset at nahargarh, where you can see a mesmerizing view of pink city and recreate that epic scene of Rang de Basanti (Masti Ki Pathsala) , 2nd time it was light and sound show at Amber fort & glory of Rajput in voice of Amitabh, What else one can ask with evening and 3rd time it was vividness of local market, local food, folk dance, a record ride of scooty to ajmer & puskar ( 140 KM in 2.5 Hrs ) & company of a friend one always want to be with.
All the famous tourist places of Jaipur are well listed on internet and I can not add more insight on that but in this article I am trying to put some additional information that may help you to explore city in efficient manner.
What to see
1. Amber Fort:- All the road of City is leading to amber fort. This is the main attraction of city. This palace, along with Jaigarh Fort, is located immediately above on the Cheel ka Teela (Hill of Eagles) Aravalli range. Architecture of palace will show richness of rajputana culture. Fort is surrounded by wall and one can observe the emphasis has given on the security concern while construction of this fort. This is one of the well maintained fort i have ever seen.
This fort is open for the public even in the evening. Seeing the fort in electric light is a unique experience and available in very few places in India. So Don't miss it.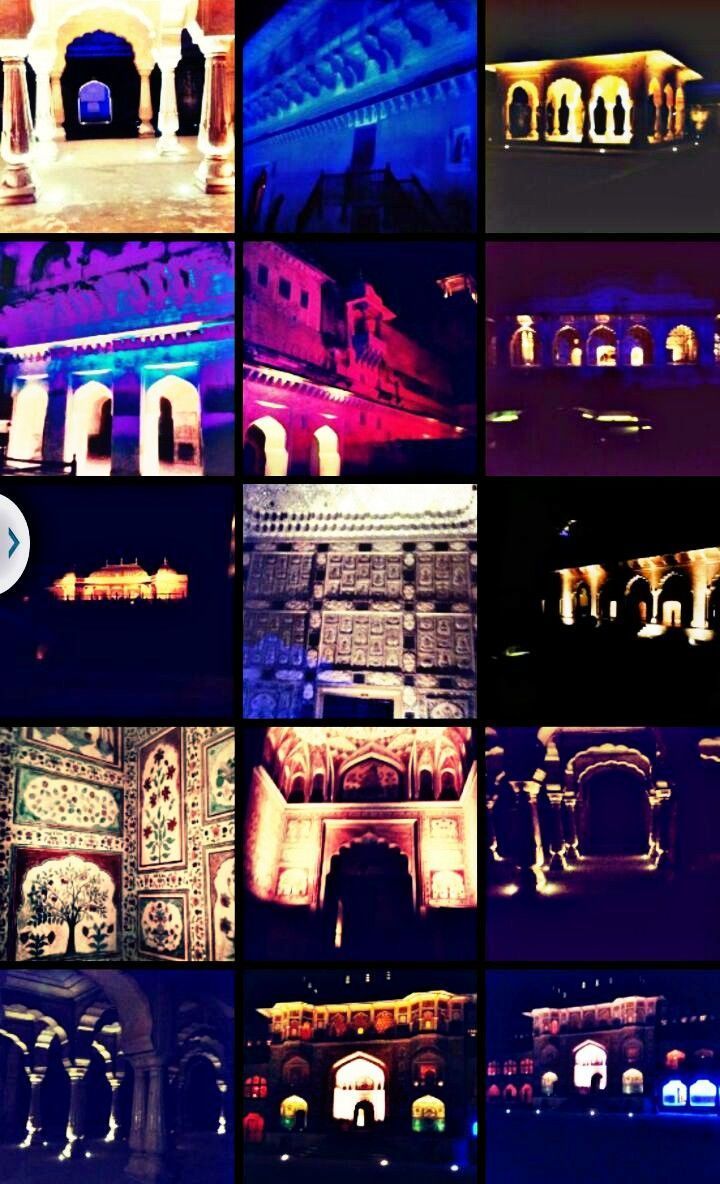 2. Jaigarh Fort:-
This is situated on the way of Nahargarh fort. Amber fort & Jaigarh Fort is internally connected but it is very difficult to walk and even it is not necessary. This Fort was a center of artillery production for the Rajputs. World's largest cannon on wheels of the Early Modern Era is also situated here.
3.Nahargarh Fort:- Nahargarh is situated on Aravlli hills. Shooting of Rand De basanti and Sudh Desi Romance movie were happen there. Once it is presumed as a haunted place and one can not stay here after sunset but now government has change many things and new restaurant has opened here.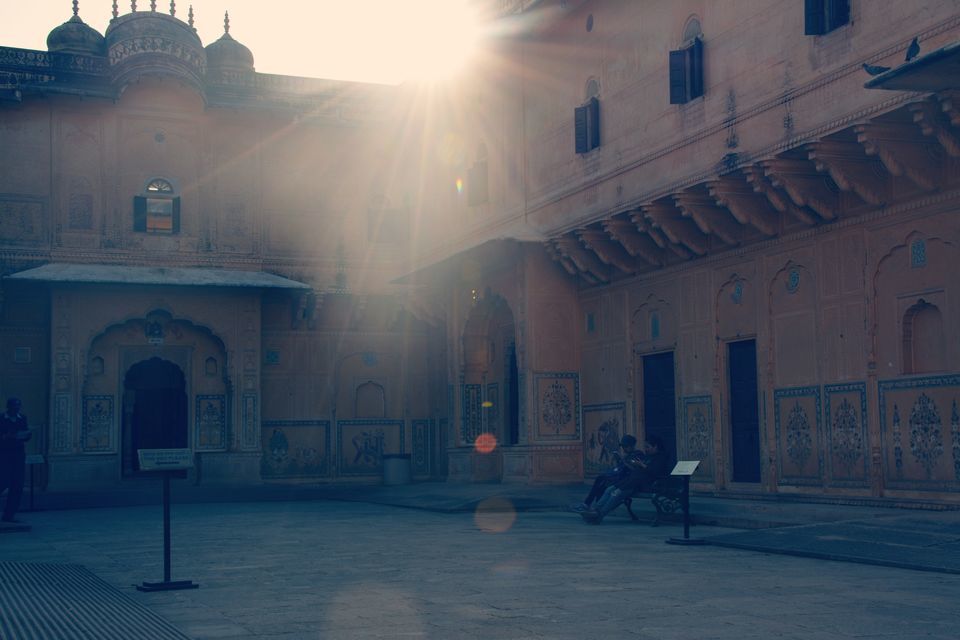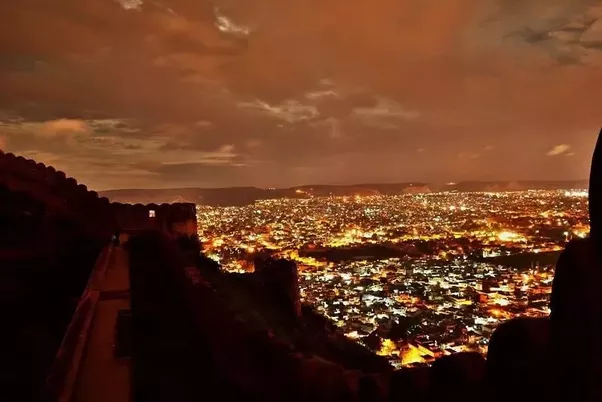 There is a PADAO Restaurant and you can have a great view of city from here and they serve delicious food with liquor so you can spend some time in evening here if you having luxury of time. Price of food is little costly.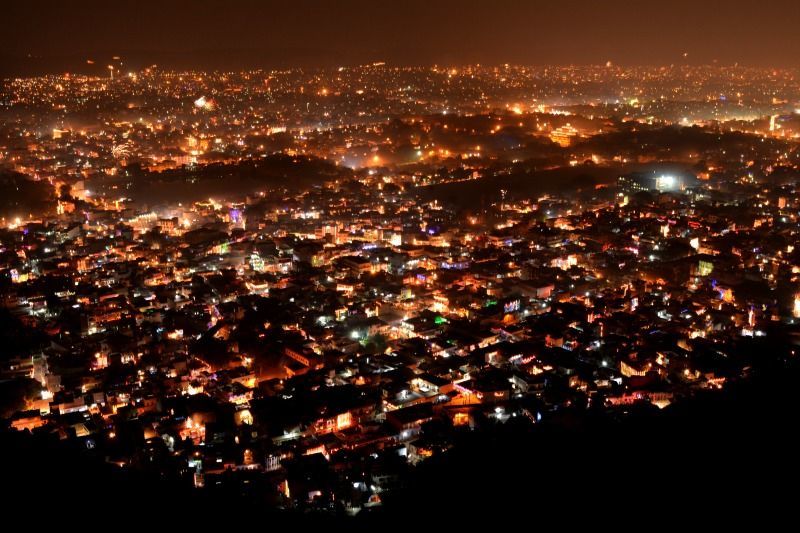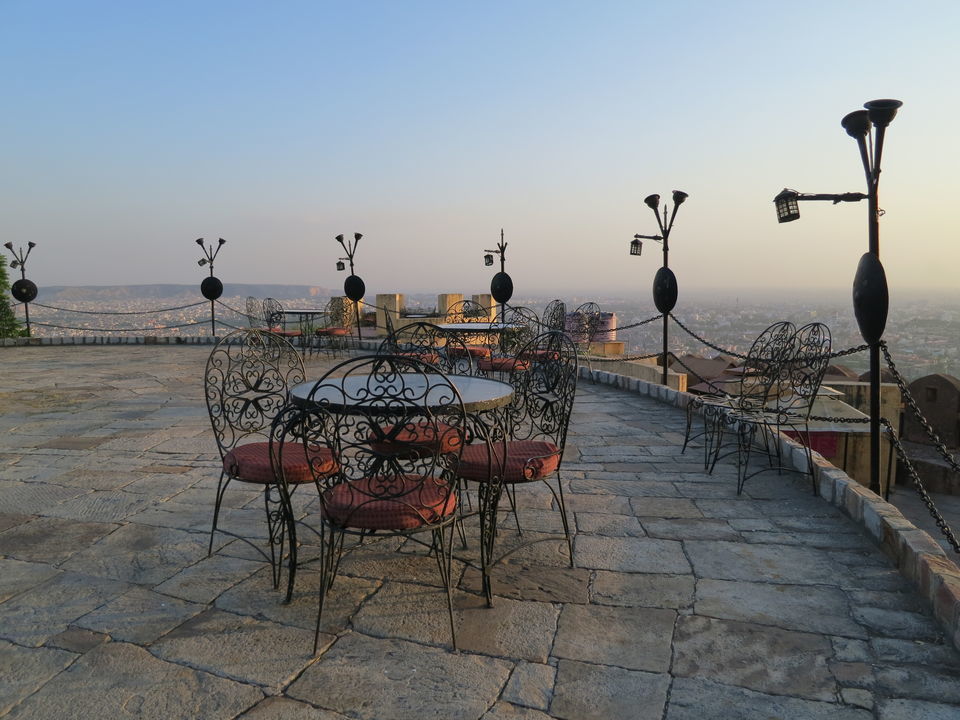 4.Light & Sound Show- This is must do and i can say that this is one of best light and sound show i ever witness. You will simple love it due to location and it will give you a quick glimpse of the history and glory of Jaipur & it's fort. (Do Not Miss It)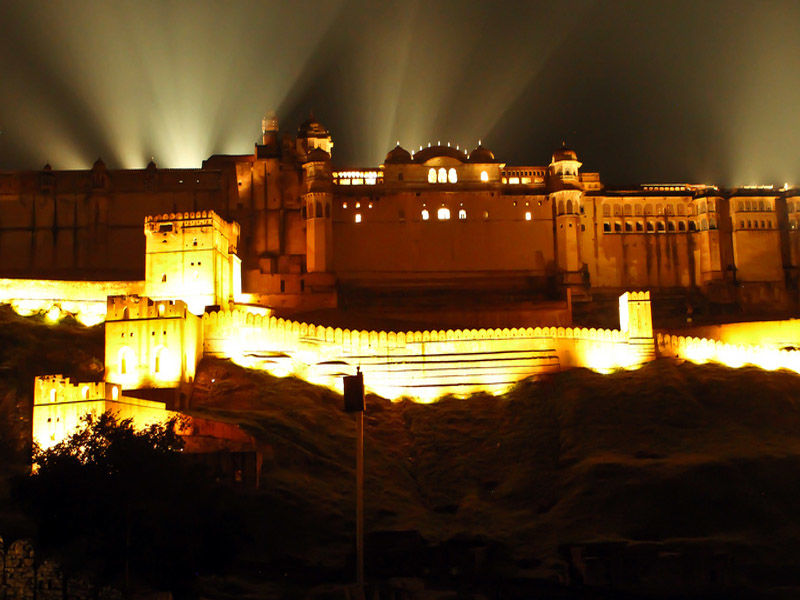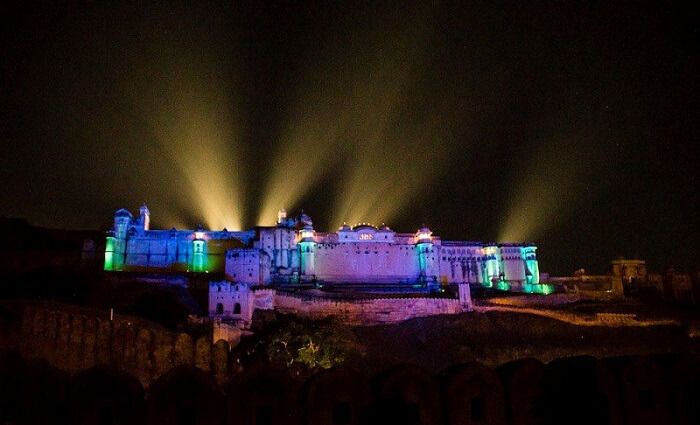 5. Jal Mahal
6.Hawa Mahal
7. City Palace
8. Albert Hall Museum
9. jantar Mantar
Where to Stay:-
There are plenty of option of stay from low budget to high budget from in main city to near Amber fort. One can try the hotel which is converted from old haveli. It will give you feel of history. Some of the property arranged folk dance also.
I had stayed in Naila Bagh Palace and I never regret it. The place is converted from old haveli. Rooms are big with heritage touch interior and full of basic modern amenities.
You can see peacocks around you and even one can notice a school running in the backyard of that property. Sometimes staying here will give you the felling of being part of history.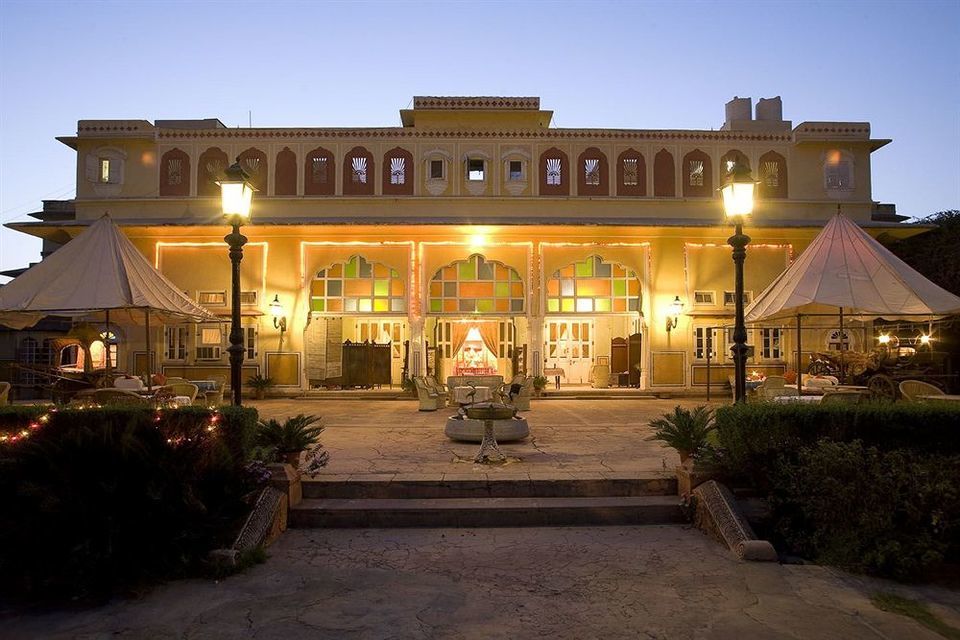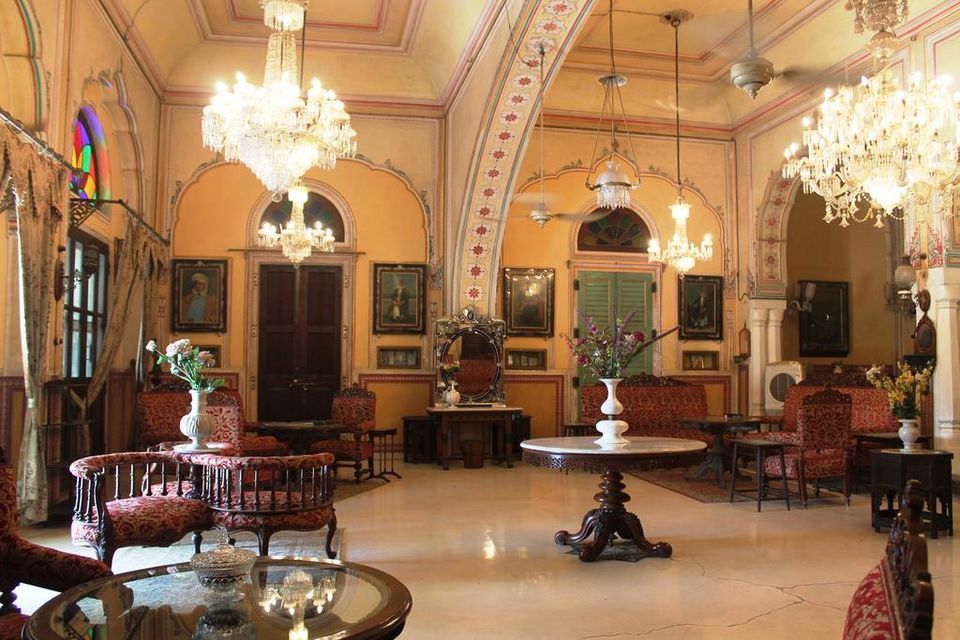 What to eat :-
1. Peacock Roof top Restaurant :- Food & ambiance are awesome. you must give it a try. Food was so delicious that We have started with Breakfast and end with lunch.
In evening they having live performance so it is a totally different experience.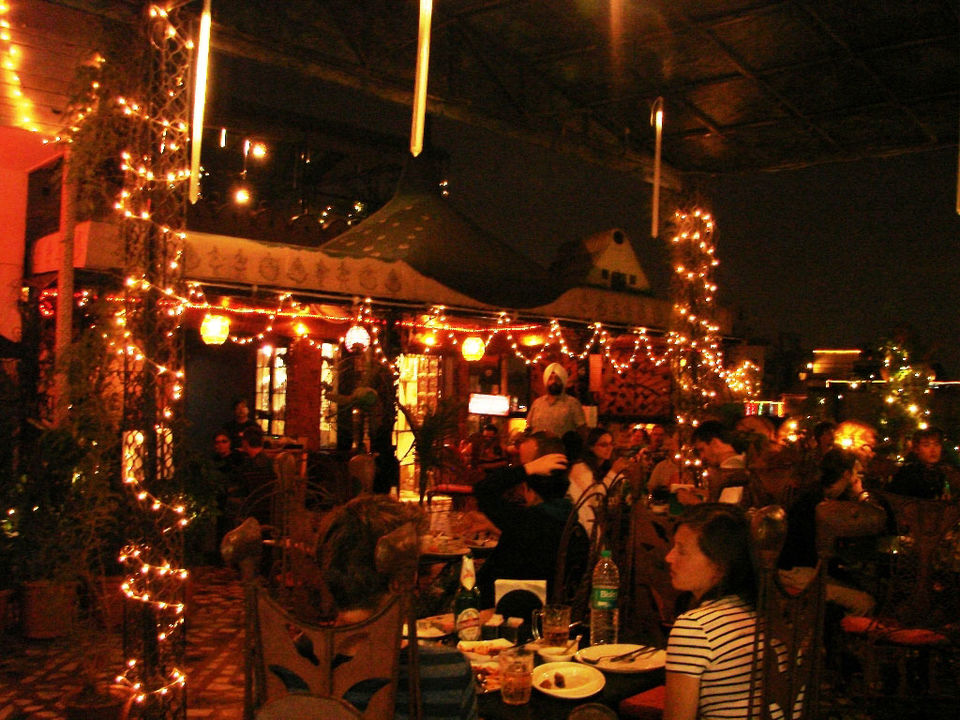 2. Old Take Away:- For Non Veg lover their are plenty of options. Old take away can be tried. Major Draw back, you have to eat by standing or parcel your food.
3. Tapri:- There are many popular tea shop in town and tapri is best among all. Along with tea they are serving variety of snacks. It is a nice hang out place for youngster.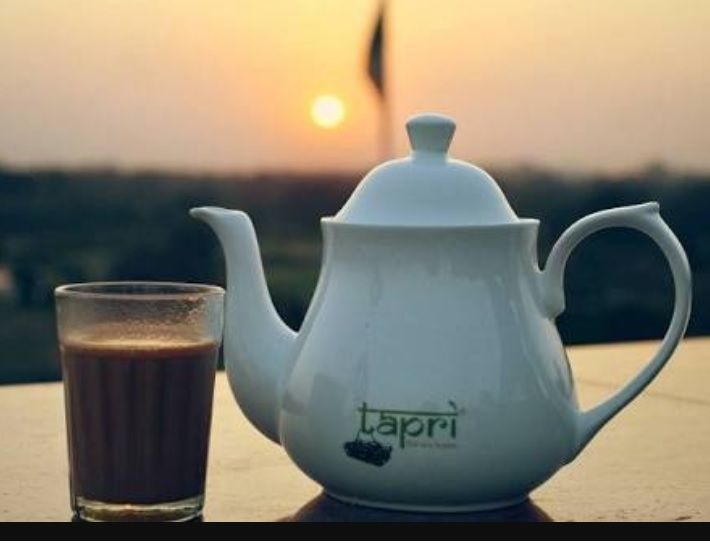 4. Laxmi Misthan Bhandar (LMB):- They are serving best sweet in town since 1727. You can try Kachori and other snacks here.
5.RAMBAGH PALACE:- If you want to give a lavish treatment to yourself than it can be given a try. You will never regret the money you spend after being here.
https://taj.tajhotels.com/en-in/taj-rambagh-palace-jaipur/restaurants/
Places Near to Jaipur
Ajmer and Puskhar is nearby places. Ajmer is famous for Dargah and Puskar is the home of one and only Bhrama temple.
Ajmer is around 130 Km from Jaipur and Puskar is further 28 Km. It is required one complete day. There are number of buses/trains available.
We have taken a two wheeler for local sightseeing and That Scooty owner told us even we could visit ajmer and puskar by this. I and my friend have given a strange look to each other! 320 KM on scooty and that is on a winter day? we both look each other, smiles and decided to go for it even without discussing a single word to each other.
I must say my friend was a good pillion and even a better rider.
If one is having luxury of time, a night can spend in ajmer or puskar.
Advice:-
1. You should plan to cover Amber Fort, Jaigarh fort, Nahargarh Fort Amber fort in evening and Light and musical show on the same day. Start your day early and if you wanna see the Amber fort in sunlight and artificial light. Try to see the musical and light show in the same evening. Don not miss it.
2. If You have luxury of time a evening can be spend at Padao Restaurant it is a different experience of seeing of all jaipur city in dawn and electric lights.
3. Jalmahal must be visit in evening only and you can spend some time and if you want to have elephant ride you can do here. it will be all together different experience while other ride on horsepower you are on elephant power.
4. All other attraction can be finished 2nd day.
5. Ajmer- If you are visiting Ajmer , Give a visit to Mango Masala Restaurant, Give a try to Kachori on local shops. Shared auto is available to reach upto Dargah , no Need to hire separate auto if you are alone. Plenty of Guest house available near Dargah and providing room on hourly basis. One can choose as per their convenience.
6.Pushkar : Pushkar is around 30 km from Ajmer. There is 1 km long local market before temple. Don't park your vehicle at the entrance of temple, vehicle is reached up to temple.
7. Two Wheeler on Rent- You can get easily two wheeler on rent and you can roam around city even you can take it upto Ajmer & Puskar. Inform the scooty person in advance.