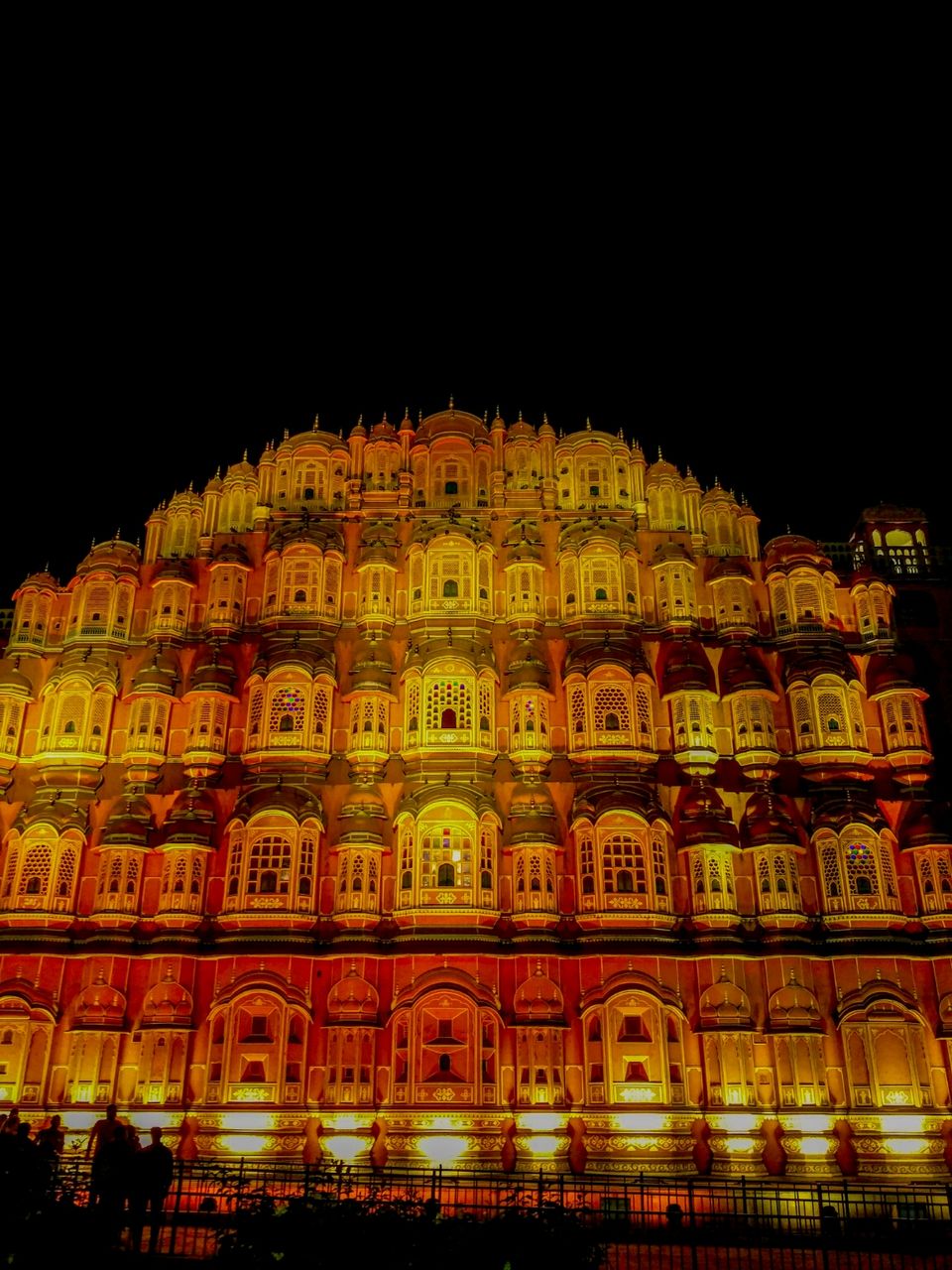 Hello Travllers,
             As mentioned in last story we have moved towards Jaipur The Pink City  at 11'O clock in the morning. The road was pretty good. On the
both side of road there was mines of raw marble and from that raw marble the stylish marble and tiles are extracted and
transported to all over india. Near about 1-2Pm we reached Kharwa. After entering in Rajasthan we are looking for special Rajasthani Dish which is called
Daal-Baati we get near Kharwa on Dhaba. The Daal-Baati was just awesome. After having delicious lunch we moved to Jaipur.
While ride my fried got very tired and weak. So some time of rest we managed to reached Jaipur in the evening near about 8'O clock.
There we booked room on OYO which cost us 700/Day. My friend got very sick and had fever and he told me that he wants to rest and he will order dinner in room.
When i enter to Rajasthan then i decided to see Hawa Mahal at night and in day also. So i went to Hawa Mahal alone.
               Hawa Mahal is a palace in Jaipur, India. Made with the red and pink sandstone. The structure was built in 1799 by Maharaja Sawai
Pratap Singh, the grandson of Maharaja Sawai Jai Singh, who was the founder of Jaipur. There are many colourful windows so women's of Rajgharana used
to see Jaipur city streets from this palace. The view of Hawa Mahal was amazing as you can see in image. After it i went to old Jaipur city for dinner
and here is 3rd day was ended. Next day in early morning my friend was still feeling sick and he wanted to rest so he told me to go and explore the Jaipur
return before 11AM as this was our check-out time.
          So my 4th day started at 7AM firstly i go went to Hawa Mahal again just to how it looks in day. After that i went to Jal Mahal.
Jal Mahal is a palace in the middle of the Man Sagar Lake in Jaipur city, the capital of the state of Rajasthan, India. The palace is
renovated and enlarged in the 18th century by Maharaja Jai Singh II of Amber. The Jal Mahal is preety impressive. As it is builded in the
water so it looks more beautiful. We can't go close to Jal Mahal as restricted by govt. I saw many  people over there some came for there daily workout/ jogging,
and some came for feeding the pigeon, rats. Hundreds of rats are there and people used to feed them for daily. Many couples and photographers are there to get
captured with Sunrise. After clicking some photos i moved to Amer fort.
           Amer fort is 11Km away from Jaipur city. Located high on a hill and this is the best attraction for tourist. Route from Jaipur city to  Amer
fort was awesome as it was HillTop road so there was wind of winter coming from hilltop. The road was single lane and there was lots of trees at both side of road.
As it was early morning so there was sound of many animals and birds, peacock and which was more exciting for me to listen such sounds in the morning.
After 15-20Minutes of this ride i reached to base of Amer Fort. As it is in well condition and culture. The Amer fort is best example of Architecture.
The Fort can be accessed from 3 routes. we can go by car OR by walk OR
on elephant. I'm trecker so i preferred to go by walk. I parked my bike at parking which cost RS10 INR. Then i started my small treck to Amer Fort.
In the entrance there is small Lake of Water and this is the main water supply of Amer fort. After 20Minutes of treck i reached in the fort and there was
entry fees which is 100/person for Indian. At the entrance two small cannons are placed. After clicking some photos i went to top of amer fort. This is all
about structure and culture. After capturing some memories of Amer fort i went to see Jaigad fort. Which is 20Minutes away from Amer fort by walking distance
but i wanted to see Nahargarh fort. For that i have to go with my bike.
              I reached at Jaigad by bike and there was 100Rs entry fees which include bike parking also. There was only one resone to visit Jaigad to
see worlds biggest cannon which is placed on Jaigad. Jaivana Cannon , world's Biggest Cannon. Build in 1720 by Maharaja Jai Singh, Weight is near about 50ton
and it was used only once in 1720 for testing with charge of 100kg Gunpowder. Range is 35-40km. The cannon was kept near waters for gunners to dive
in and escape the shock Waves. Because 8 people and 1 elephant were killed in testing due to shock Waves and many houses collapsed in Jaipur. After clicking
some photos i went to Nahargad fort.
               Nahargarh Fort stands on the edge of the Aravalli Hills, and from here we can have the best view of Jaipur city. There is one big
stepwell before entering into Nahargarh fort. After spending some time at Nahargarh i returned to our Room before 11 AM. And then we moved for our next stop Pushkar.