Pushkar in its entirety is an enigma that leaves lasting imprints on your mind. You cannot deny its magnetic pull and the confluence of cultures that makes it so cosmopolitan yet so rustic is something that will keep you mesmerised for a long long time.
An ancient town, known for its religious significance as one of the most important pilgrimages for Hindus, Pushkar has successfully managed to hold on to its old world charm as well as display its hospitality towards global tourists by blending into their cultures. It is only in Pushkar that I could see the locals catering to Indian Tourists as well as Foreigners with equal warmth and care.
I had been to Pushkar twice and this was my third time and this one is probably the most memorable of all other experiences I have had in Pushkar. This was the first time I won a Travel Contest conducted by Tripoto and sponsored by Skywaltz. Skywaltz is India's first fully licensed and Government approved Hot Air Balloon Operation.
The Contest
Tripoto keeps giving avid travellers wonderful opportunities to travel and explore, which is why I really love them. I had seen many such contests earlier as well but never really thought I could win one. Well, the Pushkar Mela Contest ran from the month of September to October (correct me if I am wrong.) Participants were supposed to write an account of their travel experiences in Rajasthan to qualify for the contest. I was luckily wayfaring across Udaipur and Jodhpur at that time and it was then that I realised this could be my chance.
The contest entitled the winners to experience a luxury camping or glamping experience as well as a Hot Air Balloon ride plus free meals for 2 nights and 3 days. What more could I need? I shared my travel experiences of Jodhpur the Blue City and then a miracle happened. I got a message on the Tripoto app as well as a mail from Tripoto informing me that I was the winner. It was amidst all the festivity of Durga Puja that this news came as an ultimate surprise and the people who may have seen my reaction at that moment must have surely thought I was insane.
Day One
Pushkar was crazy when I reached on 10th November 2016, the Mela, the camels, the people, the colours and the dust everything about Pushkar was maddening yet alluring. Thankfully, the camp was set a little away from the whole chaos of the Fair. After a long long drive from Delhi, the camp looked like heaven to me.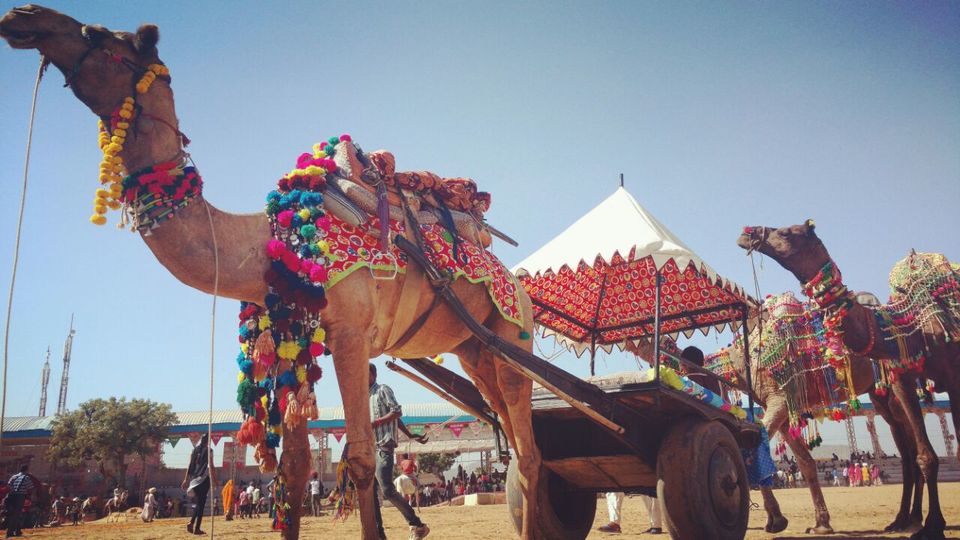 The Hot Air Balloon ride was scheduled early in the morning for us. I woke up at 4:30 am, which I never do but the idea of being able to see the sunrise from up above the sky was very magnetic and I would never miss that for anything. We were taken to the ground where the balloon was set to take flight from. A brief about the Hot Air Balloon flight with Mr Paul Macpherson (Chief of Operations) was informative though I was half asleep the whole time (I am Sorry).However, it was the sight of Hot Air Balloons getting readied for the flight that put me back into my senses.
The camp was set amidst an orchard. There were plenty of mango trees and Indian gooseberry trees spread across the periphery of the camp area. I had never camped earlier and I was not even sure about what to expect inside these tents.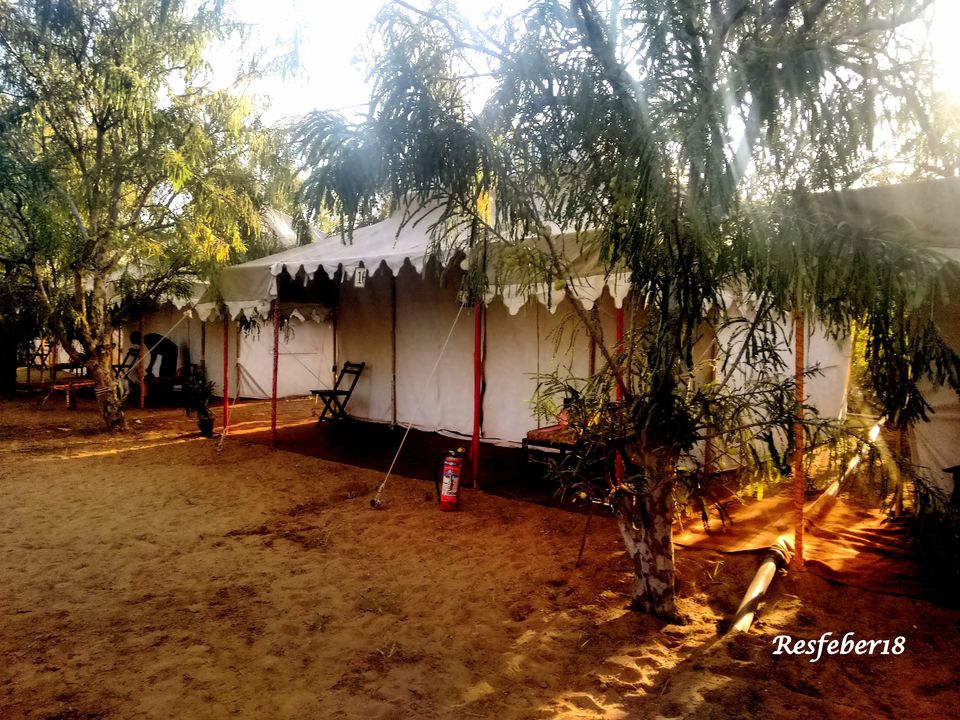 As I entered the tent a beautiful and cozy bed welcomed me but it was the toilet that caught my fancy. Whoa! It was creative with an iron bowl kinda wash basin that looked like a Kadhai or wok and the mirror; I knew I couldn't ask for more in life.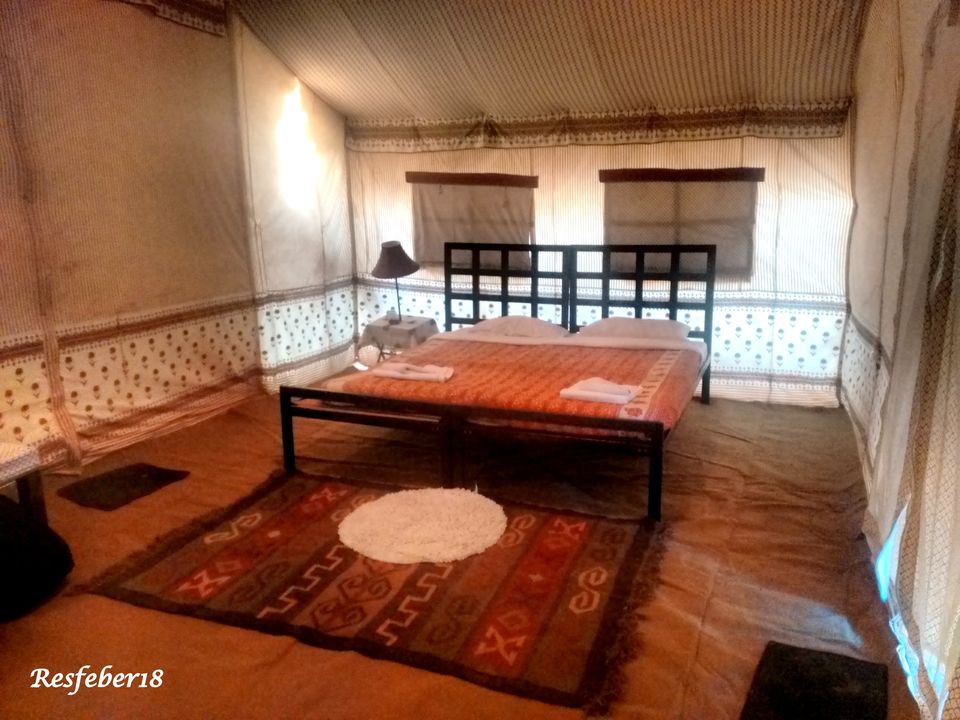 After a little rest, we headed off to the Mela Ground to experience the whole Mela vibe. The camels had already retreated for the day and now it was the time for all the fun activities. Wow!A giant wheel, oh no wait, so many of them, and I slipped into a state of trance looking at these brightly coloured and illuminated revolving pieces of wonder. So I took a ride and boy was it awesome!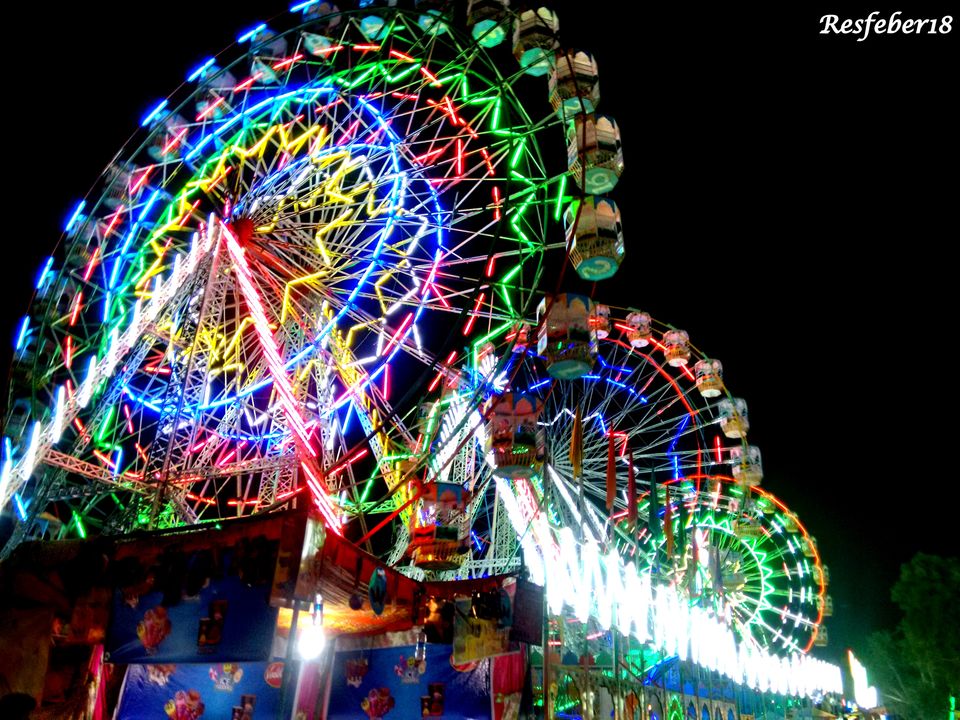 Thereafter, I headed off to Shilpgram to have a look at the amazing handicrafts and other knick-knacks on display as I had enough time before Prem Joshua's concert began at the Mela Ground. After loitering around for quite a while I proceeded towards the Mela Ground to watch the concert. The whole day's travel and exhaustion started taking a toll on me and that's when I returned to the camp. No, I did not watch the concert. (Weeps!)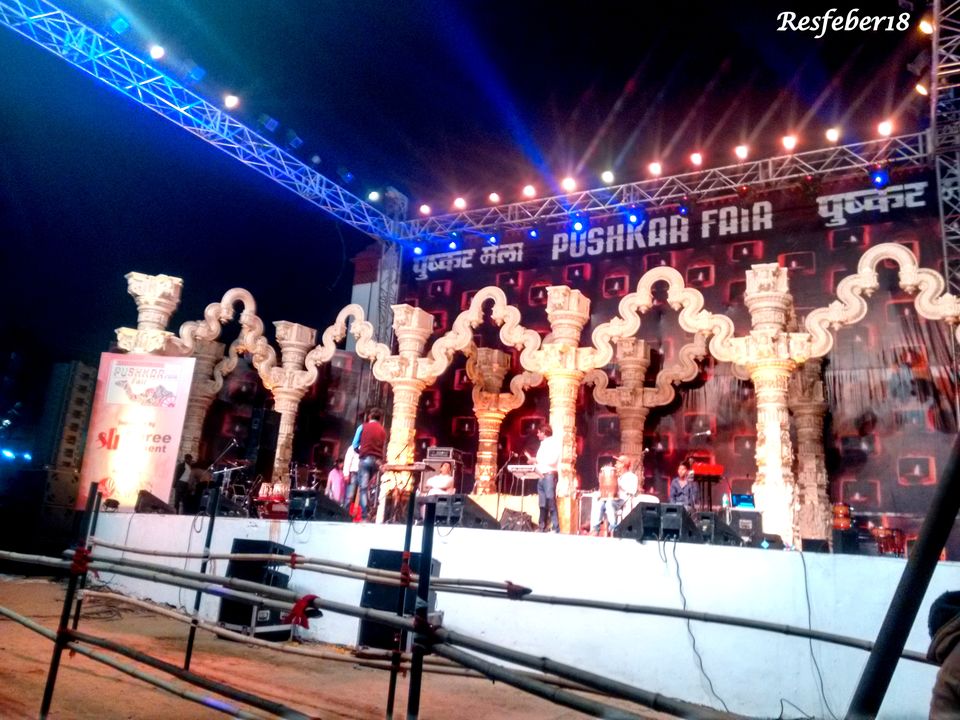 Those enormous balloons were a riot of colours and so breathtakingly beautiful. After a little demonstration from the boys on how to get into the Basket, I managed to hop in. Our pilot Mr Francisco Castillo Palomeque briefed us about the flight itinerary, safety measures to be taken during the flight and the landing procedure. See now I paid attention!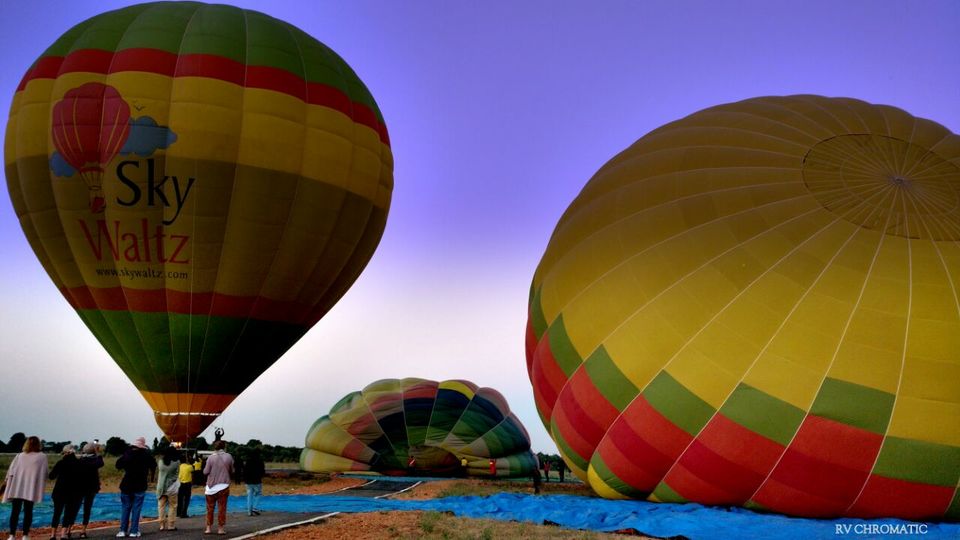 The flight began with a little turbulence while taking off but as soon as we reached a considerable height it all began to get magical. The entire Pushkar city was down below us and we hovered above people's homes and stables and cattle and vast expanses of arid and green patches of land. There were these little children and women who were excitedly looking up at us and waved at us with full joy. You know sometimes in life you have these little moments where you wish you could just stop time, this was one of it.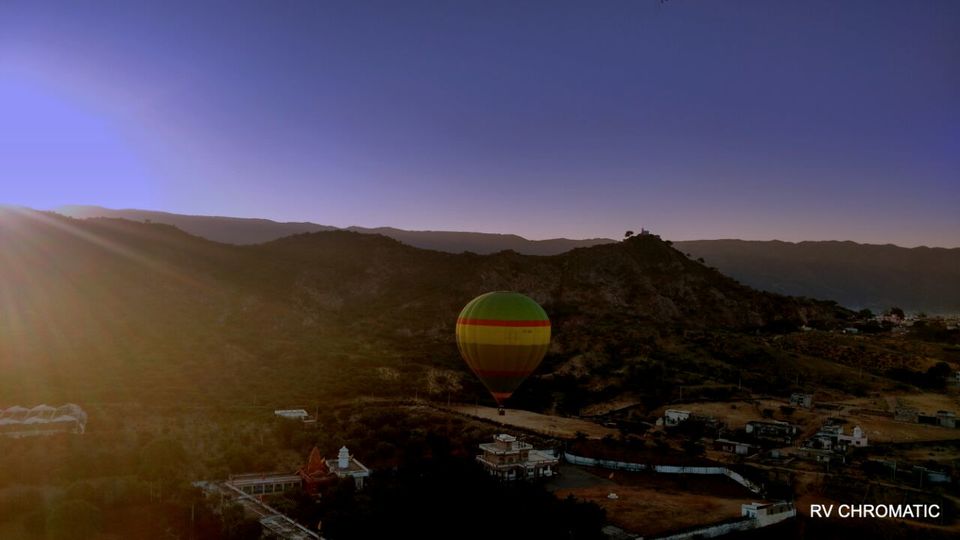 Hovering high above the sky and sometimes low enough to catch a glimpse of the marigold fields the flight took us above the city and its outskirts. I was tranced, mesmerised, spellbound and lost in a wonderland never wanting to return.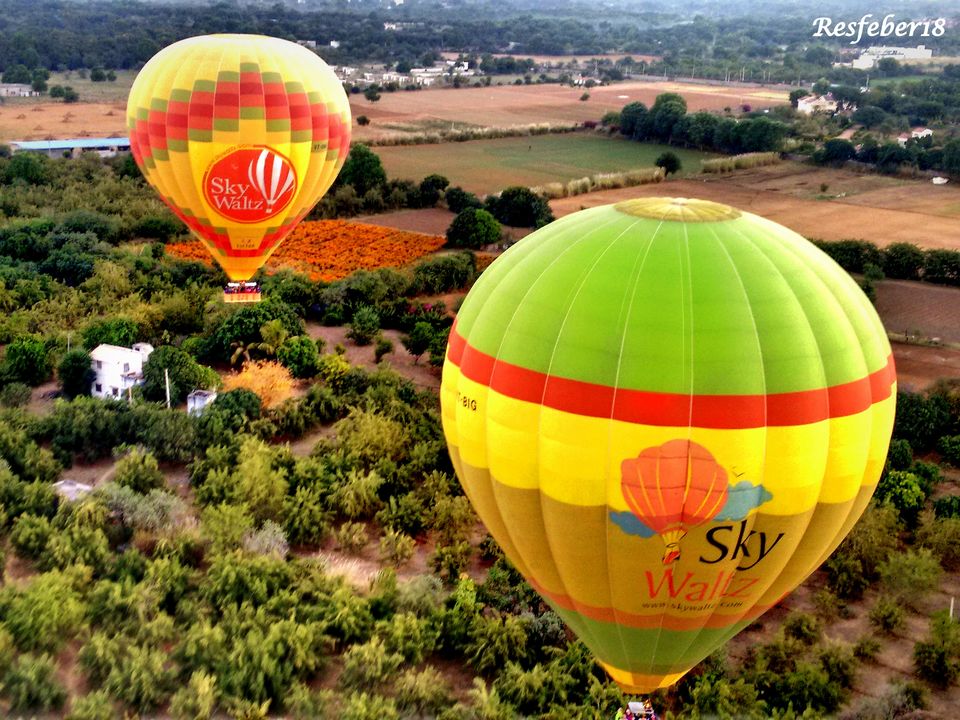 When a dream comes true, it is but natural to be at a loss for words and that is what is happening with me as I write this. The sunrise from the back of the mountains was so breathtakingly beautiful that I have trouble describing it here. I have watched sunrises from great heights like that of Tiger Hill in Darjeeling or the mountains of Sikkim and also from the back of a sea and at the backdrop of the confluence of the Indian Ocean, Arabian Sea and the Bay of Bengal but watching the sunrise at a level almost equal to the sun was something unimaginably spectacular.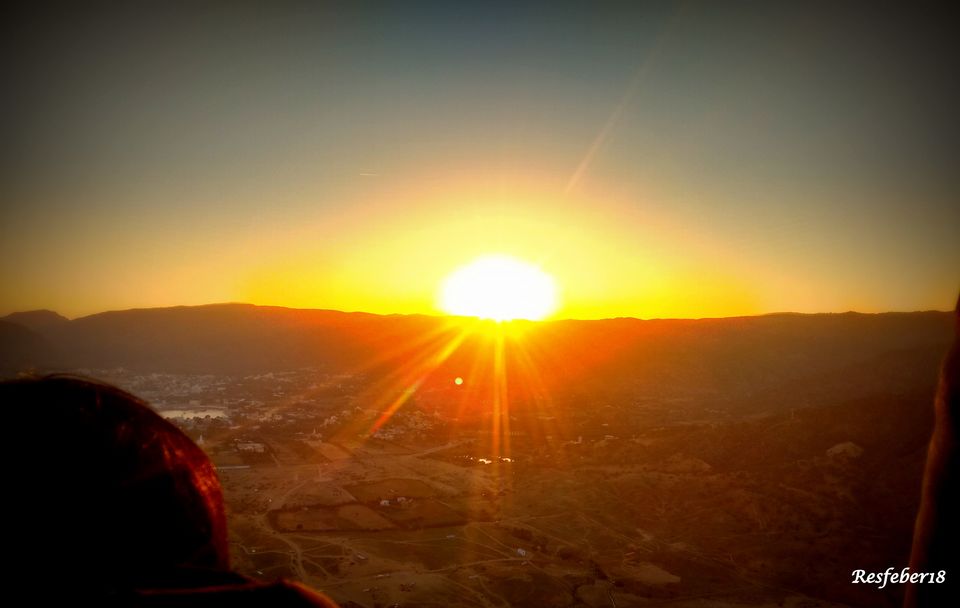 Throughout the flight, all I wanted to do was watch and not bother to click pictures or post updates or anything else but just watch the floating aura of the moment.
We landed at a spot a little farther away from the other balloons and were received by a vehicle that dropped us off at the camp. Later that day I was also presented with a certificate. This experience was by far the best in 2016 and I shall keep these memories etched in my heart forever.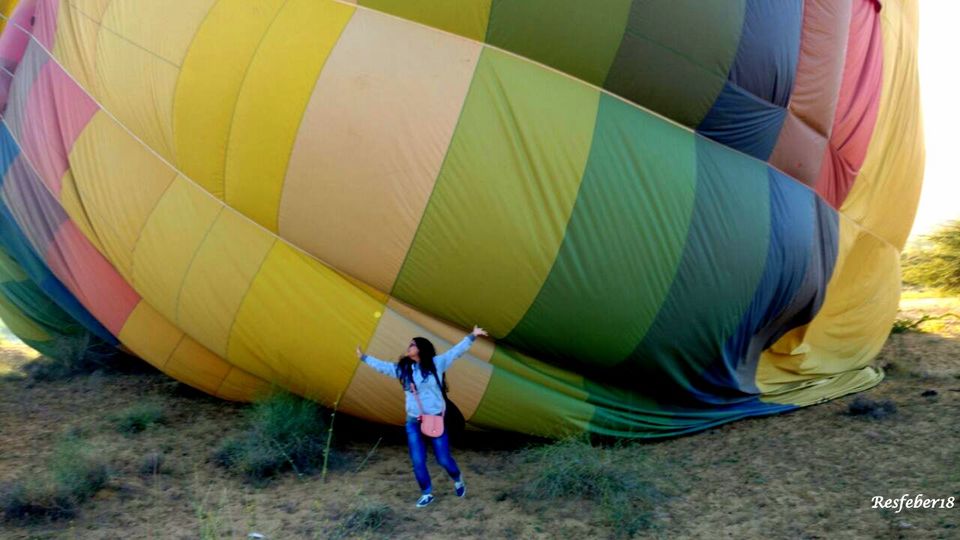 I lived a dream in Pushkar, the glittery bazaar, the maddening crowd, the plethora of stalls, the huge camels, horses, cattle, colourful turbans and the dust, of course, have all painted a vibrant picture in my mind forever. Pushkar will always remain special to me and I will cherish all the wonderful times I have had here in these 2 nights and 3 days. I would like to thank Skywaltz and Tripoto for making this trip so amazing and for giving me an opportunity to experience magic first hand. Thank you!