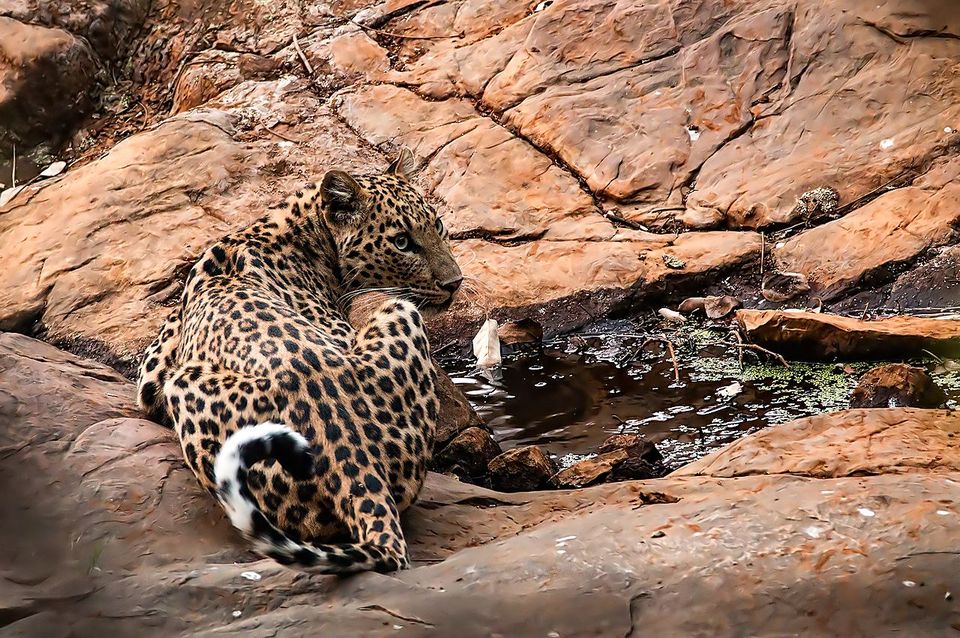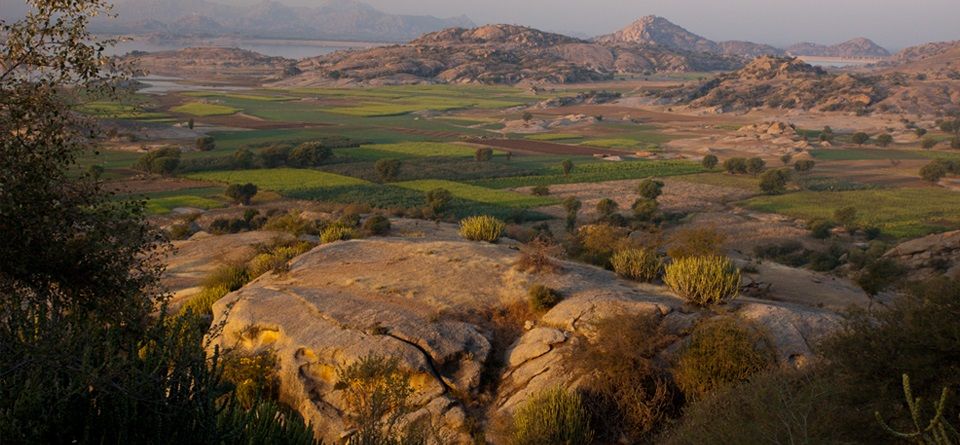 While browsing through a wildlife photographer's profile, I discovered this microscopic speck on the map of Rajasthan. It was this blot, this mysterious speck, that drew me to the forests of Jawai, in December 2018.
Jawai is tucked away in the southwestern region of Rajasthan in the Bera village near Pali district. Situated on the lap of the majestic Aravalis, the untrammelled beauty of the Thar Desert is amplified, reflected and refracted in every corner of this inimitable settlement. Known as the 'Capital of Leopards', Jawai hosts a diverse and complex ecosystem.
Day 01
A Stark Wilderness
We (me, my brother and our 2 friends, Ashish and Divye) booked a private taxi from a reliable vendor in Udaipur, which is about 180 kms from Jawai. We reached our destination at around 2.30pm, just in time for the evening Leopard Safari. A landscape with huge lava rock formations, surrounded by Jawai Bandh (a reservoire and dam), dry grasslands and grazing grounds, welcomed us into the village. We hastily checked into our camp and got into our 4x4, prepared to meet the elusive big cats.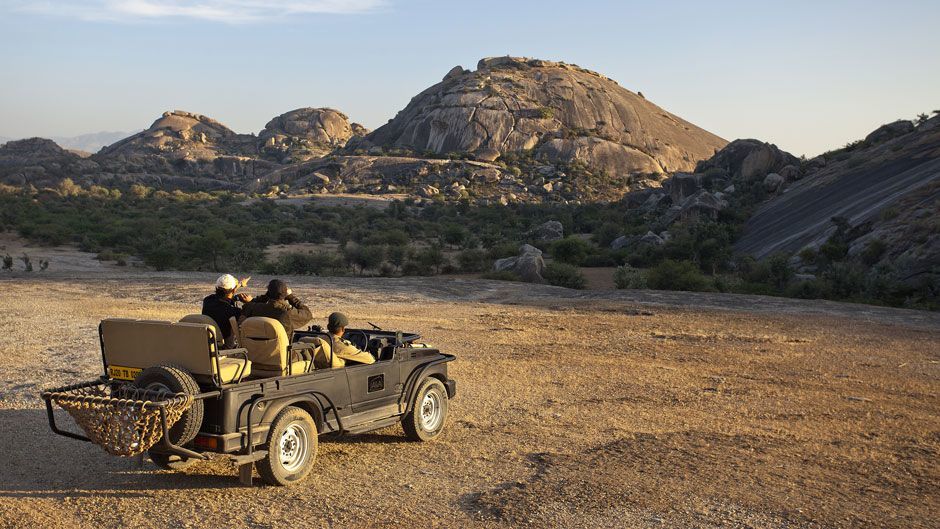 We began the excursion by driving through huge lava rock formations, where I could literally sense the adrenaline rushing through all of us! We crossed the Jawai Dam, off-roading through these lava hills and experiencing the incredible landscape around us.
The Leopards of Jowai
Moving on to the most awaited part of the safari, we arrived at the Leopard Hills. We stopped at a spot for 15 minutes while our guide, Mangesh, briefly expounded on the behaviour of leopards in the region. He told us that the leopards and humans of Jawai exemplified a perfect understanding between man and animal. There were no attacks ever reported, even though the leopards roamed about freely inside the fields and villages during the night. He further went on to tell us that the residents, considered leopards to be manifestations of a local goddess and hence they took extra care to preserve and protect them. As unbelievable as the stories sounded, he told us about the many lyrical names the locals had given the Leopards and how, they saw these wild animals almost like family members. Neelam, Ziya, Ruby, Nagini – to name a few!
An Encounter With the Show Stoppers
We were all enthralled, held captive by Mangesh's narrative, so much so, that we almost didn't notice the slight movement behind a few large rocks. It was Nagini, basking in the warm rocks and surveying her territory from atop the hillocks, her effortless grace was mesmerizing to watch!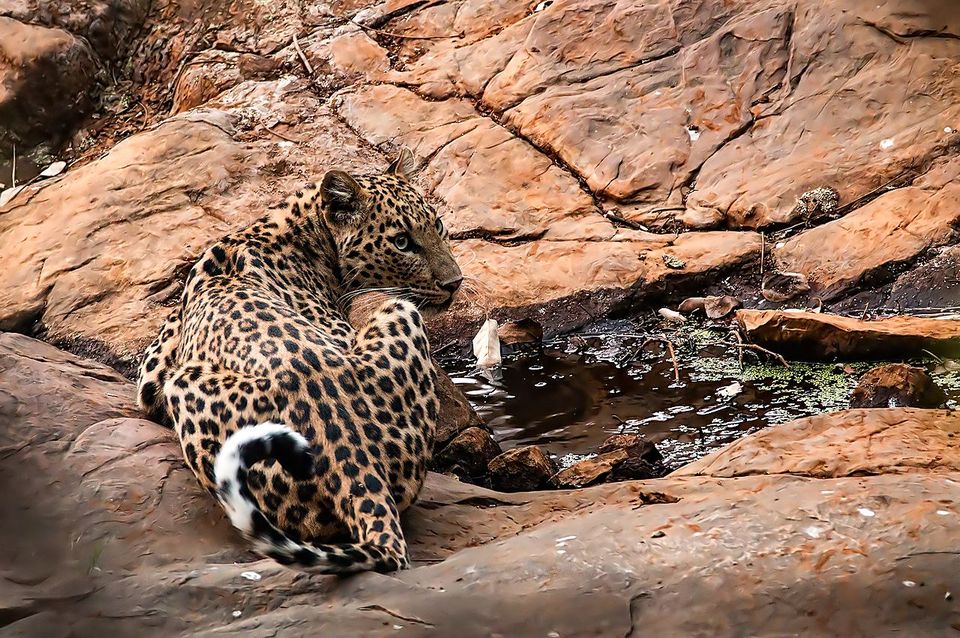 As we slowly steered forward in the mud track, we noticed a set of prints, which led us to the most unusual and majestic of sightings - Neelam feeding her 4 baby cubs. A visual that none of us will ever forget! After feeding her cubs, she went about sashaying around the golden rocks, overlooking us. Thereon, we soon realized that spotting leopards in this region was no extraordinary affair as we nearly spotted 5 leopards during our 4-hour Leopard Safari.
The vibrant Rabari herdsmen greeted us back at the camp. We learnt from them about the culture and the lifestyle of the local tribes along with their ideas of conserving wildlife in the region. We experienced hospitality at its best, enjoying a desi Rajasthani meal and proceeded back to our comfortable tents.
Day 2
A Morning In the Jungle
At the break of dawn, beautiful pink and golden sun rays filled our tent with a sense of the unknown; unknown, because we were not yet privy to what we would behold and experience today! Early in the morning, we set out on a pre-planned Jungle Safari, where noisy wild creatures welcomed us with a cacophony of sounds. Through the rough and untamed roads, we spotted a serving (not literally) of wild animals & birds including hyenas, sloth bears, deer, wild boars, monkeys, peacocks, and Indian owls.
A Rare Sight of Migratory Birds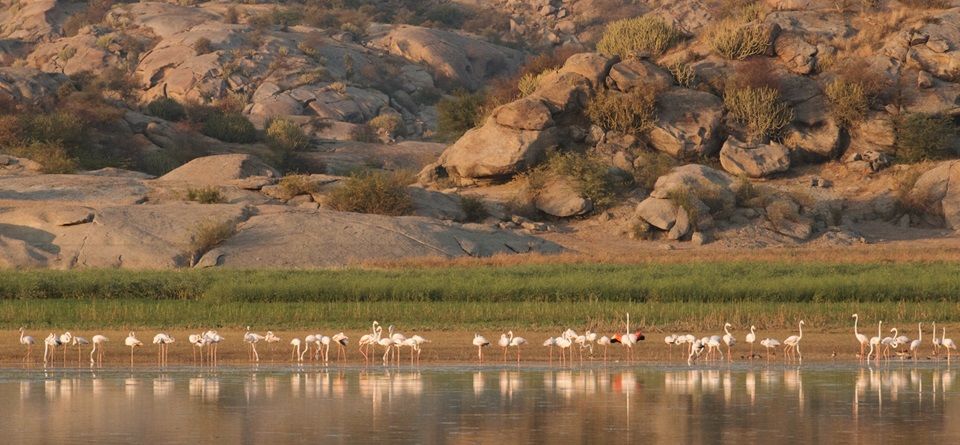 After a fulfilling jungle safari, we got back to our camps, ate our lunch and set out on the final adventure, 'Migratory Bird Watching' (ideal during daytime). The largest water reservoir in western Rajasthan, Jawai Bandh's wide expanse and perennial plenitude attratced a sizeable population of crocodiles along with some rare migratory birds. We witnessed a number of flamingos and cranes against the backdrop of a stunning landscape in the middle of nowhere. This final sighting also marked the end of our expedition!
My love affair with the wild begun approximately at the age of 5; but never have I experienced something so spontaneous and incredible that it literally took my breath away and every moment felt like a rare gift that needed to be cherished.