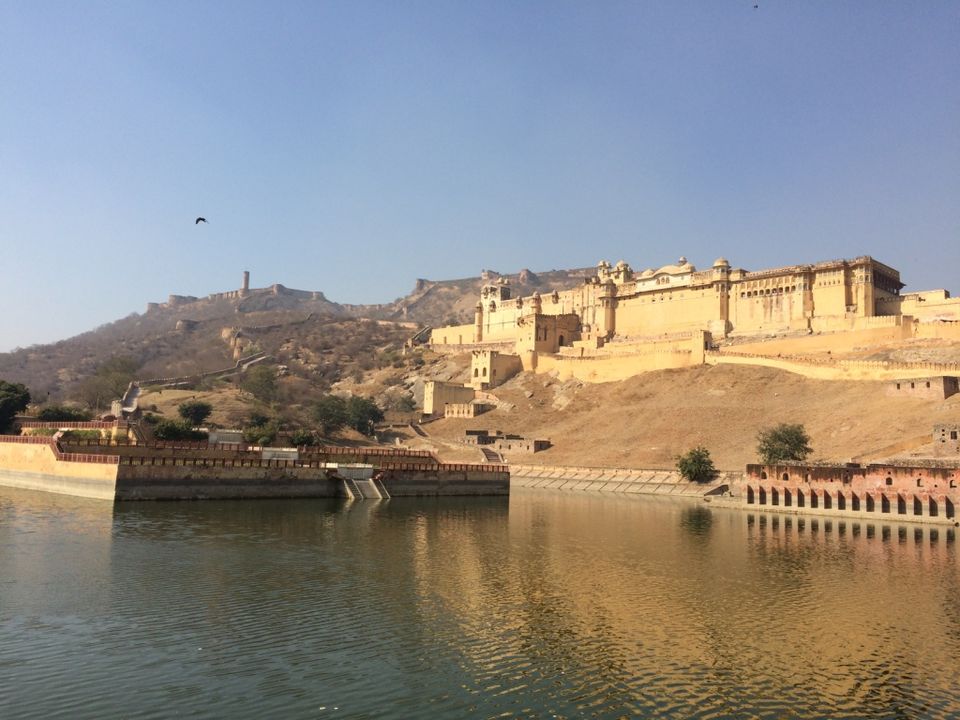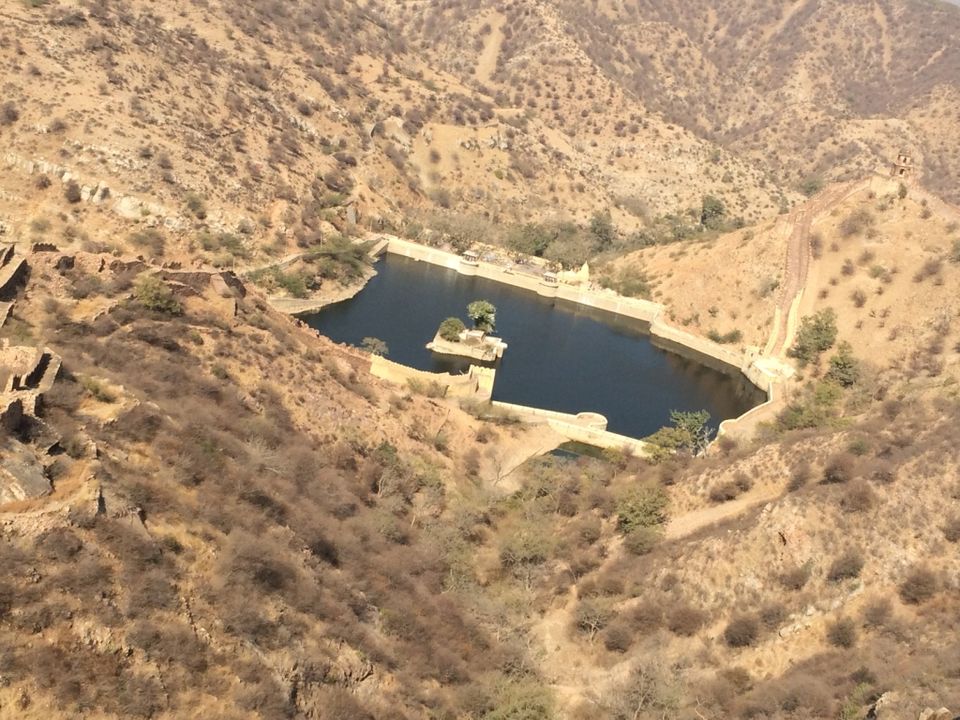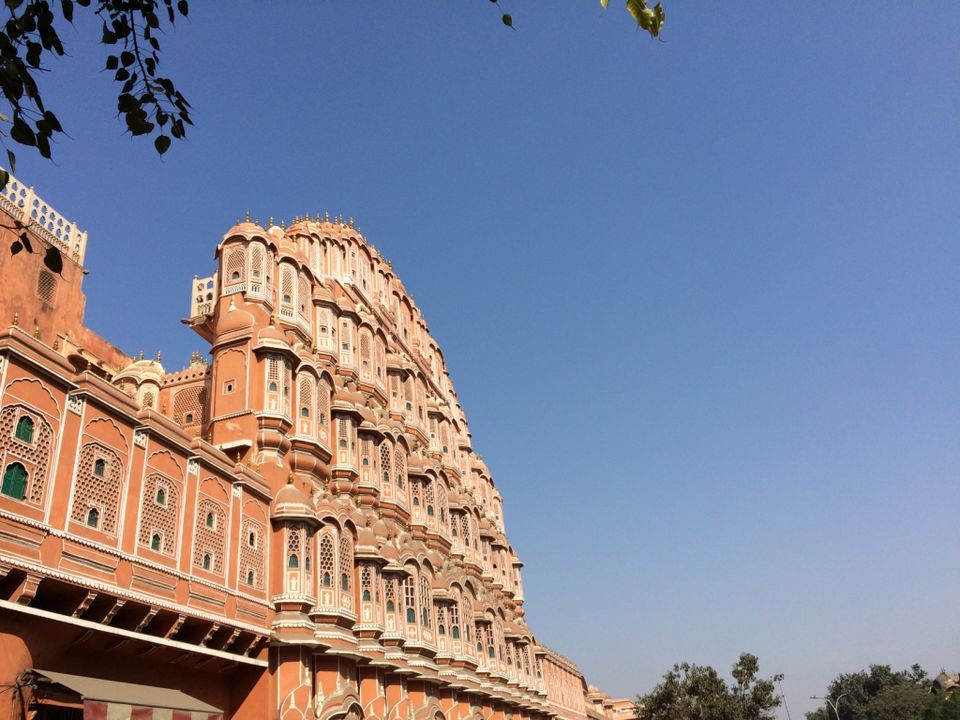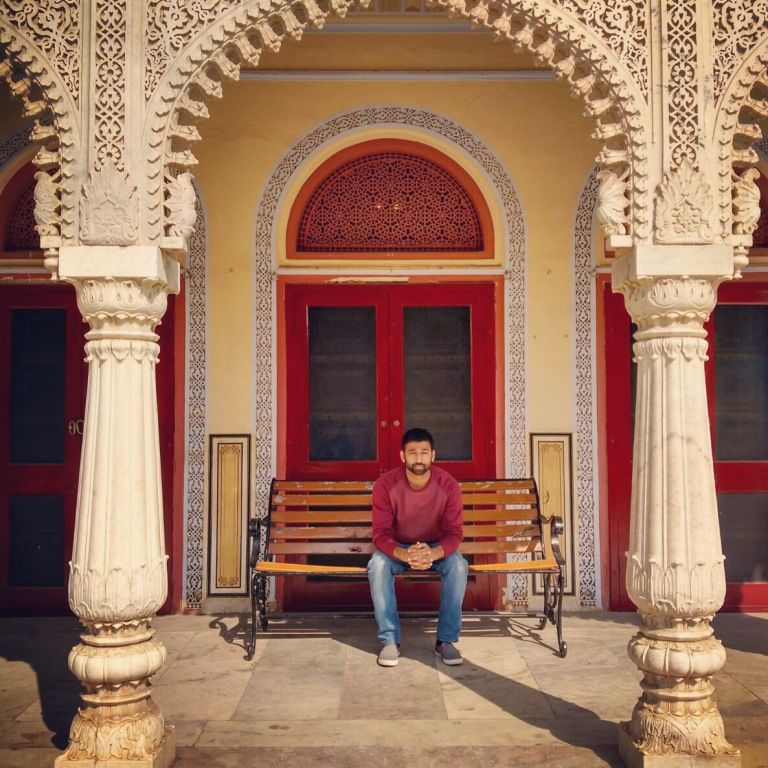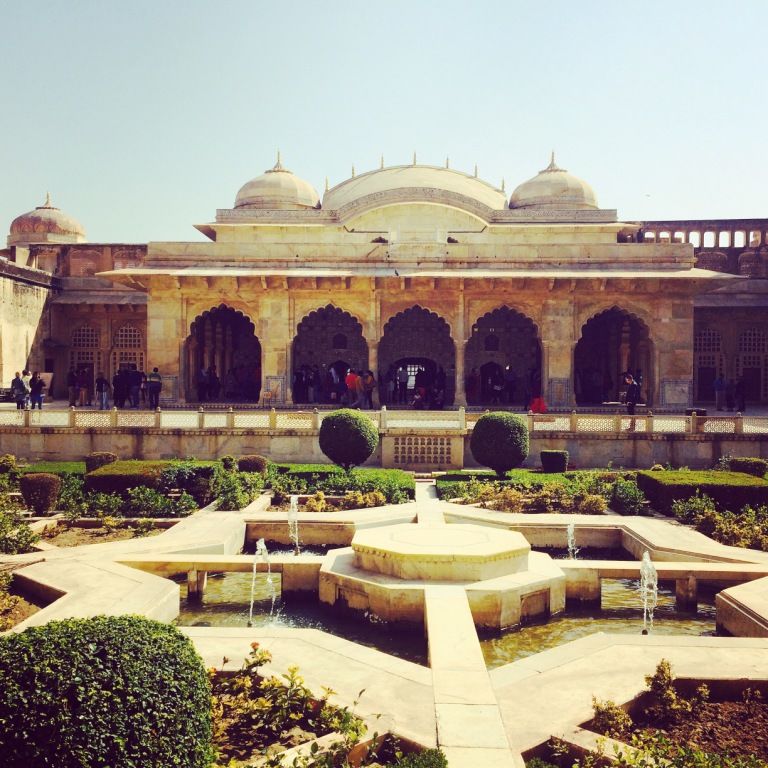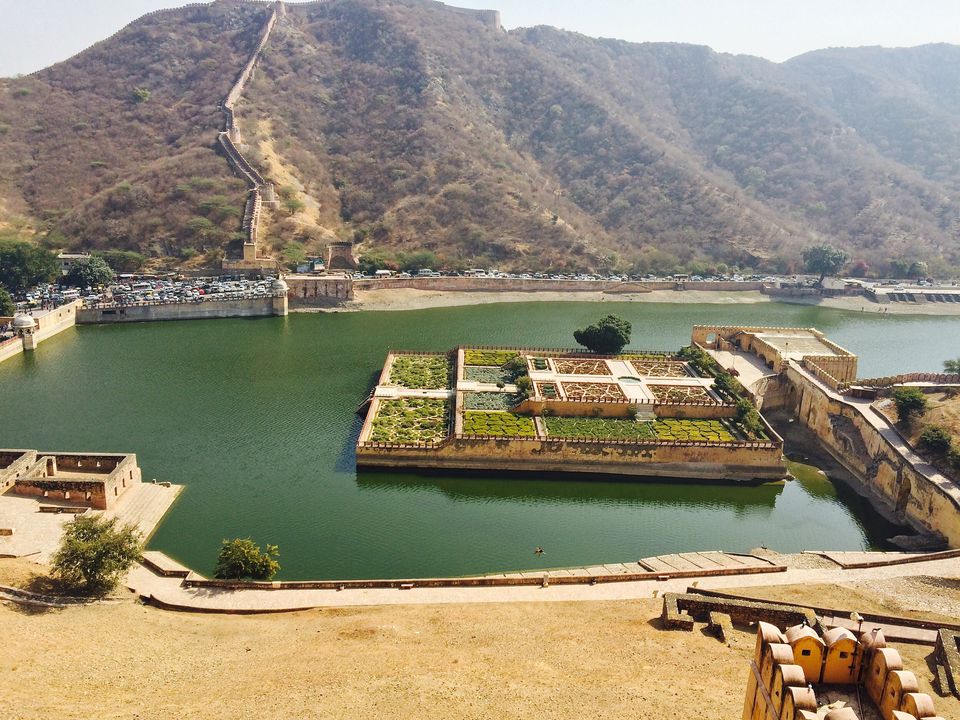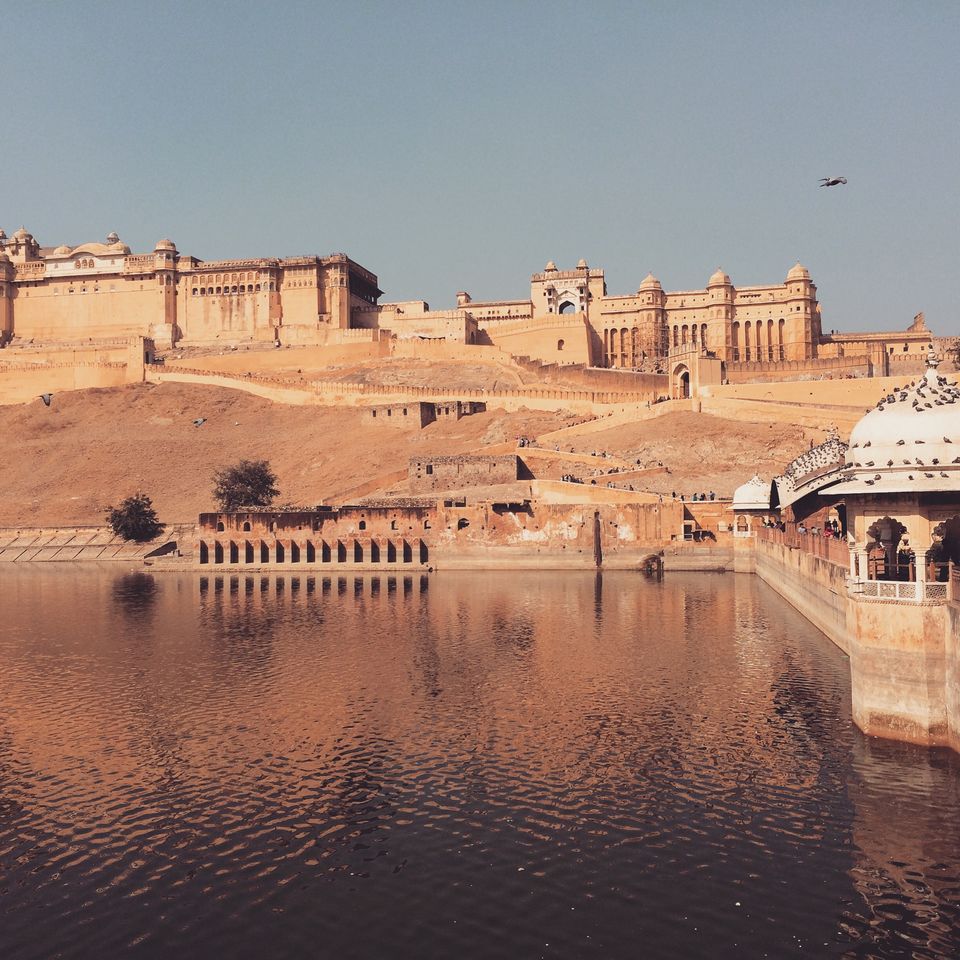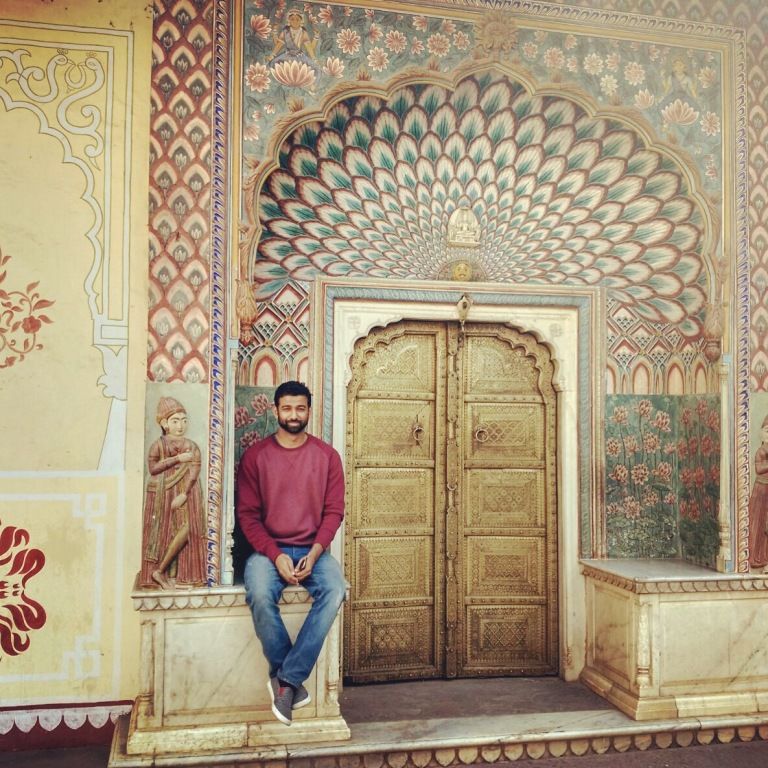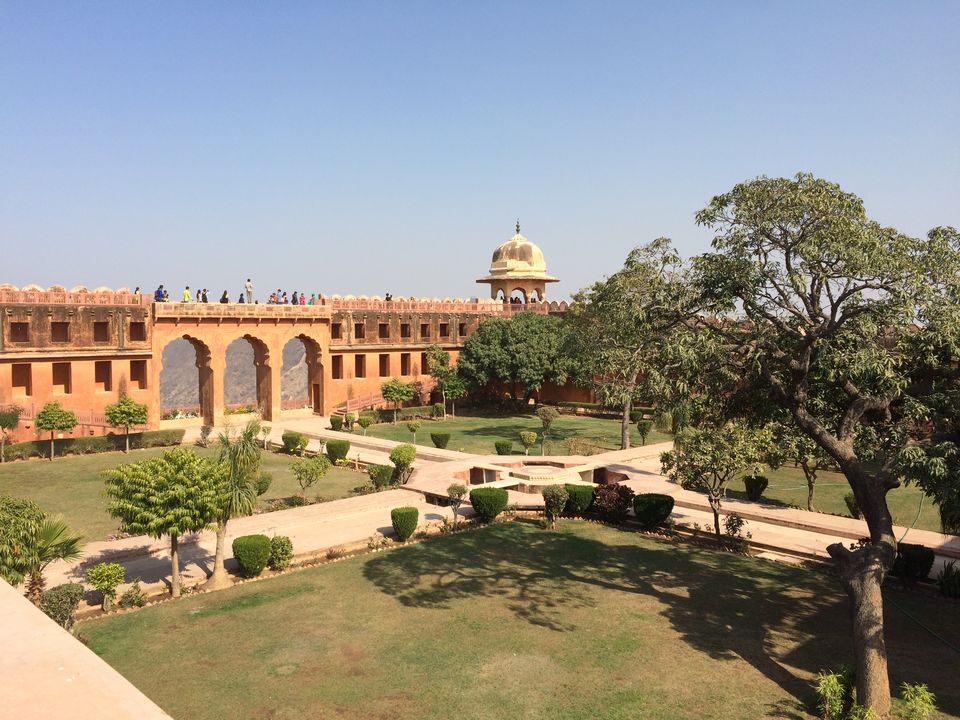 This Jaipur trip will always remain close to my heart as this was my first ever solo trip which i was so reluctant to go to. 
I had planned this trip a month before i.e. 1st of January , why 1st of January , some might wonder 'cause that is the time when people make resolutions for the coming year. Though i never believed in that sort of thing but waking up on a cold January morning i started to analyze how i always complain but never do anything about them and out of those thoughts 'solo travelling ( Jaipur) came on top.
I work in Gurgaon , Haryana. One day on my way to the office i was at the traffic light and my eyes fell on the sign boards saying ' Jaipur 200 KMs ' in three different languages. 
TWO HUNDERED KMs !! You've gotta be kidding me.
That is like 4 hours journey either by road or by train. Everyday i would look at that board and just plan thousands of thing but the moment i passed that signal , everything just vanishes off.
1st january was the final straw. After the first few searches , i booked the ticket and a place to stay.
Transport
Jaipur is well connected to many cities by the road and trains. You can either take government / private buses or many trains going to Rajasthan.
I had booked GarebRath which goes to Mumbai from Delhi ( Via Gurgaon and Jaipur ). Seats were easily available and fare was 450/- INR for a 3rd AC coach. The 200-250 KM distance from Gurgaon was covered in 4:30 hours.
The best part about Jaipur is the Railway Junction and the City Bus Stand , both are near to the Jaipur Metro station. I would highly recommend to use metro as it is the cheapest mode of transport and since you have to save on your pocket , this option is the most viable one. Always take the 100/- INR metro card as it has the low fares in comparision to the individual token amount.
It is operated on the Blue line and the ' Railway Station' metro is near the Jaipur Junction and 'Sindhi Camp' Metro Station is just besides the State Roadways bus stand.
Jaipur metro and its stations are as clean as the Delhi Metro. The best part is ,there is no rush but the frequency is in every 10-15 minutes which is okay.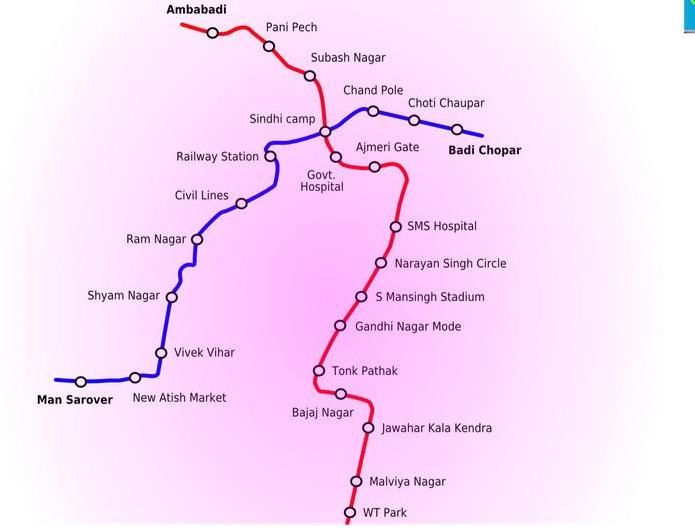 Stay
I booked the room ( dorm ) in advance on Le Pension which was around 500 INR/night for two nights basically.  As per the above metro map , it was near to the Shyam Nagar metro station and after that few minutes of walking. You can either take an auto but it is a walkable distance.
Le Pension is the bagpacker's hostel where bunk beds are available and the room would be shared among 5 other strangers or a group of friends. Please go for such kind of stay options as these places would really help you come out of your comfort zones. You can meet new people and share your stories. Rooms are clean and hygienic but in case you need water at the dead hour of the night then it might not be available.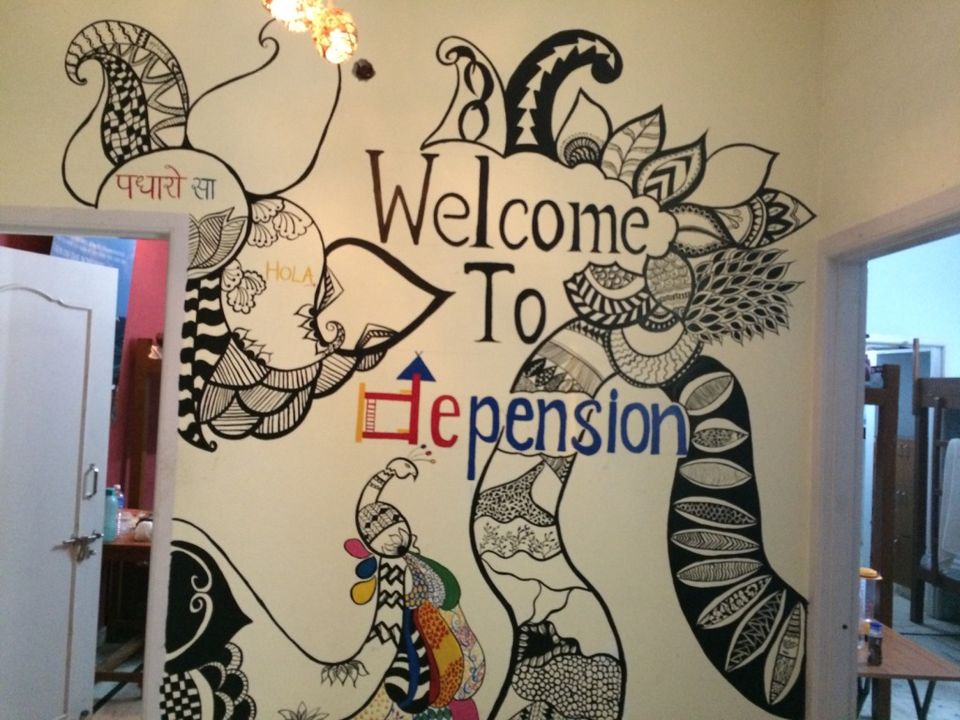 Depending upon your choice , you could also book Zostel. The price differences are not that high and the best part of Zostel is its location.
It is near to the Hawa Mahal , the place from where every touris attraction is nearby.
Travel
On my Day 1 , i went straight to the Chand Pole metro station which is the part of Old Jaipur city. Metro fare was barely 11 INR from Shyam Nagar Metro Station.
The plan for the day was to cover  Amer fort , Jai Garh fort and the NaharGarh fort while the Jal Mahal and the Hawa Mahal could be covered on my way back. At this point i was told that you have to go to the 'Badi Chaupar' in order to get the bus/auto for the Amer Fort. Upon enquiring from the locals i came to know that i can get many private city buses for that place and i did get one.
Again please note that you have to be light on your pocket at every point , hence do not hesitate to hop into the local transport , it would be the part of the adventure.
Local bus was full of local people in their ethnic dresses , men and women , passing through the famous Bazars of Jaipur. I reached Badi Chaupar within 15-20 minutes for a fare of 10 INR. At Badi Chaupar , i was expecting the Jaipur's City AC Bus which would go to the Amer fort but the frequency was very less and i couldn't spot any. Soon there was again a local pvt bus , whose conductor was shouting at top of his lungs. It was for the Amer fort and guess the fare - ONLY 10 INR ! :)
When i reached Amer fort , someone told me that they were charged 120 INR by an Auto Driver from Badi Chaupar.
Please do not hop into the auto unless it is extremely urgent. You're on a solo trip , you have a lot of time at your disposal.
Amer Fort : Amer Fort is one of most magnificent work of the architecture you would ever lay your eyes on. It is breathtaking and if you have a thing for the historical monuments , then Amer fort is the heaven for you.
The entrance fee for an Indian is 100 INR and it is way too low for an Indian Student ( 40-50 INR ).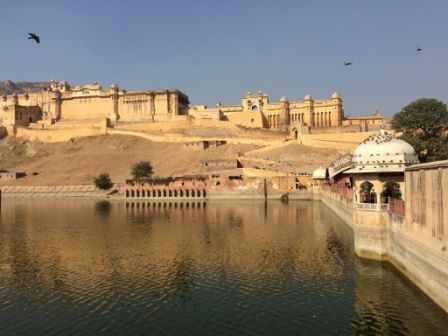 Spend atleast 2 hours in Amer Fort.
If you are on your own with no vechile and you are not fond of walking , then sadly this place is not for you. There is a lot of walking involved.
Take one water bottle with you along with your Sun Glasses.
Click lot of pictures ( Obviously ! ).
Avoid Guides.
Explore every nook and corner of this place. you would find yourself in the most spookiest corner as well.
Keep atleast 1000 INR cash with you coz once you leave the main highway and proceed towards the fort(s) there would be no ATMs.
Take some edible food with you from the main highway.
Jai Garh Fort : Once you're done with Amer , take some rest , eat something and hydrate yourself 'cause now you will be walking uphill to reach to the Jai Garh fort. Again , there is a lot of walking involved.
The entrance fare is 50 INR for an Indian and even less than 50 INR for an Indian student. The weird thing i found about the entrance was that they would charge you 35 INR extra if you want to click pictures else you could be fined a heavy amount if caught.
I found it a plain fort in comparision to the Amer but it was on a hill top hence the view of the of barren hills and the Amer fort was amazing.I felt that the place was bit neglected by the authorities as i could see the lot of garbage around and people were making it worse.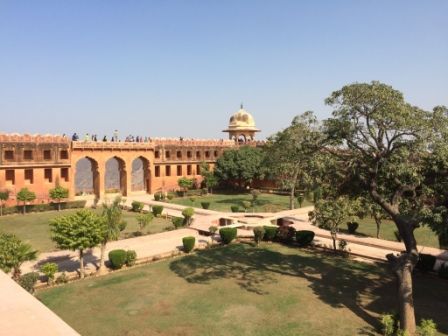 Just like Amer fort , there is a lot to explore here as well.
There is a puppet show you could stop at.
Spectacular view of the lake.
NaharGarh Fort: This fort around 6 KMs far from the NaharGarh fort and if you do not have your own vechile , then Auto Richshaw is your only saviour. Now here comes the twist , Auto would ask you as high as 200 INR for the mere 6 KMs. Even your exceptional bargaining skills could only bring that fare down by 50 INR and even then 150 INR is too much to pay for a single person.
This would be your best situation to come out of your comfort zone. Spot people of your kind or couples who are approaching Autos and ask them politely if they wana share the auto till Nahargarh.You will surely get someone.
When i was struggling in my thoughts ,whether to pay 200 INR or not , right then a girl came running asking where am i going and if i wana share the auto.I agreed instantly and then she bargained amazingly which brought the fare down to 120 INR ( 60 per person ) . win - win .
Later i came to know that she's a solo traveller as well from Delhi and she came on the same day and on the same train but she was staying in Zostel. I came to know about it from her. Afterwards we explored the fort together.
Nahargarh is not as grand as the other two , in fact there is just small palace of the king which rquires the entrance fare of 50 INR for an Indian and amazingly low fare of 5 INR for an Indian student ( looks like Indian Govt wants student to travel :) )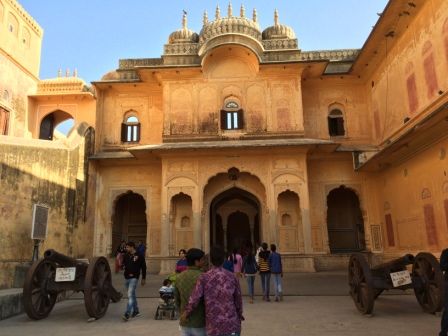 Please go to the top of this palace and wintness the spectacular aireal view of the pink city , the only thing this place is famous for. Do observe that the stair cases of this palace are quite small and narrow.
NaharGarh fort is quite famous among the local youth and you could see them coming for the night hang out( Booze) as this place is open all the time only the entry to the palace is allowed till 5 PM.
There is a terrace restraunt owned by the Rajasthan tourism which has the 200 INR fee ( it is just an entrance fee and later the bill for your food is separate ). Place is worth trying for as it is a calm place and it gets soothing with the sunset.
Jal Mahal : Jal Mahal is on its way back to the main city. It is a nice stretch to hault and take a walk by the side of it. You would have to take auto for on your way back and again do ask someone to share as they would again ask you to pay 200 INR.
Sadly Jal Mahal would not appear the same as it would in the pictures. The corners of the lake are bit dirty which no one seems to bother.
Hawa Mahal : The most funniest thing i found about this place was its location. It is right between the market , on one side of the road and you would not even notice it if not told specifically. There is a huge market and construction around it. I literally missed it first time.
You could either go inside the palace or just call it a day there.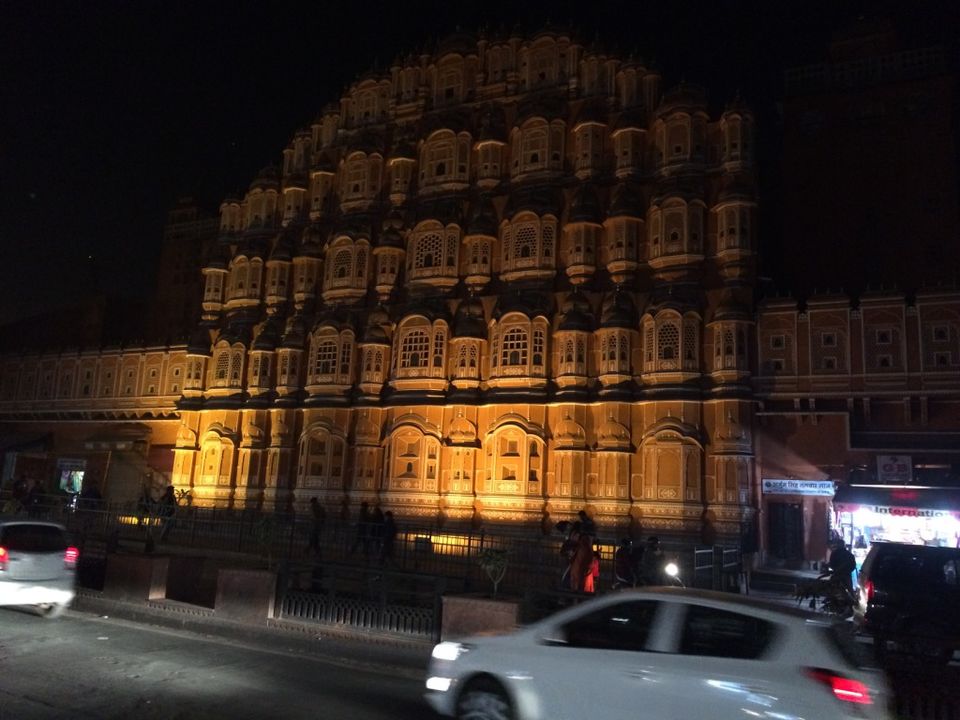 Prepare yourself for the sore feet and a slight pain in your calves :)
While the Day 1 ended in dwelling among the raw history of the city , Day 2 was spent more into the commercialized version of the Jaipur.
City Palace : One more attraction of the city , very near to the Hawa Mahal which requires an entrace fee of 100 INR for the Indian citizens and less than that for an Indian student. This is the well maintained place with a touch of Modern architecture as it is the latest of the palace where the royal family had lived till or even after the British left.
It has old royal carraiges , 1000s years old dresses , court room with a picture of Lord Mountbattenn socializing with the King and whatnot. Most of the places here are restricted but still there is a lot to explore.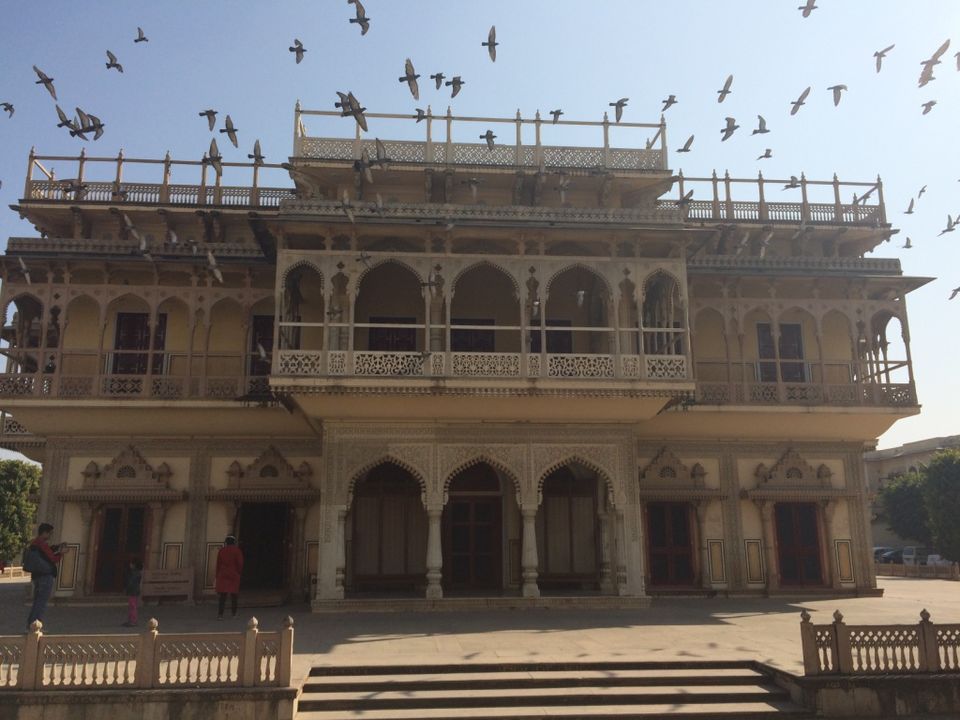 Albert Hall Museum : As the name suggests , it is a museum known for its fine collection which is not restricted to any particular culture. You can find anything from a Mummy to a Chinese Pottery.
The entrace fee is 20 INR.
Our next plan was to see Jantar Mantar but there was a long queue for the tickets , hence we skipped it.
Jauhari Bazar / Bapu Bazar - Please visit these markets if you want to explore or buy something authentic as a souvenir. I really like the planned construction of the market place where every shop would look the same with its name engraved in black on a white marble. 
Food
That is only thing i couldn't experience on my trip. I should have tried the local authentic dishes but as i am not much of a foodie , i did not pay attention to that.
Street food and many local restrauts provide very good services for lunch and dinner. You could try them.
People
Needless to say that the people of Jaipur are very warm and humble. You could easily talk to them and they would be happy to guide you.
I would highly recomend to take help of the locals in case of any issue.
Summary
If you are looking for a solo trip or a weekend getaway from the NCR region , Jaipur is apt for you.
Best thing about Jaipur - every place is near to the city.
Best time to visit : Winters. I can't imagine myself exploring Amer fort in May , it would surely enervate you.
ALWAYS take a local transport and bargain a LOT.
Use metro and metro card if required. You will get your balance amount back once you return the card.
For any other queries , feel free to contact me.