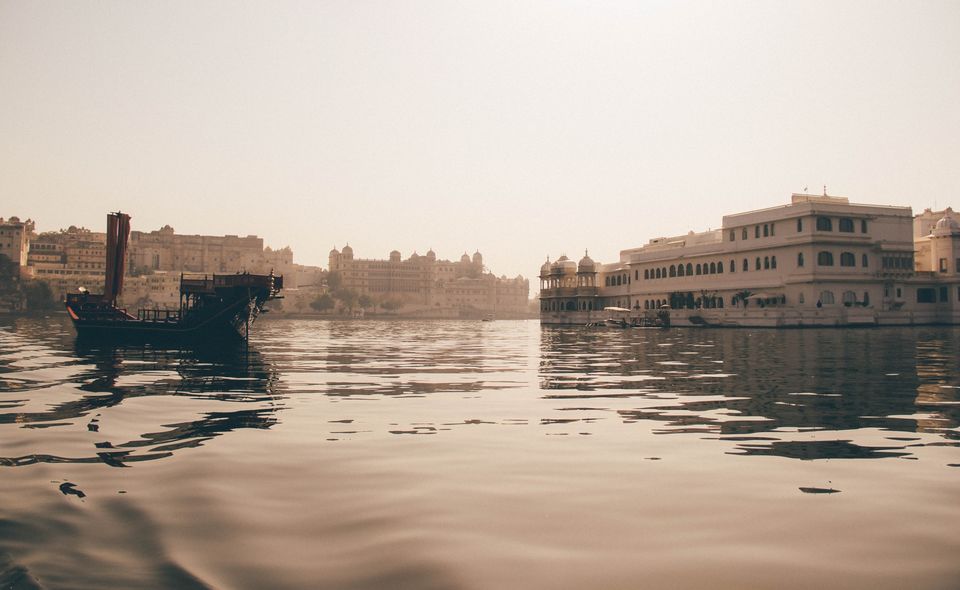 This trip told me that udaipur, the Venice of the east which people prefer to travel in September to March wasn't bad in May either. The city was still beautiful, though sun was too loving, but tolerable. In whole, the two day trip was still worth it.
If not the big forts and palaces due to the scorching heat, which many people are allegeric to. Udaipur, still have variety of options for oh so cool experiences.
LAKES
It is beautifully justified, that udaipur is the city of lakes.
Two of the most famous lakes are
• Lake Fatehsagar
• Lake pichola
LAKE FATEHSAGAR
It is deeper than lake pichola, the views are absolutely magnificent! When the boat slowly moves then gathers speed and the cool blossom wind touches your face it is magical! unique experience in it's own way you feel so relaxed, calm.
As, I did opt for doing boating there and it was amazing!!!
The boat prices are as follows
• Motor Boat price for per person - 220 INR
• Speed Boat prices for per person - 400 INR
LAKE PICHOLA
This is unbelievably beautiful! The islands like Arsi vilas, Mohan Mandir and jag madir and hotel like the bigg beautiful Taj Lake palace situated on this beautiful fresh water lake will amaze you to core!!
You go there, just sit and won't wish to come back it is that amazing! The views are crazyyyy, heaven to eyes!
Boating price in lake pichola
• Before sunset
Adult - 400
Children - 200
• After sunset
Adult - 700
Children - 400
Then comes,
GHATS OF UDAIPUR
If you haven't seen the ghats you haven't really seen udaipur!
Just like the ghats of Varanasi, udaipur's ghats are lit up too.
The most loved ghats are
• Amrai ghat
• Ghanghor ghat
They are both immensely beautiful, facing each other, gives you beautiful views especially after sunset!
I personally walked to these ghats form my hotel, it was about 2km from my hotel and though i was tired from th whole day, the ghats took away my tiredness and made me relaxed! It was so peaceful to sit by the ghats, forgetting all bads in life, they were slightly less crowded place and a wonderful experience in whole.
BAGORE KI HAVELI
just like ghats, this place too is a must visit especially in a off season. And also, who doesn't like to just sit back and get entertained?
The haveli is situated on ghanghor ghaat, and every evening from 7PM-8PM the authorities of this haveli conducts a show.
Named, DHAROHAR FOLK DANCE SHOW.
In this one hour, they ll engage you completely in the culture and heritage of the Colourful Rajasthan, with funny anchors and colorful gathering you ll love this show!
In this one hour, they shows various amazing dance forms of whole of Rajasthan and also a crazy, funny puppet show. You can't stop yourself from clasping your hands in air, after this very show.
The ticket price for this show is
• Adult (Indian) - 90 INR
• Children (Indian) - 45 INR
• Foreigner - 150 INR
*Ps: If you want to click pictures or make videos you have to buy a separate ticket for that which is of - 150 INR*
This was my best experience in udaipur, if you plan to go don't forget to tell me yours!
Lots of happiness
Desii Banjaran
On Instagram - Desiibanjaran