Fort State: In ruins, Fortification and few buildings are still intact.
Difficulty: Easy
Endurance Level: Easy
Things to carry: Two liters of water, snacks, Trekking shoes.
Best time to visit: Any time of the year
Type: Seashore Fort
Time to Explore: One hour
How to Reach: This fort comes in Ratnagiri taluka and district. It lies just 20 KM north of Ganpatipule. There are very less options for public transport.
History: King Shilahar is said to have built this fort as per old records. Later Adilshah strengthened the fort. Naik from nearby village Sangameshwar, won this fort for a short period of time. He is said to have defeated combined forces of Portuges and Adilshah.
Chhatrapati Shivaji Maharaj won this fort from Adilshahi. Later during Peshwa period, it was given to Angre, the naval commander. Lastly, it went to Britishers. It is said that, Britishers setup office in the fort.
Jaigad is built on the coast with two sides facing the Arabian sea. It is maintained by ASI. It is spread in two hectors. There used to be 20 bastions but very few are left now. It was built to control the trade happening through Shastri river creek. On the northern bank, there is Vijaygad fort and this fort lies on the southern side.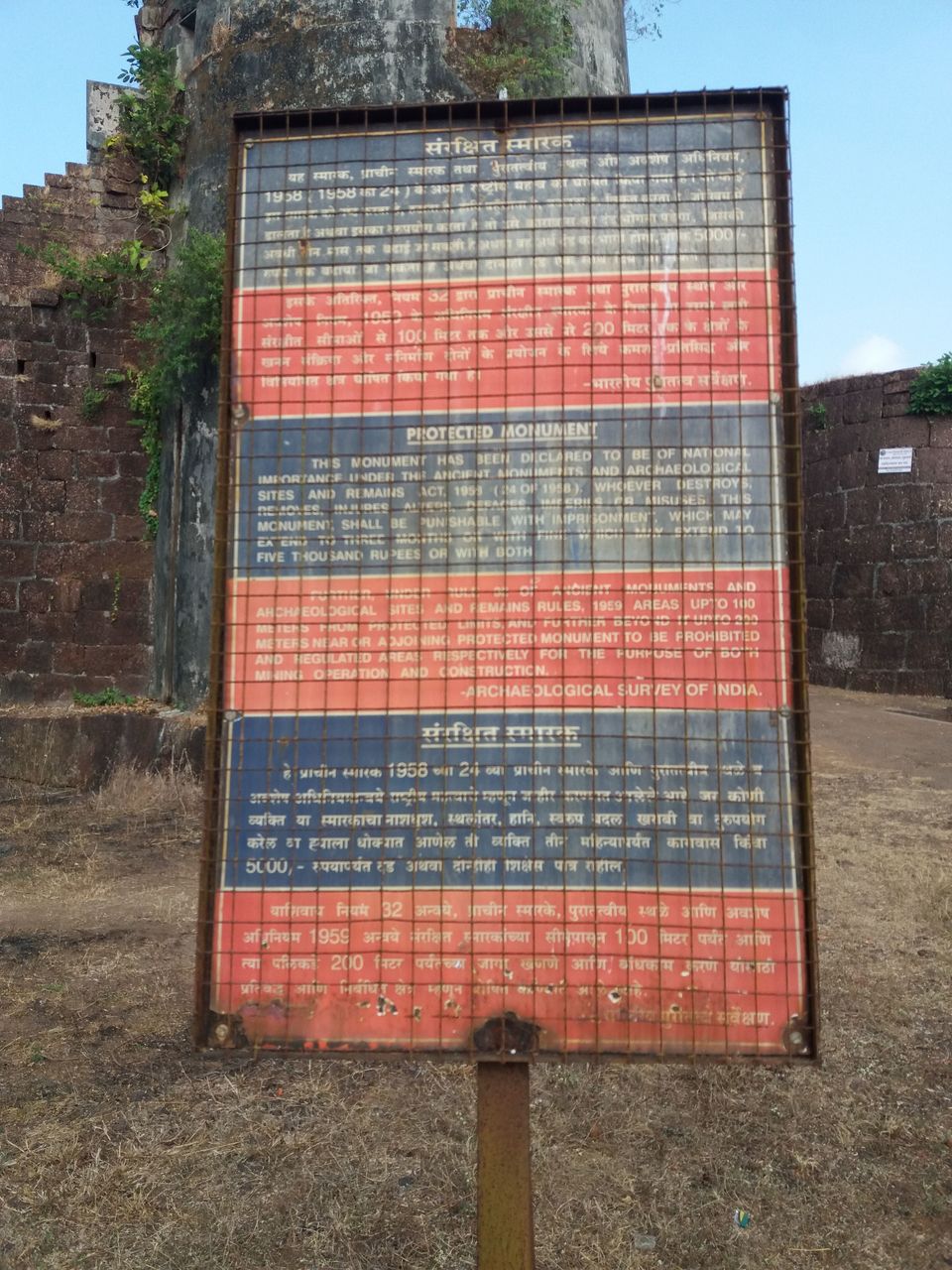 There are few homes of Jaigad village in the fort's premises. There was a ditch surrounding the other sides of the fort. The fortification is still intact and we can stroll on it.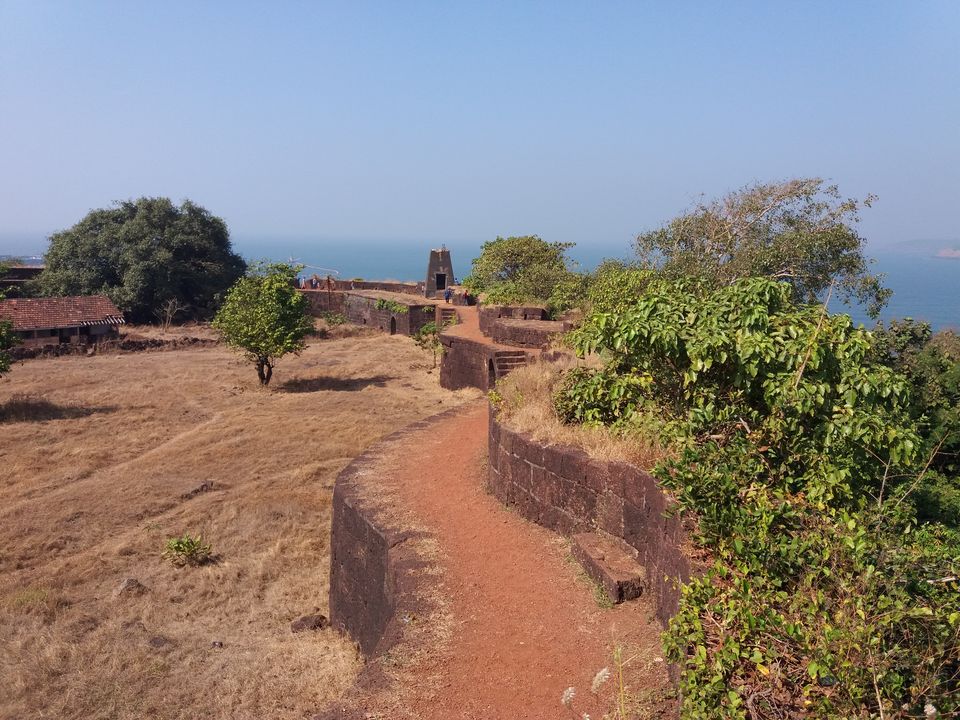 Outside the fort, there is a local village office (Talathi in Marathi).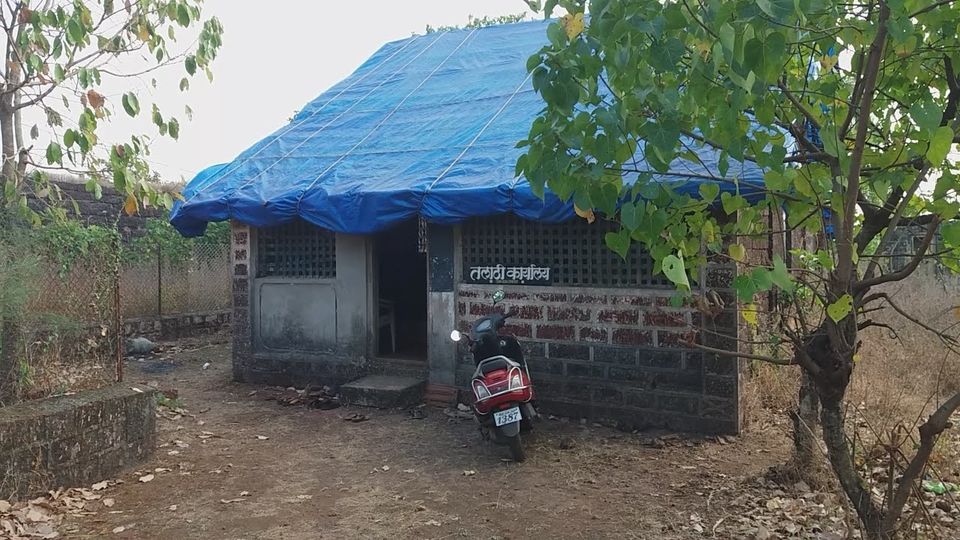 At the entrance, we see a couple of bastions. The main gate is hidden between these two.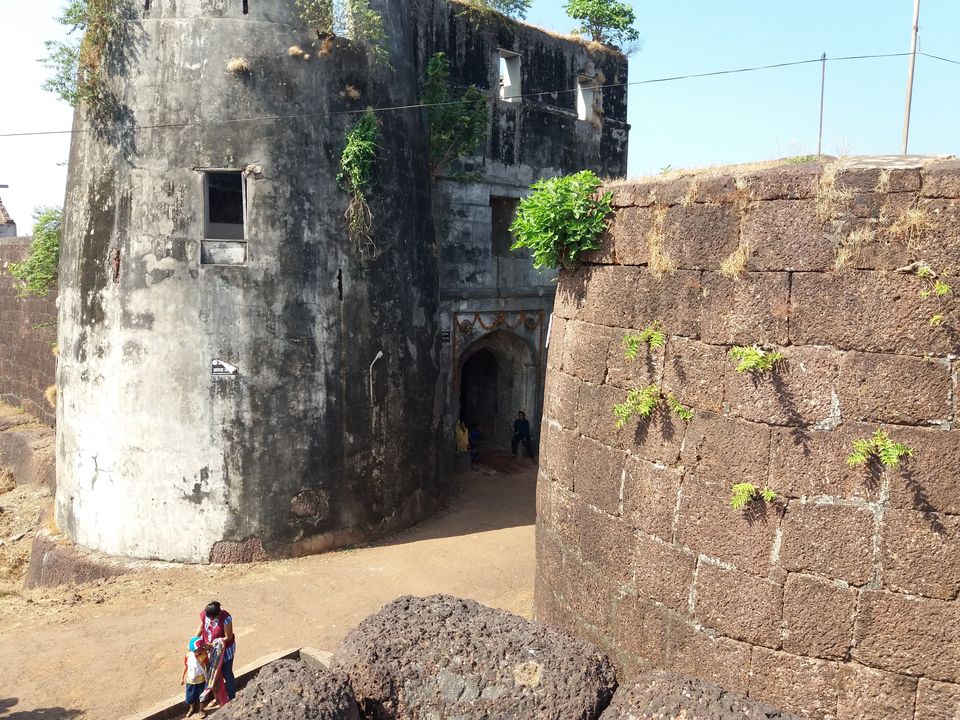 On the right side there is a small gate which goes to the village.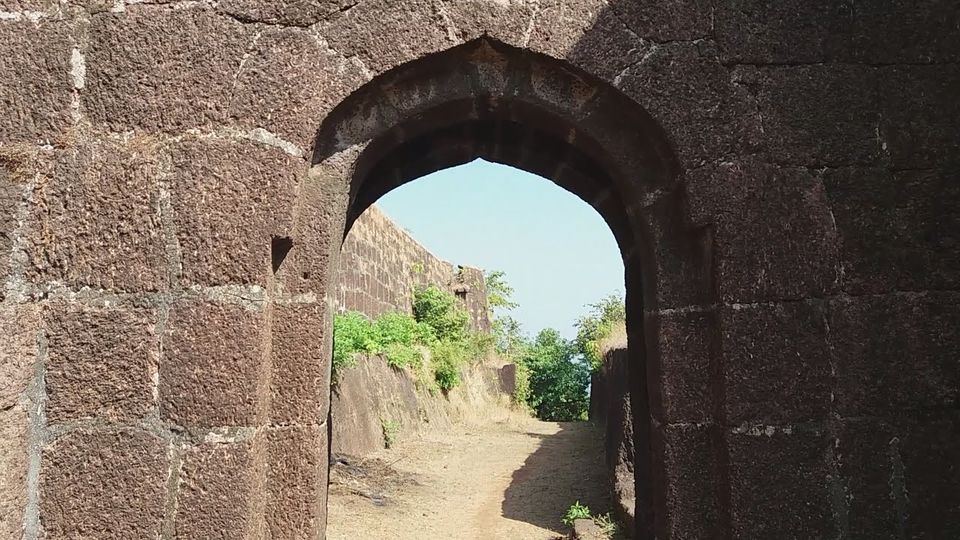 We can see the moat on the front side.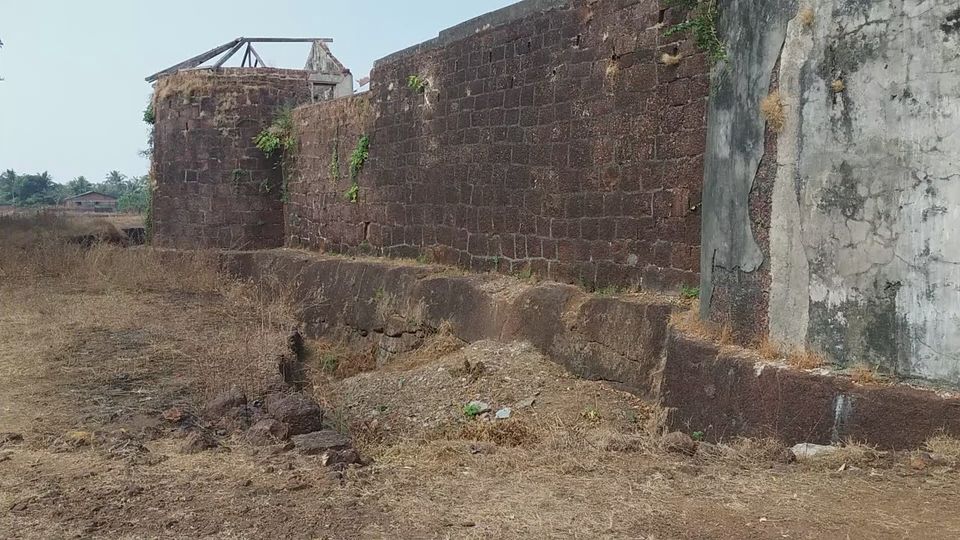 The bastion was of three floors and it used to be an office. Only the structure is left now.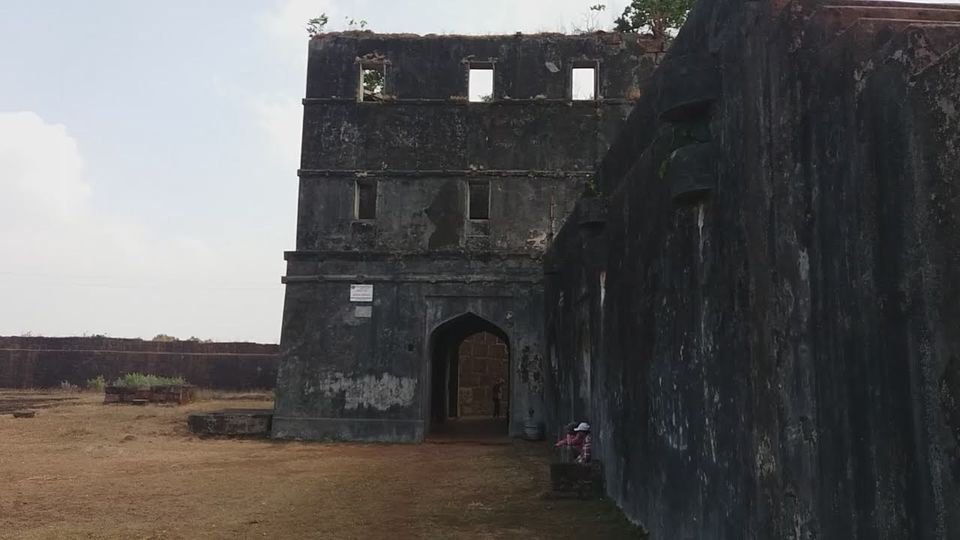 The main entrance does not have door. On the arch, there are sculptures of lotus flower.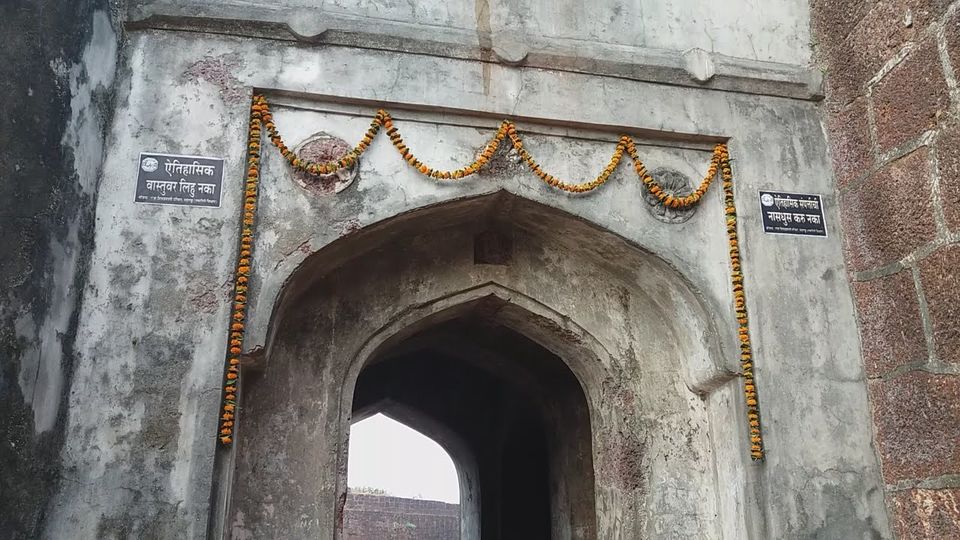 As we enter the fort, we see small rooms on right and left side. This was the initial frisking location.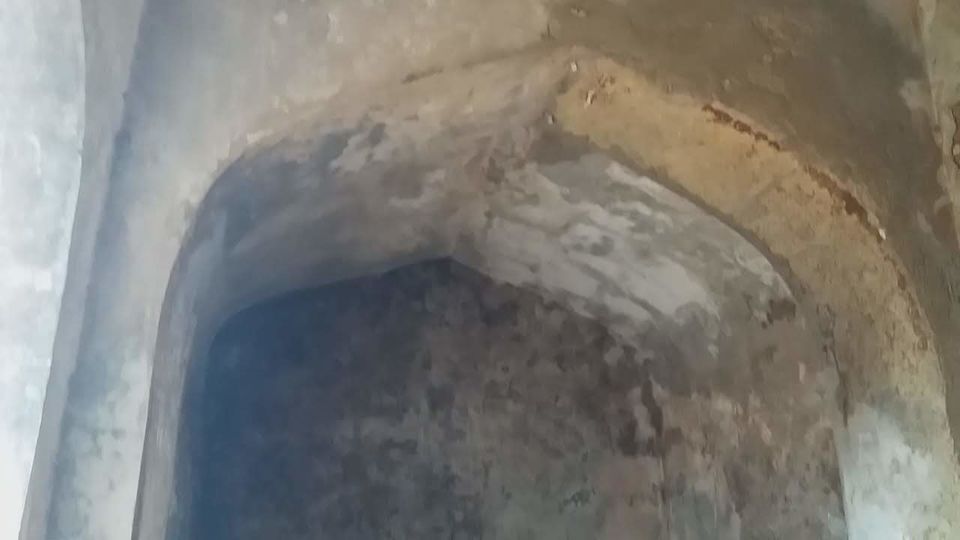 There are also few arch shaped rooms after the gate.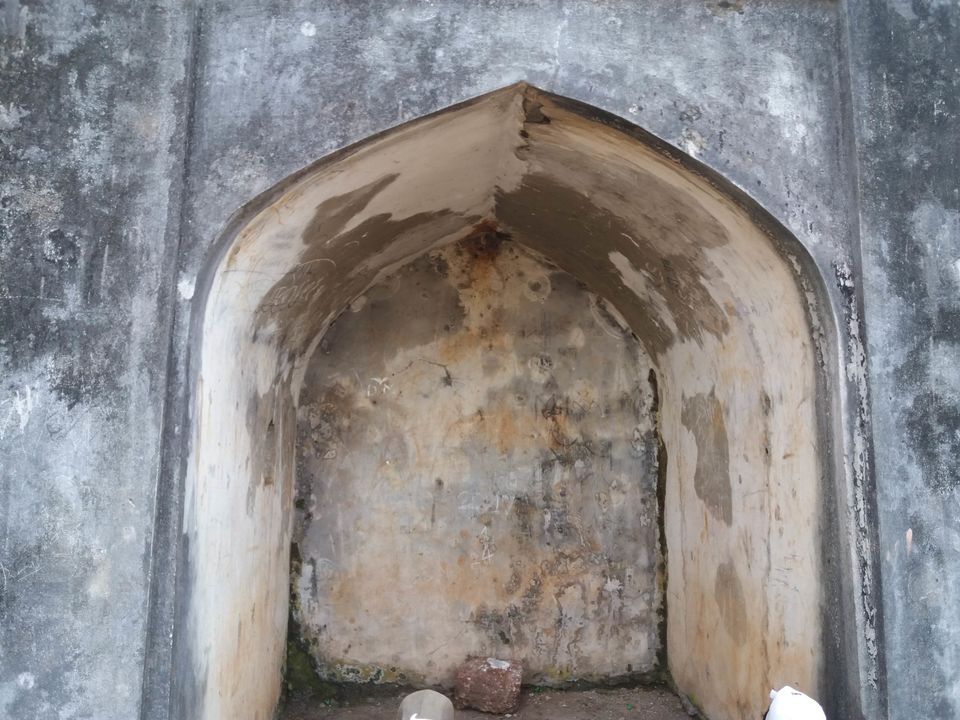 Further there is a huge space inside the fortification. This could have been a place of granary.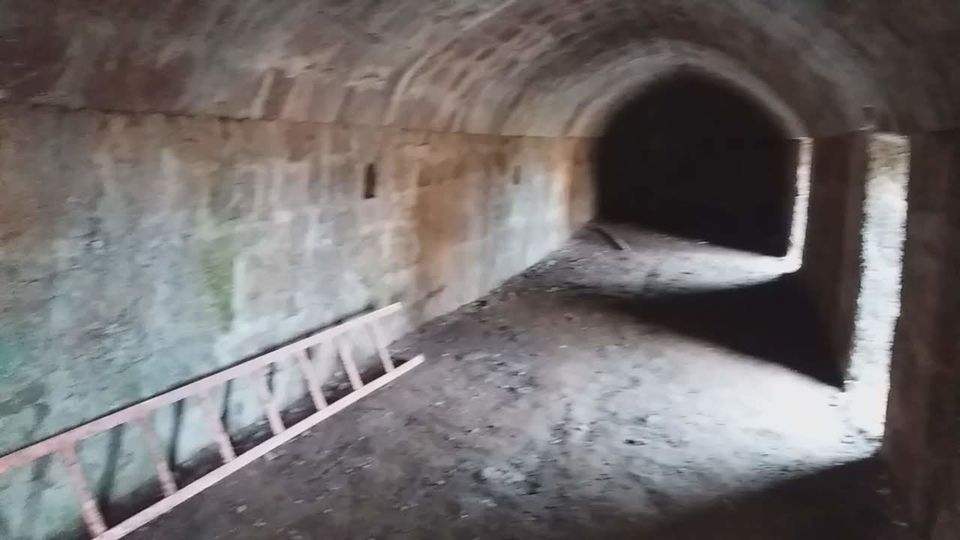 There are steps to go the bastions.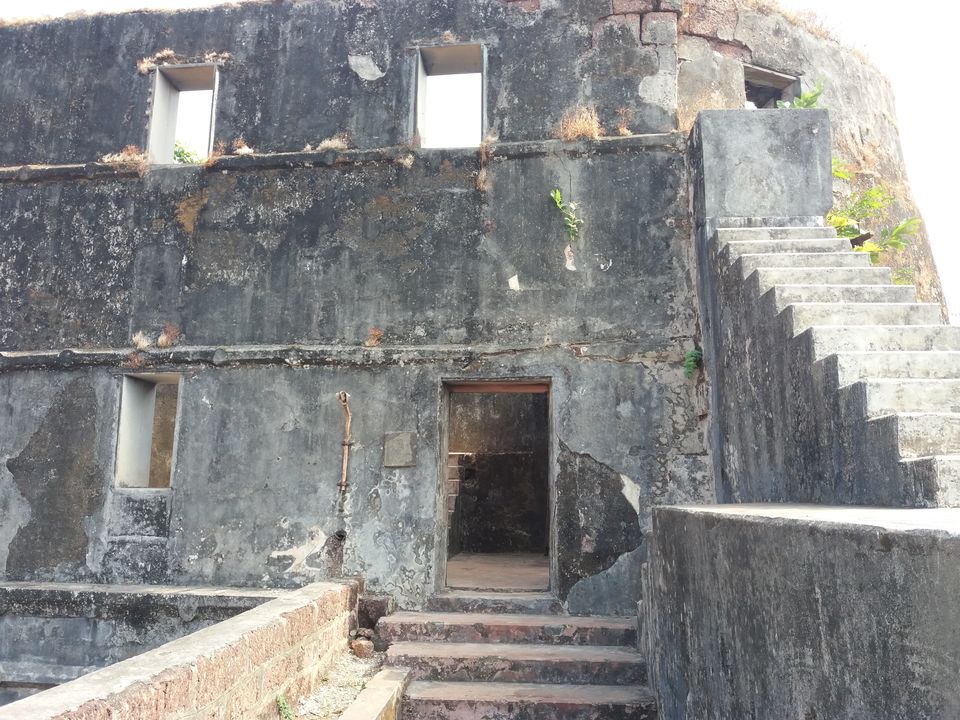 We see few rooms here.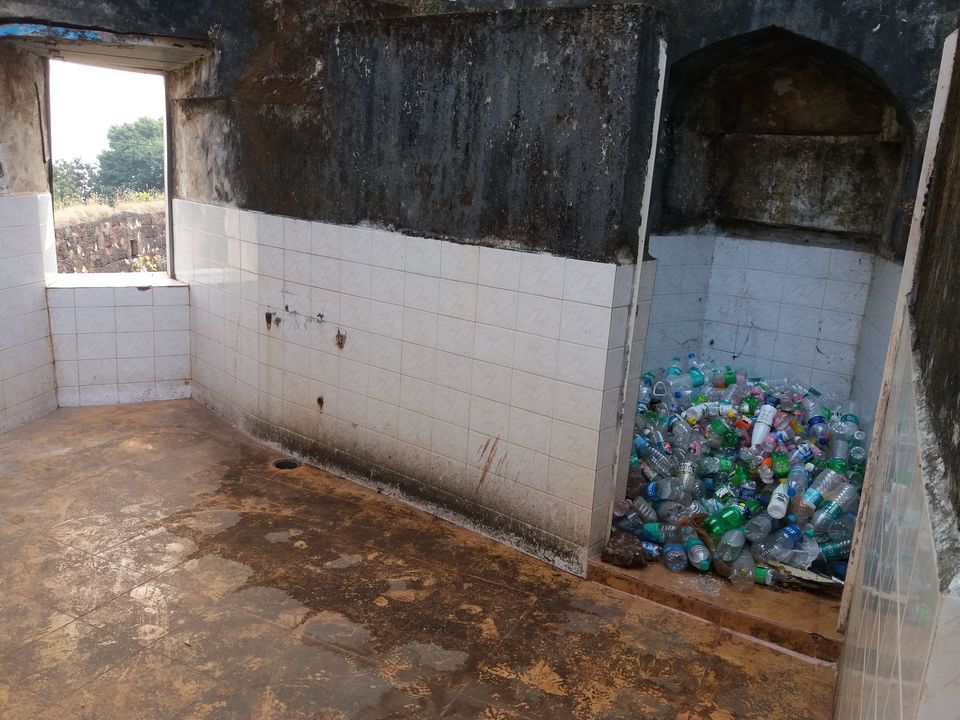 We can walk on it to see the entire fort.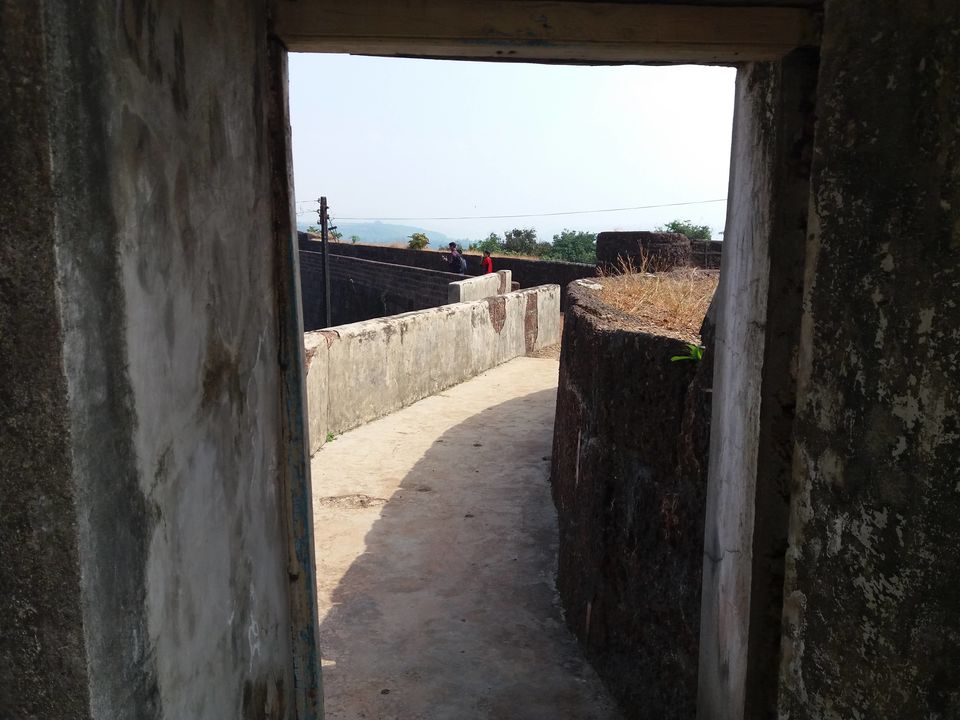 As we get down and go towards left of the gate, there is a water tank. This is covered by broken roof and we can see lot of garbage inside.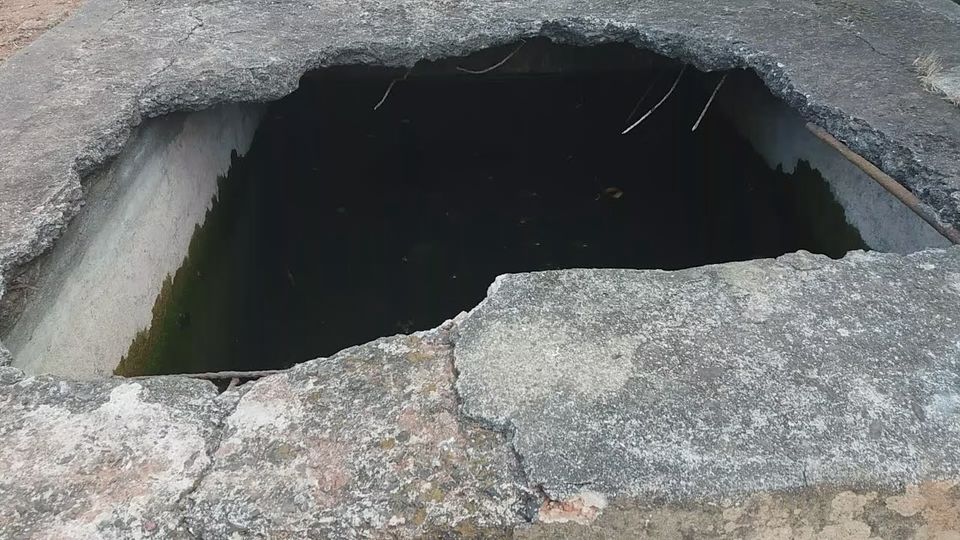 As we go ahead, there is a deep well. There is a parapet along it.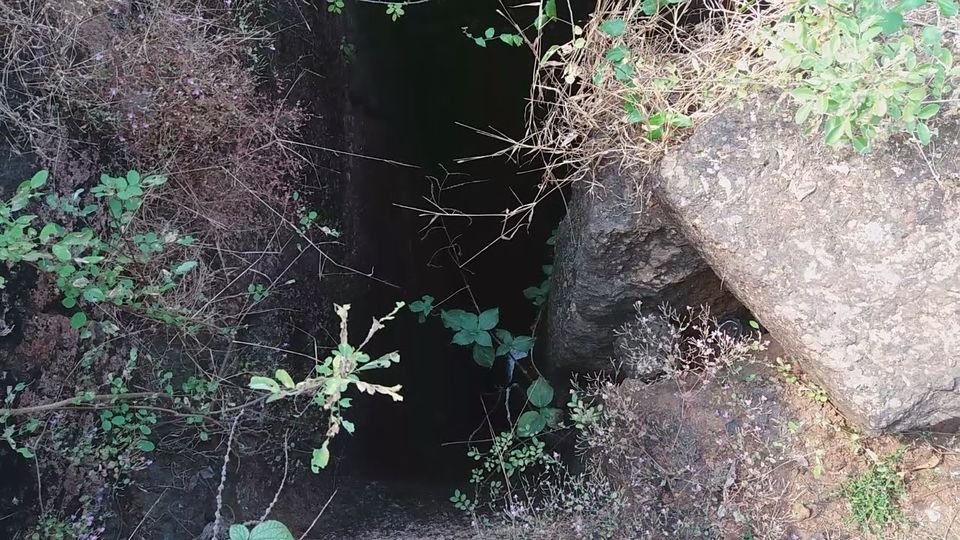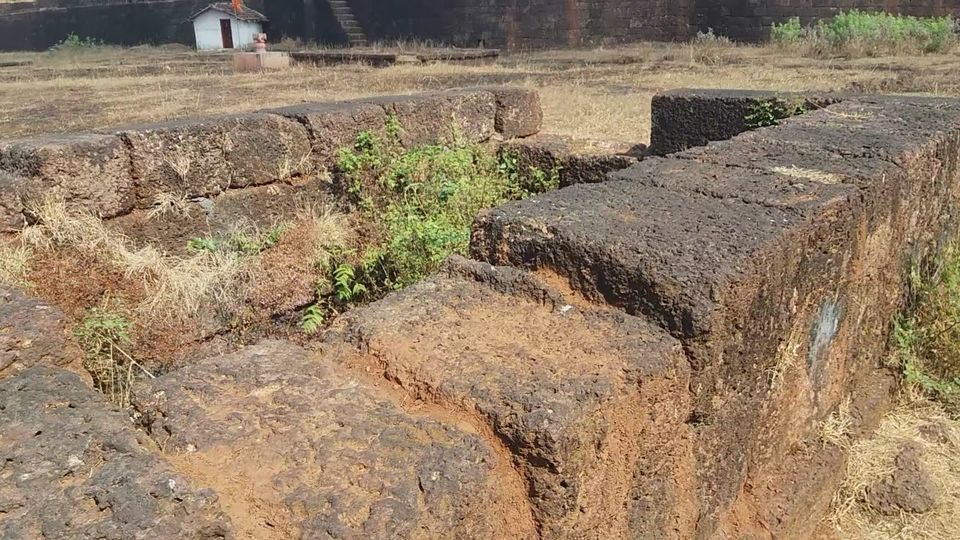 Just behind the well, there is arch type another room. It has a small window also on left side.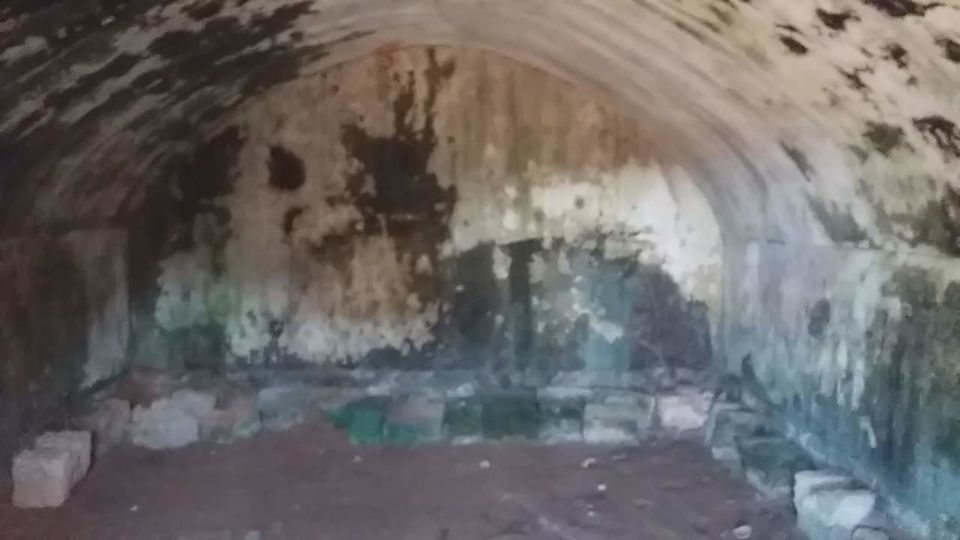 In front of it, there is a plinth which must have been a base for a room or gathering place.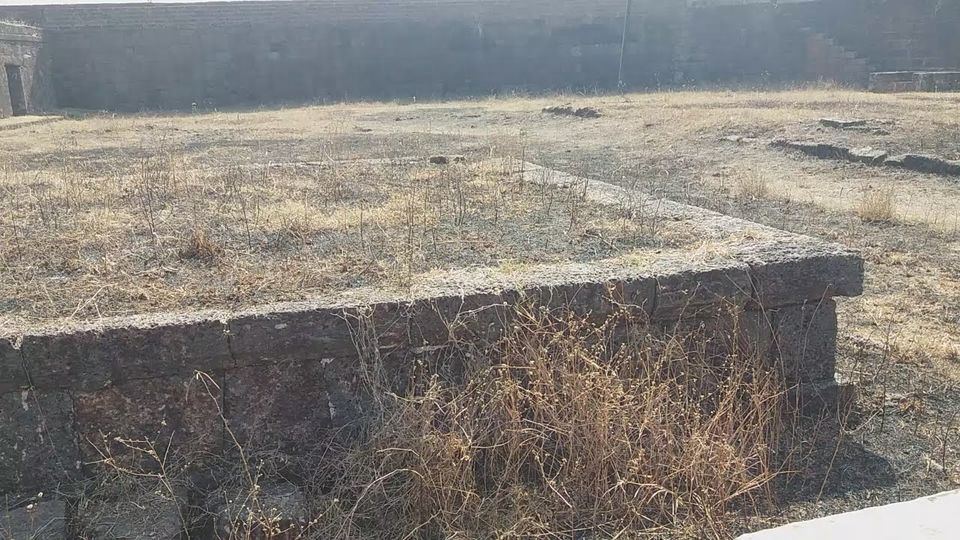 There is a small structure to keep a plant.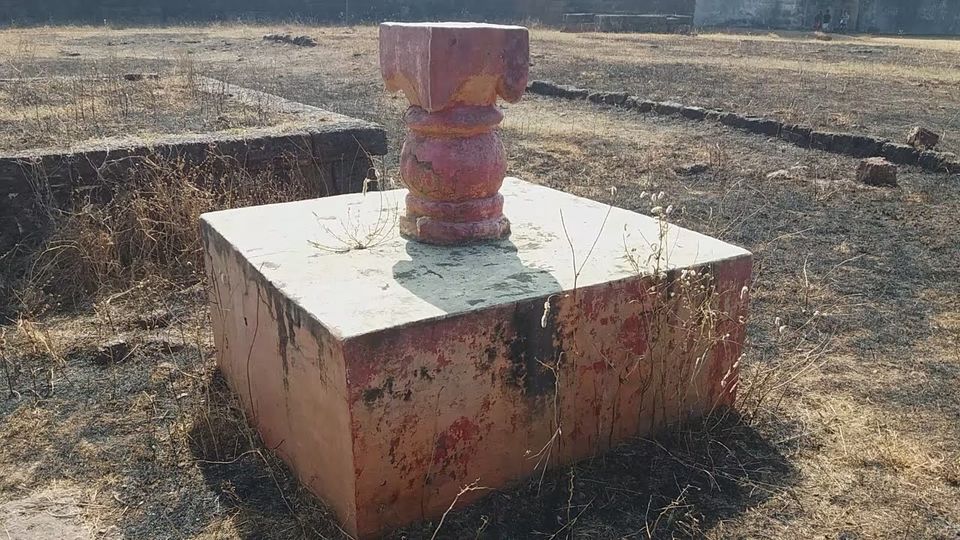 Going ahead, there is a tomb in the fortification. Inside, there are couple of flags kept. A lamp is also lit.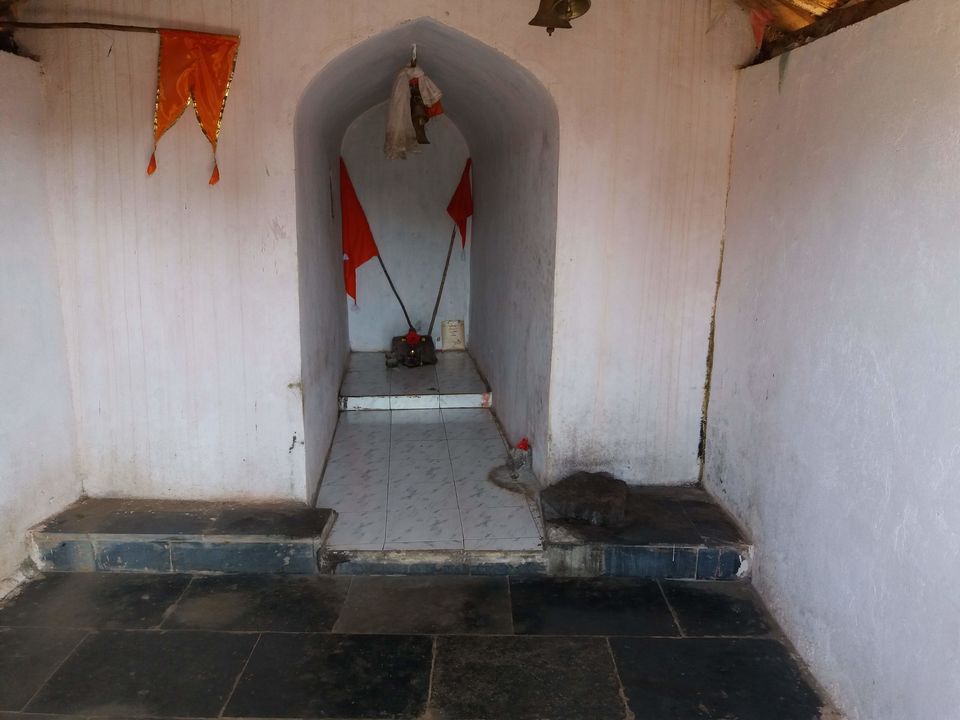 There is a tale about how a boy named Jayba (Khemraj in some records) sacrificed his life willingly to help construct this fort. In ancient times, there was a custom of homicide which believed to make fort stronger. On his name, fort was named Jaigad.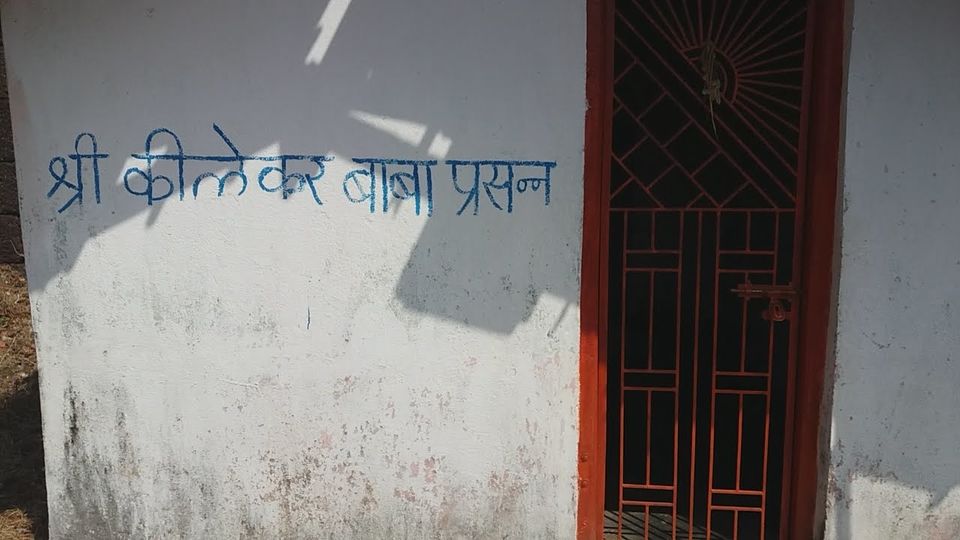 In front of it, there is a beautiful Lord Ganesh temple.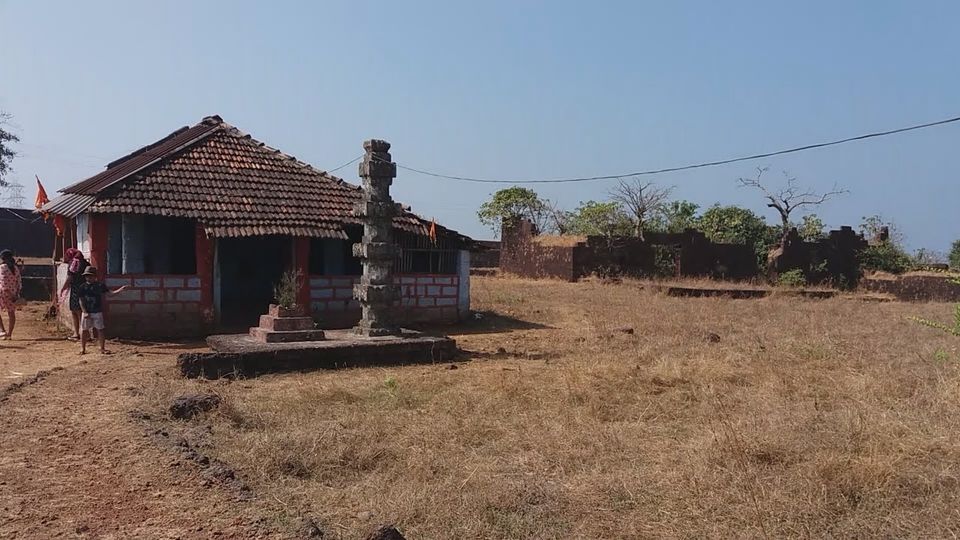 There is a place to hold basil plant. Beside, there is a big tower to keep lamps.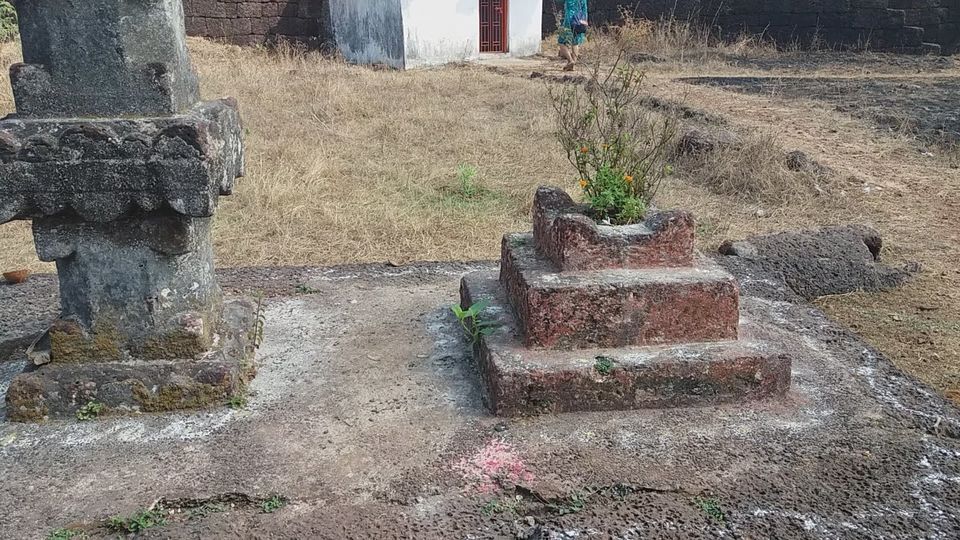 It is a big area inside with two idols. One having an arch like shed over it.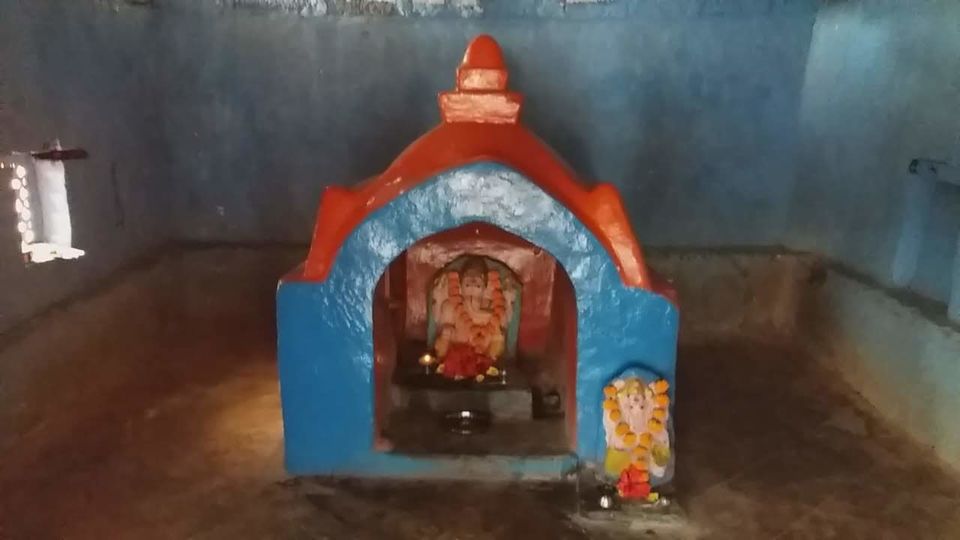 On the top there are flags hanged.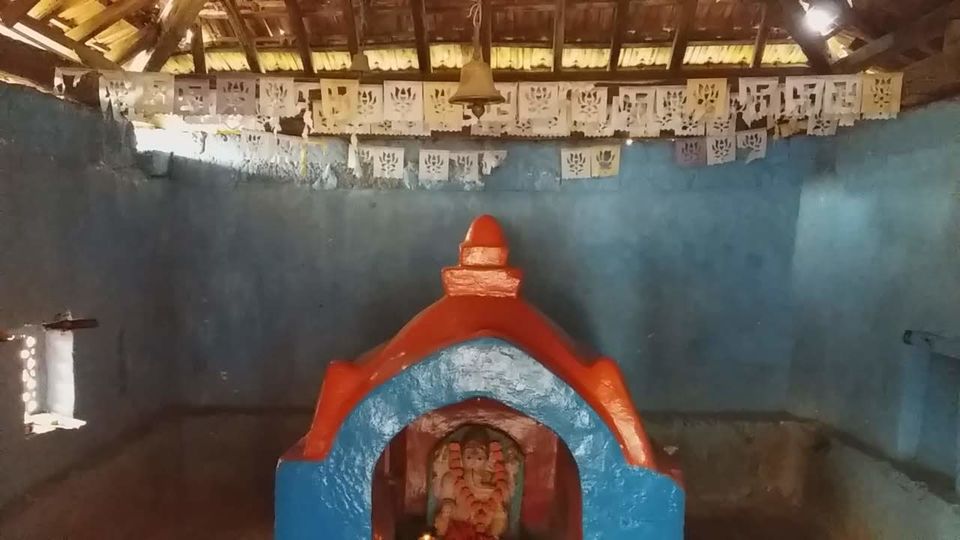 Beside the temple, there is a big water tank with two partitions. There is no water stored and it has protective wall around it.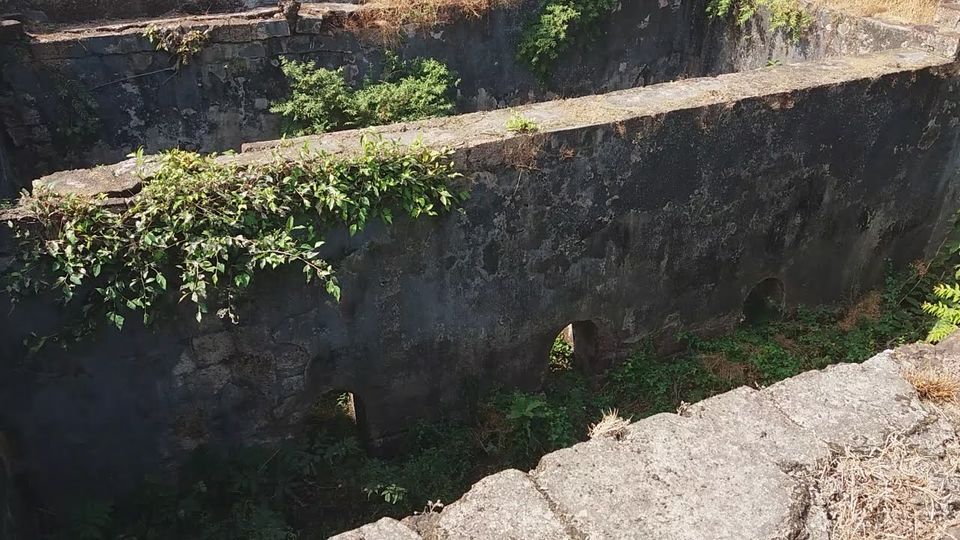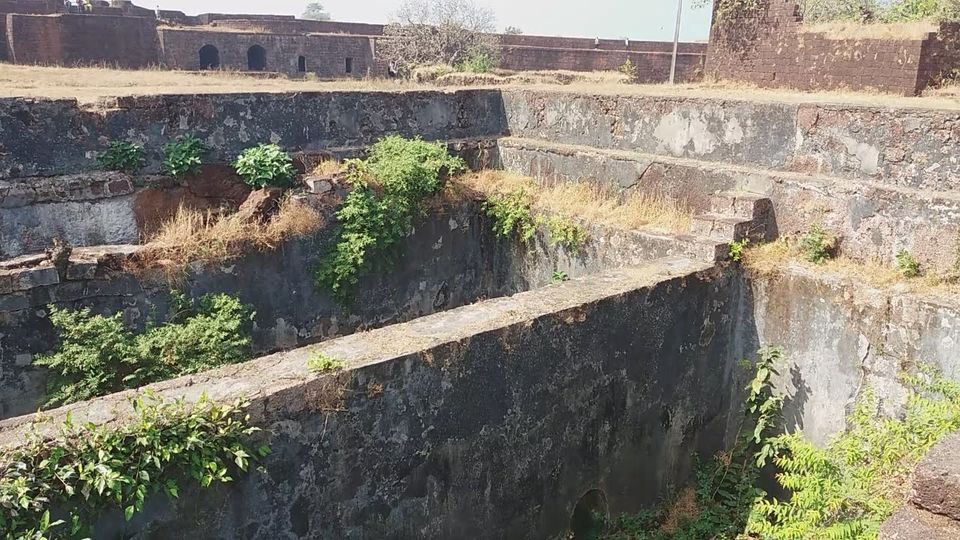 Behind the temple, there is a multi story palace but in ruins. There is no roof. We can see few windows and wooden logs inside.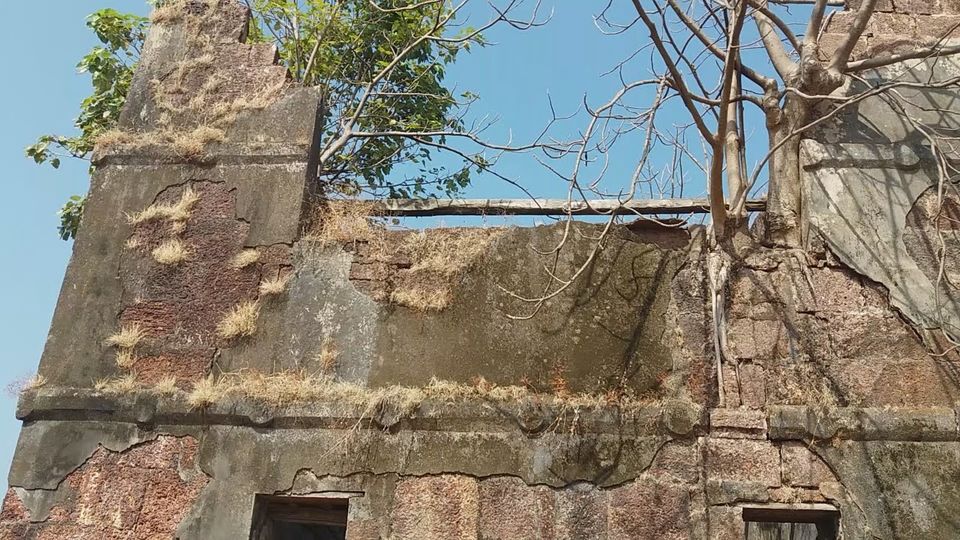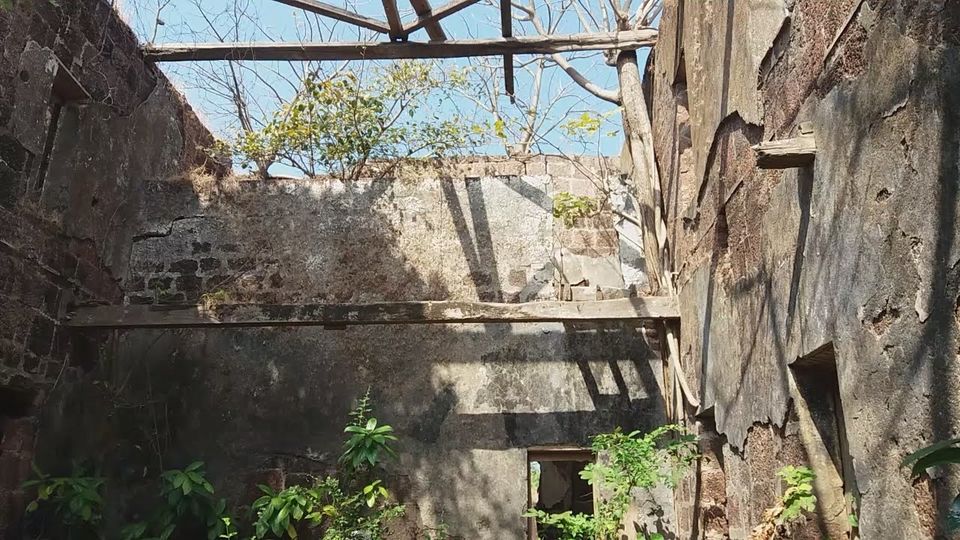 As we go towards fortification, there are steps to reach a small elevated place. Could have been a place for administration.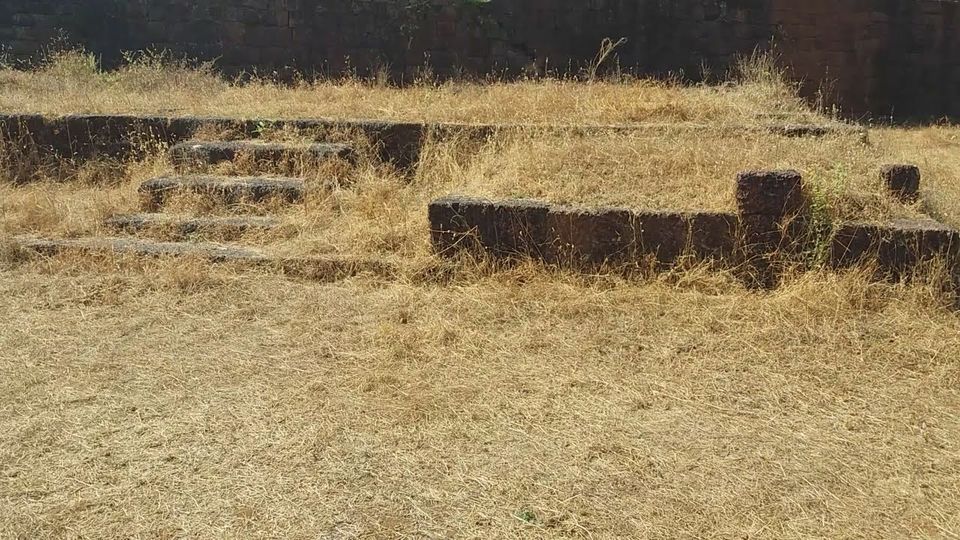 There is a brick made pit but not sure what purpose it was built.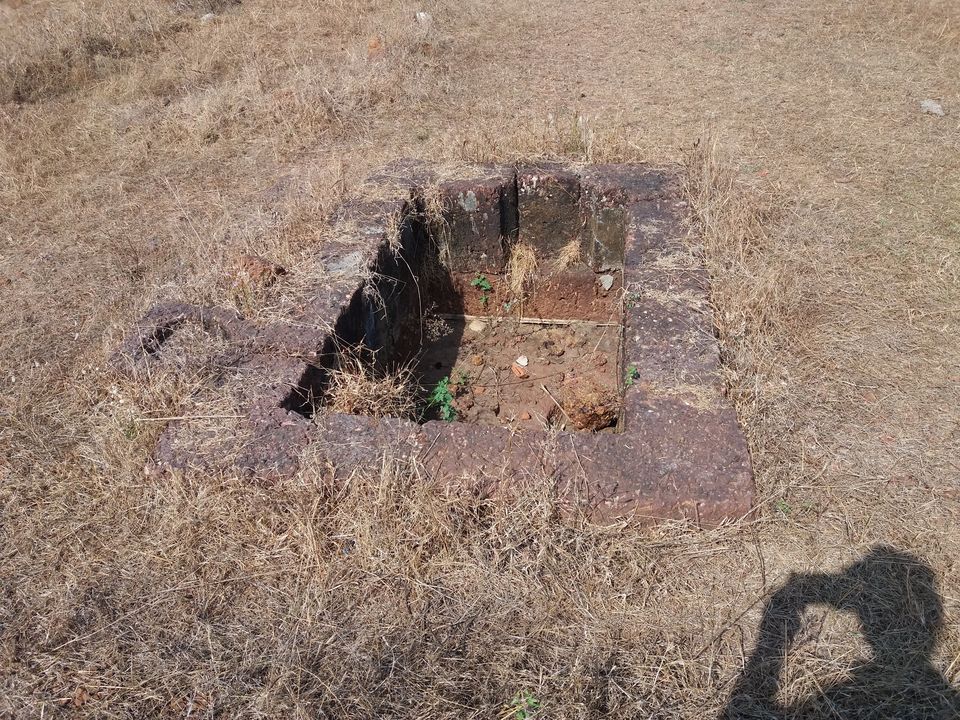 As we move further, there is a long rock made fence. There are couple of wells inside having water.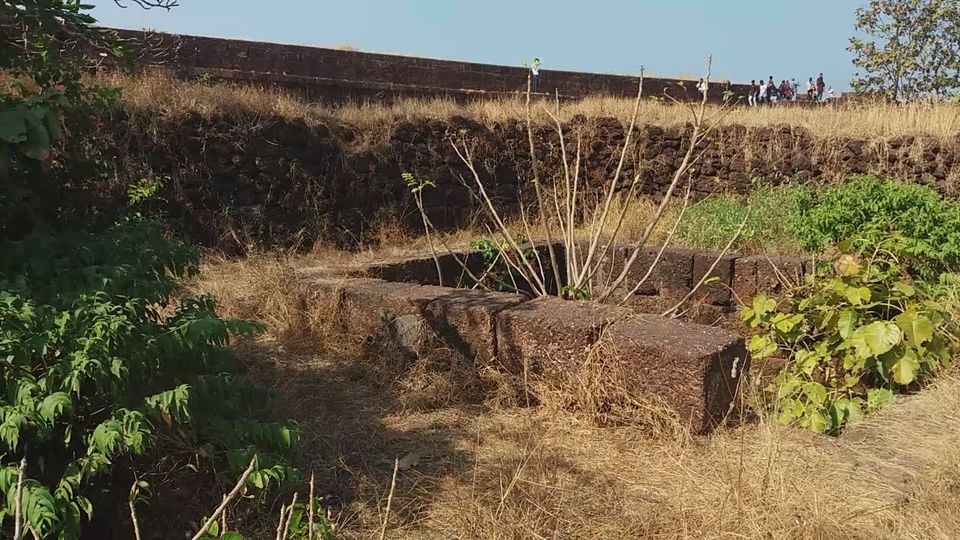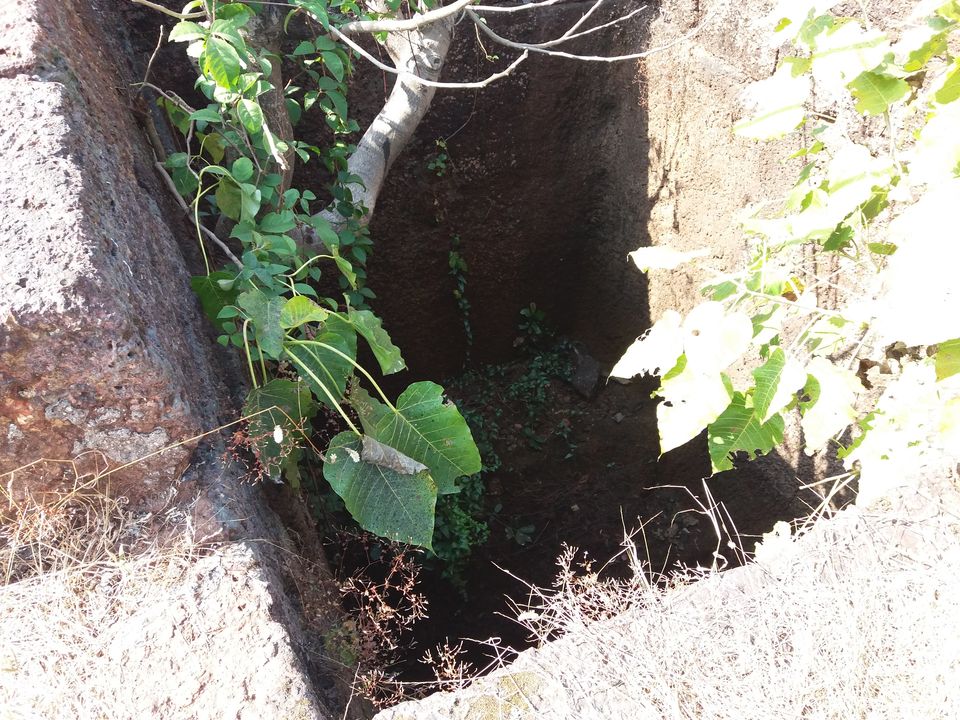 Opposite to these, we see lot of rooms, could have been used as stable. These are interconnected.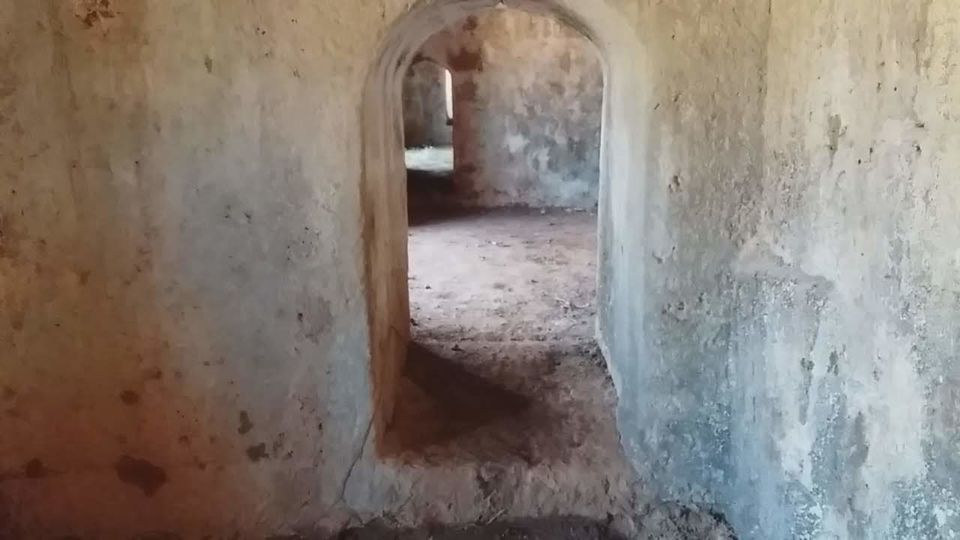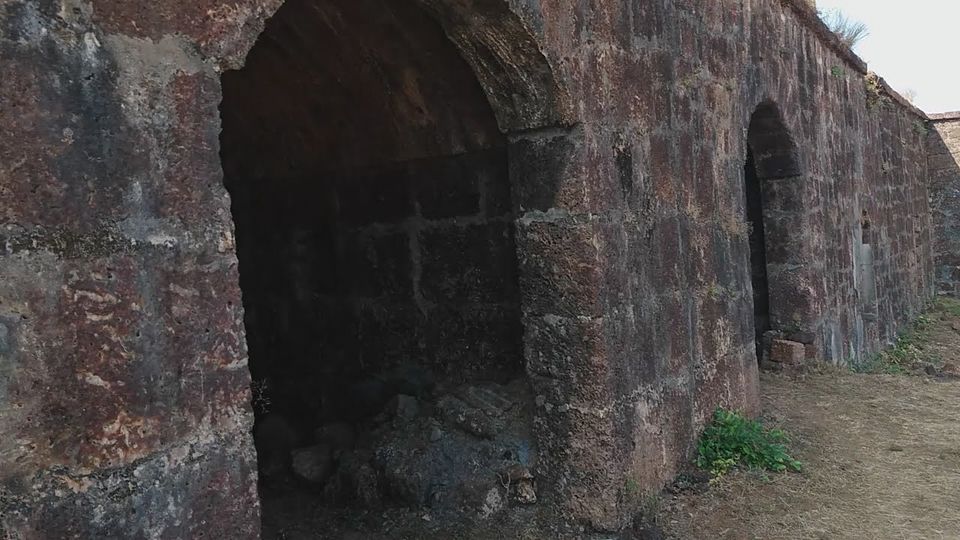 Going ahead, we come across a bigger palace than the earlier one. It is said that this was built for Angre who ruled the fort. It is dilapidated and we can see only walls today. Inner part of palace has thick bushes and trees.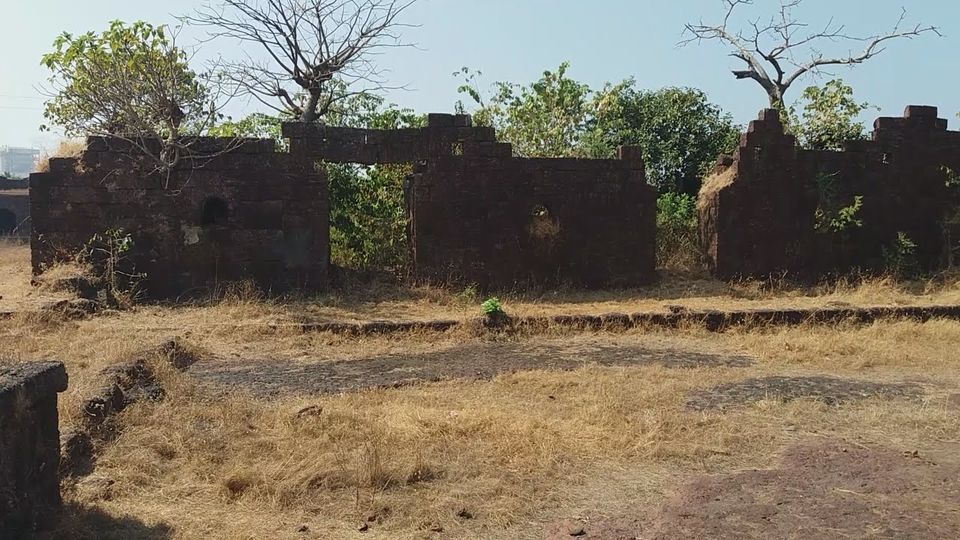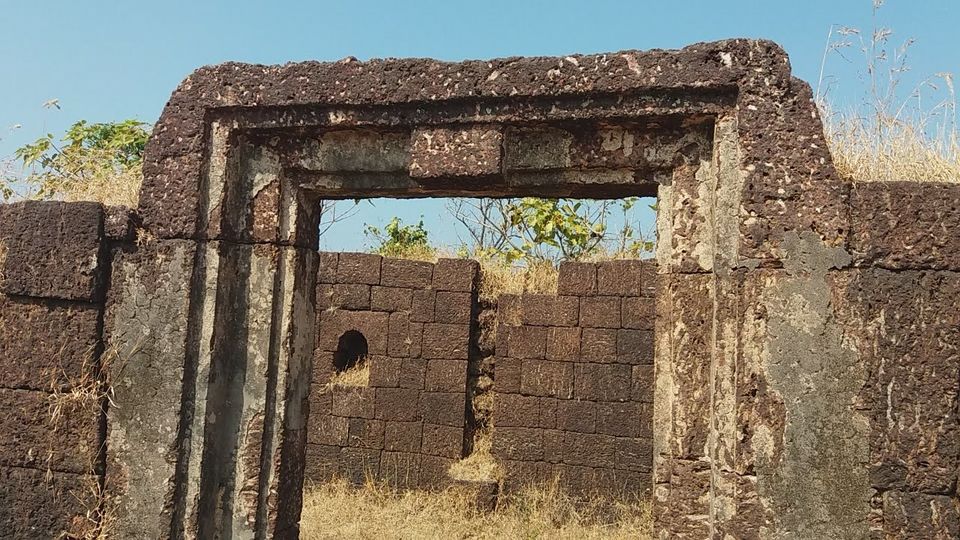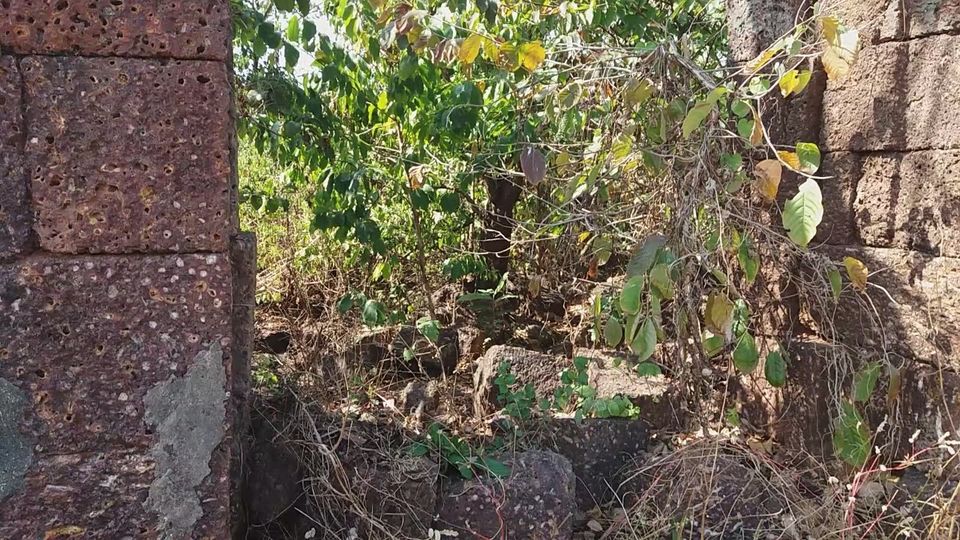 Behind the palace, there is another slab at the base.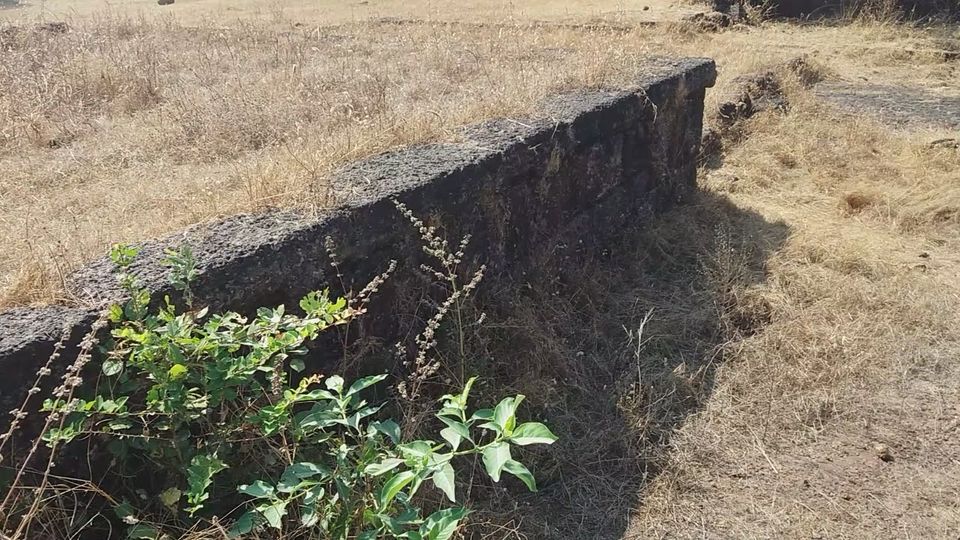 Opposite to palace, we see another arch inside the fortification.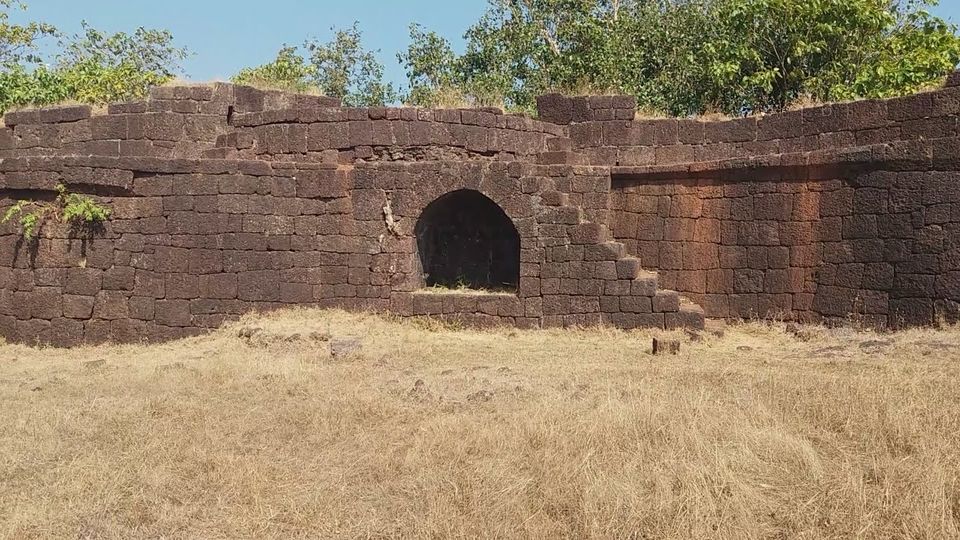 As we go ahead, we see recently built residences. These could have been for people working in the office. It is a spacious room with veranda outside.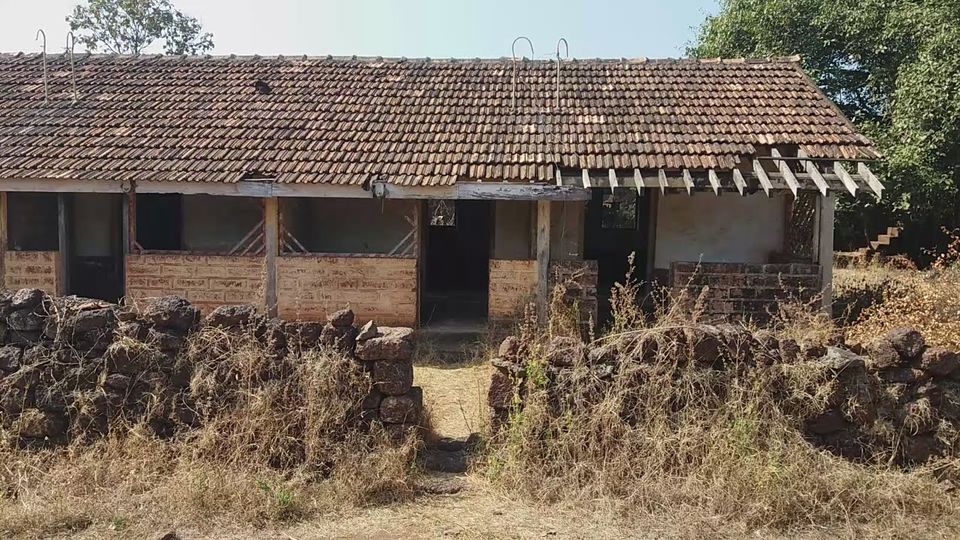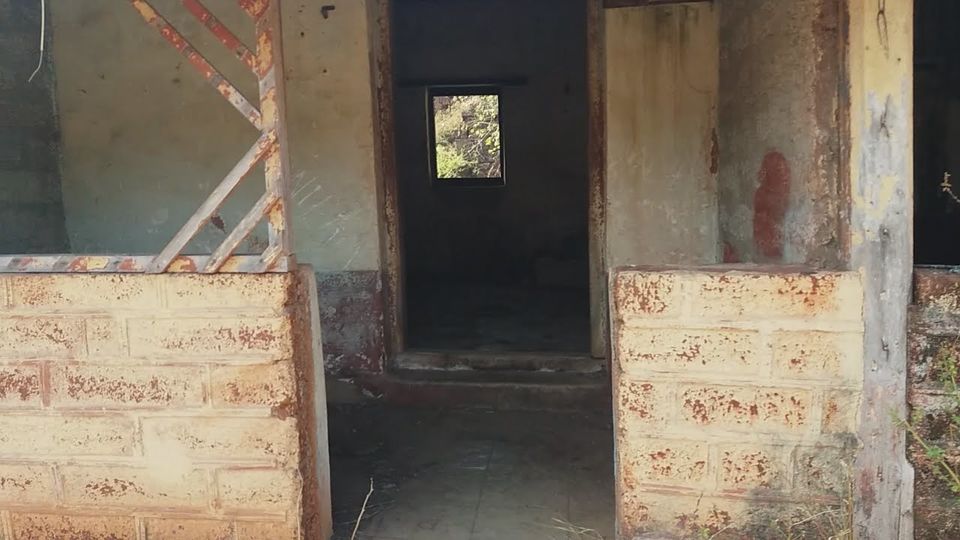 If we come towards fortification, we can see another gate which is on the sea side.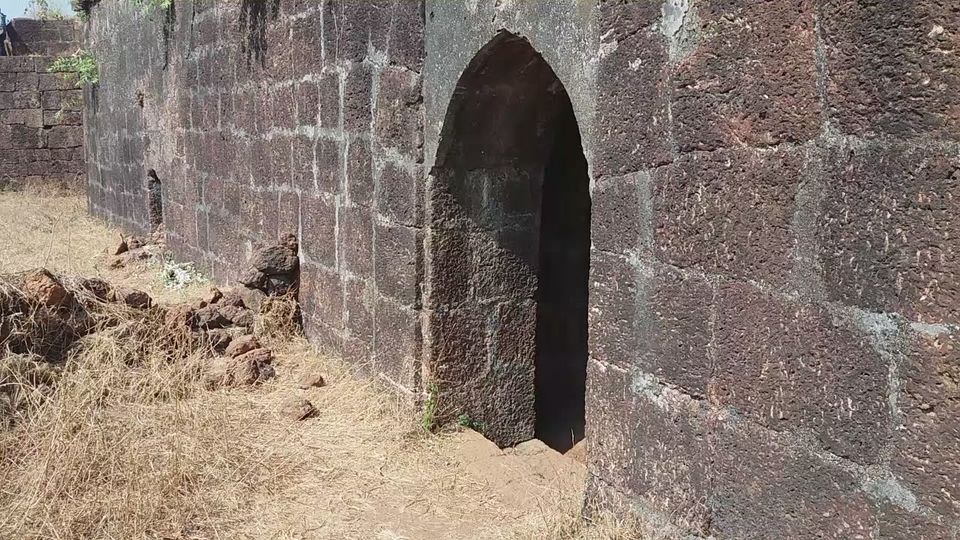 There are couple of frisking spots on either side of the gate.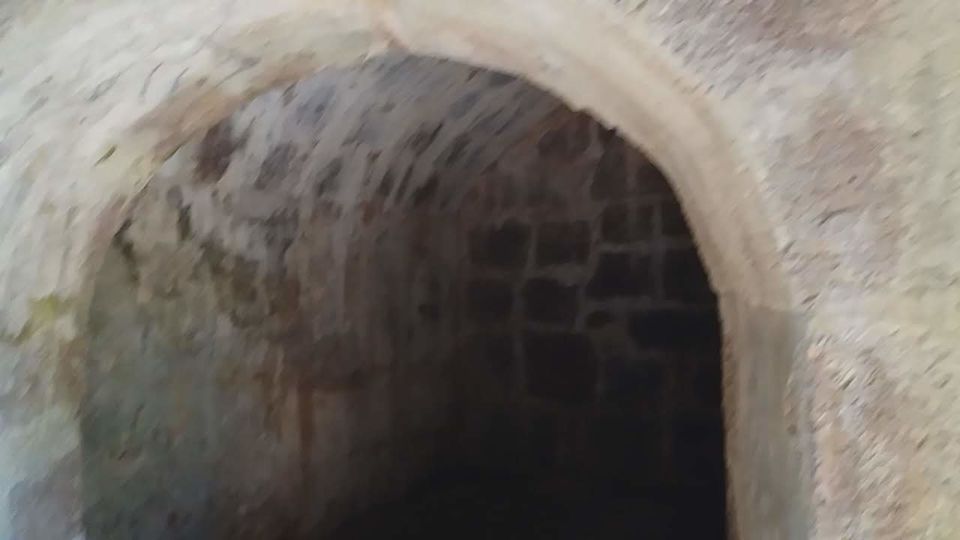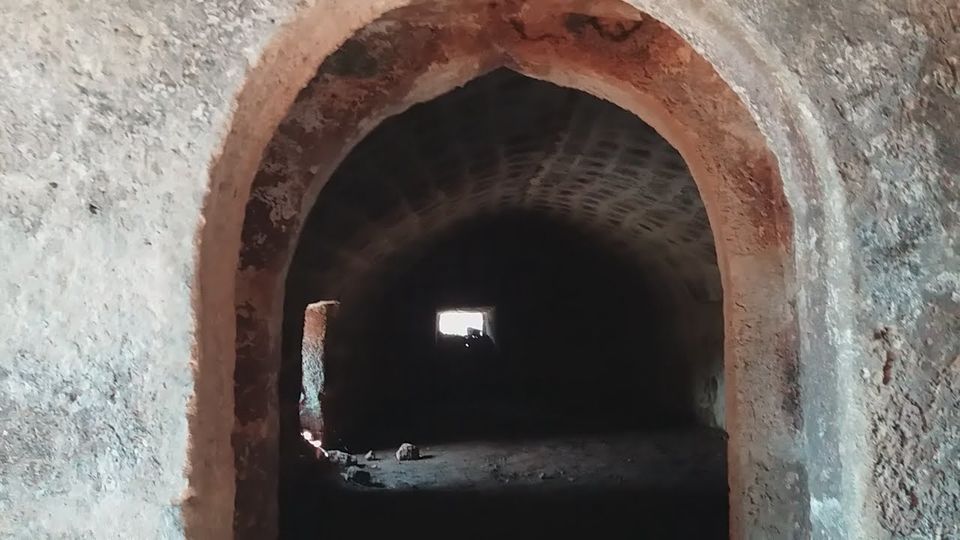 As we move out of the gate, we see lot of trees along the coastline. We can sit here for sometime and listen to the sound of sea waves.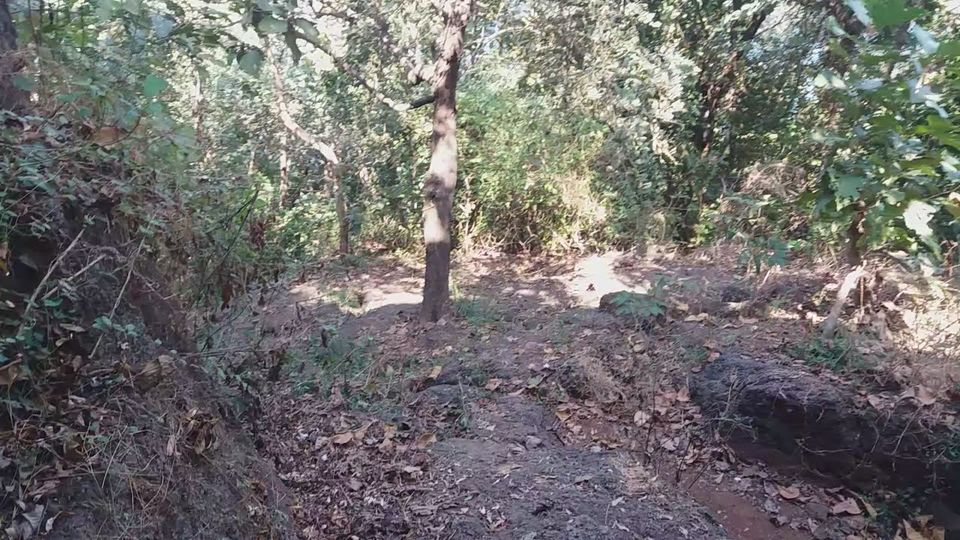 Once we come back to the fort, there are steps to climb up to another bastion. It faces the sea and is three story tall. There are many small windows. These could have been used for attacking.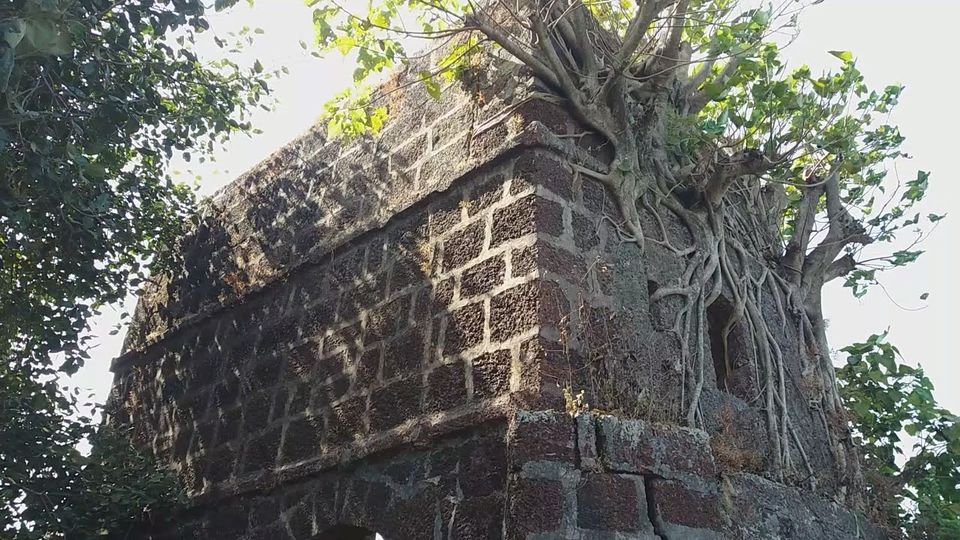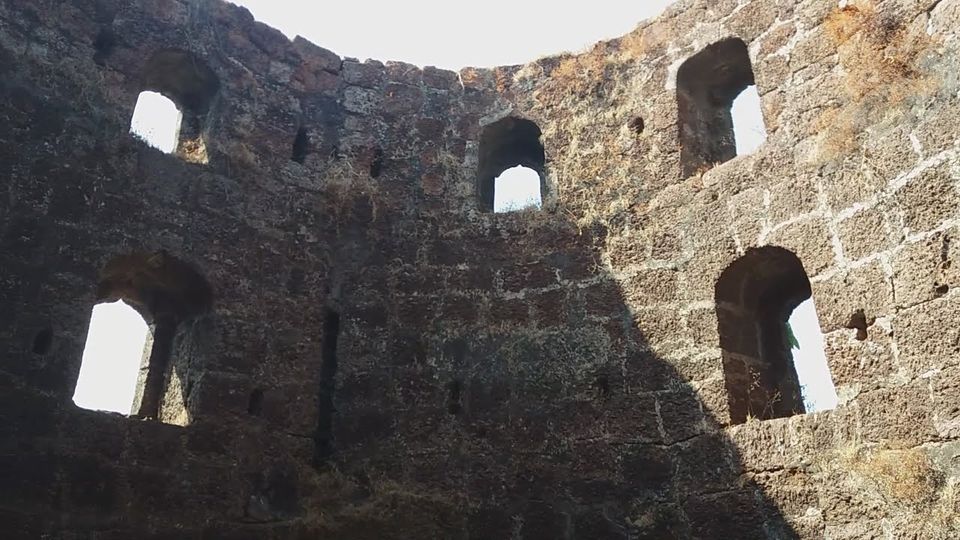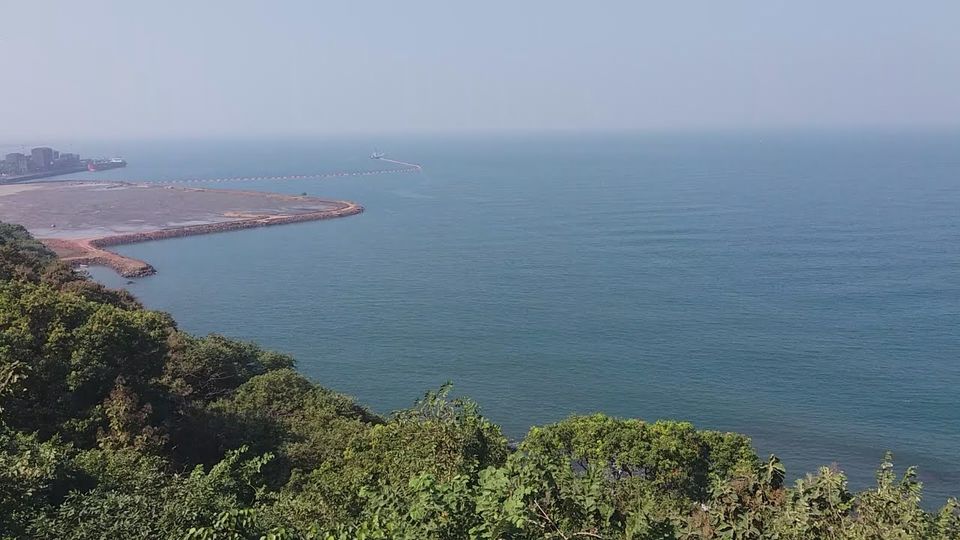 We get panoramic view of creek from here. On the left side, there is Jindal power plant.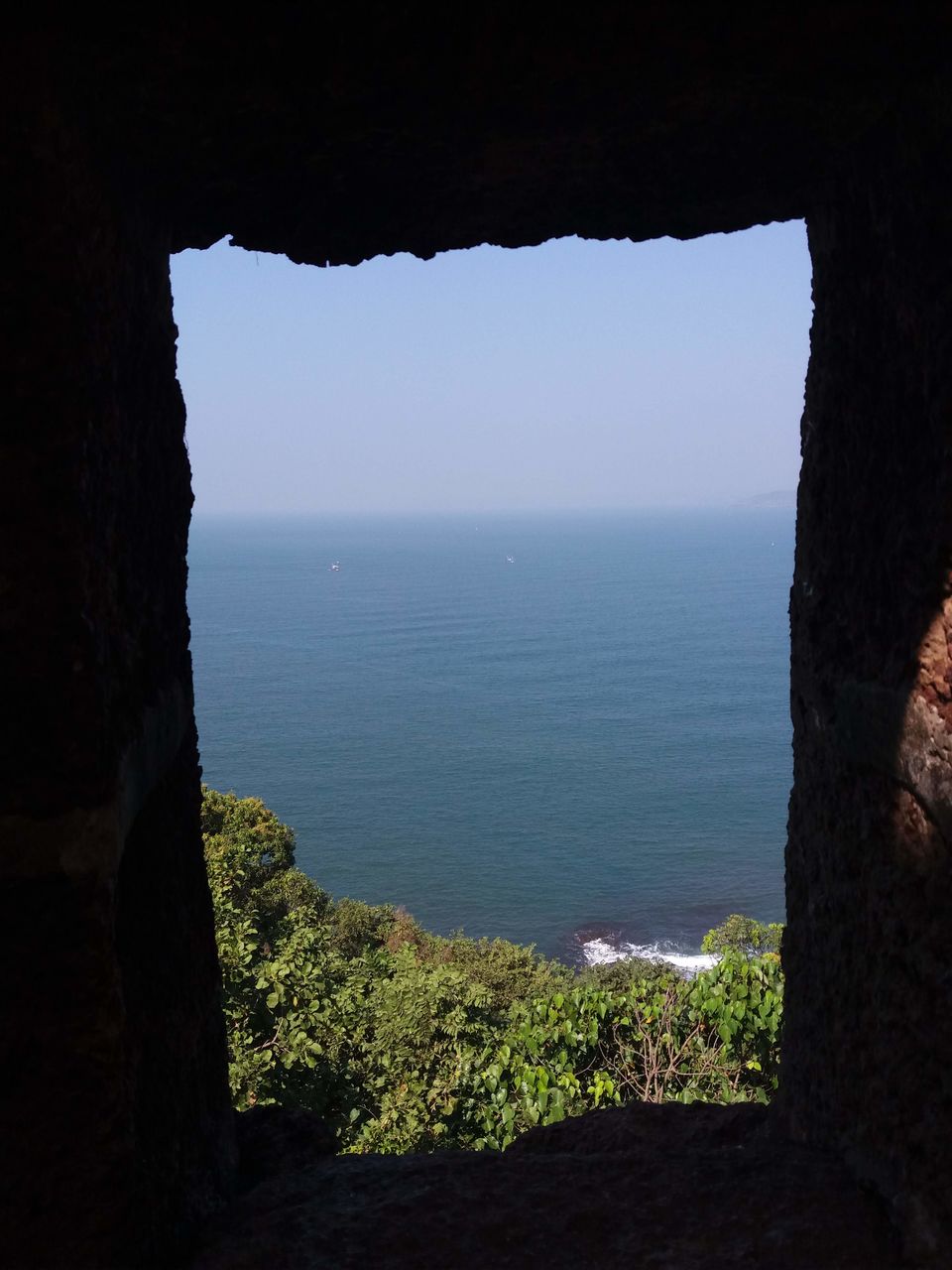 There is another gate in the bastion that goes on the fortification to the entrance side.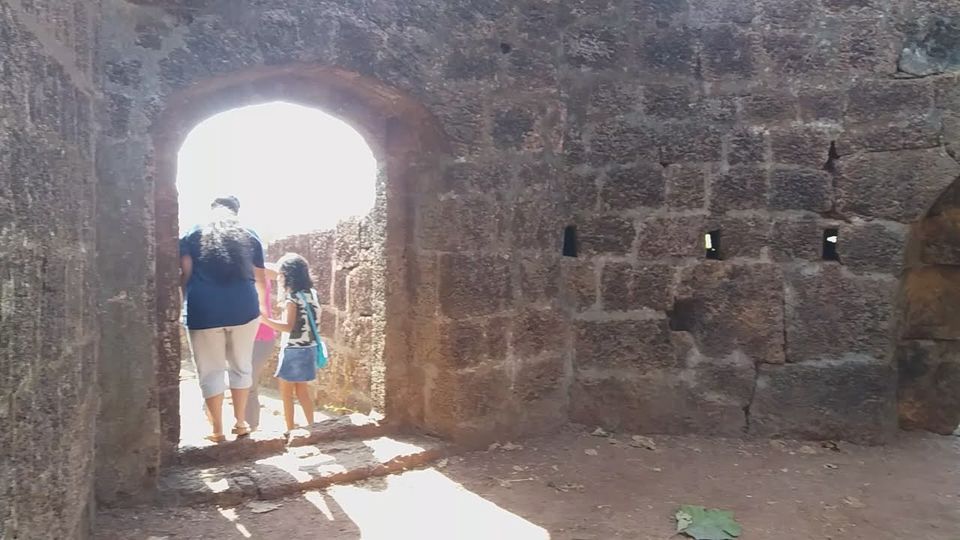 As we go back on fortification, we see a recently built structure having some space inside.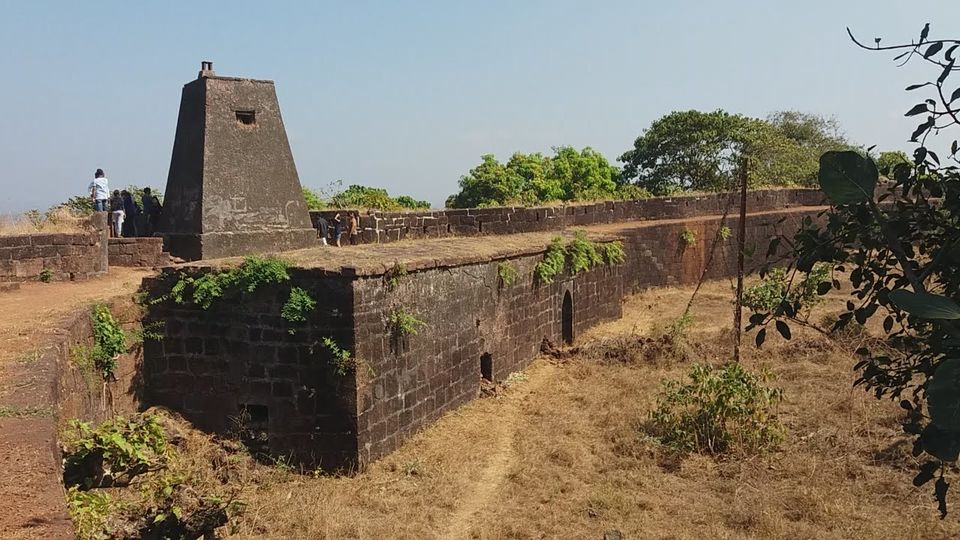 We can see Vijaygad fort from here on the other side of creek.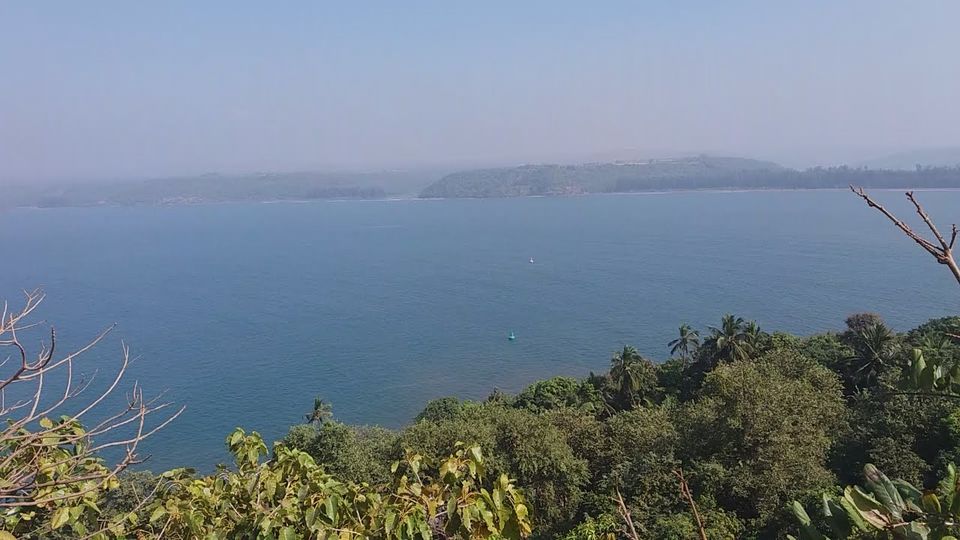 Further, there is a saffron flag flying high.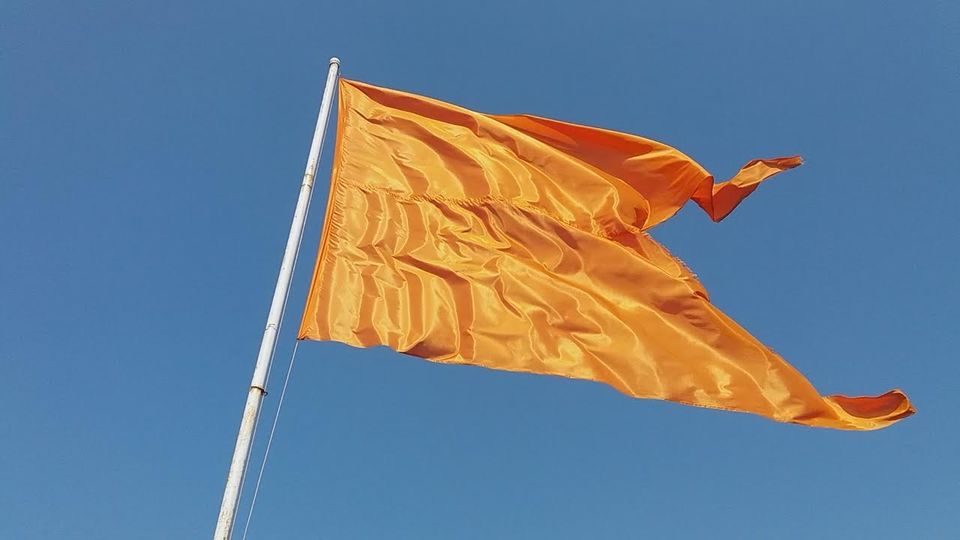 After we travel through main fort, we need to go back to the entrance to see other part of fort on the village side. There are steps to go the top of this gate. It has rock wall on the left side built further with bricks.
We see lot of mango trees and fencing around it.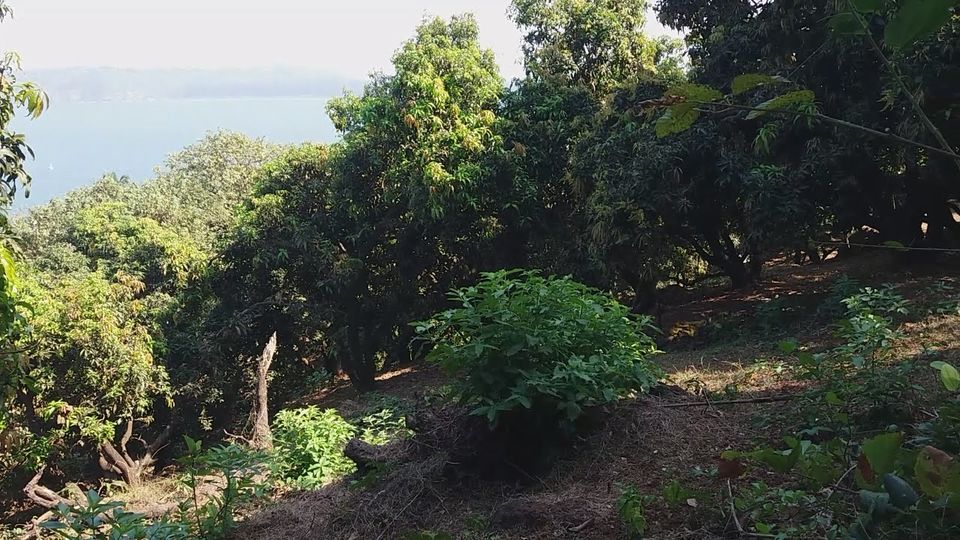 There is a natural cave in the rock on the left side. It has Goddess Mohamaya temple. There is no ladder to climb up but rock has few slots by which we can climb up but it is little dangerous.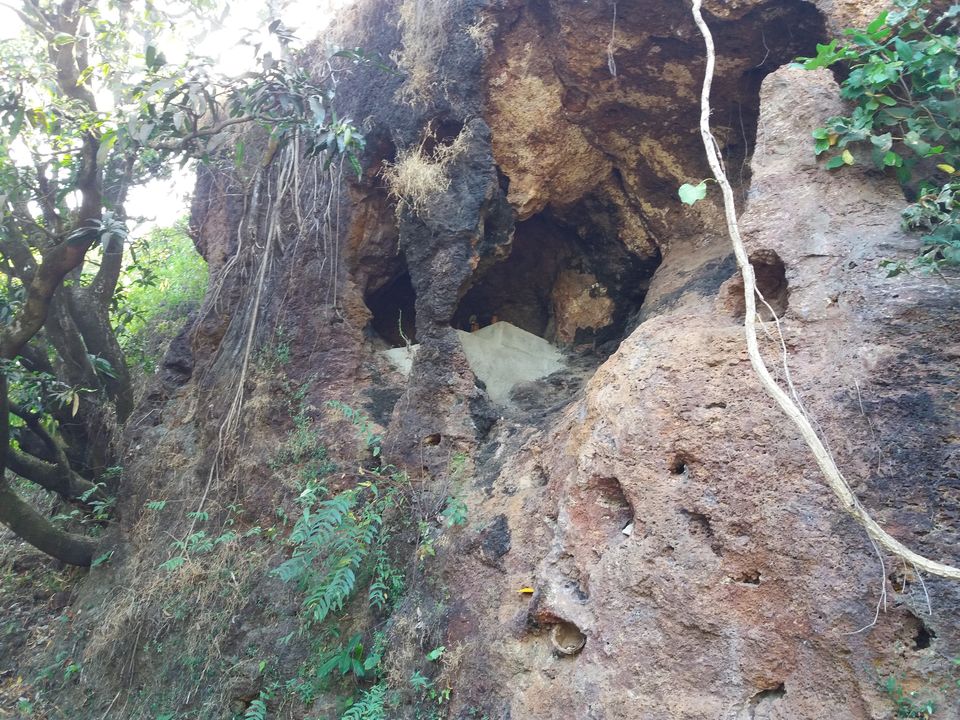 As we move ahead, we see a couple of towers of around 20 feet tall. These could have been erected as war memorials.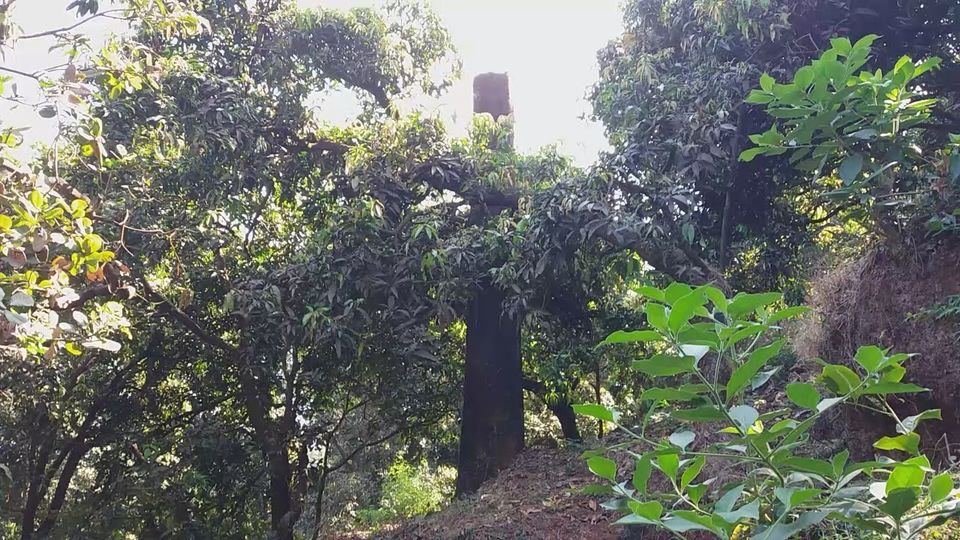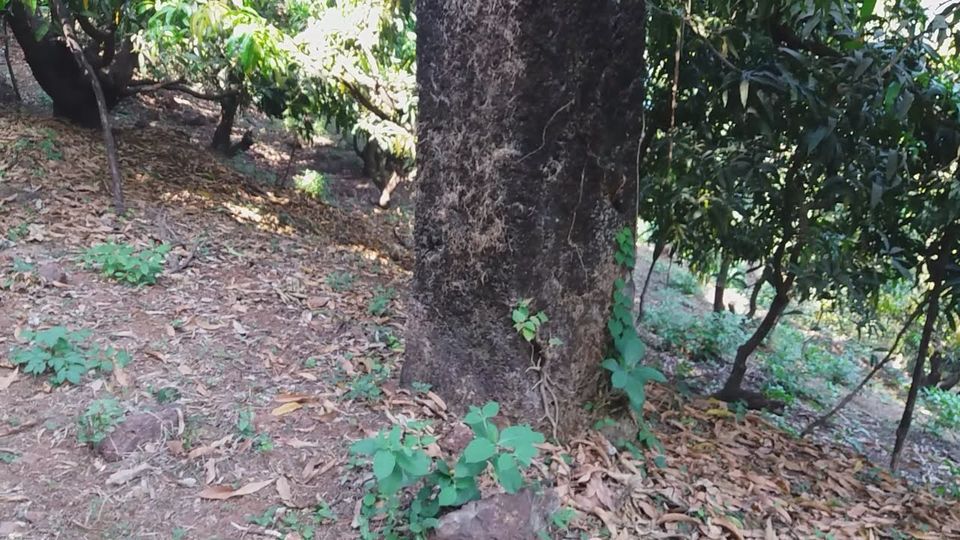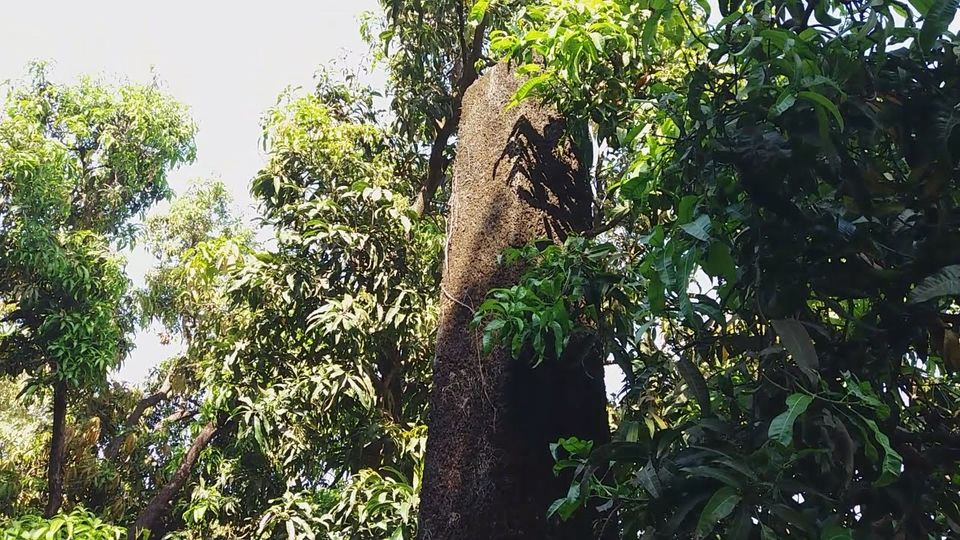 As we go in the village and go left towards sea shore, we see another gate. On the top, we see an idol of Lord Hanuman carved out from the rock.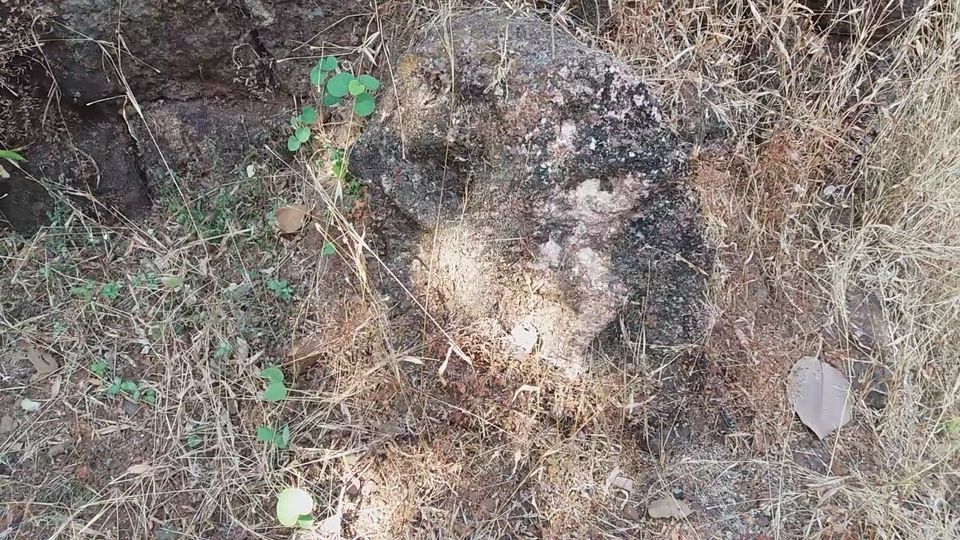 This gate is also between two bastions.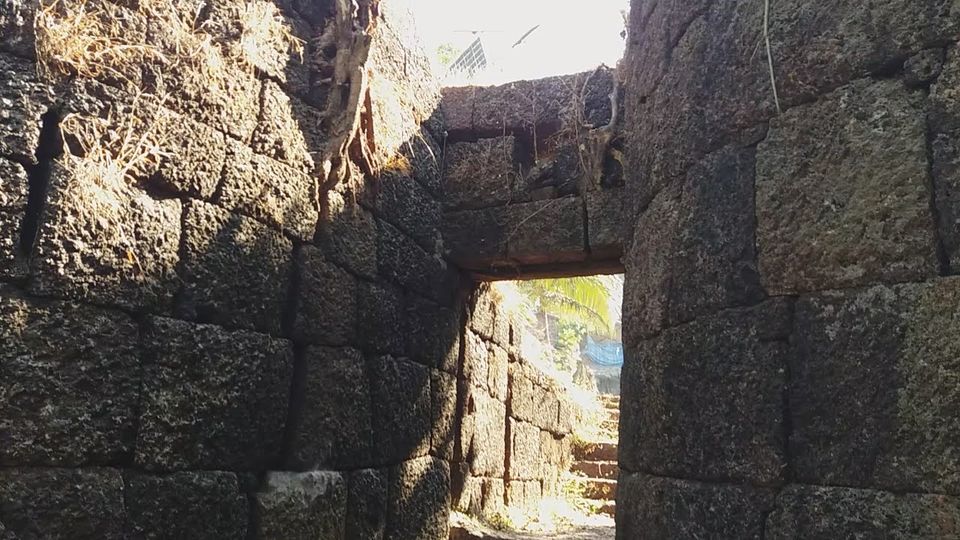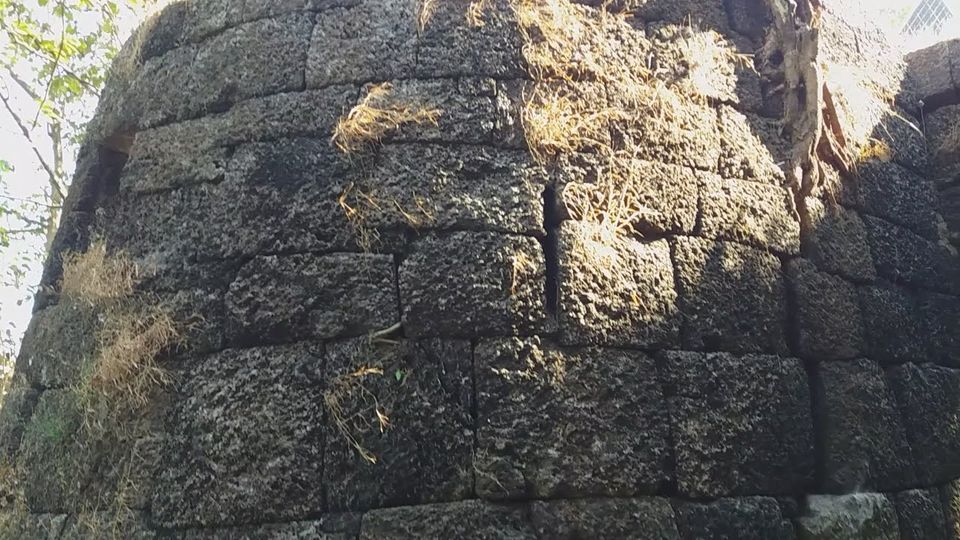 There are steps to go down which takes us to a water tank.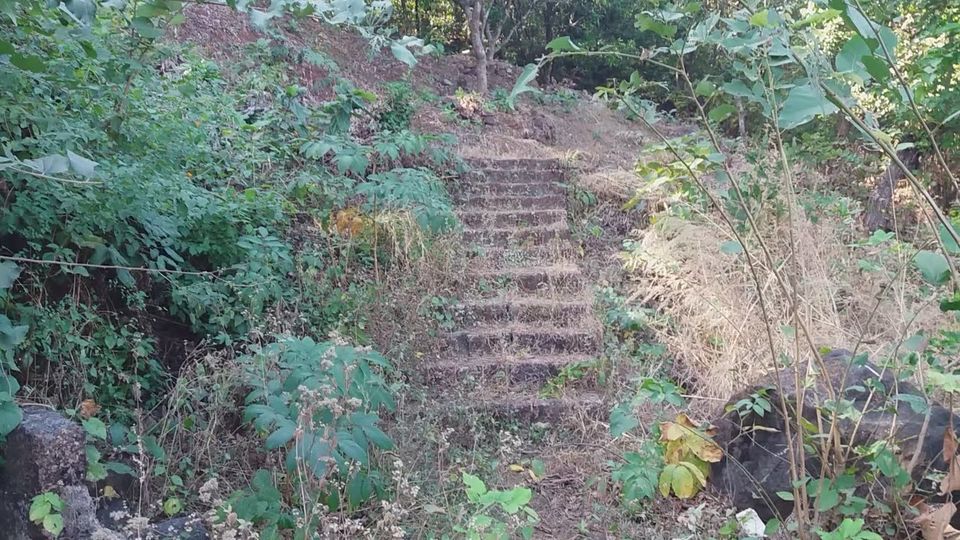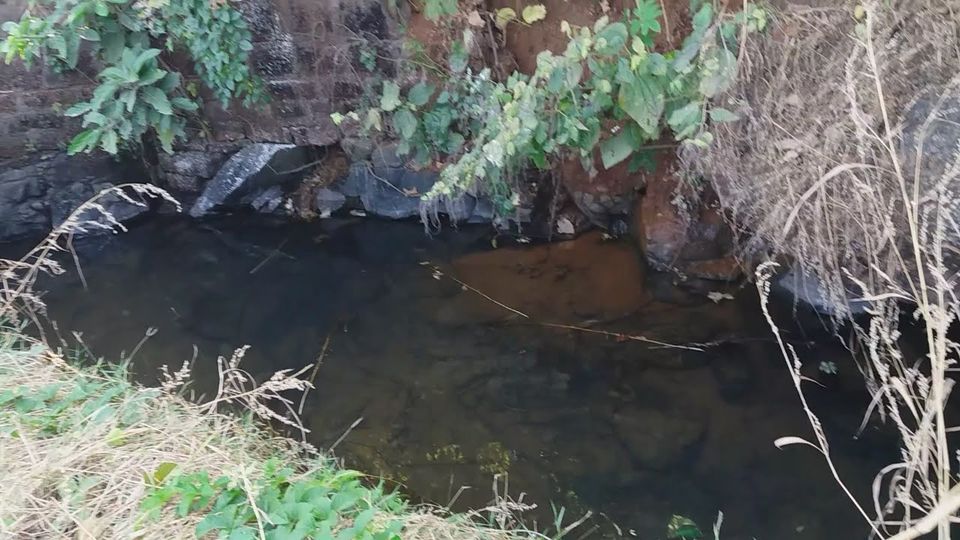 Behind the tank, we can see another bastion with coconut trees.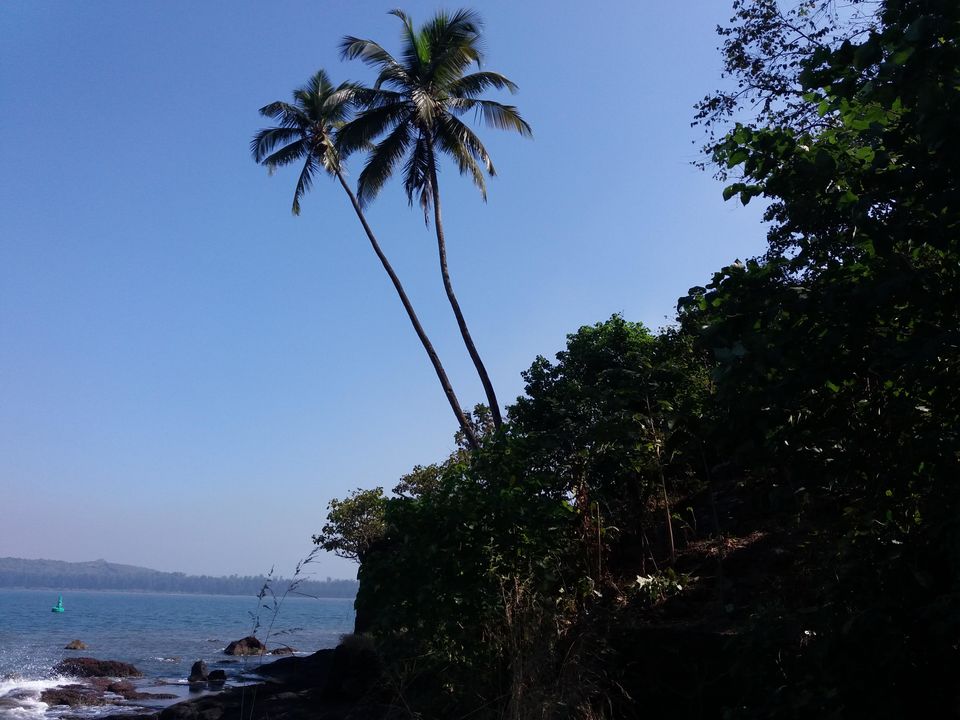 Once we go back and go back in the village, we come across a renovated temple of Lord Shiva.
As we walk further, we see a small temple of Lord Ganesh on the left side.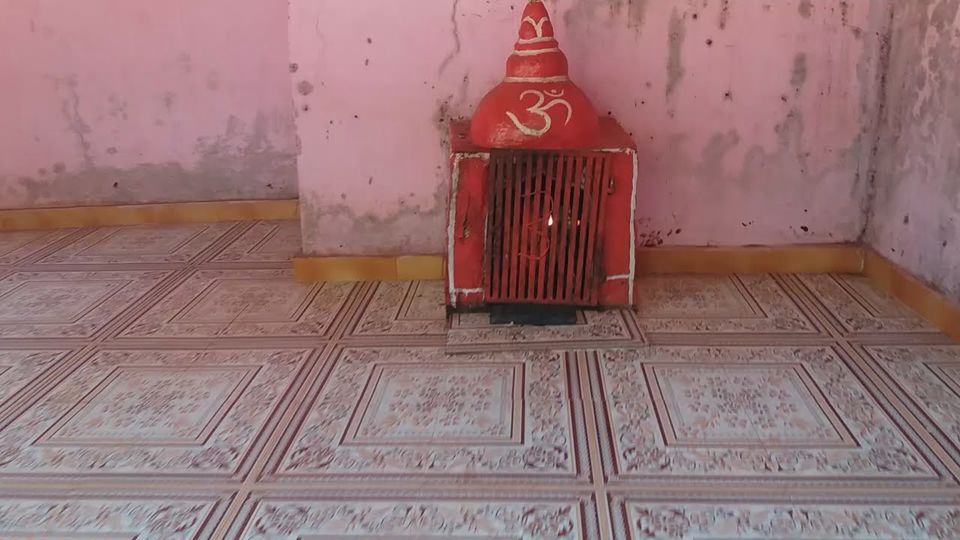 There is another gate on the village side here. We can also see a bastion.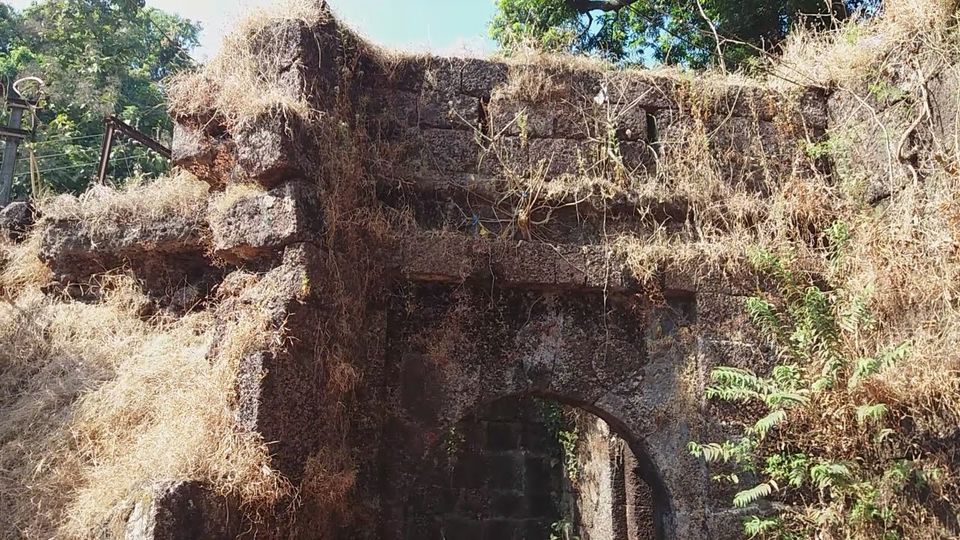 As we move out of gate, there is another bastion on the left side. This marks the outer boundary of the fort.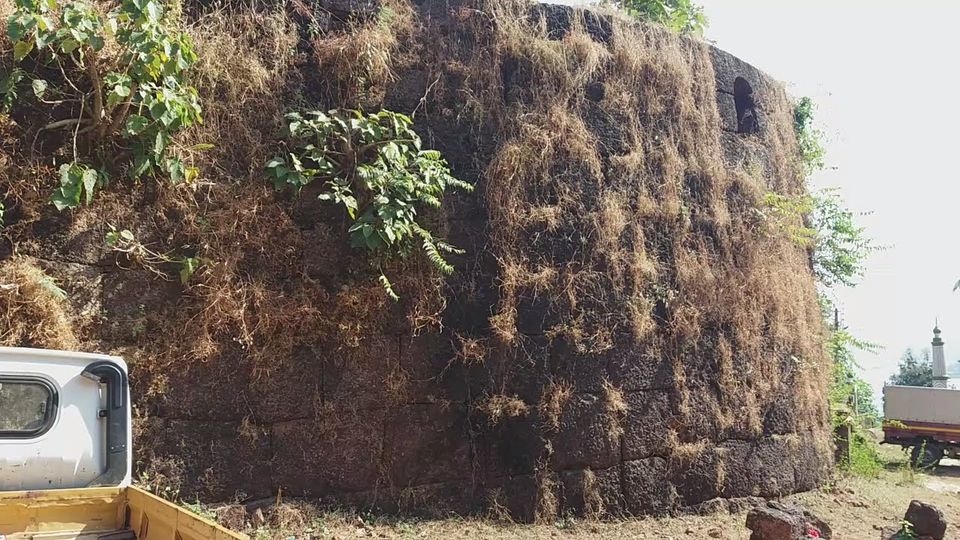 This completes our exploration of fort. We can go to Jaigad jetty from where we can catch a ferry boat to Tavsal village. Just 1 KM ahead, we can see Vijaygad fort too.
The information for Vijaygad fort is available on my blog.
You can watch the vlog below:
Leave only your footprints, Take back only pleasant memories.