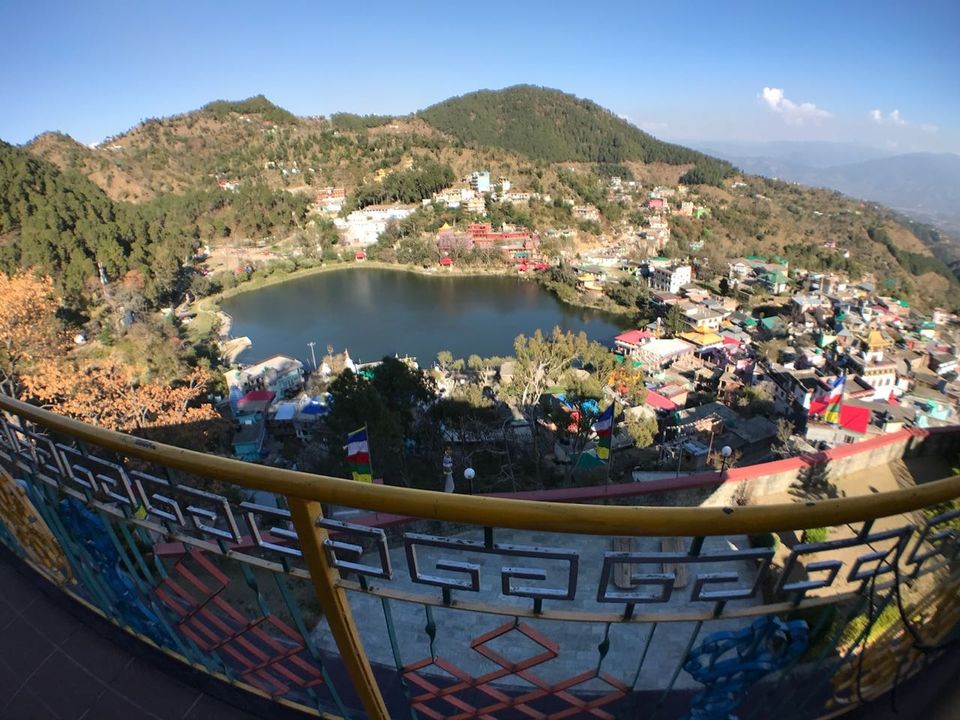 Along with my girl friend, I had gone to Sundernagar in Himachal for a wedding. Even though Sundernagar is an important town of Himachal which falls in the Delhi-Manali route only 22km before Mandi, a lot of people are unaware about this town. In fact, when I left my home I had told everyone that I'm leaving for a wedding in Sunder Nagar and they assumed that I was on my way to Sunder Nagar (Delhi). This small town of  Sundernagar does not have much to explore within itself except for a few temples and a lake which seems to be running parallel to the main highway.
With not much to do in Sundernagar after checking in at our Polo Regency Hotel, we decided to go explore a bit. Until I had reached Sundernagar, I had heard about Rewalsar long time back but wasn't aware that it would just be 30kms away from Sundernagar. Having the more popular Parashar Lake also closeby, lot of travellers these days opt going there for trekking or camping. Our hotel being very close to the bus stand we found a small indica cab very conveniently. The cabbie charged us Rs 1200 for a round trip to Rewalsar as well as waiting for the time while we explored.
The distance wasn't much but the road was slightly narrow and a bit winding even though luckily there was a proper road. We read in an hours time to Rewalsar and the driver dropped us close to the Statue of Padmasambhava. Overlooking the Lake, this 12 metre high statue is the main attraction of the place. It took us 10 to 15 minutes to walk up till the main entrance at a very leisurely place and we spent about 20 minutes or so exploring it. One gets a beautiful panoramic view of the holy city of Rewalsar from the top.
Rewalsar Lake infact is considered as one of the most sacred lakes in Himachal and is revered by Hindus, Buddhists and Sikhs. There is an equally popular Nanda Devi temple nearby but running short of time and having a wedding to tend to, we had to give that a miss. Thereafter, we walked our way down and roamed around the lake a bit to realize that there are three temples which are dedicated to Lord Krishna, Lord Shiva and Sage Lomas. Further ahead, there is also a famous Gurudwara called the Guru Gobind Singh Gurudwara built in 1930 and worshipped by the Sikh people.
But before we reached the Gurudwara which was very close to where our car was parked, we were craving for some good food and ended up at Emaho Cafe which is located very close to a monastery and is one of the most frequented cafes out there. Being quite an odd hour to serve either lunch or dinner, their menu was quite limited and we just ended up having a shake and a brownie here and went ahead to explore more food joints. We finally saw a lot of people around Norbu Fast Food corner and even though the place was really small and served only Momos, noodles and Thukpa it was well worth the visit. The Mutton Momos were out of the world and one of the best I have had till date
The Thukpa was different yet scrumptious. And tell Bill did not even come a 100 bucks.
After filling our stomachs, it was time for us to head to our cab as our cabbie was waiting anxiously as we had far exceeded the prescribed time limit. Such is the charm of this beautiful small town that one loses track of time as one get immersed in it's beauty. The Sun was almost down by then and we bid our final farewell to Rewalsar by going to the viewing point on the lake for one last time.