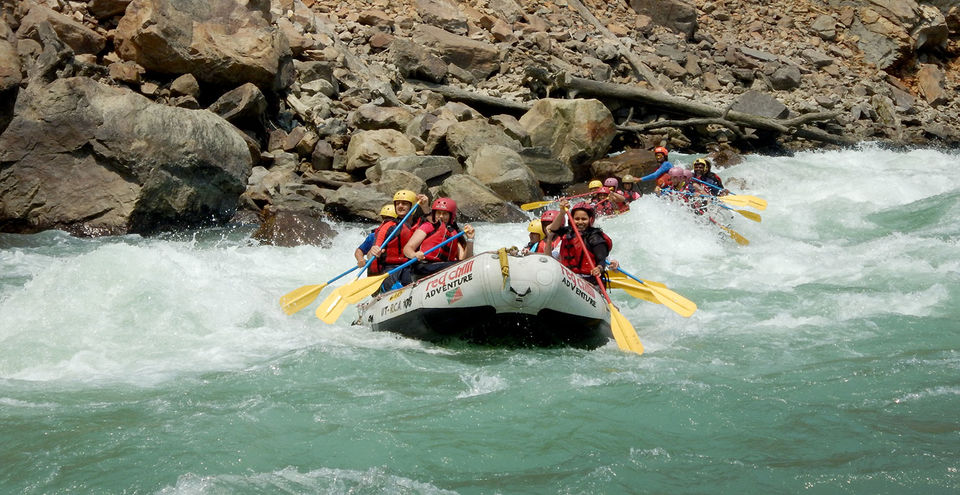 The minute we step into the holy land of Uttrakand, we were embraced by the welcoming gush of fresh breeze of air. The river Ganga did not fail to mesmerize us while it flowed magnificently beside us.
Usually, all buses and other modes of transport brings you from across the country to Haridwar. You can catch an auto-riksha from this place to Rishikesh which will cost around Rs.80-Rs.100.

The journey from Haridwar to Rishikesh encapsulated the scenic beauty accompanying us, a luxurious treat to our Urban-lot living in the concrete forest.

Once we stepped into Rishikesh, the first thing that caught our eyes was the Jhulas. Ram Jhula and Lakshman Jhula connects the divine spiritual side and the adventure side of Rishikesh that is parted by this monumental river.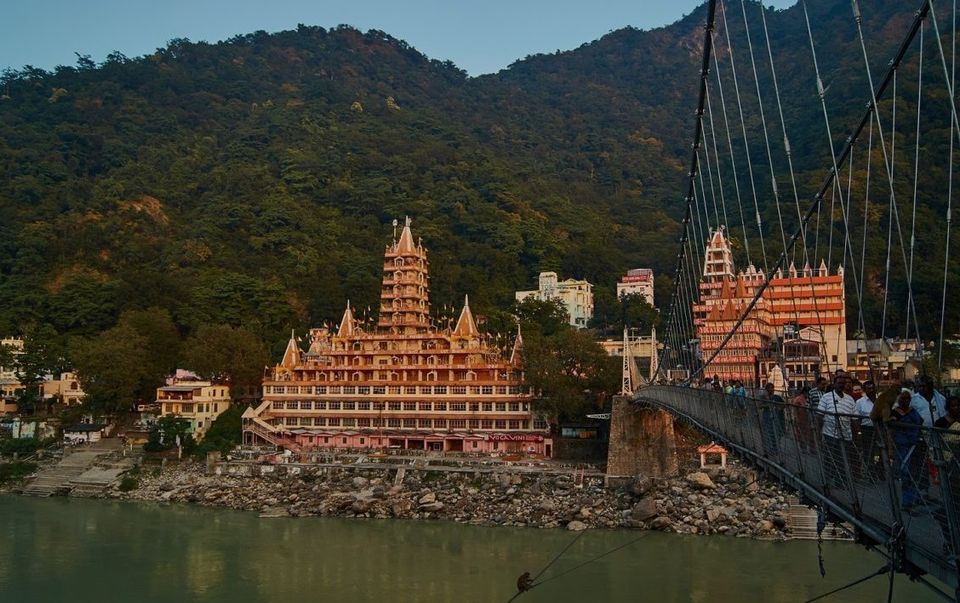 All tourists and travelers are dropped of at the adventure side of Rishikesh. You must go across the river via the Jhulas to enter the Spiritual side of Rishikesh.

With an eagerness to be touched, if not engulfed by this beautiful sight, my two fellow travelers and I, rushed to a place of stay called "hostels". Although more preference is provided to foreigners, this is a cheap, comfy and convenient place to stay for young travelers if you're on a budget. You can even crash at Dharamshalas for free if you're staying for a single day.

Apart from the obvious visual experience, we were ecstatic to try out adventure sports that Rishikesh is famous for - bungee jumping and river rafting. We didn't have to worry about looking for an adventure sport agency in this dwelling, as there were hundreds of them available.

However, you should avoid going on Tuesdays as it's their week off and no other adventure sport will be available except for river rafting.
Luckily, there was no rain, even-though we visited during the monsoon season and this increased our spirits. We were asked to change into comfortable clothes quickly and to abandon our belonging including shoes at the agency.( Don't worry, they are safe!) We were taken near the river shore and after we were given instructions, we set out to raft.

If there is a point to raft in this glorious river in gods own land, it is to sometimes rush, sometimes hang back, in a whitewater haze of in-between- ness, relishing the rhythm of the river odyssey, and above all, to forget all about the real world.
After this rejuvenating experience, we set out to the nearest waterfall- Neer Ghar.

If you're too tired to trek, you can rent a car from one of the agencies at a bargained price.
Just when you think you cannot be astonished post the rafting experience, this waterfall does not fail to mesmerize you.

After a little bit of a hike, you get a dining area right in between the water fall where you can enjoy a cup of Chai or hoot steaming maggie.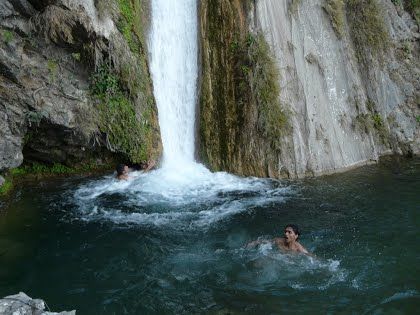 A little beyond that, a tiny paradise and way beyond is the bird eye view of everything below.
Right after this exhilarating perspicacity, we handed to our rooms- an unknown calmness settled upon us- and changed into our traditional wear. To wrap up this beautiful experience before heading back home, we visited Ram Jhula and watched the " Ganga Aarthi" with its all vibrant glory and positivity at 6PM.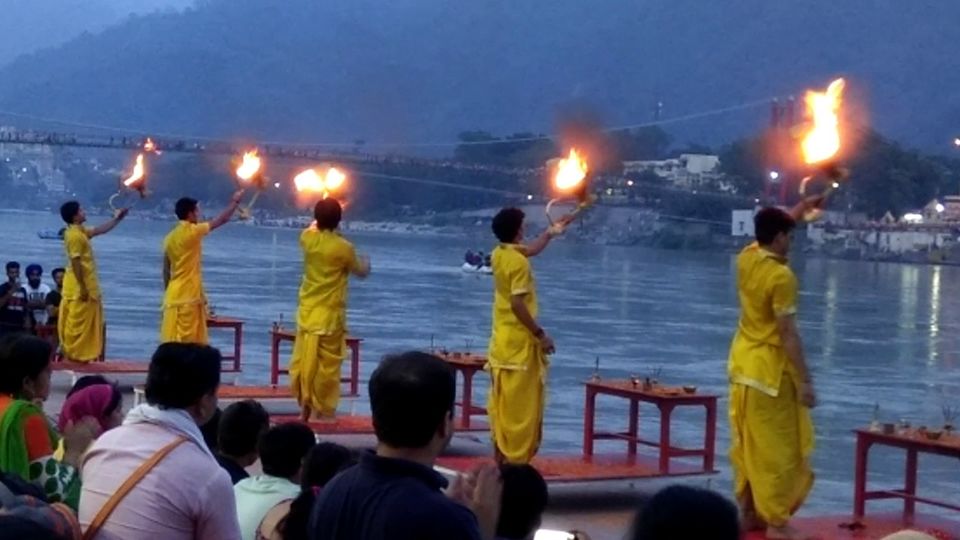 With little time left before the bus to Delhi arrived, we went out to the stretch of streets which had authentic Uttrakand garments and artifacts and bought a few things for ourselves and family.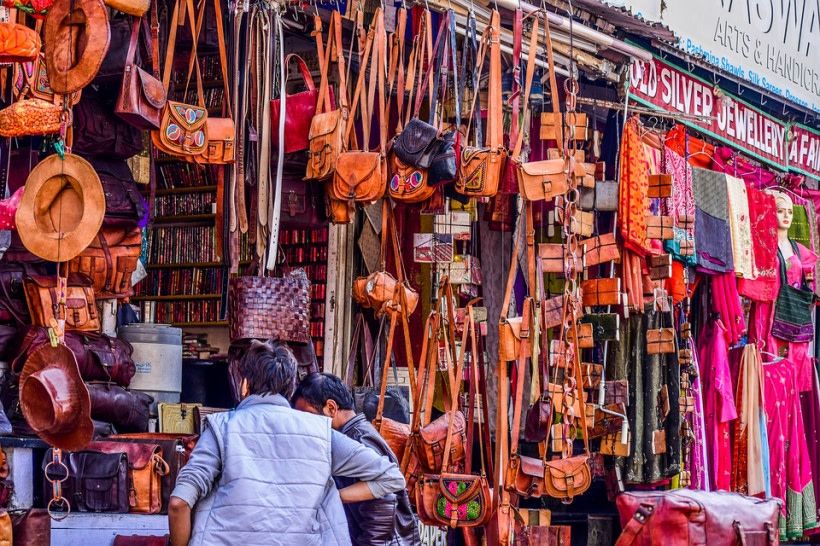 Rishikesh - encompassed by astounding locations and positively vivid temples - offers a vibrant set-up to savor the thrill of adventure.
Trip map: Bangalore -(flight)- Delhi -(carpool)- Haridwar -(Auto)- Rishikesh-(Bus)- Delhi-(flight)- Bangalore
Book buses and flights before hand.

Rafting cost:Rs.600( Charges may vary with respect to off and on seasons)

Image credit: Google Images ( Original image not uploaded as the picture clarity was low. Shown image is a depiction of the same experience)