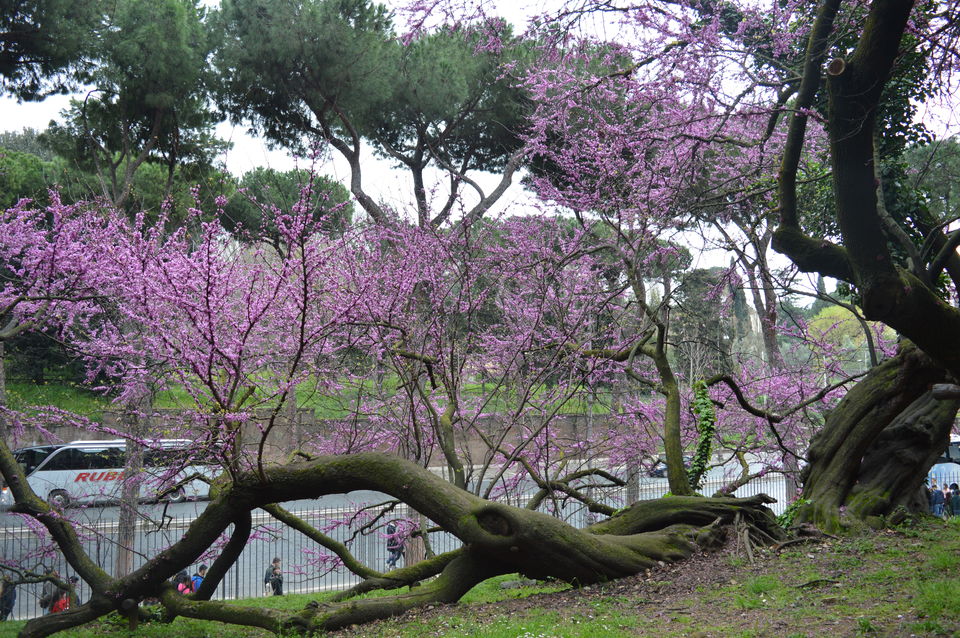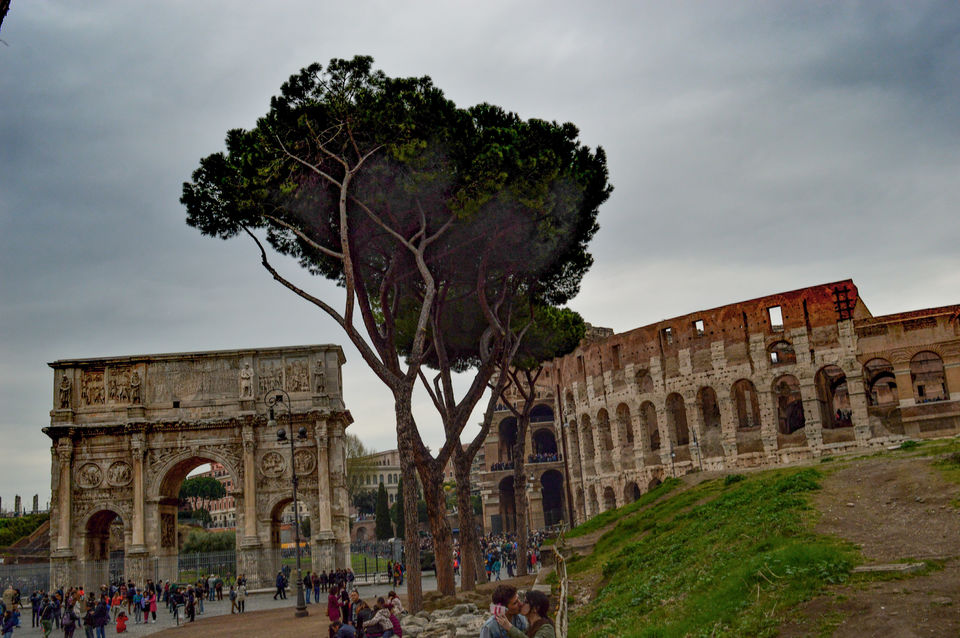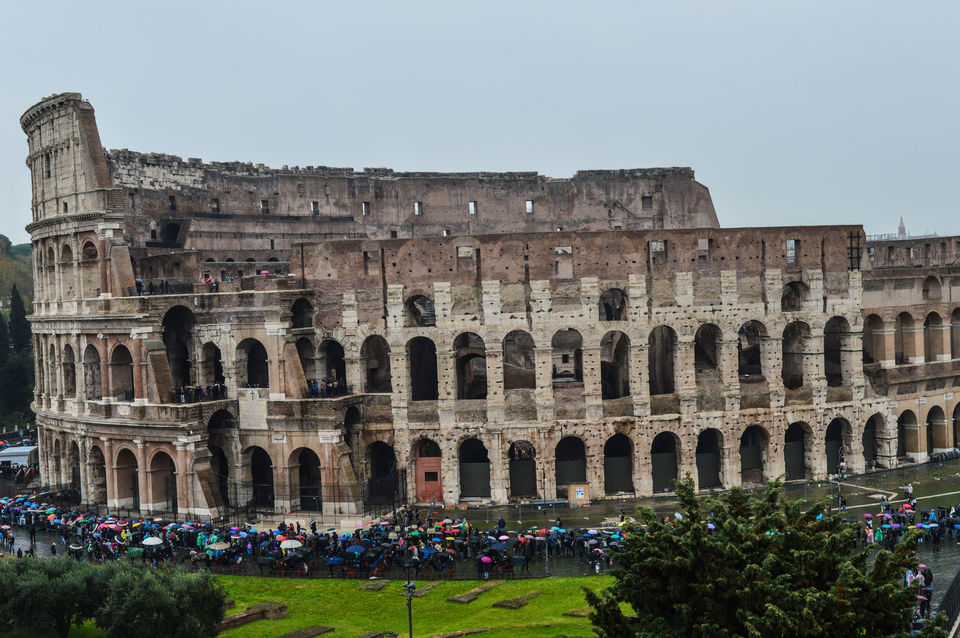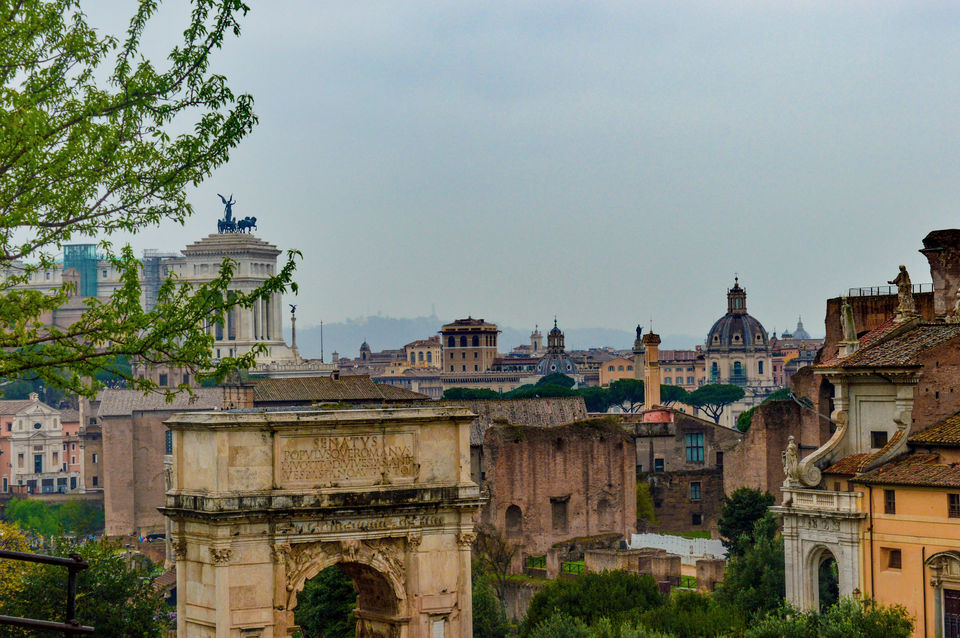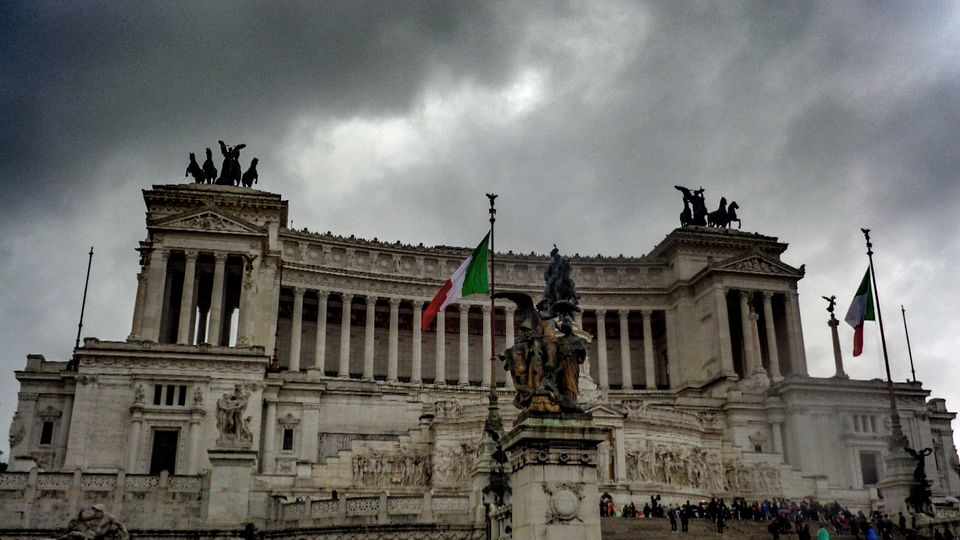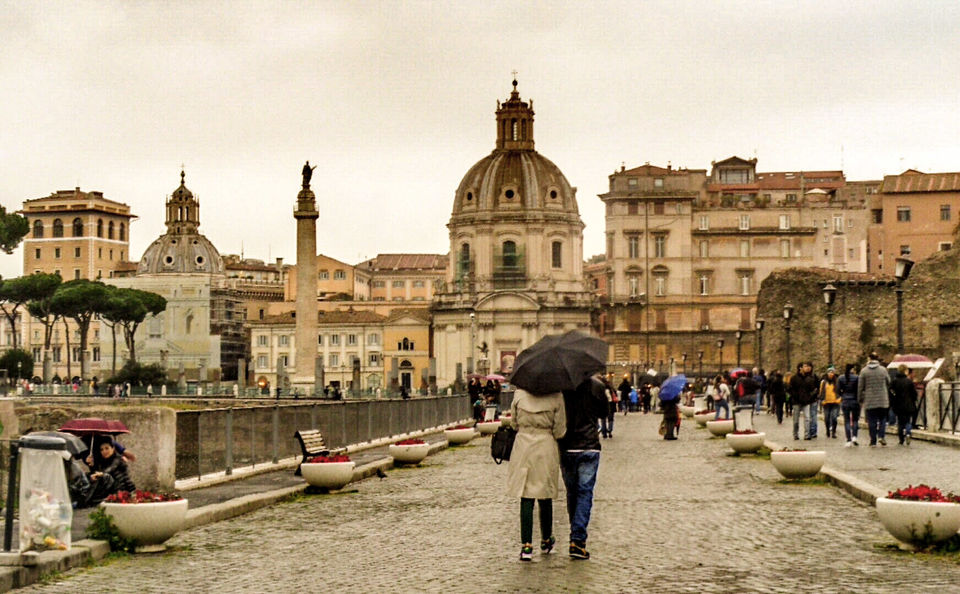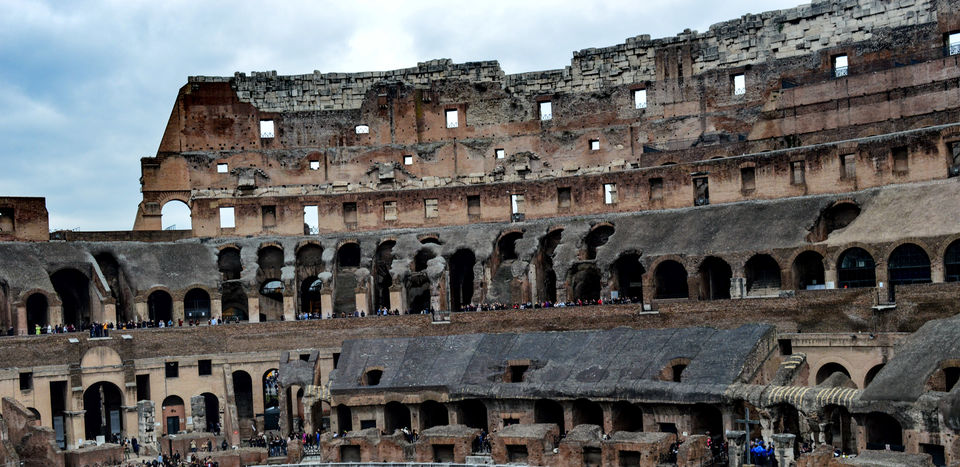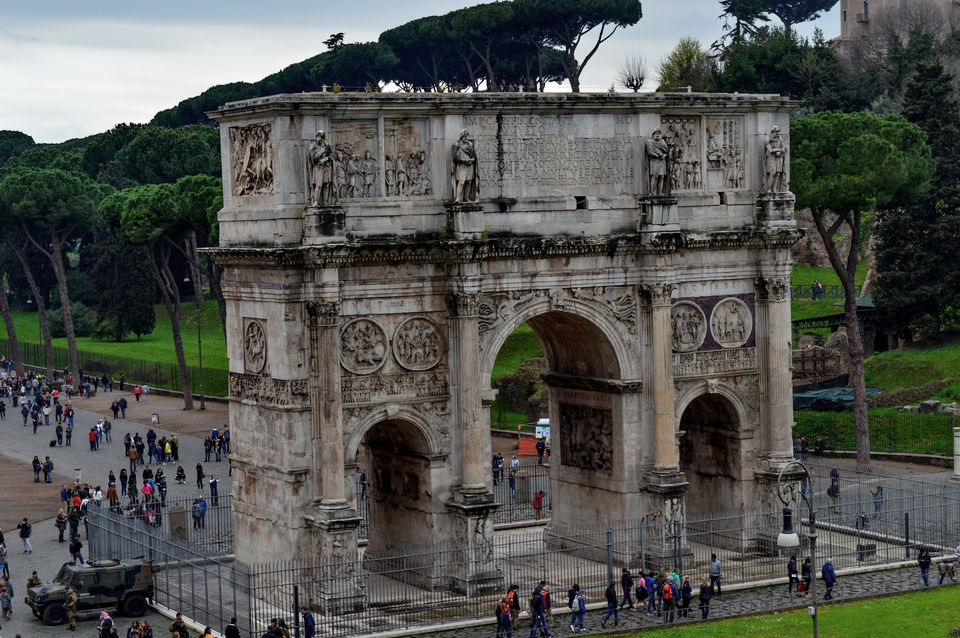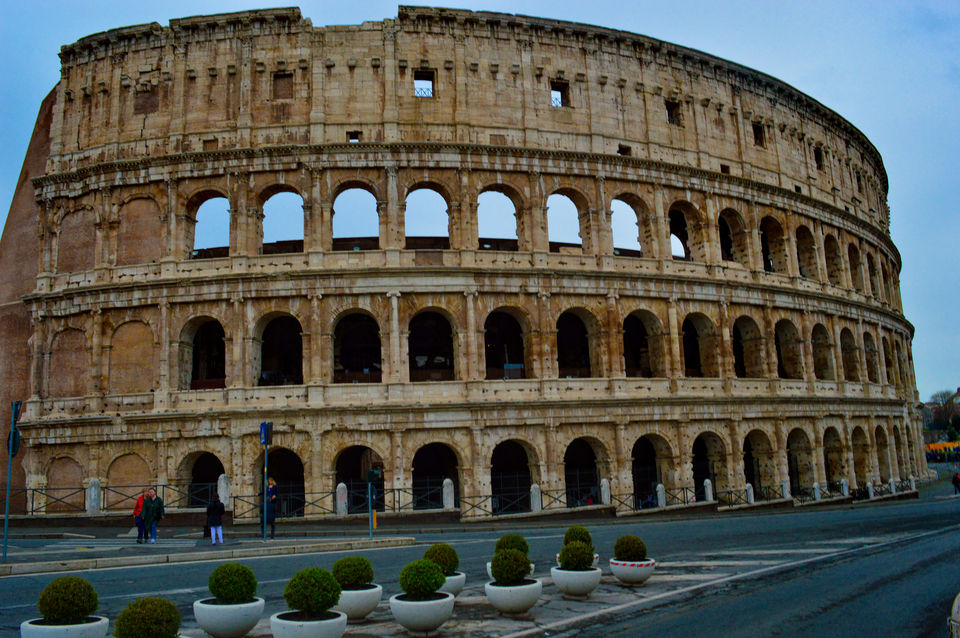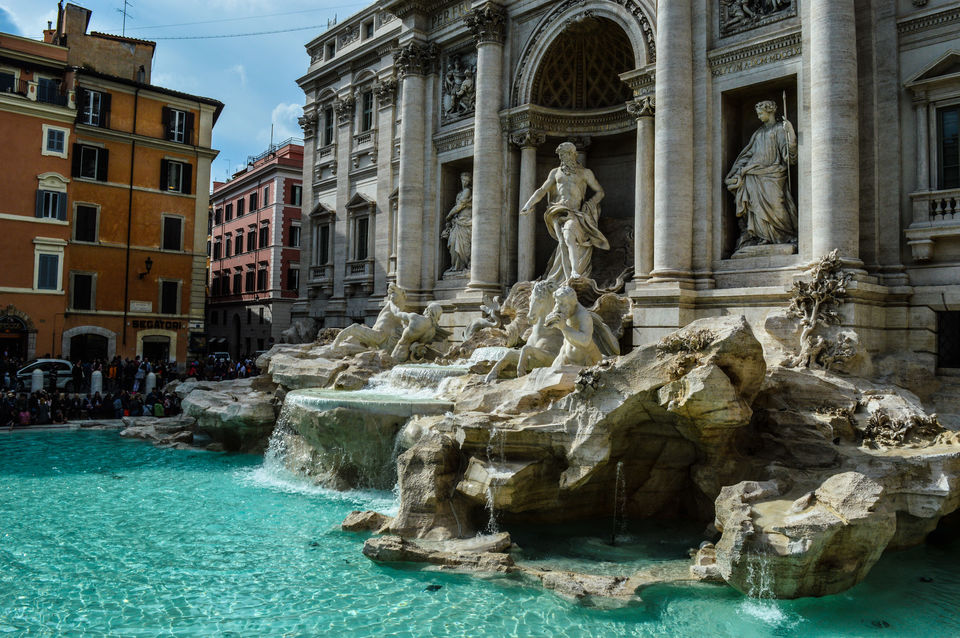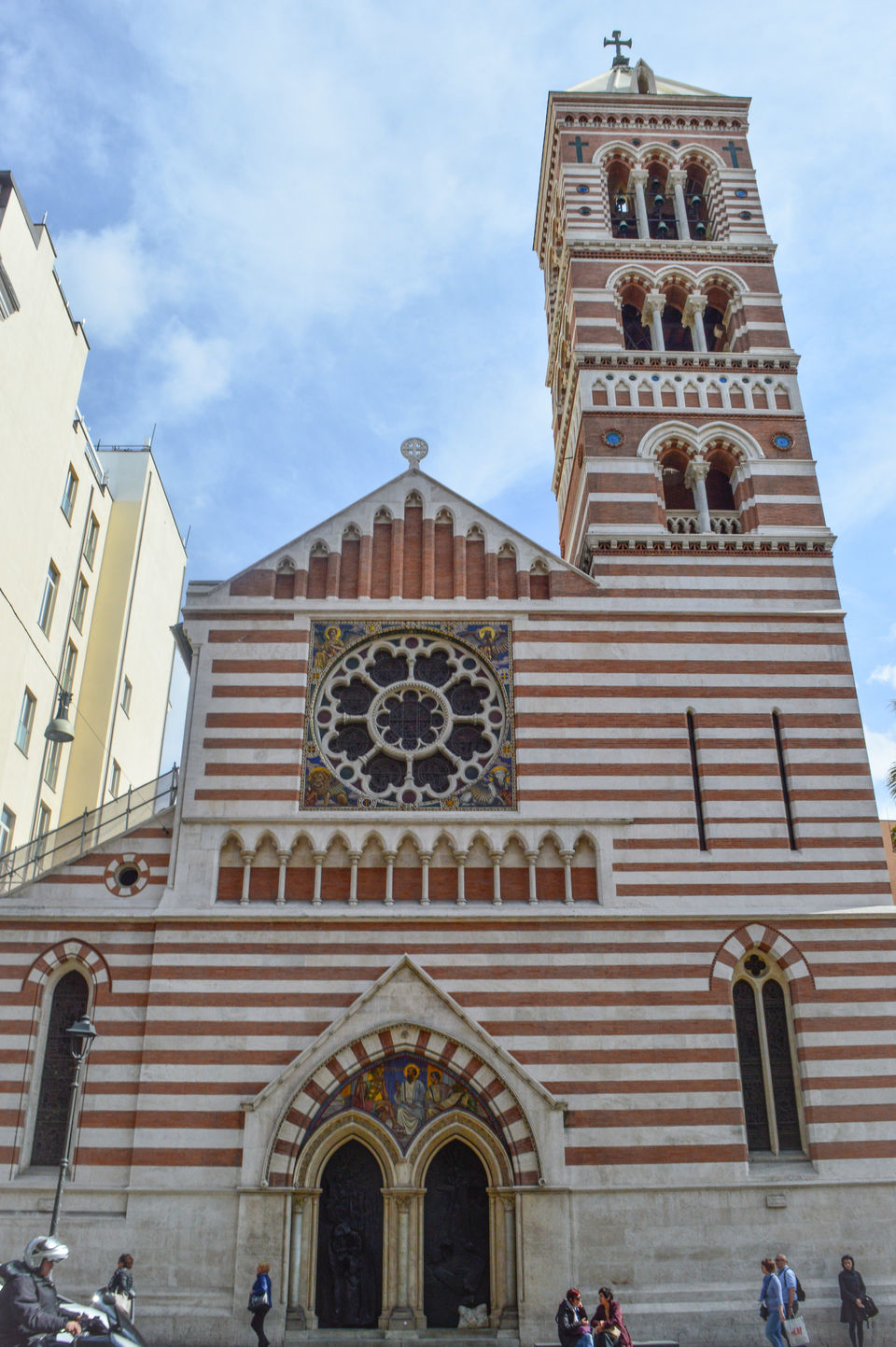 If a heart is only as big as one's fist, I would probably call ROMA (ROME), the stomach of Italy. Really, it makes sense even geographically. It is a perfect retreat for all those who are comfortable in the midst of large crowds. I prefer smaller cities. And I do not fancy exploring places bustling with people. So a day and a half is all I spent here.But I liked what I saw. It is true that the air of Rome can be quite romantic. Although, I like it when sunny, the cloudy weather perfectly complemented all that love in the atmosphere. It drizzled now and then, even. And I was lost in a paradise of love and rain.
1.The Roman Colosseum.
It was 10:10pm already, when my train from Venice reached the Roma Termini train station. I quickly grabbed a cheese burger from the Mc. Donalds at the station. And within minutes, I was out on the streets of Rome. I wanted to locate hostel Hard Rock Rooms, quickly. Even with well lit streets and heavy traffic, late nights can be quite unnerving in a new city. 24 minutes later, I heaved a sigh of relief, as I stood outside the entrance to my destination, a modern Roman quarters. And that is when a 45 minute roller coaster ride began.It started with decoding how to open those unguarded gates. It took me two minutes to realize that I had to press number '35', which said HARD ROCK ROOMS. At least, my hostel existed. Phew! As I entered the doors that opened quite slowly, I noticed there was no information on which one to enter, among the 3 or 4 tall towers that rose into the night sky. I looked for sign boards. But found none. After wandering hopelessly for 15 minutes, I saw an old lady walk in through the same digitized doors. Even at an hour close to midnight, she offered to help.
The lifts creaked eerily and took ages to open. So we took the stairs. Finally, I had to plead with her to carry on. The poor thing was still insistent on helping me after we climbed 2-3 flights of stairs into each one of those buildings. Finally, she wished me luck and left. I was on my own, once again. I stood there exasperated, trying the phone number on the website in vain. For some reason, after the 10th or 11th call, a voice on the other end spoke. He apologized for all the confusion and asked me to wait outside the 1 st building on the left of the entrance gates. In a minute or two, a man stepped out of the lift. He had come down to receive me and introduced himself as Adnan Sher Khan. He apologized again and gestured at the lift. I was in no mood to argue. Never once had I felt so apprehensive in the last 7 days of travel across Europe. Once in the lift, he asked me if I came from India. I said yes and spoke no more. Thankfully, the lift doors opened. And there it was.The godforsaken HARD ROCK ROOMS. Once inside, I saw that a lot of tourists inhabited the 10-bed dormitories. To my relief, there were many girls, too. After showing me to my dorm, Adnan told me that I could help myself to pasta and cake in the kitchen. I felt uneasy once again. As though he sensed it, he smiled and said, "Main Pakistan se hoon. Pathan hoon. Aapke bhai jaisa hoon. Ma se kahiyega ki is anjaan shahar mein bhai meri hifazat karega." His tone was strange. He sounded a little more friendly, than necessary. Ironically, I also got the feeling, that I was contemplating too much. May be I was just too exhausted. After he left, I made my bed and chatted briefly with travellers from China and Argentina in my dorm. They all seemed pleased with the way Adnan warmly treated all his guests.They assured me that nothing was fishy. But, I still chose to eat my cheese burger over the pasta and cake. I lay down peacefully on my bed around 12am. The wifi connectivity wasn't too strong. But it was enough to send that whatsapp text to India, where it was 4 am. I did not want to fall asleep. Thankfully, he was awake. Over the next hour, Rajeev, my friend in India was assuring me that I am going to be safe. In a while, our tired eyes got the better of us. And we were both fast asleep.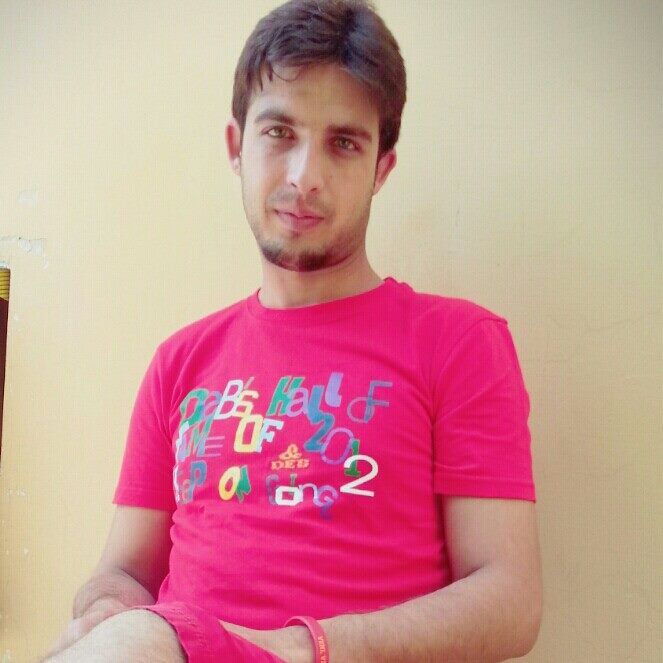 "Maa se kahiyega, is anjaan sheher mein bhai aapki hifazat zaroor karega". Its nice how mutual respect and love is still prevalent among the Pakistanis and Indians.
It was around half past six, when I woke up. Nobody was up, yet. Breakfast was at 8:30am in this hostel, which offered bed and breakfast. I was starving. And somehow, I felt safe eating there in the morning. Adnan bhai laid out the cereals, bread, butter, jam, milk and biscuits. I could see that he was a genuine man, after all. After breakfast, he gave me a map and shared his opinion on the places I might want to visit. I thanked him, grabbed 2 biscuit packets for lunch and left. It was 9am. And I was out on the streets of Rome, once again. I walked to the Roman Colosseum, which was 12 minutes from the hostel. It was already quite crowded. I bought my ticket for 12 euros, which included a tour of the roman forum too. Once I was inside the Colosseum, I learnt some interesting facts about it. As early as, 80AD, the Flavian dynasty gifted Rome, this amphitheatre. It was constructed mainly for mighty audiences to enjoy entertainment. With time, the colossal structure succumbed to earthquakes. Further, stone-robbers were believed to have looted it. But it looks majestic, even today.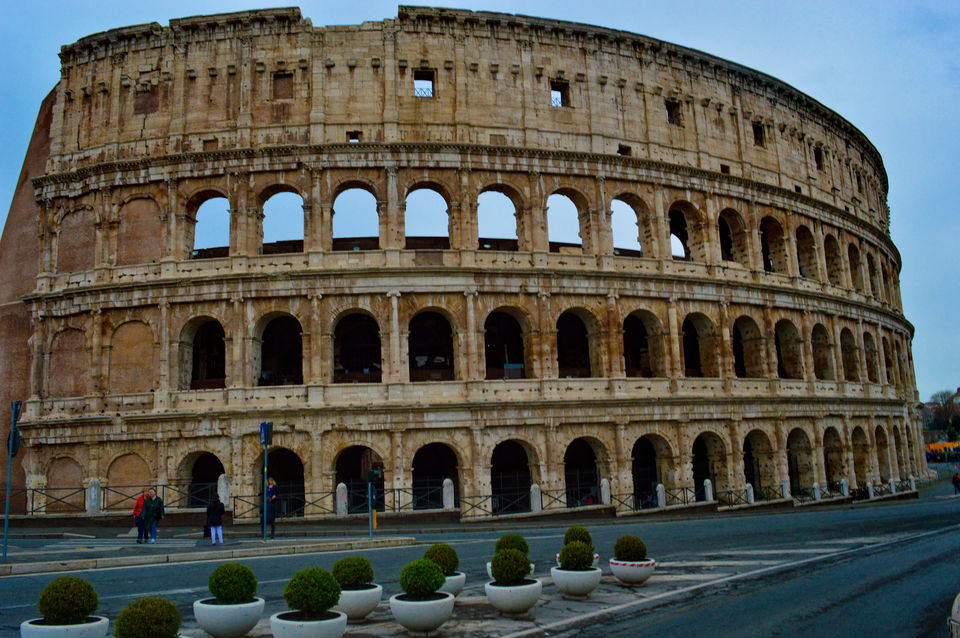 2. Arch De Costantino.

After my visit to the Colosseum, I proceeded to see the Arch De Costantino. It was located on the street between the one with the Colosseum and the other, that led up to the Roman Forum.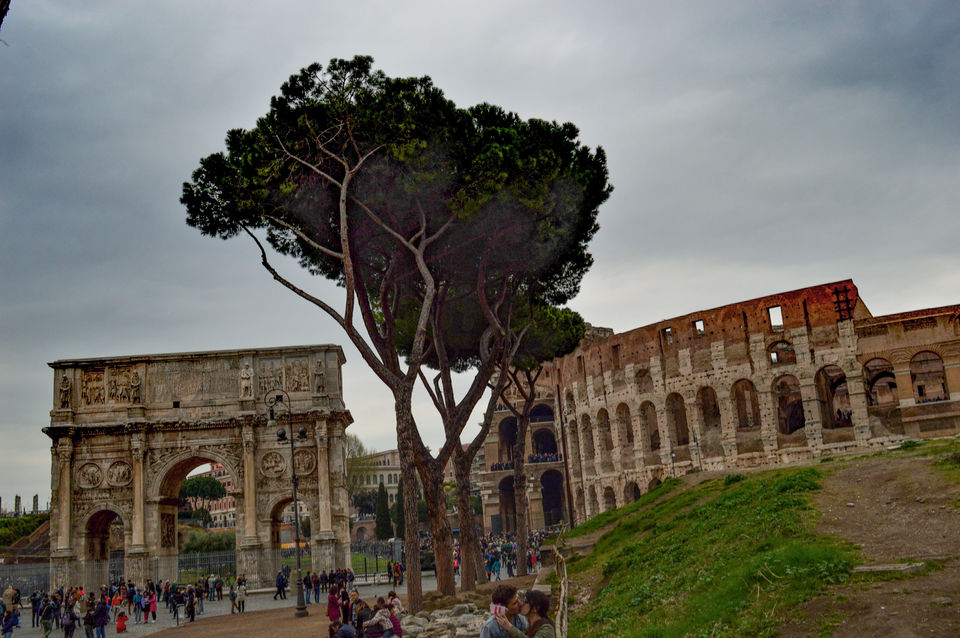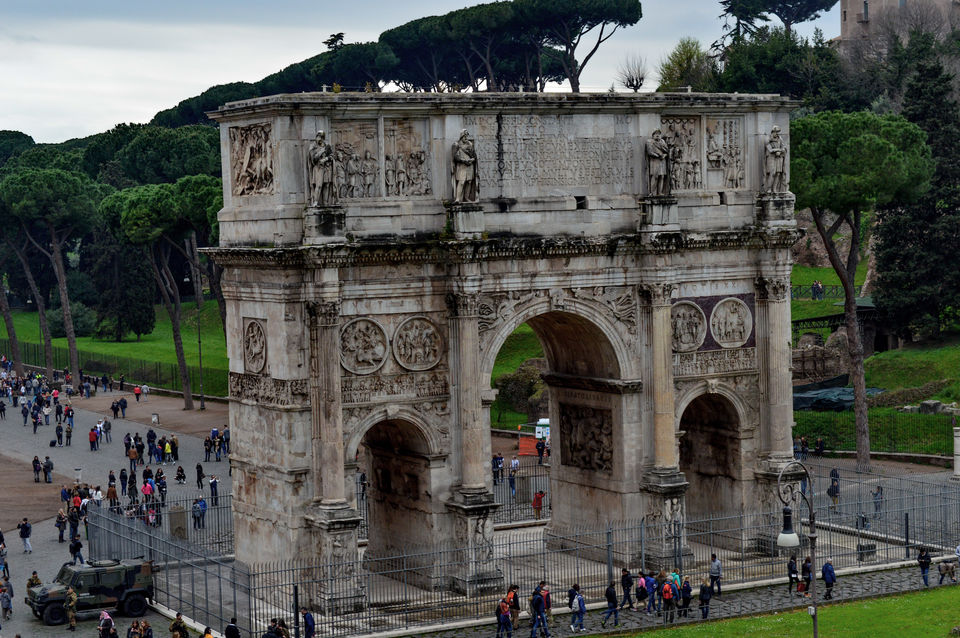 3. THE ROMAN FORUM
I was on my way to the Roman Forum, when I spotted this tree. I was amazed. Beautiful purple flowers blossomed on the boughs that sprung from its oddly shaped trunk. The Roman forum offered a good view of the city. The houses & buildings of Rome, visible from there were all constructed in the ancient roman style of architecture.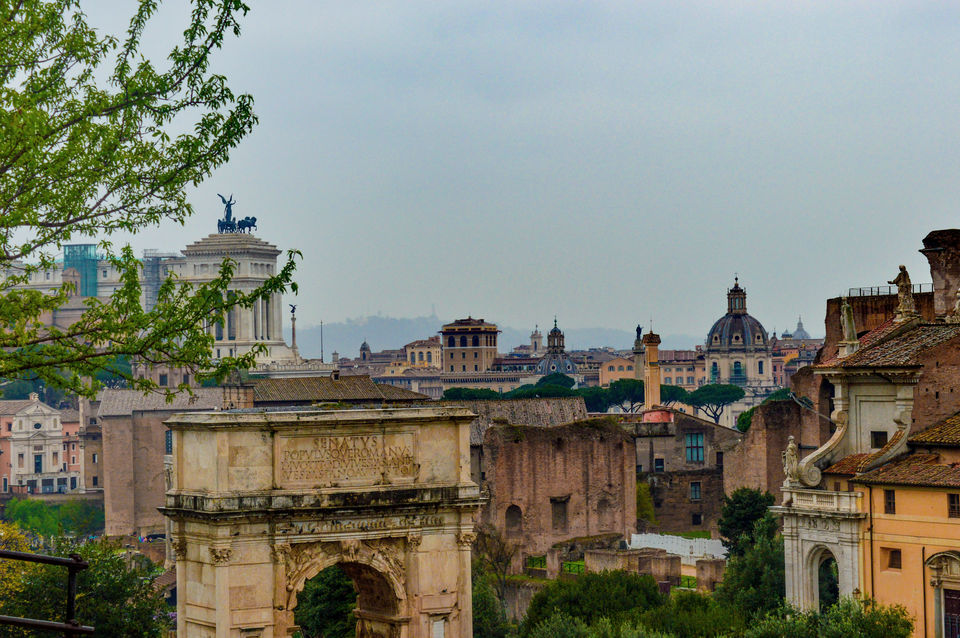 It was raining now and then. By then, a crowd had gathered outside the Colloseum with colourful umbrellas, to buy their tickets. Looked like the Colosseum served its purpose of entertaining large audiences, even today.
It was around 11:30am. To avoid long queues, it is best you go there as early as 8:30 am, when it just opens. I pity the Indian family of three, I met at the forum. They decided against going inside the Colosseum to avoid all the mad rush. I used their camera to take a picture of them. From the terrace in the Roman Forum, the Colosseum fit perfectly with them in the frame. So in case, you are on a tight schedule and can't make it at 8:30am either, I suggest you head directly to the Roman forum to make your memory of Rome.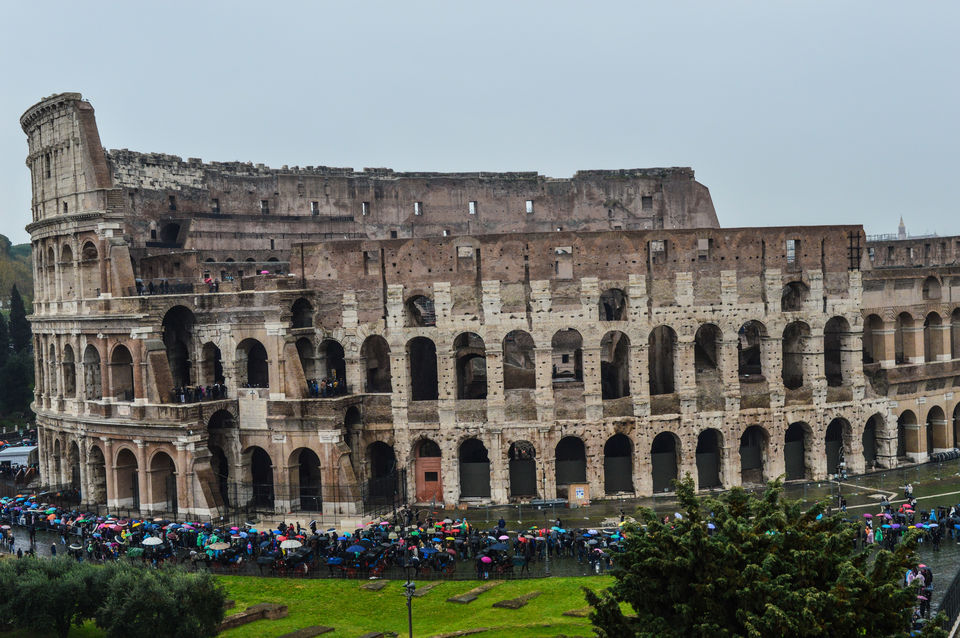 I was mostly touring the city on foot. This lead me to some beautiful spots that weren't even on my list, the good thing being, I needed no additional time to visit them. (Also, if you are really keen on learning the history, you can always stop over and take a tour!)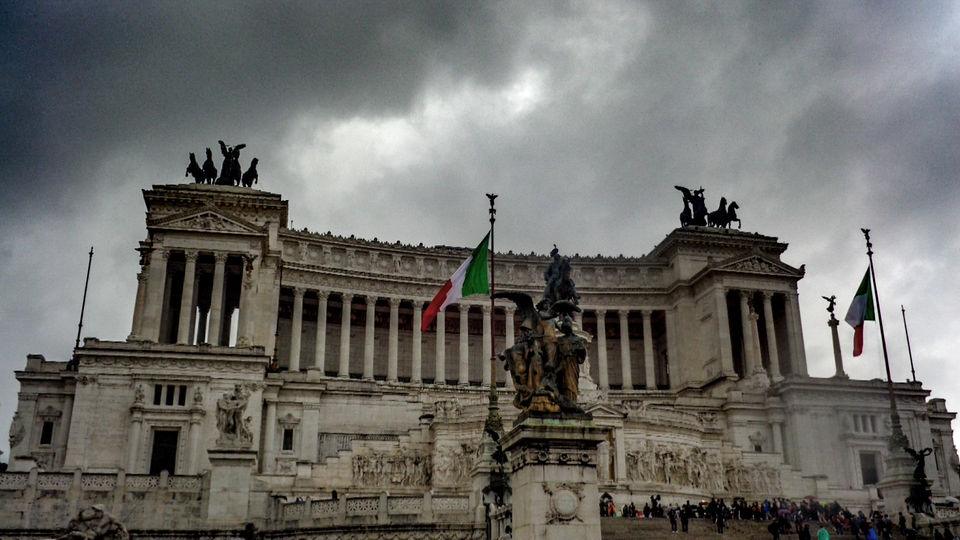 4. TREVI FOUNTAIN

After my visit to the Roman Forum, I busied myself in looking for souvenirs that I wanted to take home. I spent my time, walking in and out of several shops. Most stores sold them at reasonable prices. But some had better choice. It is in one of the shops that I spotted a pen stand with the FONTANA DI TREVI engraved on it. I inquired the shopkeeper as to its whereabouts. I learnt from him, that it was located on the outer circle of Rome. I bought my souvenir from him, thanked him for the information and left. It was 4 pm, in the evening. And the rain seemed to be in no mood to stop. Although, it was only drizzling, the wet weather was starting to make me feel uncomfortable. So I returned to the HARD ROCK ROOMS HOSTEL, where I finally felt at ease, unlike the previous night.From the city map I had with me, it was clear that Rome was organized in circles. The locations on the inner circle are closest to the train station, whilst the ones on the outside are further away. Fontana di Trevi was only 22 minutes from my hostel. That night, I resorted to some research on the other places I wanted to visit in Rome. I was just examining the city map, when the Chinese traveller in my dorm entered the room and said hello. He told me, he was flying to Greece the very next morning and would leave as early as 6am. I also discussed my plans of flying to Greece, which was my last destination. But my flight to Athens was on the day after the next. So I had until 4:30 pm in Rome, the following day, when I had to take a bus to the Ciampino airport. As I continued planning my next day in ROME, I realized that there wasn't much that interested me, except the FONTANA DI TREVI. It was 10pm. It was important that I got some good sleep that night, as I was to spend the next at the airport. It was around 5am when I woke up next morning. I lost no time in making up my mind about Florence! At 5:40am, I quickly wrote a note to Adnan Sher Khan, about how much I appreciated his hospitality. I made up for all those doubts about him, by signing it with "Aapki Behna. Allah aapko humesha khushiyaan de". I pinned the note to bhai's notice board. And at 6am, off I went with the Chinese traveller to the Roma Termini train station. We reached at 6:25 am. My tickets to Florence were quite cheap, as I had the Interrail pass. After buying them, I left my luggage at the train station luggage deposit, which costed me 6 euros for 10 hours. All this while, the kind Chinese traveller patiently waited on me. He showed me to platform 8, where the train had already arrived. He bid me farewell. and left to catch his bus to the airport. I boarded the 7:10 am train to Florence, at 7:02am. That was close! You can find my stories of Florence in another blog.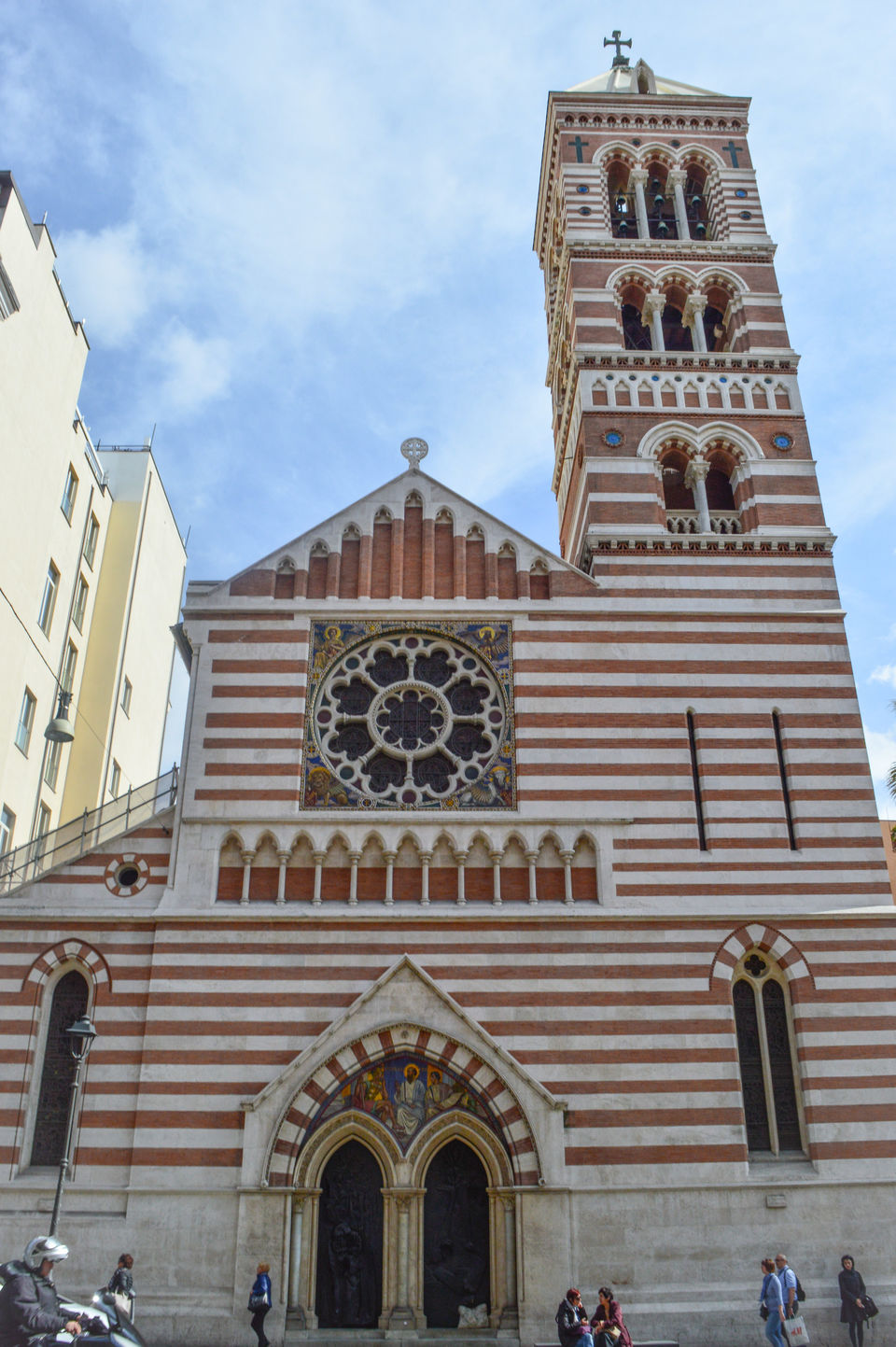 I returned to Rome the same afternoon around 1:30pm and walked to the magnificent Fontana di trevi. The estimated 20 minute walk ended up lasting for an hour.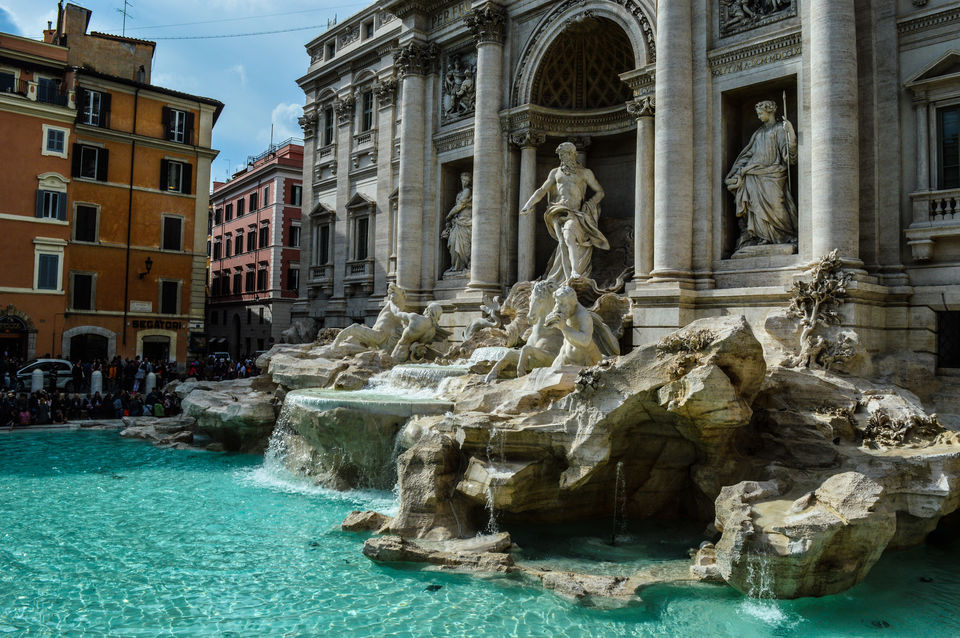 I finally reached the Trevi Fountain around 2:30 pm. The attraction is a perfect example of the crisp roman architecture. On reaching the spot, I barely found any space to stand and shoot. So I can only show you what I managed. Yes, it is a crowded place. But it is definitely worth a visit. And cheap ice creams are a bonus, here.
After my visit, I took the tube from a nearby metro station. I arrived at the Roma Termini train station, in a mere 12 minutes and collected my luggage. The bus to El Ciampino airport was waiting for me. It was time for me to leave ROME.