Of course I want to visit every country in the world. But my choice of places to visit is certainly not decided by the objective of adding a plus 1 to the number of countries I've been to :) That's the reason I keep going back to Italy. My first preference is always about places that really appeal to me. That said, I just couldn't blindly decline the opportunity of visiting a city like Salzburg, especially given that it was just about an hour away from Berchtesgaden, Germany.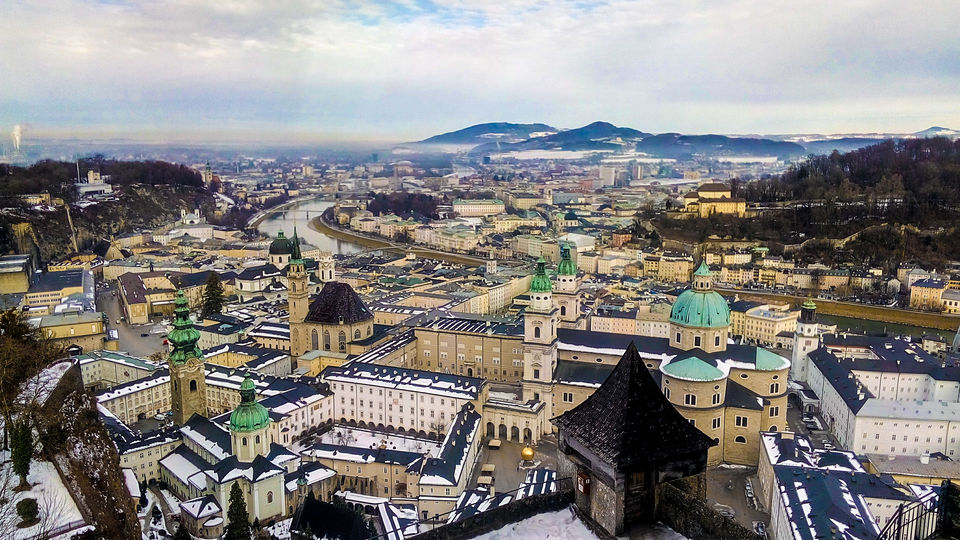 For those of you who didn't read my blog on Bavaria, after spending two days in the Bavarian alps, I left for Salzburg on my second evening in Germany. I caught a direct bus from outside the Berchtesgaden HBF train station and headed to Salzburg and used the same Bayern pass that I used on the train ride from Munich to Berchtesgaden that morning. A fulfilling investment indeed! Its one thing to be allowed to take unlimited trains & buses in a certain region of one country for a mere 27 euros between 9 am and 3 am, the following day. But it is a whole new level of "wow" when the same pass is valid for your travel to another country. This is probably allowed because you will never know when the Bavarian alpine ranges merge into the Austrian ones. That's how widespread the alps are. Literally never-ending!
By the time I reached Salzburg, it was almost 6 pm and it was starting to get dark. Also I was quite tired after hiking for hours in the negative temperature zones. So off I went, straight ito a 6-bed mixed dormitory in the A&O Salzburg Hauptbahnof hostel to crash.
Next morning when I woke up with a sore throat, I just wanted to continue sleeping. But the dreamy painting of Salzburg that hung on the hostel wall opposite my bunk bed urged me to freshen up and explore the reality around me. And that's exactly what I did! After grabbing a quick breakfast at the food forum close to the hostel, I was all set for the hike to the Hohensalzburg fortress. It was a half an hour walk from the hostel, right through the heart of the city, crossing over the river Salzach, leading into alley ways that made up the market squares on the other side and finally ending at the bottom of the long, steep stairway that wound its way to the fort which sat on the Festungsberg hill. On reaching the hill top, I bought my ticket at the entrance. I bought the 9 euro-ticket instead of the 11.50 ticket and gave the museums a skip. My best memories of Salzburg are from the time I spent at the portico in the fortress. In my opinion, it is the best place to get a bird's eye view of most of the city's attractions. From my vantage point, I could admire the pointed minarets and massive domes at eye-level. A lot of spots in the portico gave me different yet spectacular perspectives of the many wonders in Salzburg. In the distance I could see the river Salzach flowing through the old town. While the view points on one side of the portico offered exposure to the stunning Austrian architecture and its hilly backdrop, the other side opened up into the snow capped Austrian alps. It was evident how I was in a city cradled in the very lap of nature. Instantly I felt tiny yet content and the need for some food to grow into a strong adult again. So I decided to devour some lip-smacking Austrian sweet treats displayed outside a street-side cafe.
On my way to the cafe, I never noticed the eccentric Eidelwiese winter flowers until a girl from Taiwan mistook me for a native and asked me about them. Even though she didnt get her answer, she seemed happy to have bumped into someone from her own continent. There's something immensely satisfying about meeting people along the way. They leave their mark and so do you :)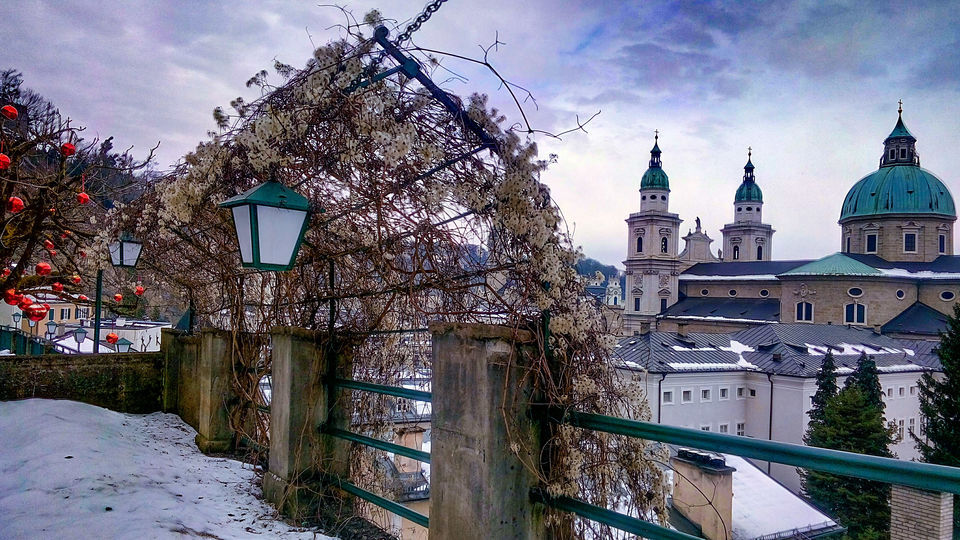 Salzburg is a city, you can easily tour on foot. So I walked to the Mozart square from the fortress. Besides the Mozart residence and birth-place at the square, there were so many more things to watch out for. It was as though the place itself was musically inclined and not just the famous composer who was born here. With a 100 pigeons fluttering across river Salzach and the sound of hurrying hooves echoing off the cobbled and crowded alley ways, the place fell into a rhythm of its own. One that easily became its identity. I personally love watching life go by in a new city. So I walked around, admiring traditional food stalls, gawking at the white fairy tale horses that some tourists had hired and spent some time at the St. Peters cemetery, the oldest graveyard in Salzburg. It was actually quite a pleasant experience, not one bit creepy. The elaborate arrangements that had been made to honor the dead gave me the feeling that I was surrounded by a kind of warmth that came as a greeting from those who were long gone, but content with death.
On my way back to the main market square, I was surprised to find a love-lock bridge. Whaat, here too? Just as in Prague and Paris? But unlike everywhere else, the locks came in extravagant colours, different shapes and sizes. It made me believe how the city loved a little more sincerely than others, and I could feel it in the very air of Salzburg. :)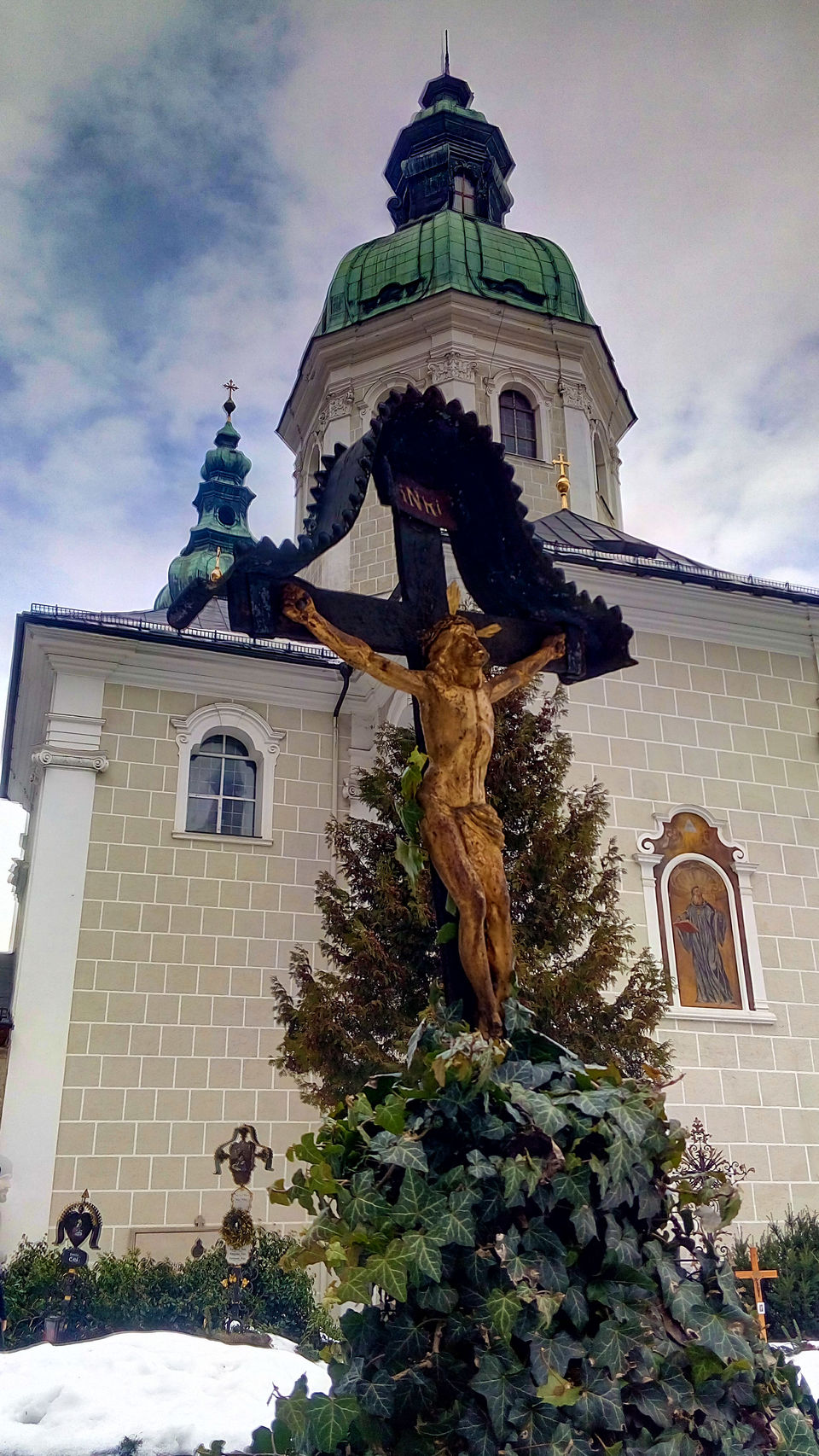 I spent the afternoon exploring the main market square. I shopped for souvenirs and stopped to look inside authentic shops, flower markets and cafes. This time around, I also kept my eyes open for any unique plantation and there, by the river Salzach grew some beautiful alpine surprises!
That evening when I reached the hostel, somebody seemed to have checked in already. Just as I was settling in, I heard the door unlock. A guy walked in and said hello to me in a friendly tone. When I acknowledged with a smile, he went on to introduce himself. He was Chigour from Denmark, a ski teacher who had come to Salzburg on a winter assignment. After I introduced myself, we spoke for a while about how his job worked. He explained how he did some odd jobs during summer and taught children to ski at other times. Such cool occupations these westerners have! And what a laid back lifestyle?!
He asked me how long I had been in Salzburg and if I knew any place where he could buy dinner. When I told him about the food forum near the hostel, he asked me if I wanted to catch up on a drink. Even though I politely refused, his attitude towards me remained unchanged. He just shrugged and said he came from a beer drinking country and thatit was a custom there to take students out on a beer drinking truck when they graduated. I was amused, really. Just as I was telling him how I planned to visit Copenhagen someday, two Chinese girls entered the dorm and all of us got talking. After pleasantly greeting them, he left for dinner. It is nice how travel teaches you so much, not just through places but through people too.
Next morning, I bought another Bayern pass and got onto the train back to Munich. In the train, as I looked at the pictures in my phone, I came across a certain photograph. It was exactly the same as the painting that had inspired me to step out of the hostel the day before :)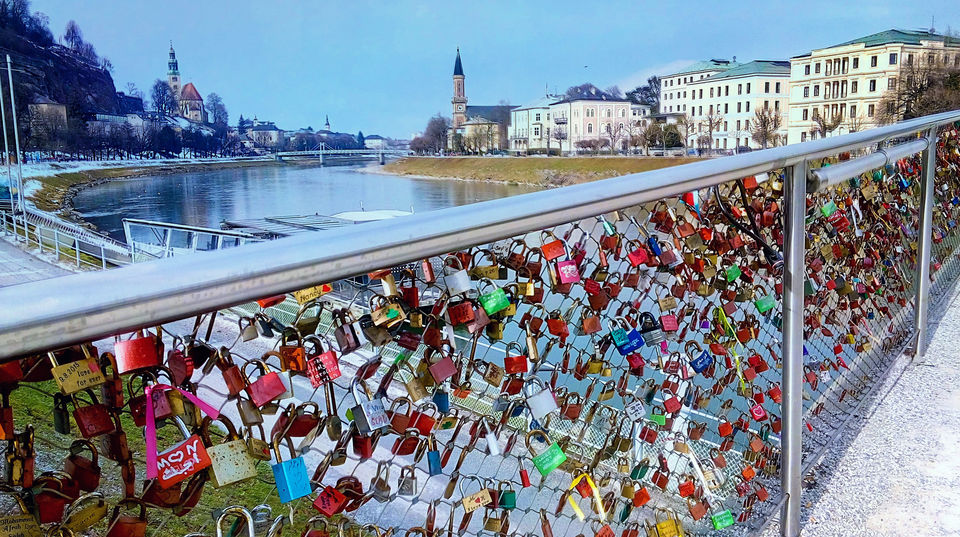 From Munich, I proceeded to Rothenburg on the same pass. Watch out for my blog on Rothenburg to know more! :)