If you are thinking that Angkor Wat is the sole reason to visit Siem Reap, the temple city of Cambodia, you may want to correct yourself after reading this. Starting from bi-cycling around Angkor Wat, viewing it from the hot air balloon or from a helicopter to going for a guided trip of the temple, all these reasons may give you an impression that everything in the temple city revolves around Angkor Wat which is not completely true. In reality, there are plenty of other things to keep a traveller engaged for one week in Siem Reap.
Here is a list of activities to fill your leisurely days in this lovely town.
1. Riding a bi-cycle around Siem Reap:
For a cycle enthusiast, Siem Reap is a perfect place to enjoy on saddle. Since, all the major sites are within the riding distance, hiring a bi-cycle is perhaps the best and the cheapest way to explore the place, provided you are not in a hurry. There are plenty of bi-cycle rental shops around the town and you will not have any difficulty to hire one. Some hotels and homestays even provide the rental facility to the guests and believe me the rental can be as cheap as 1 USD per day. While roaming around the town, you will not have any restriction on time to explore the places and I have even met people who with their bi-cycles used to go out to explore one temple in a whole day. You can even stop whenever and wherever you want and you are free to enjoy templing as long as your legs are not tired. If you are an energetic and enthusiastic sort of cyclist, you can even venture out of the main town and explore the picturesque Cambodian villages.
If you plan to rent out a cycle, please keep few things in mind:
Ride safely as the road safety in Siem Reap is not particularly good.
Check your cycle thoroughly before you take it out on the road.
Keep yourself hydrated as the temperature and humidity in Cambodia can really go up sometimes.
Lastly, be safe from the opportunist thieves.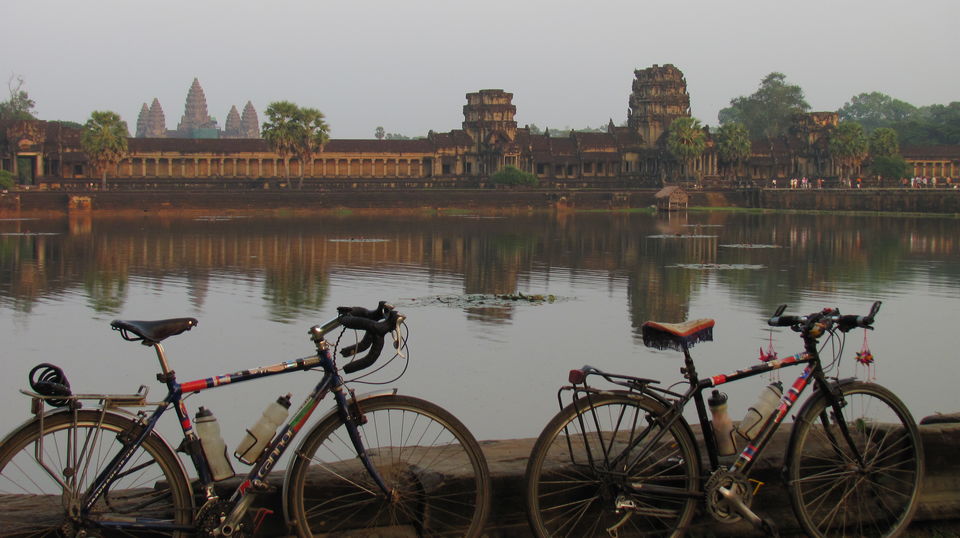 Source: londontosydneybybike
2. Experience a Tuk Tuk ride:
Tuk Tuks are one of the most popular mode of transport in whole South East Asia and Cambodia is no exception and it is particularly very popular among the tourists. If you are not renting a bi-cycle, it is the cheapest and easily available transport to see around Siem Reap. Tuk tuks in Siem Reap are not as notorious as in Bangkok. You will easily get it around the play where you will stay. Since, it has no meter, it is advisable to negotiate the price beforehand. As it is not hard to imagine about its speed from its name 'tuk tuk', you can catch a good view of the scenery as you zip along and the tuk tuk drivers are friendly enough to stop the vehicle so that you can have a closer look of something, if you want. You can hire them for a whole day or even for few days of touring and negotiate a good price. Yes, some of them can speak English, if not, at least a few English words. No trip to South East Asia is complete without a tuk tuk experience.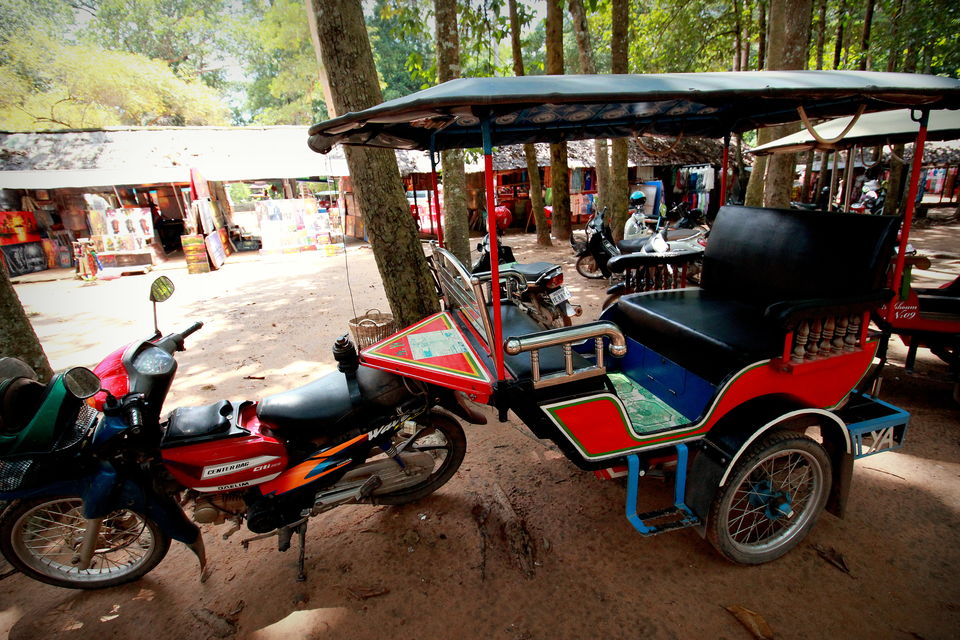 Source: Myself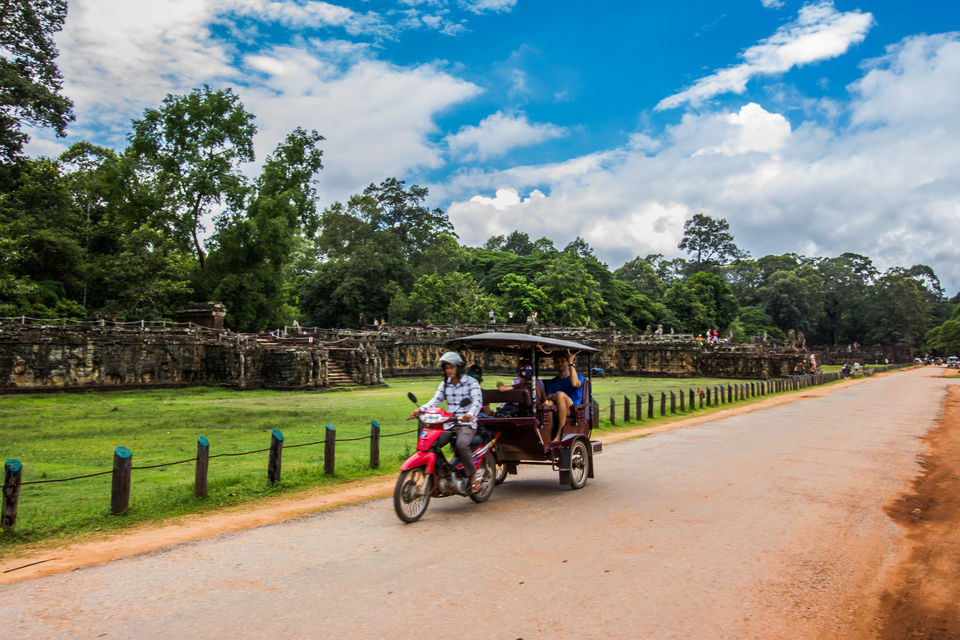 Tourists enjoying a tuk tuk ride
Source: Myself
3. Floating Village:
One of the most popular non temple activities in Siem Reap is visiting a floating village. One of such villages at Kompong Khleang takes 1.5 hour in tuk tuk to reach. This drive through Cambodian villages is an experience itself and after this when you reach your destination, you will find yourself in the midst of tranquillity. You can hire a boat here and explore the village. you will see dozens of small floating huts, shops, few large wooden houses, painted in colour stripes and people doing daily activities around their houses.
In Siem Reap, there are many private tour operators who arrange customized trips to these floating villages. You can book through them or you can explore on your own.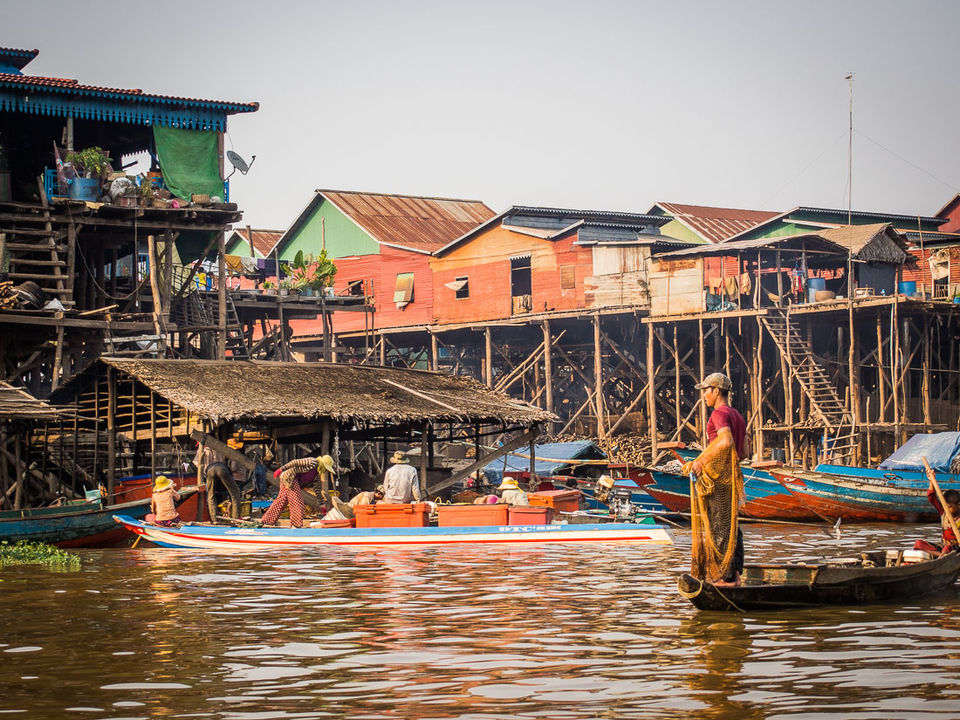 Source: tourguidecambodia
4. Traditional Khmer Food:
If you are in Cambodia, you have to try the local traditional cuisines. A typical Cambodian meal consists of rice, soup, salad, fish dish and vegetables. Khmer food takes influence from various countries. Cambodia, being a French colony for many years and also many Chinese immigrants coming over, the country's food is greatly influenced by these countries. One will also find the influence of Thai and Vietnamese food in the local cuisines. being a complete foodie, I always prefer to try the local food wherever I travel. After arriving at Siem Reap, the very first thing we did was to dump our sacks and find a good place to eat local food. I must say, I enjoyed the unique taste of Khmer food which was very new to me. The soup, vegetables, fresh fishes and dessert with sticky rice are some of the items which are must-try.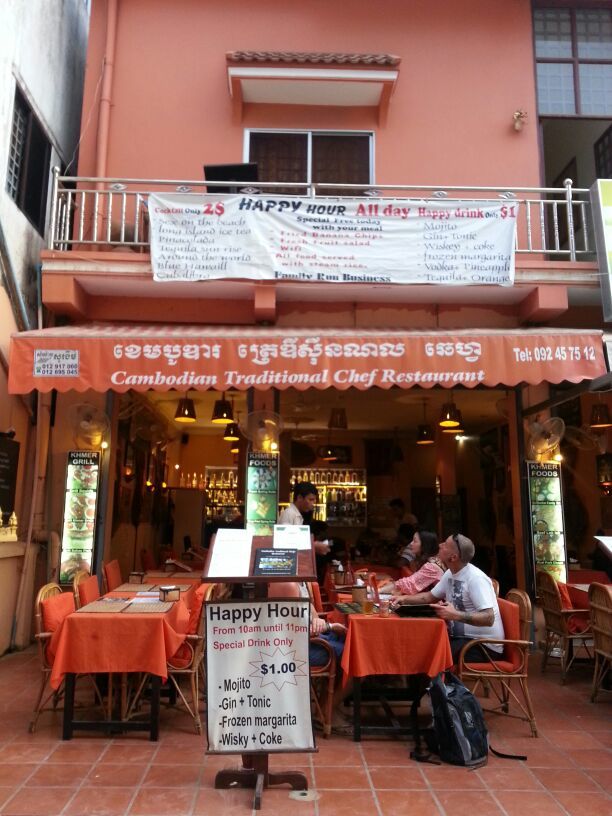 A restaurant on Pub street serving traditional Cambodian cuisines
Source: Myself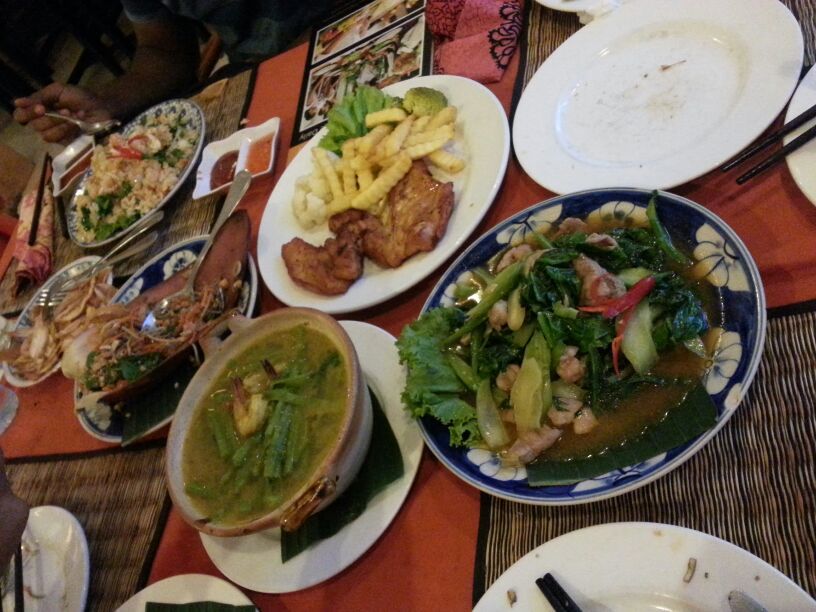 Some of our orders
Source: Myself
5. Sprawling local markets:
If you love shopping, this place is for you. Being an extremely popular tourist destination among both the Asians and the Westerners, shopping is a business here. Things in local markets are really cheap if you can negotiate properly. There are quite a few local and night markets in Siem Reap. There are also two full fledged shopping centres in Siem Ream, Angkor Trade Centre and Lucky Mall. I personally prefer the local markets as the stuffs there are cheap yet very local and unique. You can find the Khmer handicraft items and paintings exist in large quantities in these local markets.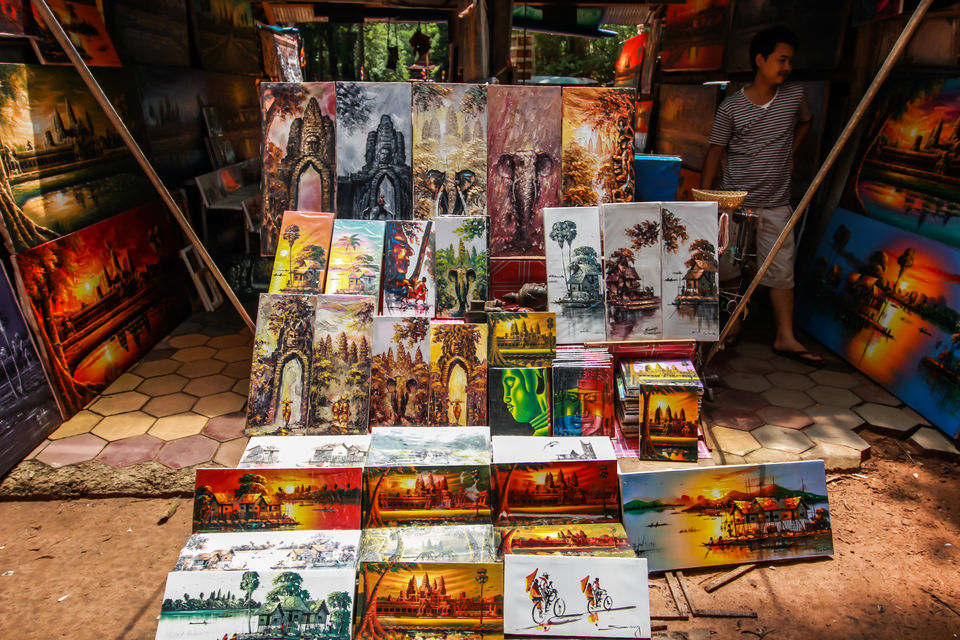 I did quite a bit shopping from this painting stall
Source: Myself
6. Bees Unlimited and Cooking class:
Want to see the honeybees, particularly the giant ones, see how they are kept in a natural habitat and taste the pure wild honey of Cambodia? Bees Unlimited is the place for you.
If you have already grown a taste of Cambodian cuisines and want to learn cooking yourself, there are many cooking schools in the town which will happily provide you cooking classes for a reasonable price.
Completely different than the temple hopping, these tours can be interesting options and fresh change to know the locality and learn something new.
7. Giving back:
One of the best part of travelling is, whenever we travel and spend our travel money, we in a way help the local community and by that process contribute to a country's economy.Cambodia is economically poor country and witnessing the poverty while travelling can be heart-wrenching. I found many children selling small, little inexpensive stuffs on the street, urging to buy something from them and when you do that, you bring a smile on their faces and it adds to your satisfaction. Sometimes, you will see small local groups singing and playing traditional instruments by the side of the road. Stop there, listen and encourage them. And, if your time and dollar permit, you can avail a customized tour that will let you experience Cambodia by giving something back by means of volunteering.
I strongly believe that a responsible traveller always gives back to the society.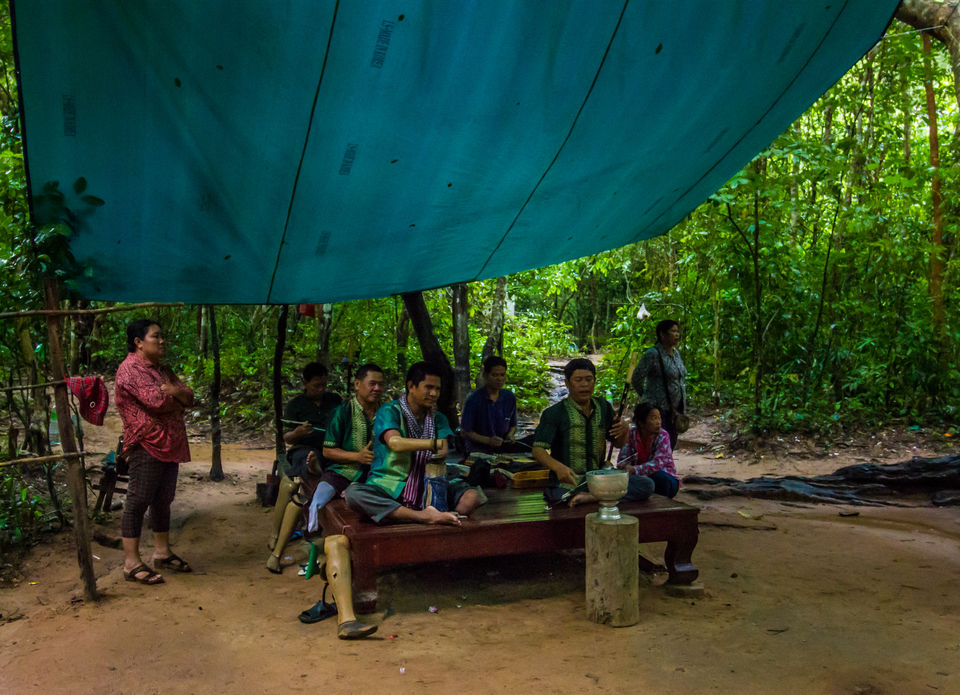 A group of physically challenged people singing and playing some wonderful local music.
Source: Myself
8. Lip-smacking street food:
There is no better way to get the taste of the local food than to get out on the street and try the street food and when you are in Siem Reap, you will definitely have plenty of choices for those. There are street food streets and corners, permanent food stalls, mobile carts to offer you a large variety of mouth watering Cambodian street foods, starting from soups, noodles, pork rice, spring rolls, steamed buns, bee hoon, BBQ ducks and BBQ squids, chicken and smoky grilled sausages. My personal favourite was roti pancake, served with banana and chocolate sauce. Since I stayed near road 60, which is also often referred as Pub Street and famous for its street food, I had a chance to get heavily indulged into the business of tasting variety of street foods including some exotic ones.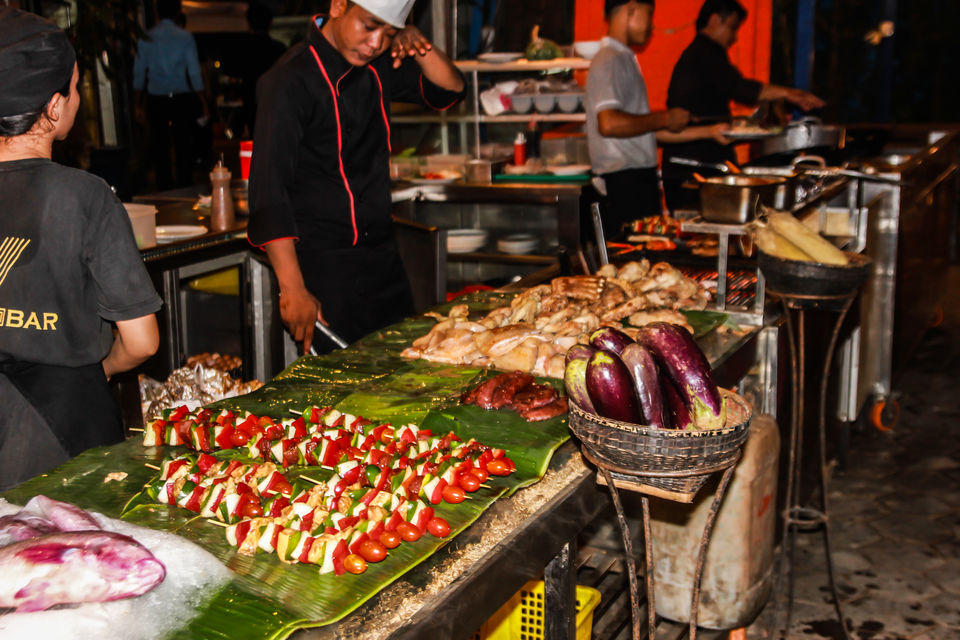 Source: Myself
9. Pub Street:
After a day of touring and temple hopping, the evening is generally the time for chilling out and there is no better and lively place in Siem Reap than the Pub Street. Though the night life in Siem Reap is not even close to that of Thailand, but you will definitely find a place of your choice starting from intimate and stylish places for a cocktail or a disco place with loud music or a bar with very attentive ladies. If you do not want to shed money in drinking, you are free to join the group on the street and shake your legs with them. The most popular bar on Pub street is 'Angkor What' which was also our choice of spending an evening. It is the very first bar of Pub street and also very popular among travellers for good music, pool table, choice of drinks and of course most importantly traveller's graffiti on the wall.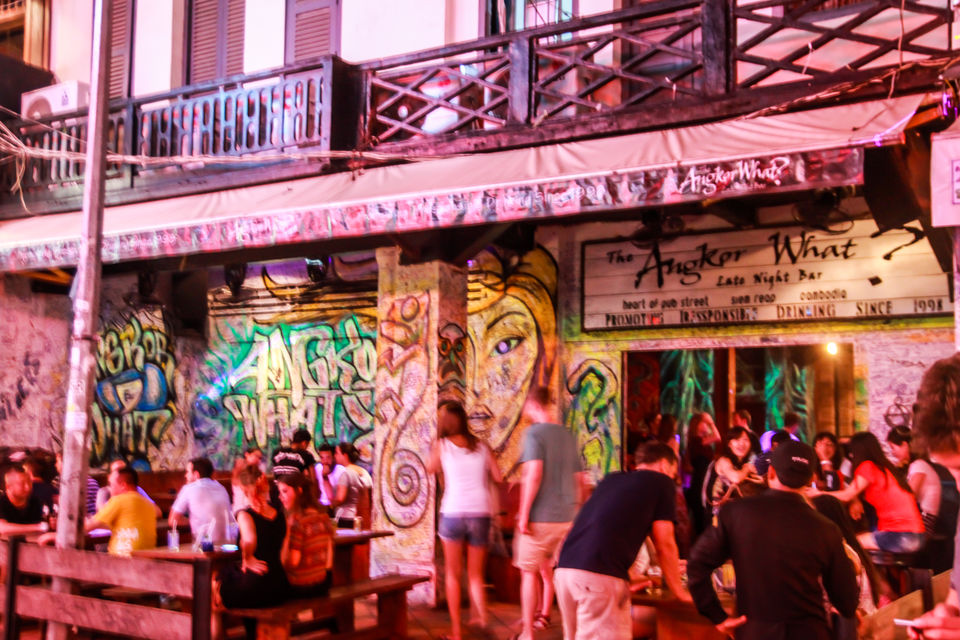 Source: Myself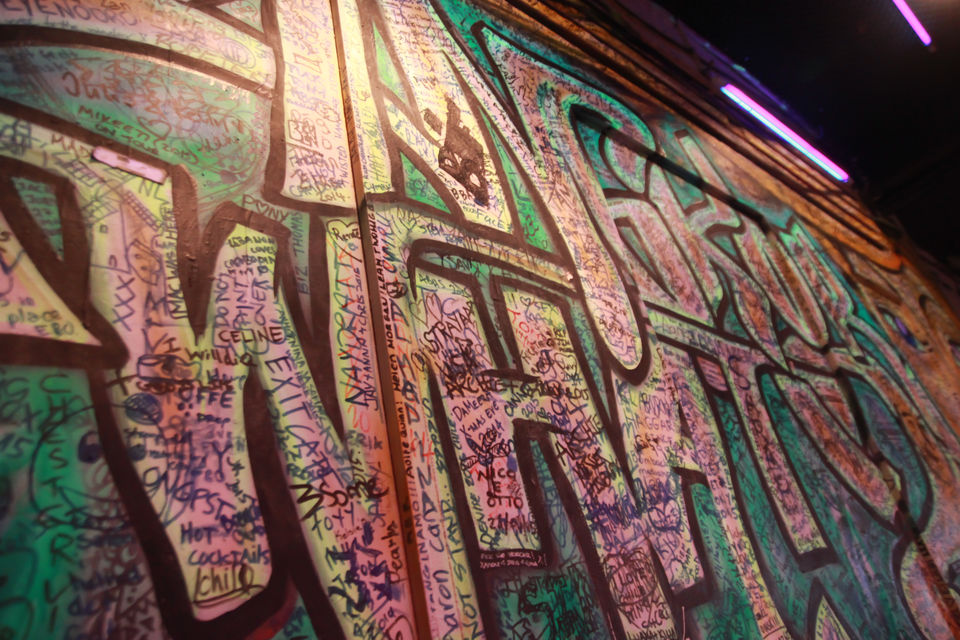 Travellers' graffiti on the wall
Source: Myself
10. Experience the traditional Khmer style stay:
Stay in Cambodia is very cheap compared to other South East Asian countries. Even the boutique hotels and the luxury hotels are quite affordable even if you are on a budget trip. But we decided to have he unique experience of staying in a traditional Khmer style house and so took help of airbnb. We found one exactly what we wanted. A two story Khmer style whole house with good reviews and also not very far from Angkor temple and the pub street. The host Juan lives there with his girlfriend Che. His friend, Lai who was also our Tuk tuk driver helped us to have an hassle-free tour of the town. The best part of staying in a homestay is that you become a part of the extended family during those days of our stay. Juan and his girlfriend were so friendly to us that on the last day they invited us and insisted to have a dinner together with their local friends and thus giving us a chance to taste some delicious home made food.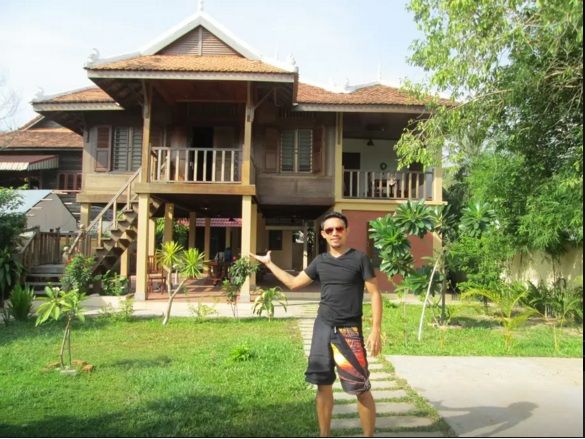 Juan in fornt of his house
Source: airbnb
11. The temple tour:
The last reason but definitely not the least is the temple trip and when you are in the temple city, you cannot afford to miss the temple hopping activity. Angkor served as the capital of the largest empire of SE Asia which flourished during the Chola dynasty from 9th to 15th century. The ancient Cambodian province used to be the home of some astonishing archaeological monuments of Hindu and Buddhist beliefs during the Khmer empire. It is still a mystery where did they go and how did they disappear but what they left behind is still awe-inspiring even after hundreds of years.
We decided to start our temple tour not with Angkor Wat but with other relatively smaller temples. There are hundreds of temples other than Angkor Wat, lying in the jungles of Angkor and 4 of those Bayon, Preah Khan, Ta Prohm and Banteay Srei. Angkor Wat is definitely Cambodia's star tourist attraction and it even takes place on the country's national flag but these less visited temples of Cambodia also carry equal majesty and mystery with them.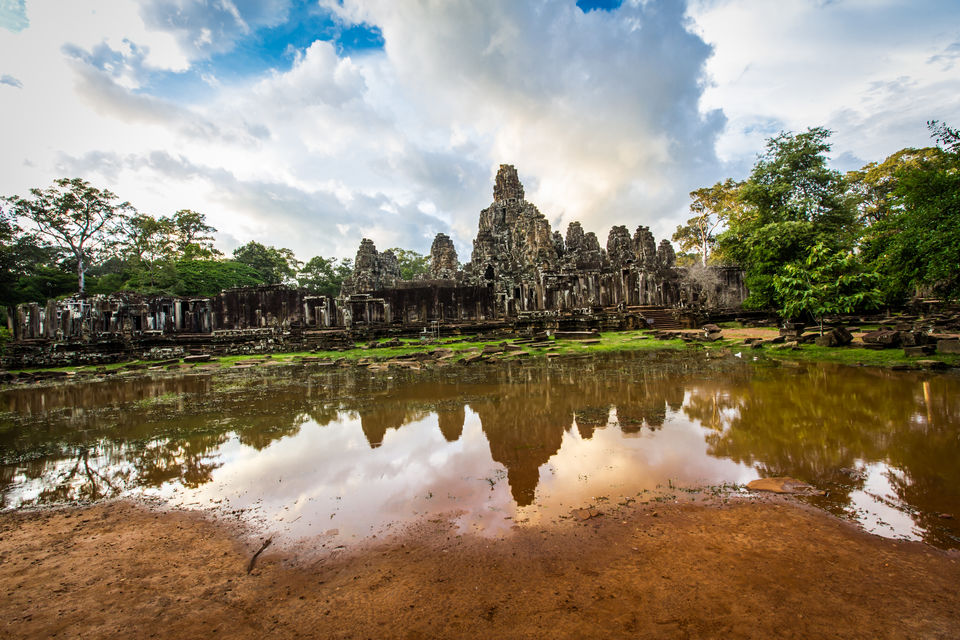 Source: Myself
Bayon is known for the massive faces carved into the sides of its towers and thus the name is derived. It is estimated that there were almost 200 giant faces of Buddha on top of 54 towers. Although it is not as large as Angkor Wat but this temple is much more condensed. Unlike Angkor Wat, this work on this temple describes the everyday life of Angkor like cock fighting between Chinese and Khmer, ladies giving birth etc.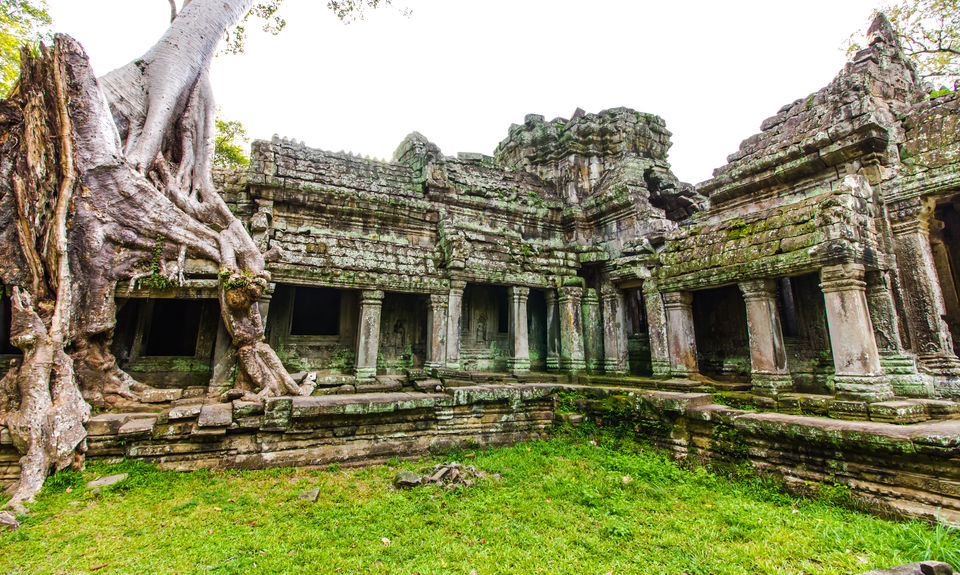 Source: Myself
Preah Khan one of the most impressive and significant temple of Khmer empire, spreading across 140 acres. Built by Jayabarman 7th during early 12th century used to serve as monastery and centre for learning.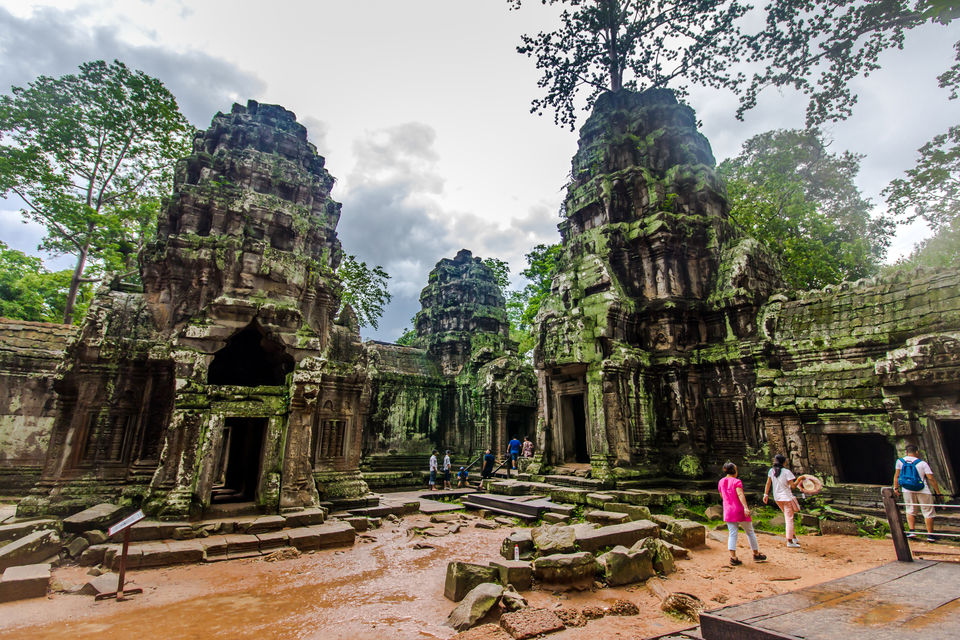 Ta Prohm: Do you remember the set from Angelina Jolie's Tomb Raider?
Source: Myself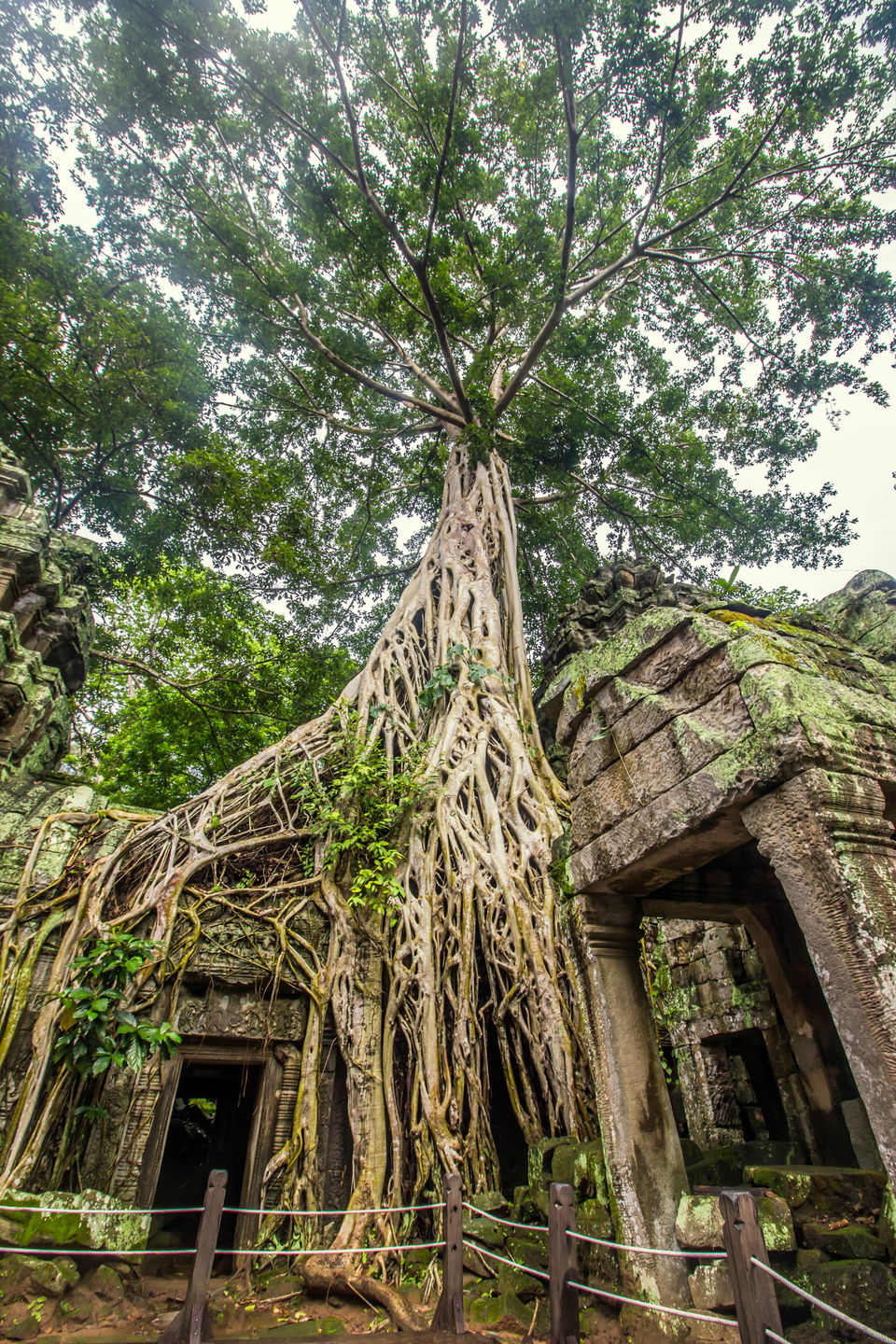 Source: Myself
Ta Prohm is not the most impressive ruin in the world,not even in the neighbourhood but it's more human scale and merged with nature once humans left. The temple was built around 1186 AD and was originally dedicated to Buddhist personification of wisdom. The temple is a best example of the fact that even the best technology isn't enough in front of nature.
One interesting fact about this temple is that it is maintained by Archaeological Survey of India.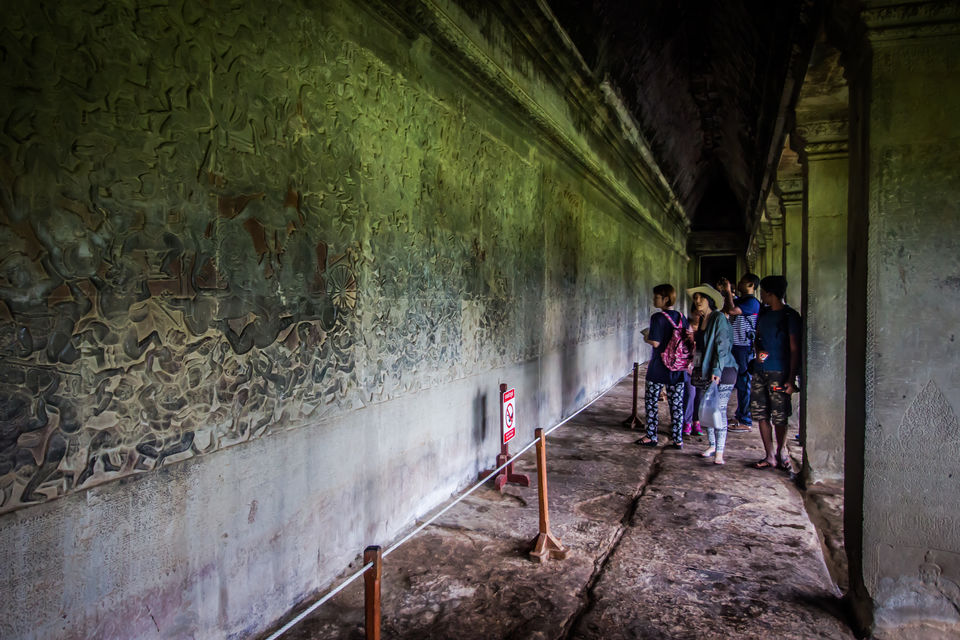 Ancient Hindu mythological stories are depicted on the long walls of Angkor Wat
Source: Mysself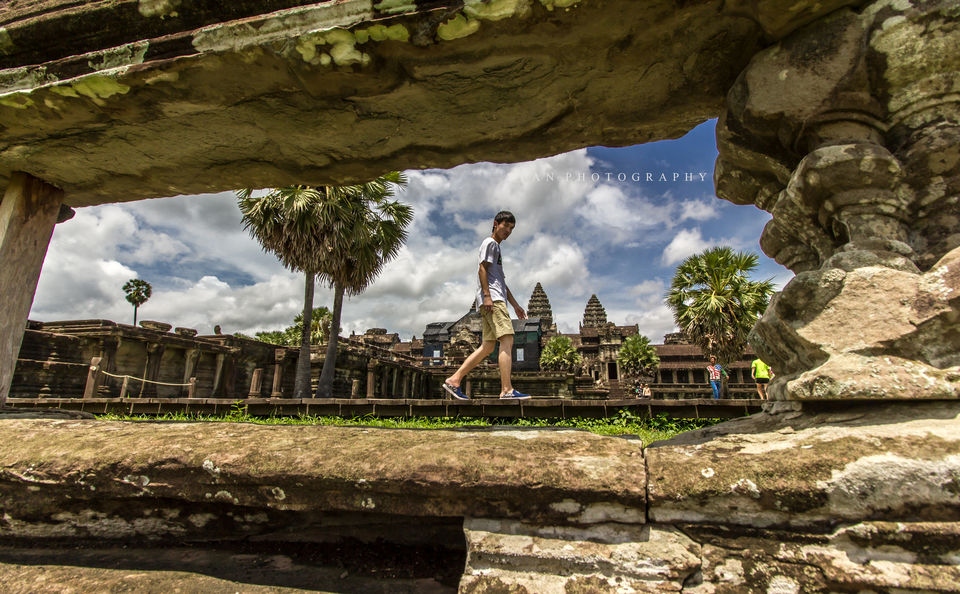 Angkor Wat, as seen from a different angle
Source: Myself
How did I arrive in Siem Reap:
The driving force is definitely my childhood dream of seeing the world's largest religious monumental temple, Angkor Wat, not because of any religious reason but because of its sheer magnanimity and the architectural beauty. I used to be quite fascinated while reading about it from my history book. So, when I got a long holiday during my stay in Singapore, I knew where I wanted to go. I and three of my friends planned for a backpacking trip to Siem Reap and set out for the journey. But it was after we reached Siem Reap and had some free time on that day to explore other things, we realized that the place has more to offer than just visiting the temples.
How and when to visit:
If you are travelling from India, the nearest gateway would be Kolkata airport to fly out to Siem Reap. There are also connecting flights from all the major cities in India. Air Asia, Thai Airways, Malaysia airways, Singapore Airlines, Silk Air operate in this route. If you are on backpacking trip to SE Asia and you are travelling cheap, the best way to get a bus from Chatuchat terminal in Bangkok to all the way to Siem Reap. You can carry USD as it is accepted everywhere in Siem Reap.
Cambodia has two main seasons: wet and dry. The wet season is from May to Oct and the dry season is from Nov to March. Mar-May are the hottest months there. July to Aug are considered to be the ideal time to travel to Cambodia as the occasional rain cools off the weather. But definitely, you would not want to travel during the peak of rainy season as it sometime floods the whole area.