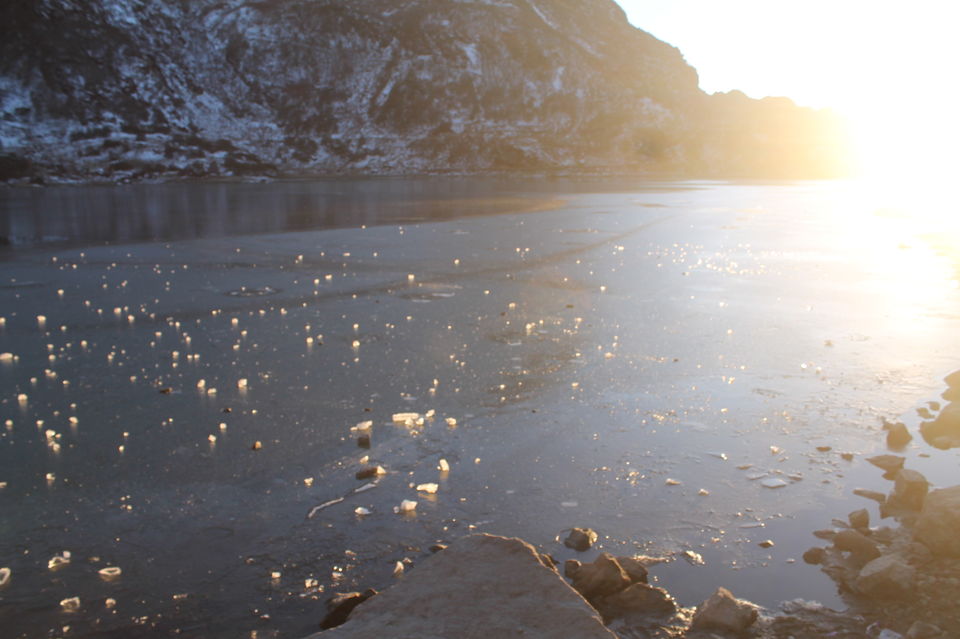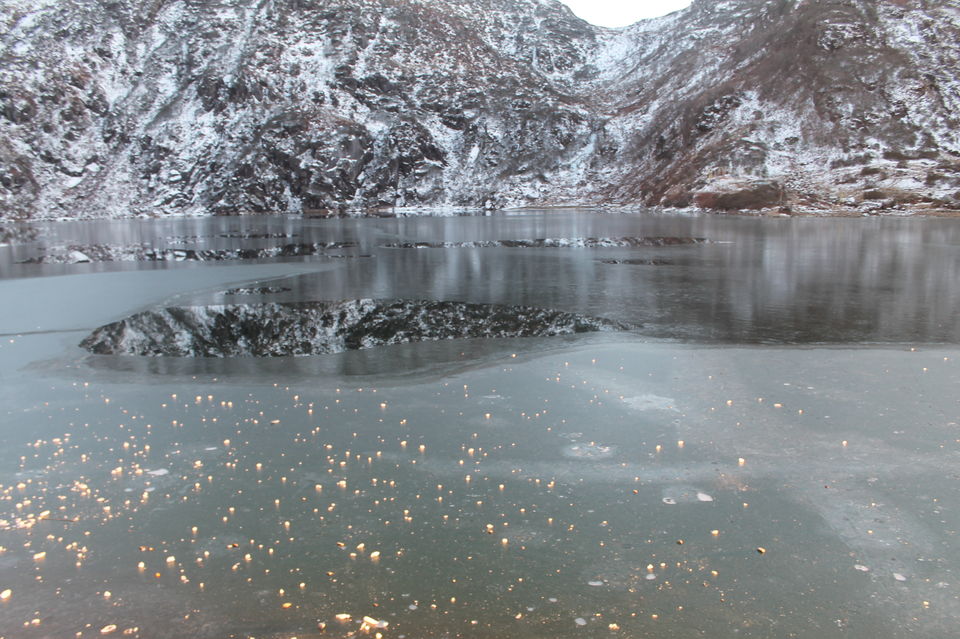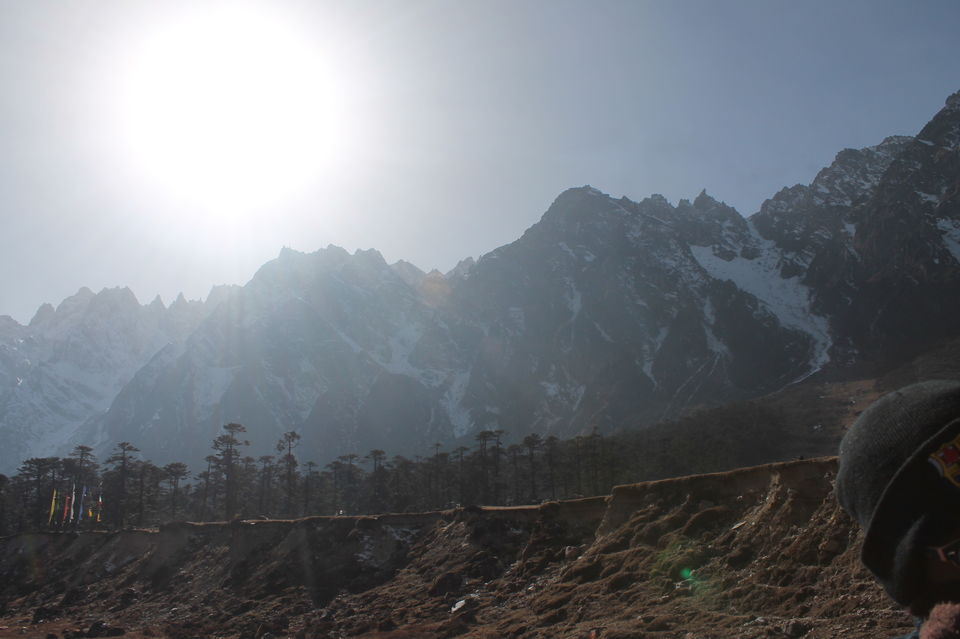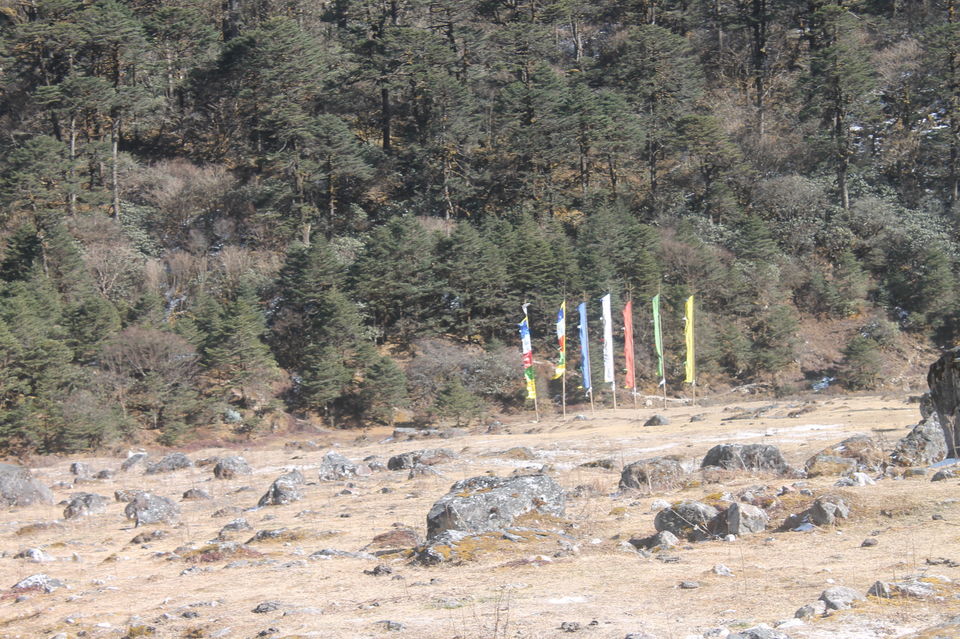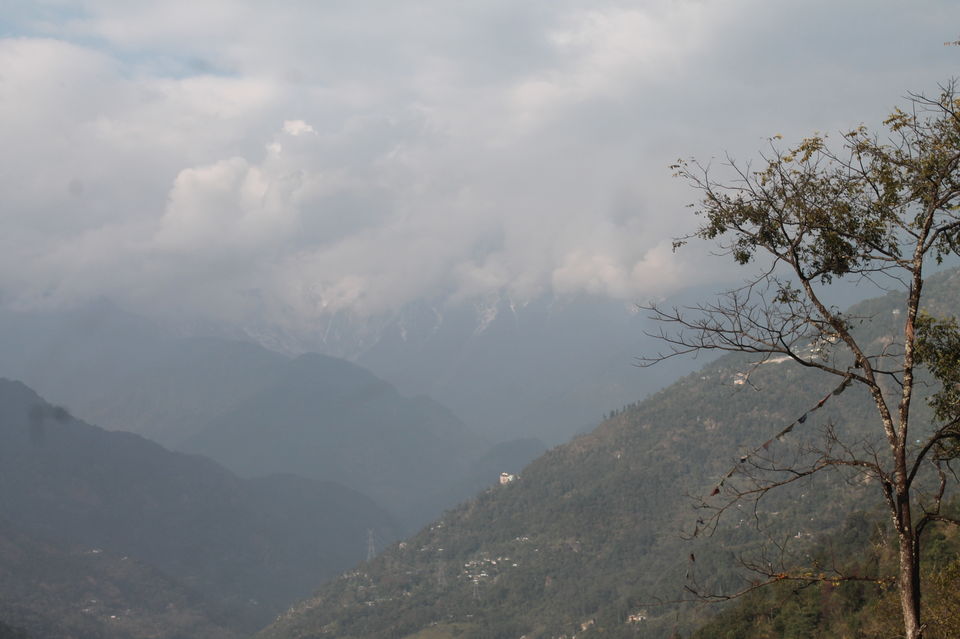 My journey to this land begins with I boarding the train at the Howrah railway station. It was a one night journey to New Jalphaiguri where we boarded the heritage "Toy train". Away from the hustle and bustle of city life I along with my family and my relatives went to visit this beautiful place of East India, the Lofty Hill, Gangtok. India is a land of diversity and Sikkim is one such antique diverse element. Like any other hill station, Gangtok has a similar ambience with a little pinch of sophistication. The Toy train journey to the Gangtok(from new jalpaigudi) was one of the best I ever had. The greenery and the clouds were simply breathtaking. It was drizzling and the scene was more cinematic. The very first glimpse was enthralling with raindrops falling in small droplets all over. We were received by a friend . He took us to a hotel called "Chandani". It was a good one; the rooms were made of woods, hot water pouring from taps and a delicious hot dinner. It was tremendously chill, although it was only first days of October. We decided to take a trip through Darjeeling the next day and then proceed to our final destination. My experience through the Darjeeling trip was wonderful which I would like to jot down some other day. We set out on our venture to the beautiful capital city of Sikkim. The drive was enthralling with the Tista River on one side and the lofty green hills on the other. The slopes and the bumps posed threats which added to our thrill except my mother and my aunt who were very scared. The Tista River is very popular among the adventure freaks. Here people go for rafting, trekking and all sorts of adventure sports. Being the festive season of Durga puja and Dusshera, tourists were overflowing. We reached by evening. It was a sunny day and chaos everywhere mainly due to overcrowding. We took two vans for the hotel since there is a rule in Gangtok that only four persons at a time, can go in one van. The hotels were all booked. So we had to rummage one after another until one called Hotel Lungta. There we somehow got two good rooms. The hotel was near the Sikkim legislative assembly. The panorama was a beauty from our hotel, with the sight of the beautiful Kanchenjunga Mountain.
Exhausted, in the evening we just strolled through the Mahatma Gandhi Marg, nearby. It was the main city centre with traditional shops, hotels, restaurants, bars etc. There we went to Sikkim information centre where they gave us information on various places to visit. We booked our pass to Nathula therein. On the first day we went for sightseeing. Our guides were the two drivers we met day before, who brought us to the hotel, Shyam and Santosh. Early morning we set out for the Rumtek monastery, 22 km from Gangtok. The world famous Rumtek Monastery is located at a hilltop and hence we had to walk a long way. As we reached, I stood there contemplating the appealing beauty of this magnificent architect. The edifice itself was revealing the rich Tibetan culture. We got to see the huge Buddha statues, the scripts, the paintings and the Lamas. My eyes caught some papers which were actually currencies of different countries. Later one of the Lamas told about the huge inflow of tourist everyday from different parts of the world. There we had our breakfast in a stall below and bought some mementos. From there we went to another monastery called Ranka at a short distance. It had the same grandeur but here we met a cluster of little lamas. They are brought up and educated in these monasteries, their so called abode. They were all seated in rows with books in hand. We talked and had lots of fun with them. They were so cute that I could not help myself clicking some pictures.
Our next stop was the Ban Jhakhri falls, where we spent the whole noon. Unlike its name it is actually a large park bedecked with the Banjakhri statues, the beautiful golden rocks, the flowing waterfalls, the dragon statue, flower gardens and the pristine falls. It's a wonderful place attracting tourist and it serves as a nice picnic spot. We got the opportunity of wearing the traditional (bhutia) attires and took some snaps. Sikkimese culture is a mixture of many cultures. The main communities are Lepchas, Bhutias and Nepalese. All of them live in harmony in this place and hence the name Sikkim derived from sukhim meaning happy home, a place of peace. Our guides then took us to Do Drul Choten Stupa and Tibetology. Choten stupa with golden topped sikhara was like a temple with candles and lamps. Tibetology is a museum with collections of Buddhist scripts and Sikkimese kings photos. Sikkim was autonomously ruled by king till 1975 .It has a great history, tradition and culture of its own. The rich architecture, manuscripts etc. are all preserved here.
Next we enjoyed a ropeway ride (1/2km), from where we could see the whole Gangtok, a wonderful sight and a thrilling experience. There we met many people of our state and felt like home. We then went to the cottage industry where we did some shopping and were delighted to see the traditional crafts. It was almost evening and too cold. We reached the Tashi view point from where we got a view of the famous Kanchenjunga. But the luck was not in its mood and nothing was visible as we kept on walking through the clouds. There we had our lunch; chowmein with chopsticks. There we saw the Ganesh tonk, at a height. The sight from there was awesome, the moving clouds adding to its beauty. It was chill and we were shivering. Lastly we went to the Flower chowk, near Raj Bhawan.There was a numerous collection of flowers and orchids. It was almost dark and people were leaving, though it was just 5.30pm. People here sleep by 8 or 9. So we too ended our tour there. Our guides became friends by now and told us a lot of local stories.
Day 2- Early morning we went to the travel agency from where we took a sumo for the Nathula trip. Nathula is a famous mountain pass between India and China in the Himalayas. We started our journey at 8 a.m. and reached there by 1 pm.The route was beguiling; the zig -zag road up the hill was incredible. We were simply going up and up the hill enveloped with red and yellow trees and big rocks. We reached the peak at the height of about 14000 feet where only tranquillity prevailed. The temperature was below freezing point and the horizon so near. There lies the demarcation set up by man, the Indo-china border. We touched the border and felt elated may be because we got the feeling of belongingness to our country. There is no human settlement only few nomads and army people. There we met many soldiers, few from our state too. We gossiped a lot with these military men and they shared their experiences with us. We saw a few Chinese soldiers too. There we had coffee and snacks in the army canteen. Everywhere camps, tanks, weapons and ammunitions. In winter the roads are blocked by heavy snowfalls. There is flow of tourist around the year but mainly during march-april because of the onset of spring. Then we went to the famous Baba mandir, made in the memory of Baba Harbajan Singh, a BSF soldier who guarded the post bravely during the China War. Its believed that his soul still persist somewhere here. It was raining heavily by then adding to the extreme cold. So we proceeded to our next destination that is the Tsomgo Lake. A beautiful silent lake with green water between the hills. The lake was grave and deep. There we had yak ride. We had a great time there. Then we went to the china bazaar where Chinese and Indian goods were sold. Had a hot noodle dish and did a lots of shopping. Thus our trip ended and we returned back to Gangtok. We were exhausted but the thrill and excitement overcame it.
In the evening we went to MG marg, a lovely place to stroll about. We also visited the Lal Market. To know a place and its people, market is the best place. Gangtok is absolutely beautiful and the hospitality of the people is remarkable. But Gangtok on foot is all the more splendid. The law and order and maintenance of public places are worth mentioning. I simply love this place and look forward to come here again sometime. The night view from our hotel place is a wonderful spectacle.
Day 3: we went to laichung,the place has some real beauty.We reached their at night and the view from the room was really breathtaking and at night, it become more fabulous.Then,next morning we went to a place called 'ZERO POINT' ,the place was really covered with snow and we couldn't find the grass,i wont explain,what all mischeavious we did their!and then we went to a place yamthung valey(switzerland of asia),after viewing that place( I imagined,is switzerland more beautiful?)and next day we returned back to room. Thus, I leave with beautiful memories to cherish that got pasted in the album of my mind (some in real albums too!).