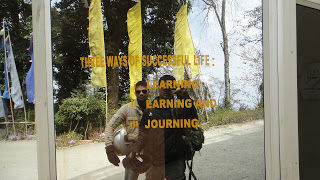 It was March 2012, when all the planetary elements got together, the odds turned in favour of our trip. After hours of exploring on the internet and hundreds of phone calls we couldn't get any relevant information about South Sikkim or any bike routes being followed there. So we got what we exactly wanted - an adventure. This is my story

As our engine thumped and roared, we took off for Alipurduar. We chose to maintain south of Brahmputra. We crossed to north of Brahmputra over Naranarayan setu which spans across 3 km. Till Naranarayan Setu the roads were freindly and straight. But as we followed our handmade map and confusing road signs, we lost our way. We finally made it to Cooch Behar by nightfall.
The town has a rich heritage and is a treat for people who love history. Shining in the centre of town is 'Victor jubilee palace' of narayana dynasty. It is a brick-built double-storey structure in the classical western style, noted for its elegance and grandeur. We witnessed spells of shower, but we couldnt afford to lose a day.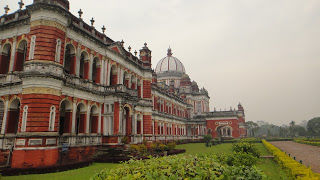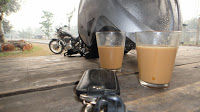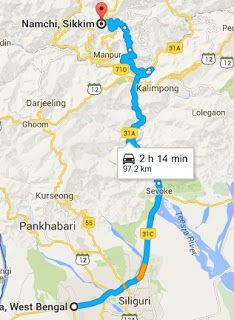 As we closed to our next stop Baghdogra rains intensified. We exchanged the driving position four times in covering 150 kms and had tea to keep our senses alive. The only member who remained dry was "Bagwati- The Bagpack";. Also we crossed a historic bridge- a glimpse of which will leave u wonder can it really be crossed. After the arduous drive of 6 hours we took refuge at a friends place in Siliguri.
Our next destination was Namchi, the capital of South Sikkim. After crossing the Siliguri town we took the Sevoke road.We could see vast blue mountains rising above us as we rode through Mahananda wildlife sanctuary. As we entered the hills, a gentle flow of wind down the valley welcomed us. The road gently climbed and waved as if trying to follow the blue green waters of the Teesta river. We took a stop at Coronation bridge and Mellibazaar to take some pictures and taste some local food. The food had the warmth of home and the scenery around could not have been better. The road from Mellibazaar to Namchi was bestowed with colourful and dense vegetation on both sides and we reached Namchi just before the sun went down behind the hills.
Namchi was glorious in the mystical rays of the setting sun. Nestled among the high mountains, its name means 'top of the sky'. It is a town with many tales of folklore and much natural beauty.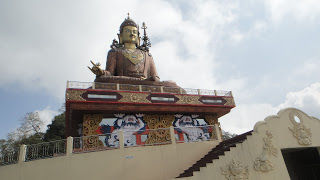 Amazingly, the centre of town is decorated with a beautiful, modern and clean market but it's the view around this town which takes your breath away. Peace comes naturally to this place. Samdruptse hill - or wish fulfilling hill - is right next to Namchi, sitting high above it. A beautiful monastery with an elegant 45 m tall statue of Guru Padmasambhava adds more beauty to this viewpoint and there is incredible biodiversity here.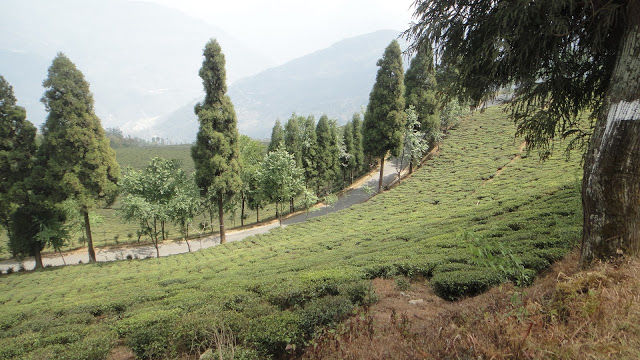 The best part of our trip was the ride from Namchi to Singtam. Initially the road curls down making its way through beautiful coffee gardens with the mesmerizing Himalayas in front of you. This brought us to a totally untouched part of Sikkim.The only place with recognisable human inhabitance was Damthang. This route had an incomparable silence about it, being broken at times only by birds. The thumping sound of the bike didn't bother the wildlife hear much. Freedom and peace was visible everywhere.
Down the slope we could see all kinds of birds and eagles soaring in the updrafts of the valley. The small colourful peace flags put by locals to keep evil away were gently lifted up in the winds. The very peak of the great Himalayas were as white as minarets made of marble.We took a small break at Singtam, where we met a fellow Rider who promised to take us from a track which was only known to the locals. To our excitement we had got what we really wanted- Adventure.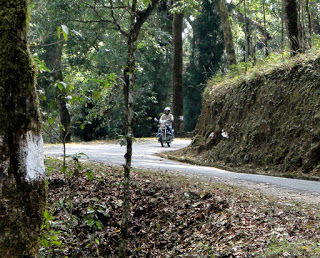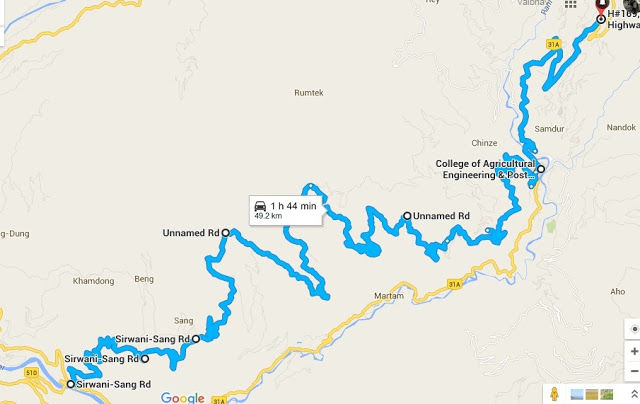 As he promised we didn't take the usual route from Singtam and the tar on the road reduced to gravel and than to just dust. We were in the wild and my Thunderbird was really enjoying the track kicking up the soil down its wheels.There was this feeling as if whole mountain was for us. As we closed to Rumtek we had a bird's view of the villages in the valley. At this point we were at the top most point of the track. We decided to stop by here and bid our good bye to the fellow rider. Wind was so wild that it felt to me that it will take those tiny flags along. Behind us the soil kicked up by us was settling down and a wonderful smell of soil being kicked up for the first time by a rider was evident. The view was gratifying. "Where can one get such solace - if not here." This lesser known road is Sirwani sang road, which takes you till Ranipool. After about half an hour of halt we climbed down the track slowly towards Ranipool. From there the thrill and peace of the ride reduces drastically as the traffic increases.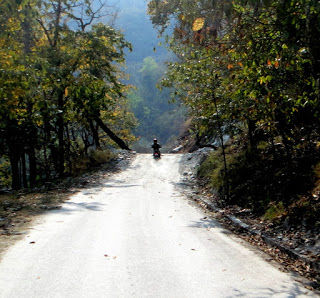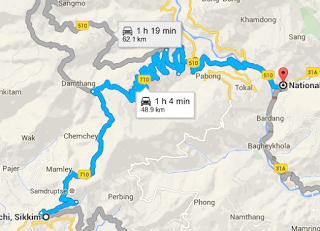 We took a hotel for ourselves after we reached Gangtok. In the evening we took a tour of MG road and couple of Bars in the town. food here has got taste of its own and local populace has a welcoming attitude. in morning we went to zoological park and Hanuman tok. Close to the park the aloo paratha are a delight to foodies. After a brief visit we drove back to Siliguri. The road is wide on this route, but traffic is more. One can speed up for the roads are better but caution has to be there as traffic is more.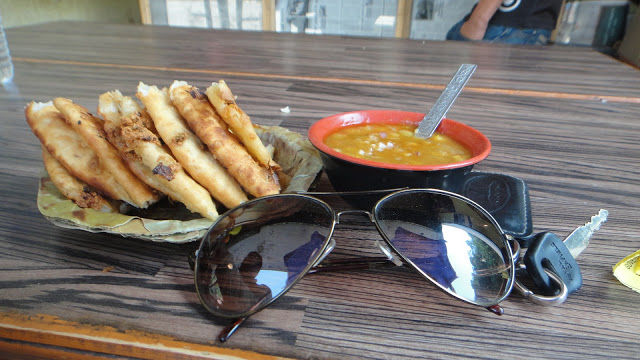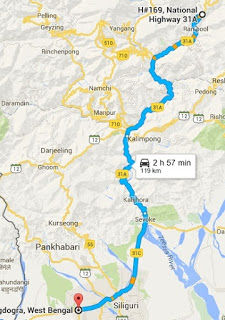 NOTES:-
Helmet is mandatory for the Rider as well as pillion.
Be cautious about Rocks falling from the top.
In ports of South and central Sikkim non veg food is rare to find.
Birdwatchers should take Binoculars.
Homestays are available at Namchi, Damthang, Singtam, Rumtek, etc Rs 500 per day.
Keep petrol tank full.
Carry appropriate Clothing.
Carry repair kit as the routes I have mentioned here are not used often.
This blog was originally published on 'Travel, learn, live and laugh'