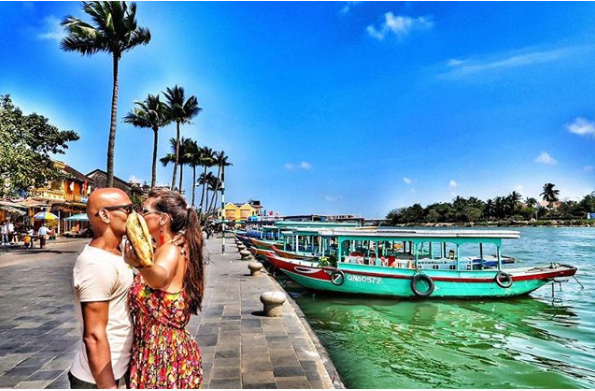 Travel is different for different people, for some it's adventure for some it's a way to pass time and for this Indo-Ukrainian couple it is a way to expand their love. This Delhi-based couple, Shyam and Anya, decided to quit an ordinary life and set off on a unique journey.
From swimming with the sharks to exploring the coldest desert in the world, this power couple has been unstoppable ever since the duo decided to break the monotony.
If travelling to different places wasn't enough to make their Instagram account look lit, they decided to add cherry on the cake by clicking themselves while kissing in public.
Yes, you read it right! Kissing in public is frowned upon in India but in almost all other countries, lovers take the opportunity to express romance as and when they feel a rush of love. Taking advantage of sparkling freedom, the couple posed in almost every beautiful part of the world and their journey continues.
The couple will travel across 40 countries in 365 days. "Long before starting on this journey, at different times of our lives, we had seen 27 countries. About 13% of the world. Then in between we were doing regular stuff and living regular lives. Settled down, if you may say," Shyam told Hindustan Times.
"But isn't regular boring? Are we born to just pay bills and die? And to work a 9-5 job that has no passion or purpose. We were missing our travel days. And so one day we said to ourselves, this is it – some things should change." And that's when they decided to follow their passion for travelling.
"When we said this is it, we decided that this is the time and the one single thing we want to pursue. It was our final call to a different life: To be able to gather new experiences and do new stuff, the way we wanted. #Kissisit is an expression that came along, given that kiss was a theme of our pictures," Shyam said.
"However, in no way do we want to offend cultures, societies and rules. Also, it's not about breaking stereotypes or taboos. This is a fun, exciting thing that (we think) is also creative. Everywhere we go, people smile and even laugh but never take offence."
Their incredible journey has led them to explore countries including China, Korea, Singapore, Mongolia, Japan, Indonesia and Philippines. And in all these countries, they have captured some truly remarkable pictures.

From cuddling with pandas in Singapore to visiting Hachiko in Japan, from hiking up near Mount Agung in Bali to clicking a selfie at Borobudur, they've been there and sealed everything with a kiss.
Visiting a new place brings new excitement of holding something local and clicking a picture is a thrilling and beautiful experience for this couple. Shyam and Anna believe that this life is way more rewarding than the life they lived back home.
Shyam and Anna have indeed given travel a new meaning and perception by sealing it with their love. No wonder, the beginning of a new life for a newly wed begins with a trip to a beautiful place.
Which is your favourite memory of travelling with your loved one? Share your experience with Tripoto community here.
For some amazing travel videos, visit Tripoto's YouTube channel.