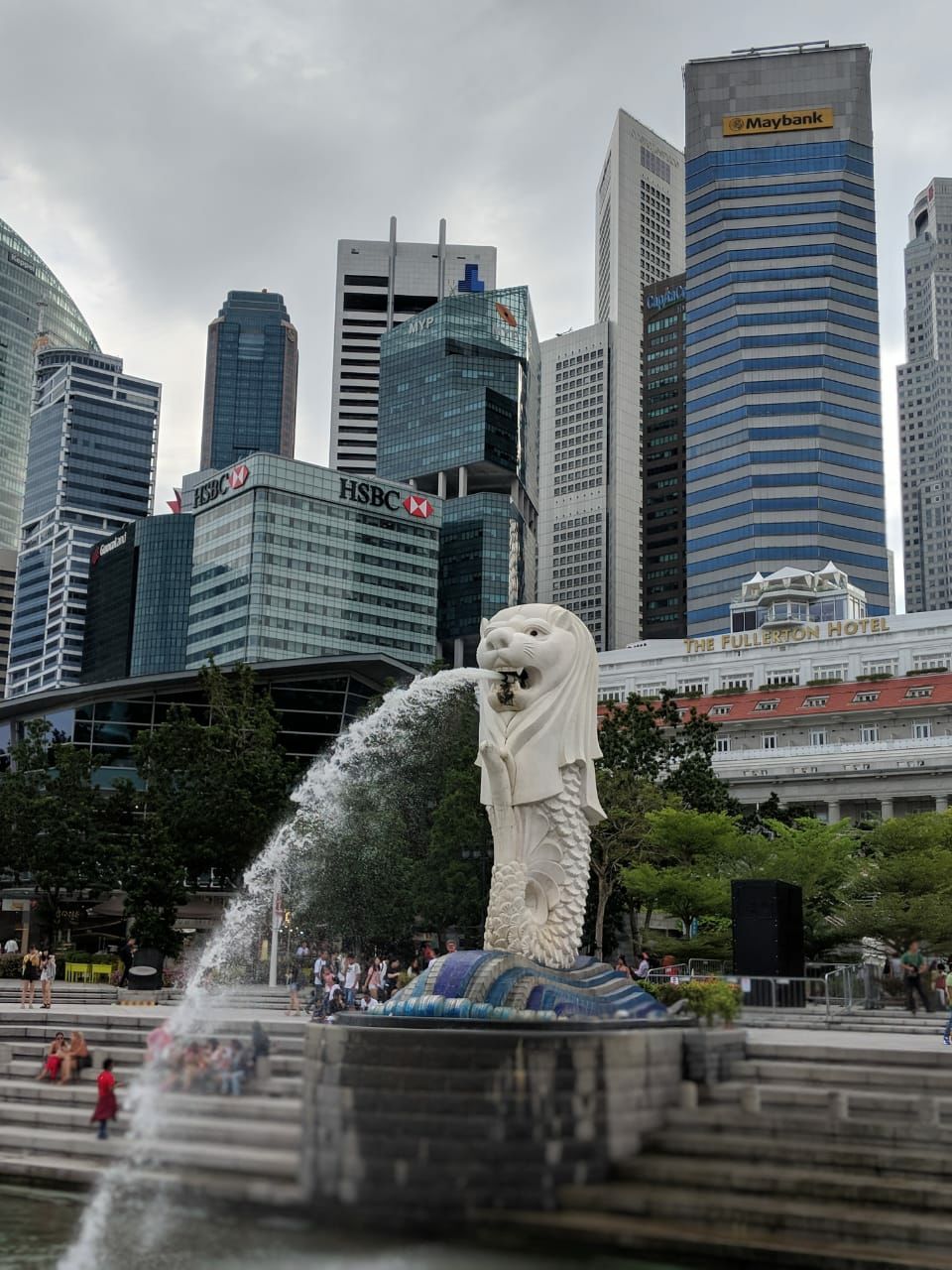 Singapore is a perfect spot for a family vacation which comprises of everything that you need on a holiday break starting from beaches, nature parks, wildlife, shopping malls, nightlife, fun and adventure activities, food, culture and what not. Singaporeans are the kind of people who are passionate about creating new possibilities and opportunities due to which Singapore is constantly evolving and reinventing itself.
What you need to know before you plan a vacation for Singapore
You need to apply for a VISA before you travel to Singapore with minimal requirements of a valid passport (expiry beyond 6 months), N.O.C from your office if you are in a job, passport size photographs, bank statement for last 3 months ( suggestion would be to maintain a balance of INR 50000-60000 in your account to be on a safer side). The VISA fee is INR 2000 approximately and arrives approximately in a day or two after applying.
The currency of Singapore is SGD (Singaporean Dollar) which is equivalent to INR51 (as per today) so you will have to exchange currency and carry SGDs before you start vacationing in Singapore.
Tips to keep handy before you travel
Currency Exchange
For currency exchange, prefer to get it exchanged before travelling if you can get it from a reliable source else no worries. There are multiple reliable and safe money changers in Singapore. You may exchange at the airport itself or any shopping mall but for the best rates, make your way to any of Singapore's most reputed money changing hubs which are - The Arcade in Raffles Place, Mustafa Centre in Little India, Lucky Plaza at Orchard Road, People's Park Complex in Chinatown and Parkway Parade in Marine Parade. All of these hubs are easily accessible by public transport adding to the ease of tourists.
Alternatively, you may opt to carry a FOREX card with you rather than carrying entire amount in cash. You can just load your card with SGDs and use it to pay at anywhere in Singapore as the country is card friendly in almost all the tourist areas.
Public Transport
The main modes of transport in Singapore are MRT(Mass Rapid Transit), buses and taxis. Buses are the most common mode of transport and the cheapest as well followed by MRT and taxis respectively.
To travel in buses or MRT, prefer paying through the Ez- link card rather than cash because you need to carry exact change while paying through cash and it always costs more while paying through cash. Ez-link card is a compact and store valued smart card with a microchip. You may purchase this card from any 7-eleven store, any Singapore Visitor's Centre, MRT stations or bus interchanges and you can top up your card at these points as well.
You can also opt for a STP (Singapore Tourist Pass) which is available for 1 day ,2 days and 3 days and allows you to take unlimited bus and train rides for the respective duration.
SIM Card
You may purchase the Singapore SIM card either from the airport or any 7-eleven stores or from the Singapore Visitor's Centres.
Getting to hotel from airport
Taxi will be the fastest way to reach your hotel from airport especially if people are more in number and are carrying sufficient luggage. Taxis are available at any hour of the day and you can find them at the arrival gates of every terminal. The taxis are metered and so there is no need to worry about bargaining the prices but an additional surcharge needs to be paid depending on the day and timings.
Airport Shuttle is another convenient and cheaper means of travelling from the airport. They are kind of shared vans and provide drop offs to almost all the hotels in central region. If you are travelling solo with light luggage, go for it by pre-booking your seat online or by approaching the Ground Transport Desks at the arrivals.
MRT is another means to travel from airport and you save a lot by using this means of transport but you might have to change the line to reach your exact location. The MRT station is located in the terminal 2 basement.
Limousine and large taxis are recommended for bigger families or groups as it charges you a flat SGD 60 per trip so it is economical if you need to travel to a farther end of the city with a big group.
Public Buses are another economical option other than the MRT but it will be the slowest mode to reach your hotel. You can catch the bus from basement of terminal 1,2 or 3.
Singapore Visitor Centres
You may drop by any of the centres in Singapore to gather information about tourism, purchase of travel tickets to various attractions, customization of itineraries or to pick up souvenirs. Orchardgateway, ION Orchard, Chinatown Visitor Centre and Kampong Glam are the four locations for visitor centres.
We had booked SilkAir 12 am flight from Hyderabad to Singapore and the flight duration was 4.5 hours. You get direct flights from all the Indian metro cities to Singapore and if you book well in advance, you may save yourself a fortune. The Singapore Standard time is 2.5 hours ahead of Indian Standard time so we arrived in Singapore by 6.30 am. The immigration process was done quite quickly and we were out at the arrivals hall by 7 am. We bought a SIM card from the airport and took a taxi to our hotel Hilton Garden Inn in Little India. Our check in time was 2 pm at the hotel but being a weekday, the rooms were available and we got an early check in to our room by 9 am. While the room got ready, we stepped out to explore the nearby area. The giant Srinivasa Perumal temple and its architecture, the local Indian shops and roadside decorations for Pongal and Indian food outlets proved the place to be actually a little India. We stopped by a South Indian joint for a reasonable breakfast and then headed back to our hotel. We checked in to our room and were happy to see the neat and spacious place with a beautiful view of the city from our window.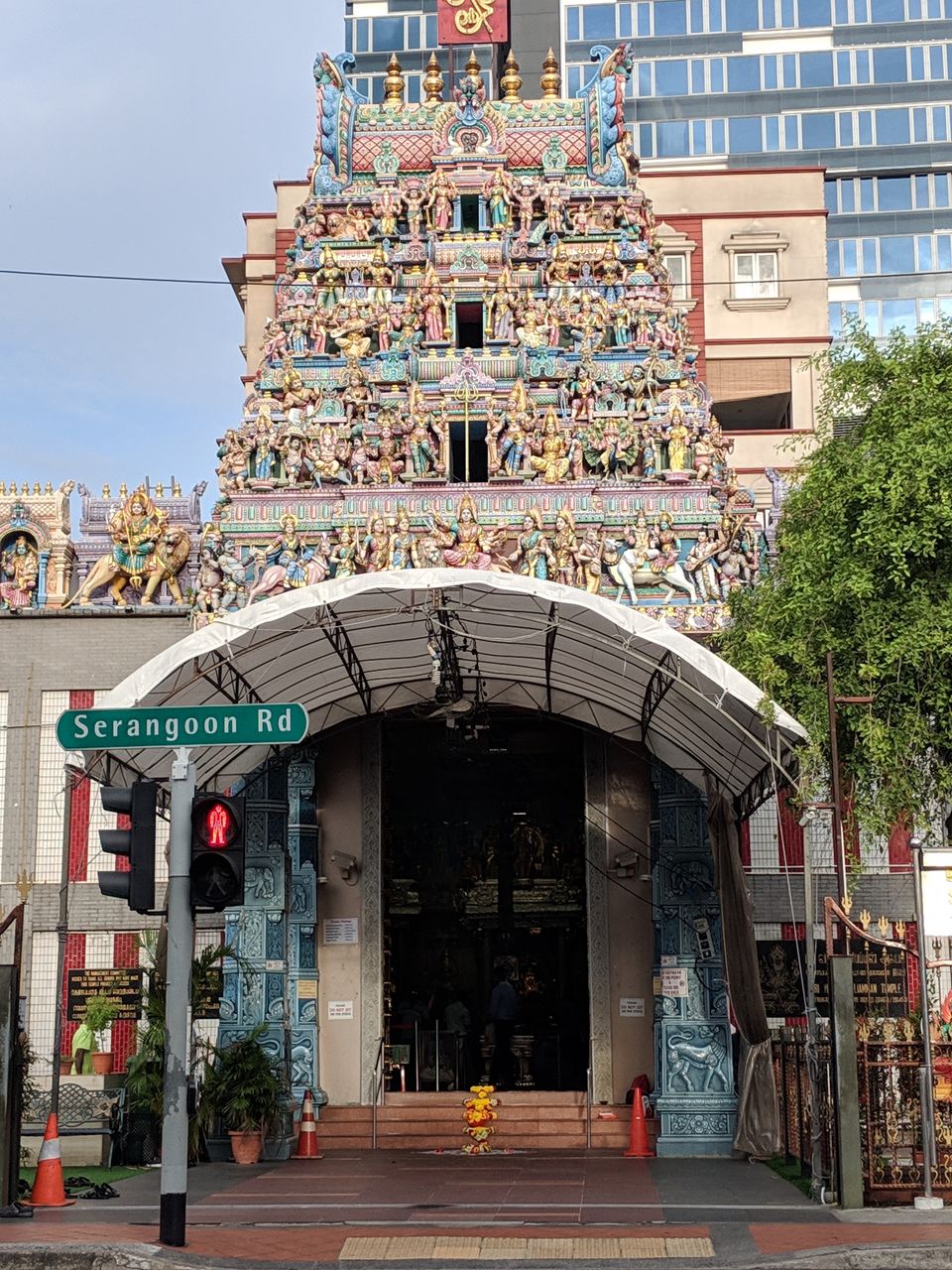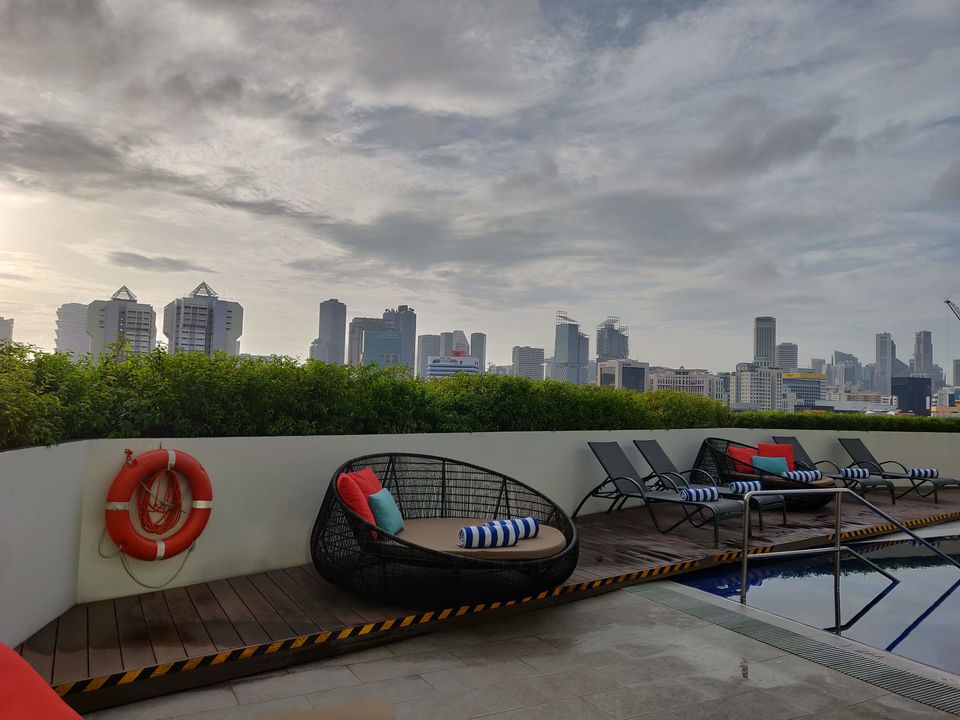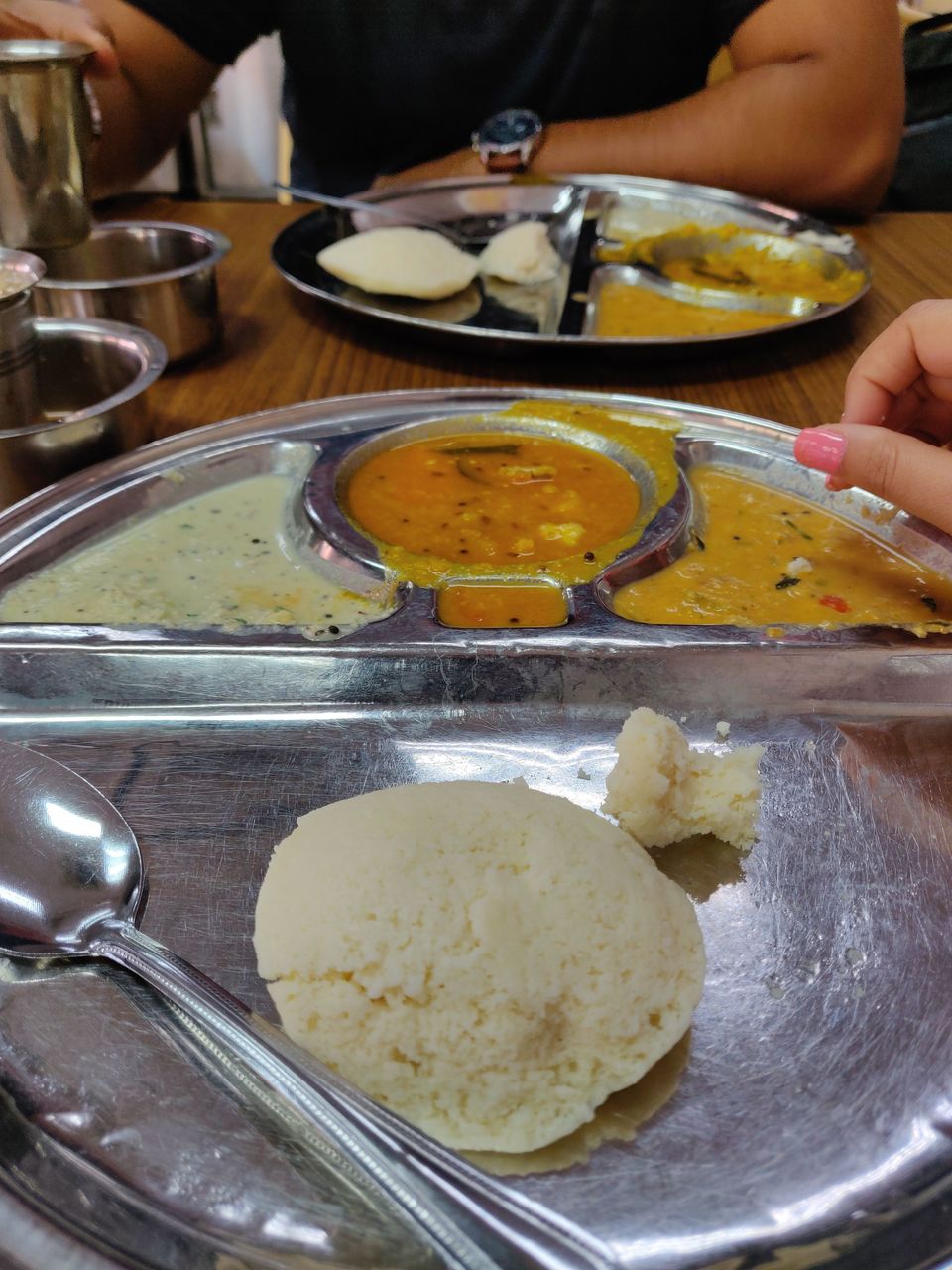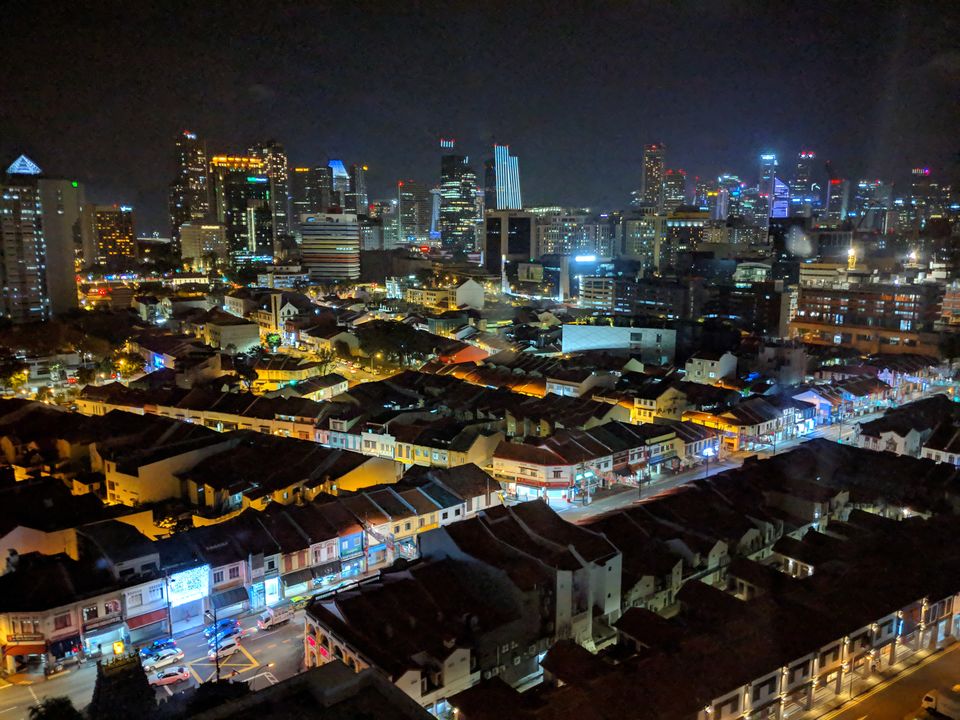 We rested for a while, then got ready and took a taxi to Singapore Flyer. The experience to enjoy the glimpse of entire Singapore from various heights and angles was simply stupefying. The perks of visiting it on weekday were that we got an entire flyer cabin to just the two of us. You should not be missing it whenever you plan to visit Singapore.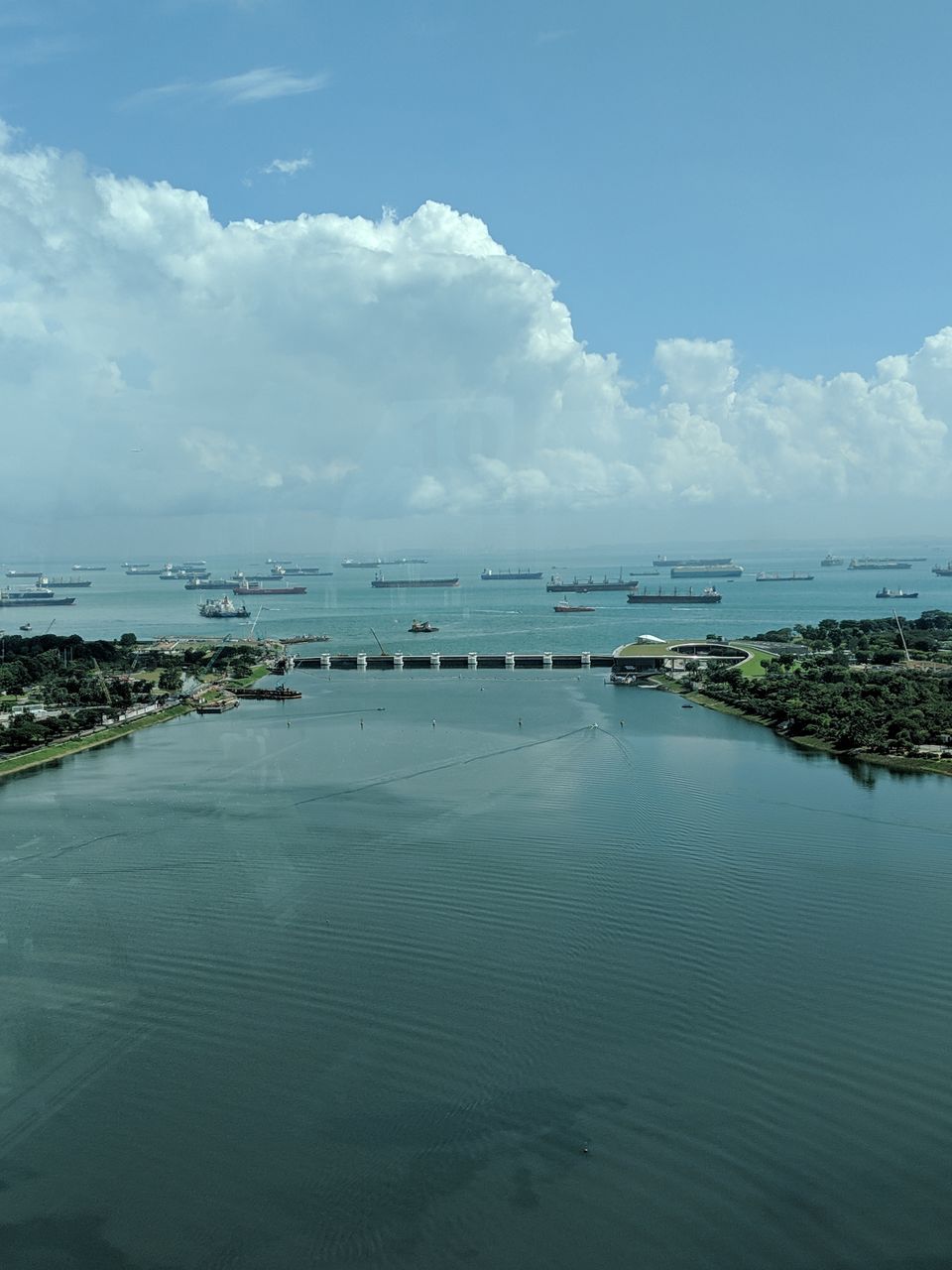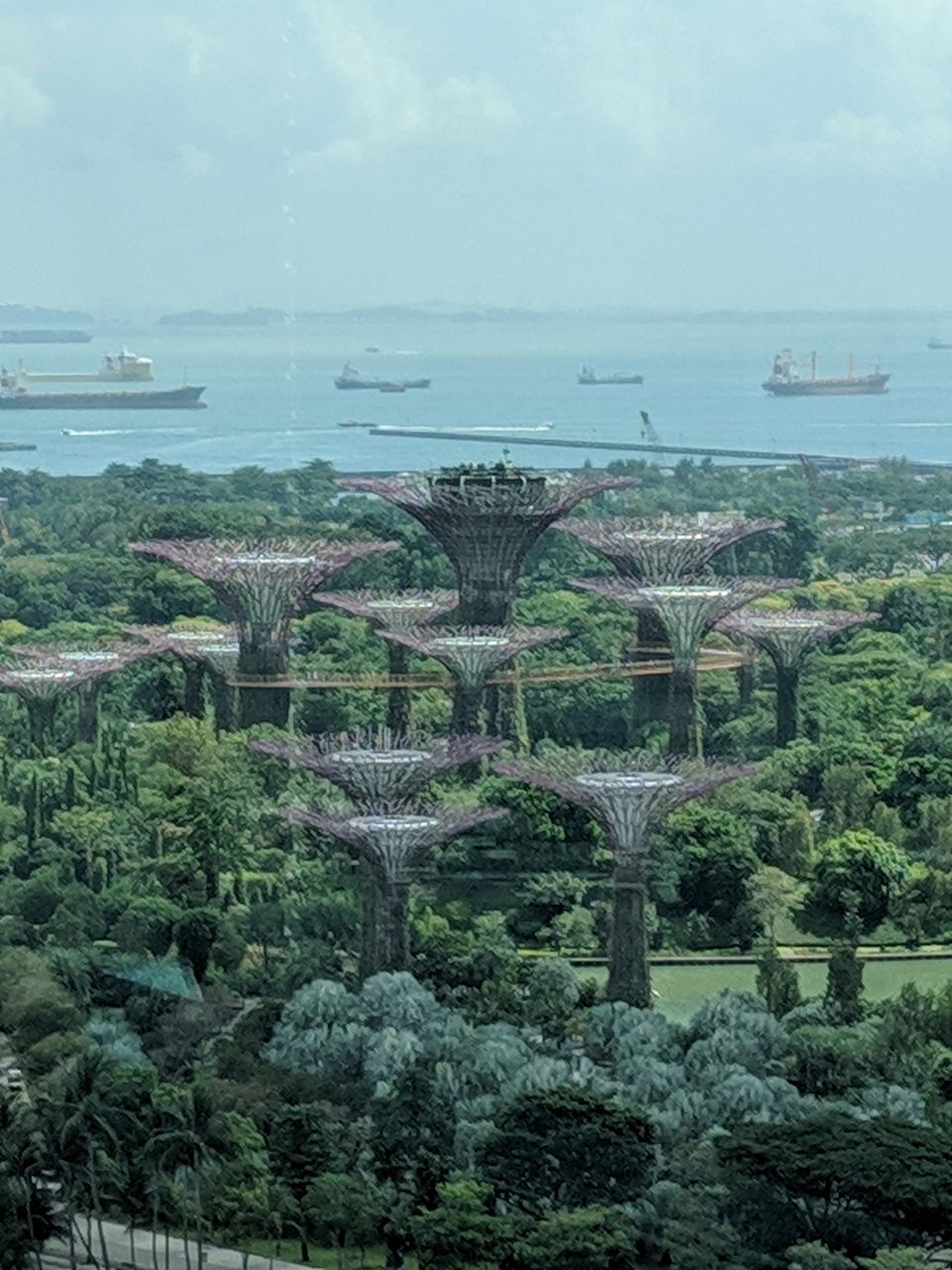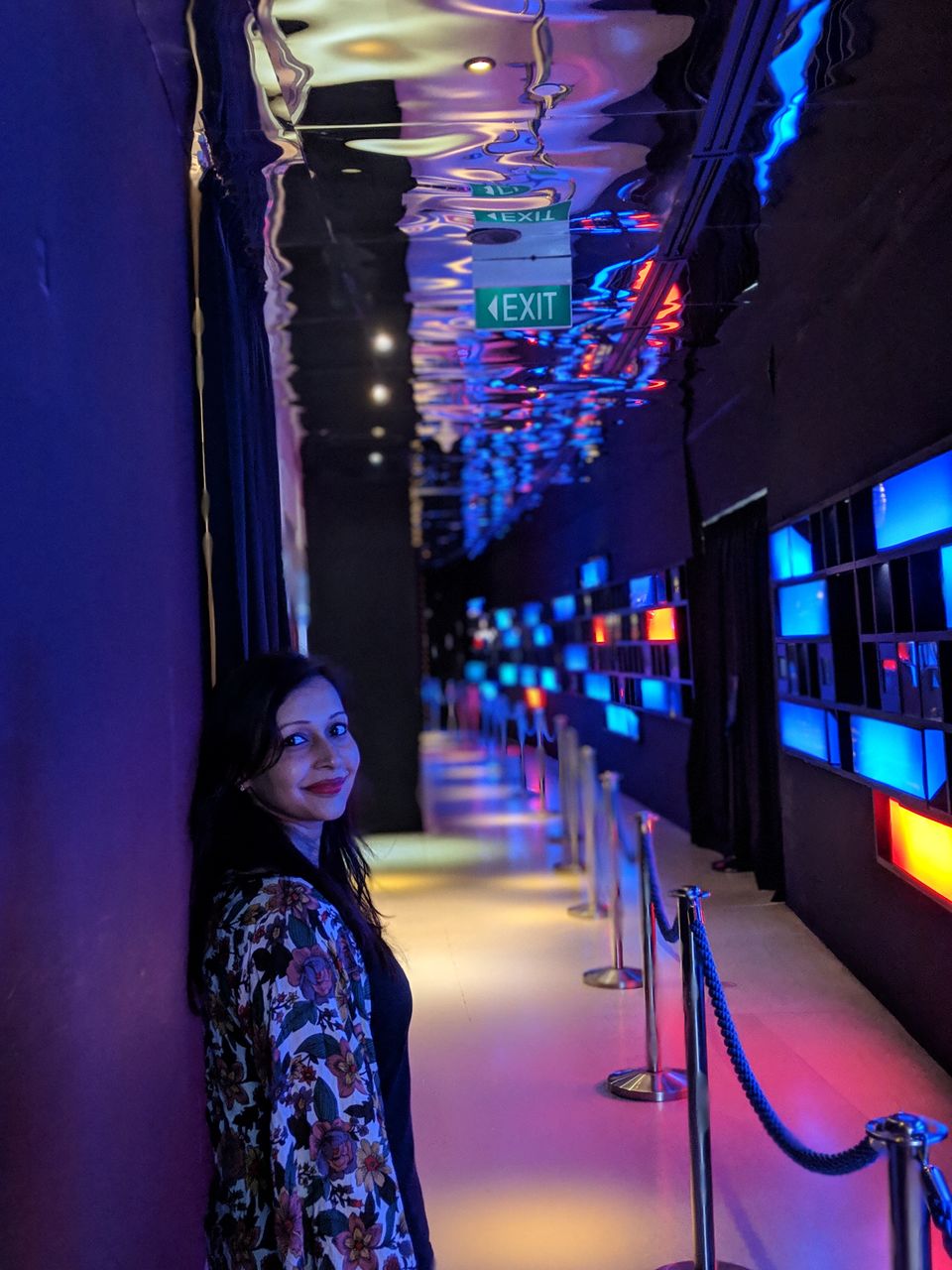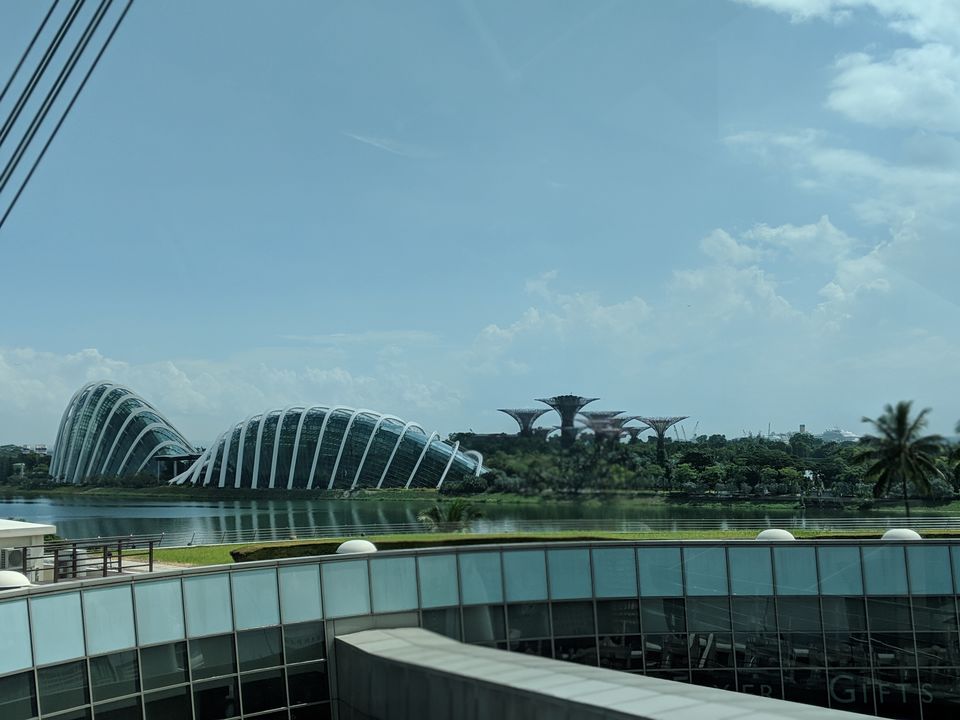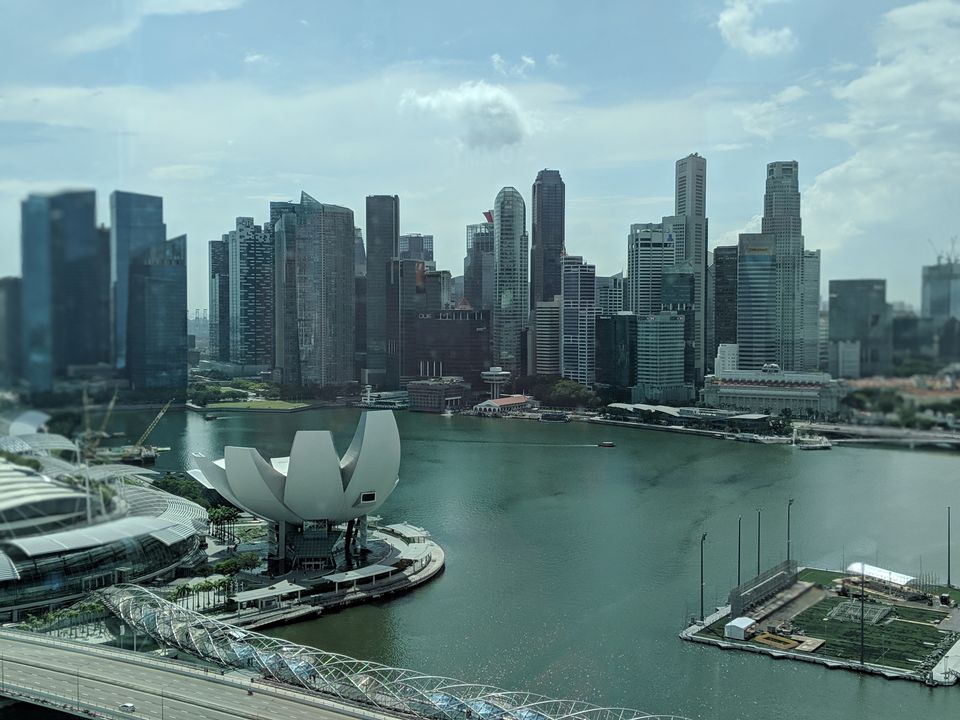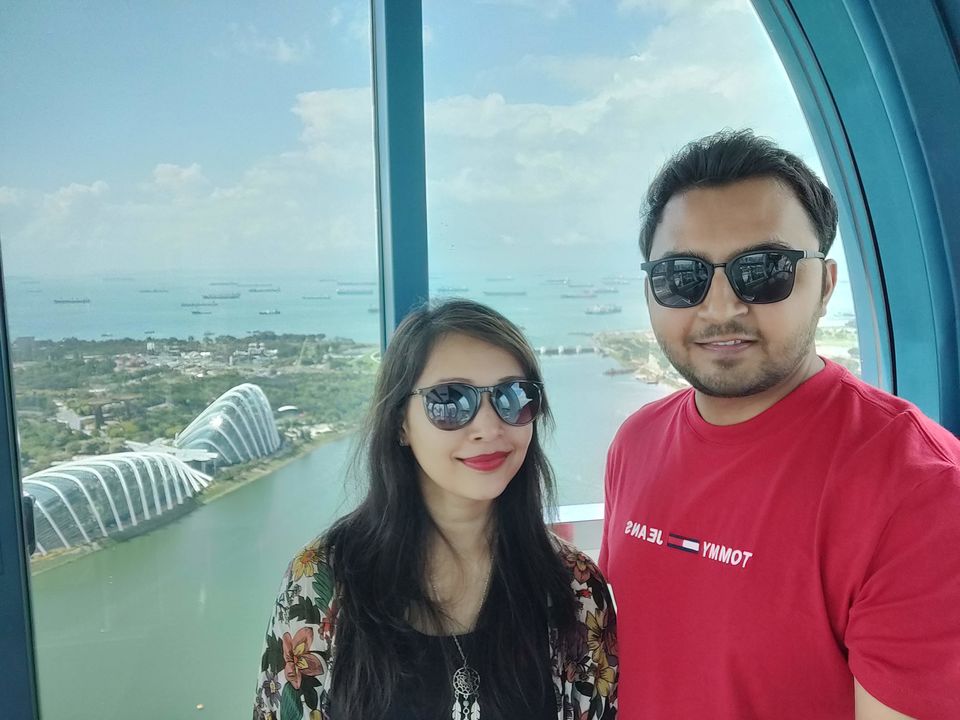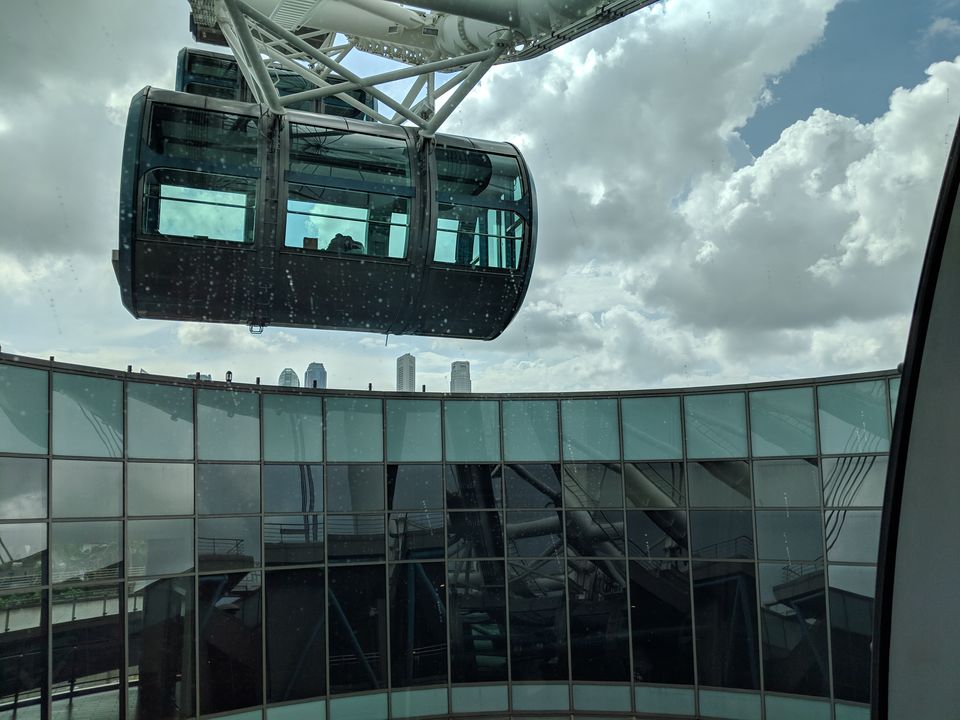 After the flyer experience, we grabbed a quick bite at Subway and then headed for a stroll to Merlion Park which gives you a feeling of actually being in Singapore. After this, we went back to our hotel.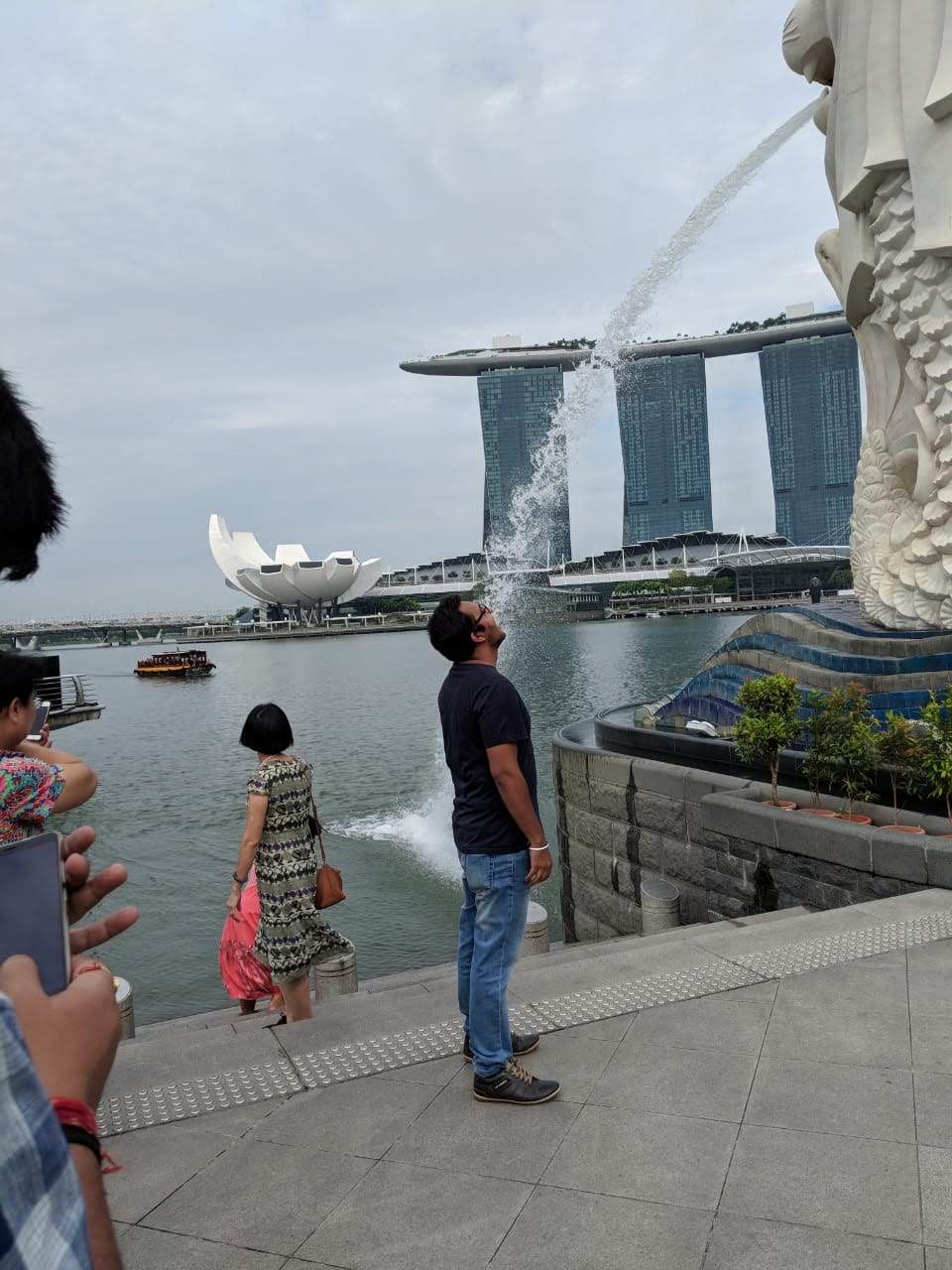 Towards evening we left for Jungle Night Safari in a shared vehicle. You may choose to buy the Safari tickets with or without dinner as they provide Indian buffet dinner which is quite decent. The Safari visit consists of two animal shows and a safari ride in an open car through the jungle. Flash photography is prohibited during the Safari ride hence we could not capture enough photographs of the animals.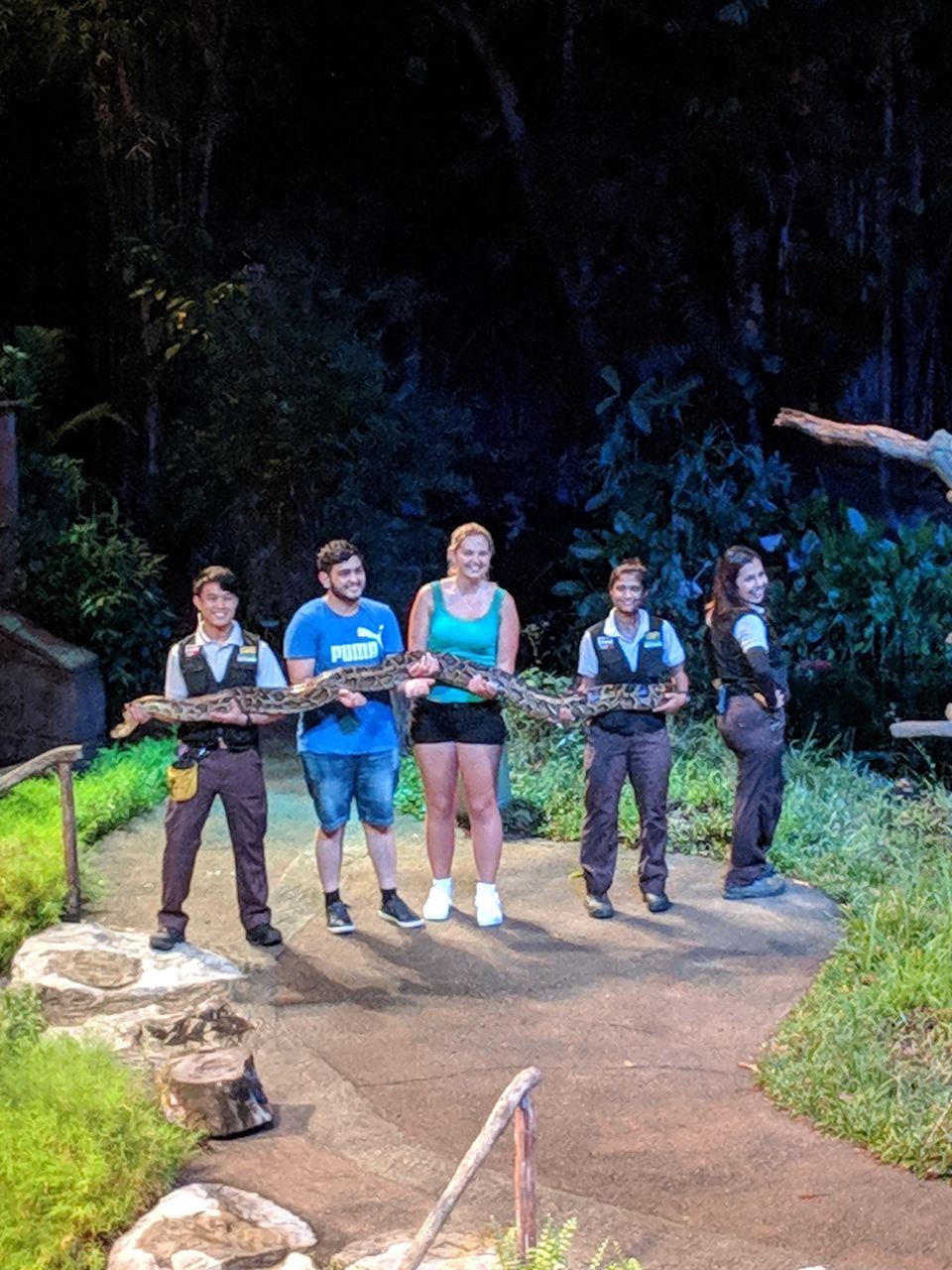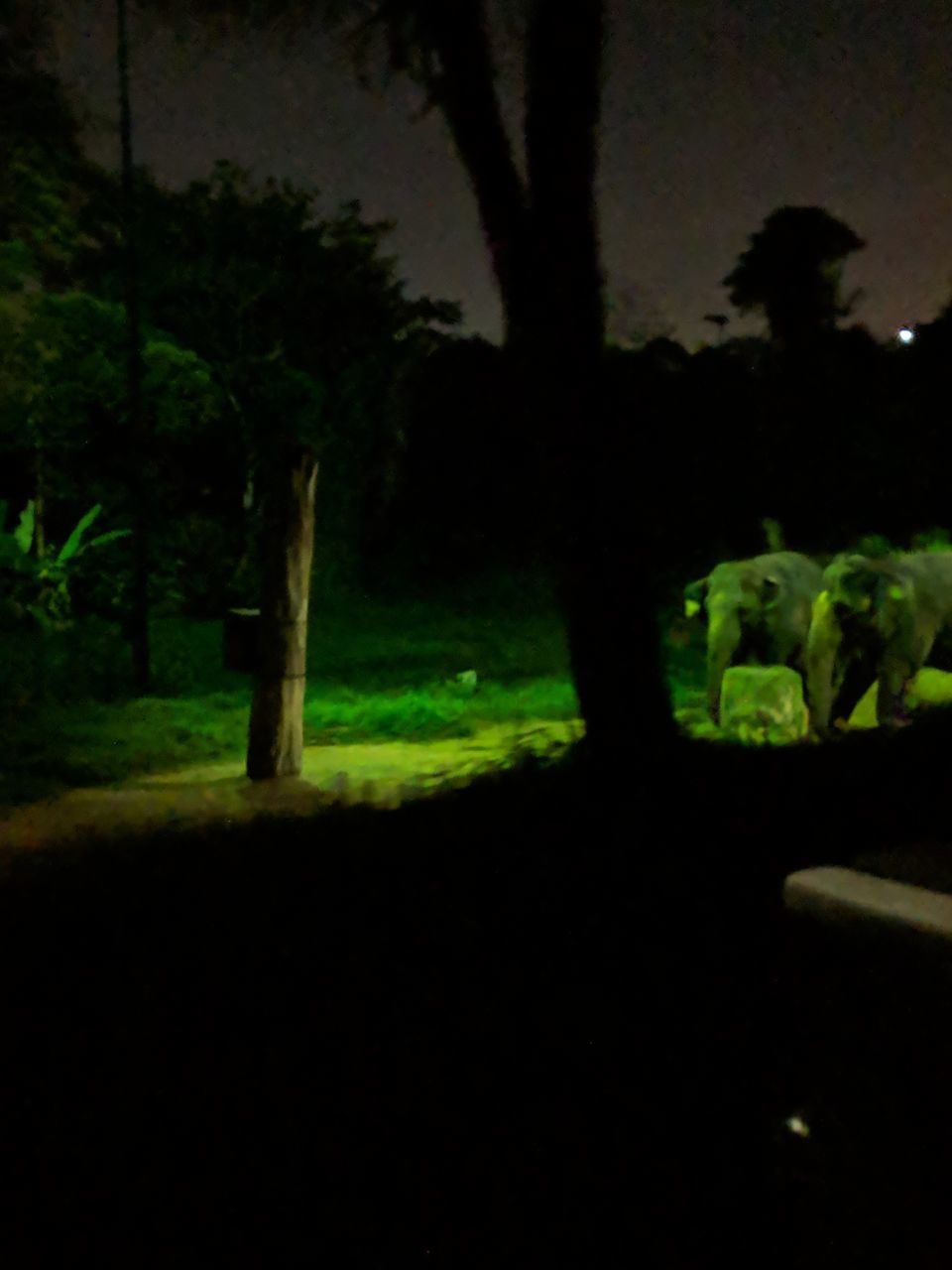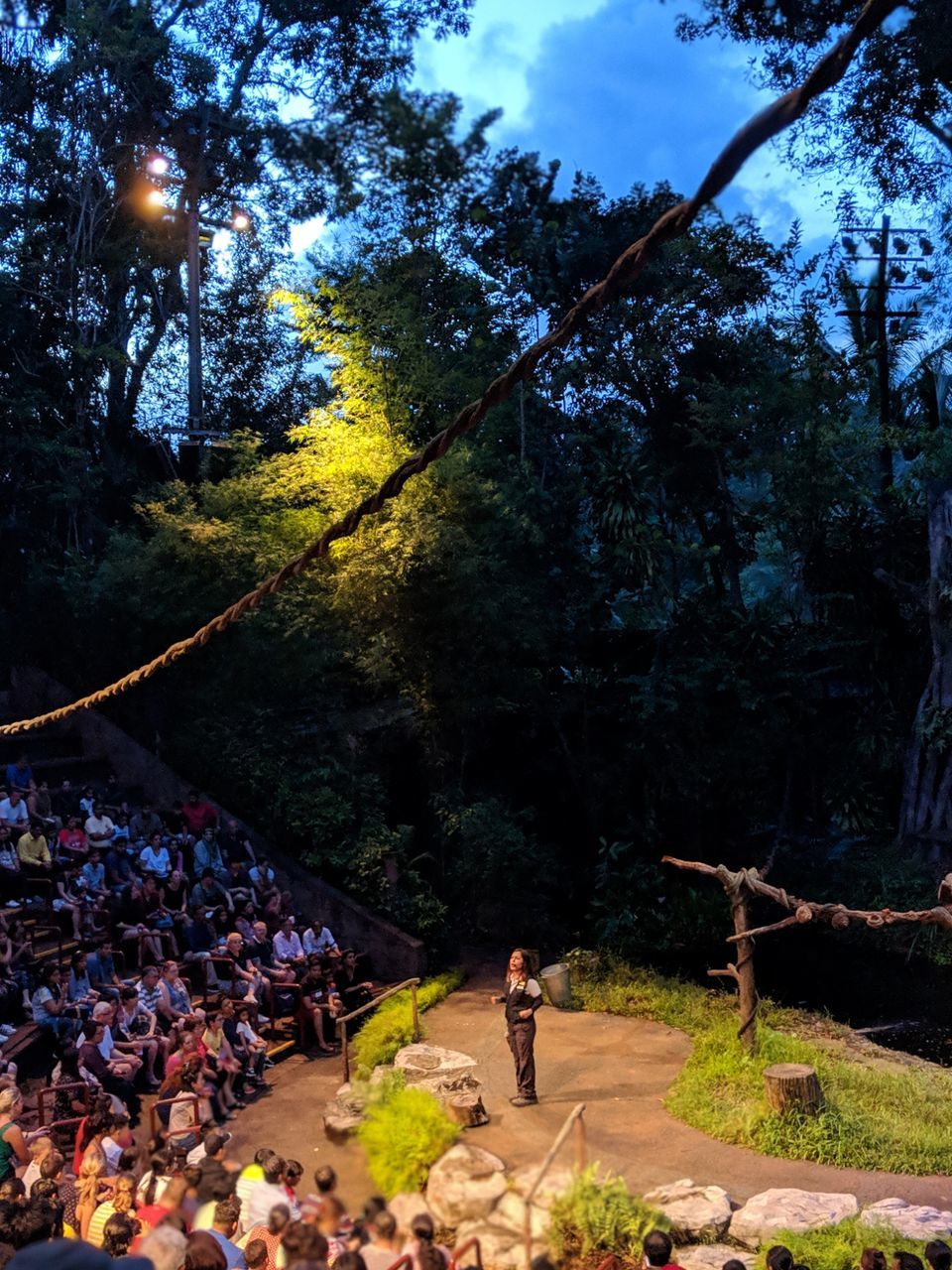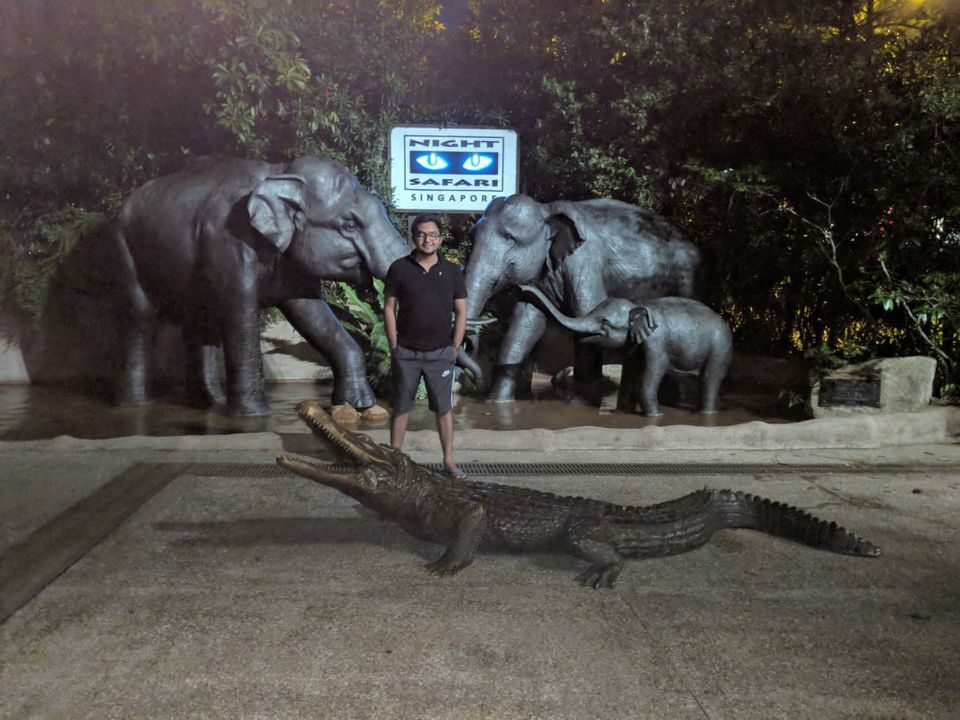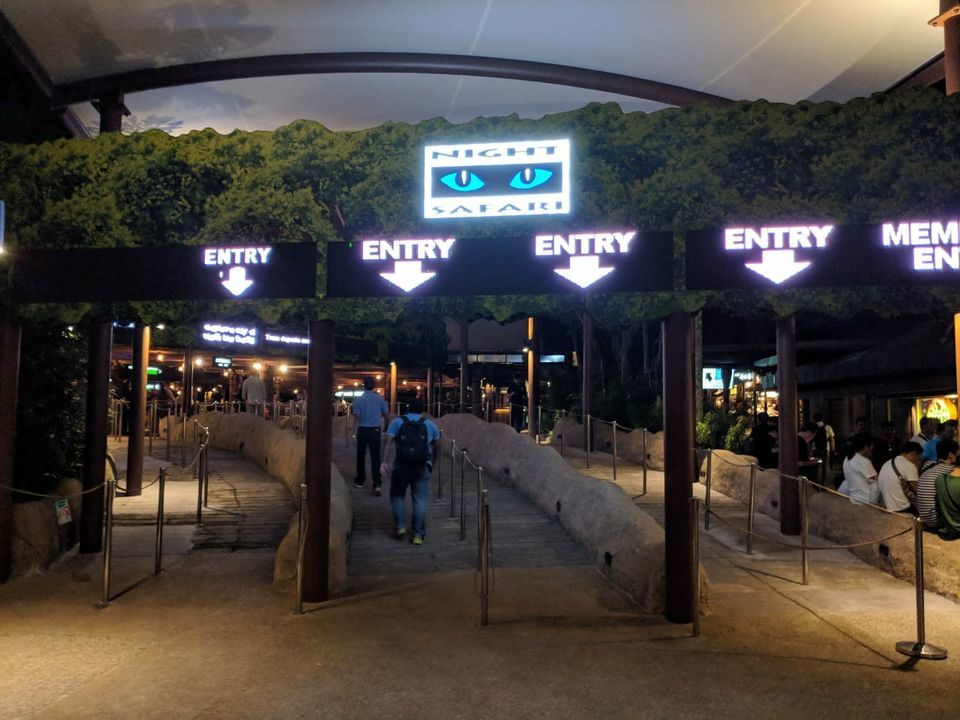 After the Safari ride, we relished hot dogs and cream and cookies ice cream at some joints inside the Jungle Safari area. After the Night Safari tour, we went back to our hotel and slept in time as the next day was going to be hectic.
Day 2 started early since we were supposed to cover Universal Studios today. We got ready, ate a wholesome buffet breakfast at our hotel and left by 9 am for Universal Studios in a shared bus. We opted for the ticket without food as we were supposed to take perilous and uncertain rides throughout the day so it won't have been appropriate to binge on heavy lunch. Rather we preferred small bites every 1.5-2 hours like mango slush, yogurt based ice cream, coconut water or a light sandwich. Keep sipping water at short intervals to stay hydrated because it gets very uncomfortably hot by early noon hours. Also , keep in mind to wear comfortable and airy clothes to ease yourself while getting in and out of rides so that you don't have to worry about minding your clothes while enjoying the rides. Prefer carrying a cap/hat and shades to lessen the effect of scorching sun on your fun day. Another tip would be to begin your rides either from the center or from the farther end of the park as most of the crowd starts gathering at the initial rides so if you start from the other end, you can skip long queues. Prioritize the rides which have longer queues like the Jurassic Park boat ride, Battlestar Galactica Roller coaster Human vs Cylon, Transformers and Egyptian Mummy 3D roller coaster rides and the Shrek 4D show. I enjoyed each and every ride and realized that none of them deserved a miss. We again benefited by utilizing a weekday in Universal Studios as the queues were excessively short as compared to on a weekend. After experiencing all the rides and visiting all the theme parks, we started back to our hotel in a shared bus. If you have got any energy left, head straight to the Gardens by the Bay for an astounding musical light night show as it is one of the most important attraction of Singapore. Else you may leave it for the next day and visit shopping areas like Chinatown, Bugis Street or Mustafa Centre for a budget shopping experience. For dinner, we just walked from our hotel and there were numerous North/South Indian restaurants. We entered one of the North Indian restaurant and indulged into a treat of Hara Bhara Kebab, butter Naan and Dal Makhani followed by Masala Chai to support my tired mind and body. It was a long day and we slept a sound sleep.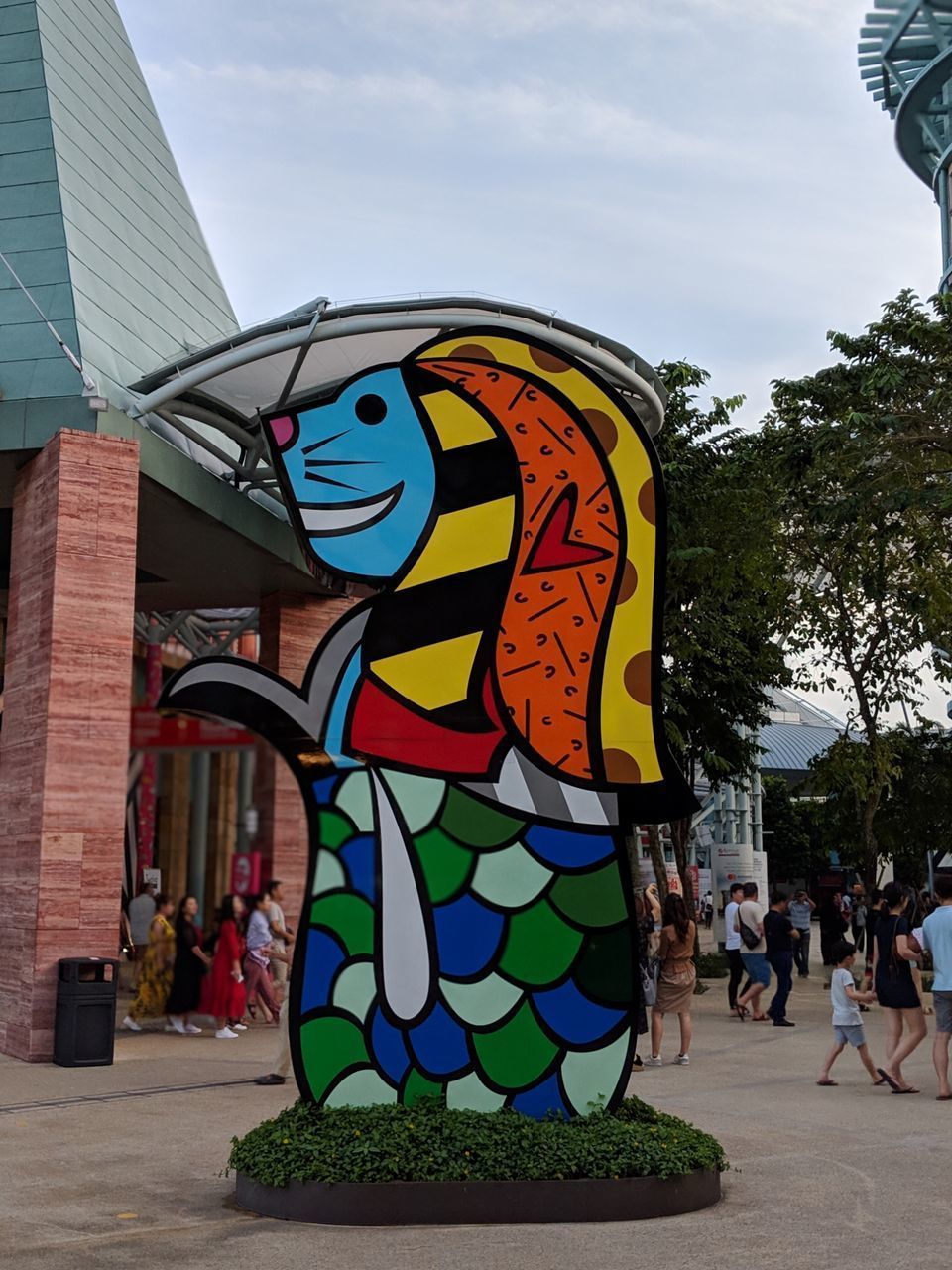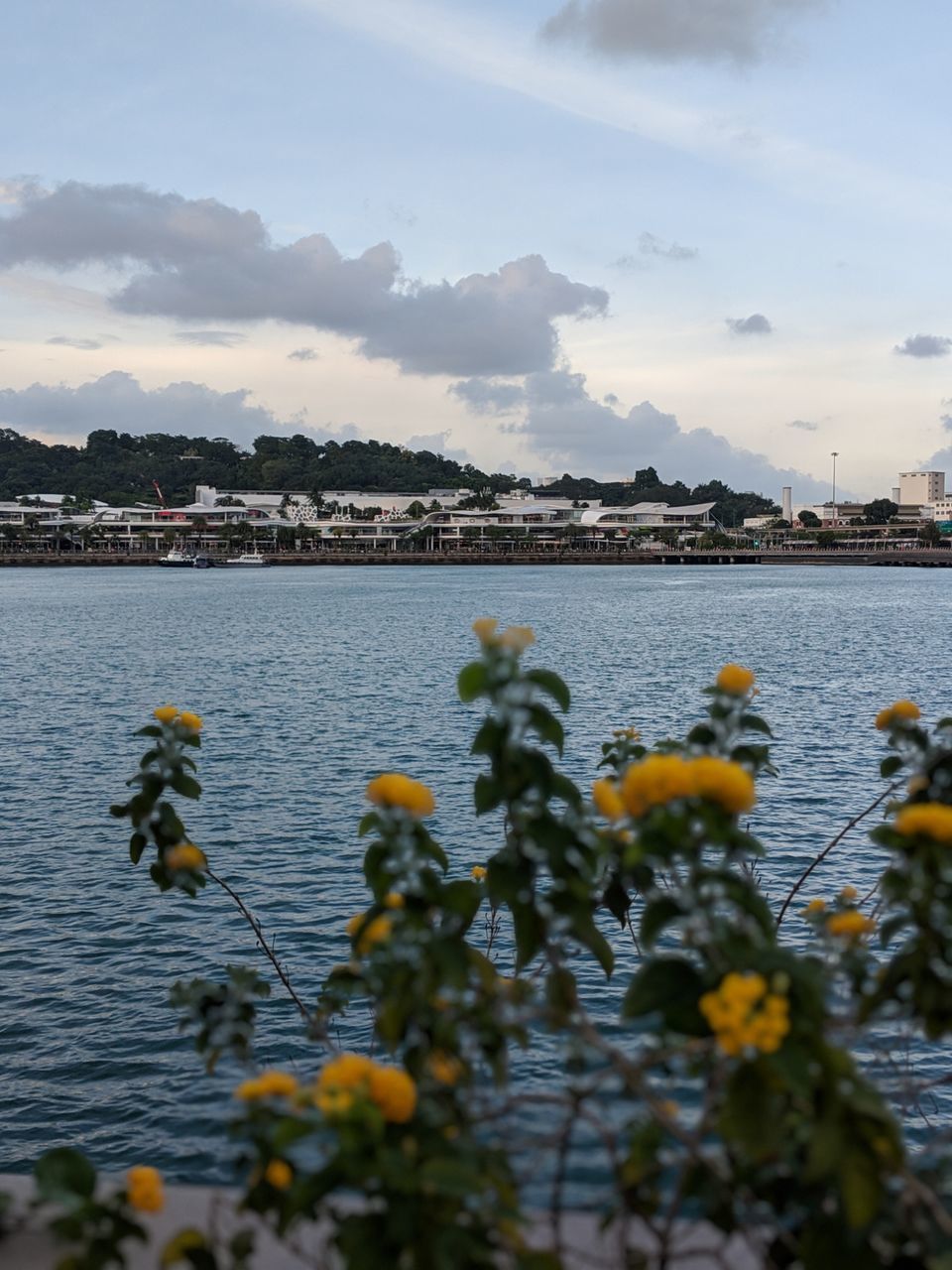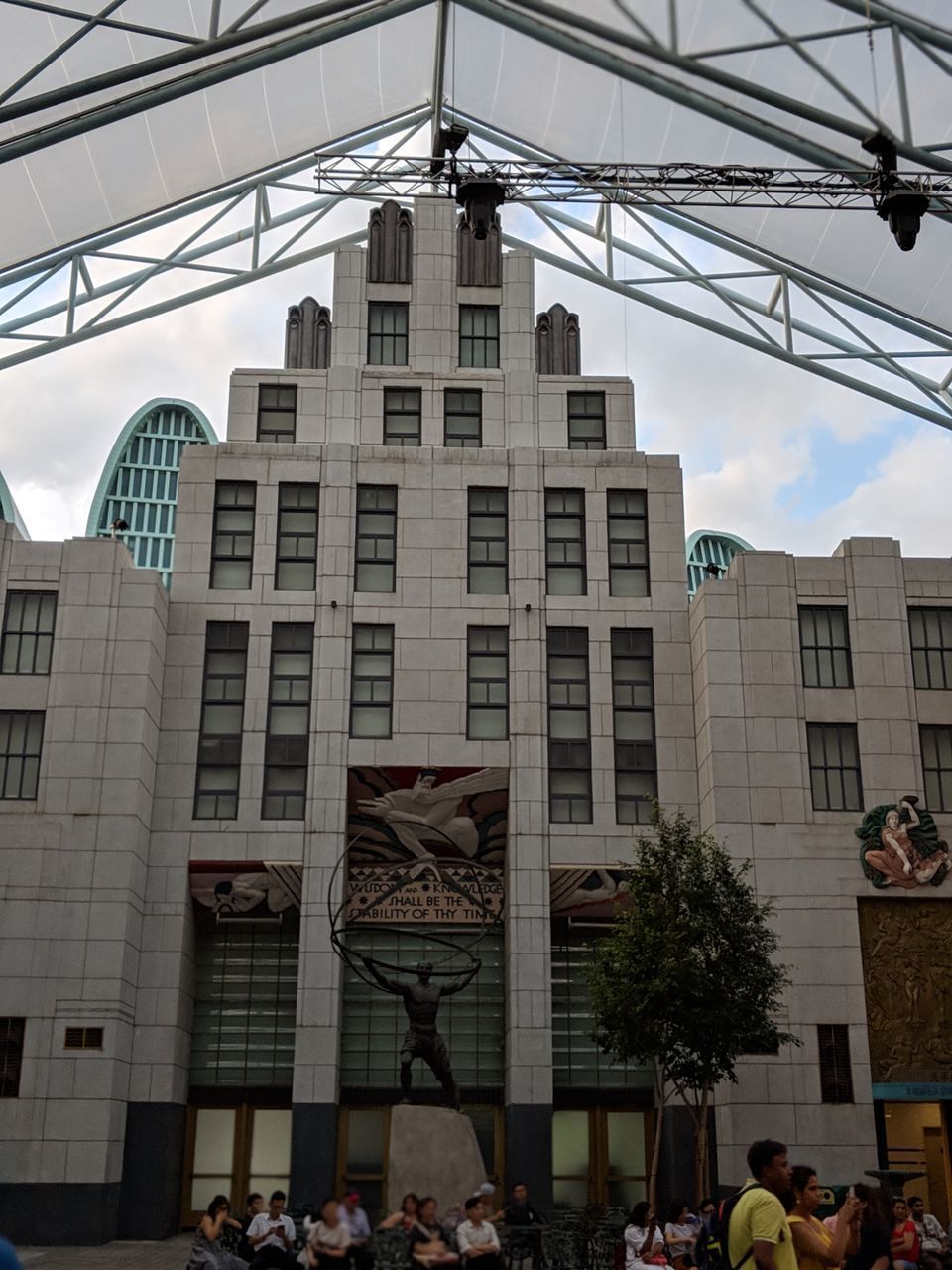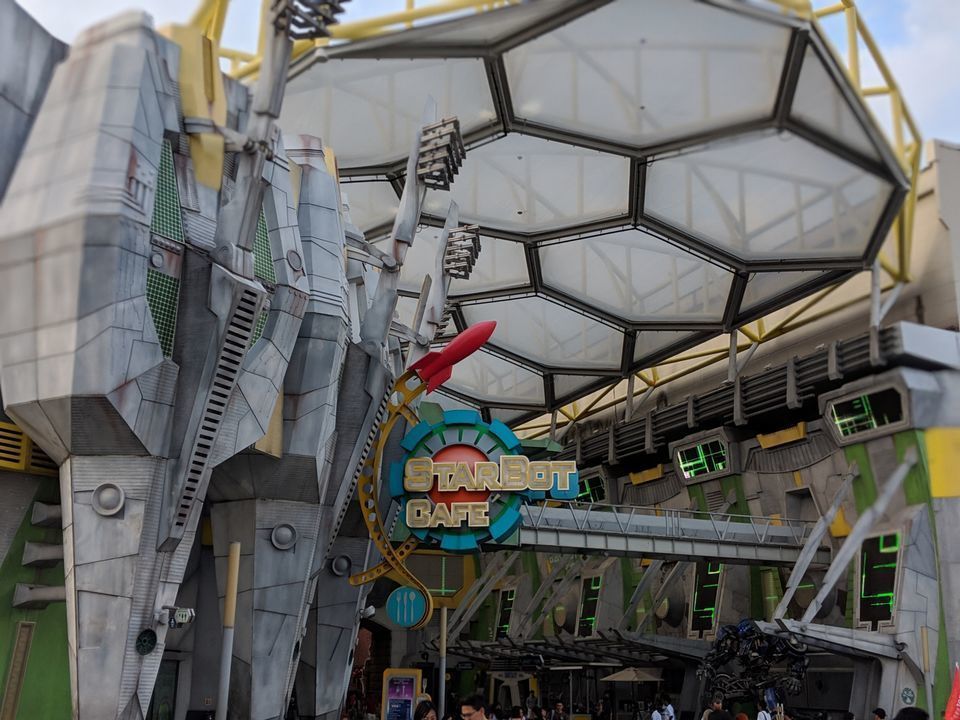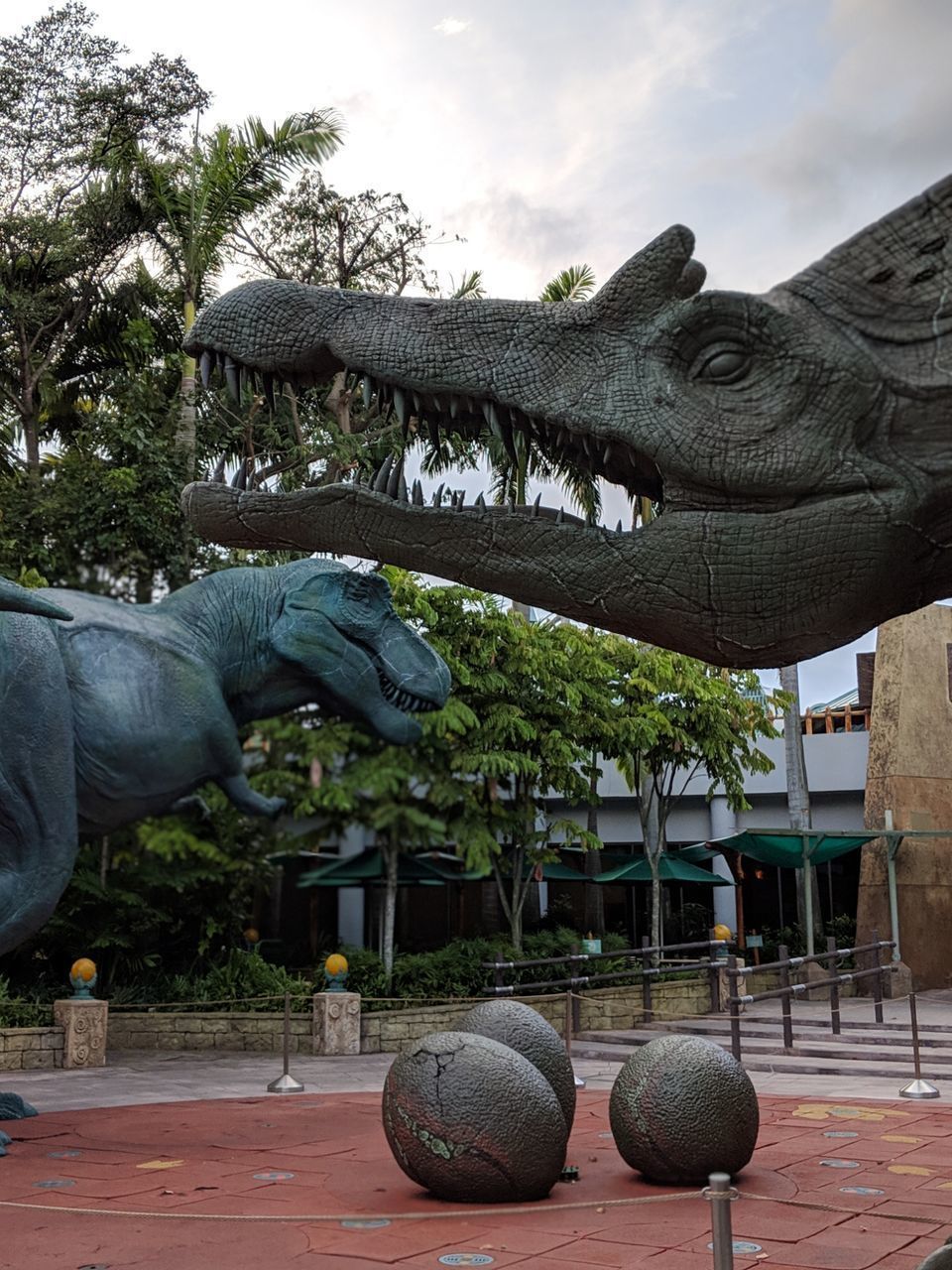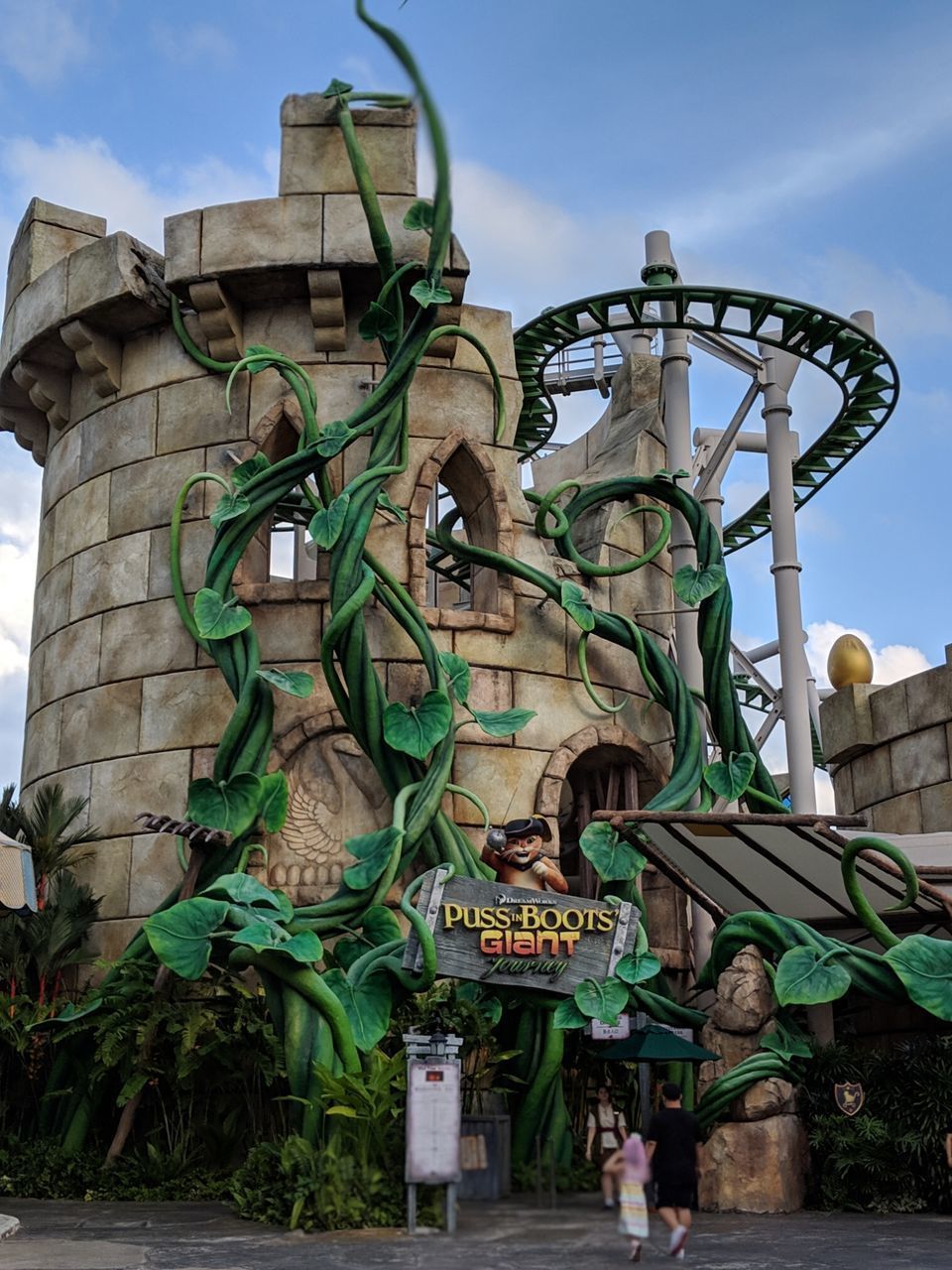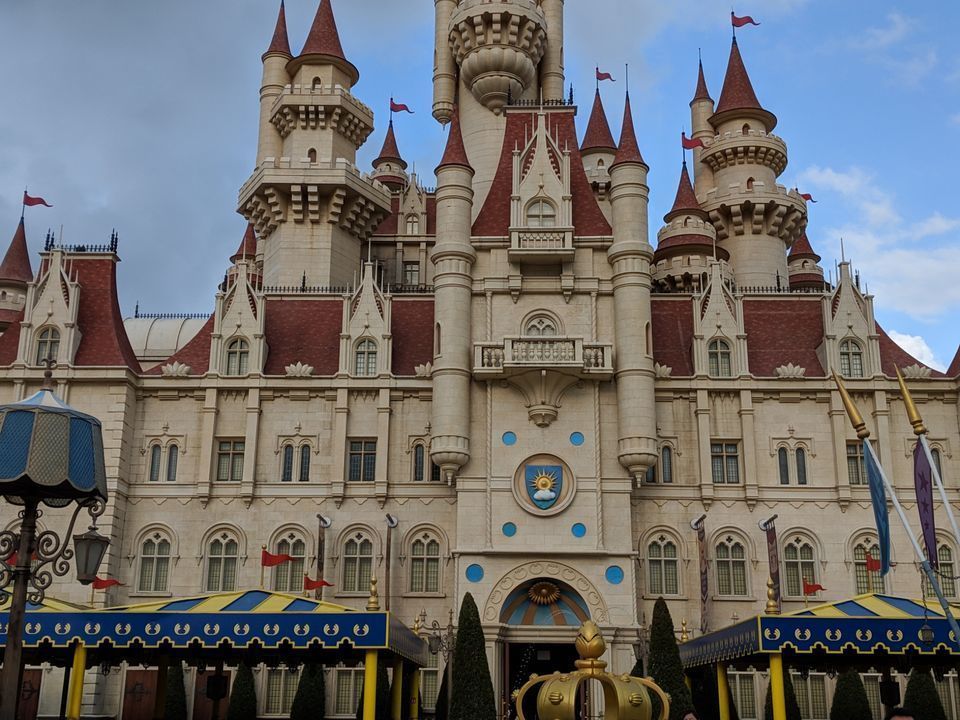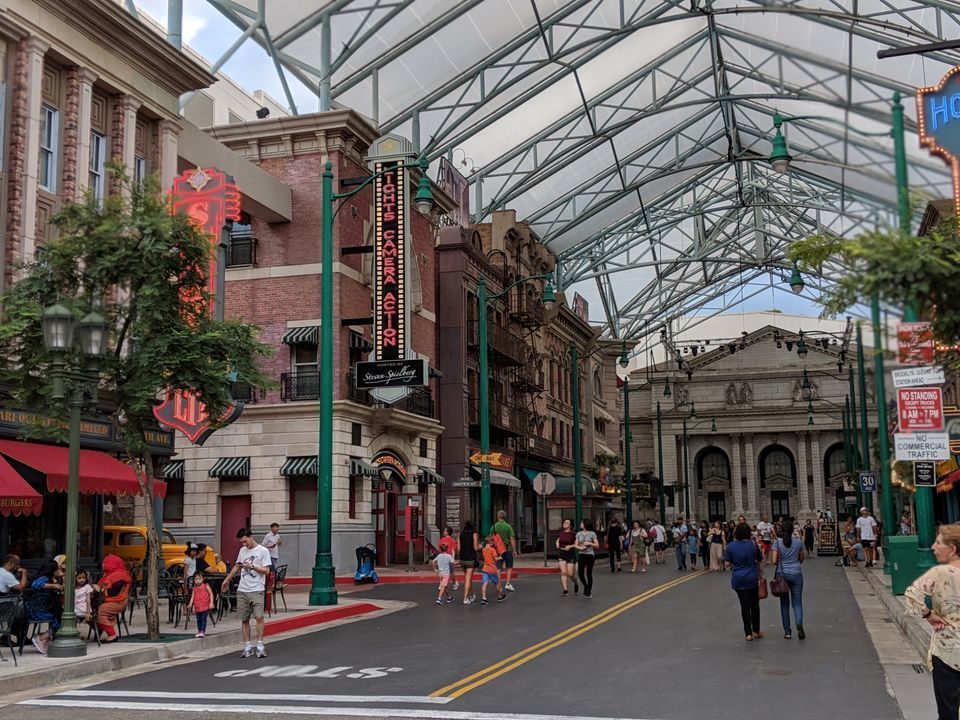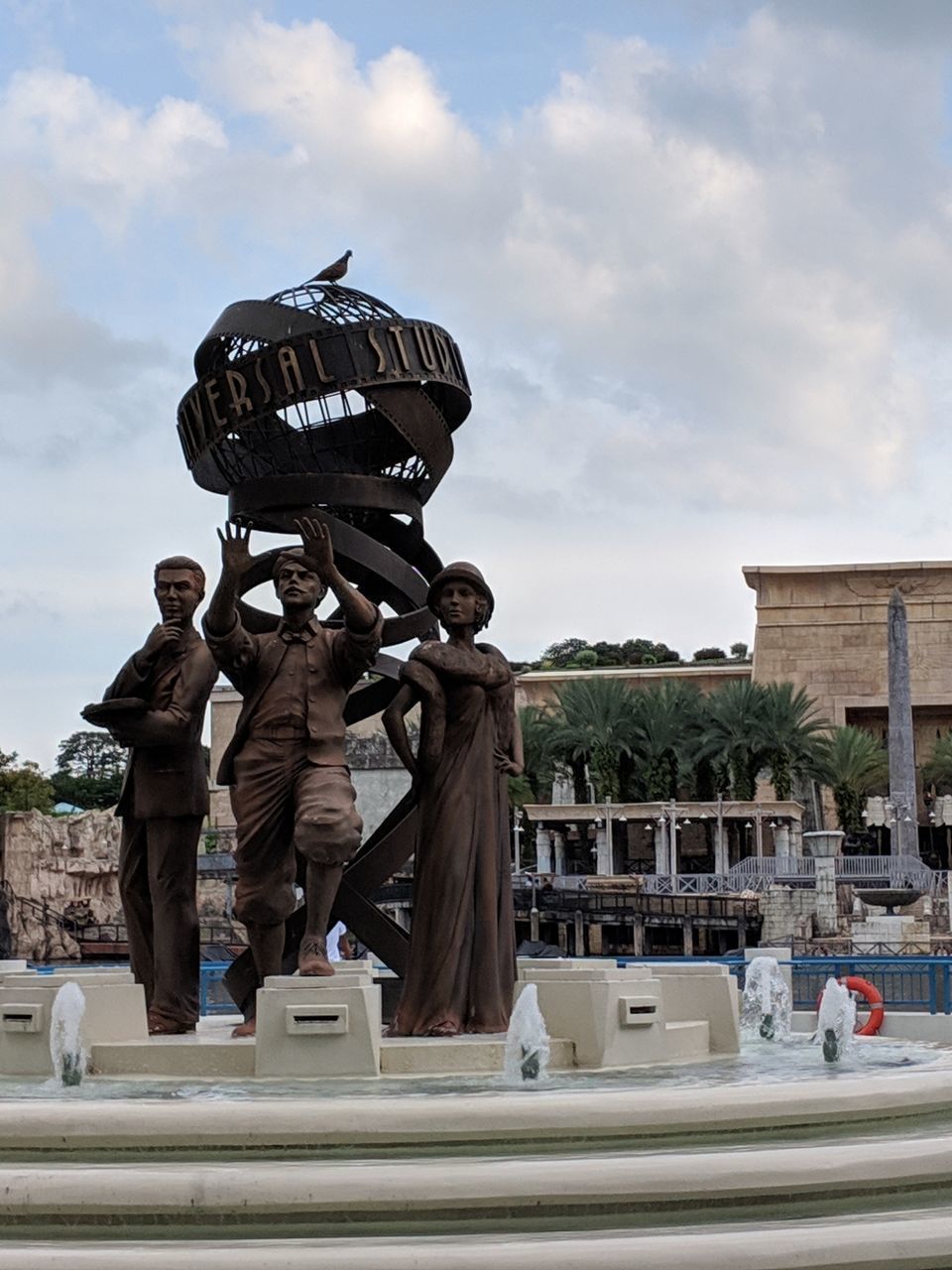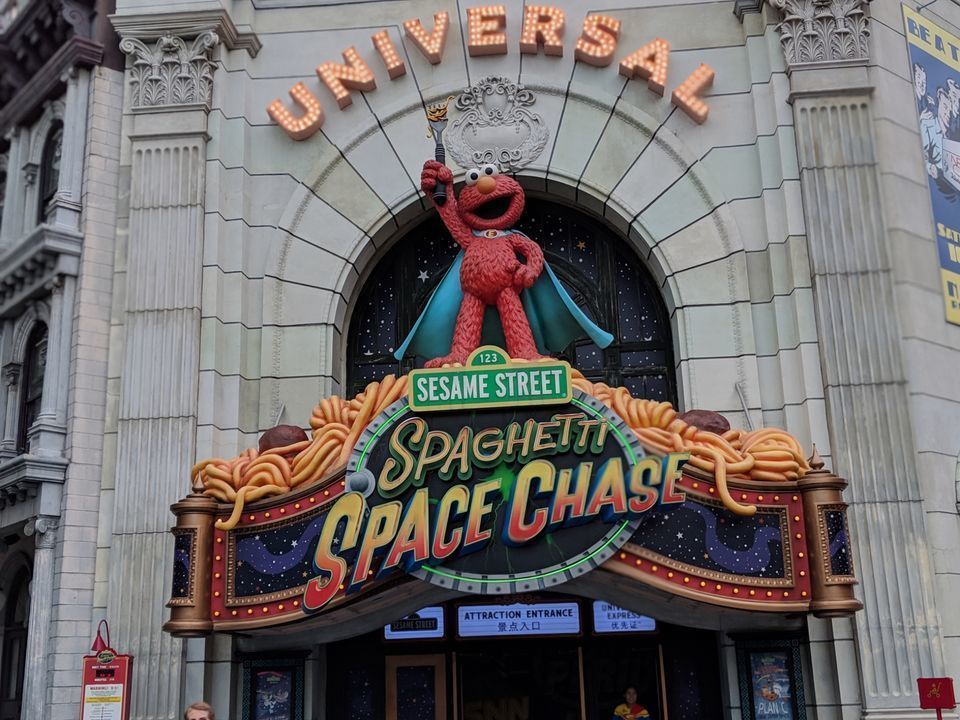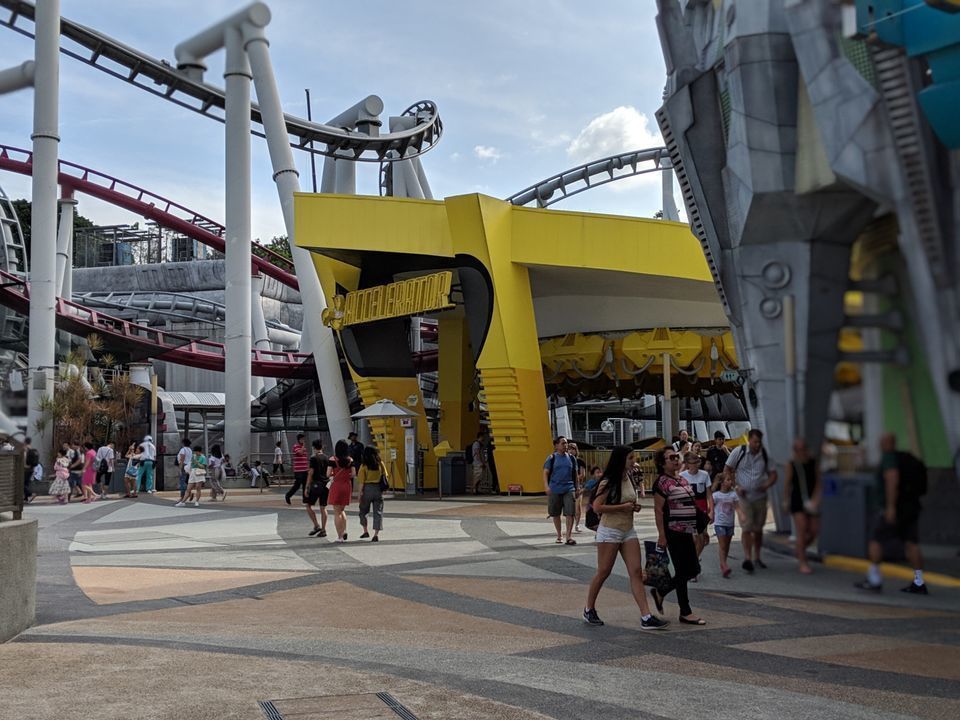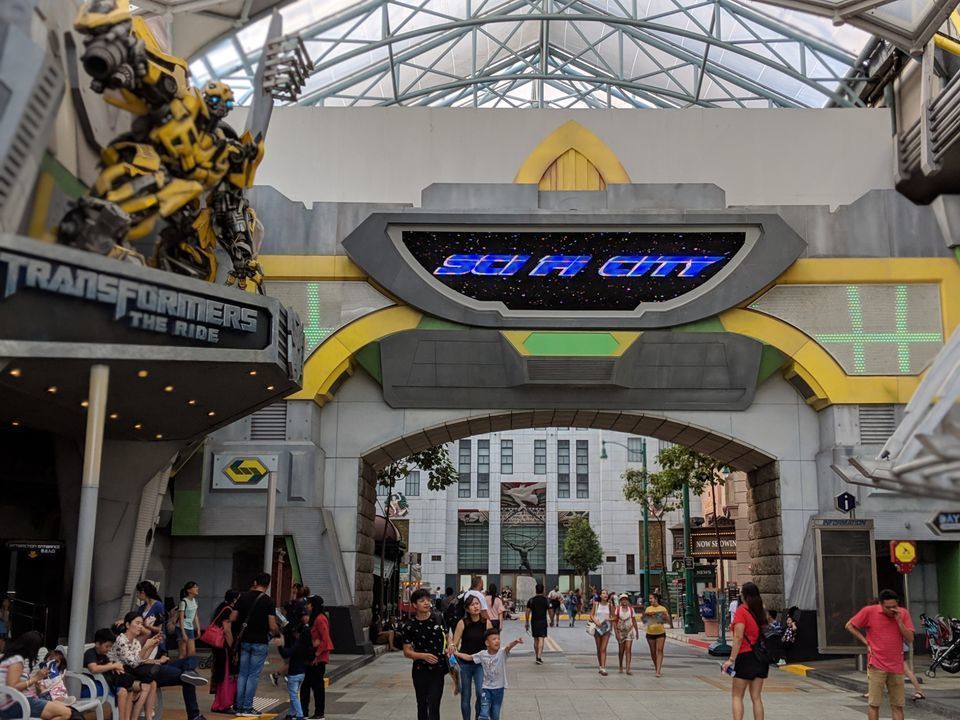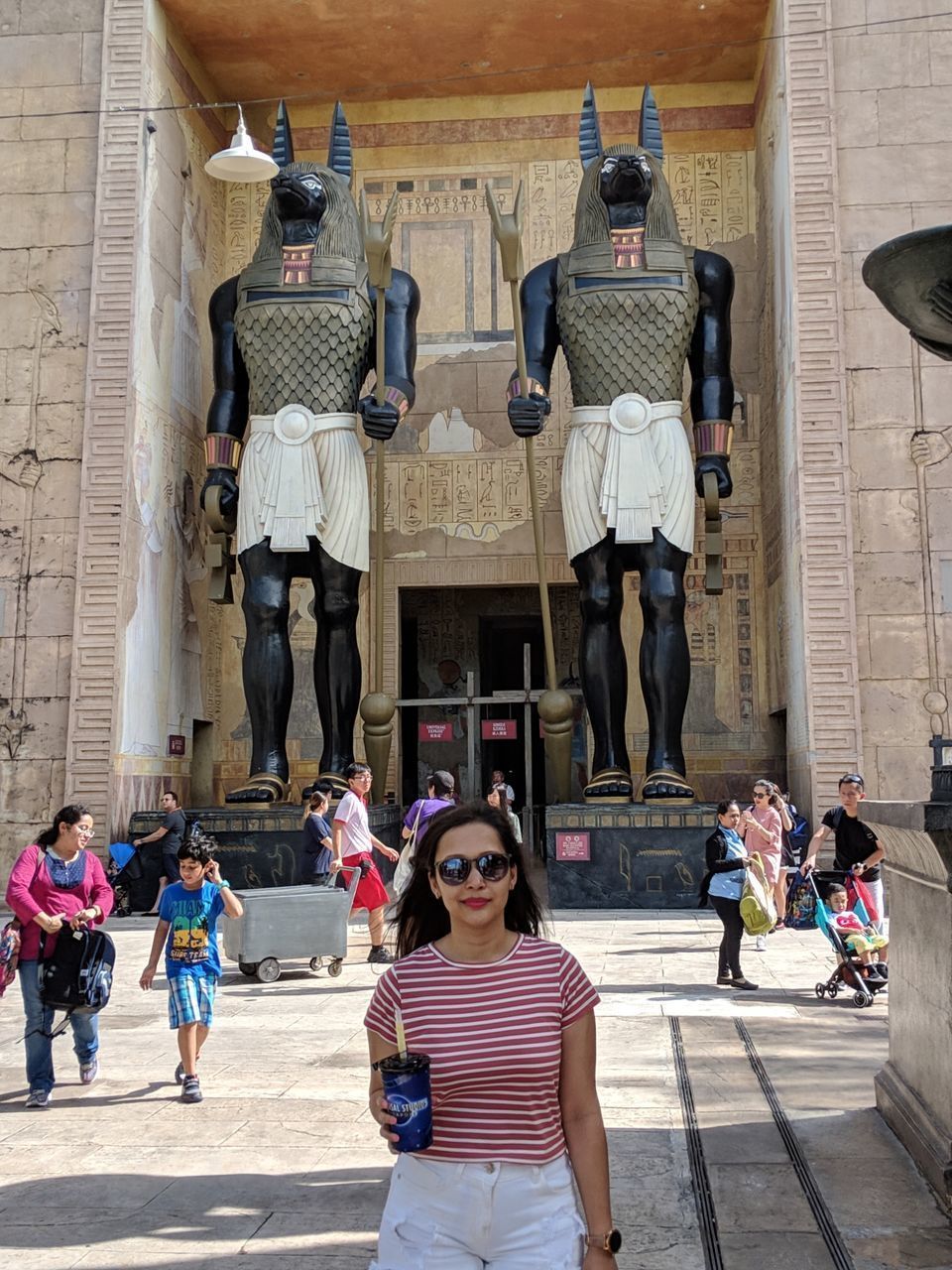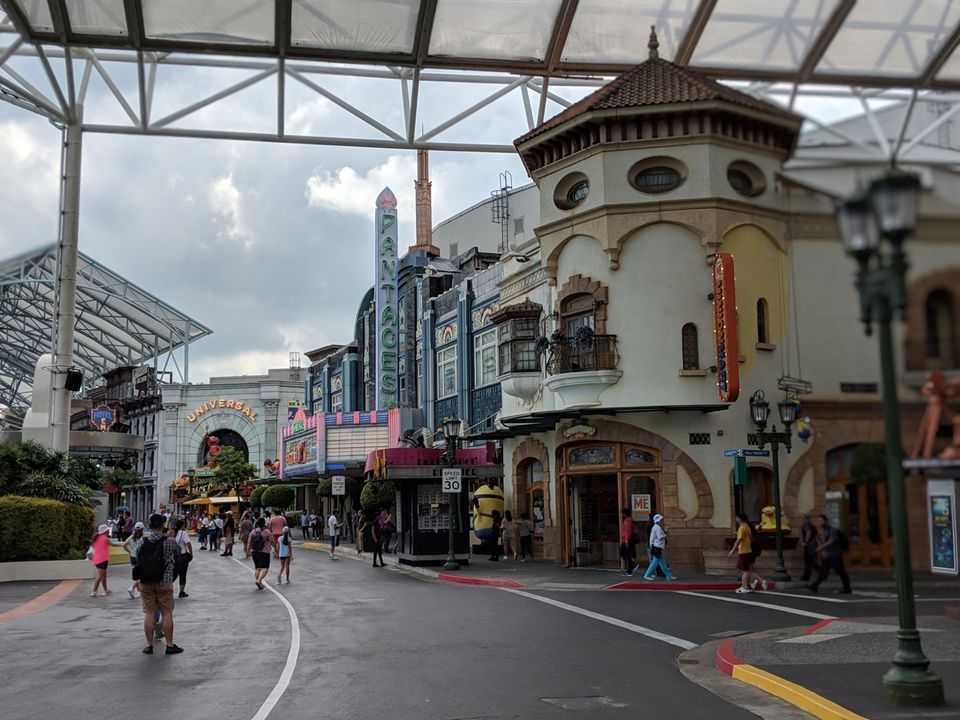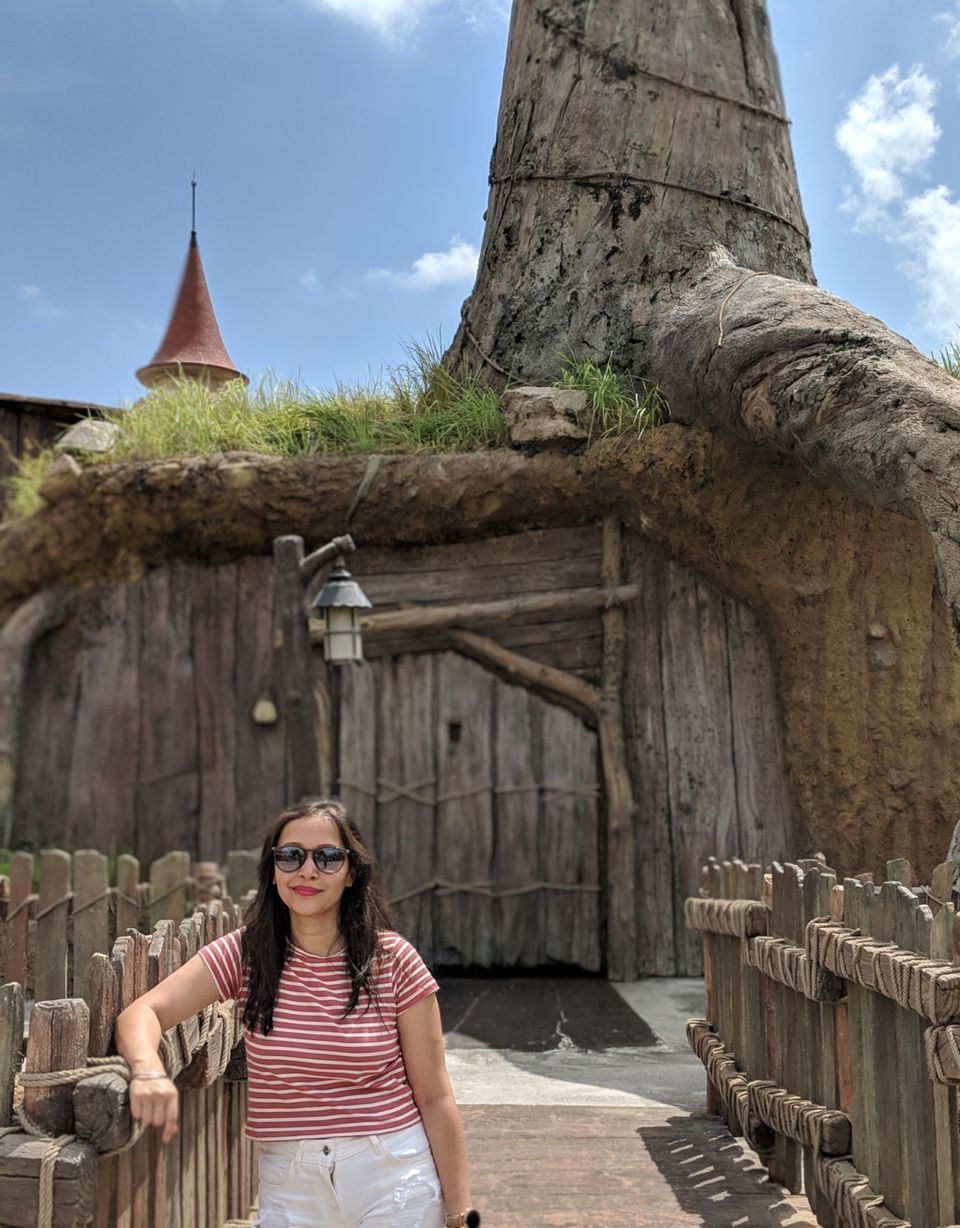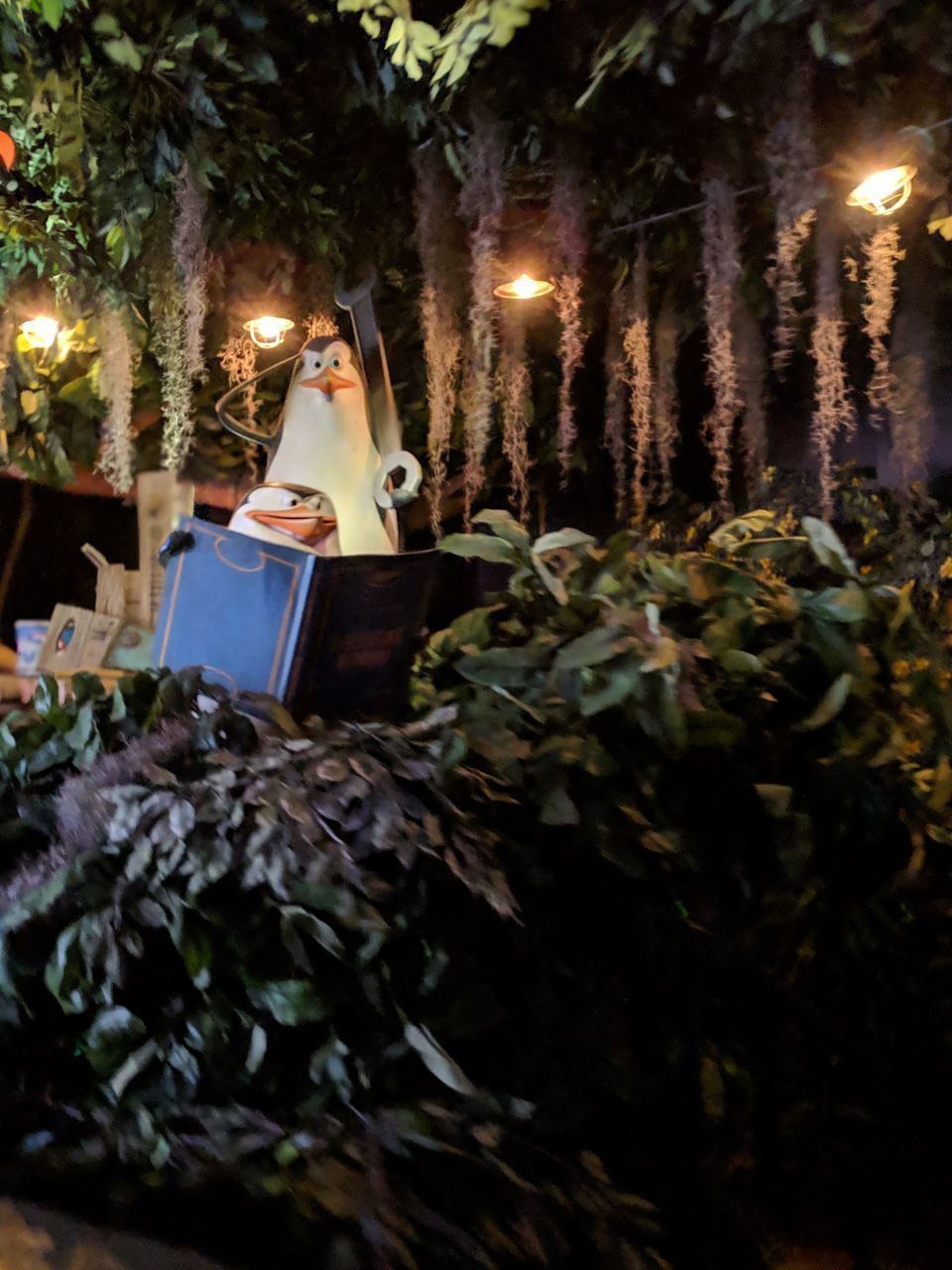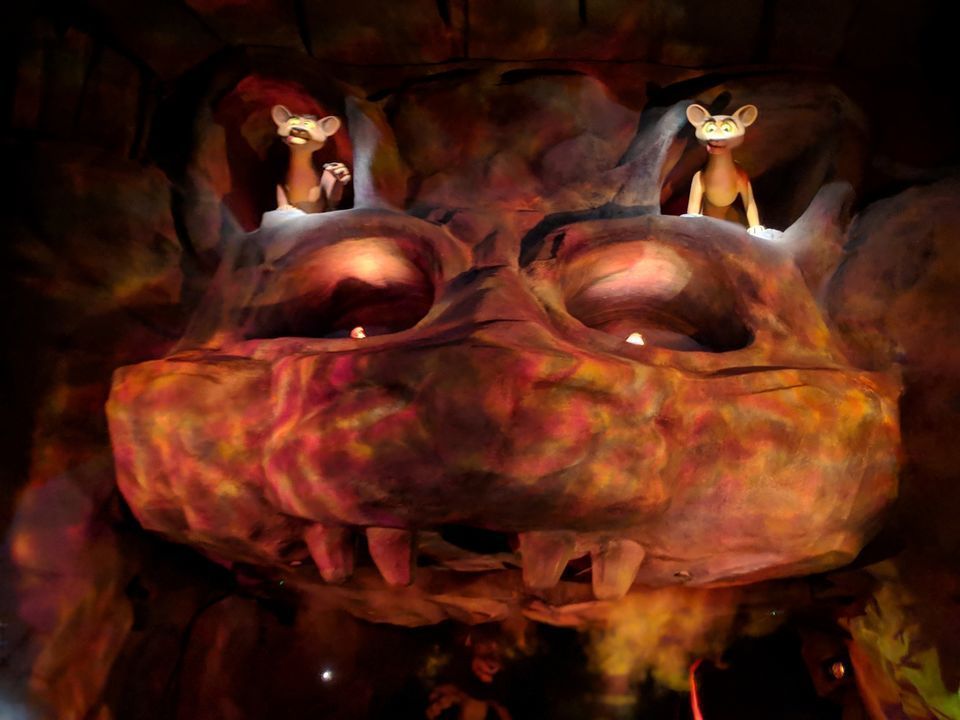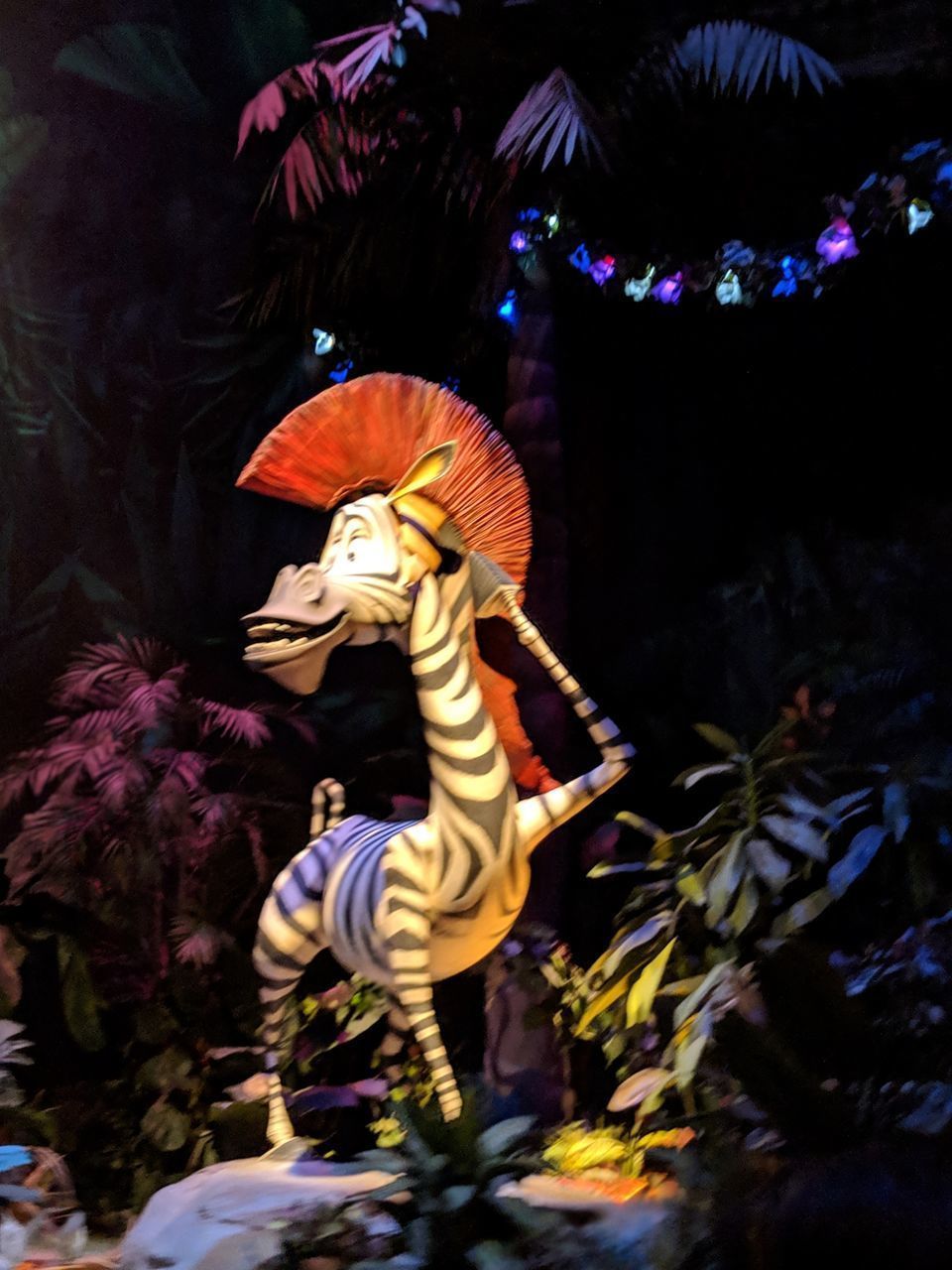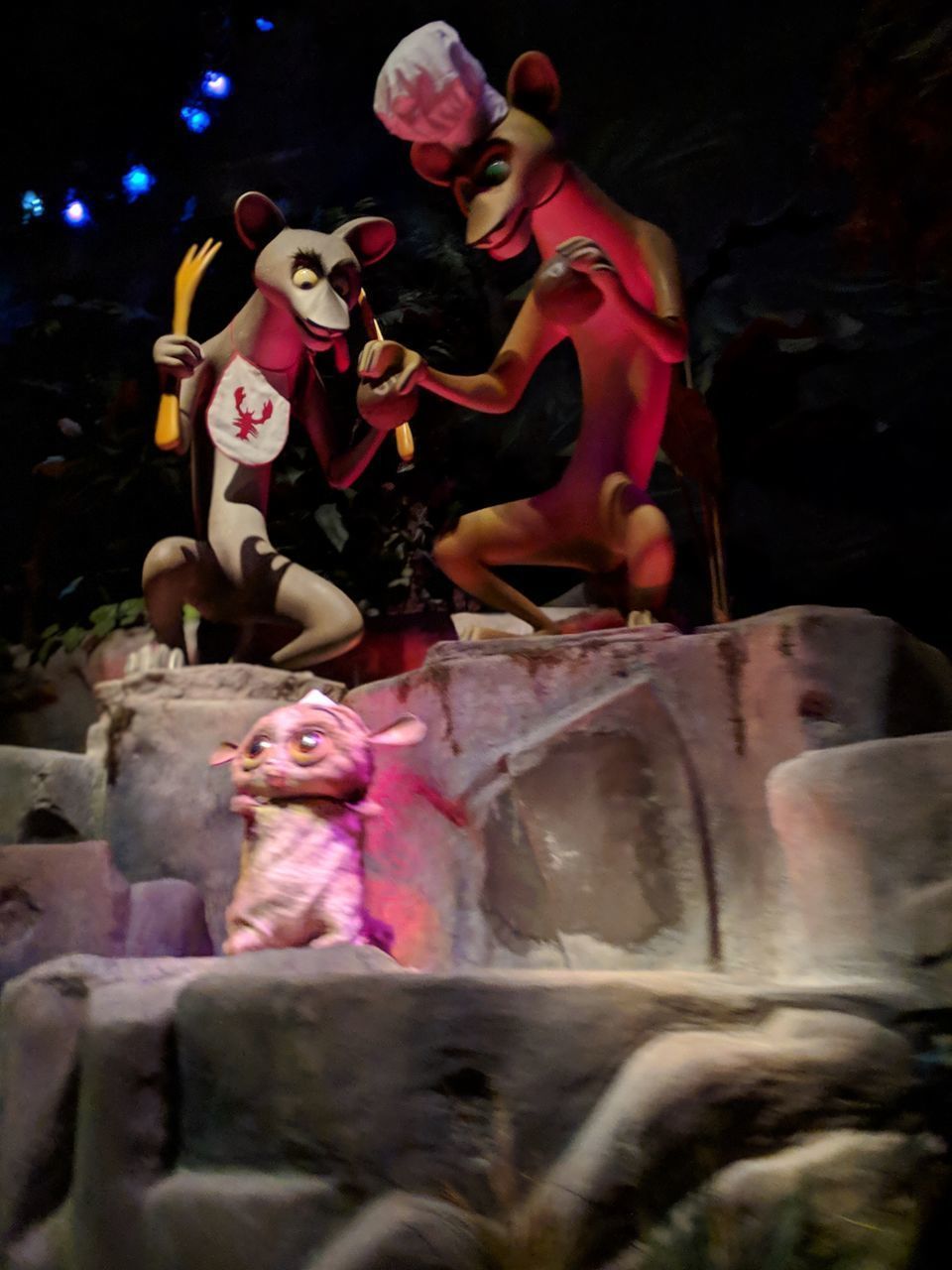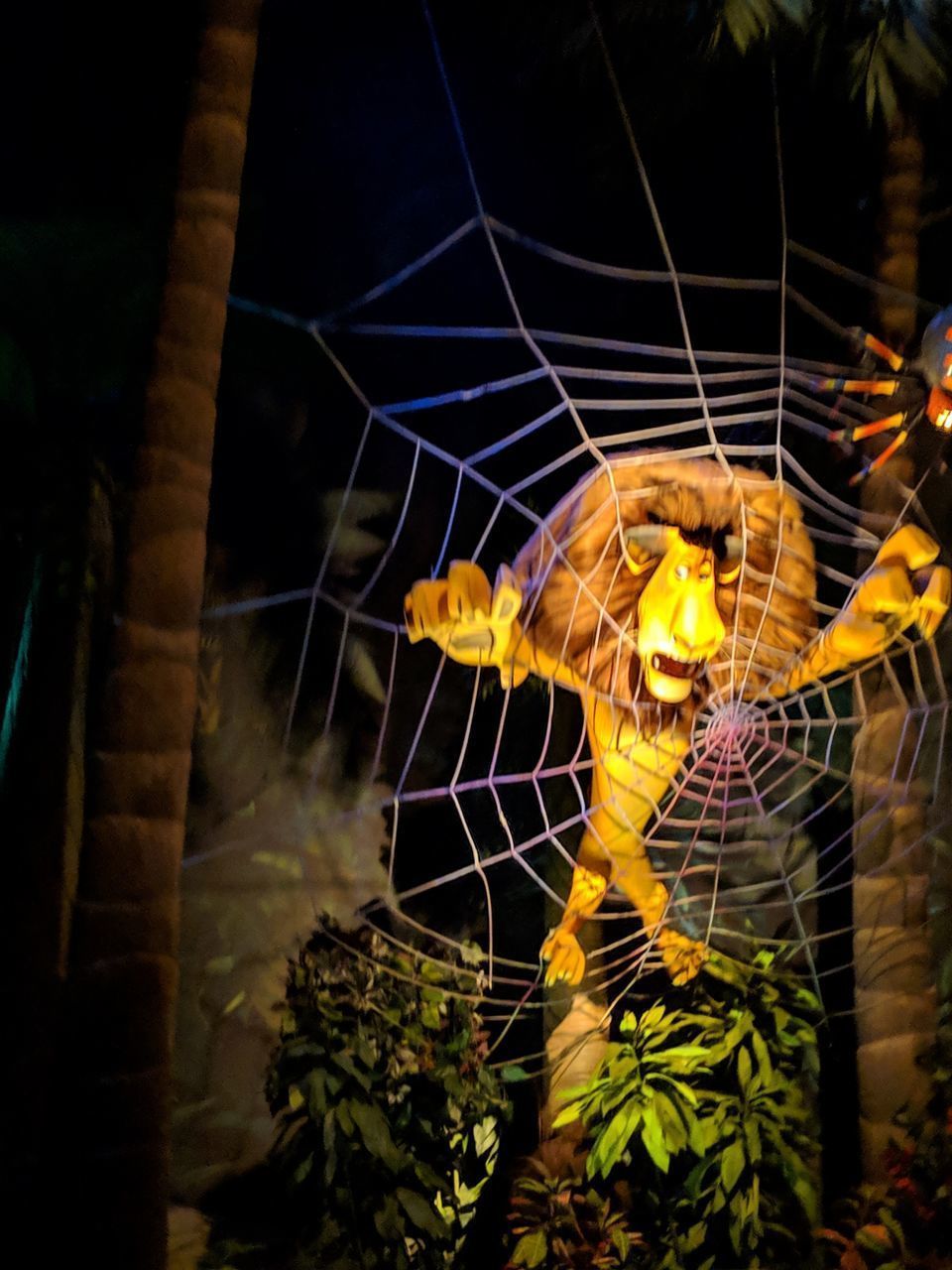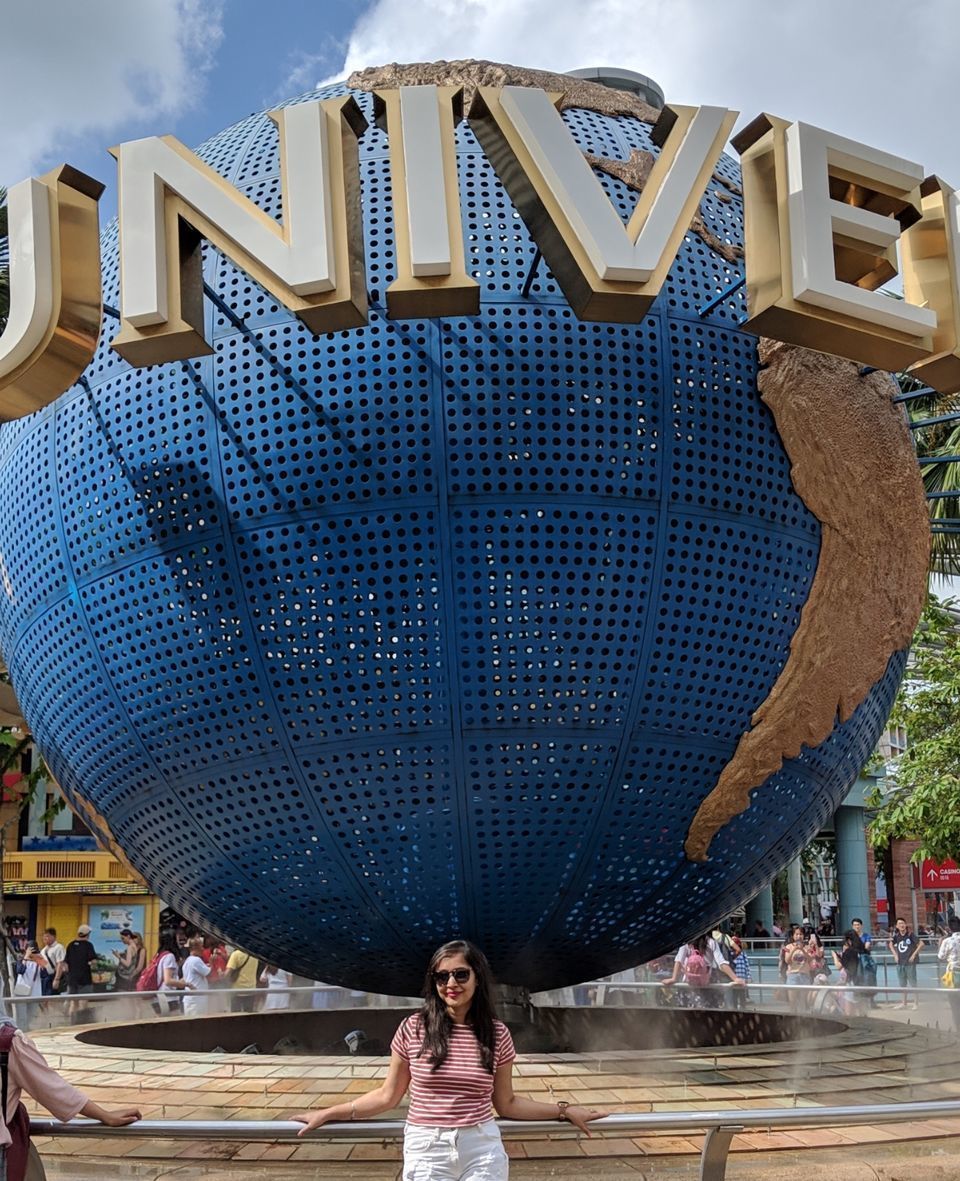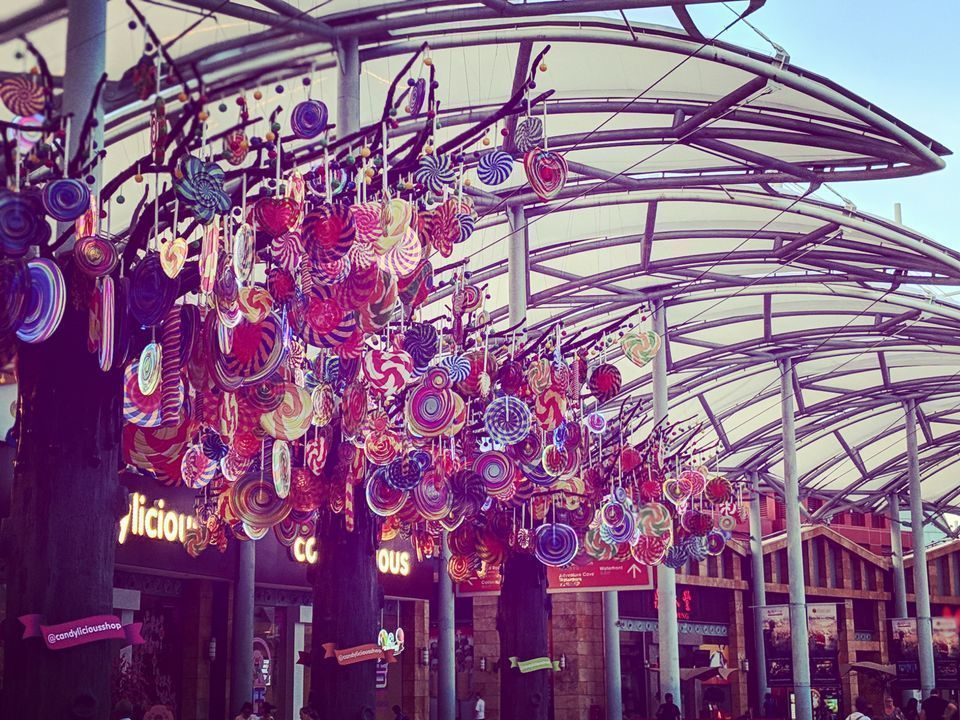 Day 3 after breakfast at our hotel, we took a taxi and left for Gardens by the Bay and what a beauty it is !!! I was awestruck by this piece or rather pieces of man made beauty. Gardens by the Bay is divided into 3 regions- South, East and Central. The major attraction is the Supertrees grove and the 2 conservatories- Flower Dome and Cloud Forest Dome. The Supertrees provide a magnificent look to the Gardens especially when lit at night. The Forest Dome comprises of 7 types of gardens including Mediterranean, South American and many others in a temperature controlled dome. The Cloud Forest Dome is another wonder whose major attraction is an artificially created and maintained waterfall. A beautiful trail called the Cloud Walk connects these gardens. The cool surroundings just turn the garden visit into a more pleasing experience. You may halt at one of the eateries like Pollen or Supertree by IndoChine etc in the Marina Gardens Drive area. This particular attraction is definitely a not to miss spot.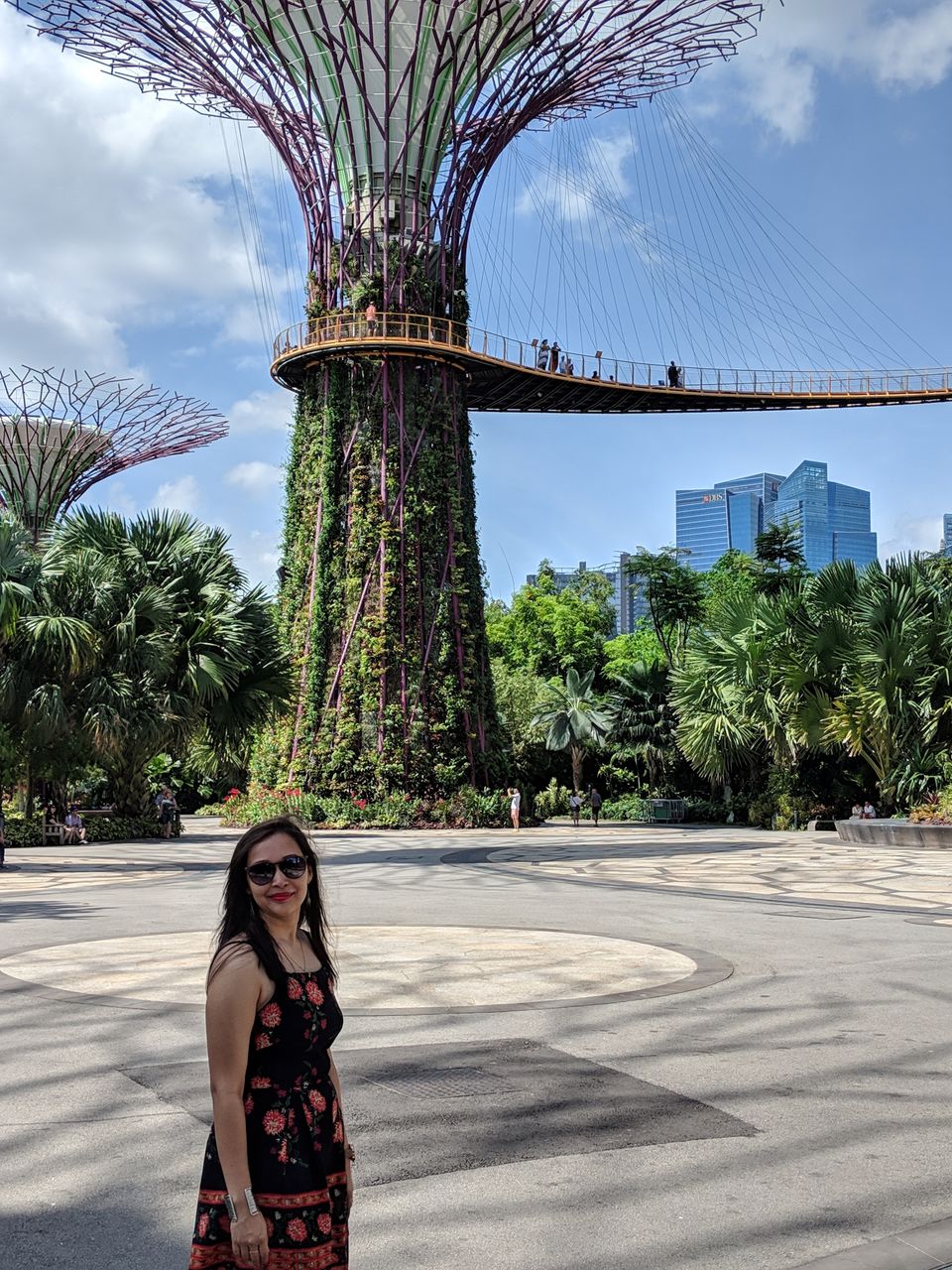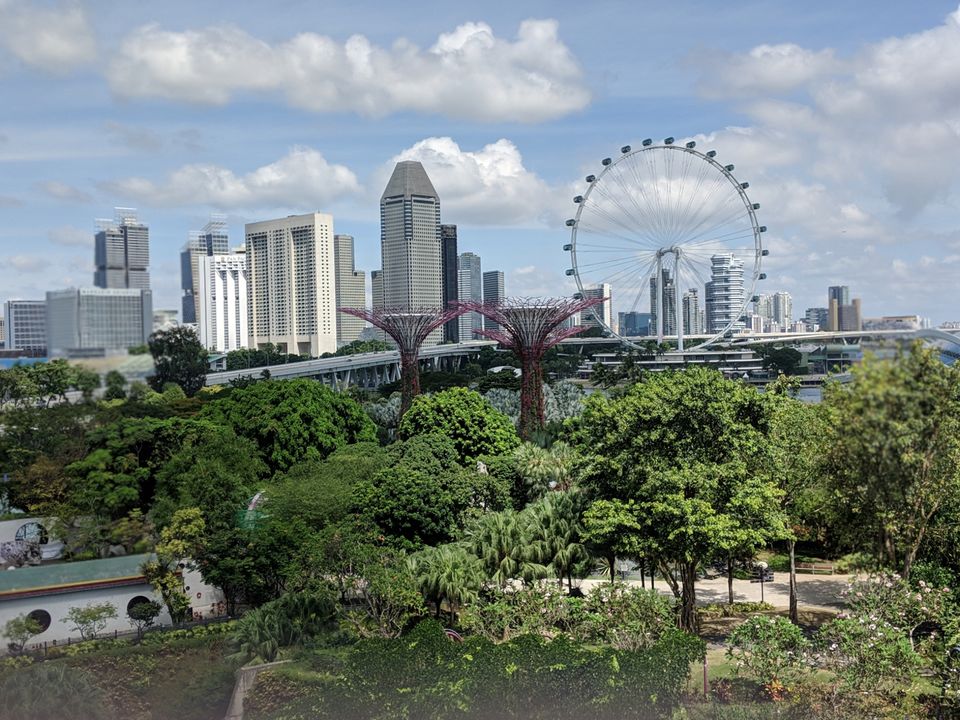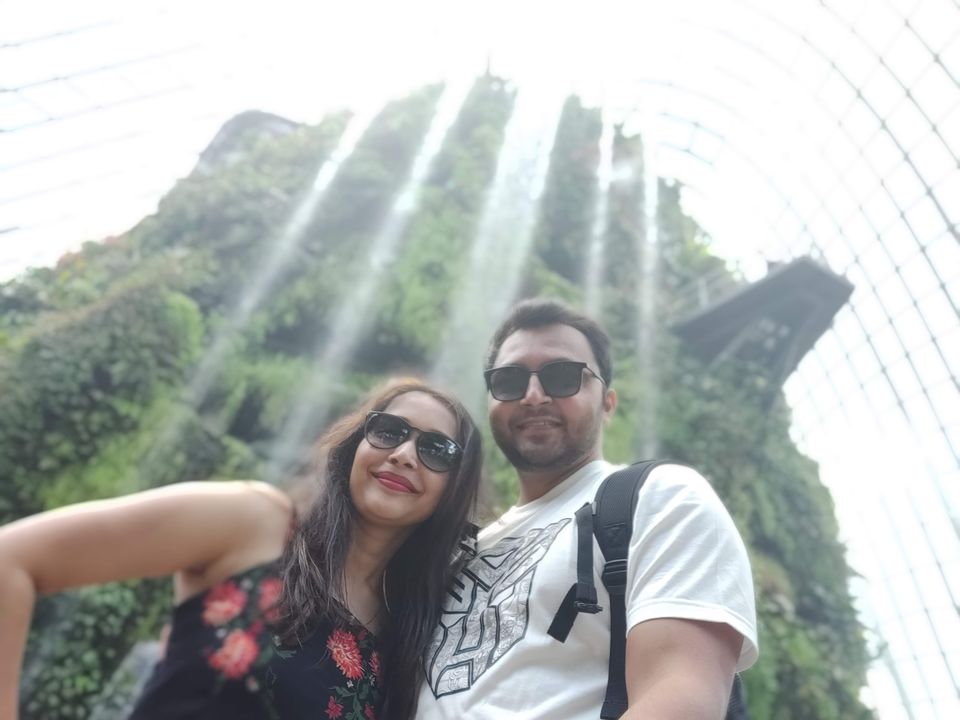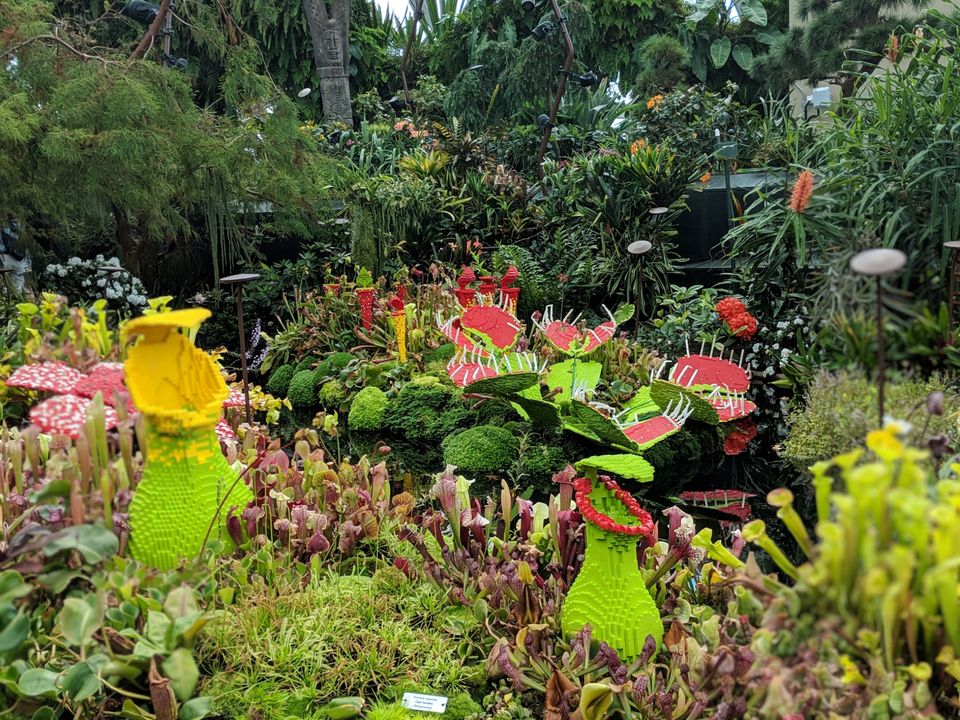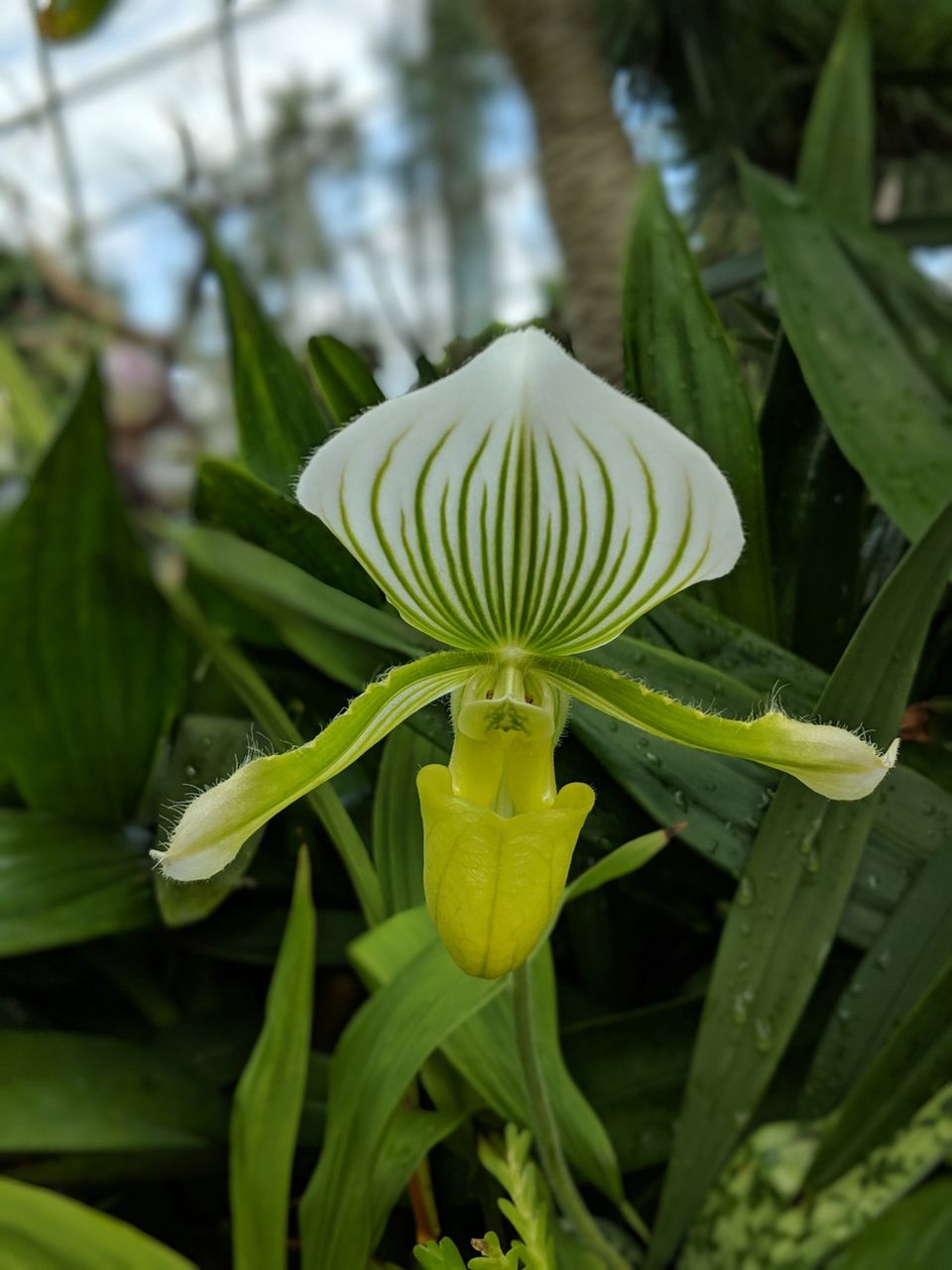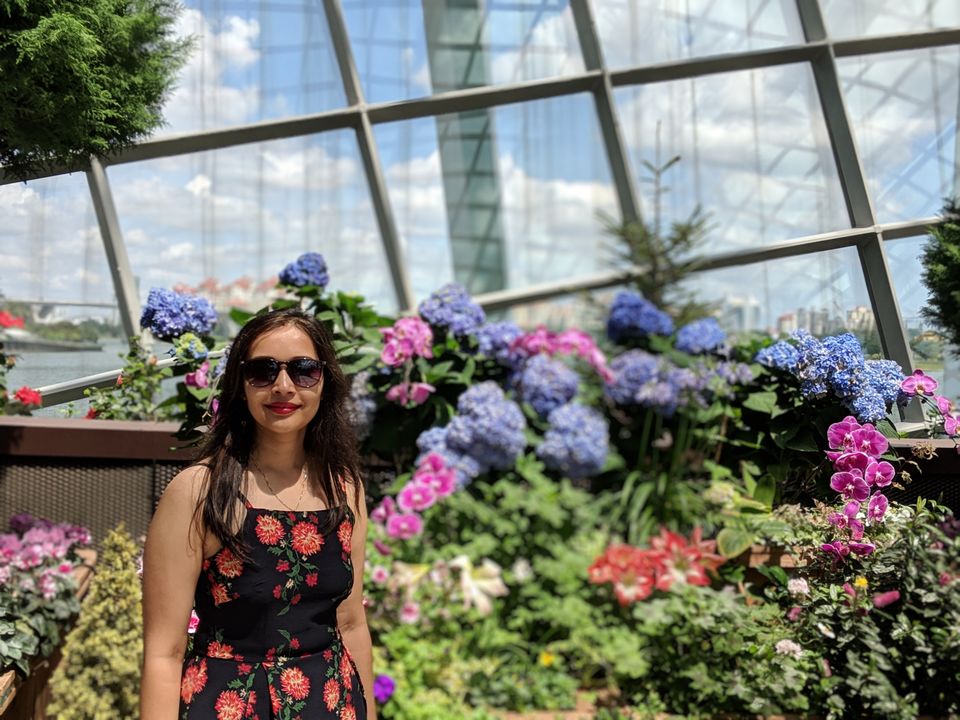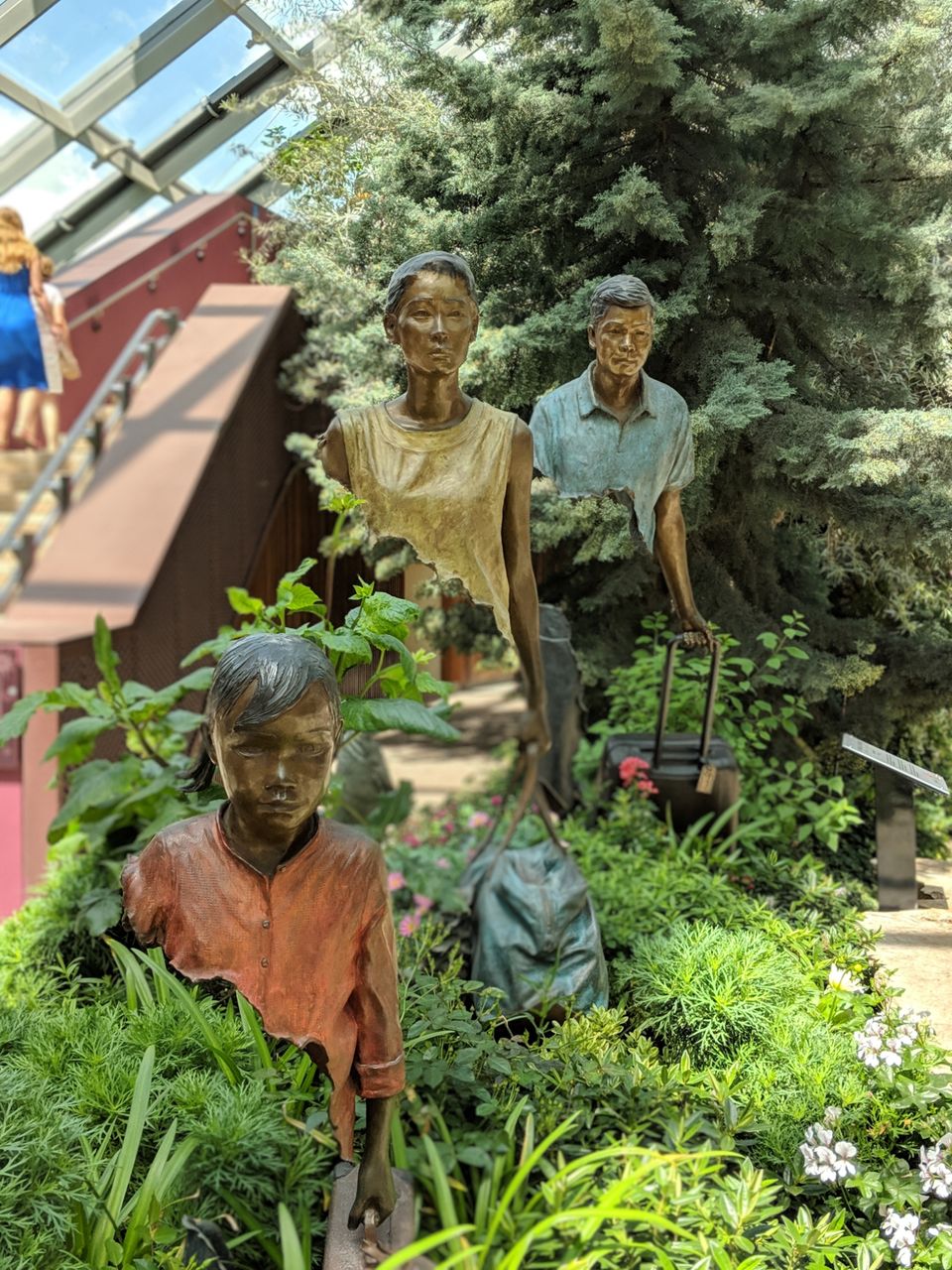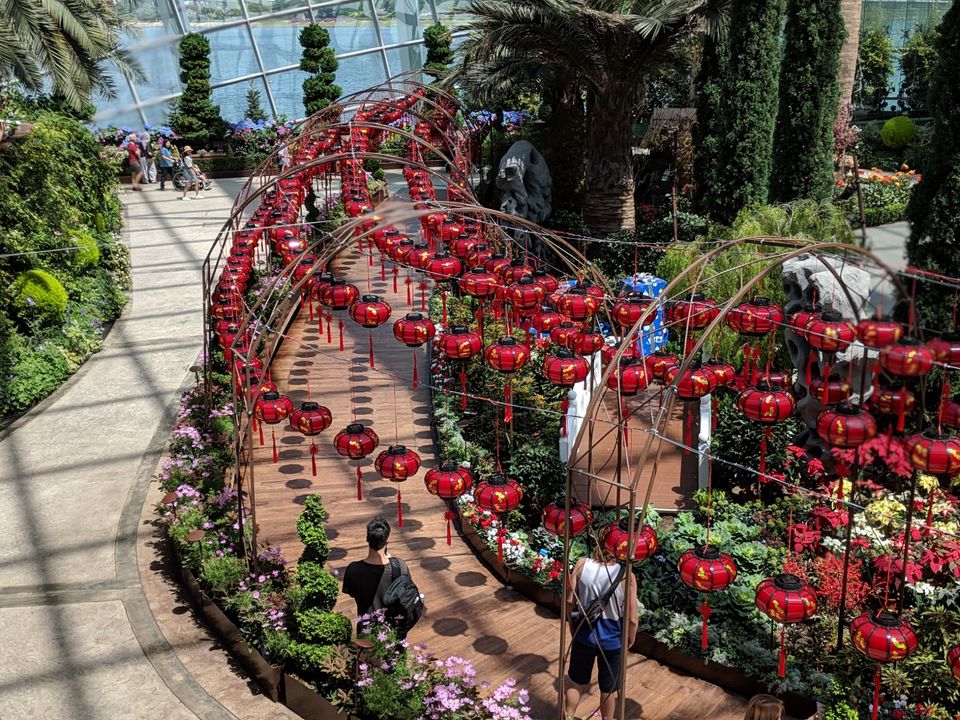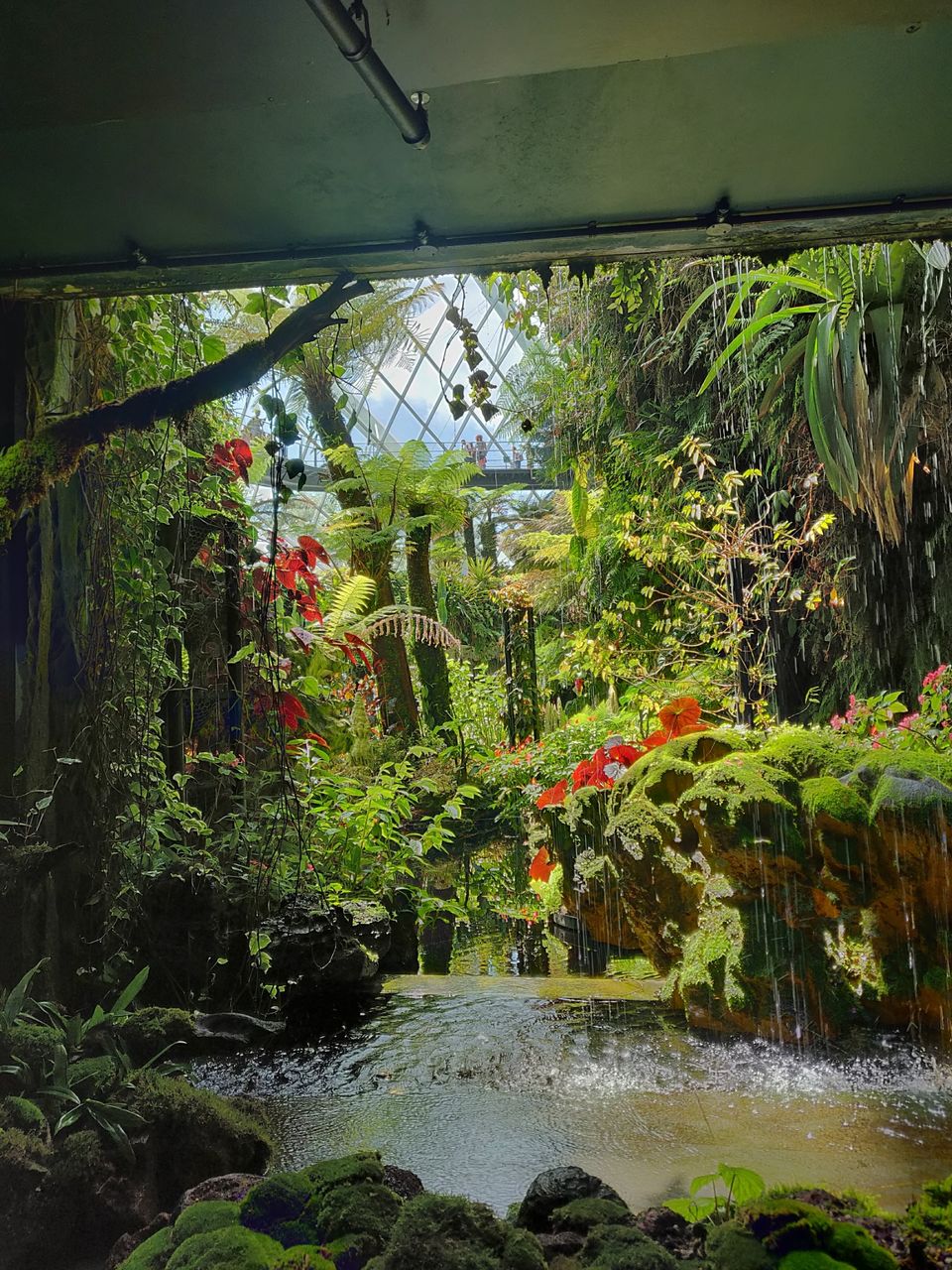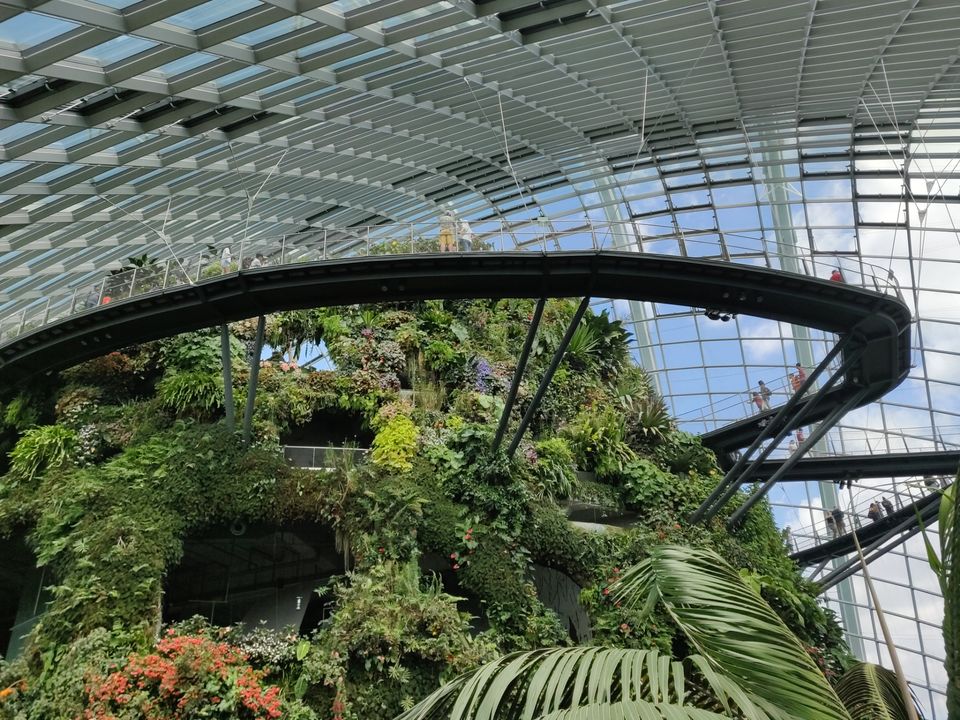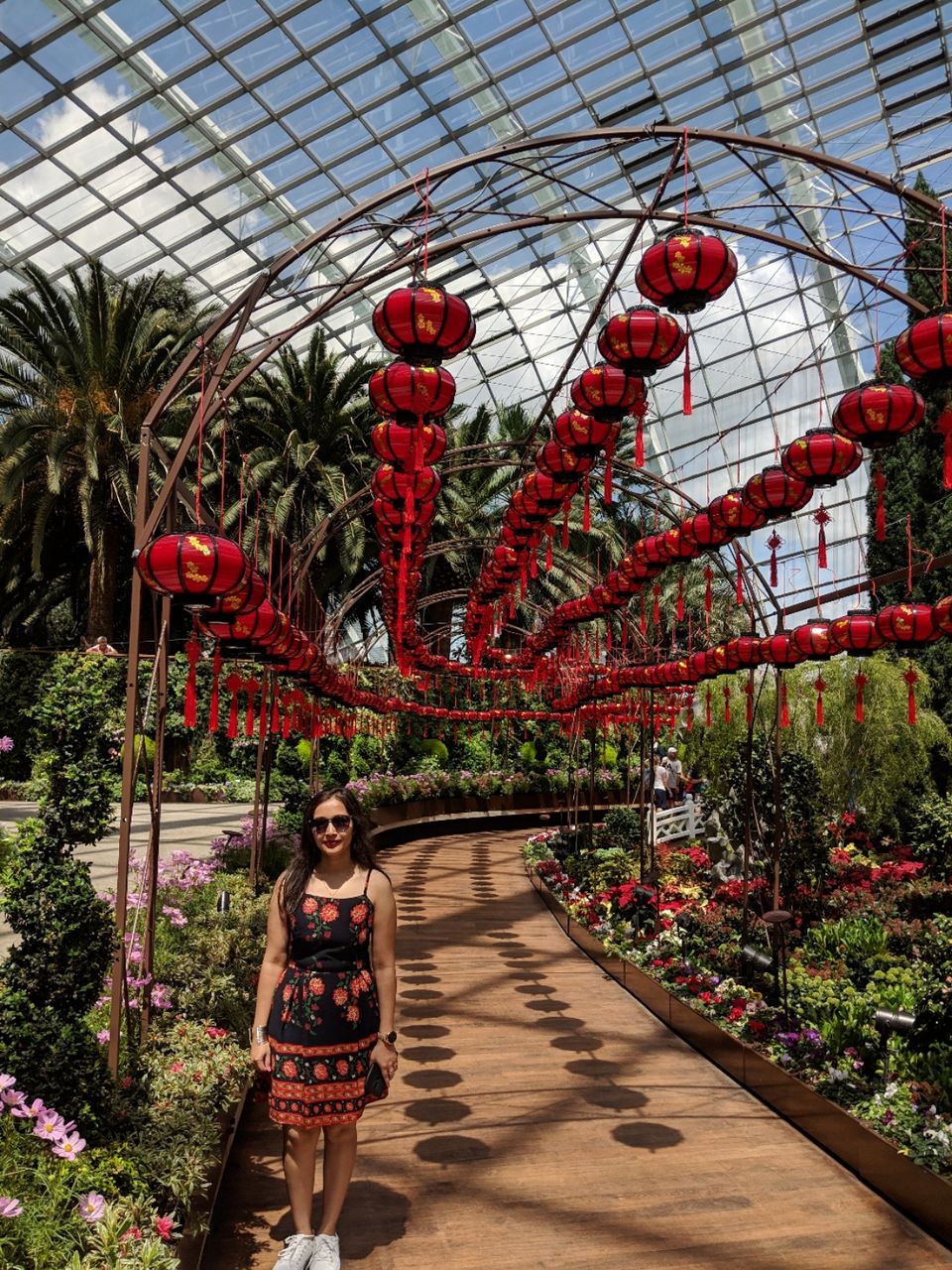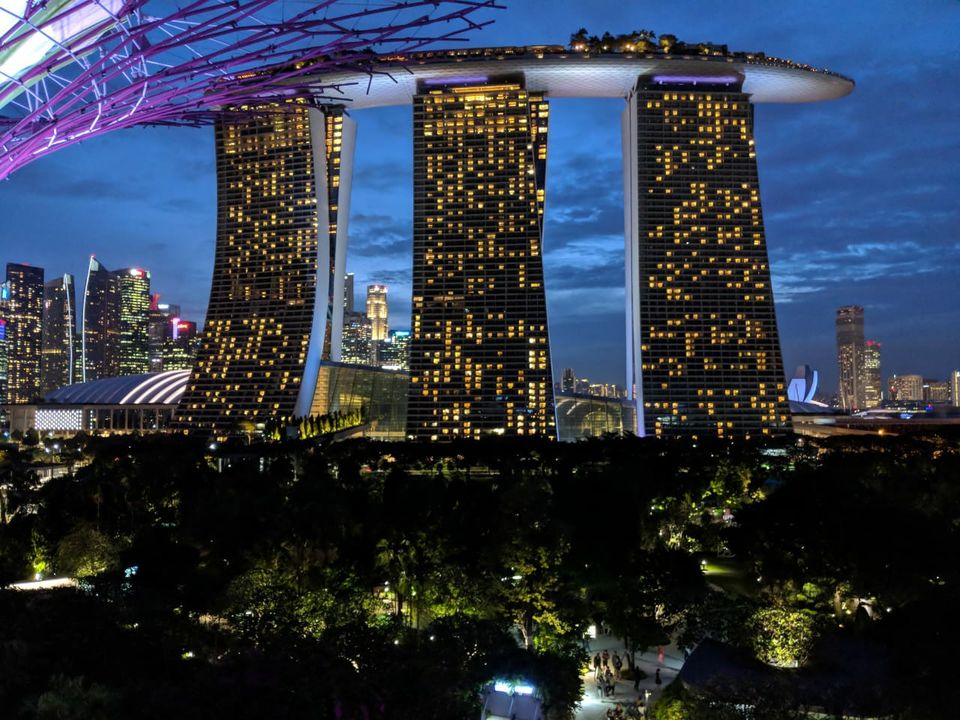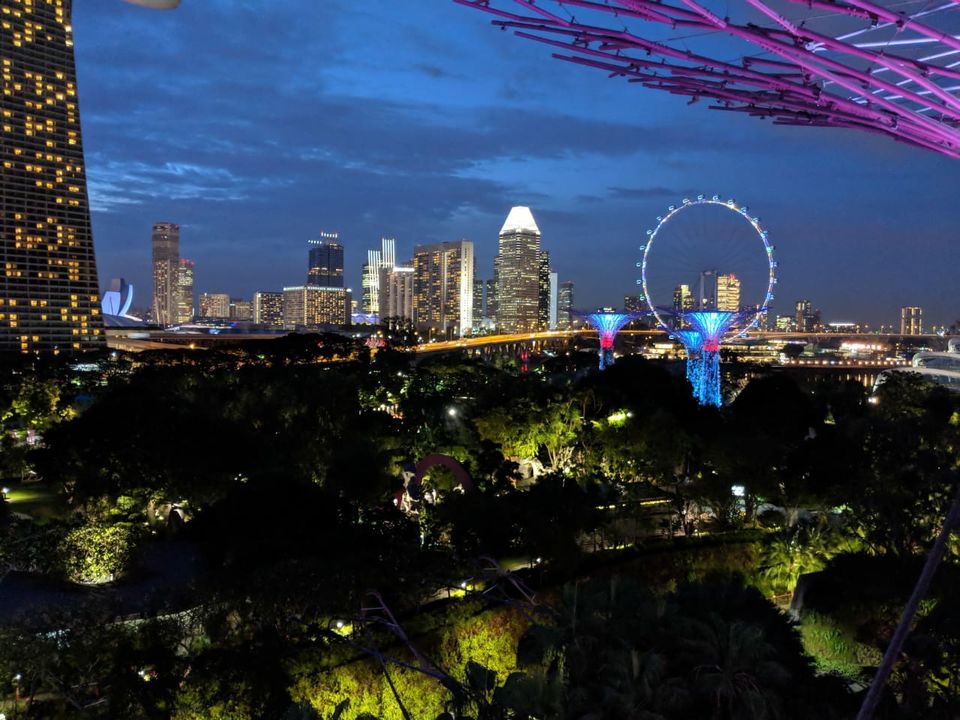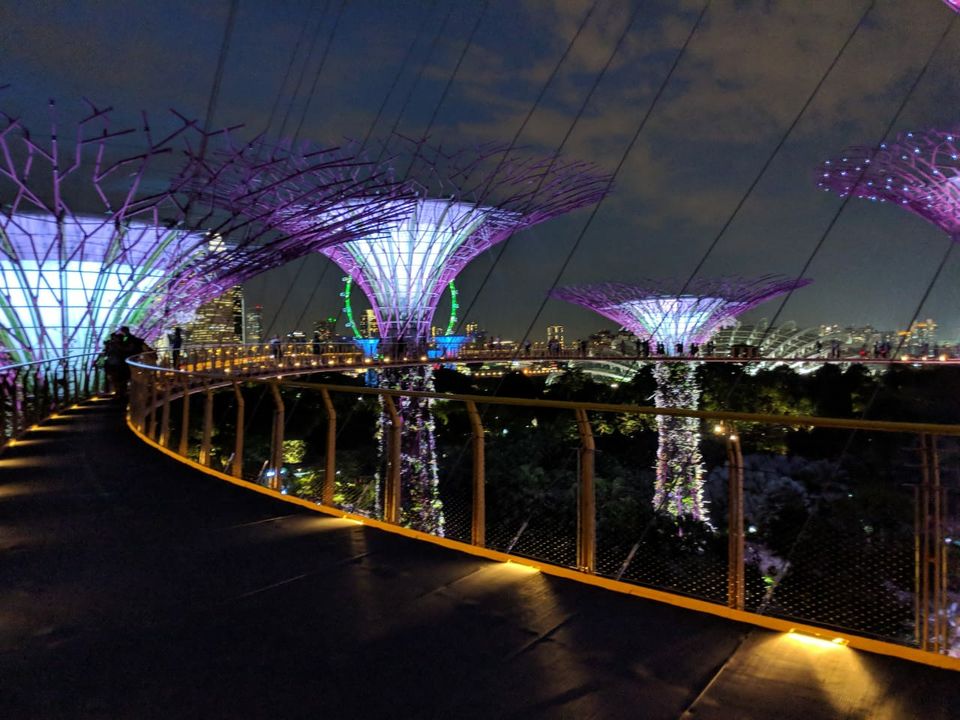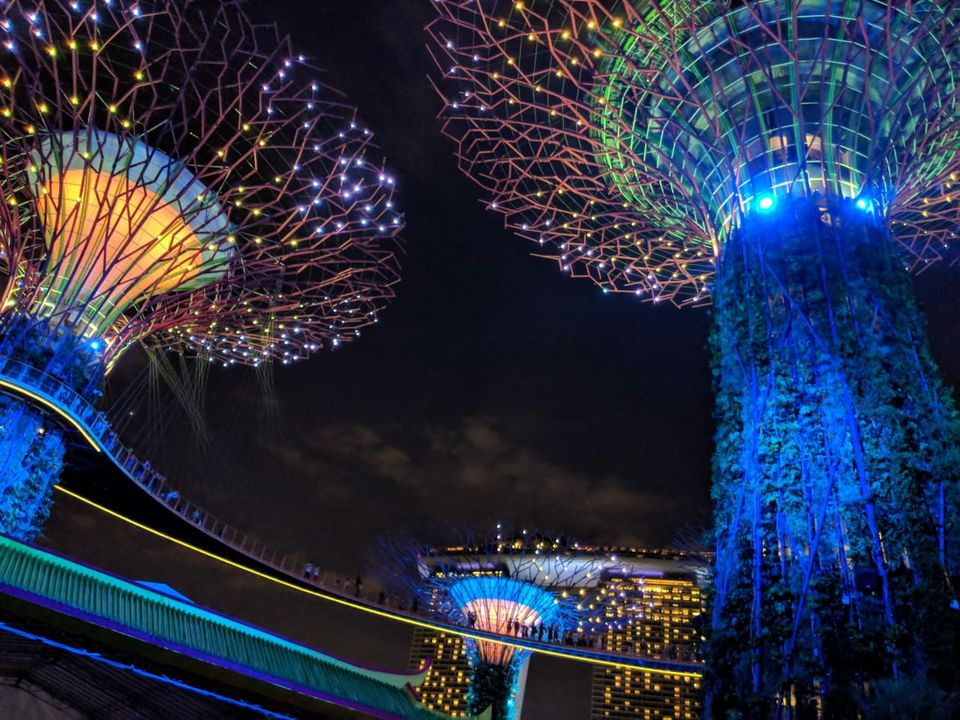 After finishing the visit to Gardens by the Bay, we opted for a half day experiential tour at Sentosa Island. We got into the cable car from Mount Faber to the resort island of Sentosa. The view from the gondola was an added benefit for us.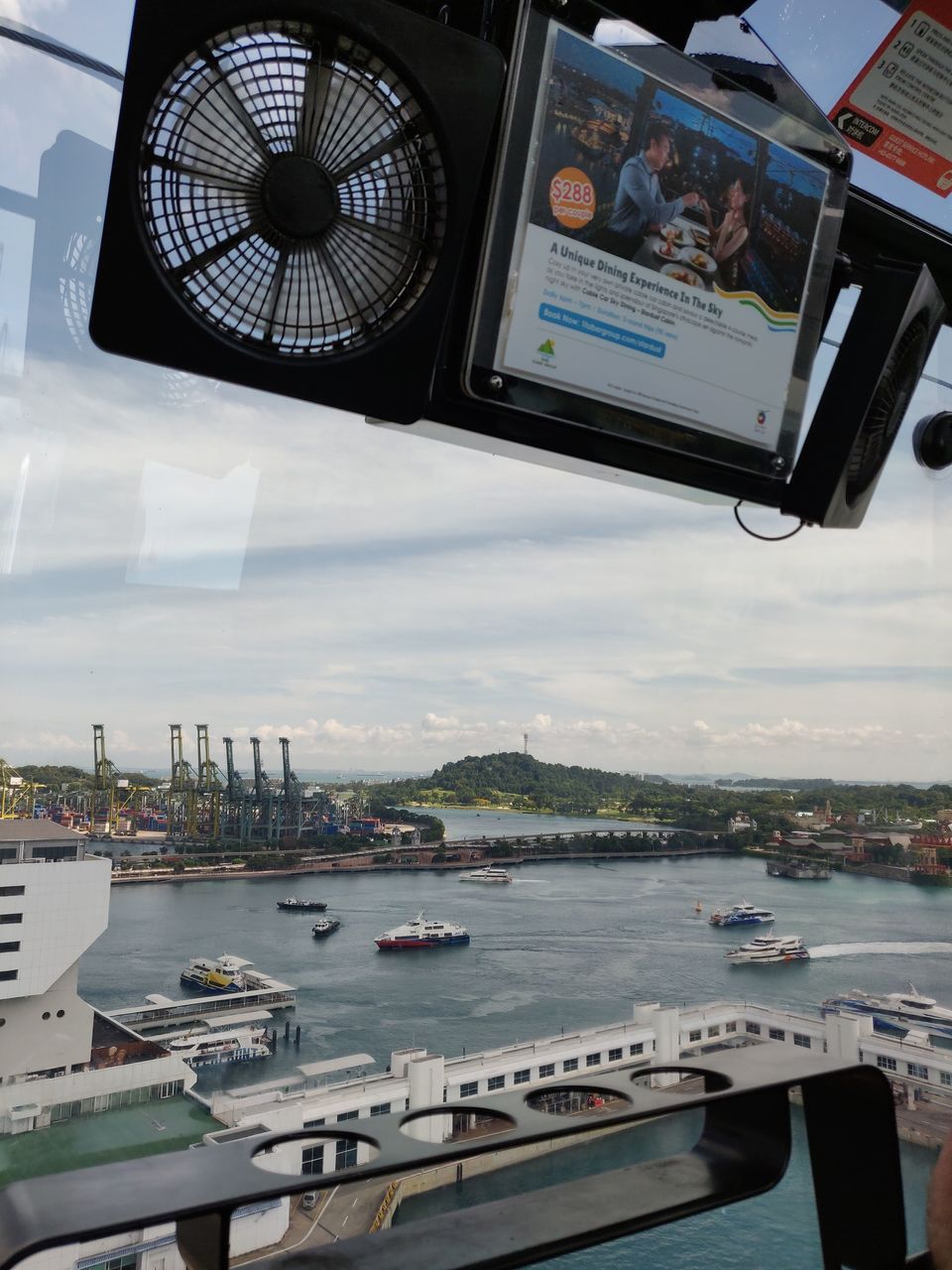 After arriving there, we first went for a thrilling 4D movie experience at the AdventureLand followed by our visit to Madam Tussauds Wax Museum. It was real fun to get clicked with the wax statues of your favourite celebrities.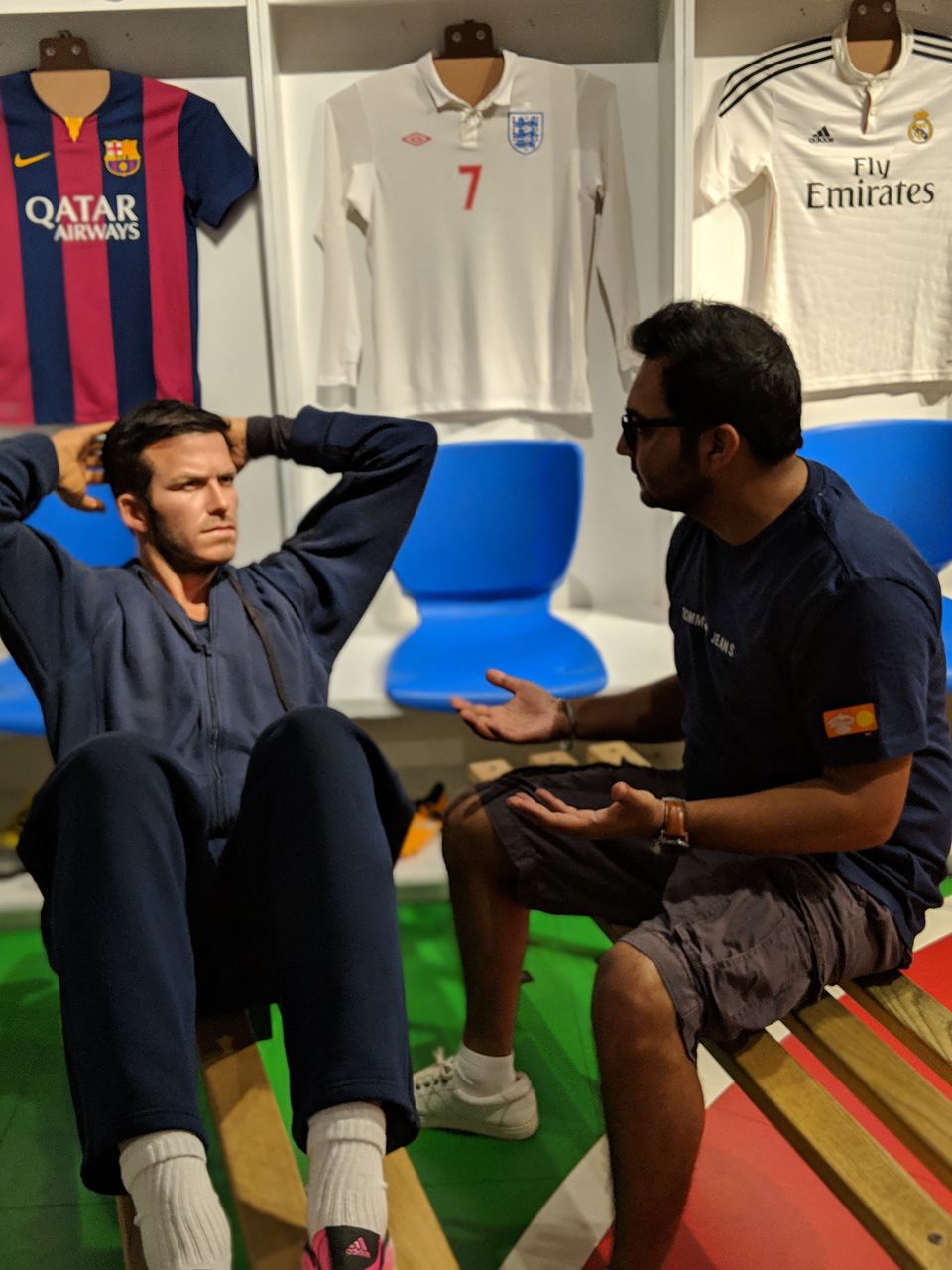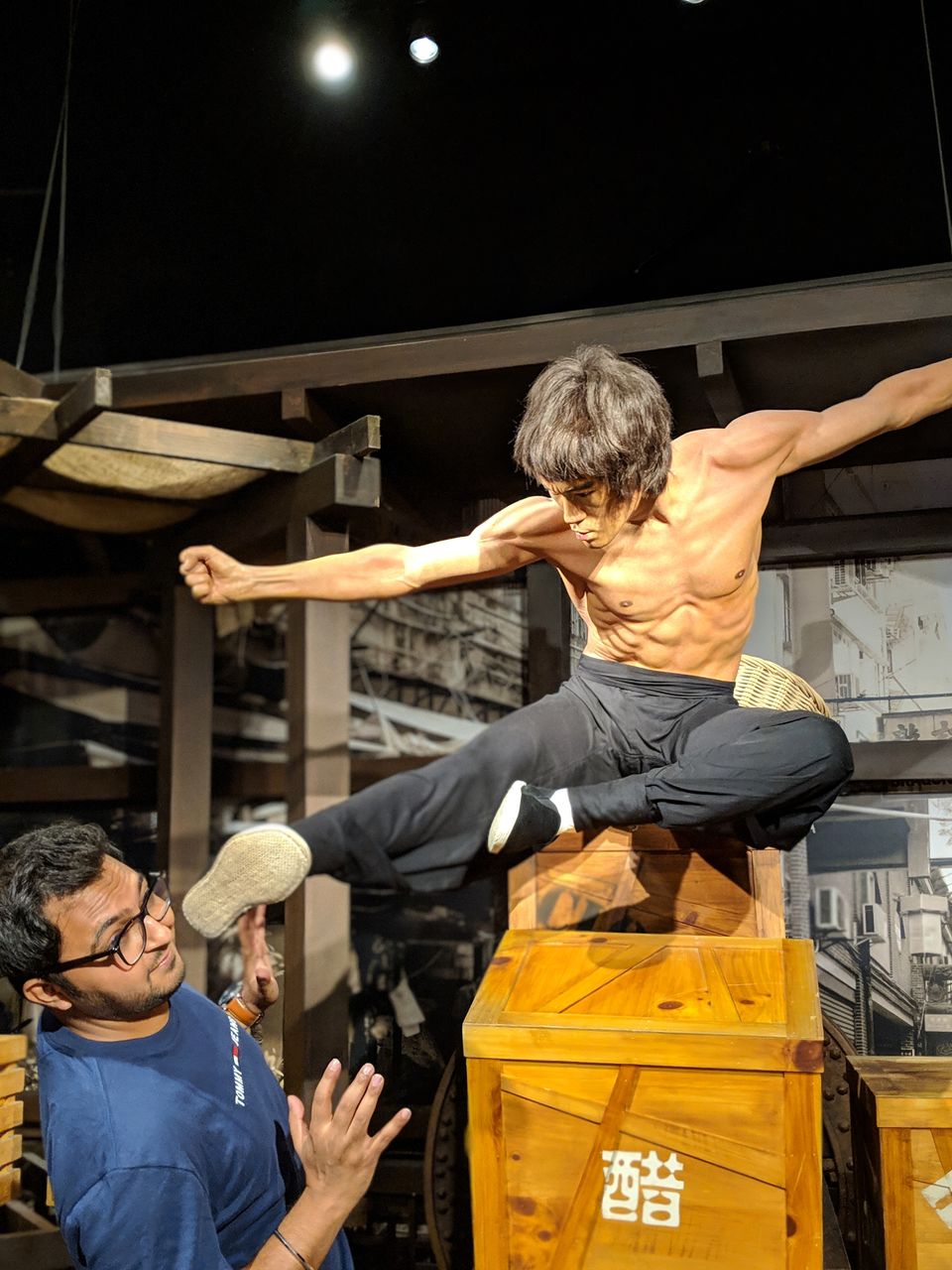 Next we went to the Maritime Experiential Museum which was built to house the Jewel of Muscat. It is a home to various sea equipment and amenities and tools. The best part of visiting this museum was the multi dimensional movie about the Jewel of Muscat with exquisite surroundings of sea in the theatre area. Post the museum, we headed to the S.E.A Aquarium which is said to be the world's largest aquarium. It is the house for myriad species of fish and other sea like like sea horse, crabs, jellyfish, frogs and sea turtles. It's exciting to just find the sea life amidst the blue waters wherever you turn and look through. Once you move towards the end of the museum, there is a small shopping area and an ice cream shop. Just show your ticket there and you get a free crispy cool Cornetto ice cream!!! Thank me guys as no one will guide you about this :)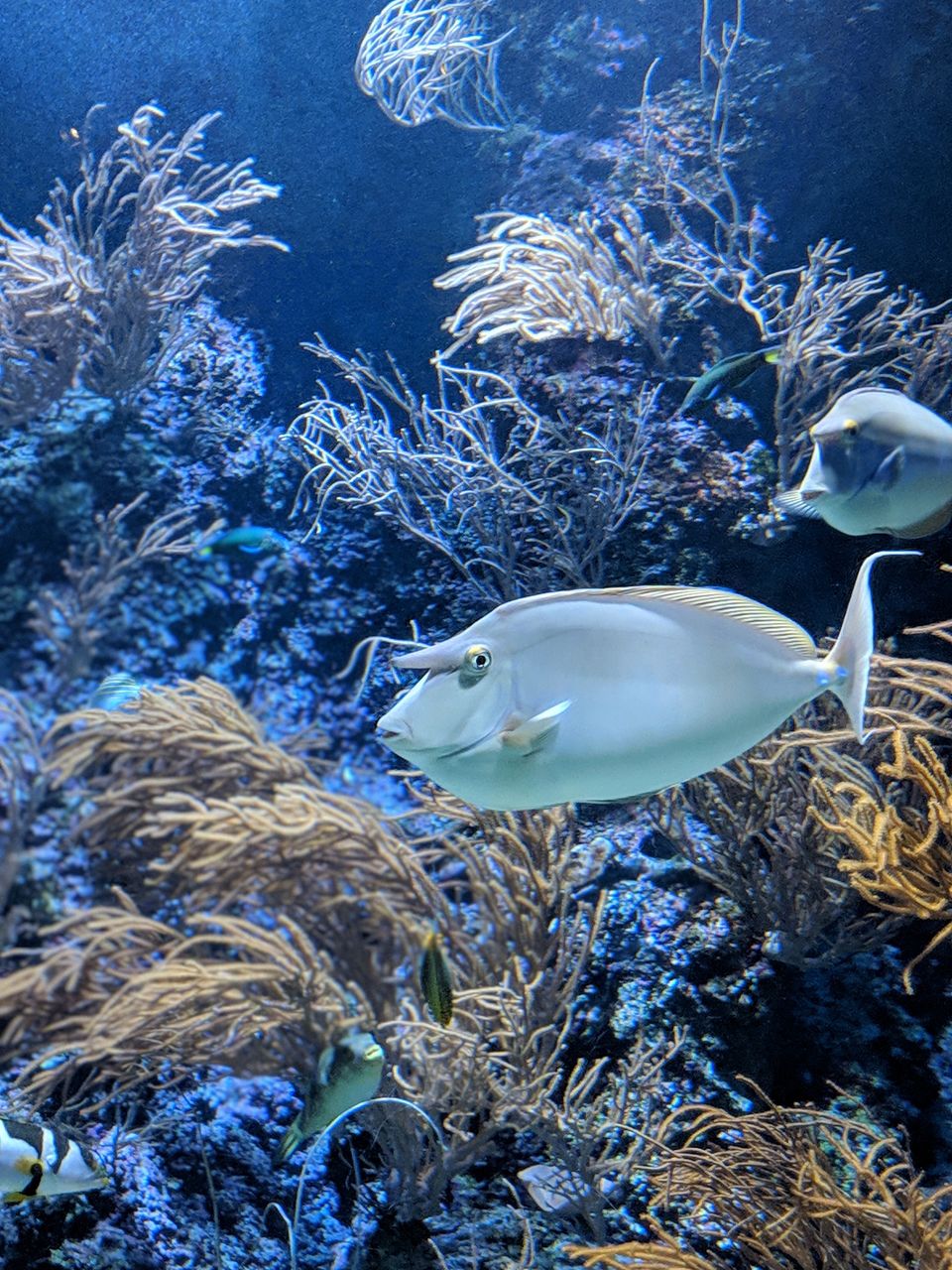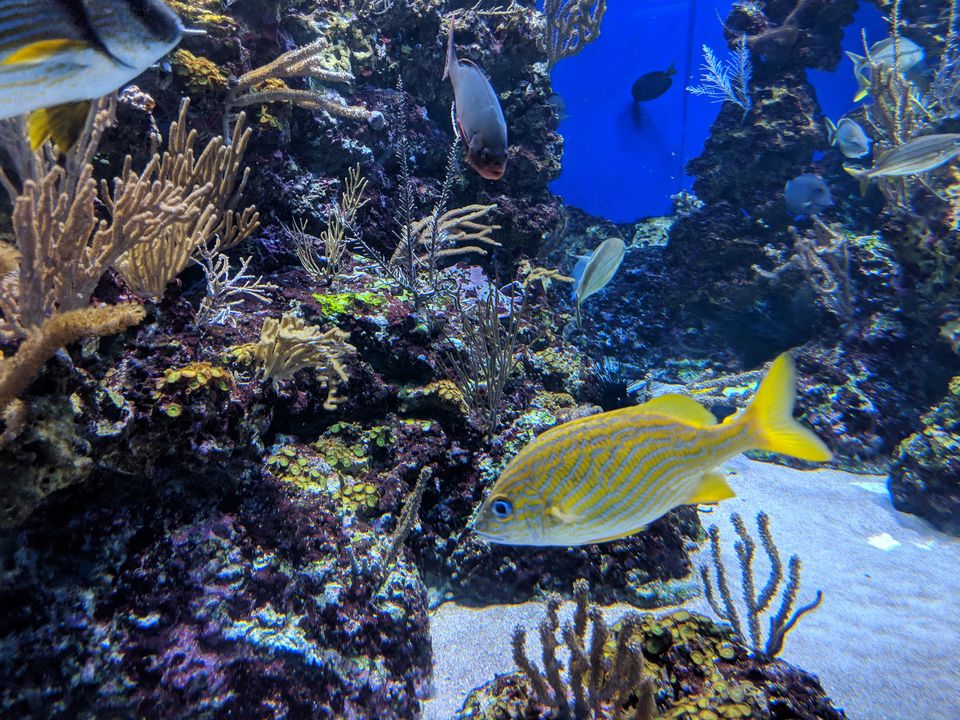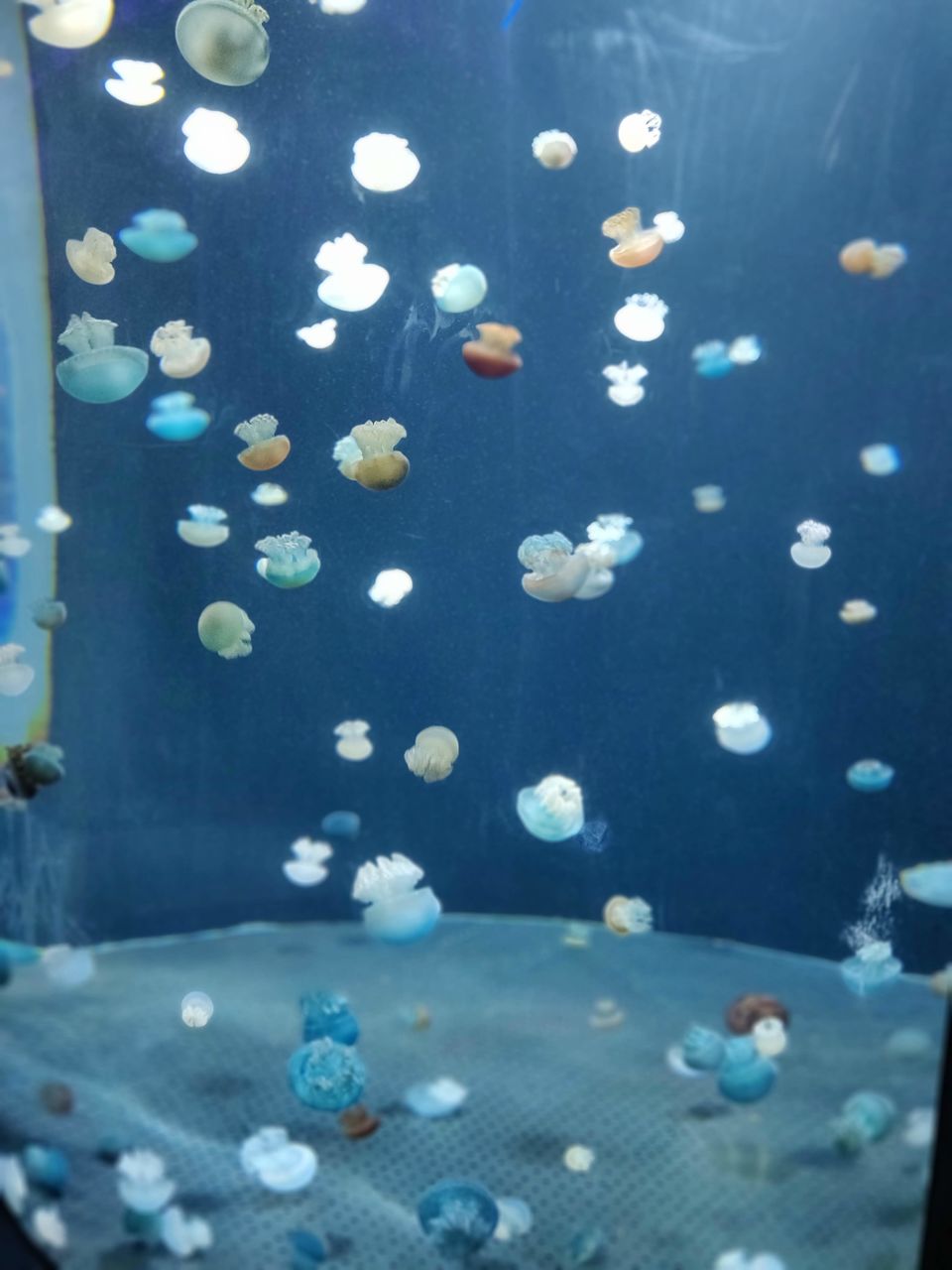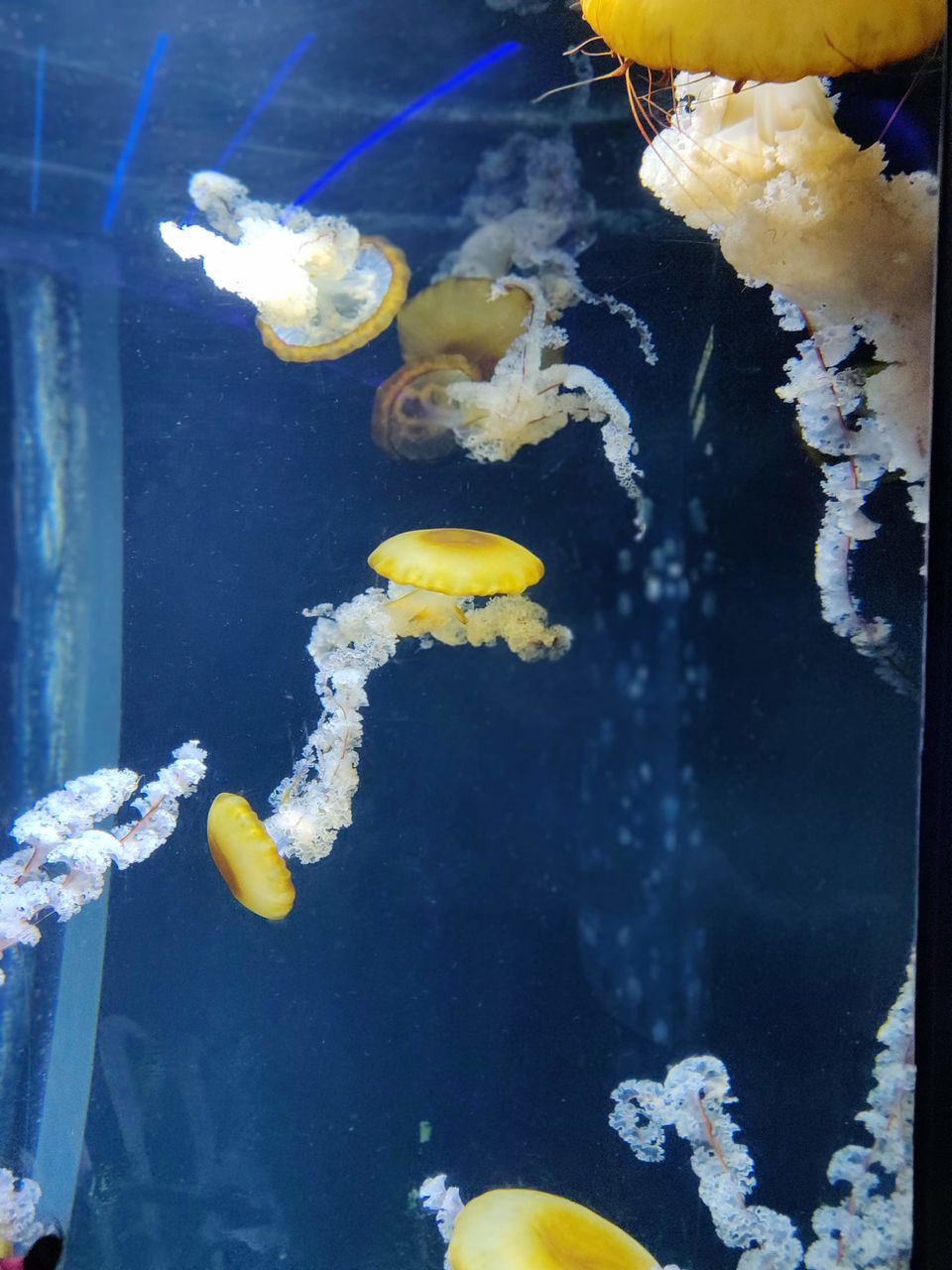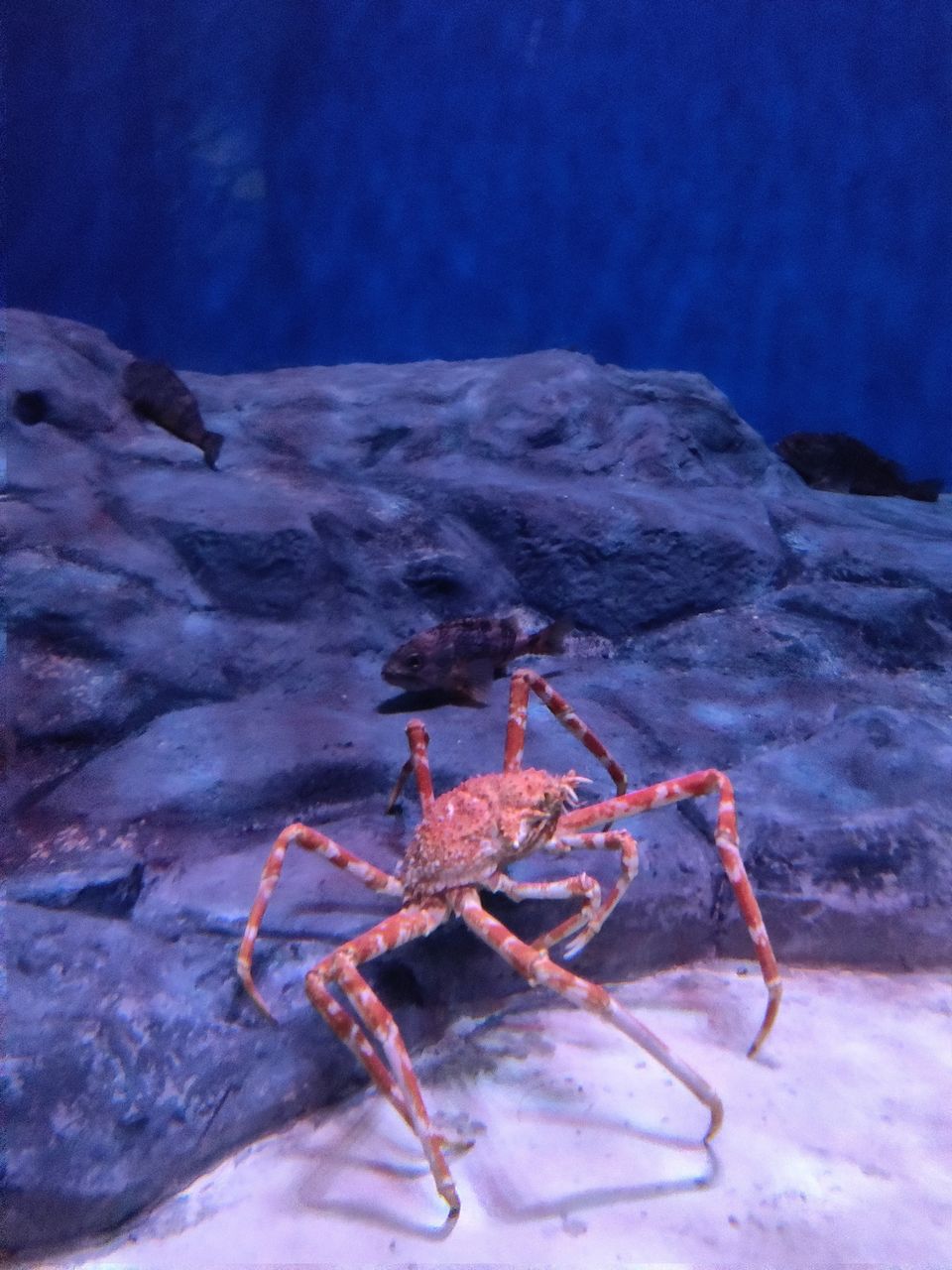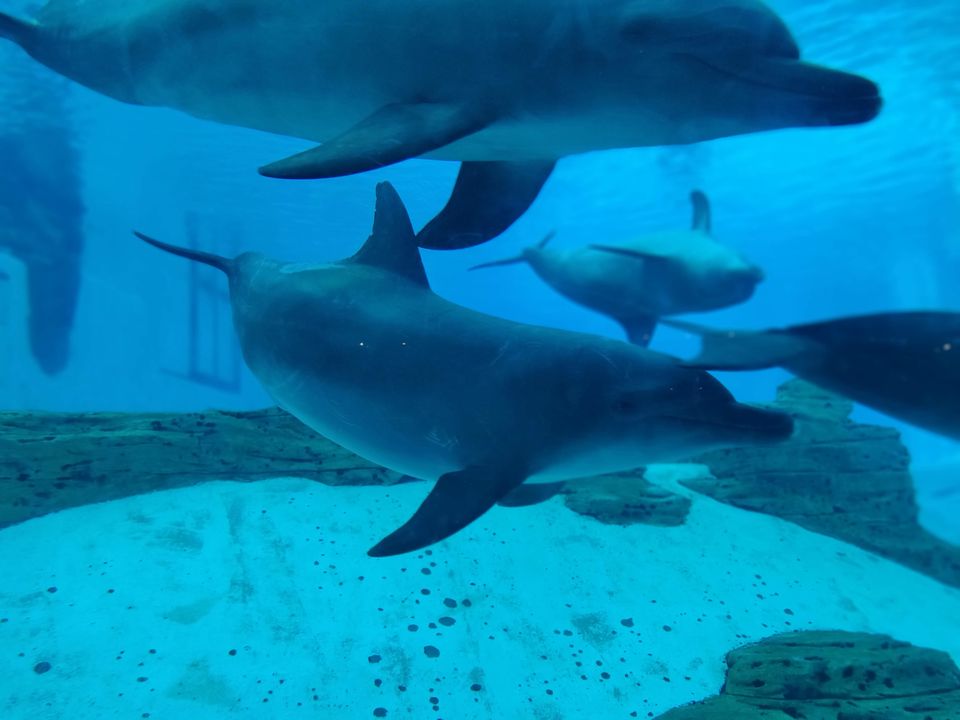 Now comes my favourite attraction - the Skyline and the Luge ride. It is one the most fun things to do in Singapore. This unique Sentosa attraction consists of 2 parts- The skyline is a scenic chairlift ride which provides you a clear view of Sentosa Island and the fun imparting Luge ride where you go down a trail and have full control over how slow or how fast you want to go. I took it twice and still felt like going over again.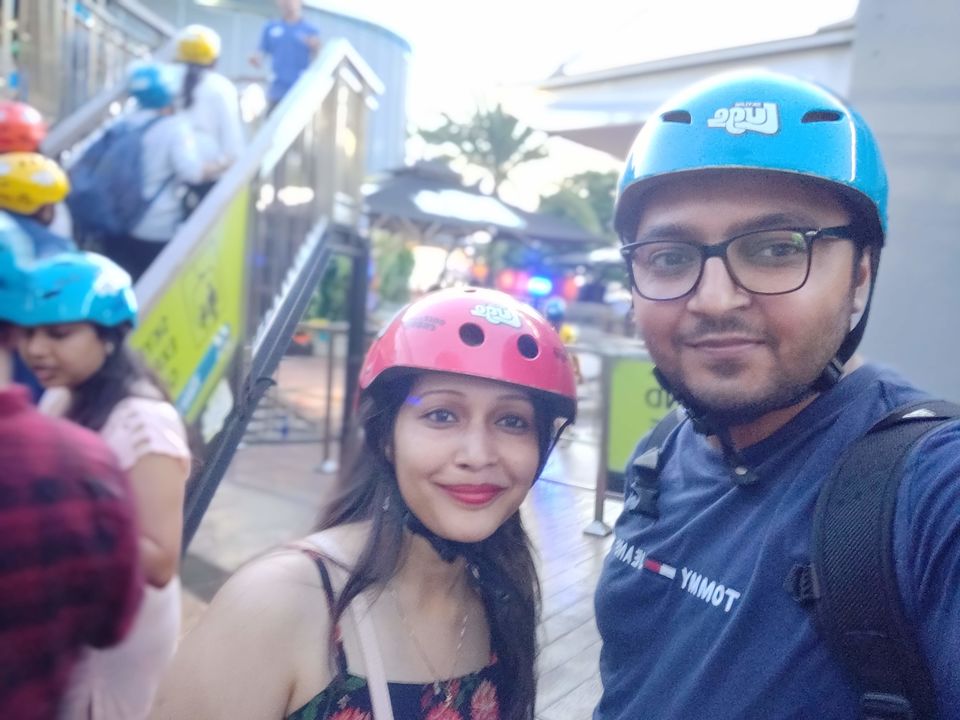 After the luge ride, we took a little rest by the Siloso beach and relished some Indian food of Pao Bhaji and Rajma Chawal at an Indian restaurant near the beach. The last activity of the day was Wings of Time music and light show at the Siloso beach. The entire show was so mesmerizing that its beauty cannot be expressed in words or through the pictures. Only thing I can recommend is just go and watch that show. Do not miss it at any cost.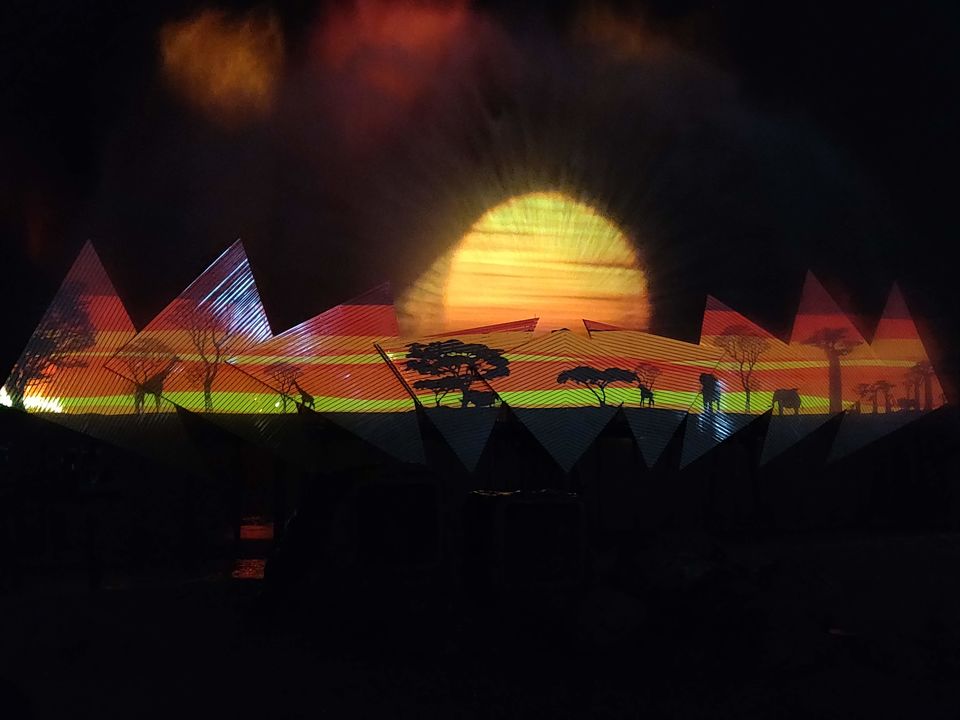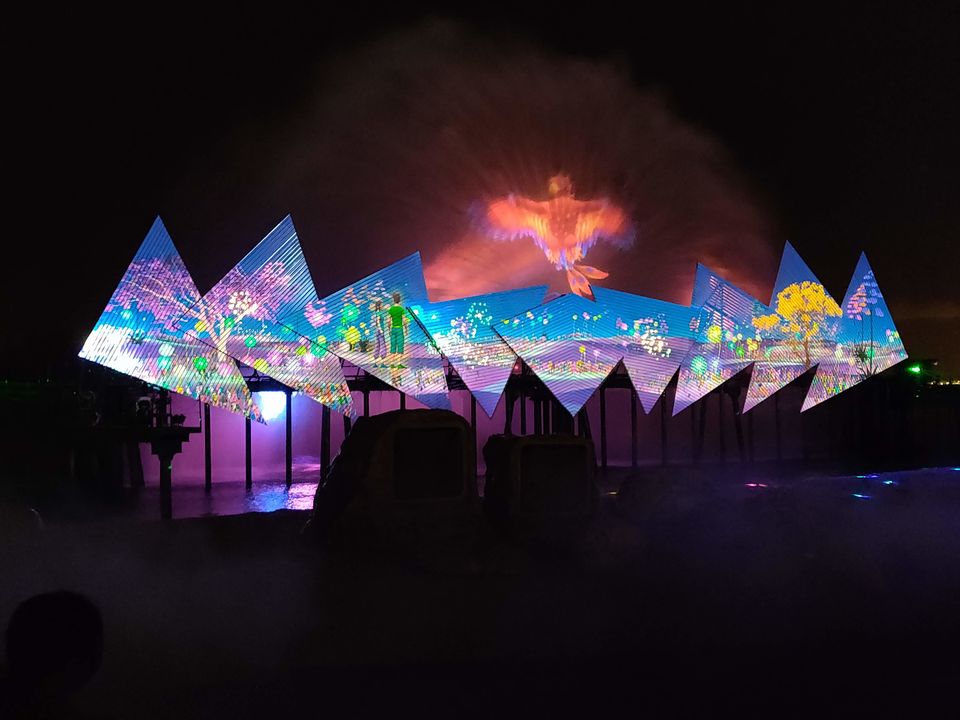 The Sentosa tour came to an end and we started back to our hotel. For dinner , we stepped out of our hotel and walked to Kailash Parbat and enjoyed very bit of the Indian food that we had. You may go to Clarke Quay to check out the nightlife of Singapore. It is totally safe to travel in a group or solo at any hour of the day in Singapore and so you may step out at night fearlessly. It is one of the nations with the lowest crime rate in the world.
Day 4 we woke up early and left for airport as we had to catch a flight to Bali where we spent our next 3 days and details of the trip are present in my previous blog.
To summarize , I would say that you need a minimum of 3 days in Singapore in order to cover all the major attractions. You may extend your trip to 5-6 days but since Singapore is costly in terms of stay and food so I would suggest to make it a 3-4 days plan to keep it economical. In case you have friends/relatives in Singapore where you will be staying over then you can extend your stay as you will be saving lots on food and accommodation. one full day will be required for Universal Studios hence 1 day stay at Sentosa is recommended since you will need more than 1 day to cover all the attractions over there. There are plenty of luxury resorts as well as budget hotels in Sentosa including Park Regis, Shangri La and many others. Do visit the Hard Rock Cafe if you stay overnight at Sentosa. Do watch the Wings of Time show at Siloso beach as it is just one of its kind and go for the Skyline and Luge ride. Do not miss the Gardens by the Bay and if possible go for the night show because the Supertrees are awesome when they are illuminated. If you wish to splurge in Singapore then stay overnight at Marina Bay Sands and enjoy it's exceptionally amazing infinity pool. Hotels are cheaper in Little India than in any other area but Orchard Lane is the typical tourist region to enjoy the nightlife and liveliness of the city. You can also save a lot of time and money if you plan your holiday on weekdays.
Lastly, do not miss the duty free shopping experience at the Changi International Airport. It is rated as the best airport in the world which offers you more than anybody needs at an airport- a range of breathtaking unique gardens, divine sculptures, shopping and food, entertainment corner, peaceful sports for rest and relaxation, free city sight tours of Singapore and airbus service from terminal to terminal. I bet you cannot check out all the attractions at this airport in one visit.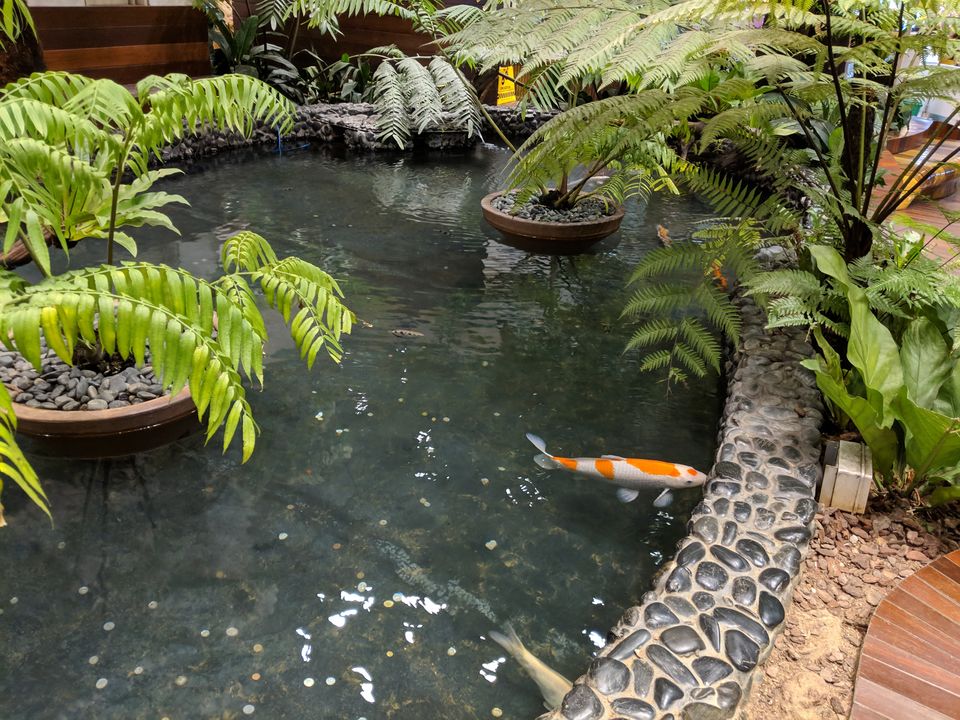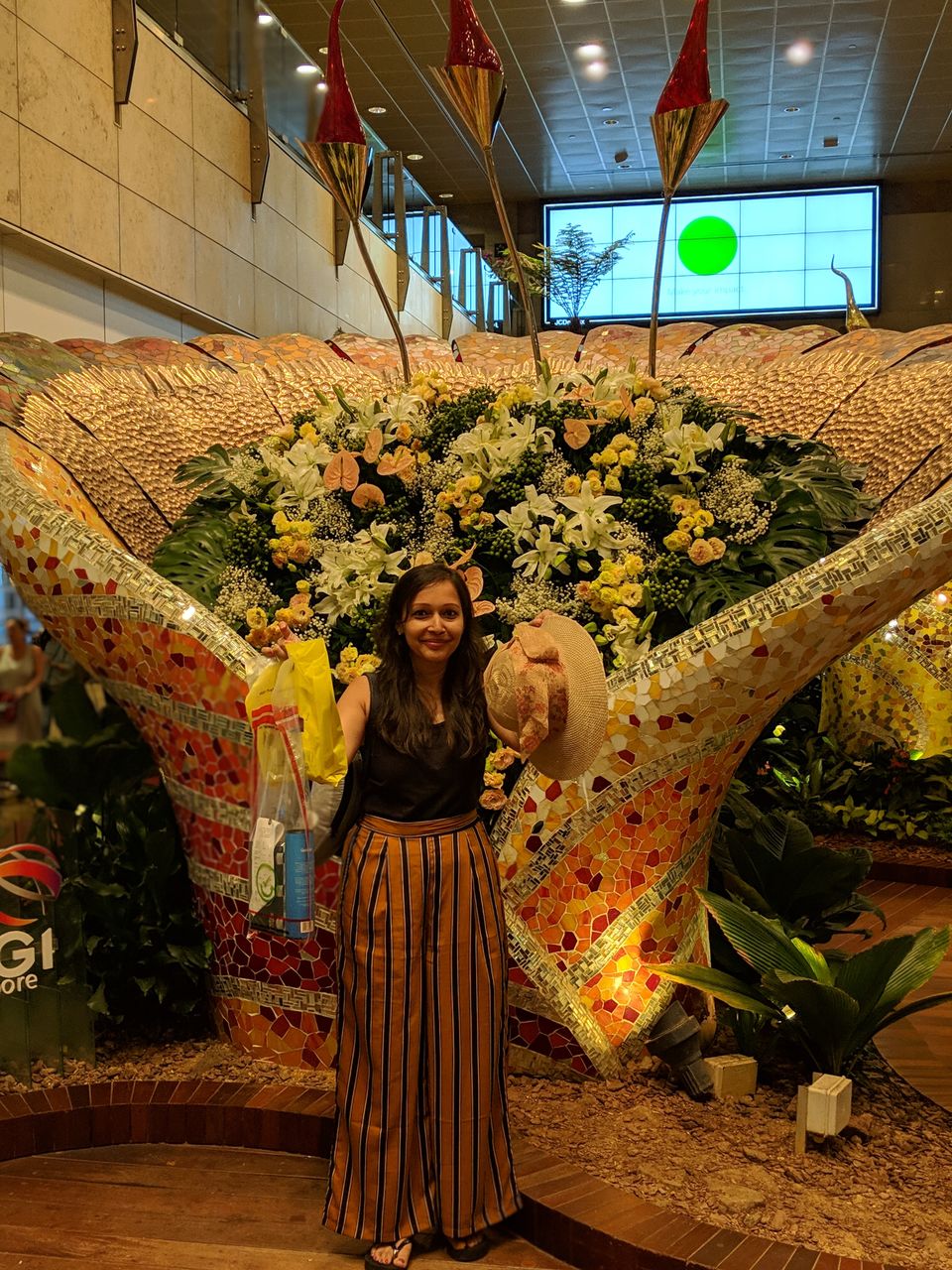 So just pull out 3 days from your mundane routine and fly off to Singapore with your entire family and I am sure none of the family members will get bored at this alluring destination.
Go guys, just get going !!!