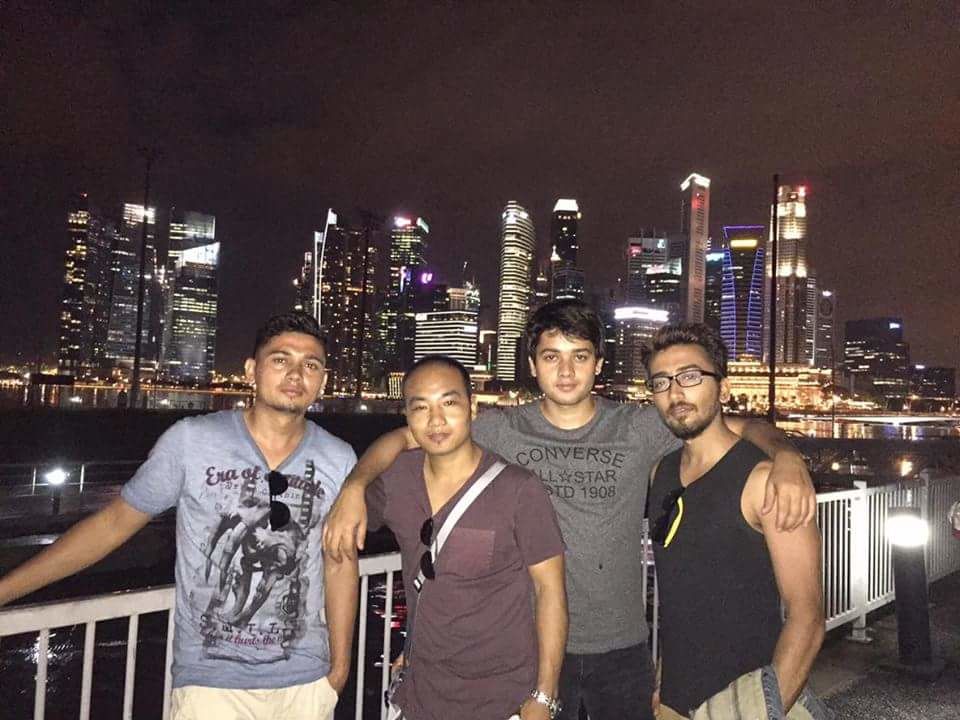 It was 5 when i settled in Singapore. The Changi is an amazing airport. They have everything designed so carefully that anyone would want to spend almost half a day there just moving from one terminal to another. I welcomed all my friends and booked an Uber to find our place in Little India. Little India though, but is clean to keep pace with the other towns of Singapore. Once you get out of the airport, the unpolluted and smooth roads will lead you to the city. The tall skyscrapers and green plantations throughout the city are simply adding the beauty of this red dot. Rumour has that people coming from south find it very difficult in the beginning because once littered anywhere in public place, congratulations if you love to break big rules, you have just made a $500 offence in a country of Zero tolerance. I thought hostel was a right choice at $25 per night in a city known for high cost of living. We could save our money to buy more beers and do more travel. Next day we took a hop on and hop off city bus ride to roam around the city. If you are born curious to know everything around, use those ear plugs and listen to the lady. She will tell everything you need to know about the place where you are exactly now. We dropped at Marina bay. Took a lot of photographs there and went to the Science and cultural museum which looked like the Opera house in Sydney. Next day we dedicated to Universal studios and left nothing unenjoyed. We had a time constraint and a flight the next early morning to Ho Chi Minh (Saigon). Our rule was to sleep less and travel more and thanks to the idea we reached airport before time.

When we landed at Saigon it was nothing like Saigon in Apocalypse now. It is a crowded city. You can see many people outside the airport buzzing chào bạn mostly. We bought some 2.2 Mn Dong in exchange of $100, believe me it is enough money to spend in Vietnam. Moved ahead and saw some 5 million scooters flowing like a liquid, filling in every nook and gap of the city where 8 million people live. We headed straight to Saigon Backpackers hostel which is at the central location for tourists in Bui Vien. This town is popular for its nightlife. After 9 PM all the tourists can be seen roaming around the streets some is search of food and some for pleasure. It was at everyone's shock to know that beer is cheaper than water. First we bought beer at $1 then next at 80 cents and finally we eased up somewhere we could plainly get it at 50 cents. Guys had gone crazy about this. They almost decided to migrate in Saigon. If you are a vegetarian, the city has one surprise to you. You have an option to barbecue Okra nearly in any restaurant by the streets. Locals advised us to visit MeKong Delta. For $6 a day, the agent would come to our hostel, pick us and take us to delta which is a full day travel, serve us meal and drop us back to hostel. There is definitely not a greater deal than this. The purpose of visit to delta can be concluded saying we had good time dancing and singing with locals, riding a boat through MeKong river which can be a great experience if you care less about everything else and open yourself to explore what comes your way. You can make these people happy by offering as much as $5 tips. Their smile will make your day. Charm the snake, take a smiling photograph with a cobra in your neck and later don't forget to taste a wine made of bananas. Coming back to hostel all tired does not mean we will stop and trance but it's time to hit the bar and enjoy the southeastern music with decent Saigon beers. Don't prevent yourself to find ended up with a foreigner because if you can dance like you are hung up then you have a chance. Next day we decided a trip to the tunnel which is famously known for being made use by Viet-Cong in their decade long war. Before reaching to tunnel they will stop to an asylum where the children of victims of Vietnam War will amaze you with great work of art out of egg-shells. This is a nice place to do charity and take a souvenir back to your home. Another great experience is to see the creatively designed Củ Chi tunnel. The very narrow tunnel which is not fit for the taller from west is comfortable to viet-sized people. We guess that's why they had the war in their side. Then we fired some bullets out of M16 and AK47 then jumped off from a tank trying to pretend we were great soldiers of wartime in a jungle. The tour ended by watching a documentary of war and Ho Chi Minh delivering speech. Back to town, all tired we decided to have some calorie food but unfortunately any language failed and we ended up eating food without salt. Language is one great barrier here but can be fun at times.

Next day we had shopping and flight to Hanoi in the evening. Little disappointed to leave Saigon and good people of there, we did not know there was more coming to us. All we knew was Hanoi is without nightlife but to our ignorance. In fact, cheaper and better clubs can be found in this city if you stay in Central backpackers. Thanks to the hostel which will arrange one free shot, a free taxi to drop you to the club, finish your part there and take you to another over the night. You would not know what time is it until you think you are too much tired. That's how they do their business. Don't forget to say hi to Laura if you ever make your visit there. She is sensitive and emotional if you start talking about the tattoos she has in her body. No surprise this hostel will take tourists to Ha Long Bay. But to our bad luck we were short of just one day to cover 2 days 1 night cruise trip to the bay. Then without any option we took one day package. The bay was beyond our imagination. The short and beautiful cliffs in the middle of the ocean will make you dive in the water but wait you are on a single day package. The cruise will stop for the visitors to let an experience of rowing boat. You could lead your boat anywhere in the ocean but you have half an hour to get back. After a beautiful rowing experience the cruise will take to the cave and if you have a clever and funny guide he will literally tell you everything. He has no limits. He was trying to convince us that a big rock is a mother's breast. Then he will say another rock is turtle and another is a merlion, bla-bla. The cave is massive and undoubtedly alluring. We came back to the town and stick to our rules that sleep less travel more. Night is always exhilarating at the bars in Hanoi. Our trip ends here but the takeaway is don't miss 2 days one night cruise trip to Ha Long bay and if you can manage little more time from your tedious schedule then go to Sapa valley. This is something that everyone will tell you and you will feel sorry.
P.S.: Be aware of pickpockets in Hanoi. They will probably come in motorbike. You need to be extra careful if you happen to have something important.
Frequent searches leading to this page:-
Singapore tour packages from Mumbai, Singapore Malaysia tour packages 5 days, Singapore tour package with cruise, Singapore family tour package with airfare, Singapore Malaysia tour package with cruise