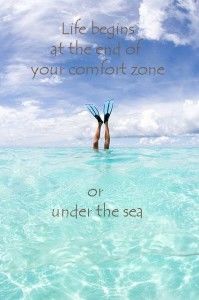 My First Tropical Snorkeling Experience - Unlocking the whole new world!
I swear by the quote "Life begins at the end of your comfort zone or under the sea". The feeling of being immersed in the sea is beyond what words can comprehend, it is an experience you should witness personally. All I knew about snorkeling was that it is a pretty hot activity on fancy beach vacations but it took me a while to actually give it a try.
Snorkeling is the practice of swimming on or through a body of water while equipped with a diving mask, a shaped tube called a snorkel. Use of this equipment allows the snorkeler to observe underwater attractions for extended periods with relatively little effort and to breathe while face-down at the surface.
So now that you are aware of what snorkeling means, lets dive a little further into the where about of this wonderful sport.
My first tropical snorkeling experience was at an Island calledin southern Malaysia. I am in so much love with this Island for its pristine waters and beautiful flora-fauna that I couldn't help but visit this place twice. The best part I like about this Island is that its not one of those "famous tourist destinations" despite its ability to charm and arrest your senses instantly .
We stayed at Berjaya Resort in Tioman which boosts its beautiful private beach along with easy access to the snorkeling hotspot Renggis Island. Snorkeling was part of the package which included the boat ride to and from Renggis island along with the snorkel equipment and life jacket provided by the resort at no extra cost.
When the journey began:
Before we boarded the transfer boat the trainer gave us a quick introduction about the use of equipment and a quick trial on the shallow waters of the beach - the first few dips into the water gave me a scary feeling of being lost in the big sea :).
I travelled with my husband and our 3-year-old son. We reached the Rengiss Island and were transferred to a floating pontoon. Well if you are a first timer it could be an exciting moment and at the same time there is a lot of speculation about whether you should try it or not.
I was more than amazed at the visibility of the marine life from the surface which tempted me further to go in and explore. We sat there holding hands firmly as if the boat would turn upside down any moment , I saw a few Americans jump into the sea without the life jackets like it was nobody's bloody business :). Since it was our first time we didn't plan to take our 3-year-old into the sea, and hence me and my husband decided to take turns venturing into the damn mysterious sea, the first being me - Pat on my back !
I double checked the straps of my life jacket, wore my snorkeling equipment and climbed down the ladder which lead to the sea. I held my breath as if I were practicing breathing for the first time, firmly gripped the ladder and let my leg swing into the sea which had its bed at a mere depth of 7-10 meters. Chills ran up down my spine and I immediately climbed back on to the pontoon. I had to gear up some more confidence and hire a little more air down my lungs from the Island. I repeated the exercise but this time let my body into the sea more generously, but mind you my hands still firmly gripped to the ladder! I put my head under the water and saw nothing but the deep blue sea and carried a hard pumping heart for a few seconds. I came out breathed heavy and went in again but this time besides the deep blue sea I was truly mesmerized by the marine life inside. It was beautiful! I couldn't wait to be floating and swimming with them. I slowly let go off my hands from the ladder, I was floating in the sea for the first time all by myself. It was one of the most liberating feeling I ever felt in my entire life.
I was finally on my own floating in the open sea with my body so free under no constraint what so ever. I waved at my super tensed husband that I was OK. For a moment I forgot the purpose of me in the sea after being smitten by that feeling of liberation I mentioned . I slowly checked inside the water, the world underwater is deeply mysterious and amazingly beautiful. When you are inside the water you hear nothing buy your breath, deep long breaths, the silence is so encapsulating that it can keep you captivated for longer than you can imagine. The experience of witnessing the marine life and the colorful corals was out of the world. Besides the rich variety of colorful fishes, I spotted sea urchins with blue eyes which seemed like creatures from a sci-fi movie touching the sea bed. It was tough for me to go back to the pontoon but I had to so that my husband could give this a try now. He did try, but his experience will need another blog post altogether so, I will leave it to your imagination for now :). While we enjoyed our experience of the underwater world, our son fed the fish, few pieces of bread from the pontoon and enjoyed the view and then took a good nap. It was my turn and this time I jumped into the water with more confidence and zest, I now didn't need the ladder anymore except for climbing up to the base. I could not get enough of it. It was simply the most relaxing experience to see a completely different world, so quiet, calm and refreshing. How I'd wished if I could exchange roles with the fish :). Given an opportunity everyone should give this a try at least once in their lifetime. Go for it!
Some points to ponder:

Snorkeling is different from diving, the former being mostly on the surface of the sea.
Unless you are an experienced ocean swimmer, a life jacket will help you float giving the non-swimmers a big thumsup for this sport. Just make sure you check the straps and buckles well during the snorkeling event but don't be obsessed with it.
It is always advisable to have a buddy who will keep an eye on you, while you are in the water. My husband and I played the buddy roles.
I personally prefer calm water for snorkeling which gives a great visibility and the waves are much smoother and the currents underwater aint very obvious. If the weather is too windy, it can trigger choppy water which makes snorkeling a little uncomfortable at least for the newbies. You could wait for the sea to calm down before you venture. Take your time and feel comfortable. The sea aint running anywhere brother !
I carried a few pieces of bread wrapped in a plastic bag to feed the fish while snorkeling. Uncover each slice and feed the bits to the fish and they will rush towards you like there is no tomorrow and the site of this is simply mind blowing.
Since the floating pontoon is an open area I suggest you carry an umbrella especially if travelling with a child. We covered the umbrella with a wet towel which kept it cool. Carry some snacks and lots of water/juice.
The snorkel mask covers your eyes and nose, with a pipe for breathing through your mouth while inside the water. This way you will be breathing for long periods of time through your mouth alone. Give yourself enough breaks as to condition your body to the new breathing technique.
There is a small dirty trick to keep your snorkel glasses fog free - Spit into them, and then rinse them with sea water and woala you have clear glasses for long time to come.
If water leaks into your eyes, it means the mask isn't tight enough.
Just in case you are wondering how to get to Tioman from Singapore here is a quick view :
Singapore(coach) -->(coach) Tanjung-Gemok(Ferry) ---> Tioman Island (Ferry)
It is almost impossible to express the joy I felt, nevertheless I have covered as much information as I thought I could, but if you guys have any queries just leave a message in the comment section. I would be more than happy if you share your first time experience as well, that will give our readers some more hands on information.
Go immerse yourself into some of the best adventures the ocean has to offer in this limited period called LIFE !