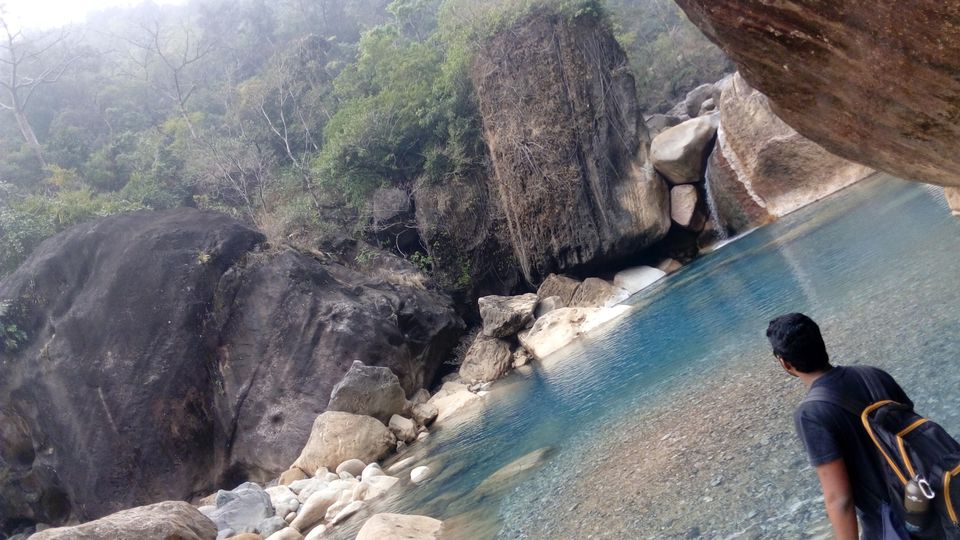 We were a group of 5 guys on a trip to Shillong, Meghalaya which is located in North Eastern India. This trip was one of the first trips that we as college friends had taken and we had no idea of how things are going to turn out and what once in a life time experiences we were going to have.
Fast forward to Sohra, a hill station town some 100 kms from Shillong, We are staying at this place called "By the way" which was a backpacker's hostel. We stayed there for 3 days exploring nearby places. By the way's washroom had this amazing quote written above a tap which went as "What took you so long". I noticed this quote obviously while taking a poop and I don't actually know the exact reason why but this quote kind of got stuck in my head and stayed with me throughout the trip.
Fast forward again; we are staying at a guest house called Serene Homestay at Nongriat, a mountain village which required a tiring trek of at least 4 hours to reach. Nongriat was amazing and exhausting to an extent that movement irrespective of direction or destination required either climbing upward or downward on a stairway. That place is so not flat. So we had been there for 4-5 days already, we would wake up and trek to some nearby place. Nongriat is famous for living root bridges and the terrain and valleys there boast some of the most amazing waterfalls and views being the wettest place on Earth. We would go for a trek every day, comeback tired to our bones, booze ourselves to sleep and then the cycle goes on.  One particular day we were supposed to go see some cave with dinosaur remains in it,we woke up late that morning which made us leave late, the route to the cave was amazing, the views were breathtaking and beautiful and extremely treacherous. The landscape was inexplicably beautiful and we had never seen anything like that in our lives and this made us take stops at various points, we would just stop and sit for some time, silent and of course high trying to just absorb all that we could. Trekking that day was tougher than usual and those stops we had taken also slowed us down and soon it started getting darker, we were literally in the middle of nowhere with dense forest and mountains all around. Temperature started dropping drastically and going back was not an option now due to the steep climbs we had crossed on our way up. The thought of climbing down those dangerous steps in absolute darkness made our spines chill with fear. Ofcourse we had lighting gears with us but that did not make us any more confident and we chose to keep going unsure of the awaiting conditions we were going to spend our night in.
To our surprise we saw lights from some distance and it was clear now that there was a village or human settlement and we just needed to reach there to score some help for ourselves.
That village's name was Makawir, it was already close to 8 pm when we reached there. We started knocking on random doors in an attempt to ask people to help us. People living in mountains tend to sleep early and didn't like visitors who did not speak in their language; it was very easy to deduce from the expressions we saw on their faces and the fact that they didn't understand shit about what we were trying to tell made us feel miserably helpless.
So here we were left with the task of knocking on doors of random houses and overcome their exasperation caused by being disturbed, then convince them to let us spend the night in their house in a language they did not understand.
We kept on knocking doors after being rejected and abused in some weird language. Houses in that village were not very close to each other. While we were on our way to a house which was in some distance from the last one that rejected us, there came a voice which said exactly "Hey you guys need anything?" .I had never felt so happy hearing a stranger's voice in my life until then, we responded "Yes we need someone who can speak in English. And we meet Banda.
Banda had a family of three with her husband and an infant daughter Sasha. She let us stay in her home which was a small wooden hut with two rooms. She arranged fire for us so we could cook some food for ourselves outside and then we slept in the front room which was so small that we all slept uncomfortably close to each other with the voice of her infant daughter who was up all night in the background. Thanks to the small house, we could hear Sasha talking to herself all night. Hearing a kid chatter in the background while we tried to sleep made me realize how influential some extremely simple things can be; we slept so peacefully irrespective of how tired we were and how uncomfortably cold it was. Of course the awkwardly close sleeping arrangement helped with the cold. LOL.
In the morning we spoke to Banda while she fixed us boiled eggs for breakfast. We wanted to know how was she able to speak in English while her entire village could not. She said she learnt the language by speaking to tourists who very rarely came to her village. Their village would not get a lot of tourists so she was not able to learn a lot but she would still put in the effort and talk to every other tourist that came there. She dreamed of owning a homestay someday and just wanted to save 3k rupees to buy a tent which she would offer to stray tourists like us to stay.
I was amazed to see the zeal she had for life, the efforts she was making to have a better living in spite of so much adversity and how she was managing to achieve great feats like learning an entirely alien language. People like Banda inspire me to do better, to push even harder, to never care about any adversity and just go ahead with brute force, she was everything a woman is to me. After having our breakfast we came back to our base village where we had our guest house owner and other fellow tourists worried about us for not returning the previous night. While there was so much happening around me and we were having such good time, there was something that kept lurking in some corner of my brain and that was "What took you so long".