TEXT AND PICTURES BY RAKESH GIRI GOSWAMI
     BASIC RECIPE INPUTS BY MANJU LATA GOSWAMI
Introduction- While travelling 2 thoughts always come to people's mind what type of accommodation we are going to get,if food would be good or bad. But if on reaching the destination these two things are solved then more than 50% tension evaporates. Food is an important part of travel itinerary,during such trips tourists also wish to have a taste of local food. Now every one knows that the Indian cuisine has attained global significance due to its variety in both veg. as well as non veg. category. Talking of veg. category the first thing that comes to mind is KADHI which is a very popular throughout the country,specially popular in North,Central and Western India. So it is appropriate if something about this preparation is discussed on a travel site.
Kadhi preparation involves 3 stages viz.(i) basic preparation(ii) tadka stage(iii) final cooking stage. But first of all the basic ingredients required for this.
Gram flour or Besan-250gms, Curd-250 ml or butter milk 250 ml, salt to taste, oil or ghee 2 tbsp, Red chilli powder-3/4 tbsp,Turmeric powder-1/2 tbsp, Coriander powder-1/2 tbsp, Mustard seed or Rye-25gms, Methi dana or fenu greek 20gms, Chopped green chillies-2 or 3, Heeng or asfoetida-20gms, Cummin's seed or Jeera-20gms, Laung or clove-5, Garlic cloves crushed-5-7, Chopped small onions- 2 or 3, finally Meetha neem or kadhi patta leaves 10.
(i) basic preparation-pour curd in a large bowl, add equal amount of water, add gram flour or besan then add red chilly, turmeric,coriander powder.Then thoroughly mix them otherwise knots will develop during cooking.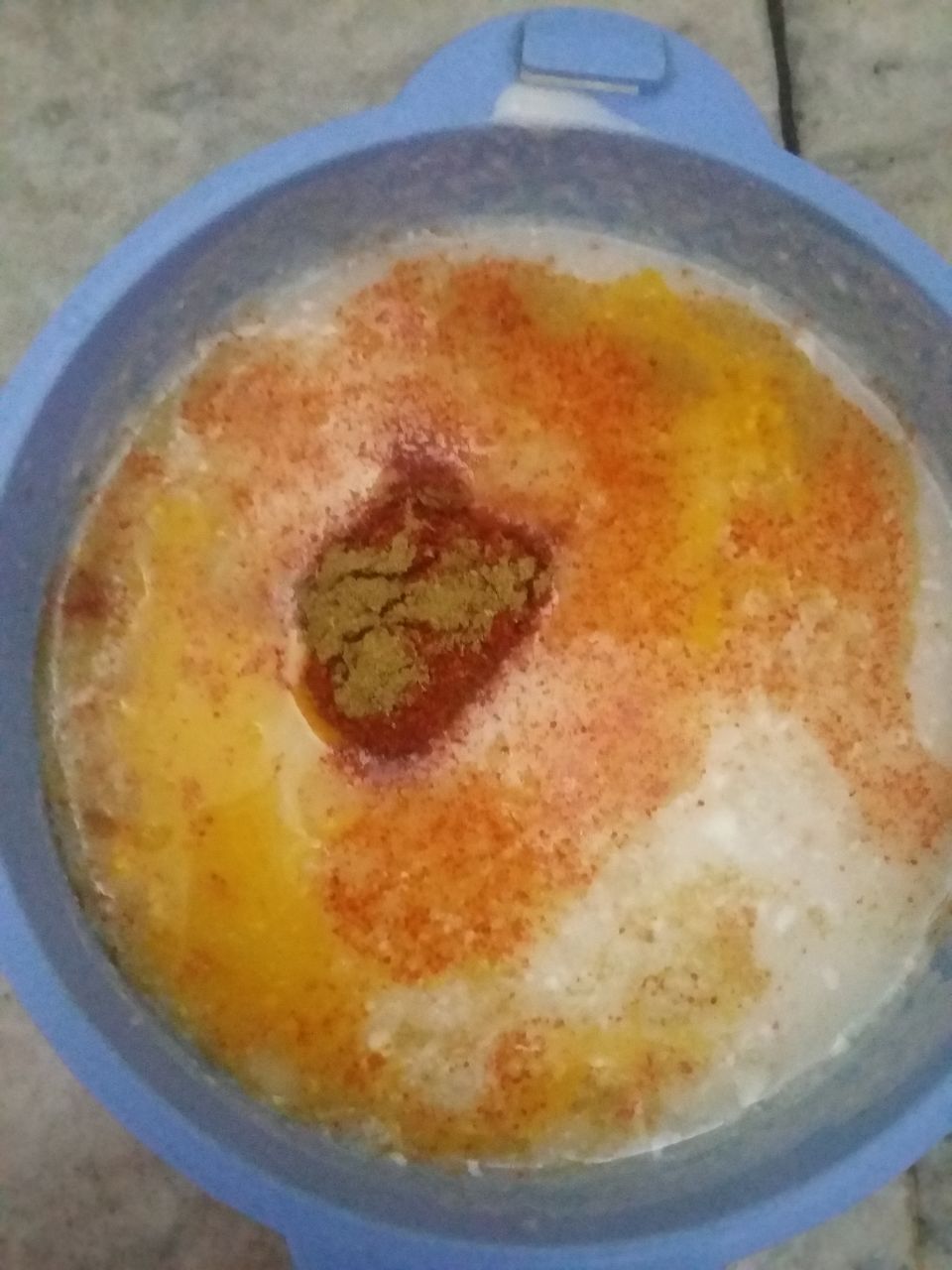 (ii) tadka stage- there are many variations of tadka in Indian kadhi. Some families prefer only Heeng-Jeera,others may prefer only garlic or onion, some even add garlic with heeng jeera. Any way one should start in this manner.Put a pan or kadhai on stove, pour oil or ghee,allow it to heat for two minutes.Then put mustard seed and Methi dana,wait till they start crackling,then add heeng-jeera, laung or clove,after half minute add kadhi patta and chopped green chillies.Saute them for 2-3 minutes then pour the entire liquid mixture prepared earlier. If you don't prefer heeng jeera then you can also put garlic or onion in their place and follow the same process as above till onion turns brown.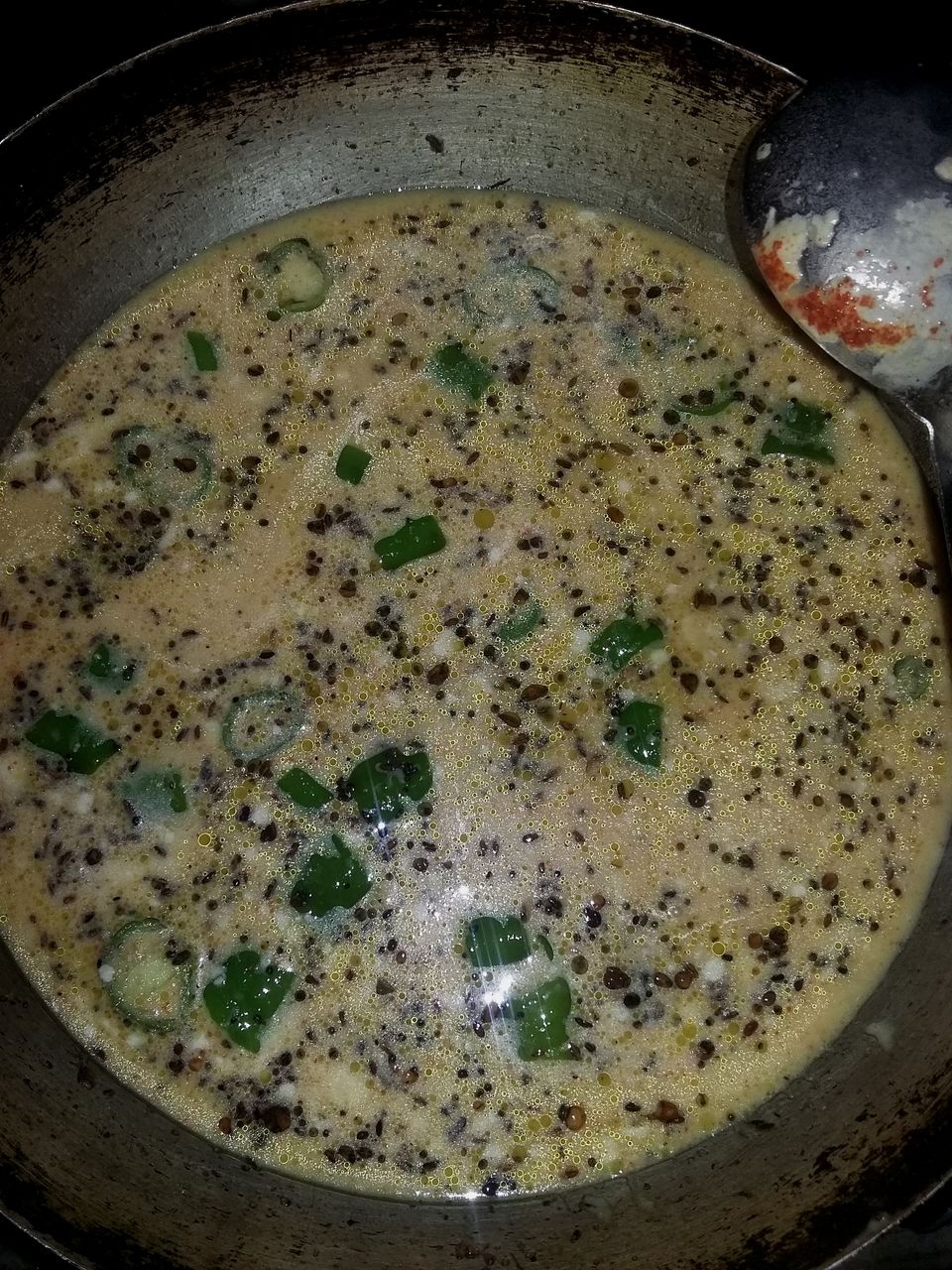 (iii) final boiling or cooking stage- Allow the entire mixture to boil first on strong flame,after first boil, simmer the flame and then keep it boiling for 10-15 minutes.Now add salt to taste.If salt is added before it can increase sourness of curd. When kadhi is finally ready you will start getting good smell.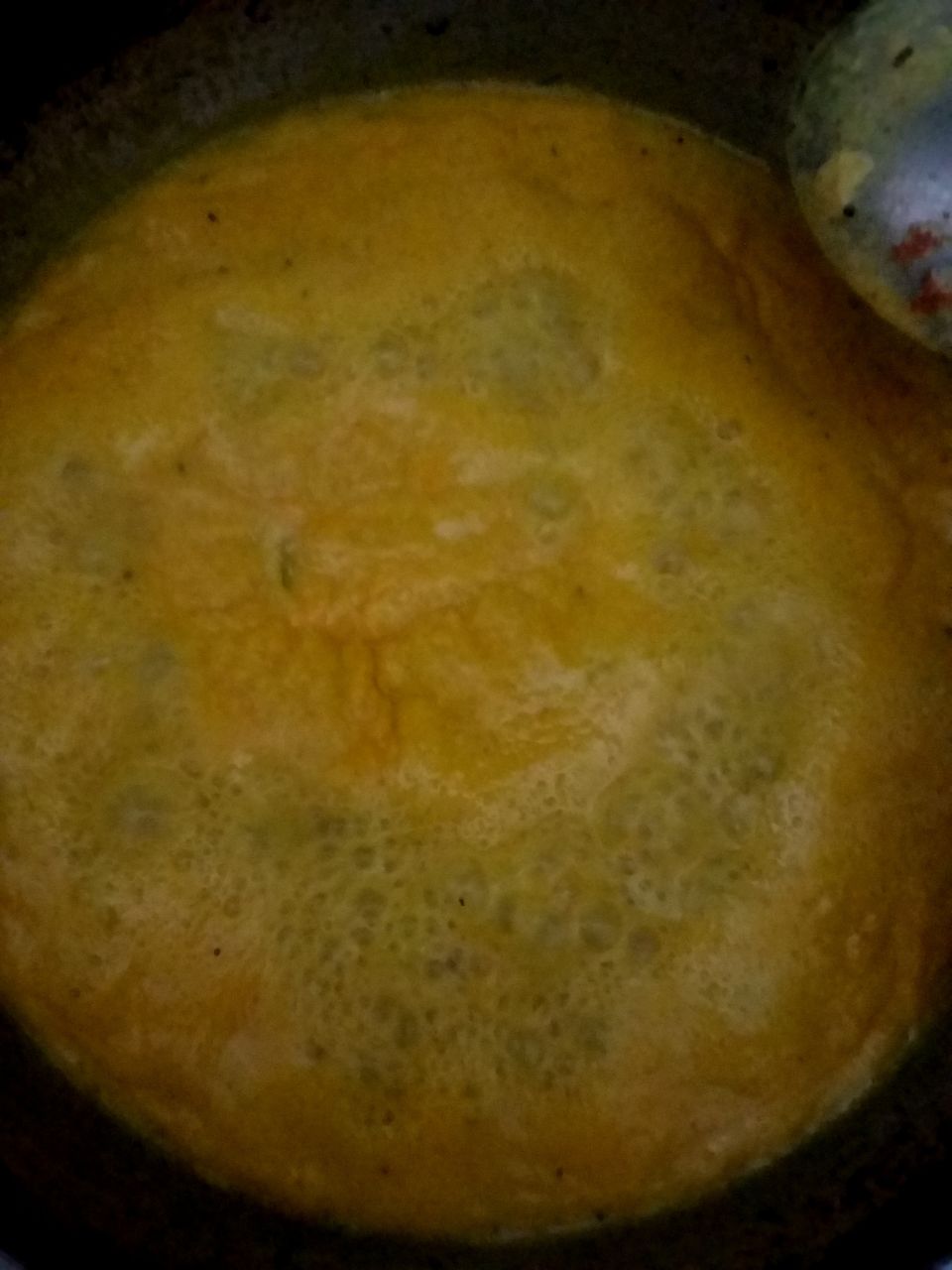 The method mentioned above is for normal kadhi relished by majority of people in India,there are many variations of Kadhi in India. Most common variant is Pakoda kadhi,pakodas are deep fried separately and added after kadhi ready.The other but less common variant is from Rajasthan known as SAVEJI or HIVEJI.In this Chane ki daal or Bengal gram is added to kadhi during boiling stage.Apart from above there is Gujarati kadhi in which above ingredients are same but sweetener agent is added like sugar or a sauce having tamarind and jaggery. Then there is Kadhi in Maharashtra which also has sweetener agent. Another popular variation of kadhi is Sindhi kadhi mostly prepared by Sindhi community,but adopted by others also. In Sindhi kadhi pieces of drumsticks are added, which not only makes it tasty but very nourishing too,
Kadhi can be eaten with chapati, naan,tandoori roti. It is also served with plain white rice, spicy fried rice, or other varieties of Biryanis.
So dear friends enjoy Kadhi of your liking