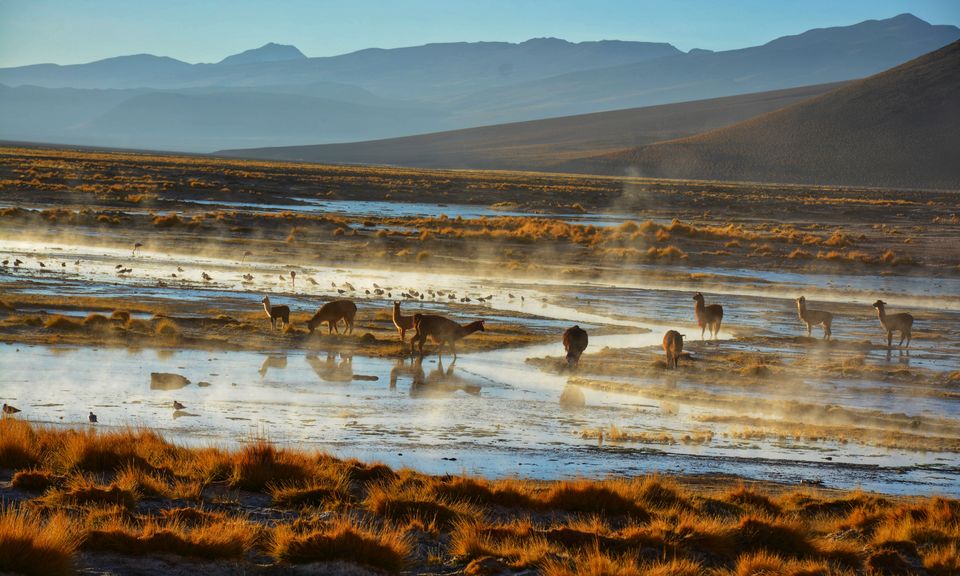 Checking in with the Locals
We saw many Alpaca's and Vicuna's, the local animals, kind of equivalent to say goats or sheep in India ;). Vicuna's skin is one of the most expensive in the world with full length coats costing as much as USD 20,000, mostly worn by the royals around the world ;)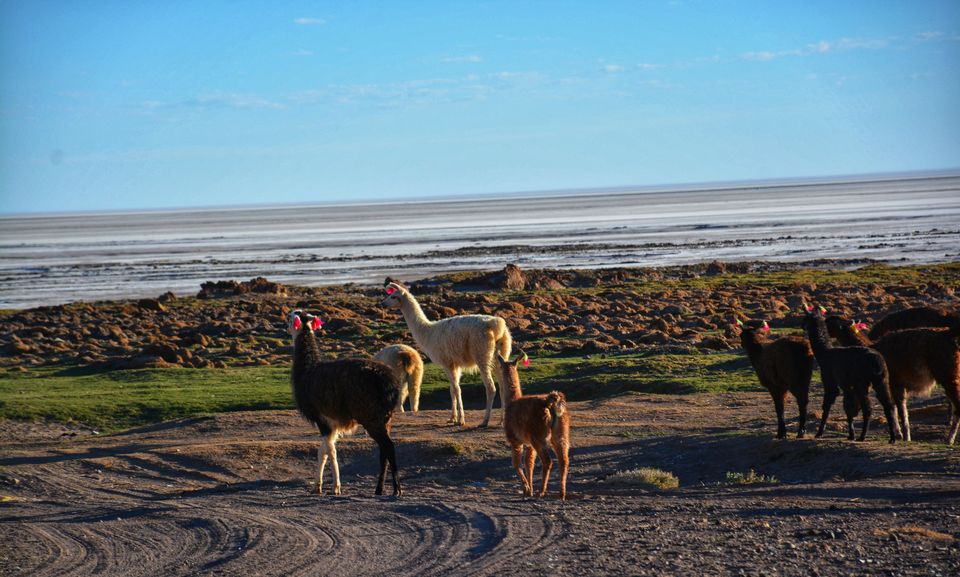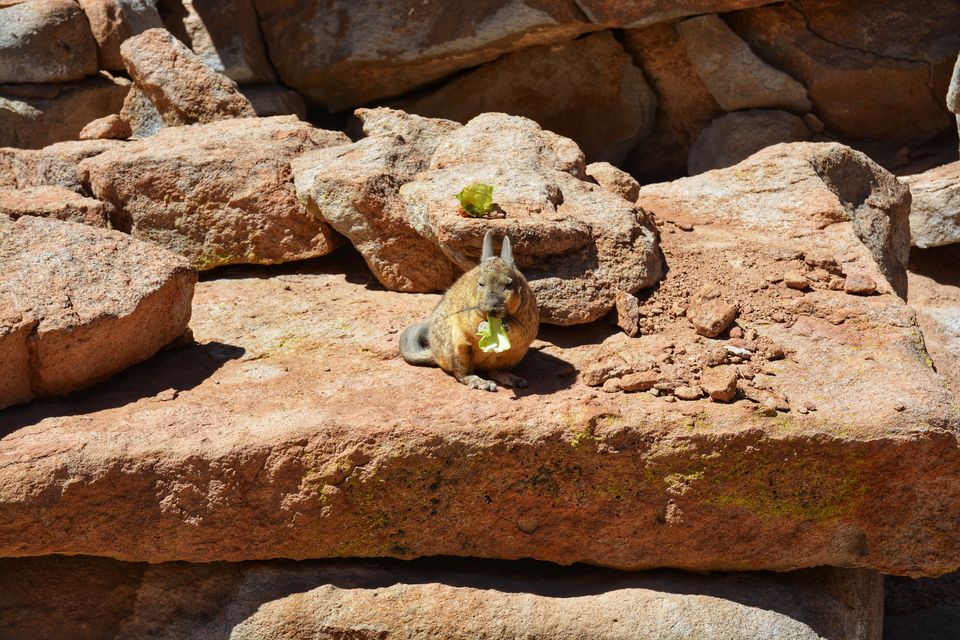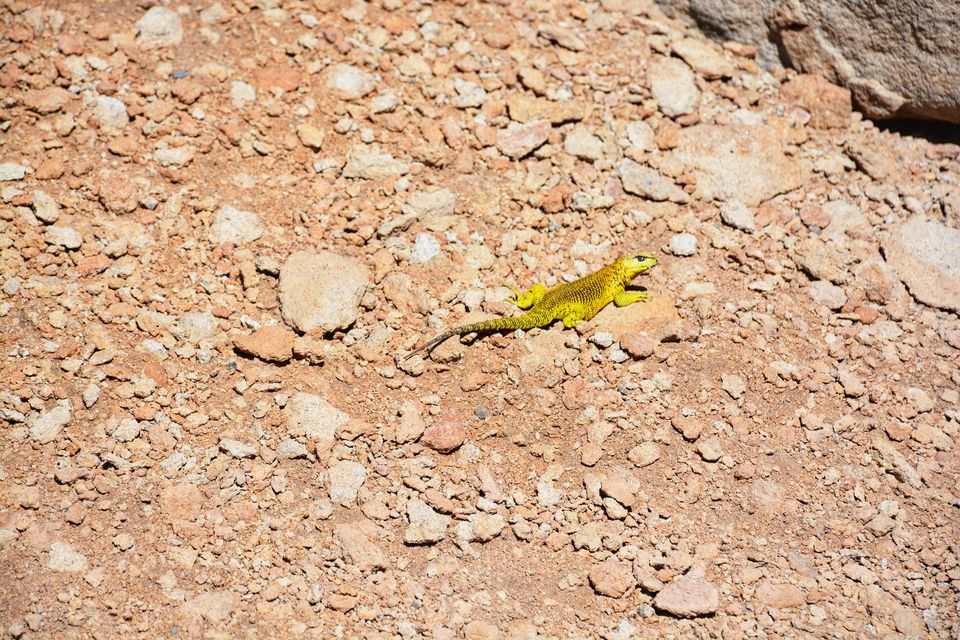 An old railway line
As we drove further, we crossed an abandoned railway line which is said to be used in old days to cross the border between Bolivia and Chile. Do not forget to ask your driver to take a stop and click some cool pictures here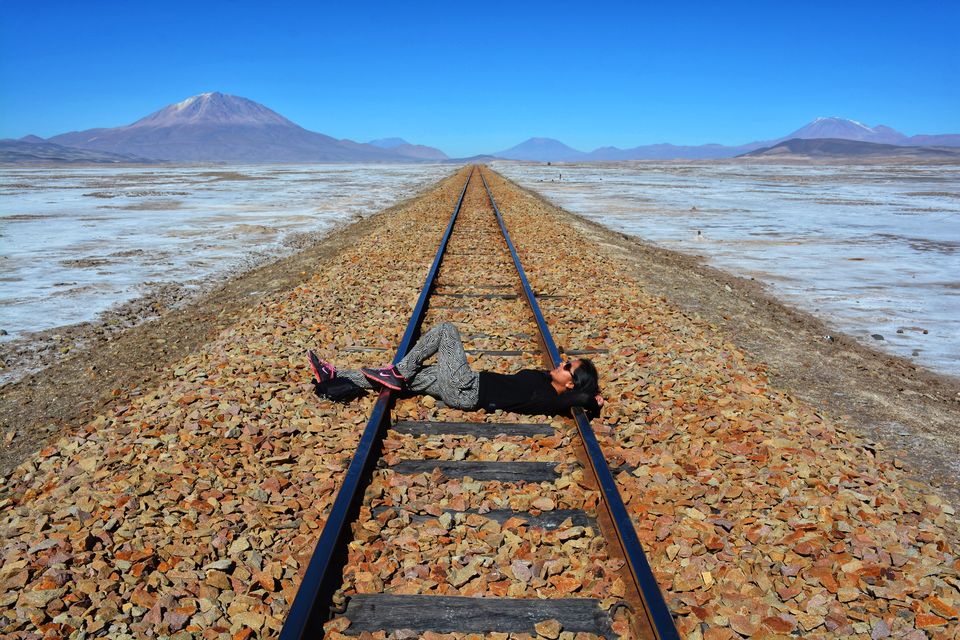 Visiting the monthly market
We were lucky to visit a monthly market which is run by the Bolivians and Chileans at the Bolivian side, very close to the border. The locals basically come and sell the stuff cross country in this market and sometimes even exchange their goods based on their value!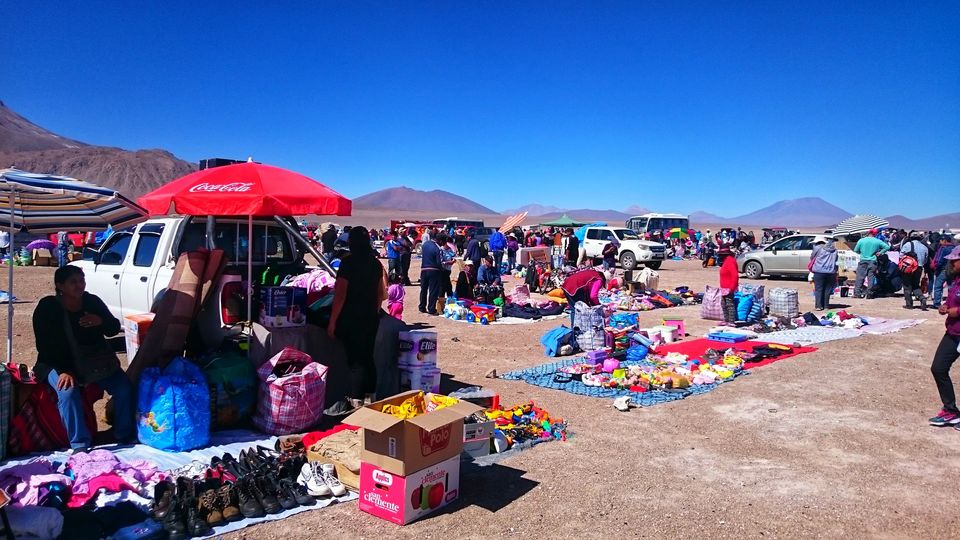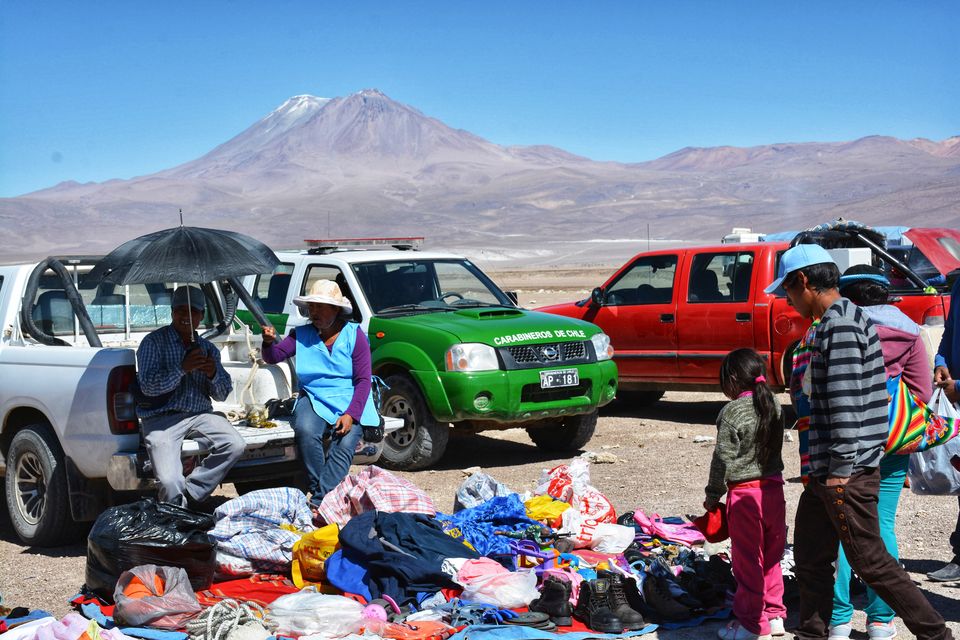 Volcano, Lakes and Flamingos
Next we drove towards a dry dessert with a distant view of a semi dormant volcano, followed by Andean lagoons with hundreds of flamingos hanging around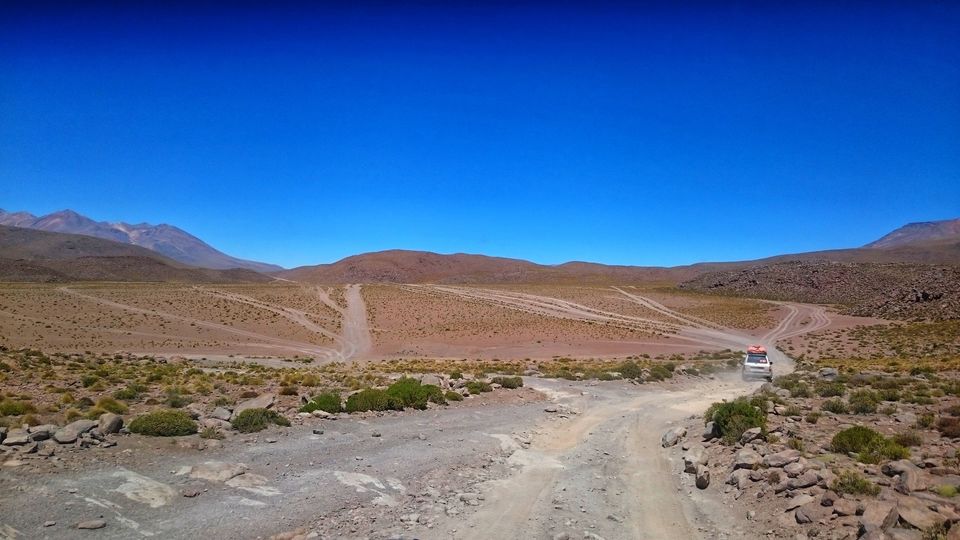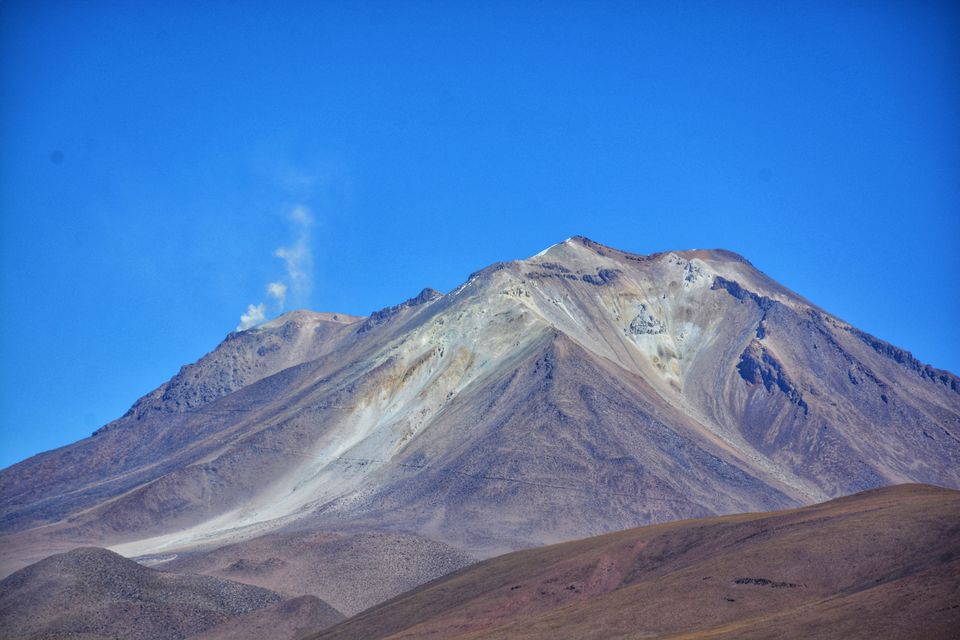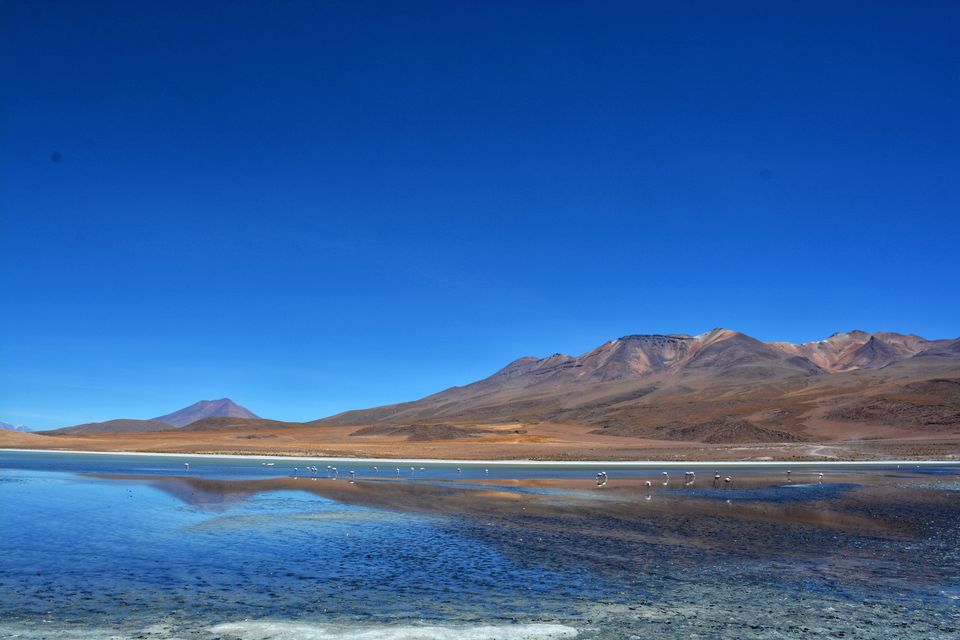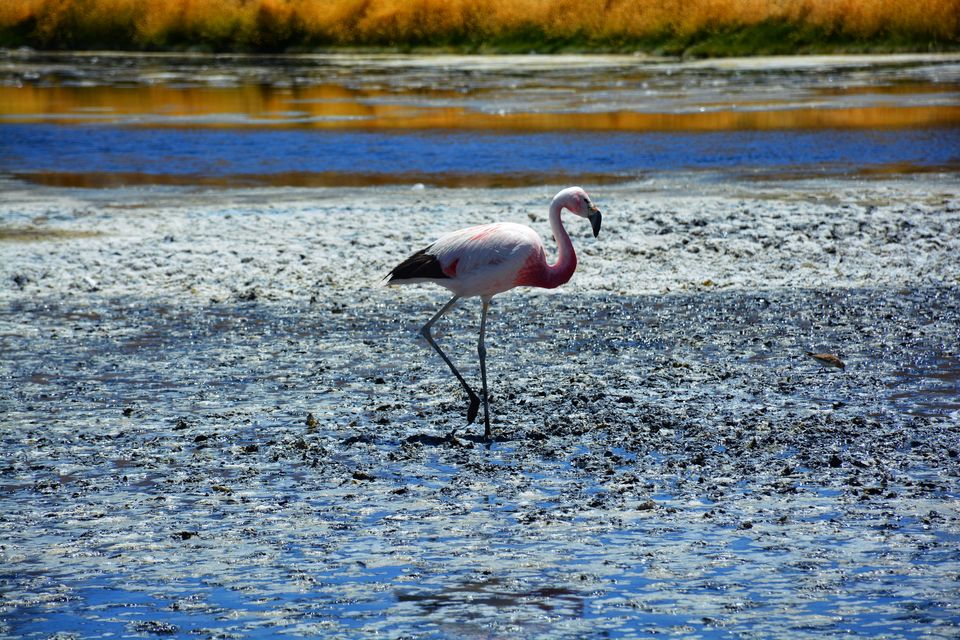 The famous Lava Rock Tree
As we drove further south you through the vast desert of Siloli at an altitude of 4550m, known as the highest and driest in the world, we reached the famous lonely Rock tree (lava cooled- rock formation). It is unbelievable to see this rock formation right in the middle of a dry desert with miles of plain land around!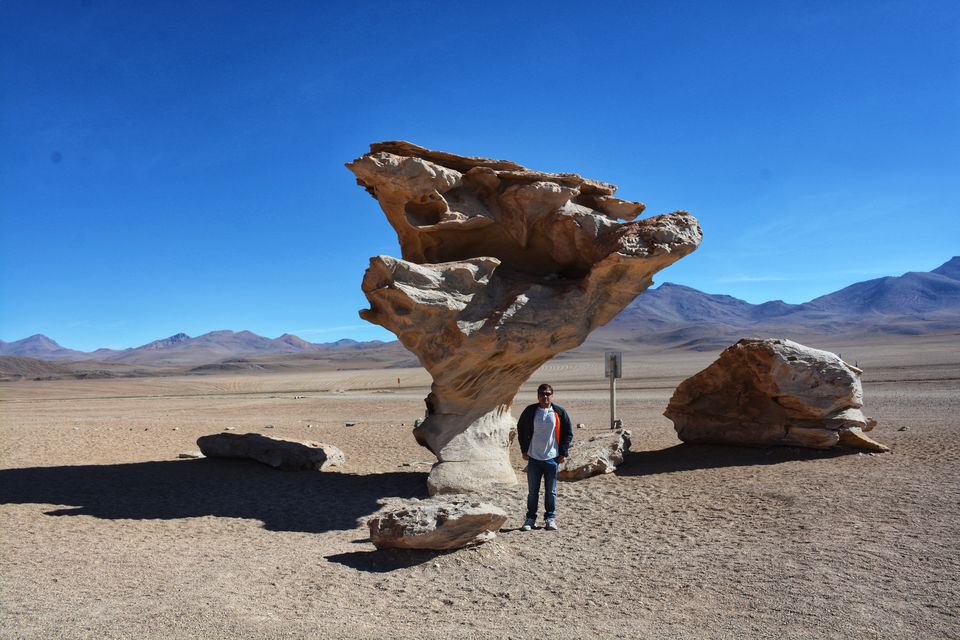 Laguna Colorada
Next stop was Laguna Colorado. This is basically a very large shallow salt lake. What would leave you surprised is the colour of the lake with a striking volcanic mountain background. The colour of the lake is mixed shades of red, pink and white. This is due to the various concentration of borax and red sediments and pigmentation of some algae in this Lake.
You will witness thousands of James flamingos in the lake. It is said that, the neck of these flamingos are red due to the fact that they feed on the red algae in the water.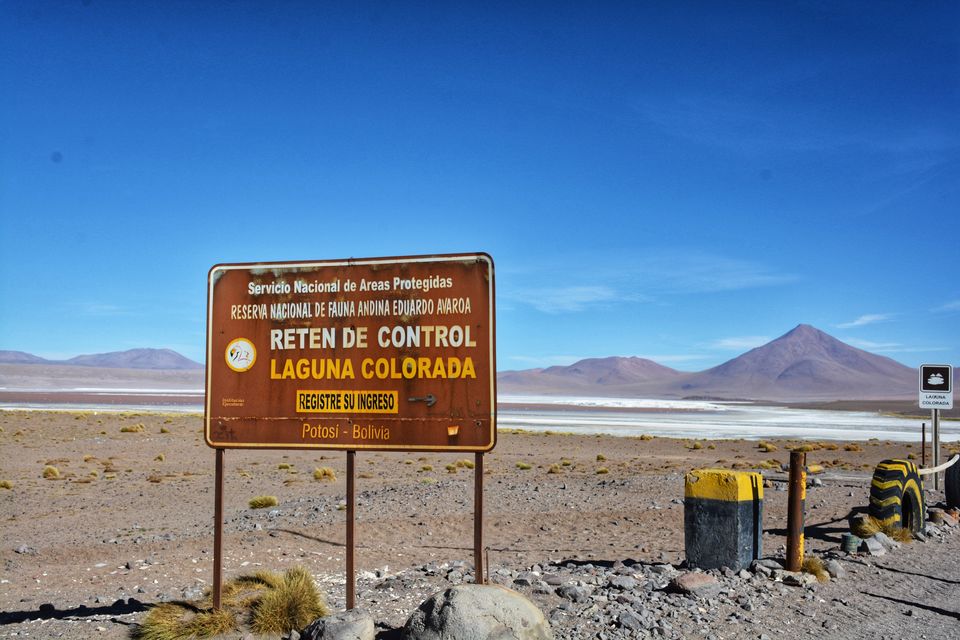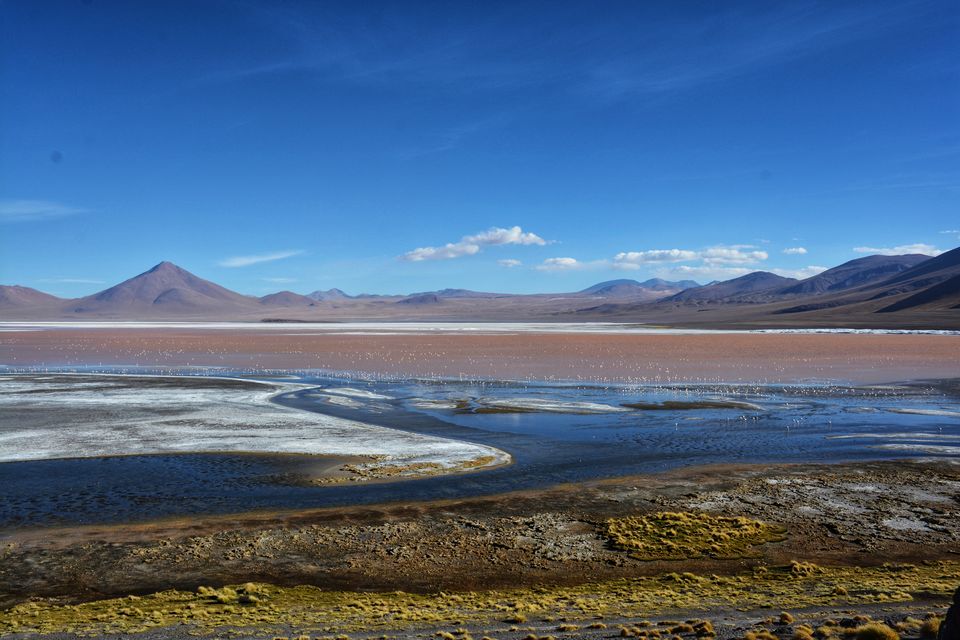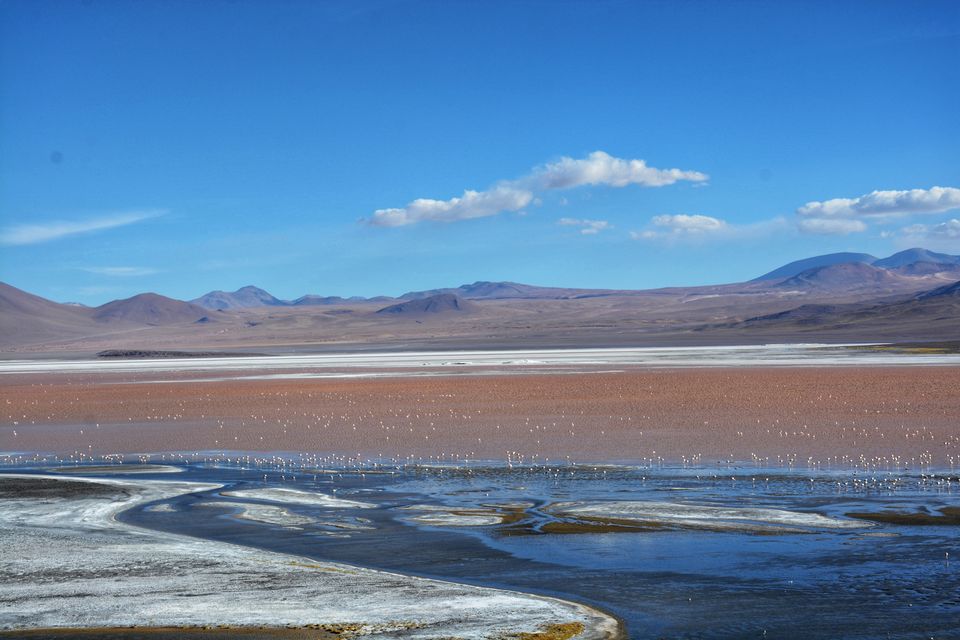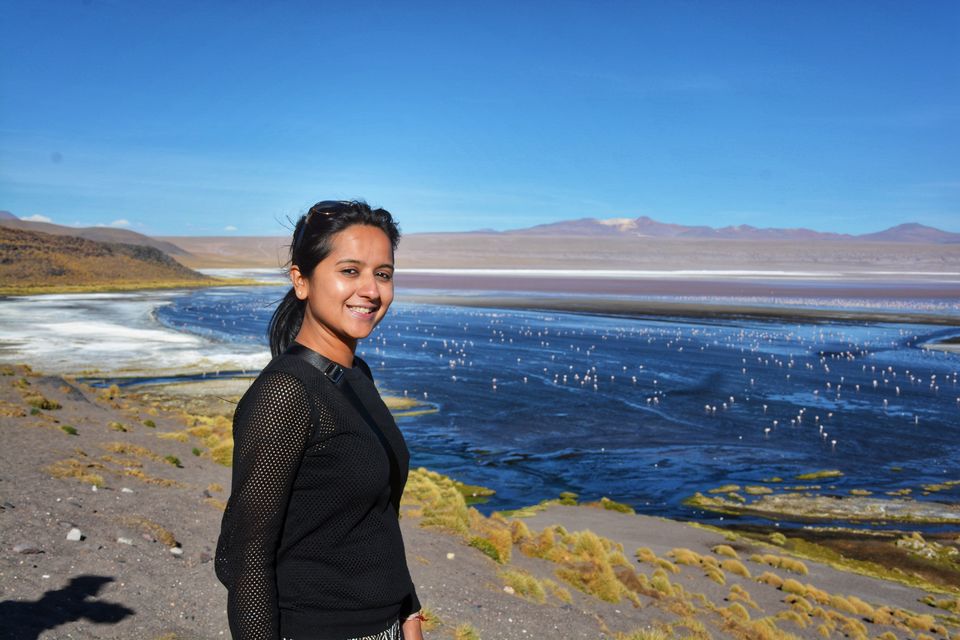 Sol de Mañana:
After driving for another hour or so, we reached to the Sol de Mañana Geo-thermal area which extends over approx. 10 km square and is at an altitude of 5000 meters. The area is full of geothermal volcanic activities, with various boiling mud pools, sulphur springs, steam pools with continuous steam and volcanic activities around.
Be careful while exploring this area as you might have low visibility of numerous smaller and big craters around in this area. When we were there, we heard that there was a recent accident, wherein a Chinese tourist died while taking a picture while close to a mud pool!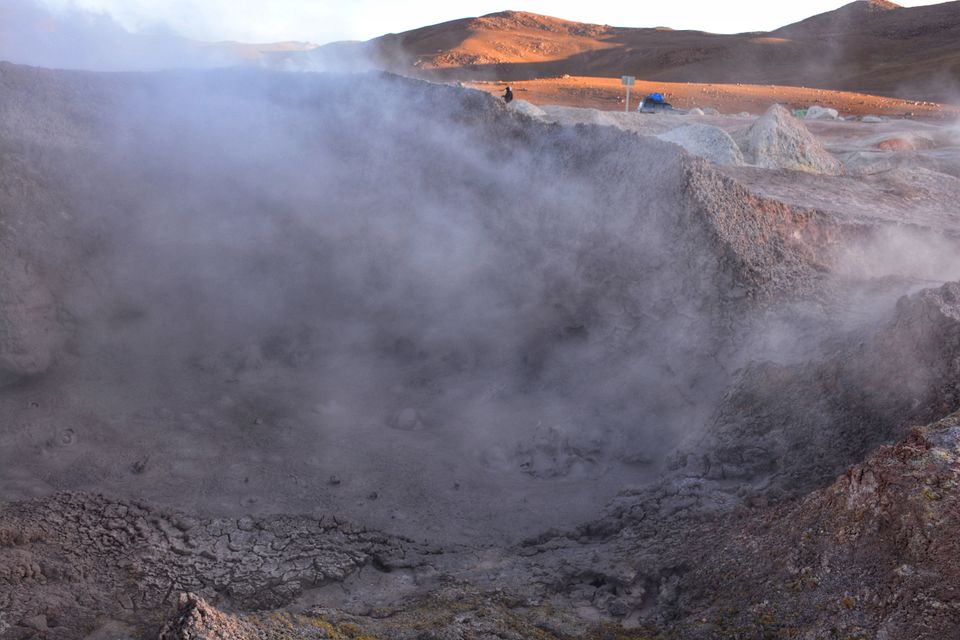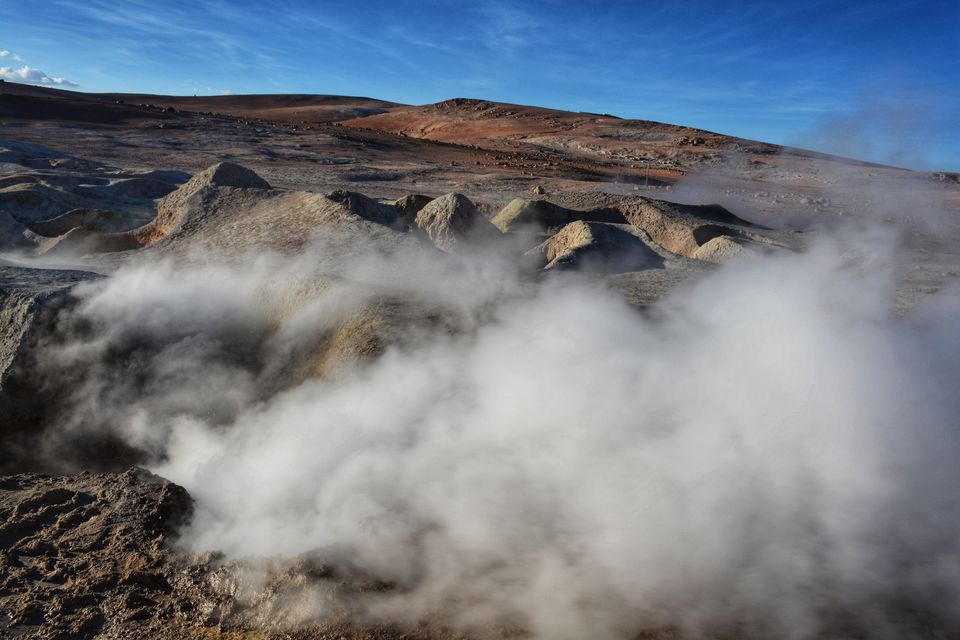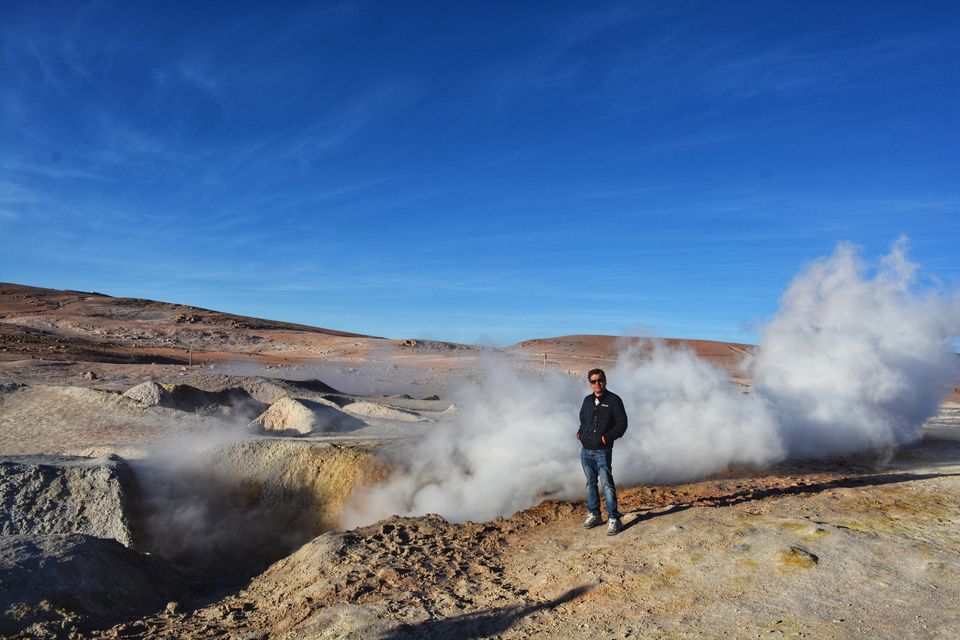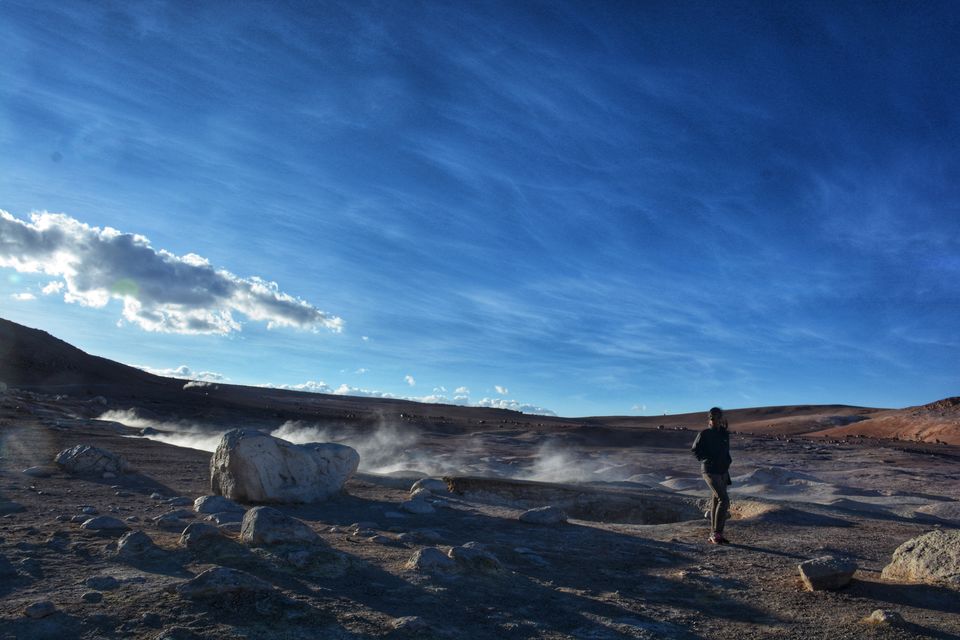 Hot Springs & Stay:
Finally it was an end of day 2 of our drive in Bolivian wilderness with a stay near a hot spring.
We enjoyed a dip in the hot springs in the evening with thousands of stars in the sky and even witnessed the southern cross! It is a must-do, so please do not forget to pack a swim suit!
The morning here was magical, a beautiful sunrise, the morning mist rising from the shallow hot water springs around with hundreds of flamingos and alpacas grazing around! It was definitely a site to behold!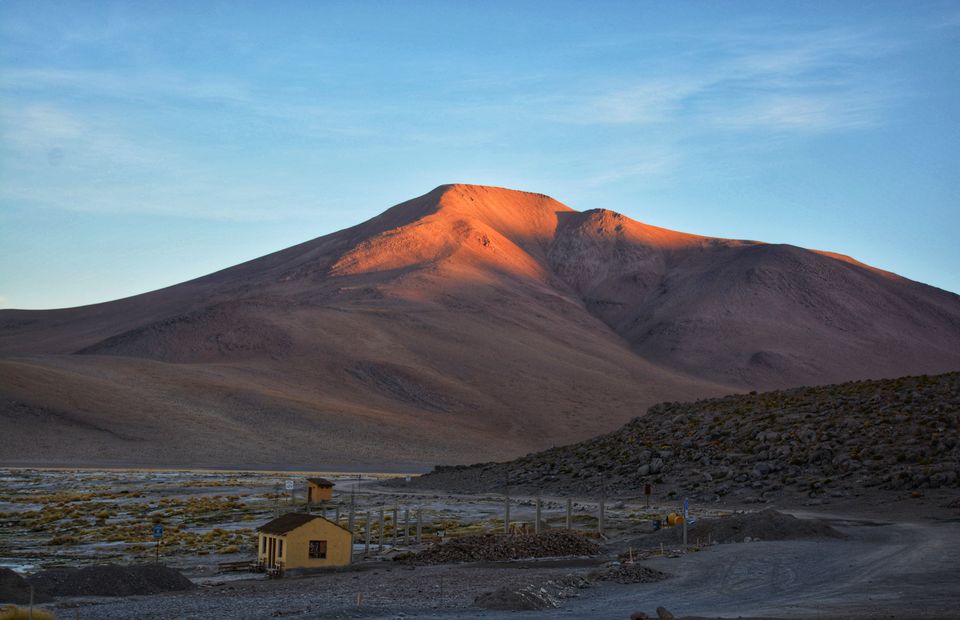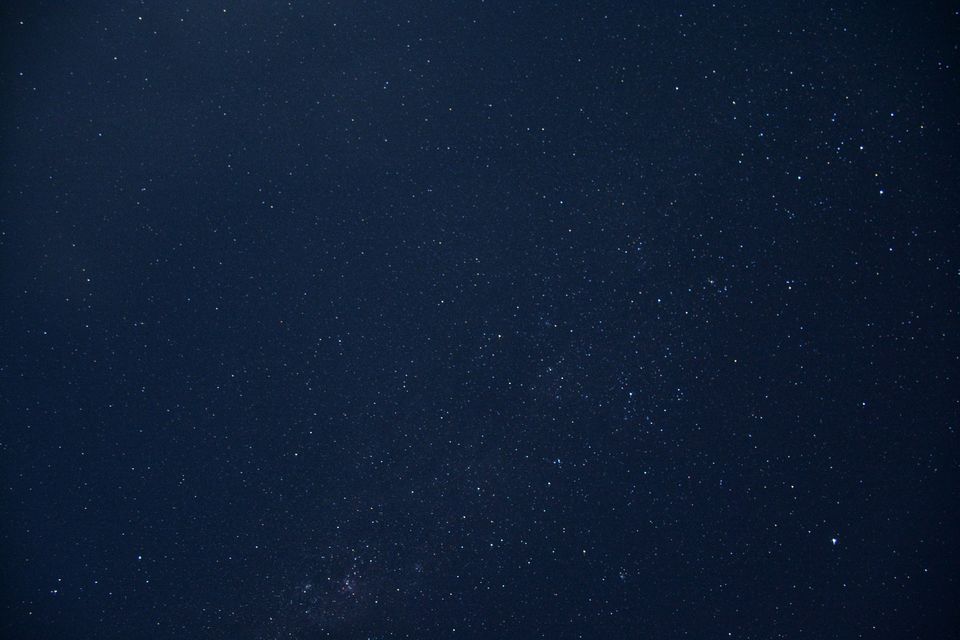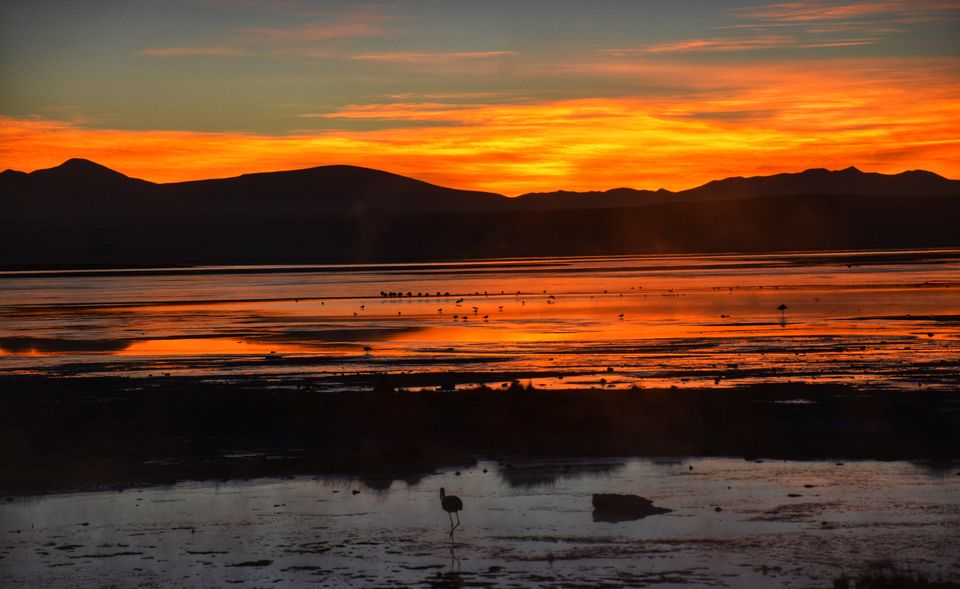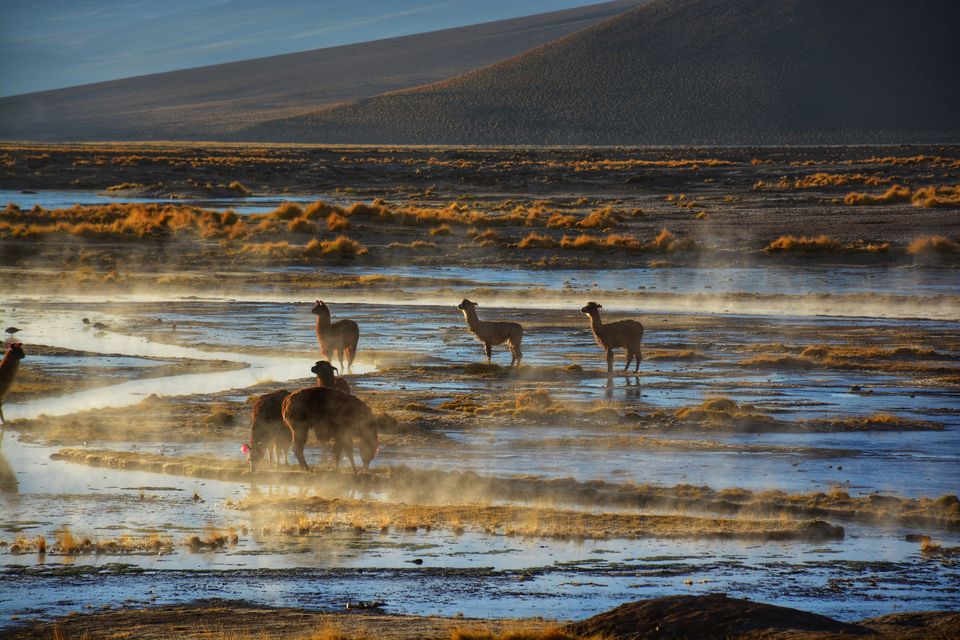 Driving Salvador Dali Desert
This morning, we started with driving in Dali Desert amongst the arid and dry landscape towards our last stop of the trip, "Green Lake". The colour green is due to the copper content of the lake, again because of the various volcanic activities around this area.
After this there was a long drive, crossing the border to Chile, where we got our passports quickly stamped and completed some immigration formalities before another long drive to San Pedro de Atacama, our final stop for this tour!
Trust me, this was a drive of a life time with the sights which you would not see in any other part of the world!