As you might have read in my last post about the stunning 5 star resort Castello Banfi Il Borgo , set in a 13th century Tuscan Castle, what made our experience at the resort even more memorable was the incredible lunch at La Taverna.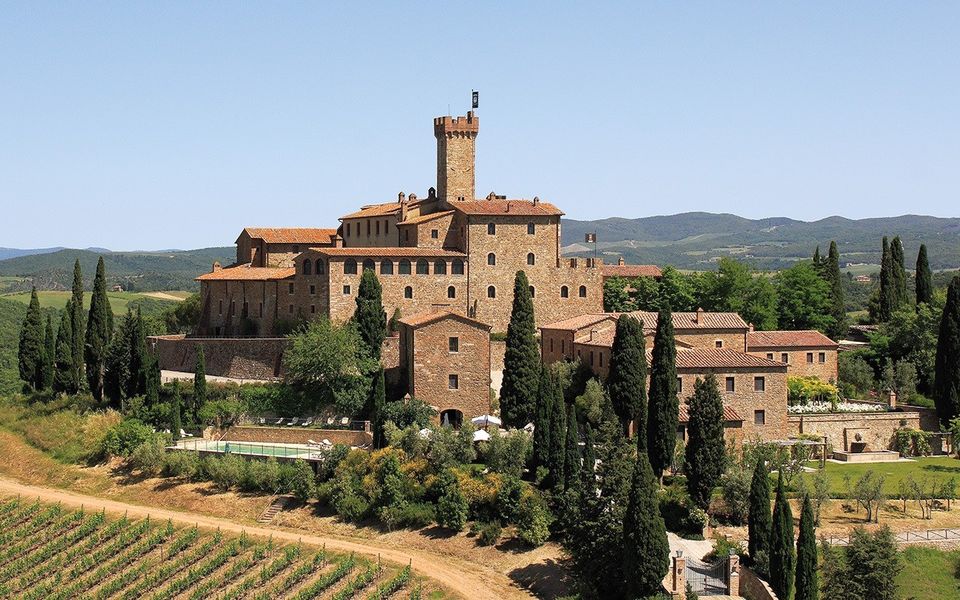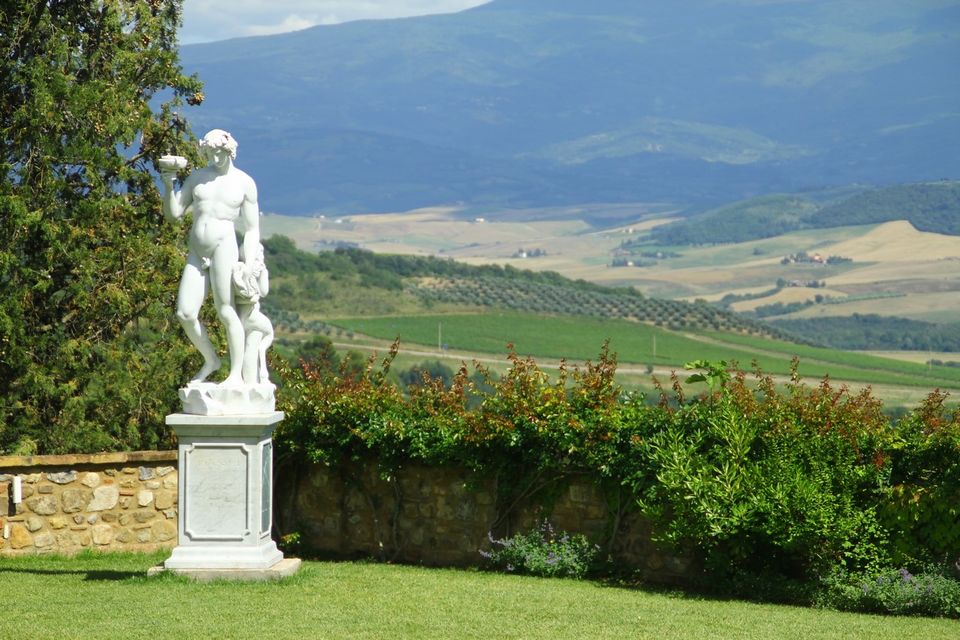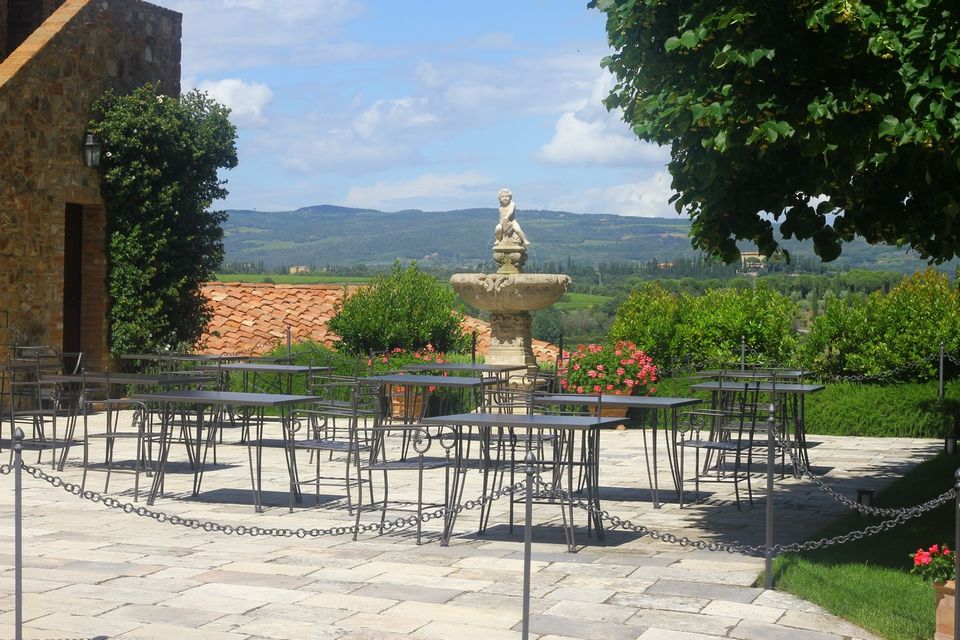 At their classical Tuscan restaurant Taverna Banfi, built in the former barrel cellars of the castle,our lunch was truly unforgettable.
As we cross the beautiful entrance vault of "Taverna", we are welcomed with a glass of "La Pettegola", every fresh and fruity Vermentino that smells and tastes like peach.We sip on it and take some time to admire the beautiful rustic décor of the restaurant. "This is going to be epic", Alec whispers excitedly.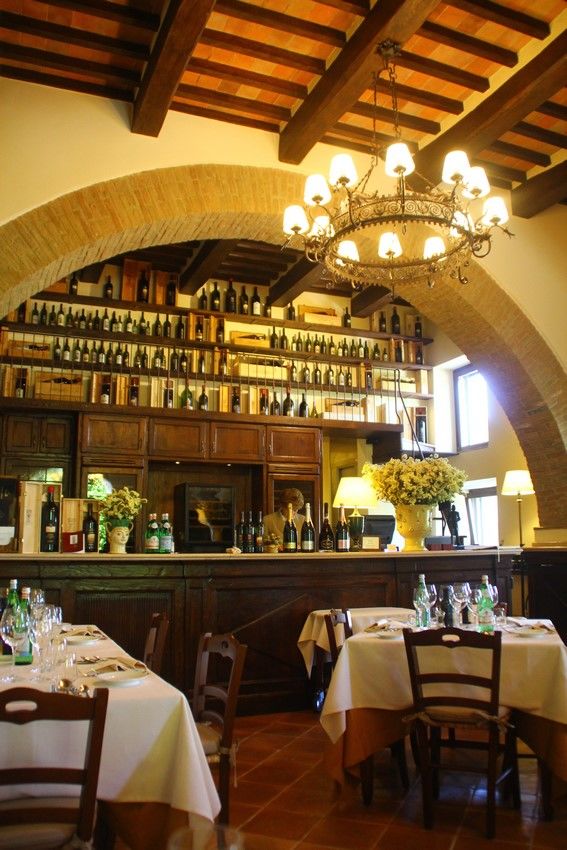 Since the very first moment we sit at our table, the staff has us covered: a basket of warm gluten free bread is immediately served.It's time to give the house made condiments a try.The extra virgin olive oil "Poggioalle Mura Fruttato Intenso" is extremely rich and delicious, but it's their "Condimento Balsamico Etrusco" that impresses us the most.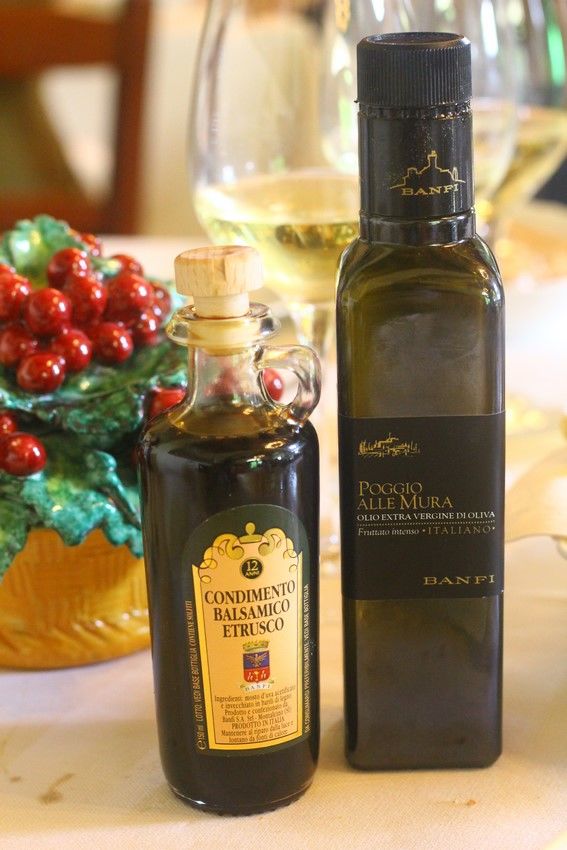 This balsamic vinegar made of Moscato and Trebbiano grapes is aged for 12 years and decanted in different barrels made of different woods every 24 month sin order to absorb hints of different flavors. This balsamic is so sweet and creamy that it almost tastes like a fig jam, but yet there are no flavorings added. Even my vinegar-hating-husband ends up buying a whole bottle!
Our beautiful hours d'oeuvre is a zucchini strip seasoned with garlic olive oil and rolled with lettuce, served for a fresh start together with a warm prawn placed over a bed of velvety green pea compote that embraces the seafood in a prefect bite.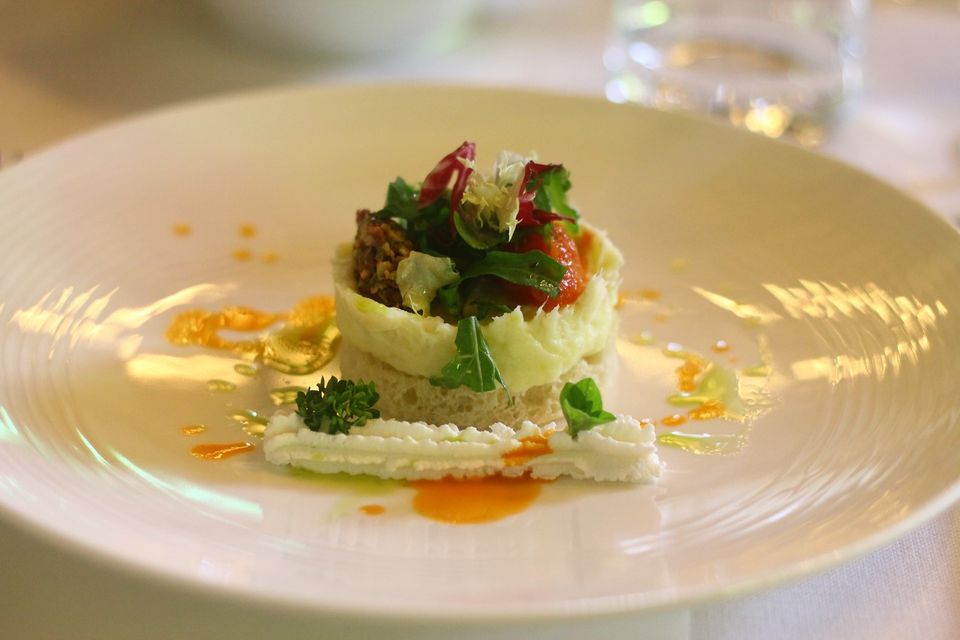 My appetizer is a Chianina beef carpaccio rose that envelopes a crown of radicchio, rucola and crispy lettuce. The fruity olive oil that drizzles the carpaccio makes it taste unusually sweet while keeping it moist and tender.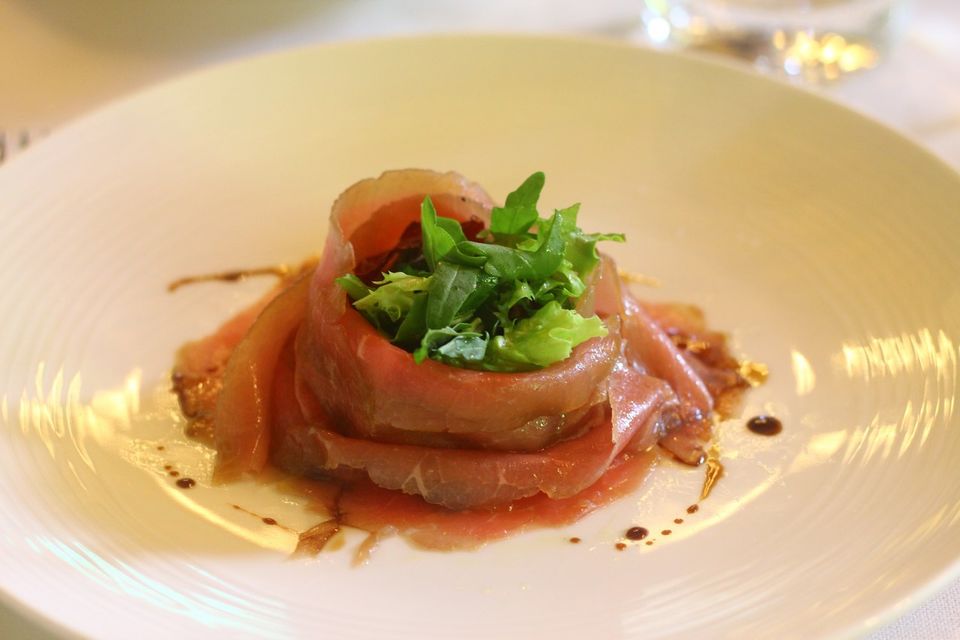 A glass of Chardonnay "Fontanelle 2015" opens the formal entrance of our "primo" (main pasta course), a summer pasta dish made of gluten free fusilli seasoned with zucchini and prawns cooked in a light tomato sauce and made fresher by a touch of basil and fennel seeds.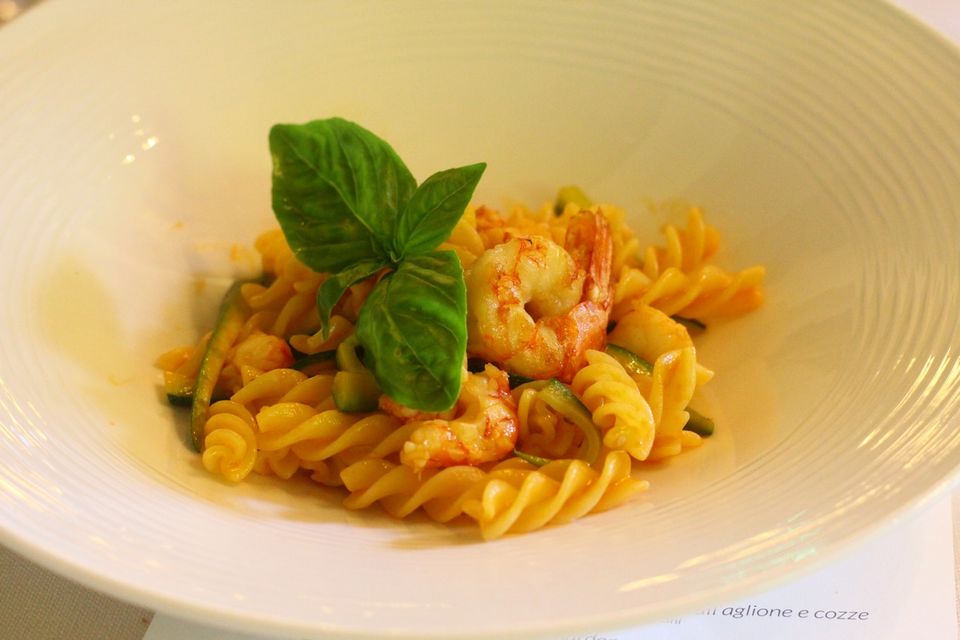 The lightness of the white wine pairs flawlessly with the sweetness of the main course.What a perfect match!
A glass of Belnero 2016, a robust red wine made with 60% Sangiovese and 40% Cabernet Merlot, is then brought to table to enhance the taste of my second primo: a creamy Minestrone,made upon request without gluten nor dairy to accommodate my food allergies.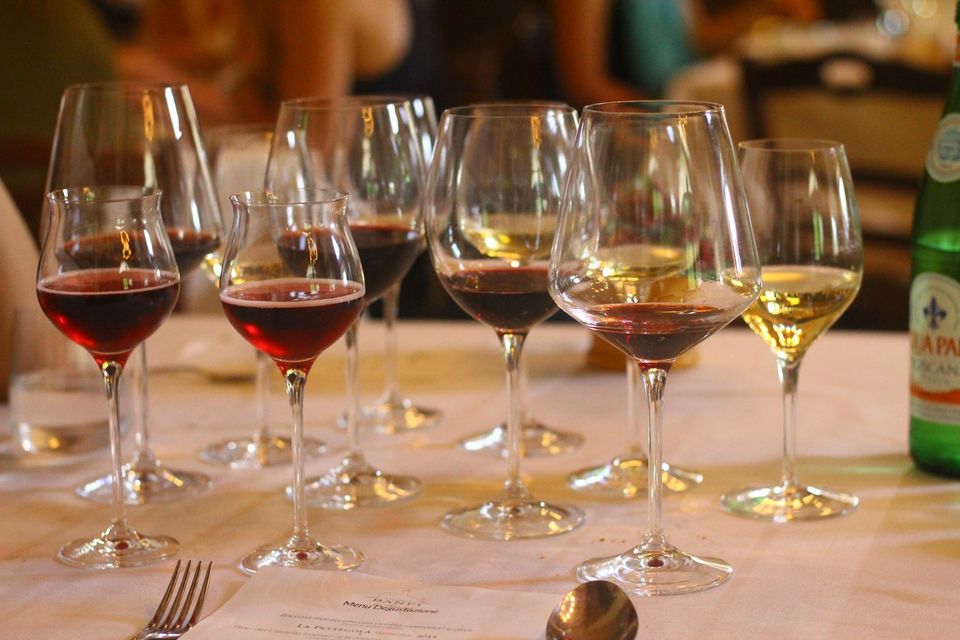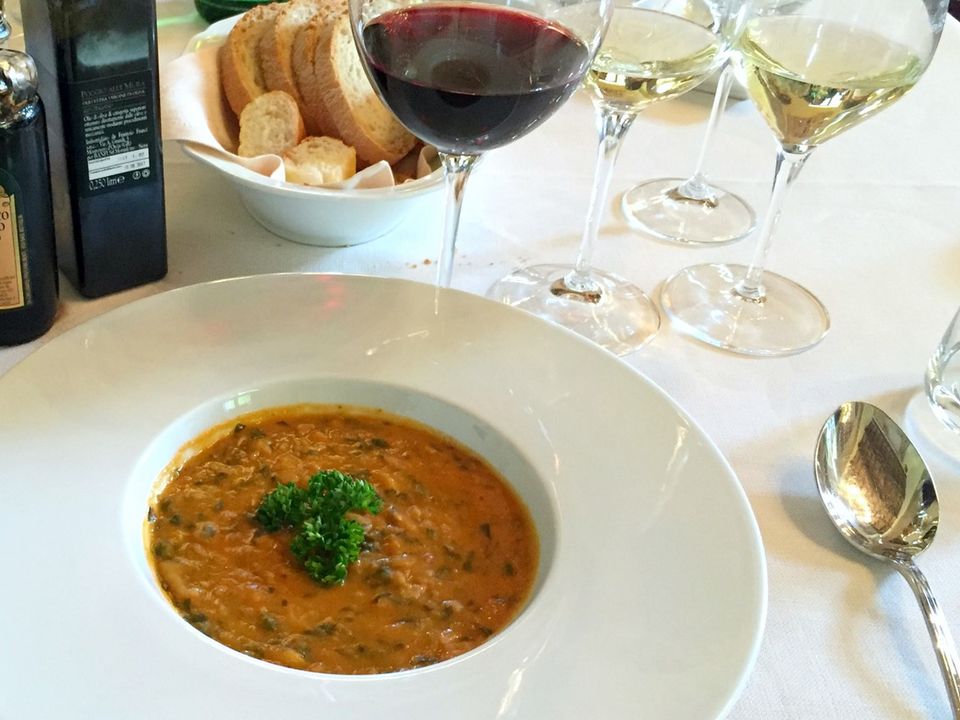 This vegetable soup is perfectly rich thanks to the buttery presence of the white cannellini bean, which keep the whole thing velvety and thick! My dish is so good I don't even crave the gorgeous black truffle ravioli in my husband's plate!
Well, almost.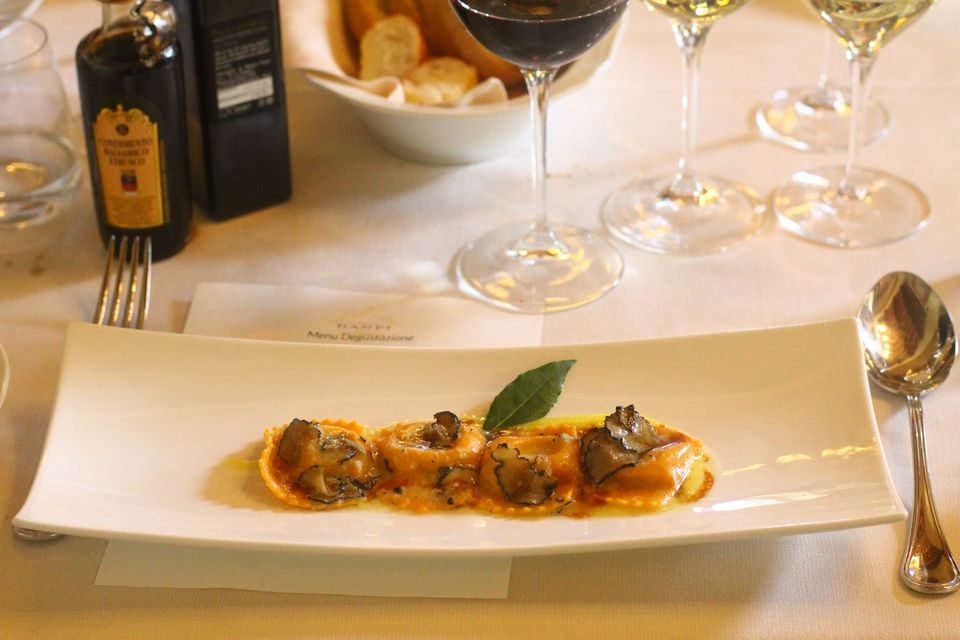 Because we are in Montalcino, I hear an imaginary drum roll when the sommelier brings us a glass of their signature "Brunellodel 2011", made with 100% Sangiovese grapes.It might be because they have a home court advantage, but this smooth and perfectly balanced red wine very is by far my favorite.
The "secondo" is by far the most remarkable dish I've tried. This veal fillet with fresh Porcini mushrooms, garden vegetables and roasted potatoes served over a bed of spinach and zucchini will stay forever in my memory!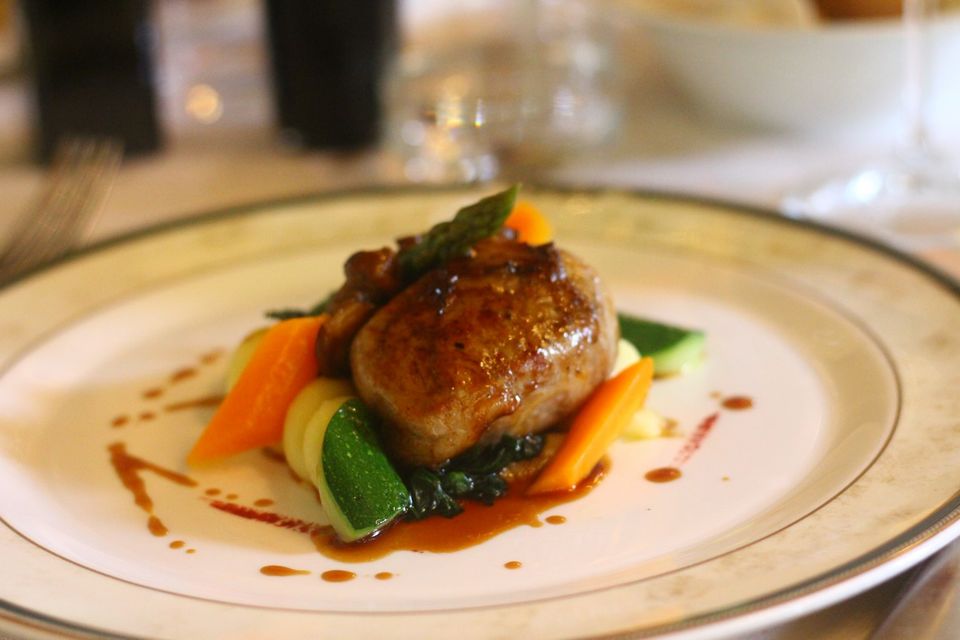 The meat is thick and extremely tender, cooked to perfection to reach the most delicate consistency.The Porcini are so soft that they melt over each bite of meat just like they were a sauce.I wish they never ended.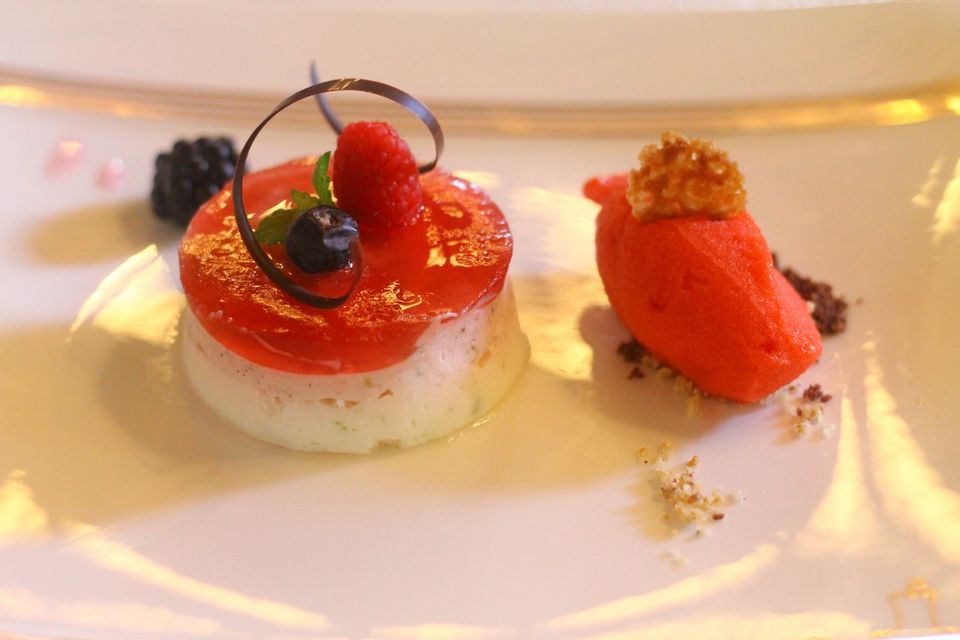 And what a cool surprise to be served a glass of my favorite dessert wine, "Brachetto D'acqui 2015"!
Accompanied with it was a fresh fruit compote that towered pineapple, cantaloupe, kiwi, blackberries and raspberries,enhanced by the intense hint of sprig lemon verbena.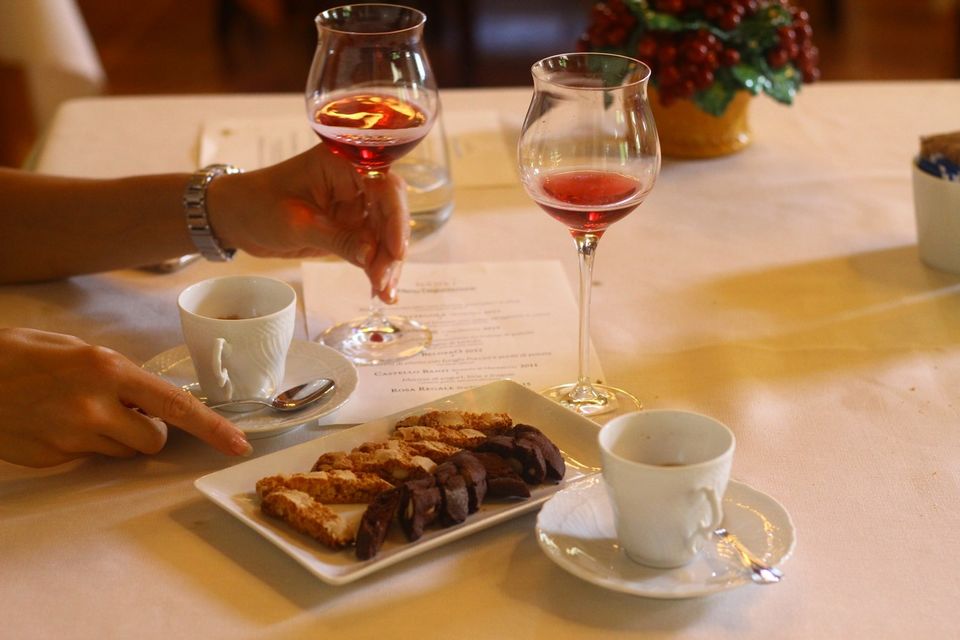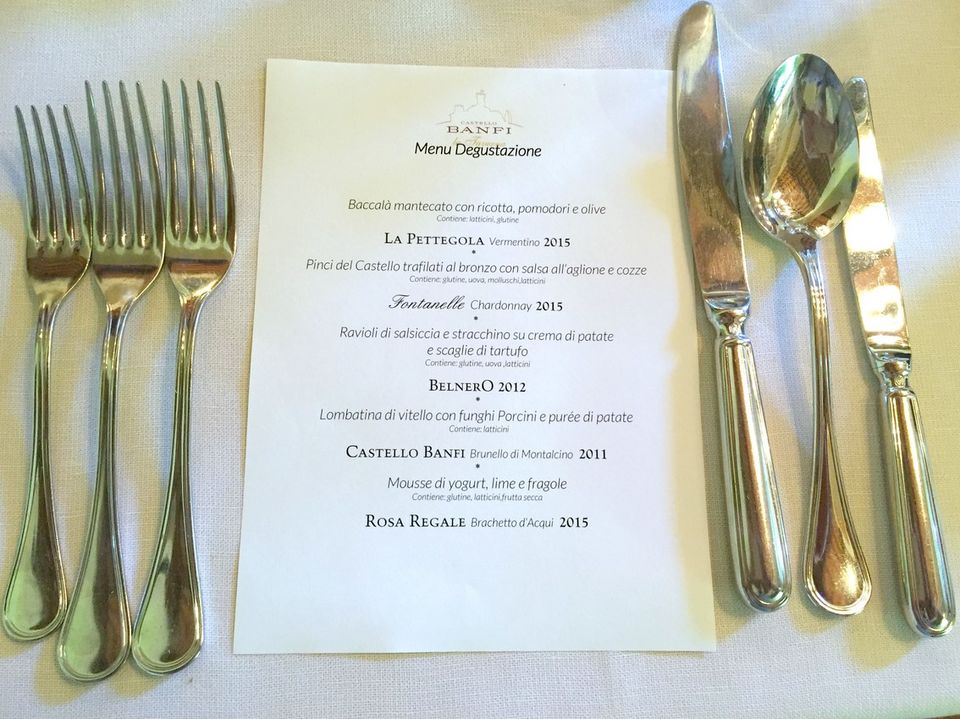 Even if you don't get the chance to stay at Castello Banfi, their 'Taverna Banfi' restaurant is a must on your next trip to Tuscany. Just be sure to save some room for their incredible wine tasting and afternoon aperitivo!
BREAKFAST AT CASTELLO BANFI, MONTALCINO, ITALY