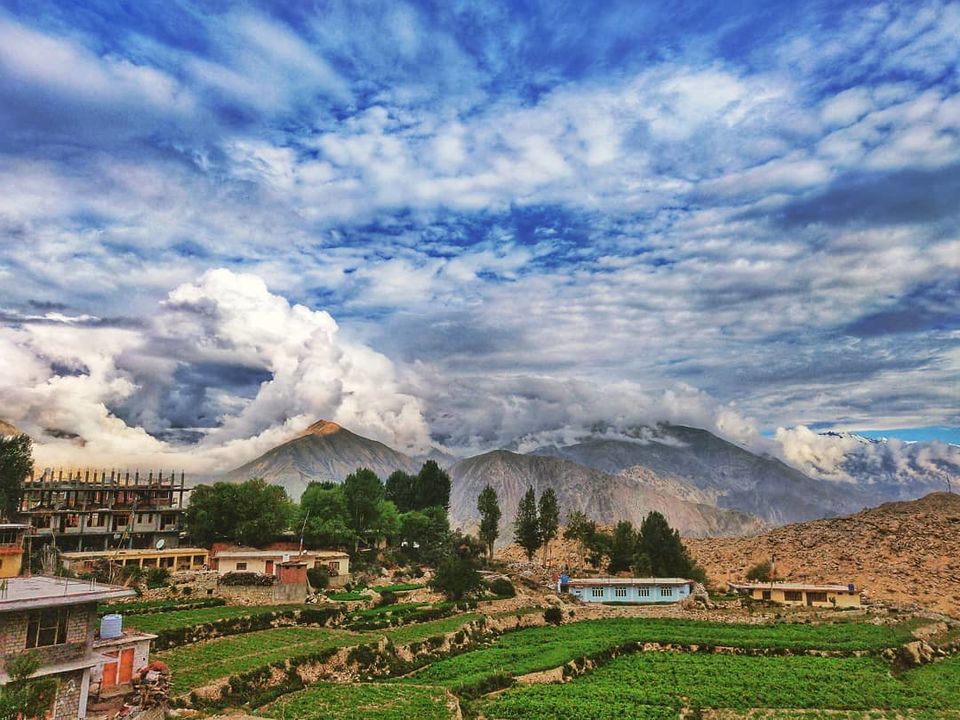 I haven't been able to upload any blogs for a few months now, as I was shifting base from Mumbai to Johannesburg to start on a new journey. With no trips in the last few months, I have been going through pictures from my last trip to Spiti.
Spiti will always be very close to my heart as it created memories that I will cherish throughout my life.
I love taking pictures and I guess I took around 1000 pictures on my Spiti trip. Every picture that I look now reminds me of moments which is now in my head as a memory.
I feel as if I remember each and every moment and things that were going through my head while I was taking those pictures.
In the past few days, I was trying to pen down my thoughts and somehow I discovered that I can express my thoughts through poems. When I shared it with my friends they believed that I should share it with my community on Tripoto.
So here are the 5 pictures & poems which I plan to frame it on my wall.
Picture & Poem #1 from Kaza, Spiti:
Right in the middle of the open blue sky,
With the clouds, we saw time going by.
We stayed right in the middle of a valley,
Feeding Parle G & chai to our hungry belly.
With river water, we fulfilled our thirst,
With stories from fellow travelers we laughed out loud and burst.
We can never resist the lust of traveling to a new place,
Eventually going back home to tell stories and bringing a smile to everyone's face.
Picture & Poem #2 from Langza, Spiti:

The road is where I belong and someday it will be my 2nd home,
It will then not matter where am I going or where I am from.
It will be a continuous journey and the destination will be unknown.
My only friends would be my music and my songs.
There won't be anybody to judge or have an opinion on me,
This world will be my canvas and I can draw the picture of whatever I see.
Picture & Poem #3 from Chandrataal, Manali:
To travel is to live,
remembering the good things and rest to forgive.
You travel rough, rugged and out of your comfort zone,
admiring the mother nature - right from river, mountain, and stones.
You like to travel places which are lesser unknown,
Getting rid of official emails and social media on your cell phone.
You want your travel to earn your regular bread and butter,
exploring your DSLR's ISO, WB, and its shutter.
Travel makes you feel younger again,
Creating memories to be remembered over and over again.
Picture & Poem #4 from Rohtang, Manali:

Traveling is like free-falling from the sky,
Feeling the breeze on the face going by.
Starting to enjoy simple pleasures in life,
Relishing simple dishes like rajma chawal and Chai.
Trying to map the number of countries visited by the year gone by,
Meeting new people - be it - Happy, Sad or shy.
Picture & Poem #5 from Nako, Spiti:
Clouds are the real travelers who wander across the world,
looking at it you get immense happiness which cannot be bought neither can be sold.
They are the best companion mountains can have,
Together they look most beautiful and they look bold.
I wish someday I can travel like the clouds,
with no boundaries to bound me,
Just like the clouds and mountains,
it will be my backpack and me!
I intent to start traveling again and there a few trips that I have already shortlisted. Hopefully before the end of this year I can make one of them happen. Till then I will keep sharing pictures from my archive on my Instagram handle @the_tripster.
Meanwhile, keep traveling and keep exploring like the tripster :)