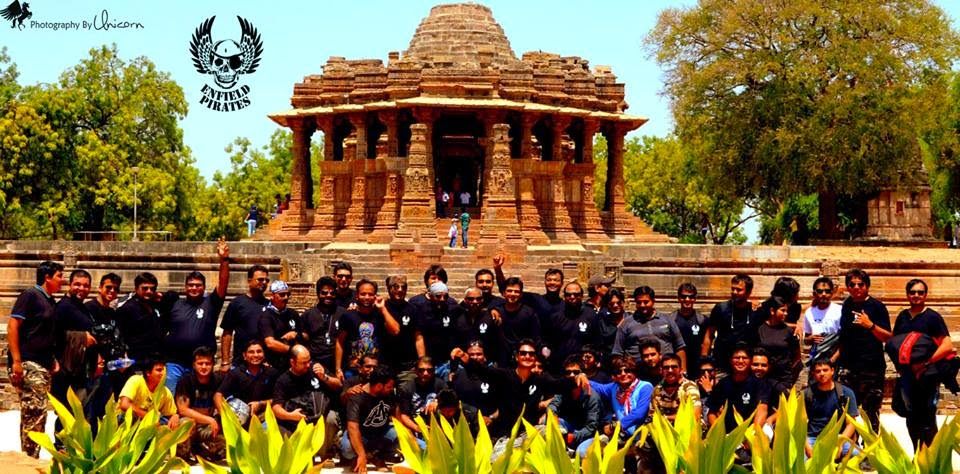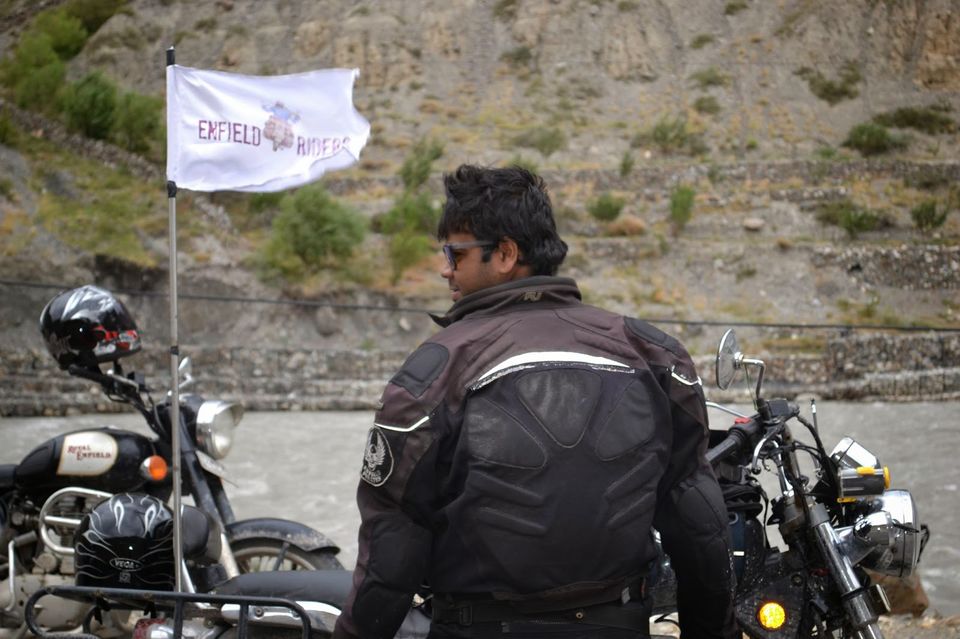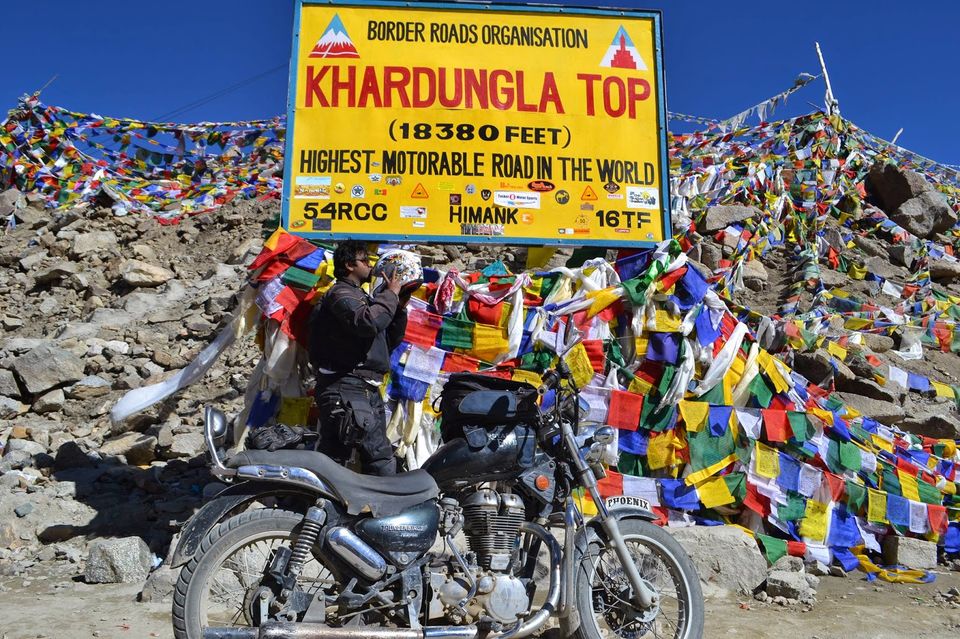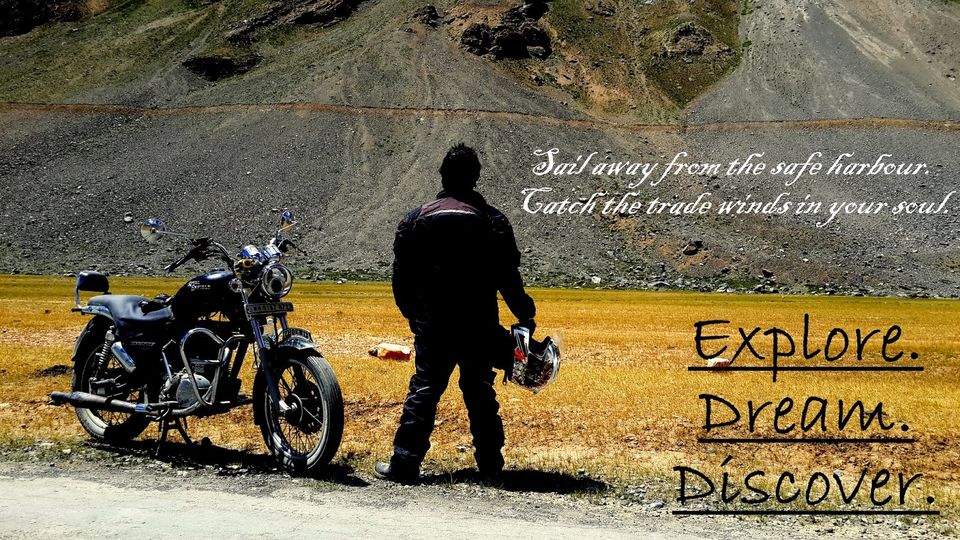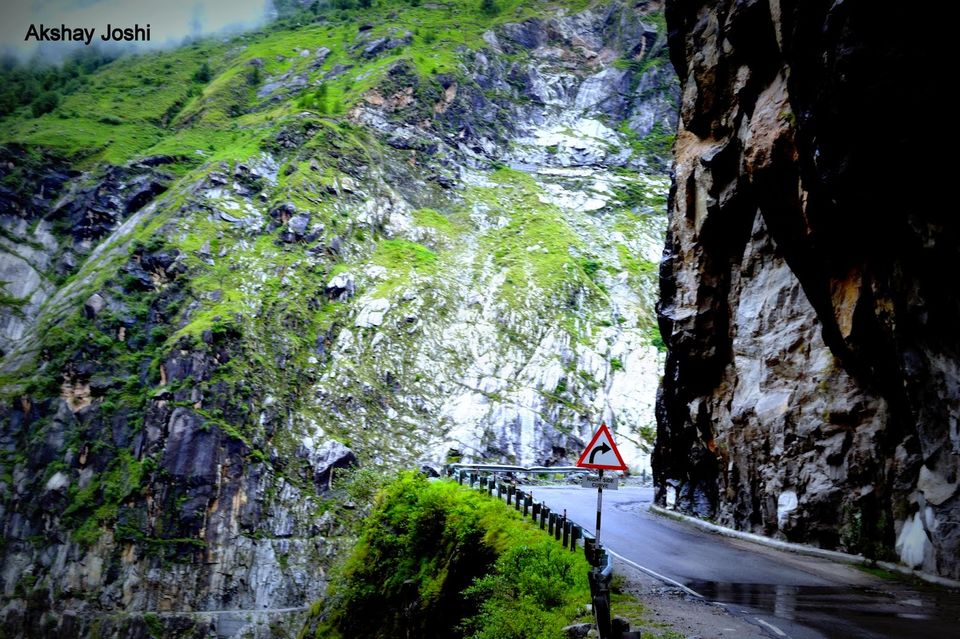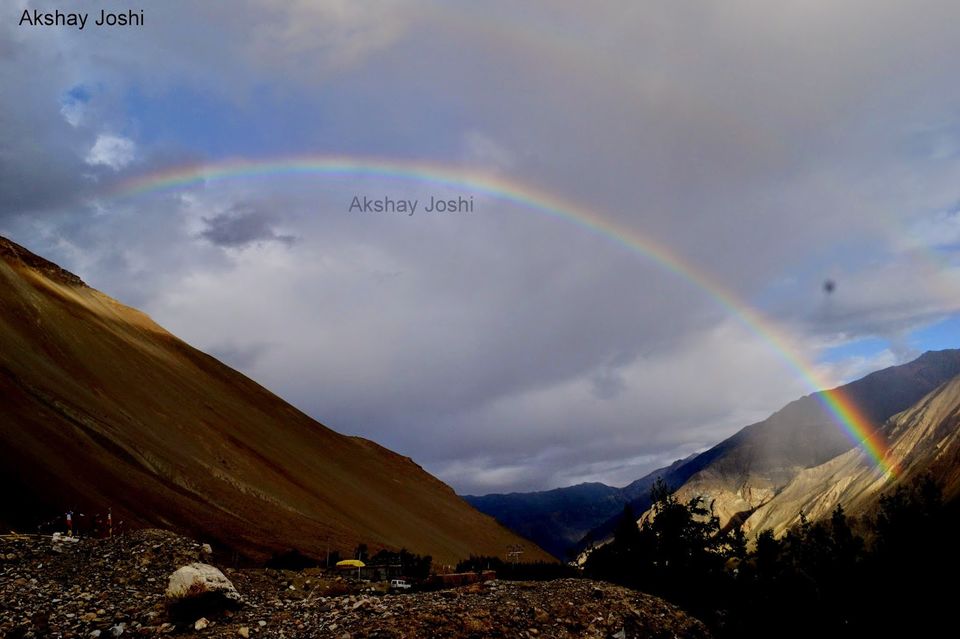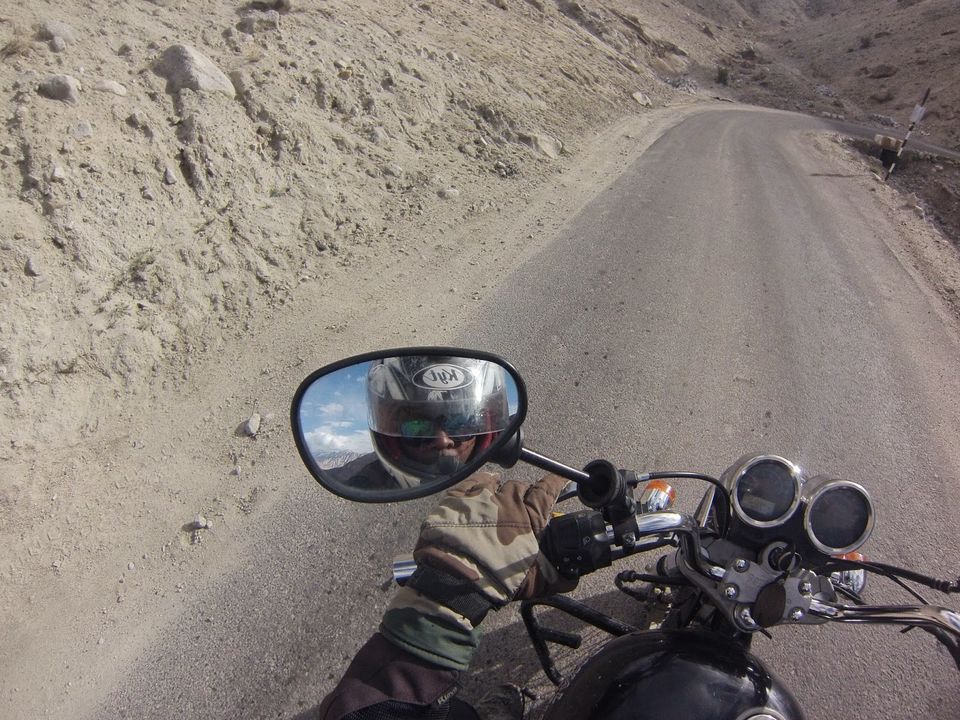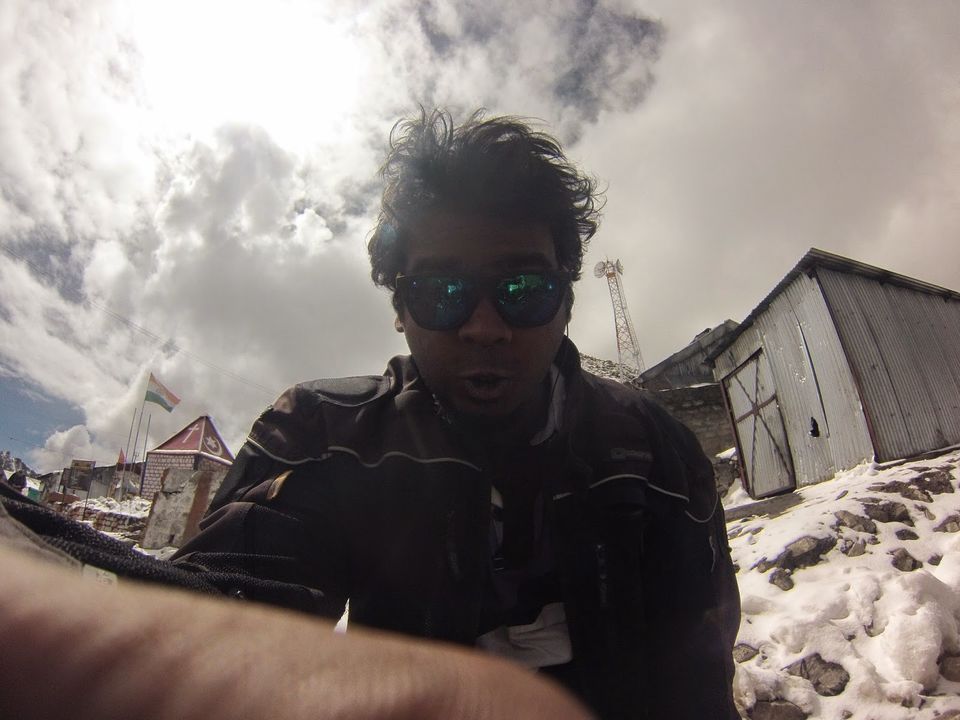 It took me about twelve days to reach
Leh
and I stopped at seven different places along the way. In this post, I am not going to describe to you the different places that I visited but the experience of what I went through these past four months and how it touched my very soul. As I plant my feet on home grounds and ponder over my 5 Leh and 2 Spiti valley expeditions I realise how this journey has changed me. It's not a job for me anymore but a part of my character, these experiences have changed me to the extent that the 6th Leh expedition felt like a consolation price.
It all started with sleepless nights over the sheer excitement of travelling to the picturesque views that I had always dreamed of. My journey began in the month of January when I was to travel to Khardungla in books. The whole trip seemed tricky and hard but looking back now, after 7 trips on my loyal companion –Phoenix, it was beautiful. The opportunity to meet new people in these past 3 months was another boon to me. I met varieties of people on the roads less travelled and they exclaimed that they would love a job like mine, where you get paid to travel. The only problem was that these people did not realise the hard work behind the trips. As any job, planning the logistics was a task with bathroom breaks while staying on schedule. But, even though there were chaotic moments, these expeditions were the best moments of my life and ones I would treasure for the rest of my life.
Now, after four months of continuous riding and travelling, coming home has started feeling foreign to me. It made me realise how much Leh had become ingrained in my veins and how much I would miss her on return. People always talk about fresh air but I can say I breathed it, we talk about stars but I rode under them. I was alive riding in the open space with no interruptions and no mindless traffic jams. There were no distractions like internet or WHATSAPP on the road. Travelling these 10000 odd kilometres I recognised myself and what I want in life. I was not burdened with expectations I had to face back home. Off course I had colleagues and other riding companions but they were more of strangers to me. These long trips, I was just me and I was FREE. I can now say "I know what freedom is 'cuz I have lived it".
But like any other experience my journey had its downs too and I too had to face some. One being missing my family. Like every stern bachelor, I claimed I wouldn't miss my family. Well I am pretty sure all you readers know that would be a lie as I climbed down the stairs, I knew would miss my family and friends. My second emotional speed breaker was when my 2ndfamily – the
Mumbai
based
Enfield
Pirates successfully opened and launched their new chapter in
Ahmedabad
and left for Mumbai. At this point, travelling ALONE to
Chandigarh
from Amdavad to join my Enfield Rider's team started to seem like a bleak idea. 
I had tears in my eyes and ate my words the moment I hit Baralacchala Pass. I saw something for the 1st time in my life – SNOW. It was what I pictured Christmas would be like...WHITE and PURE. It was a magical day.
19th June 2014 marked another turning point of my life. I was entrusted with the responsibility of conducting two batches on my own with my crew as the tour director, not to mention it was a big ego and confidence booster...The highlight of this particular voyage was
Khardung
-La. I realised how beautiful nature can be and I thanked the maker of it, got off my bike and kissed it. I can now say – "Finest day of my life".
My excursion in a truck from Leh to
Manali
is something I want to share. Excitement is an understatement for what I felt. I would have enjoyed the experience more if I was well and also I was a little homesick. Yes!! My job is awesome but you can't blame a guy for missing home... I remember I had barely eaten for almost 3 days and threw up everything I ate on the 4th day, not my favourite memory. Honestly I had started having second thoughts about this job by this time – "what am I doing here?" "Why am I doing this? I could be sitting at home or doing a simple clerical job"... I got my answer on my way back to Leh , passing
Keylong
on the way.
The 2nd time I was close to giving up on my dream was the ride from
Kaza
to Manali.This was to be my 1st Spiti Valley excursion. Me, my crew and my companions were drained out and exhausted to our bones. Dust, sun, gravel, tricky turns and bends, rains, visibility less than 10 metres, we tackled everything nature could throw our way. I had to fight my way through 13 different water bodies and this was also the time when i sprained my back and could not ride any further. Every nerve in my body was screaming at me to keep riding but my brain stopped me. I had to take a break to be able to ride safely for the next 2 months. And this is why i want to advice all those travel enthusiasts that it's ok to take a break, it doesn't make you a coward, it makes you smart. Being safe is always better than being sorry. I gave up, to fight another day.
On a more personal note, throughout these journeys I never forgot two individuals in my life and I missed them more and more with each passing kilometre. First is my mother, I lost her in October 2002. I remember to this day every moment she loved me, the moments when she was angry at me , the days she made my meals and made sure I was not hungry and in total how she made me into the confident and strong 20 something man that I am today and she has achieved this even though she is not present with me physically. She will always be present in my soul and i will connect with her every time i go on a fresh trip. FREEDOM personifies her as it personifies me. I thank her for making me into what i am today. Secondly there is another person who manages to put a smile on face whenever i feel low, someone who has been an integral part of my life for the past 2 years. Yes people i am talking about a girl. I am sure everyone out there has some one they have feelings for, even a Biker like me. We were close and I was always at the brink of telling her my feelings but that never worked out... I guess that is another driving force for myself, travelling, exploring are the only times when i won't be bogged down by thinking of her. But i do miss her like crazy and one day she'll know.
      One of these past few days i was talking to my best friend...And I asked her about the mundane details about how your life is supposed to be...Has life really come down to getting a great degree , getting a job and eventually settling down for good? I realised something here with the Enfield riders , we all have a bucket list in life... yes some of them maybe unrealistic but its a list worth fighting for... but how many of us have actually taken an initiative or had the guts to do at least 1 of those things on that list...
This brings me to my favourite quotes from the movie Yeh Jawani Hai Diwani "
22 tak padhai, 25 pe naukri, 26 pe chokri, 30 pe bachche, 60 pe retirement ... aur phir maut Ka intezaar ... dhat aaisi ghisi piti life thodi jeena chahta hoon.."
 This movie truly struck a note with me and i realised i dint want to follow and do things just because i am supposed to, i decided to do things i WANT to do. Twenty years down the line i dint want to look back and say i should have done that , i had the chance if only i had the courage to do it then...I want to encourage everyone out there who is reading my blog to do what you want to for a change , take a day off for yourself , it doesn't matter what you do, just do it for yourself...try challenging yourself , try getting out of your comfort zone...yes you may fail and yes you may not achieved what you set out to achieve but believe me you will have that satisfaction that you tried and gave it your 100 % and that will be your true prize.
And also believe me when I say this  "LIfe will break you , make you cry like a baby make you want to give up on your dreams but never give up" – I did not and it was worth it, ALL 12000 kms of it.
And as I end this conversation, I thank ENFIELD RIDERS from the bottom of my heart for giving me the opportunity and honouring me to be a part of your team and family , you have taught me and given me a chance to live my life with no regrets.
To everyone out there in the words of Bunny "Udo, daudo, giro par ruko nahi "