If you are on the lookout for a unique getaway for you and your family, I have an idea that you might love. How about spending a few days at a place not too far away from home, in the lap of luxury, with the beach on one side and mysterious jungle animals on the other.
I am talking about the newly-opened Wild Coast Tented Lodge perched on the edge of Yala National Park in the south of Sri Lanka. Unlike most wildlife lodges, this one is located on a beach, bringing you the best of both worlds.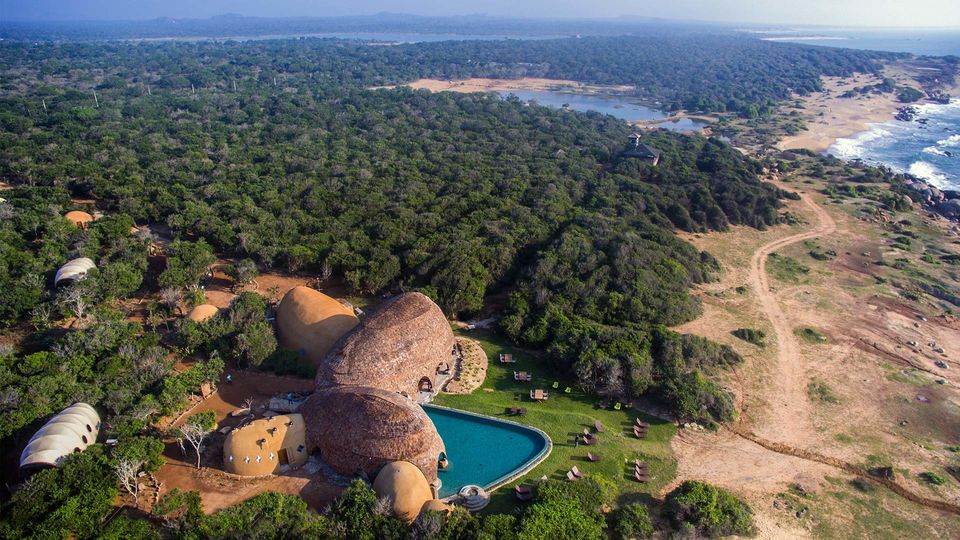 Ideal for
Families and luxury travellers looking for an unusual vacation experience. This one is a complete package with eccentric accommodation and unforgettable activities to make for a great way of getting to know a new country.
About the property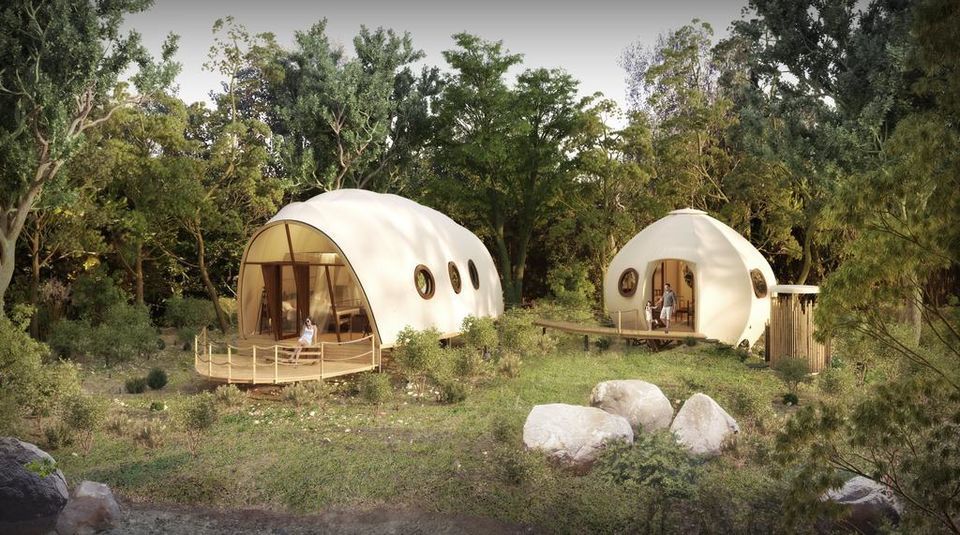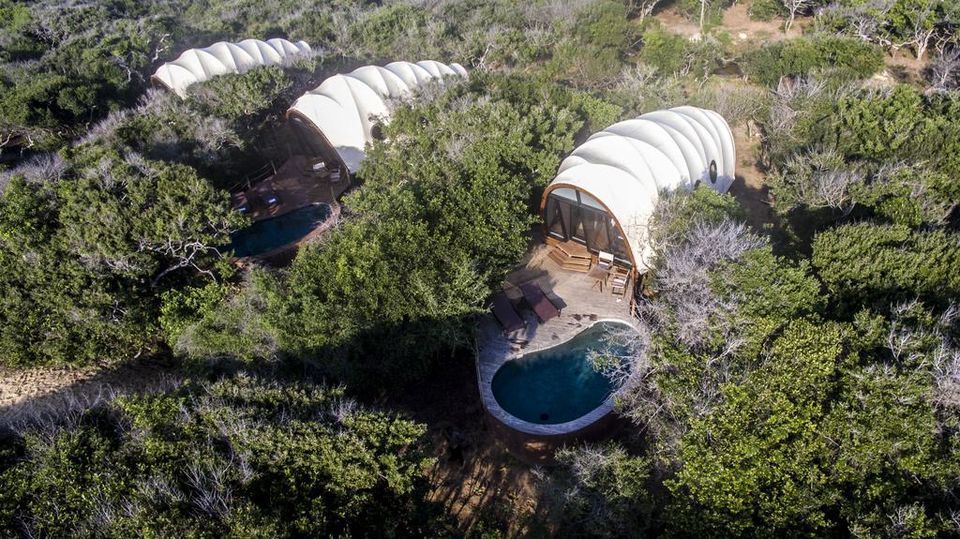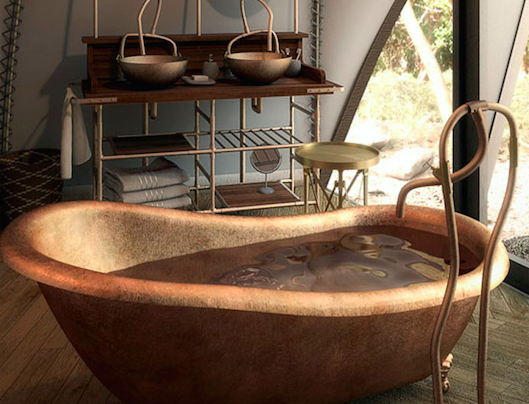 Resembling a leopard's footprint, this ec0-safari camp has a fascinating layout and architecture. There are 36 tents that have been designed to imitate the surrounding landscape that is a dryland forest with giant rounded boulders scattered throughout. While they seem like solid structures, the open pavilions are made with the light material of bamboo and teak and are super spacious. The vegetation around has been untouched to retain an authentic experience. Other highlights are an illuminated copper-leaf tree in the restaurant, bamboo chandeliers and a gorgeous swimming pool that flows through the restaurant and bar.
Opened in November 2017, there are three kinds of cocoon-like suites, each furnished to celebrate the flora, fauna and natural elements around. The four Cocoon Pool Suites are luxurious structures with a four-poster bed, a freestanding copper bath tub, delicate bed linens and a private plunge pool. A Cocoon Suite is your own glamorous camp with all the facilities of a pool suite minus the plunge pool. For families, there is the ultra spacious Family Cocoon with Urchin, where the main suite is attached to a twin-bed urchin tent, where the kids can get some time away from the parents.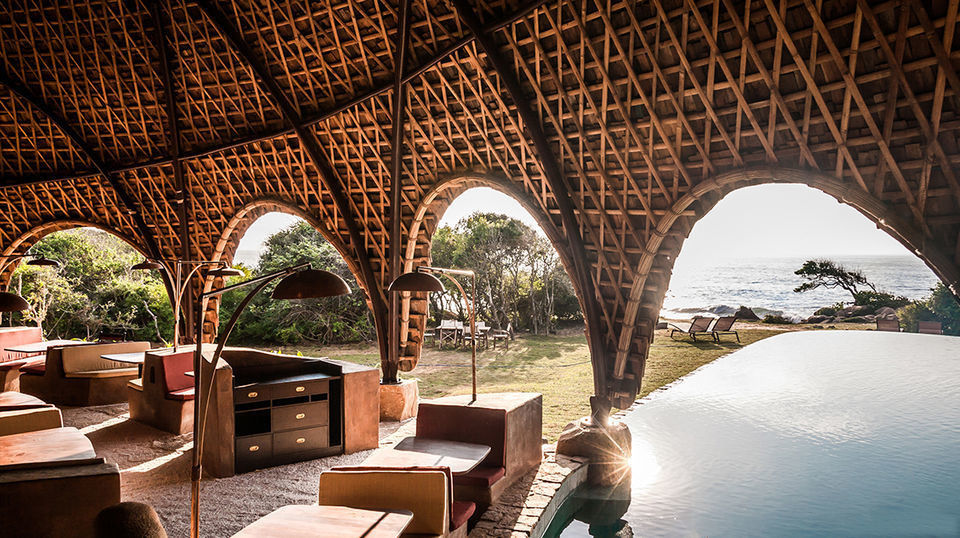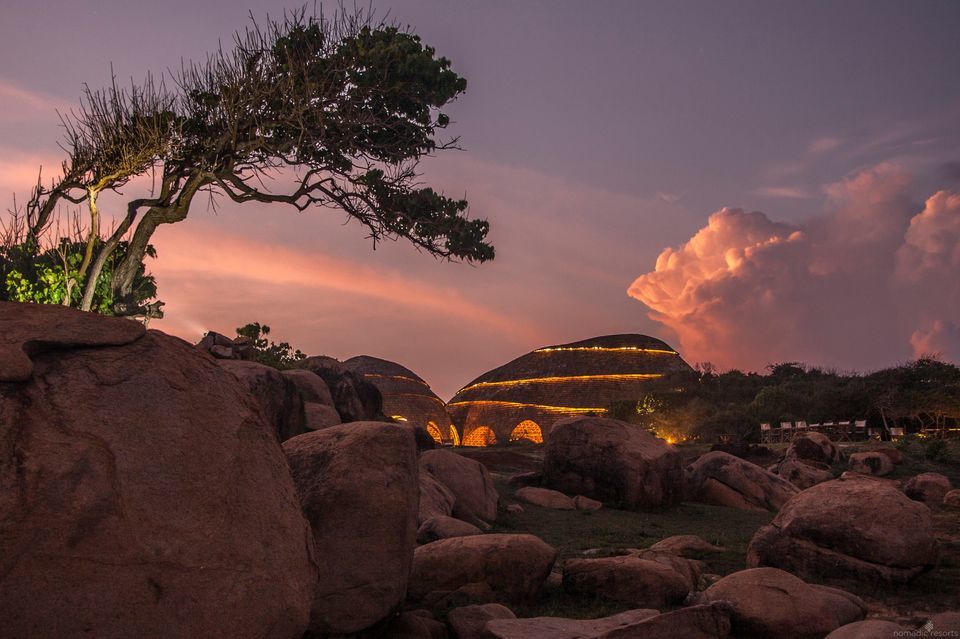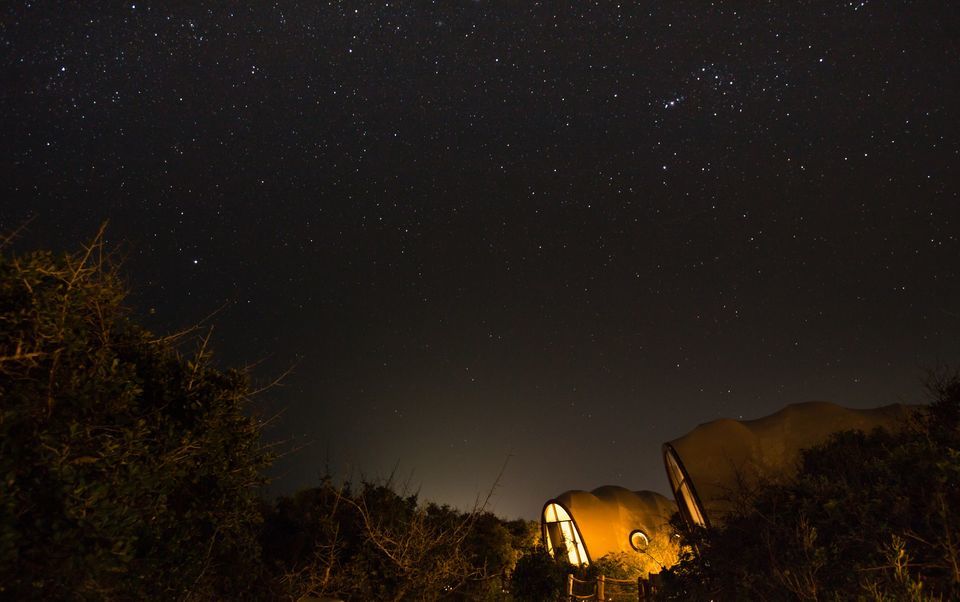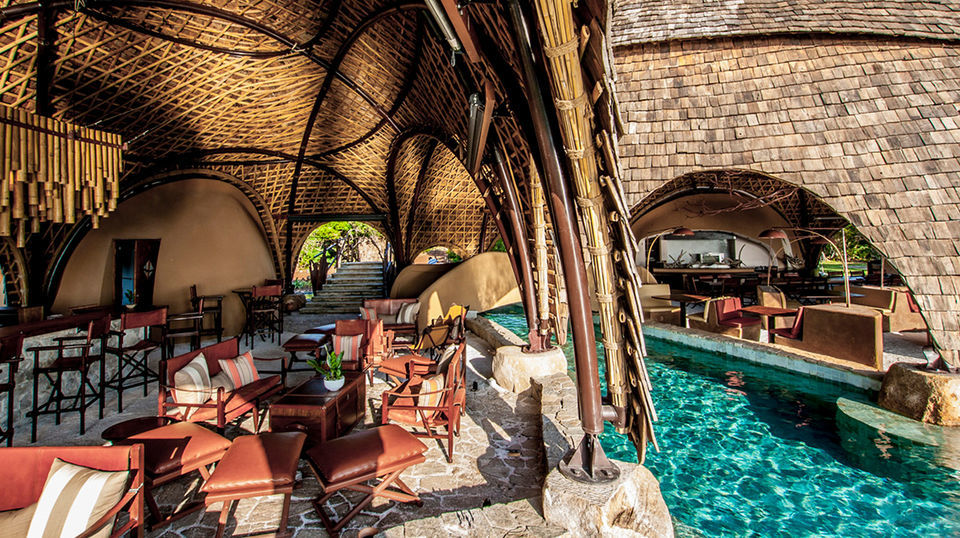 The meals at Wild Coast Tented Lodge add to the exquisite setting and leave you thoroughly satiated. The delicious gourmet Sri Lankan cuisine is served to you in the spacious bamboo Dining Pavilion or in the beach garden under the open sky. Breakfast includes a wide platter of international and traditional Sri Lankan delicacies. Lunch is à la carte with several healthy options. Evenings are reserved for snacks and cocktails. Dinner is a lavish treat with a wild coast fare, created with fresh, local produce.
Cost
The price for the suites starts at ₹24,000 for two people, including breakfast.
There is also a full-board rate that includes pre-game drive snacks, one-game drive per day, full English or Sri Lankan breakfast, lunch, afternoon cream tea, dinner, beverages (wines, spirits, beers, soft drinks), WiFi, taxes and service charges. Get in touch with the resort for this.
Best time to go
April to August is the best time to spot leopards and other wildlife at Yala National Park. During these months, the heat begins building up and animals come out of hiding to find water in the jungle. This makes for great sighting opportunities.
Yala National Park closes every year during the months of September and October for rehabilitation, so it's best to avoid going during this time. If you do happen to stay at the Wild Coast Tented Lodge at this time, they will make arrangements for game drives at other adjacent parks.
What to do here and around the property
Use your time at the lodge to catch up on some 'me' and family time. Relax on the beach and enjoy getting tanned. Walk around the property and soak in the beauty everywhere. When you're done unwinding, here are some activities you can indulge in:
Have a complete wellness experience at the Sanctuary Spa
Get ready to be pampered at the lodge's in-house spa, which is set near the ocean and has a unique, liberating setting. The oils and scrubs used in the treatments are a concoction made with Ceylon Tea and Ceylon Cinnamon, native Sri Lankan ingredients which leave you feeling fresh and rejuvenated.
Spot the elusive leopard at Yala National Park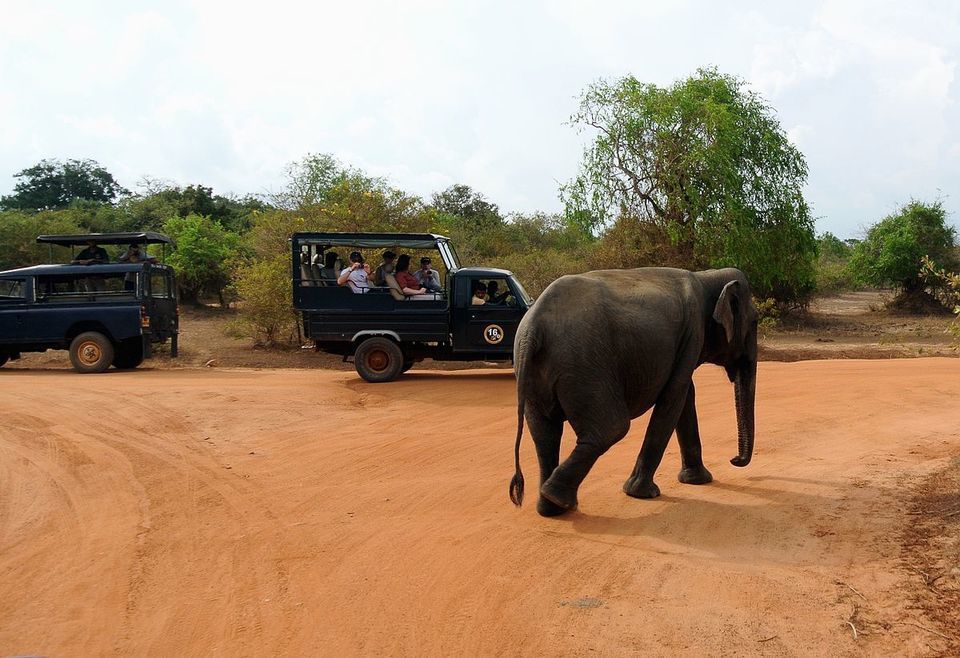 Climb into a jeep with the family as you are driven to the quietest parts of Yala park to experience the incredible biodiversity that exists here. Guides will accompany you to offer insight on the flora and fauna, which includes leopards, elephants and sloth bears.
Visit the Buddhist Temple of Kirinda

A fifteen-minute drive from the Yala National Park is the Buddhist Temple of Kirinda. Perched on a giant rock, the temple itself is small with a fascinating statue of Queen Viharamaha Devi. The main attraction, however, are the beautiful views of the coastline that you get from near the temple. Pay a visit and then spend an hour or two walking along the coast.
Take a day trip to the coastal town of Hambantota
Head out to Hambantota, around half an hour away from the resort, to fill up your camera, and eventually your Instagram feed with pretty pictures of fishermen hovering around their colourful boats and putting together their day's catch. Walk around and get a feel of daily life in Sri Lanka. Later, walk into a restaurant to savour kalu dodol, a sticky jaggery and coconut milk sweet.
Getting there
Yala National Park is situated in the southeast part of Sri Lanka. Here is how you can get there:
By air: Fly to the Bandaranaike International Airport in Colombo from any major Indian city. The cheapest flights are from Chennai, starting at ₹7,500 per person. From there, Yala is around 243km away.
By road: From Colombo, either hire a taxi or request the resort staff to pick you up by car. The route via Ratnapura and Uda Walawe should take around five hours to Yala, if you leave early in the morning. If you have more time, take the scenic route along the south coast. This will take around seven to eight hours.
All images have been sourced from the Wild Coast Tented Lodge's official website.
Want to stay at an incredible property like this for free? Tripoto can make it happen. Find all the details here.
Frequent Searches Leading To This Page:-
Sri Lanka tour best time to visit, best Sri Lanka places to visit, Sri Lanka tour itinerary, wild coast tented lodge, wild coast tented lodge yala, wild coast tented lodge contact number