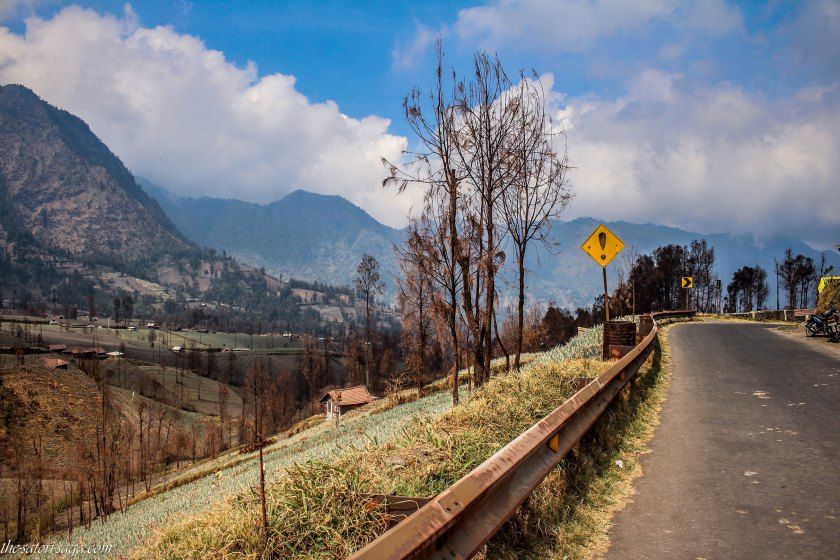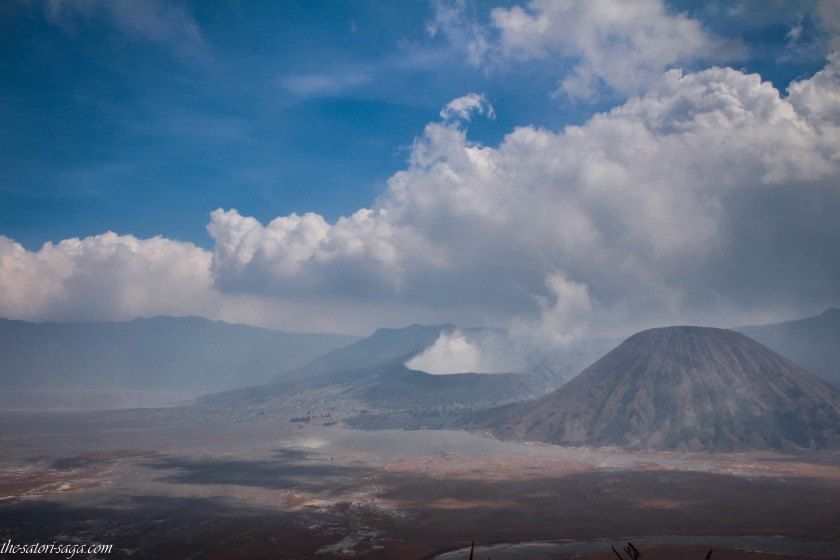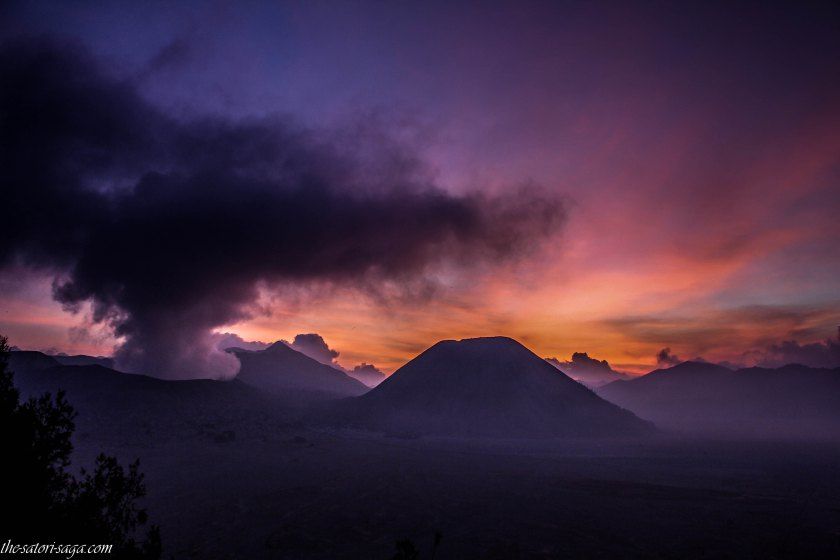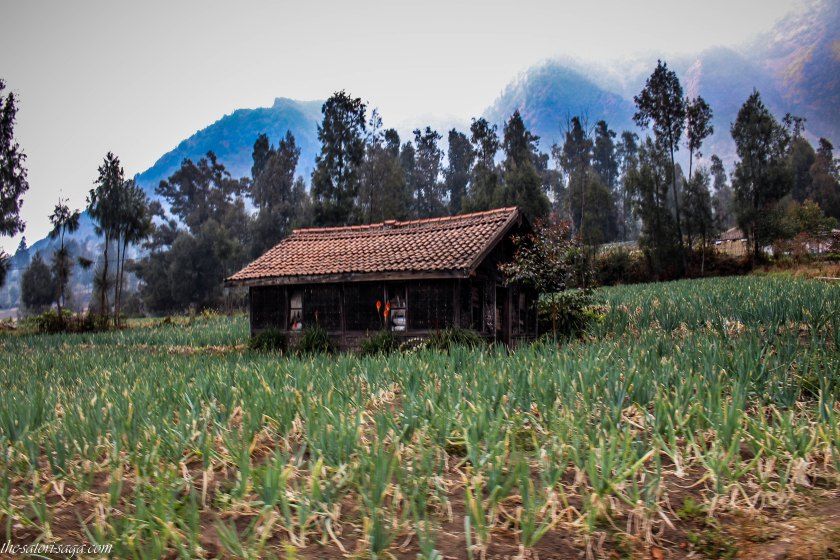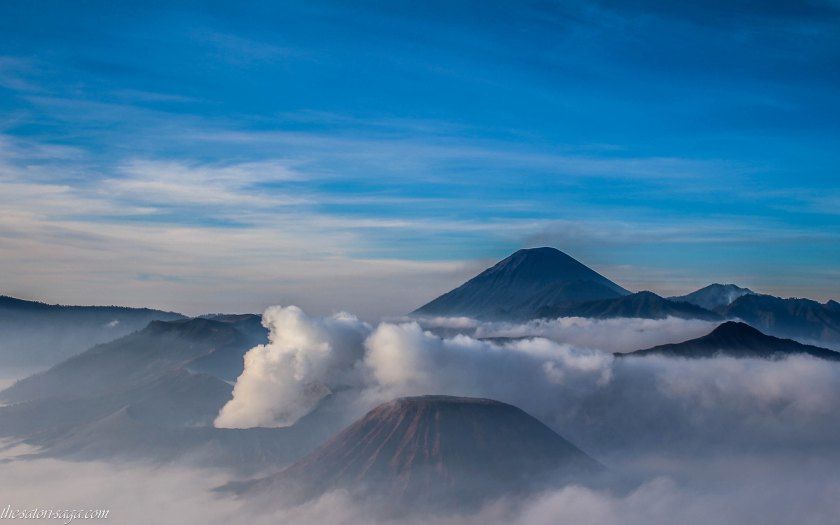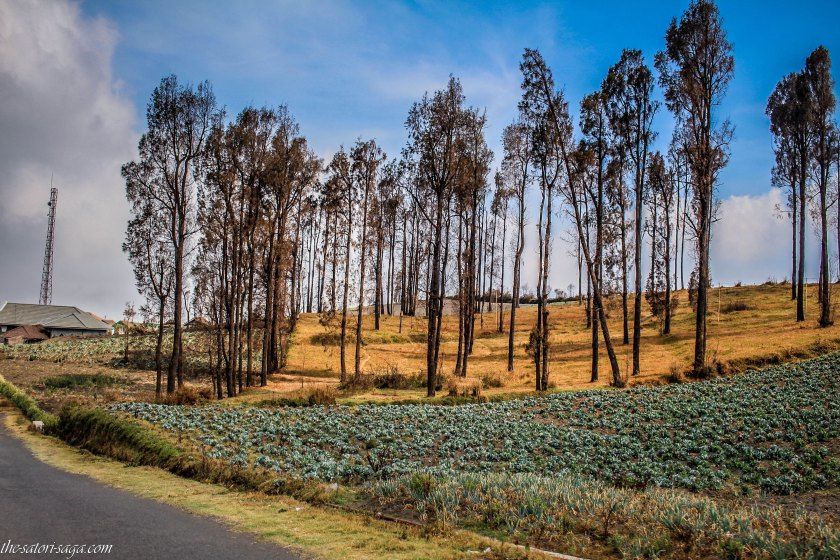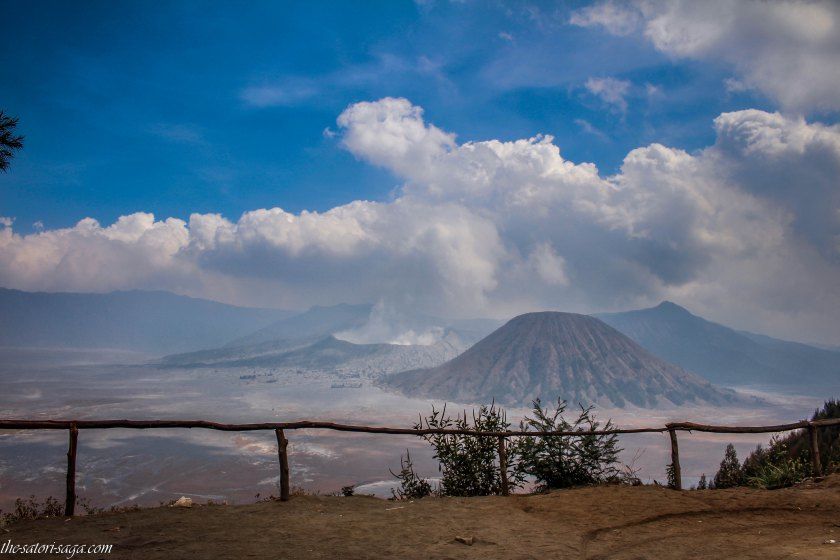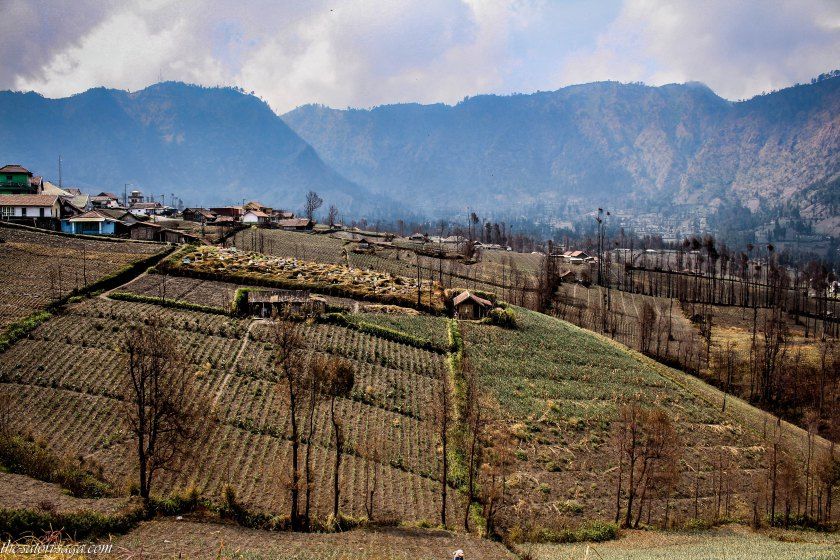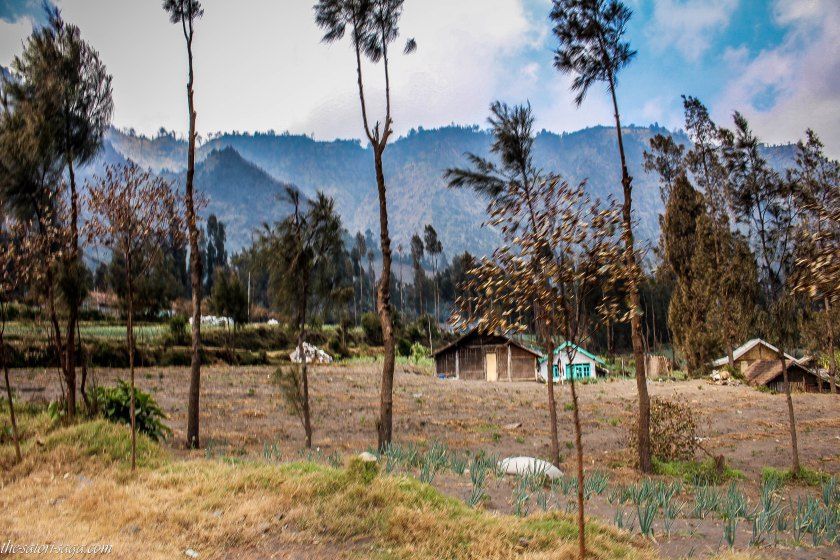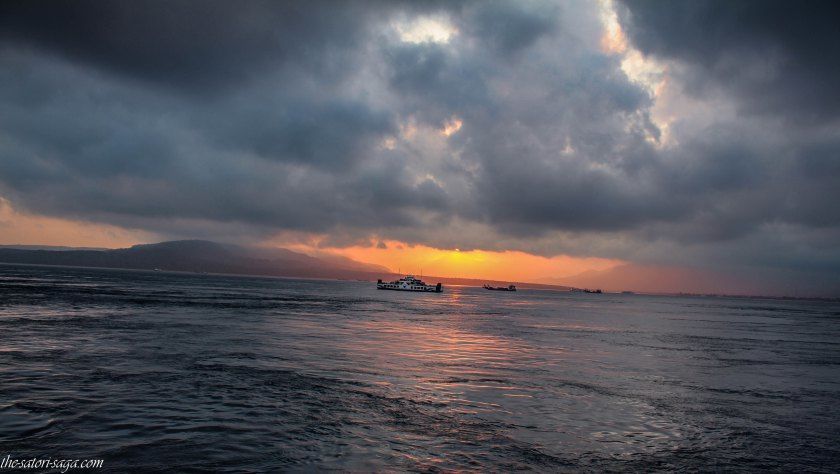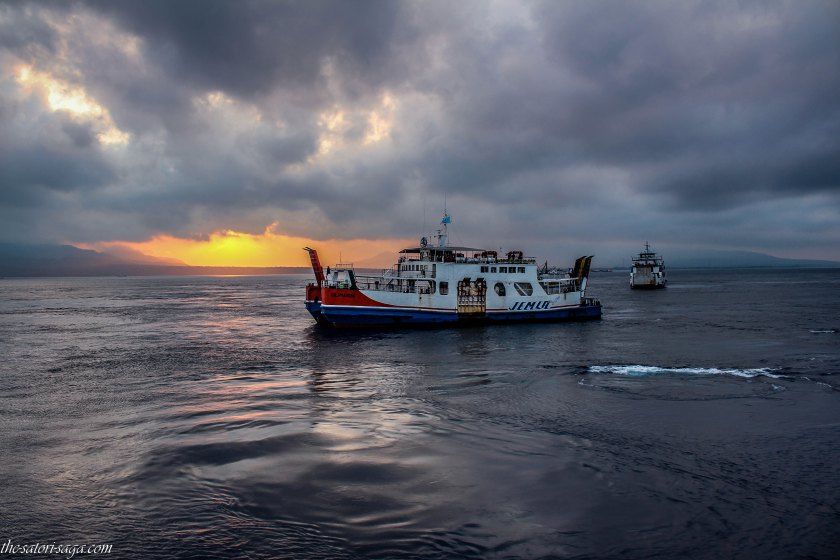 Half Past three on a winter morning in the village of Cemoro Lawang is as calm as one can imagine in the mountainous region. Cemoro Lawang, unarguably, exudes a peculiar sense of equanimity not for the obvious reasons – "Maybe because it's where the fearsome Mount Bromo calls home?" makes one wonder. Like most tourists I planned my Indonesia travel around Mount Bromo but little did I consider the wealth of things to do in Cemoro Lawang itself. The village had much more surprises than I imagined. This isn't a travel guide but just a few pointers based on how we tweaked our time in Cemoro Lawang without spending much.
Staying at Lake View Hotel

Perched slightly higher in the mountains, Lake view hotel has some breathtaking views of Mount Bromo, Mount Semeru and Mount Batok. Grab a cup of tea from the reception room for free and sit outdoors on the wooden bench facing Bromo. Watch the smoke spewing from the active volcano, as the sun begins to settle in below the horizon. Keep your cameras ready as the sky treats you with a myriad of shades ranging in pinks and purples – like a little dancing ceremony behind the mighty volcano.
Though I constantly encourage homestays, staying in a decent hotel near Mount Bromo is highly recommended. Accompanied by our Swiss friends Heinz and Afra, we spent a few hours checking out a number of homestays in Cemoro Lawang. The rooms are quite unkempt and not ideal for those who fancy a decent place to stay. Many tourists also choose to stay at the Café Lava Hostel for its cheap prices as the hotel rates can be well above your budget.
Talking to the Locals
It's the Tengger tribe that inhabits Java. The Tenggerese are the only Hindu communities in the island. So it's safe to say that unlike other cities like Probolinggo, the folks in Cemoro Lawang are more than happy to stop by for a chat. You don't have to stay in a homestay to mingle with the locals. Talk to your hotel staff, your bus drivers, the guy who sells Bakso or even the one who chases you around to buy jackets, scarves and gloves – ask them questions as the village is only going to make you more curious.
Touring Mount Bromo
If trekking is not your thing, consider hiring a tour like a 4×4 jeep with a driver to catch the morning sunrise at Mount Bromo. The tour begins at 3 am, but you can choose to go around 8 am if you prefer fewer crowds. The tour will take you first to Mount Penanjakan from where you see the sunrise after which you'll be driven to the base of Bromo from where you'll be taken on a pony to the rim of the caldera.
Riding to Mount Penanjakan

As the hills and tall trees were blanketed by fog, an independent ride through the village seemed like the apt thing to do in Cemoro Lawang. The village ride is safe, however, be extra careful about the ride to Mount Penanjakan, as the roads can get bumpy and slippery because of the presence of volcanic sand. Since there were steep turns ahead, we chose to ride up to a viewpoint just below the mountain top.
After an unforgettable riding experience in Ladakh, the mountains are always calling us for a little adventure. We haven't heard of any tourists riding to Mount Penanjakan in a scooter but it was just an impetuous plan to explore the mountainous beauty in a more personal way. We rented a scooter (for an affordable fee) from a person staying just a few kilometers from Lava View Hotel.
Exploring Areas In and Around Cemoro Lawang
On the way to Cemoro Lawang, stop by Sukapura for a view of the Madakaripura waterfalls. Though you can do the river crossing by yourself, it's recommended to hire a guide to help you with trails. Professional climbers who hike Mount Semeru begin their trek from the village of Ranupani. They also visit the two misty lakes – Lake Ranupani and Ranu Regel as side trips. Unfortunately, we couldn't fit this into our itinerary since it was a last-minute tip from the locals in Cemoro Lawang.
Sampling Local Food at Café Lava

With so many warungs, finding a decent place to eat is not difficult. Café Lava make a great late evening dine in as you will not only have the option to make friends in the desolated village but also sample some local as well as international cuisines. The small charming café is a part of the Café Lava Hostel where most backpackers stay in for nights together.
Getting to Bali from Cemoro Lawang

If you plan to go to Bali from Cemoro Lawang – you can easily do it on a budget by saving those extra bucks spent for flight tickets. Head back to Probolinggo in a similar van as you arrived but if your train from Probolinggo to Banyuwangi is late at night, hire a private car instead of waiting for a public transport. If you reach Probolinggo grab a coffee or French fries at a café close to the station.
The comfortable journey to Banyuwangi is about four hours. From Banyuwangi, take a ferry to Gilimanuk dock from where you can take a bus heading to Denpasar. Though the whole journey could be tiring, it's an experience by itself; especially the ferry ride offers some breathtaking sunrise views from the sea.
Specifics

• There is no harm in signing up with a tour if you'd like to make your travels simple and quick. With or without tour, we took our own sweet time to revel in the beauty of Mount Bromo.
• The closest airport to Cemoro Lawang is Surabaya Airport, take a public bus from outside the airport to Probolinggo, and later hop onto a van heading to Cemoro Lawang. Probolinggo may not be a city as great as you expect, but don't foresee the rest of your trip based on things you see initially.
• Carry winter clothes as the weather can get freezing at nights and early mornings. You can even ask for winter clothes for rent or buy from the hawkers.
• For your own safety, consider making morning trips to Probolinggo, if you're taking the pubic transport.
•If you decide to ride to Mount Penanjakan, ask around for tips and road conditions.
Have you been to cemoro Lawang and did anything different from what I did? Share your experiences in the comments below.
This trip was originally published on The Satori Saga.