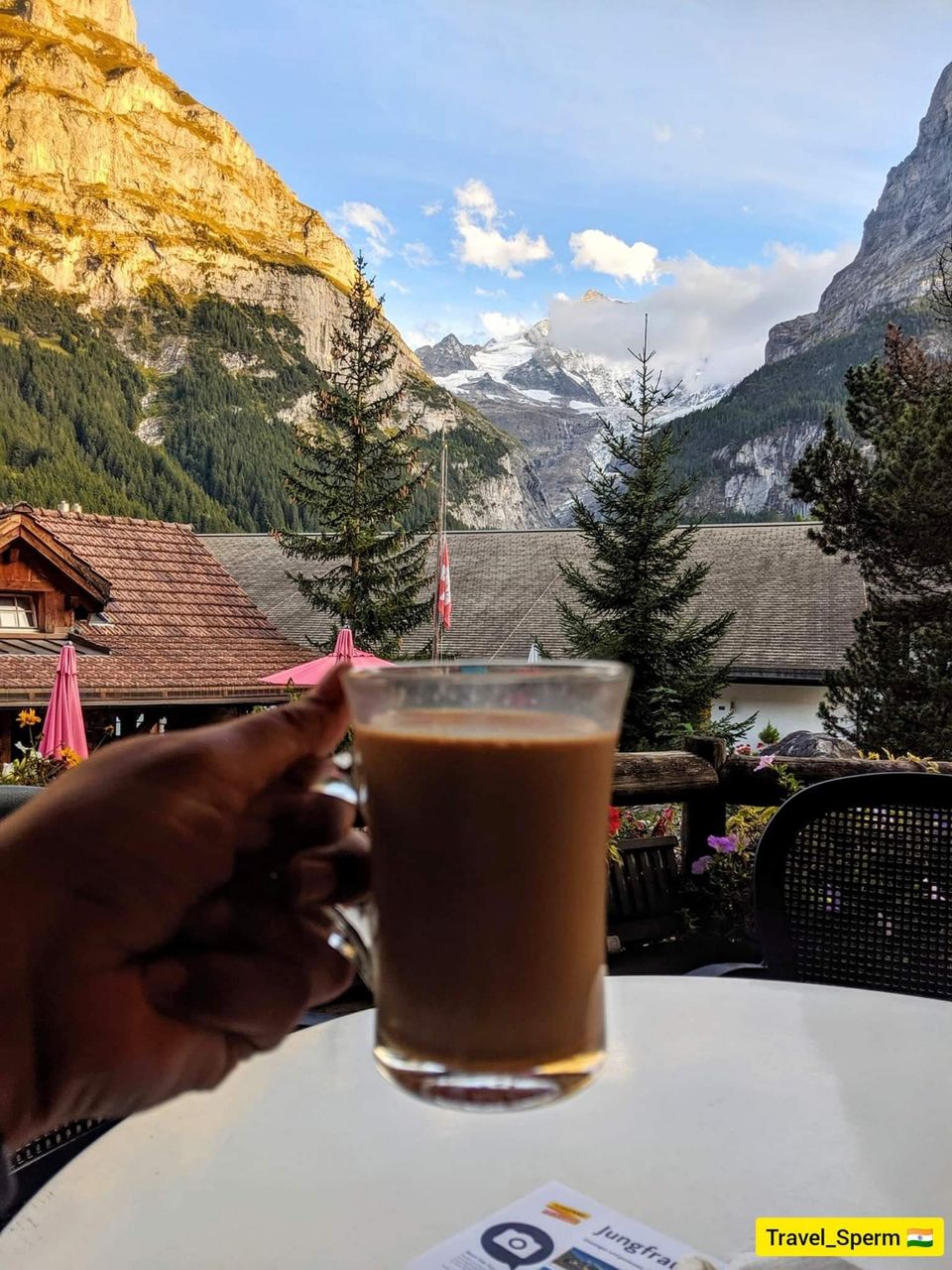 Tea was Fantastic - When Indian Met Pakistani ❤️
Zurich - Switzerland 🇨🇭
Switzerland was my dream location since childhood and I am blessed that I have visited here 2 times till now .
My love for Switzerland increased multi fold when I got to know about people believes Kashmir is a Mini Switzerland . I was too tired hearing that note and then in May 2018 I first visited Kashmir . After that I went again to Kashmir in (June - July - August - September ) 2018 . My love for Kashmir went on increasing day by day and then I made my mind to pay my attention towards the bigger brother Switzerland .
I finally made my first visit to Switzerland in October 2018 and then next time again in September 2019 .
I took my flight from Athens ( Greece ) to Zurich ( Switzerland ) for more than 2.30 Hrs duration . Greece was wonderland as well but in Switzerland I wanted to cover Grindelwald and Jungfrau . Considering I had covered 4-5 places in last visit in Switzerland this time it was all for Grindelwald & Jungfrau .
While boarding , the crew members scanned my passport multiple times , asked me more than twice about my intent to travel and why I am travelling solo . I gazed that I need to give them some Trump Card answers . This time I told them Hey , I have been here before as well and these are the places I have already been . Don't worry I am a seasonal traveller and follow the norms of country strictly . By hearing the names and ofcourse my confidence to combat immigration and flight crews questions , she smiled and handled over my passport with a green signal saying , Welcome to Switzerland ❤️ .
I went at my seat , it was almost at the back side of plane . I got my window seat and happy to witness all through the plane . Aisle seat belonged to a senior citizen of Greek Origin and in between was empty till now .
This person came and he has now occupied the middle seat .
Normally I would smile or say hello but then he was in his own world and formal hello never happened .
After 1.30 Hrs flying I wanted to go to lavoratory and then he too came out from his seat . The Greek lady had to move out to give us way and I said sorry for the trouble . To which she smiled graciously and I always wondered what are things missing when I travel with my own country citizens .
I came back in next 5 minutes to the seat but now this is almost 30 minutes and he was no where around .
After almost 35 minutes he came back to seat and now I saw his face properly . He was looking like a asian and single ear phone , bearded with sharp features . He asked me Are you an Indian ? And I said Yes from Delhi . I asked him how about you and he replied I am from Pakistan . I don't get surprised or any other feeling when I see my neighbor . Infact I just love to have conversation with them . The first time I met Pakistani in October month in London and after that I have met them in more than 10 countries and you will die in shock to know that they are much better in hospitality , language and respect to any other fellow countrymen or any Asian .
Many times I see Pakistani's feel that hesitation what Indians might think about them but I am too good in crushing such thoughts time and again .
I asked him where in Pakistan ?
He replied , Kashmir !
I had never met anyone from Kashmir region from Pakistan side and hence it was supposed to be a good conversation .
I asked him again , what is the closest city or town in Kashmir region and he replied Mirpur .
I said , wow . I have been to Kashmir 6 times in India and I have heard that part of Kashmir in Pakistan is even more beautiful .
He told me yes but then got quite for a long time .. And after a long pause .. he said .. Conditions for Kashmiri is not good in India and then again a long silence ...
He was too introvert I could see that but but but he is Pakistani and from Kashmir region and he just came out from lavoratory for more than 30 minutes . He was looking suspicious and anger and pain in his eye .. we were flying at 35000 feet above ground. All these was making me go to the painted image we get from our honourable News Channels .
I would be lying if I say I was feeling normal for inside but then I wanted to understand things or talk with them so that I can correct him even he has any ILL intentions or motives inside him .
I asked him gently . Why do you think Kashmiri has bad conditions in India and they are living a miserable life . I asked him do you think Kashmir has just people from one religion .He told me about the videos that circulate on WhatsApp about how people treated Kashmiri after terrorist attack on Indian Army .
He was telling me that in one incidence in UP , Kashmiri road side vendors selling dry fruits and woollen shawls are getting bitten by men just because they are Kashmiri . Another instances where Kashmiri kids were send back in Punjab and Chandigarh .He then went on elaborating other videos .
Once he is done I told him whether you had received other part video in WhatsApp where the one was beat kashmiri was also held by local people and then send to judicial custody . Whether he has video where Gurudwara hosted all kashmiri as safe heaven . I told him similar other incidence to which he had no answers and was calm down .
I told him Good and Bad exists everywhere but most importantly is the humanity which is still in people within border and across borders .
I could see now that he is not a danger for me and probably just as concerned like anyone else could be . I told me that I am Indian and I am talking to you and You are Pakistani . Why do you think that I will not talk to my own countrymen irrespective of any religion they follow . If some channels and political establishment has some motives to garner votes then it is just media thing . No one in general believes in discrimination .
I could see that he was little more convinced now .
Now I wanted to change this topic and told him like you get half baked news , we too get same half baked news of Baluchistan . He told me that there is no problem in our side and then I replied no where there is a problem and problem is in the idiot box and some politicians .
I told him about my love for Pakistan cricketers Pakistani Singers and some actors and wished we had a collection of team members where all bowling squad is from Pakistan and all batsman are from India . He again pointed out that a new talent Babar Azam has potential to beat Virat Kohli and I laughed ... I told him Only person in recent past who was a threat to Indian bowling was Misbah and rest no one is any closer .
Since I laughed at him over cricket he took a jibe over Abhinandan . I didn't say anything on this but he added RAW , ISI as well . The time he said ISI , I told him not to use these words and even if you want to speak say in Pure Hindi or Urdu Dialect . All that are sitting next to us would read our words as ISIS .
And trust me our nationality would again trouble us when you are speaking about these words in a Airplane at foreign country .
He calmed down a little but then he went on saying but Tea Was Fantastic . All I could remember my DU days where pulling legs is the favorite way to pass time and what else better than any Pakistani player in opposite . I jokingly told him that we would atleast taste your tea but your Planes F16 were which given to you by America were shot down as well .
He went into emotional vibes and become Bhavuk just to prove it and in all our previous discussion of 1.3 hrs we were talking words like American , India , Pakistan , Planes , destroy , Shoot , Mig 21 , F16 , Raw , ISIs , Kashmir , Hindus , Muslims , Dispute .
I knew that I could never get such discussion again and didn't want to stop but since we are in plane at foreign land we should not at all utter such words .
Inside of me I knew that other passengers too have ears and they could interpret things differently , wrongly and might get scared .
He was calling me "Bhaijaan" and ofcourse any amount of difference we may have but from origin we all are same brothers from same land " Undivided Hindustan" .
Now plane landed and I made my mind that we would not get down from plane together because if any passenger might have raised any alarm of being suspicious then it would cost me no where less than 1 hour in interrogation and I would miss my non refundable 130 Euros Swiss train .
I told him that I would meet you outside the airport and swiftly get down from plane .
I went to Metro station inside airport and was looking for my train to Grindelwald . Took help from some super pretty travellers girls and now I was some 120 minutes away from my fixed schedule train to Grindelwald .
It was now 20 minutes left and I again heard the word " Bhaijaan " . I looked back and this was him again .
He asked me where did you disappear and I replied I went to Washroom and then couldn't find you .
He told me the verdict he went through . Officers who check random passenger took him with them and after a one hour long questions and papers checking process and made him walk naked and scan through machines they finally let him go .
I laughed with loud voice when he said , " Gorron ne Nanga Kar Diya Ander " and I told him remember I told you speak slowly in Hindi / Punjabi or Urdu dialect .
Not him not even me had any idea that whether that was random check or his nationality passport or the discussion we had in plane but guys please make sure your gossips in plane with neighbors can be a serious issue for some people . So never ever do it .
We hugged each other and then he told me that he lives in Germany with some other Indians as well . By talking with him he corrected himself again that we Indians don't really wish bad for our neighbors .
After all Love is above borders and politics ❤️