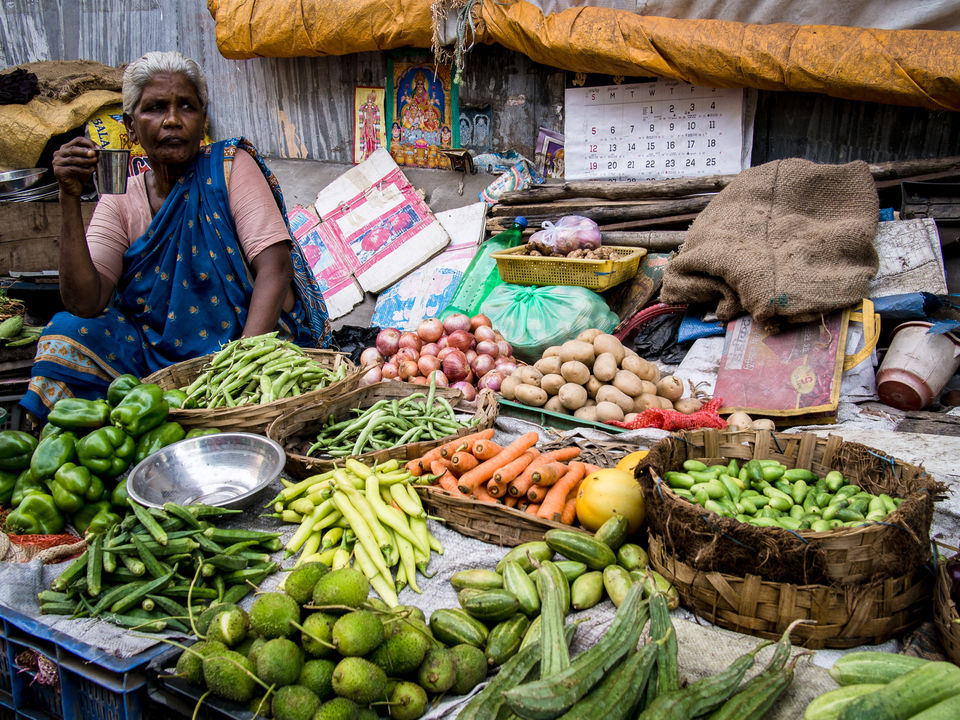 Taking stock of the contents of my carry-on before leaving for India left me with only one conclusion...
I'd have to go shopping in Chennai.
You see, we never planned to go to India on this trip. It's was kind of a surprise, like when you go out for dinner and decide at the last minute to see a movie, too. Because of that, we had filled our tiny suitcases with everything we'd need for winter in Europe.
And exactly nothing for the 35+ degree heat of Chennai in June.
So shopping in Chennai was unavoidable.
Don't miss our other great posts about Chennai and Tamil Nadu!
9 Ways Traveling In India Will Surprise You →
Tamil Nadu Hotels & Restaurants: Where to Eat & Sleep in South India →
I have to admit, I was pretty apprehensive about the whole thing. After all, I'm bad enough at shopping in Canada where I understand how things work!
But now, after a few days of shopping and three full outfits bought between us, we've learned a lot about how shopping works in Chennai's Pondy Bazaar.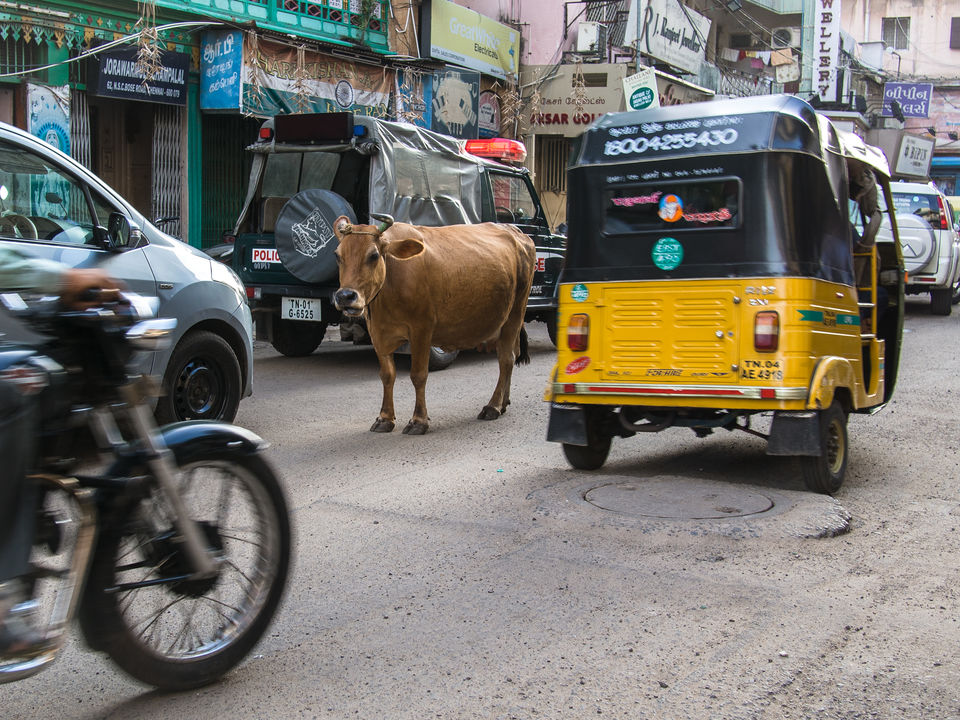 Don't miss our other great posts about Chennai and Tamil Nadu! 9 Ways Traveling In India Will Surprise You → A Traveller's Guide to Using the Autorickshaws in Chennai → Tamil Nadu Hotels & Restaurants: Where to Eat & Sleep in South India → A Traveller's Guide to Riding the Bus in Tamil Nadu →
What is Pondy Bazaar?
Pondy Bazaar is, simply put, the only place you need to go shopping in Chennai. You can buy just about everything here, but the chief attraction is things to wear: there are more clothes, shoes, accessories, and jewelry than you can imagine.
T Nagar is the neighborhood surrounding Pondy Bazaar, and it has plenty of shopping too.
What to Buy in Pondy Bazaar
Women's Clothes Shopping in Chennai
In Chennai, most women over about 25 wear saris. But that doesn't mean you have to!
Don't feel pressured into buying traditional Indian clothes just so you can "fit-in" or not offend the locals.
First of all, as a foreigner, you will probably never blend in on the streets of India (unless you happen to be of Indian descent); there's nothing you can do about that. Second, Indian people completely understand that you are not Indian and therefore do not dress in the same way as they do. They will not be offended if you dress like the Westerner that you are, just as you would not be offended if you saw an Indian woman in a sari walking around the streets of your own town.
You are going to be stared at no matter what. It isn't culturally inappropriate to stare, and, in case you hadn't realised it, non-Indians look TOTALLY different than an Indian person. Even in busy Chennai, home to thousands of expats, we got looks, whispers, giggles and shouts of hello.
Of course, it's best to dress modestly whether you choose to wear saris and salwar, or trousers and t-shirts.
Your legs should be fully covered and I opted for nothing with sleeves shorter than t-shirt length. We have seen many foreign women out in more revealing clothes (like tank tops or tight yoga pants) and no one seemed to give them a second glance.
We've also seen plenty of local women in jeans and t-shirts or in just-above-the-knee skirts - though they do tend to be younger women.
If you do want to dress in Indian clothes, you could get:
An inexpensive sari for every day of the week Formal saris for weddings and other fine occasions
An endless supply of salwar kameez, which is a 3-piece set, including a long just-above-the-knee top/dress (kameez), usually voluminous pants (salwar), and a matching scarf/shawl (duppatta)
Kurtas (tops that cover your bum and come down anywhere between upper thigh and knee) in every imaginable cut and fabric
Pants or leggings in a hundred different style and colours, to be worn under your kurtas
Scarves to add a little modestly and coverage to your top half
Flip-flop style sandals, in rubber, leather, plastic and bejewelled to the Nth degree
A great selection of cotton bras and panties - seriously, if you need great travel underwear, go shopping in Chennai!
And of course, jewelry: everything from 50-cent bangles to gold pieces that will tip you far over the gold import limits on your trip home
I opted for a mix and match approach. I bought one knee-length dress and one kurta, but neither are completely traditional in cut or color.
To go under them, I got two pairs of light-weight pants - one Thai fisherman style pair and one with wide legs. My goal was to buy clothes that I will be able to wear separately when I leave India. Not that I plan on going fishing in Thailand anytime soon, but heck, we didn't plan on coming to India when our trip started.
Men's Clothes Shopping in Chennai
Indian guys in the city hardly ever wear traditional dhotis or kurtas. The men's uniform is jeans or chinos paired with checked shirts, usually short-sleeved in summer. We had one shopkeeper tell Stephen dhotis were "old men's clothes".
Of course, outside of the city, many more men wear dhotis, but they still react with surprise when they see Stephen wearing his.
Be prepared for a lot of extra attention as a guy if you decide to wear a dhoti around. Older men will give you a big thumbs up while younger guys may snicker and ask why the hell you'd wear that. But, if you own it, you'll find you're a lot cooler with a dhoti than walking around in jeans like the locals do.
Here's are some of the clothes you can buy in Pondy Bazaar for men:
Jeans or chinos.
Checked or plain white short-sleeved collared shirts. Golf-style shirts.
A good selection of semi-traditional shirts (think pull-over shirts with Nehru collars in light cotton/linen).
If you want to get cool and comfy, dhotis of every imaginable style are available: you can get traditional dhotis, dhotis with a velcro belt and a pocket, and even dhotis that are sewn into dhoti-pants.
I don't think we've seen any man wearing a kurta, but they're there if you want one. This may be different in other parts of the country.
You can also buy suits, suits, and more suits.
Ready-to-Wear or Tailor-Made?
One of the most exciting things about Pondy Bazaar is that you can easily pick up your own fabric and get a tailor to sew exactly what you want. In men's departments, there are rows upon rows of tidily packaged "shirting".
You just choose the style you like and then take it to your tailor (or to the in-store tailor). Specify what kind of shirt you want and you're good to go - often in as little as an hour from what I've read. There are also endless suit materials if you want to pick up a few tailored suits while you're in the country.
Women can choose from a huge range of expensive silks, rough silks, cotton of every description, and even polyester for made-to-order saris, salwar and kurtas.
Getting tailored clothes sounds like a whole lot of fun. But I'm a terrible shopper, so the idea of having to choose from a dizzying array of fabrics, finding the right tailor, and then deciding exactly what style I wanted was far too overwhelming.
I went with ready-to-wear instead.
Looking for a Bargain
If you want to jump straight into the bargain hunting, head to the street stalls lined along Usman Road and Ragnathan Street. We were here in extreme low season, so there were very few people around, but it can get crazy in the markets on the weekends and at different times of year.
The street stalls will give you the best bang for your buck and you could buy entire outfits for $5-10 depending on your bargaining skills.
Quick tips for getting the most out of the Pondy Bazaar street stalls:
Go when you're well-rested and well-fed - you'll need your wits about you!
Things don't really kick off until after 10am on the street (at least at this time of year).
You might be better off going in the early evening when the day is cooling off a little.
Don't be afraid to ask questions, ask to see something else, and request a different size from the stall holder.
Don't waste a stall-holder's time if you're not planning on buying. Read up on bargaining tips before you go.
Keep your cool. Always be friendly when bargaining - you're much more likely to get a good price that way.
Don't get so caught up in getting the best price that you miss out on something you really want.
The rest is up to you. Have fun!
Fixed Price Treats
Bargain-hunting can be fun, but if you're in need of an entirely new wardrobe like I was, you might want to try some of the fixed-price shops. From the outside, many of these look like they just sell rows and rows of neatly folded fabric swatches, but pop inside and you'll be amazed to find a full-sized department store hidden inside.
If a friendly shop assistant hands you a postcard-sized flyer as you walk in the door, you'll know you've found the right place. This postcard is the map to the store, telling you what you'll find on every floor. We were surprised to see that these maps, along with all the signage in the shops, is written in English.
Tips for shopping in Chennai's fixed-priced stores: Don't be afraid to ask for help - many of the shop assistants speak perfect English, so take advantage of that to find out what is on offer! Sizes tend to be grouped together, rather than styles, so ask or look for your size before you start poking through.
Shop assistants are assigned to certain sections of the store and they will follow you around to be on hand if you need service. They will watch you shop: closely. Try not to let it phase you.
Pants / trousers are often rolled up tightly and placed on shelves, so if you can't find the pants, start unrolling! In some stores there is a fitting room, in others, you might just have to guesstimate your size. You can pay by credit card in most fixed-price stores.
Fixed-Price Stores to Try in Pondy Bazaar
One of the biggest and most famous fixed-price shops is Saravana Stores. It's a seven-storey building full of more clothing than you can even imagine in a single place. It also has a grocery floor. And a café. Even if you're not buying, the experience alone is worth a visit.
Saravana Stores clothing branch is at 129 North Usman Road in the tallest building around - a stark white knife-edged structure rising above the nearby overpass. They also have a jewelry store and a housewares store nearby.
There are plenty of similar, if smaller and slightly more upscale, stores along Thyagaraya Road.
It's also worth visiting two stores along Thyagaraya that more closely resemble what we'd think of as a department store.
The first is Big Bazaar, which I've seen described as the Wal-Mart of India. It's a little nicer than Wal-Mart, and you'll find a great selection of traditional clothes with a Western spin, both for men and women. It also sells anything else you might need for your travels. You probably won't find anything high-quality here, but for an inexpensive selection of everything, it's a good place to start.
Globus is more upscale, somewhere between The Bay and Nordstrom. They have a wide selection of better quality Indian and Western clothes in a quiet and air-conditioned environment.
If you're looking to get even more stylish, venture over to FabIndia on Gopathi Narayanswami Road. If you don't fancy a walk along some seriously dusty roads, hop into an autorickshaw. You'll get there for less than 50 Rp and won't be a sweaty mess while you're trying on clothes.
Just Looking
Shopping in Pondy Bazaar is easy because English is widely spoken and the stores are staffed to the gills with people waiting to help you. Some are friendlier than others, so if you run across a surly shop assistant, just look for someone else.
Once your shopping is done in a particular store, the shop assistants may want to chat with you about where you're from, what you're doing in town etc. Reserve a little time for friendly chats.
You'll find the same thing happens around the open-air market stalls. Many shopkeepers called us over, not to sell us things, but to talk to us. We were totally taken aback by the lack of sales pressure in the bazaar.
The phrase "just looking" was taken at face value by almost everyone and stall holders were happy to show their wares and then take "no thanks" for an answer.
In one store, as Stephen chatted to a man from Burma who was working there, a young shop girl came over to me and we started talking. She said, shyly "You are so beautiful."
I said to her, "You are beautiful too. We look so different but we're both beautiful in our own way."
Her eyes sparkled as she hid her wide smile behind her hand.
♥ Happy adventures, Stephen & Jane
Frequent Searches Leading To This Page:-
coorg tour packages from chennai, places to visit around chennai, getaway places near chennai, things to do near chennai, le meridien chennai