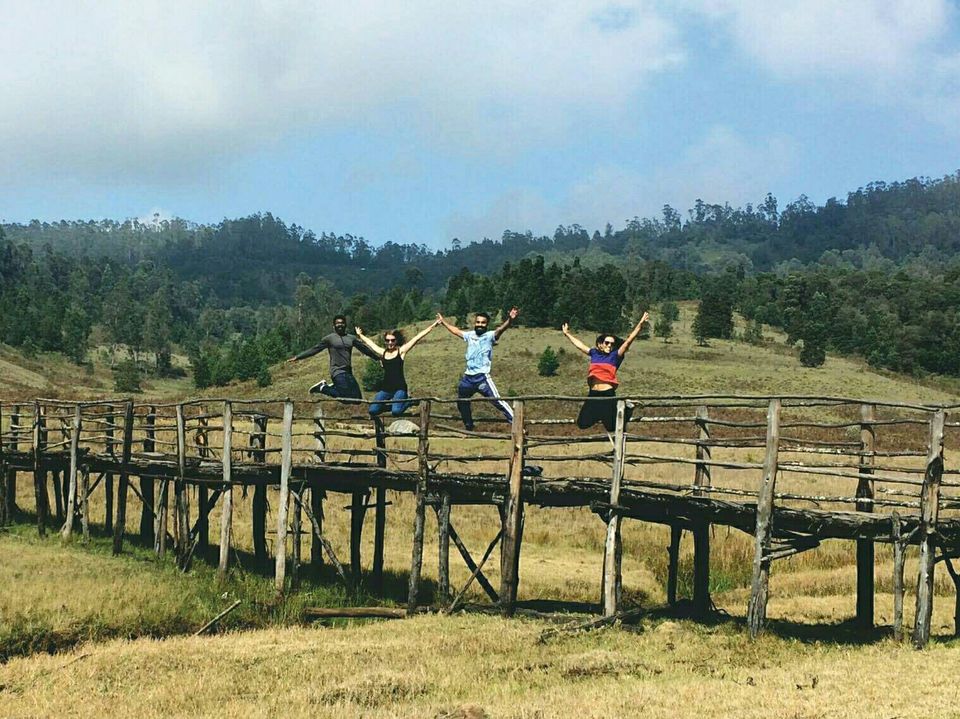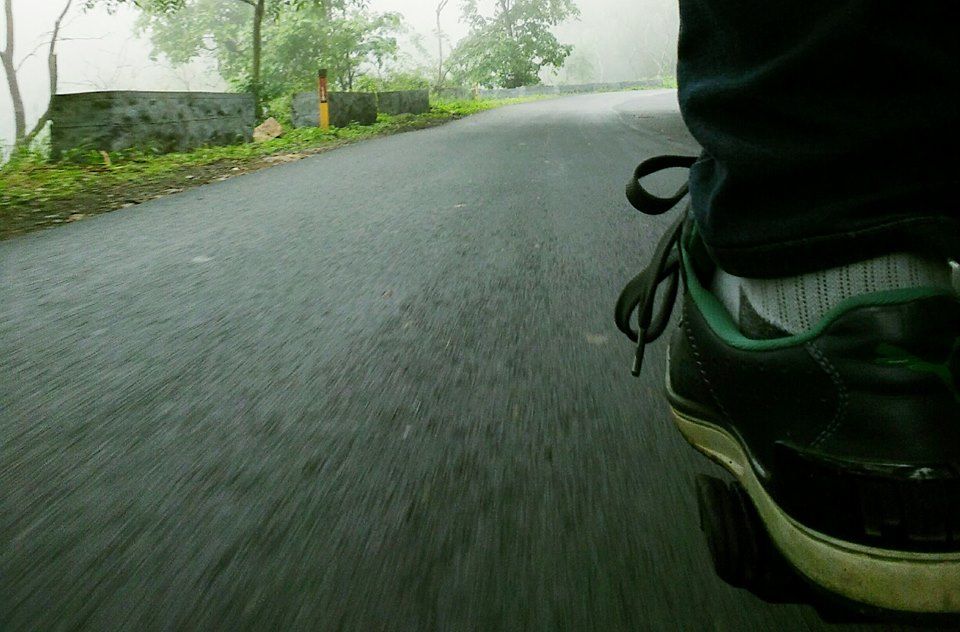 Tamil Nadu, Cyclone was about to end and it was winter. Voila, Kodaikanal turned out to be the perfect recipe for my wander-appetite.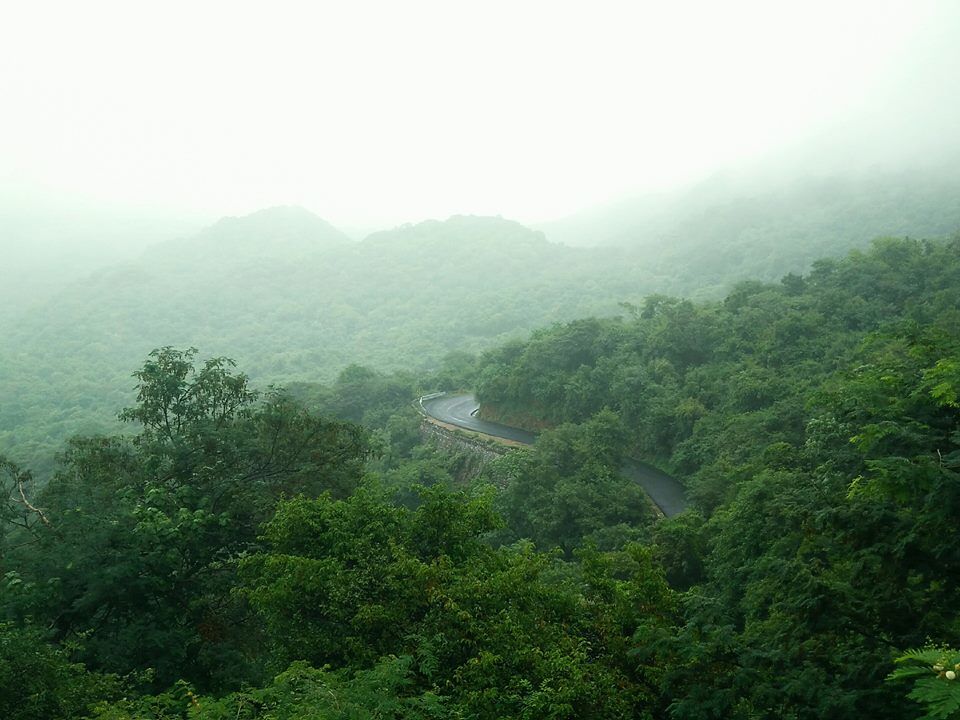 Kodaikanal is 250 km away from my place. Started at 6:00 a.m in the foggy morning. As cyclone was about to end, it was drizzling and cloudy the whole way, which adjoined my bike ride lust. The green scenic route with fog surprise me now and then.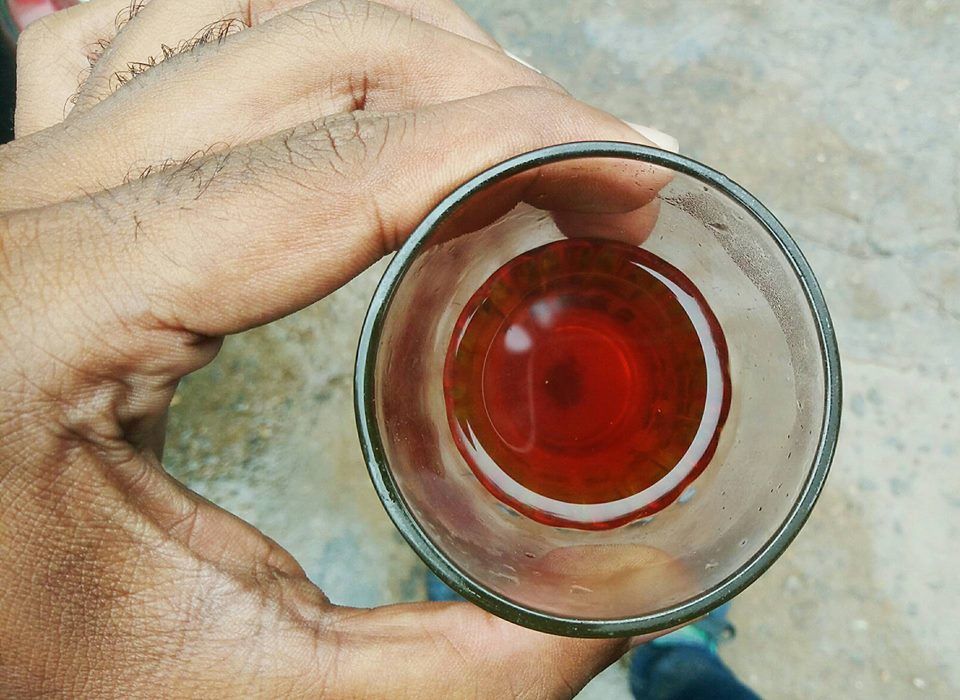 Had a couple of stops for tea and frequent stops to enjoy the nature.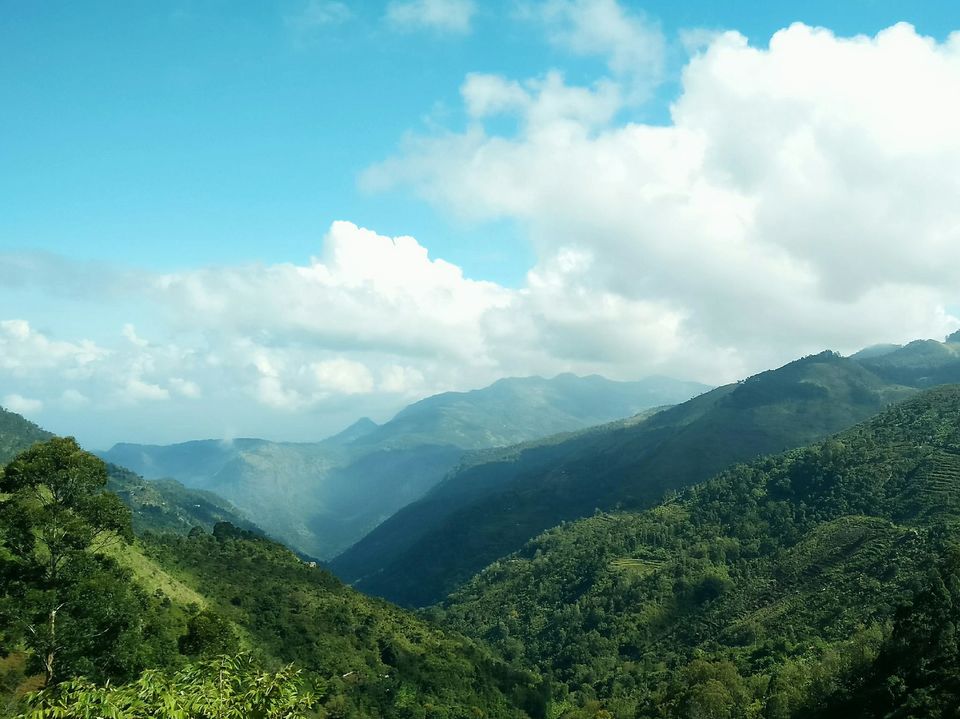 I gave enough time for my eyes to make love with mountains that was covered by fog, sometimes I stayed till the fogs made its move.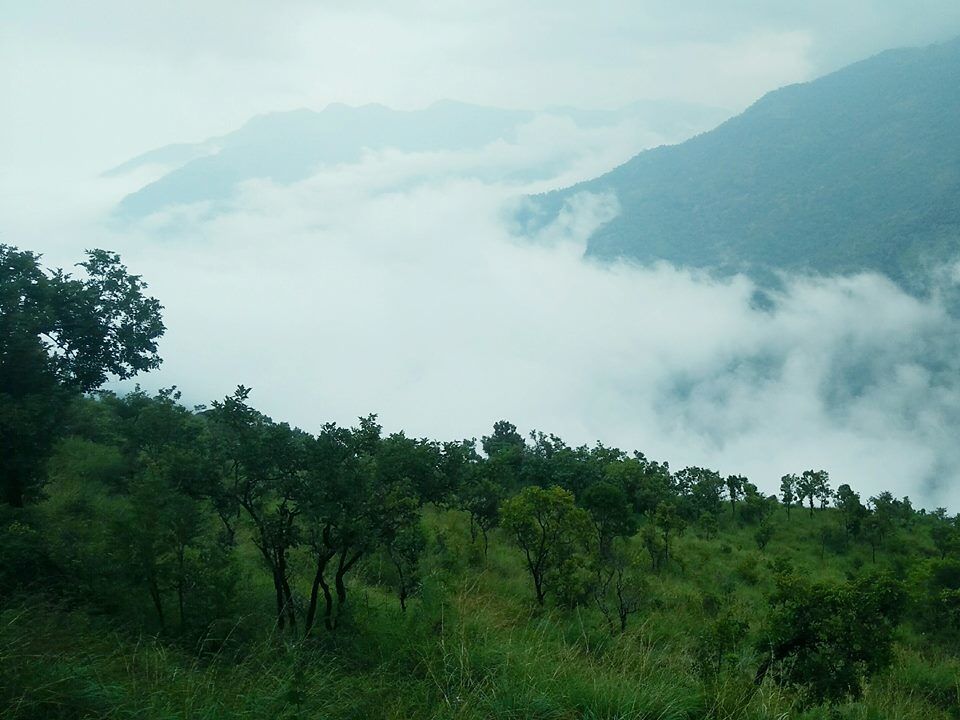 All the time I have travelled in hills, my first one hour is the more exciting time. Different landscapes now and then amuse me.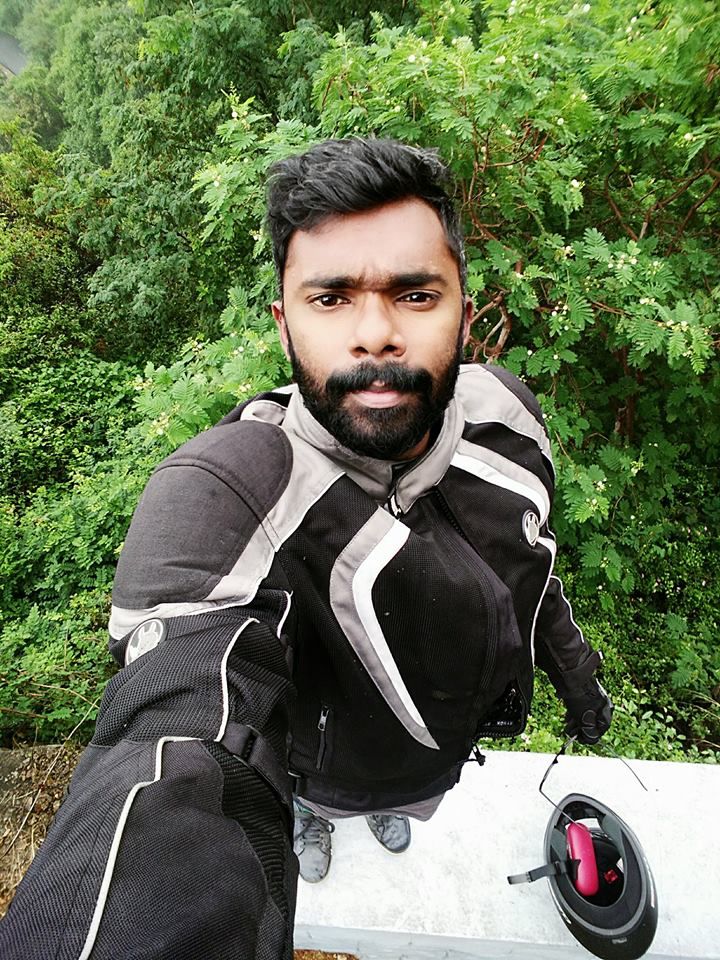 I reached the dorm where I was staying? at 1:00 p.m. I took a deep nap for a couple of hours. As the wi-fi was restricted to just the reception, I had to spend most of my evening in that small box? i:e reception, This also gave me an opportunity to gape at the human movements there. And here is where I met Emily, Patricia and Vishal. Emily was from France, Patricia from Spain and Vishal from Pune. Emily and Patricia mistook me for the receptionist and asked for help with wi-fi connection, gradually the conversation extended to exchange of knowledge on each other countries. Vishal arrived in no time. He became my roomie, We couldn't get to know each other as he was exhausted.
Eventually the climate got worse and time became still. I suggested a game of carrom to Emily & Patricia to drive the needle on clock, ended up inventing a new way to play which was fun.That's how the day ended.
I woke up when the sun rays hit right at my butt. I was real glad to see the clear sky which was good sign and apt to sightsee. Had a short and friendly conversation with Vishal. Four of us had breakfast together and planned to visit a pair of places.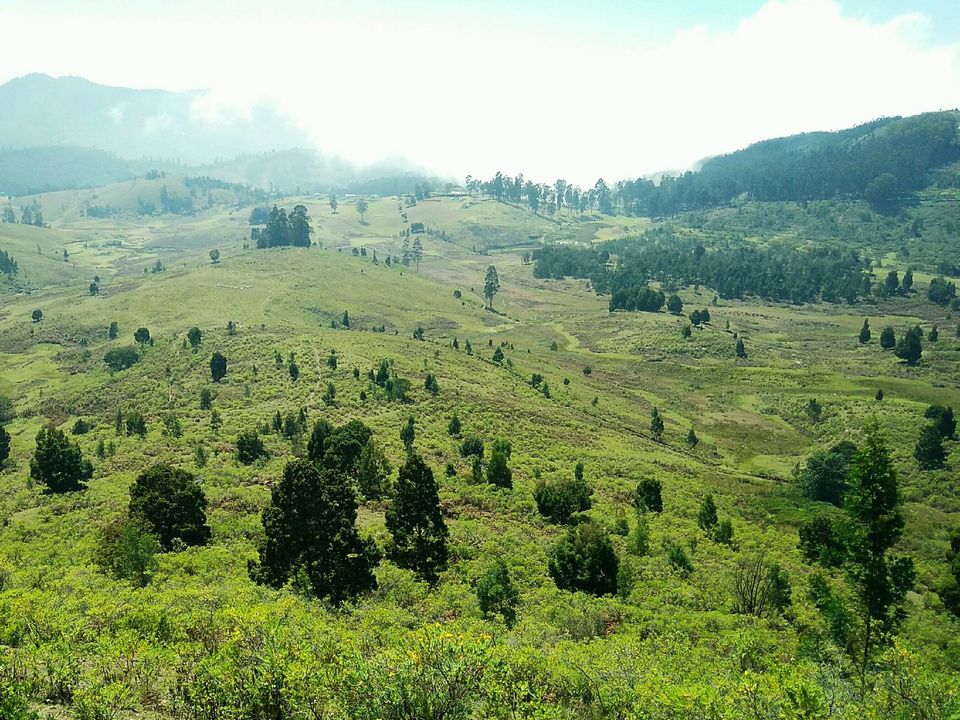 Half way to Vattakanal, the plan got manoeuvred from going to Vattakanal to Mannavanur. It was a one and half an hour ride and scenic route regaled us, but Mannavanur & Mannavanur lake was more regaling.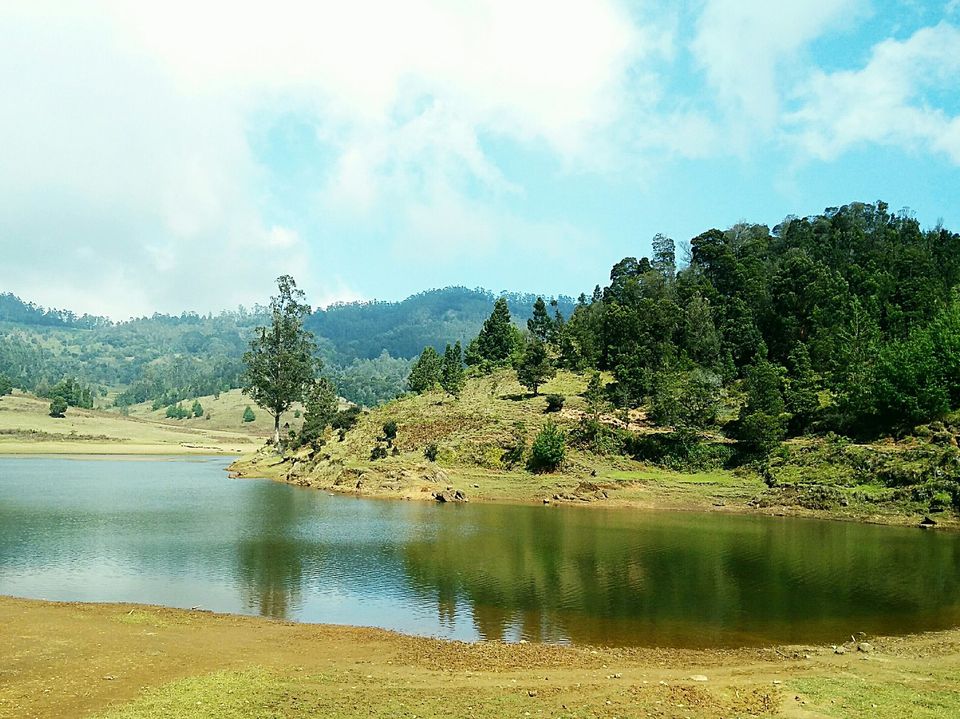 The lake was so great that it occupied our next couple of hours.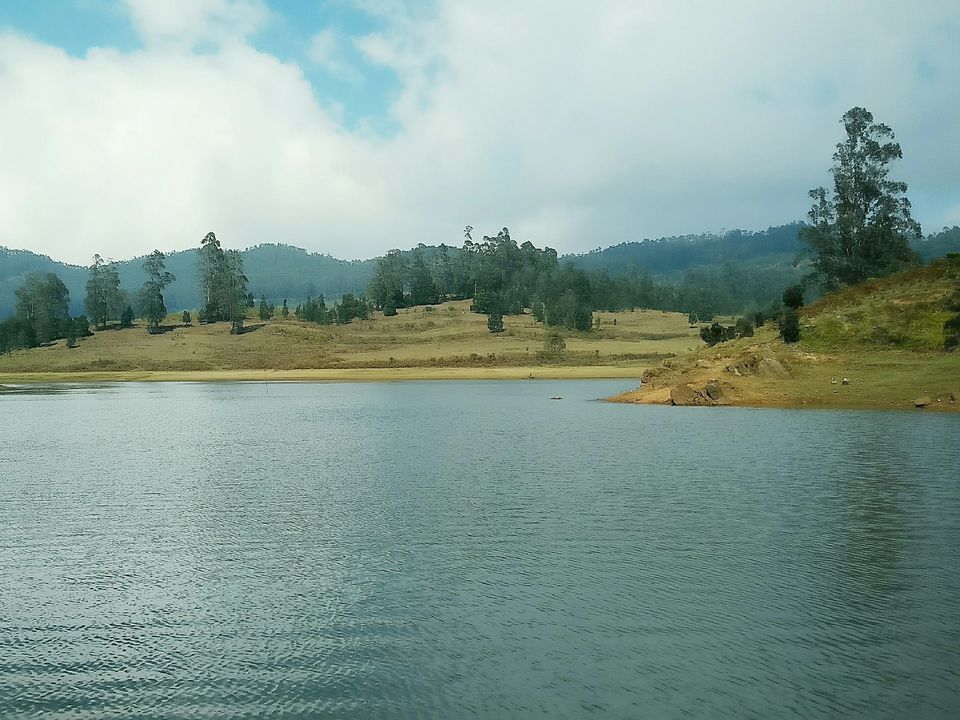 It had enough medley of views to explore like "a wooden enclosure kind of thing beneath a big tree allowing you to enjoy the whole view of the lake at peace".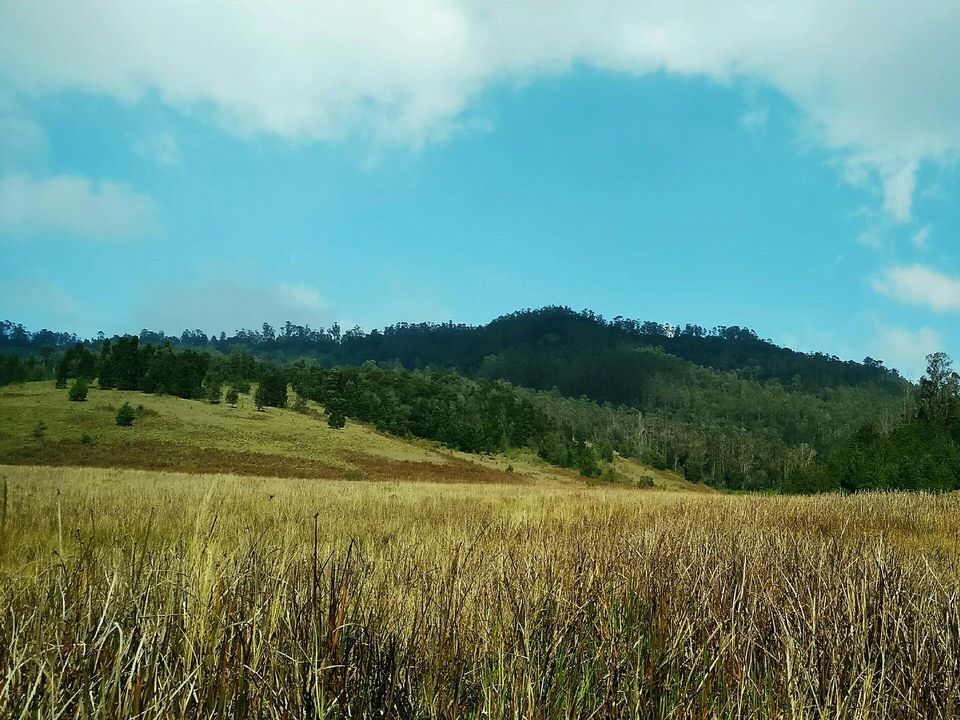 Here came my favourite fun thing which we did and which took a jumping pose on long wooden bridge with a series of tiny mountains behind it.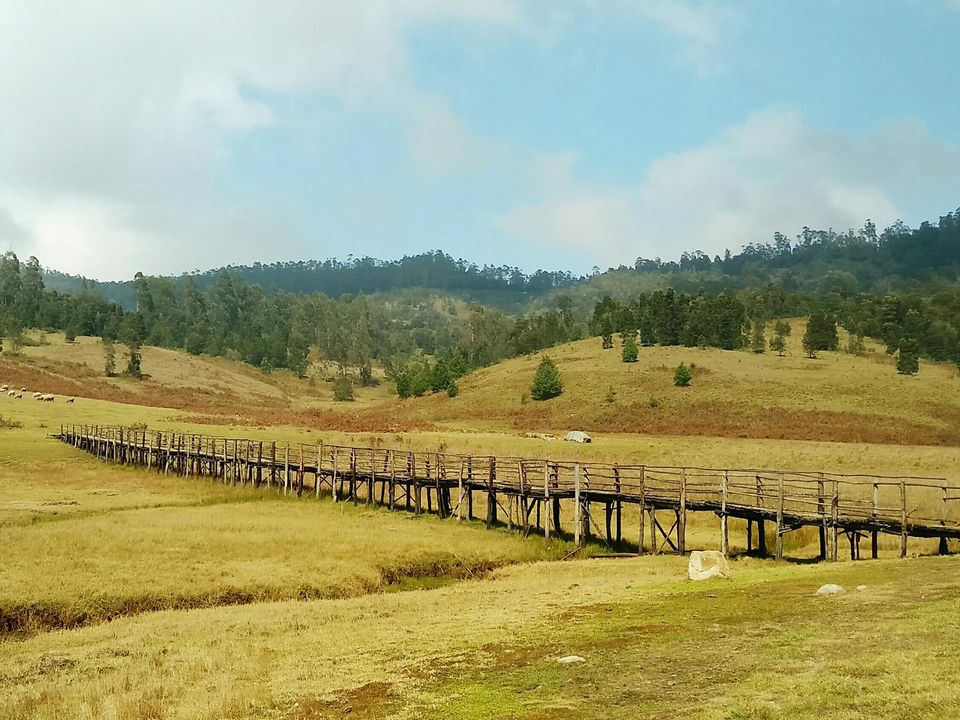 All had a poor co-ordination which lead to many attempts to achieve the perfect one but we couldn't get one. I am glad we didn't get one, cause that provided us more moments of gigs, laugh and fun.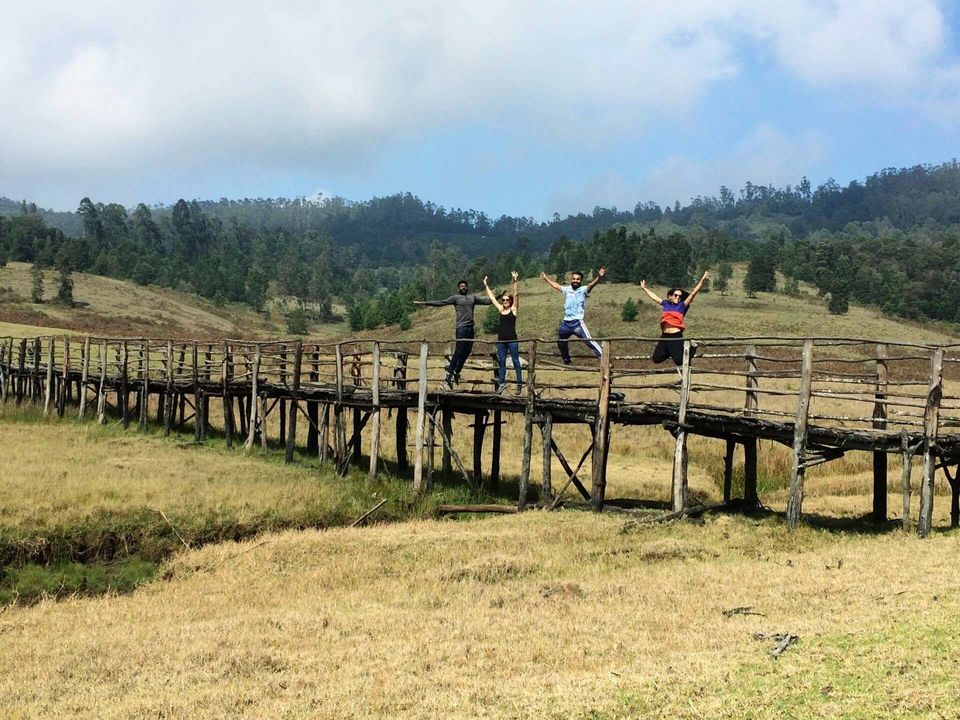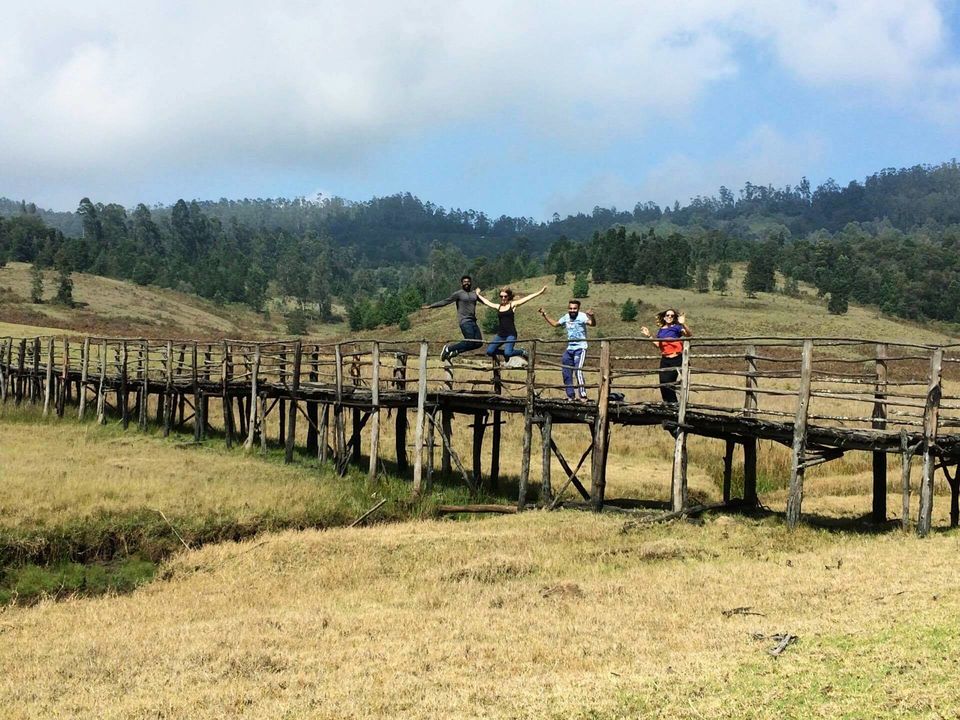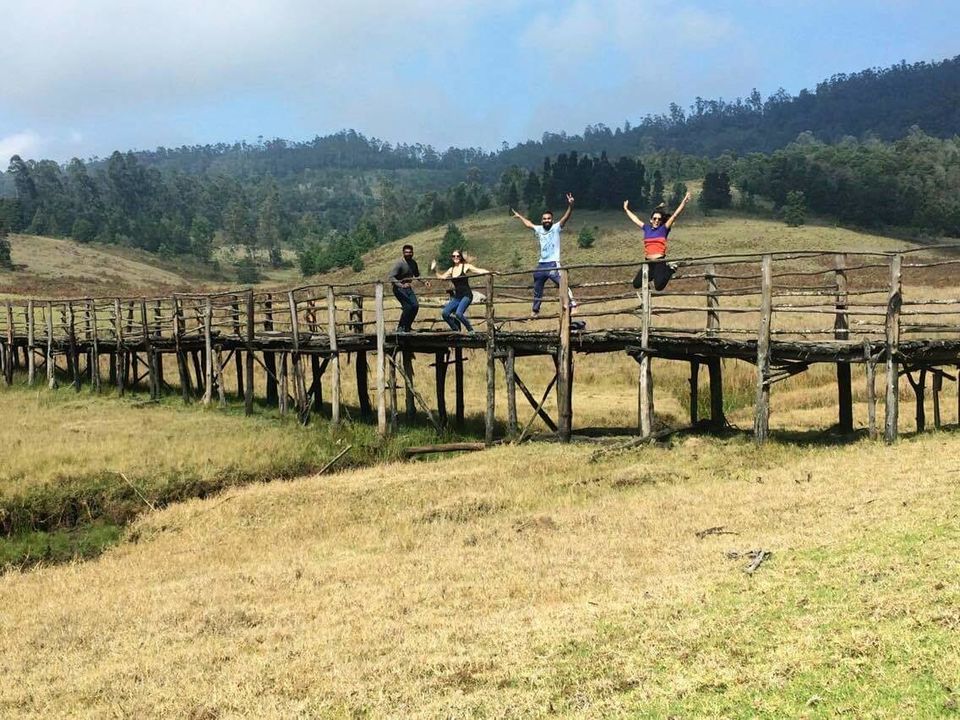 On our way back, we stopped for a snack which turned out to be a heavy brunch. It was a surprise, the egg bread and egg noodles was delicious and served the appetite well. Of course the brunch was followed by deserts(kulfi ice cream) in few minutes at the next stop. Arrived back to hotel, around 6:00 p.m. No doubt, favourite place was conquered. Tiring day was concluded with Indian food.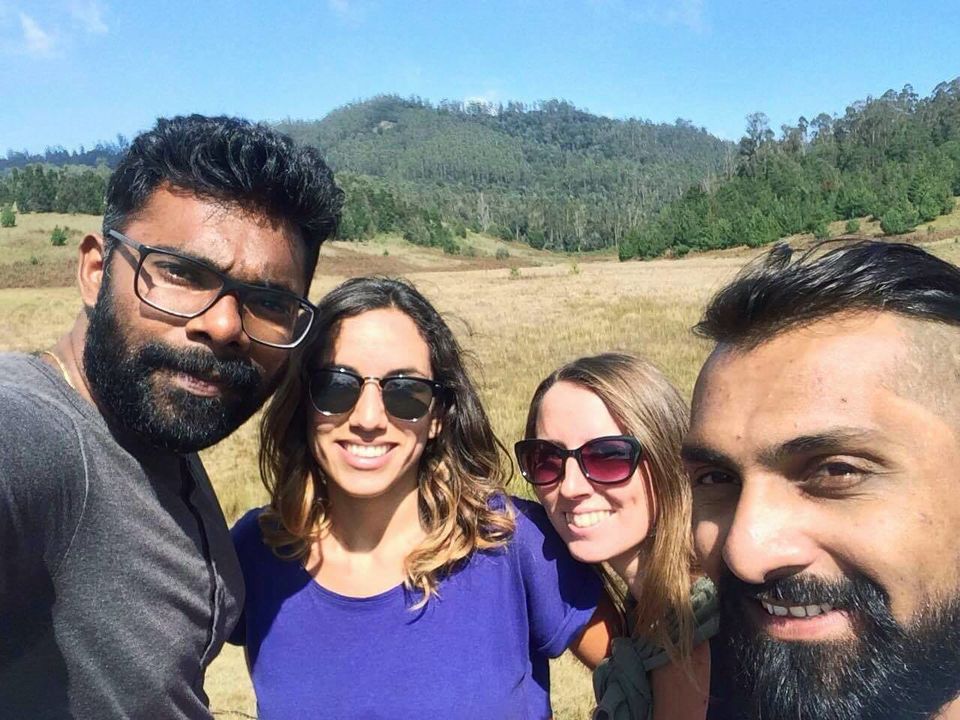 All four of us had to leave next morning. Vishal had to catch his train to Pune. Patricia and Emily were heading Munnar and I started my ride back to my place. Again I had lot of stops to capture few more beautiful memories. Then I reached home at 2:00 p.m. I usually ride a lot and get to meet new people.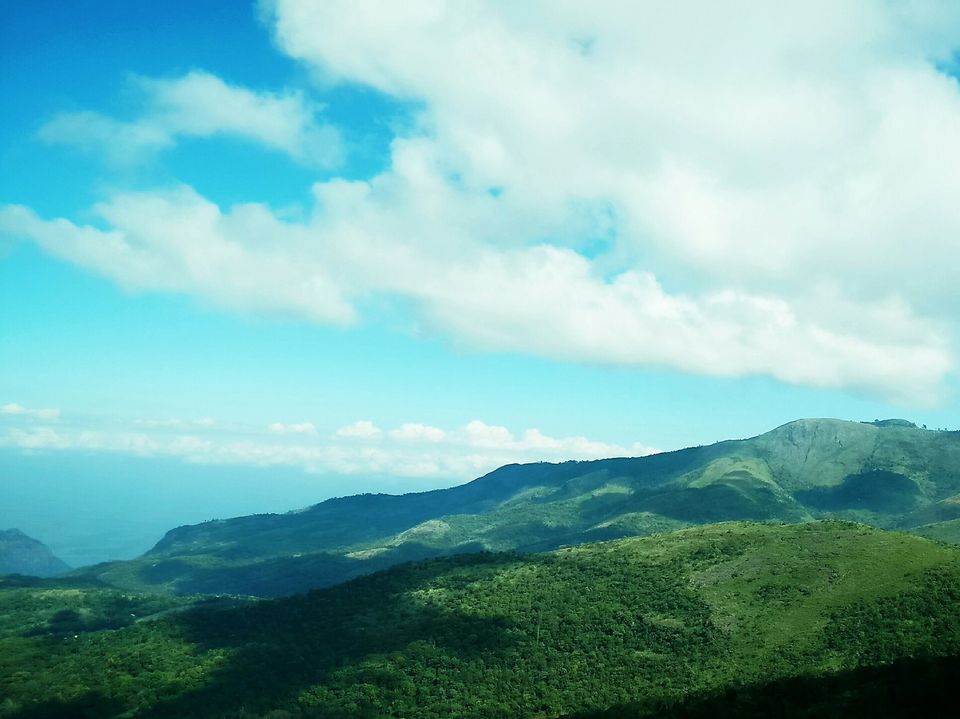 This is one trip which is going to be on my favourite trip list. Emily and Patricia are sweet hearts and no doubt they are beauties, Vishal was one supportive smart guy which are perfect ingredients to have fun. I wish to have similar friends and similar trips in future.
Fun facts
Emily - Pretty English girl who could speak English with Indian accent. She loveeees desserts & sweets . If you want to piss her off, try forcing her to have Indian curry. She goes crazy for bananas like minions. INSTAGRAM
Patricia - Cute Spanish girl from London who is in a serious relationship with food. If she is rude/awkward, just find food and she would be the sweetest person. INSTAGRAM
Vishal - IT guy from Pune who loves his personnel space and he doesn't give a damn about others. You be nice to him and he would give you a good company. INSTAGRAM
HOPE WAYANNAD SURPRISES ME ON CHRISTMAS