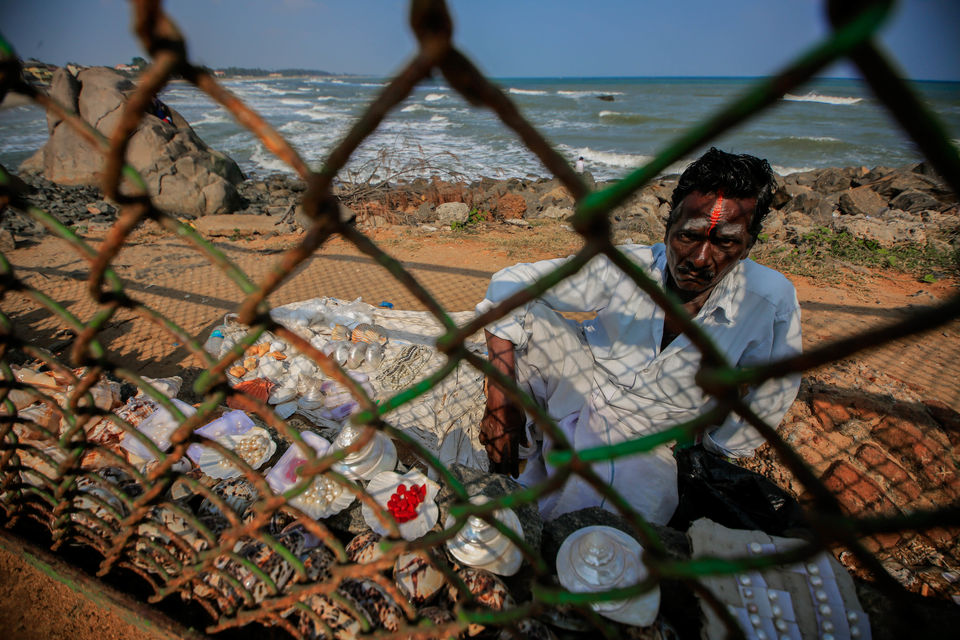 A while ago, my friends and I were invited to attend a two-day wedding in Chennai. While the wedding was festive and quite enjoyable, we sneaked out early on day two to return home, for various reasons. I hitched a ride back with two of my friends since they were driving, and we decided to stop by the historic port town of Mahabalipuram.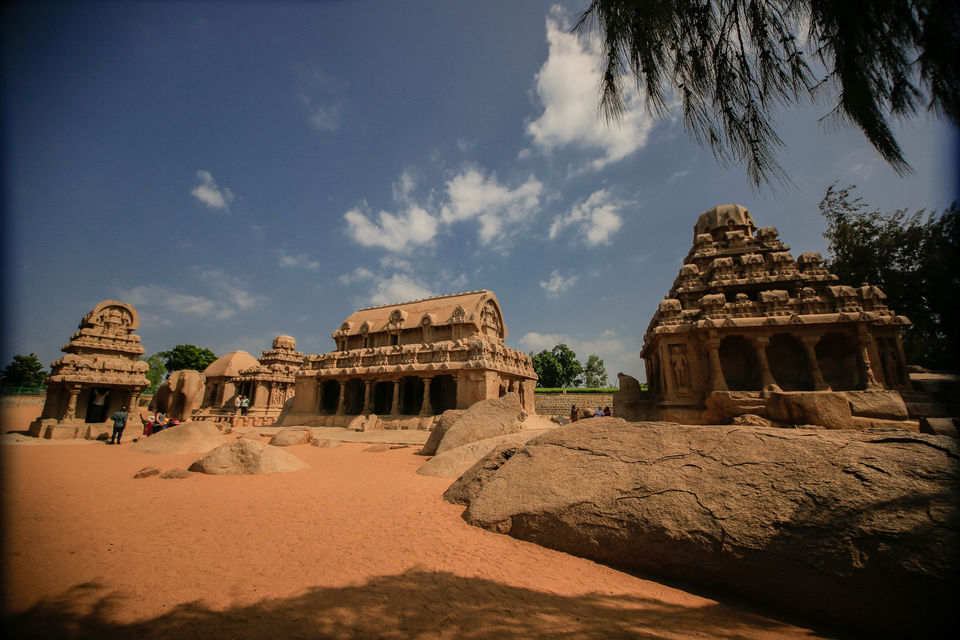 Named hence as it overlooks the shore of the Bay of Bengal, the Shore Temple rises powerfully upwards and outwards in full Pallava glory, with elegant Dravidian-style carvings and sculptures featured across the temple structure.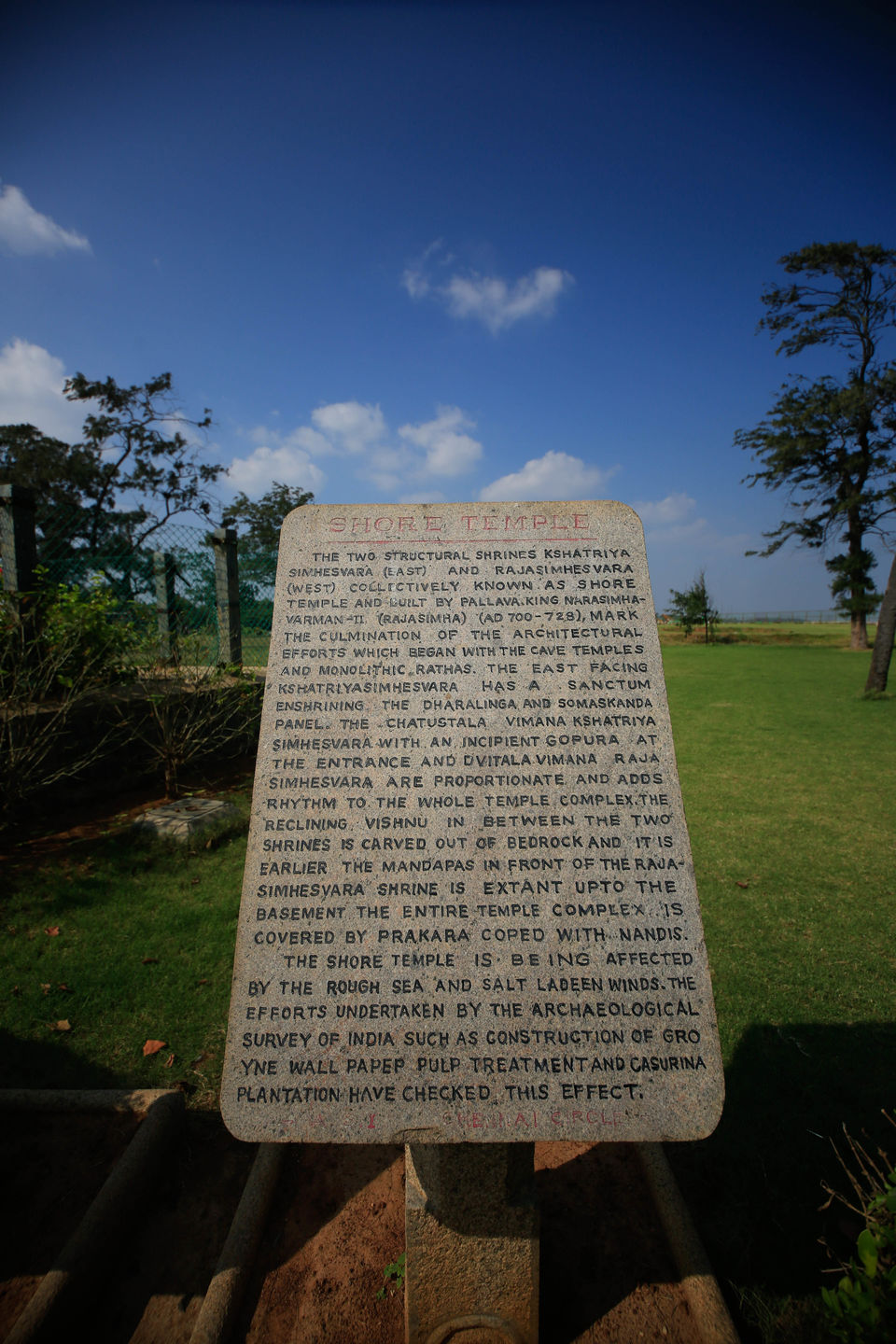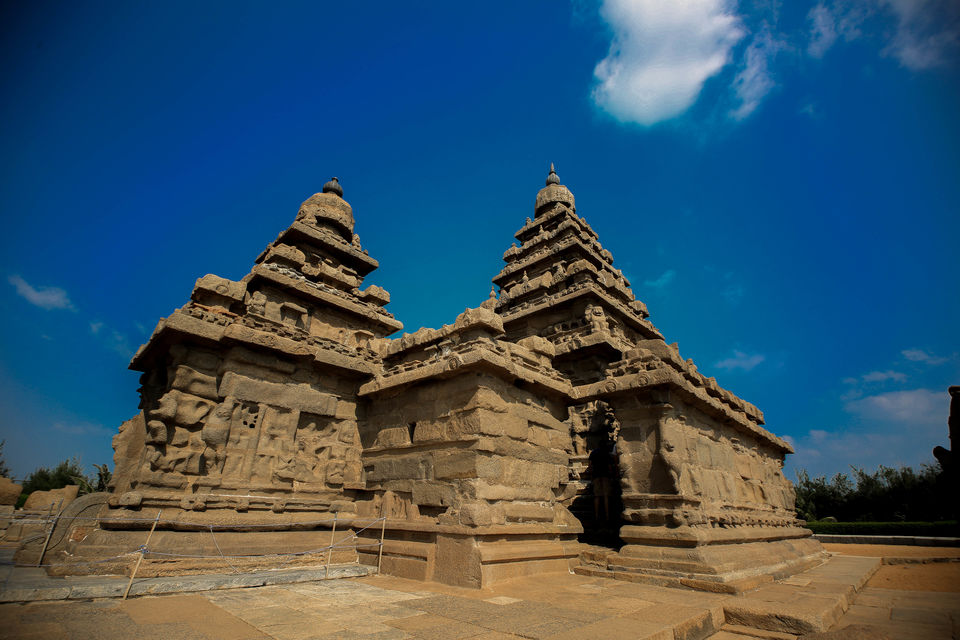 Usually, I do a bit of reading about a place before I travel, especially if to place of historic importance. However, this being quite an impromptu trip (add to this poor internet connectivity), I had to skip this step. Nevertheless, the sites were visual and educational treats in themselves, and no amount of reading about the place can make up for actually drinking in everything with your eyes.
Mahabalipuram (Mamallapuram, or Mahabs) is a small sea-facing town in Tamil Nadu, South India, and is around 50 kilometers/31 miles, or a two-hour bus-journey away from Chennai. It was a major seaport of the Pallava kingdom, and houses several archaeological marvels that stand as testaments to the richness of the Pallava reign, and their skilled architecture.
Since it is a beach town, expect salty air, humidity, and sweltering summery-heat in winter months even; we visited this lovely coastal town in December, and boy were we on the verge of melting!
We had to get back to Bangalore by nightfall, and since we were pressed for time, we limited our itinerary to the Pancha Rathas and the Shore Temple, and lunch at Burger Shack (unfortunately, the eatery is permanently closed).
The Pancha Rathas
The Pancha Rathas (Sanskrit for Five Chariots) are 7th-century temples, located at the southern end of Mahabalipuram, and were buried in sand until they were excavated by the British some two-hundred years ago. Carved from monoliths, each structure is dedicated to a Hindu god, and is named after the Pandavas and their wife, Draupadi. The area carries the privilege of being a UNESCO World Heritage Site.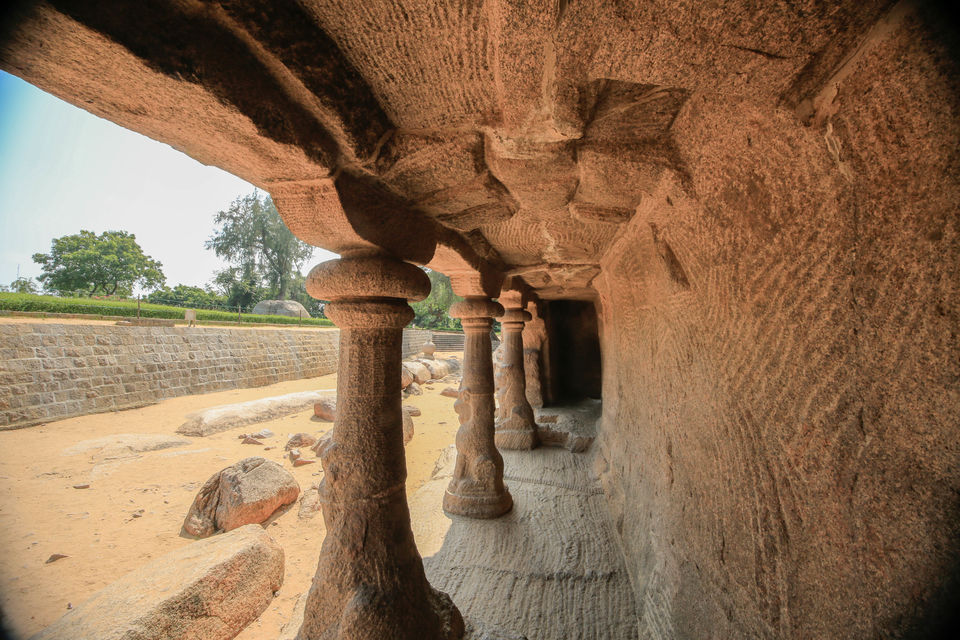 The Draupadi Ratha, the first ratha to the left, is built in the form of a small hut, and is dedicated to the goddess Durga. A sculpted lion (Durga's mount) stands outside, as though in wait.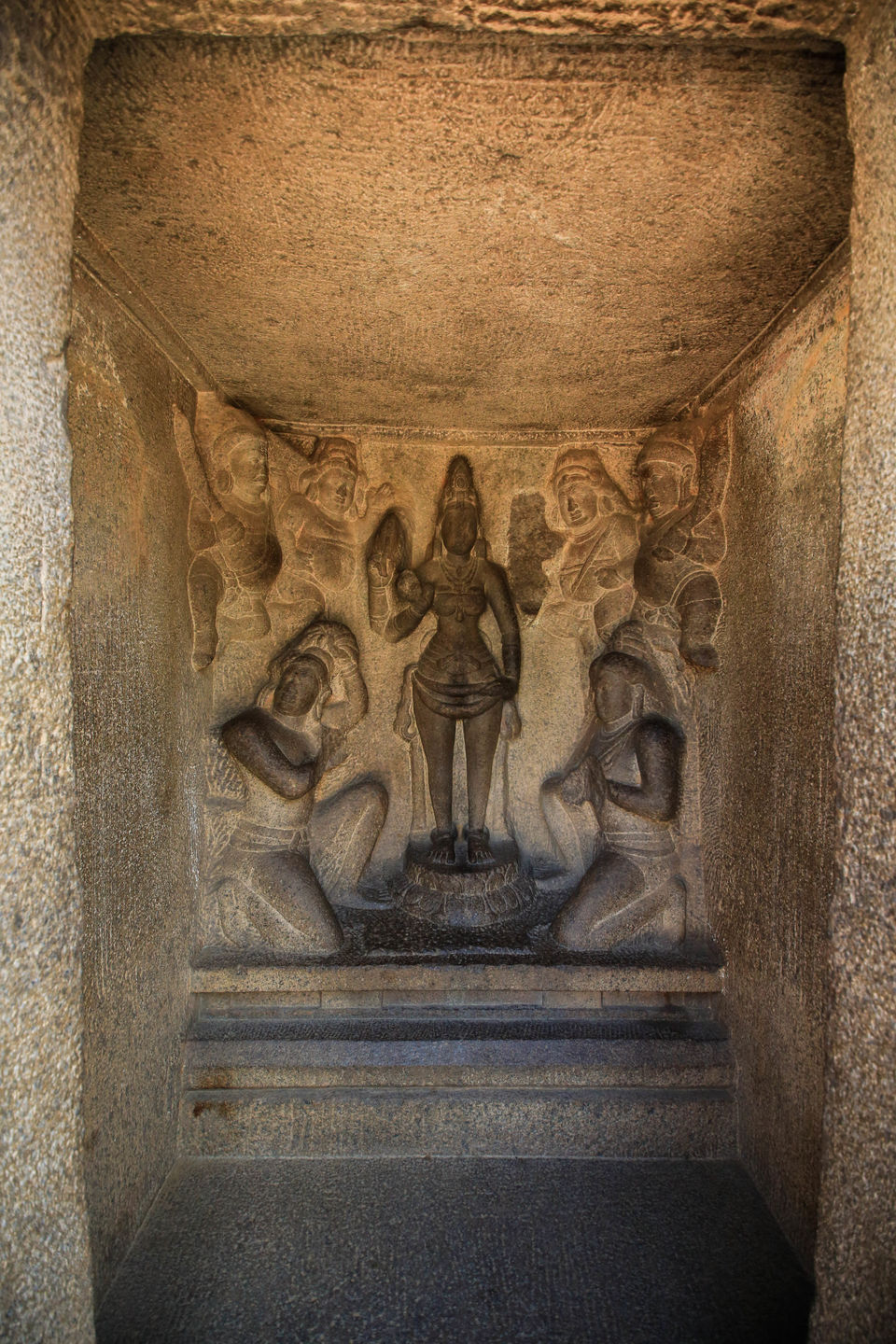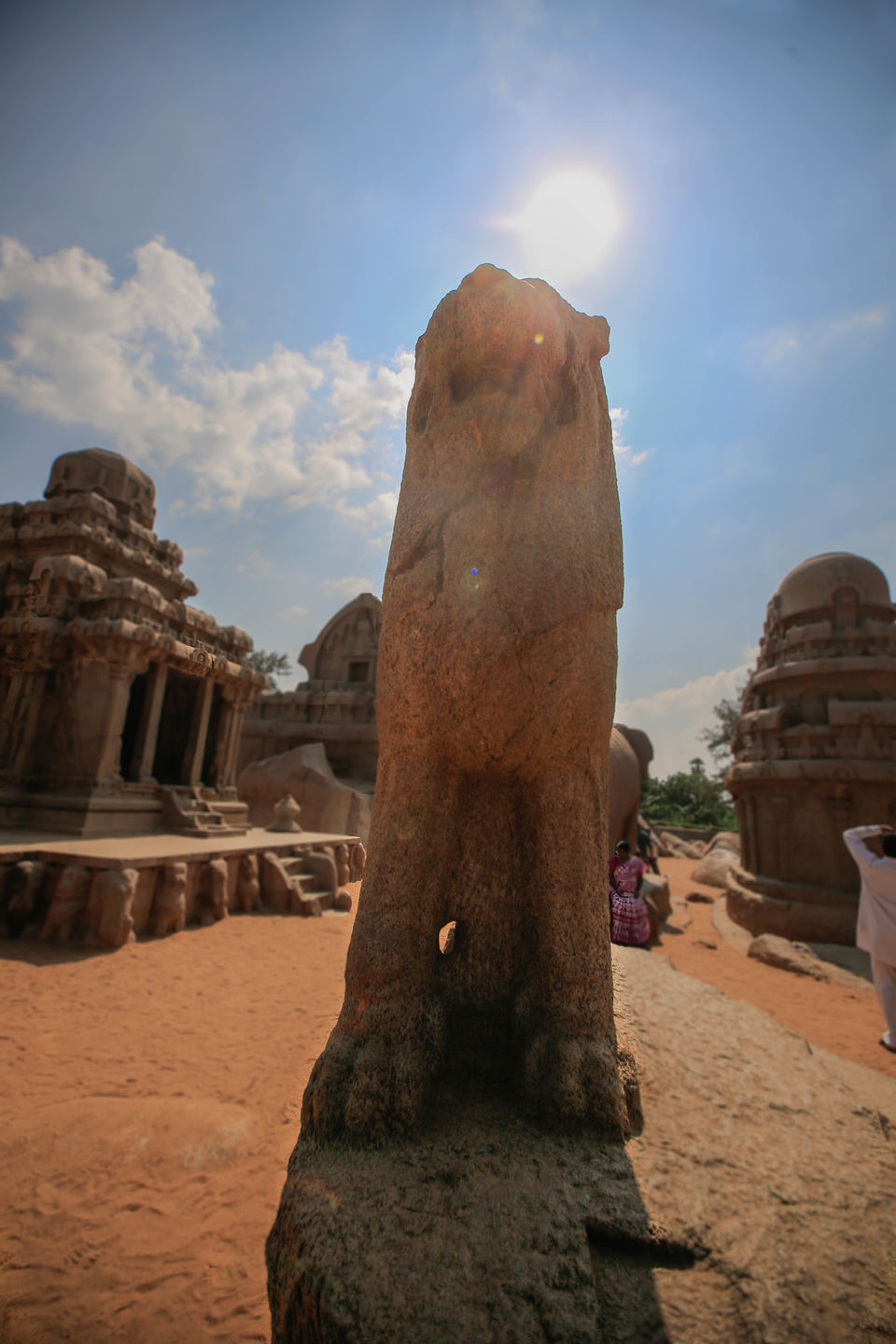 The Arjuna Ratha is next in line, and is a structure that is dedicated to Shiva. It features pilasters, miniature roof shrines, a small octagonal dome, and a huge Nandi (mount to Shiva) behind the structure.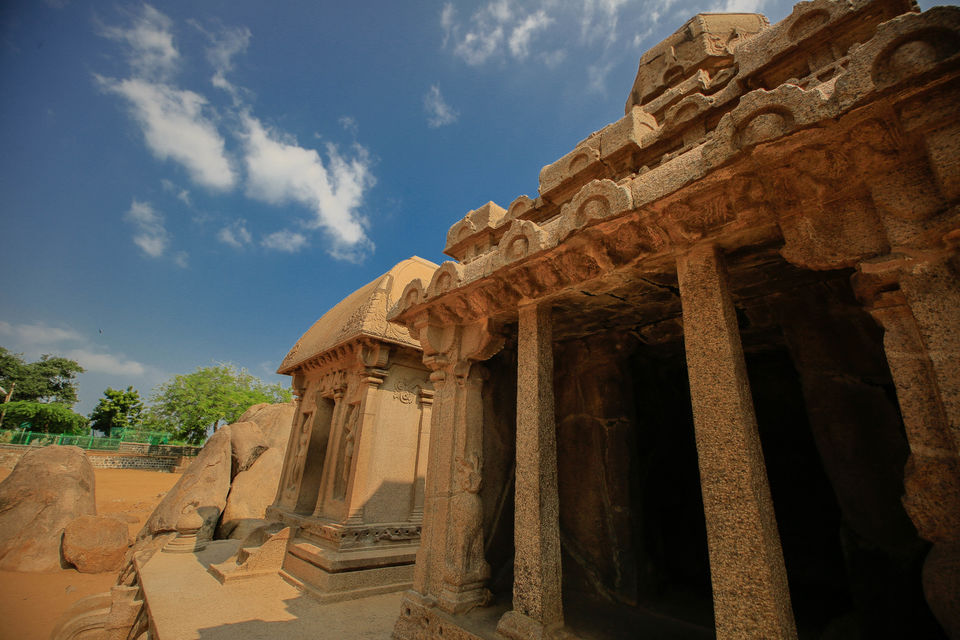 The Bhima Ratha, housing a shrine to Vishnu, has an incomplete ground floor. This single-tiered oblong temple features a barrel-vaulted roof and ornately carved columns.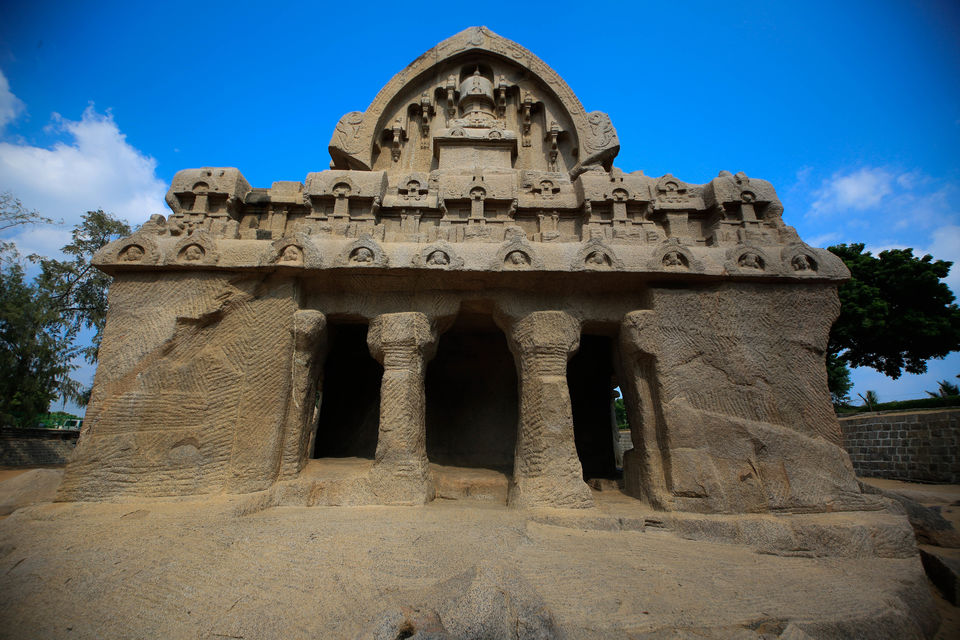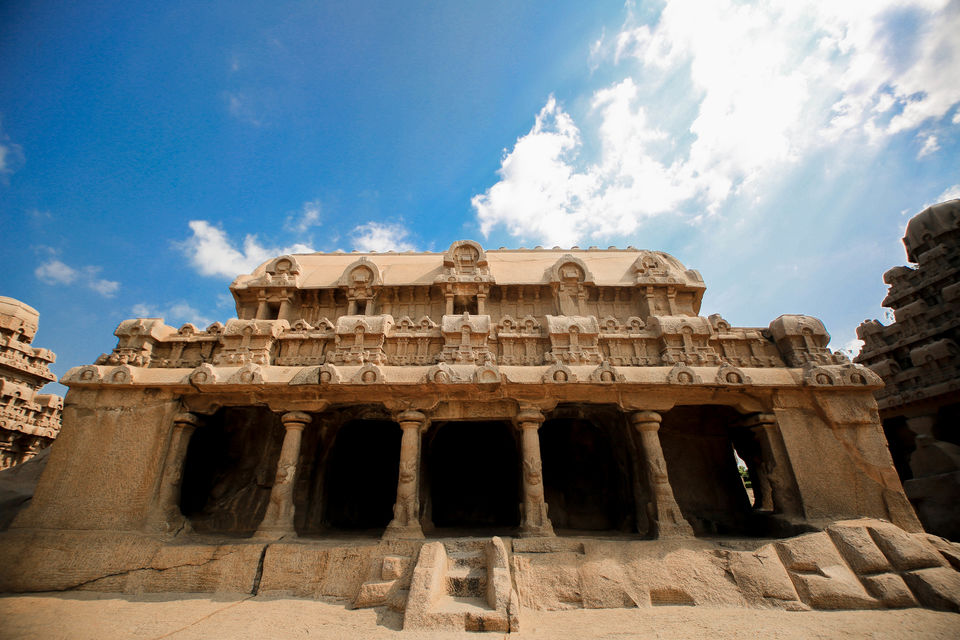 The Dharmaraja Ratha is the tallest of the lot, and while similar to the Arjuna Ratha, it has three tiers, studded with carved icons, and lion pillars.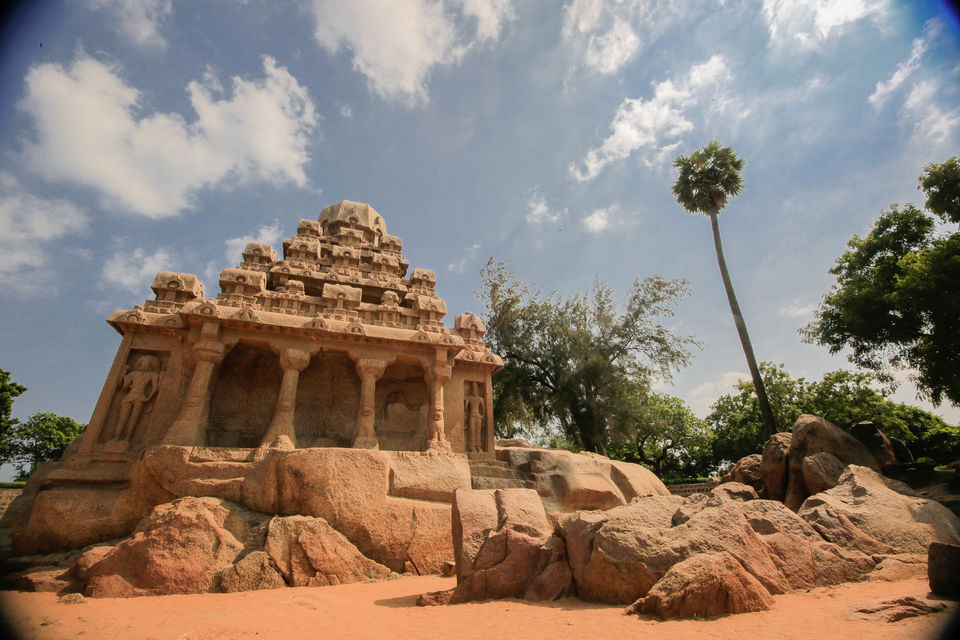 The Nakula-Sahadeva Ratha, dedicated to Indra, is named after the twin Pandavas, and is carved away from the other rathas. To its side is a near-perfect, life-size stone elephant.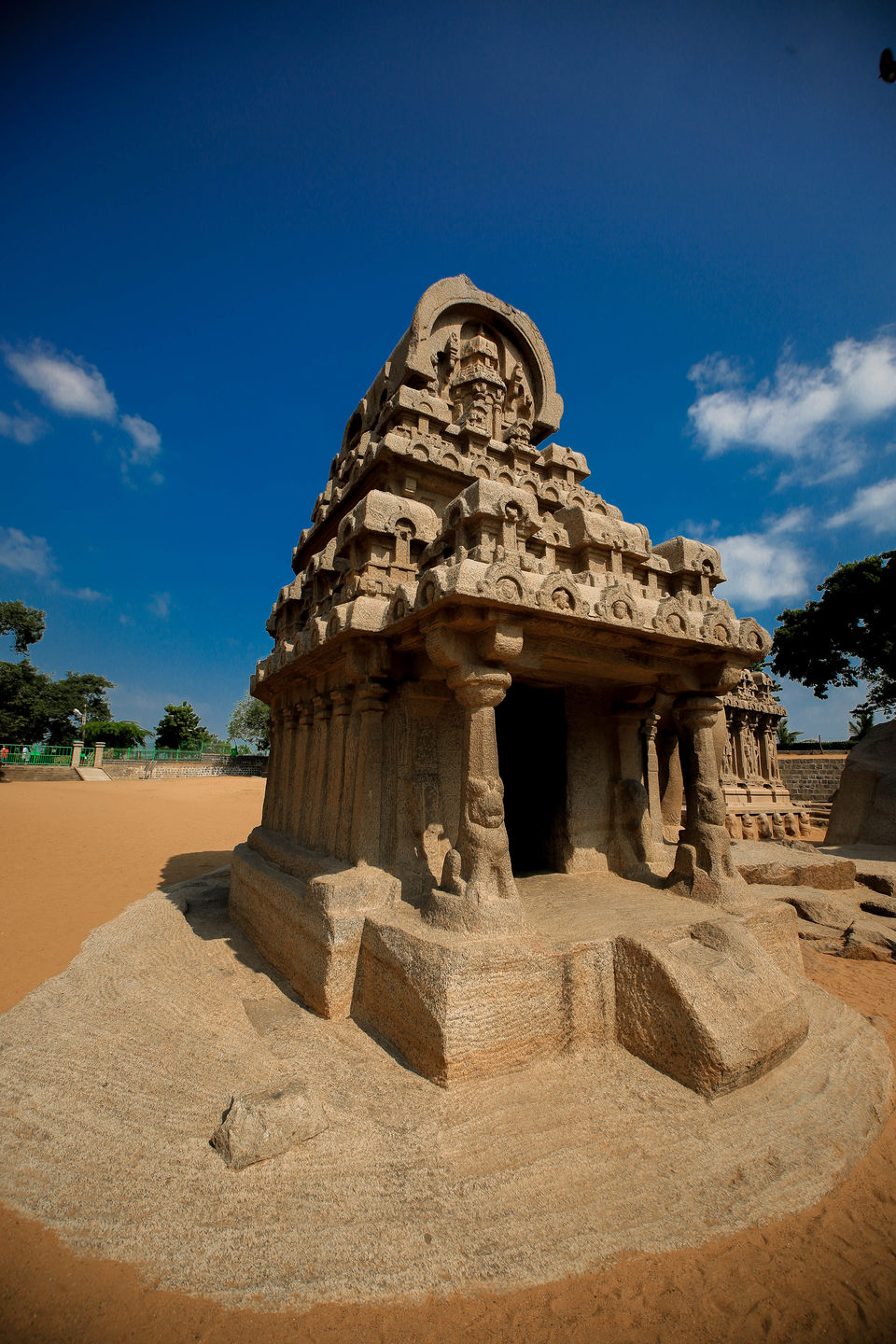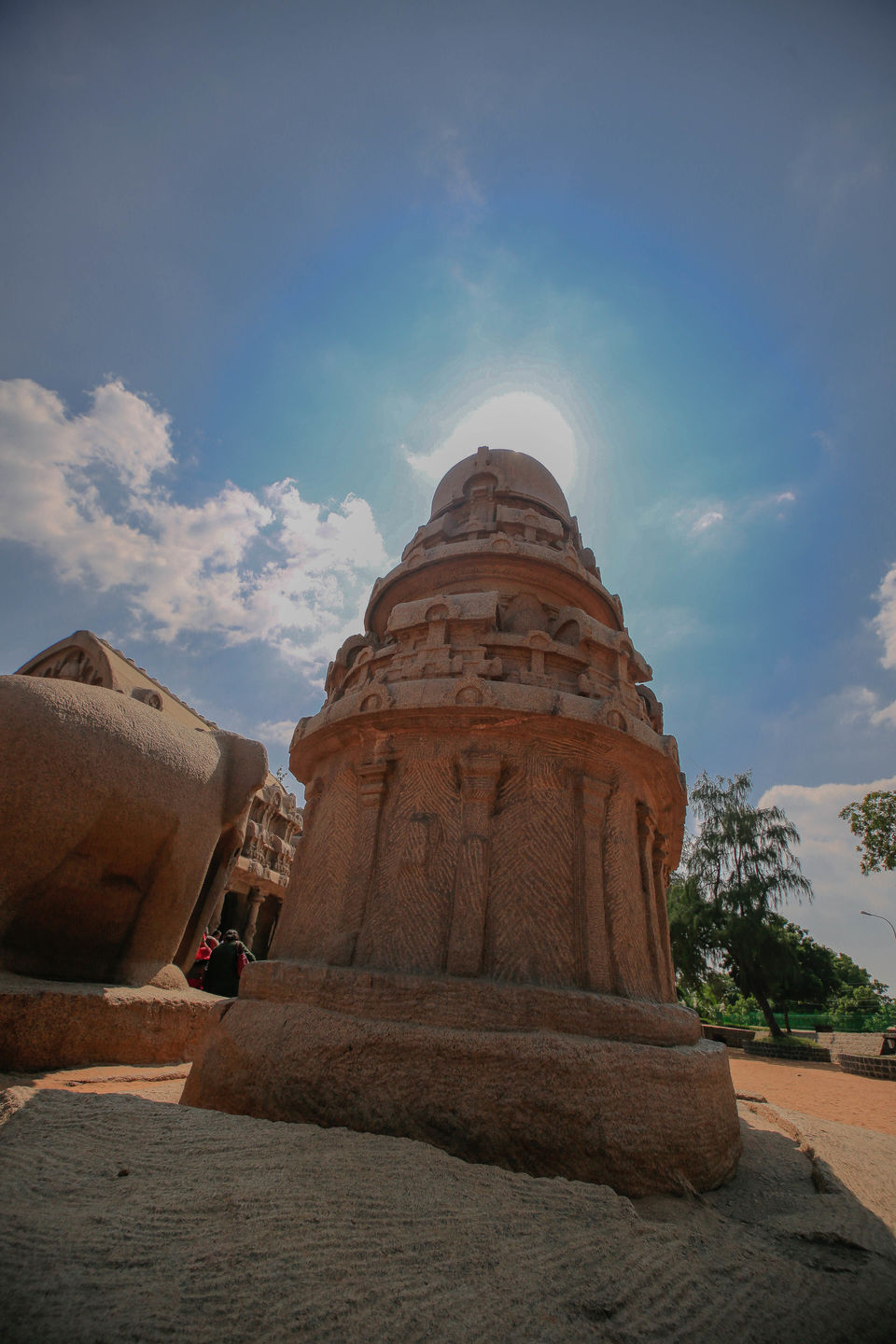 When you exit the Pancha Rathas complex, you will find a huddle of small shops close by, selling local ornaments, trinkets, memorabilia, and colourful wares. You could purchase gifts for family and friends from these shops, and patronize local craftsmen.
The Shore Temple
The Shore Temple is not a single structure, but a group of three temples built on a single platform; of these, two serve as shrines to Shiva. The third is a shrine to Vishnu, who is shown reposing. The temple courtyard is framed by rows of Nandi sculptures.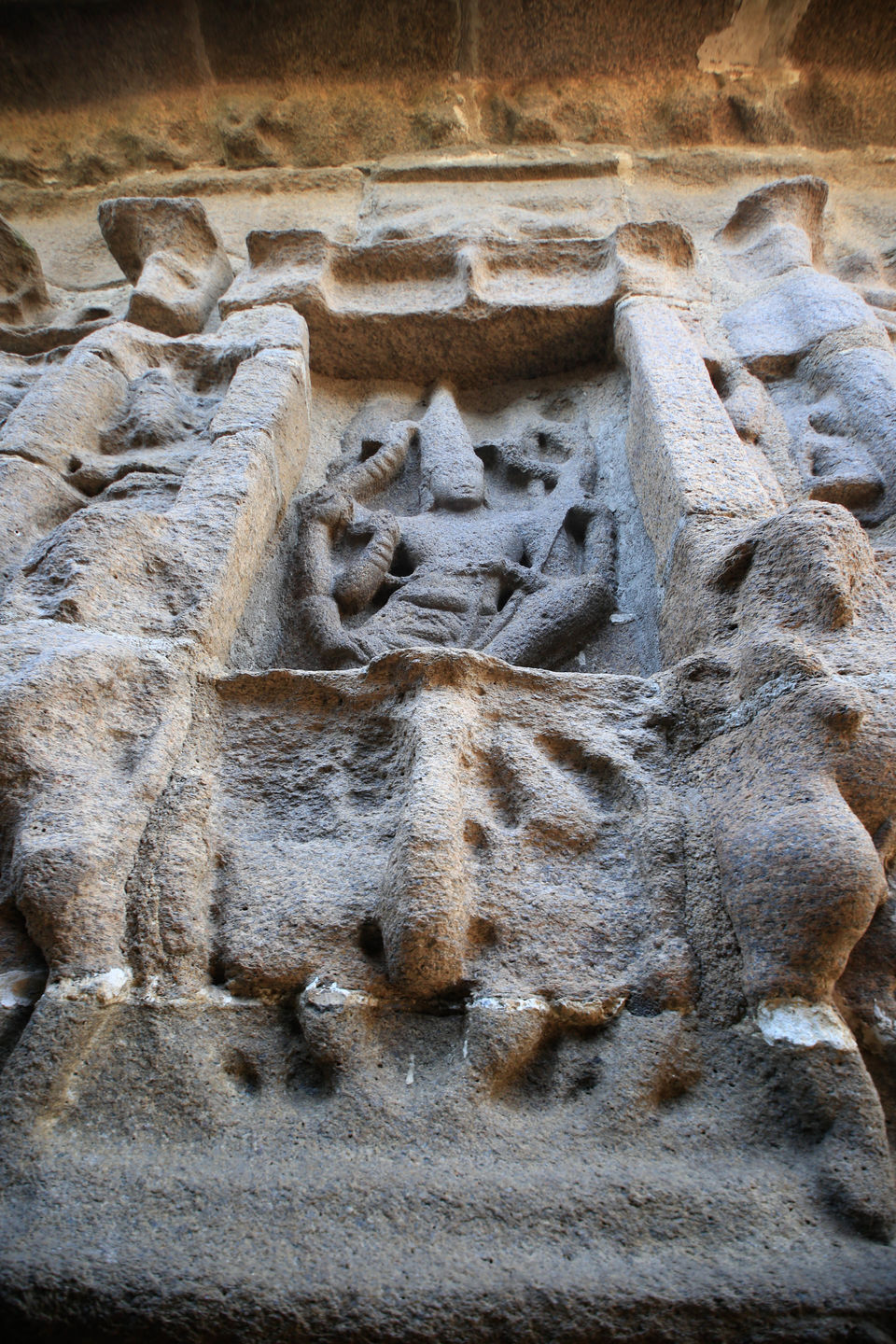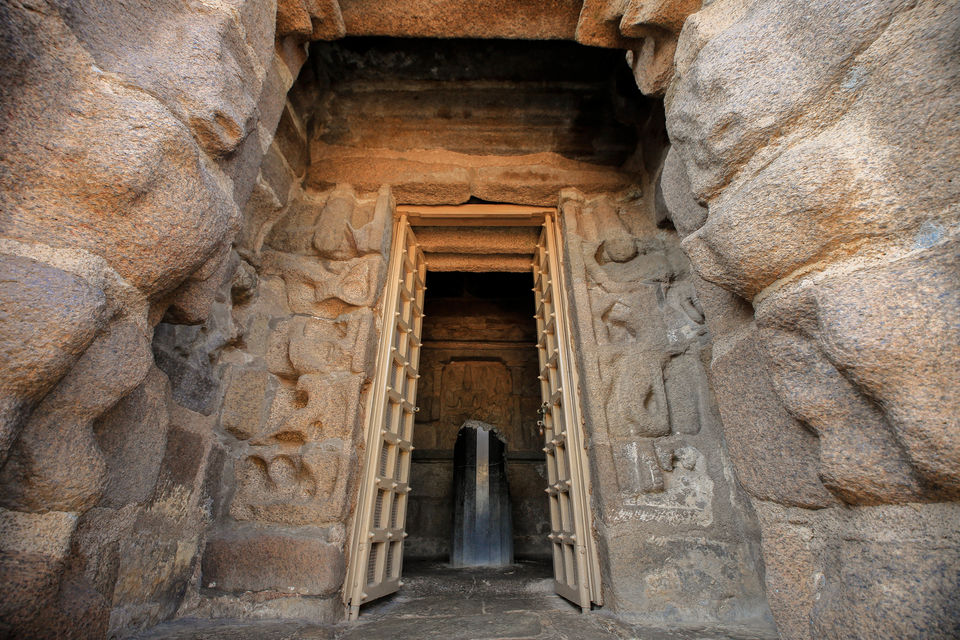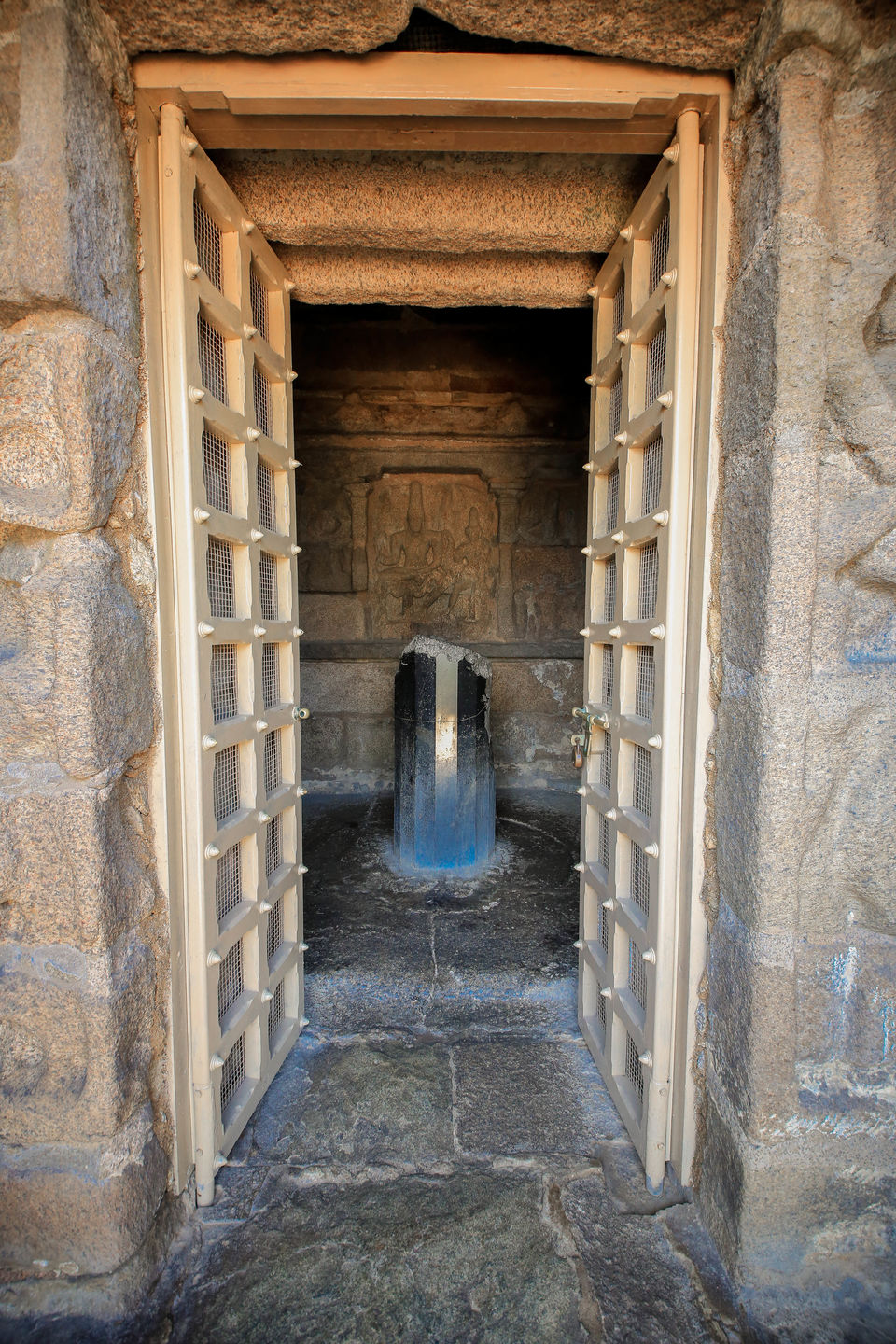 The Shore Temple was a part of the Seven Pagodas, as mentioned in the documents maintained by European travellers, indicating that seven such temples were in existence, and six are now submerged in the sea.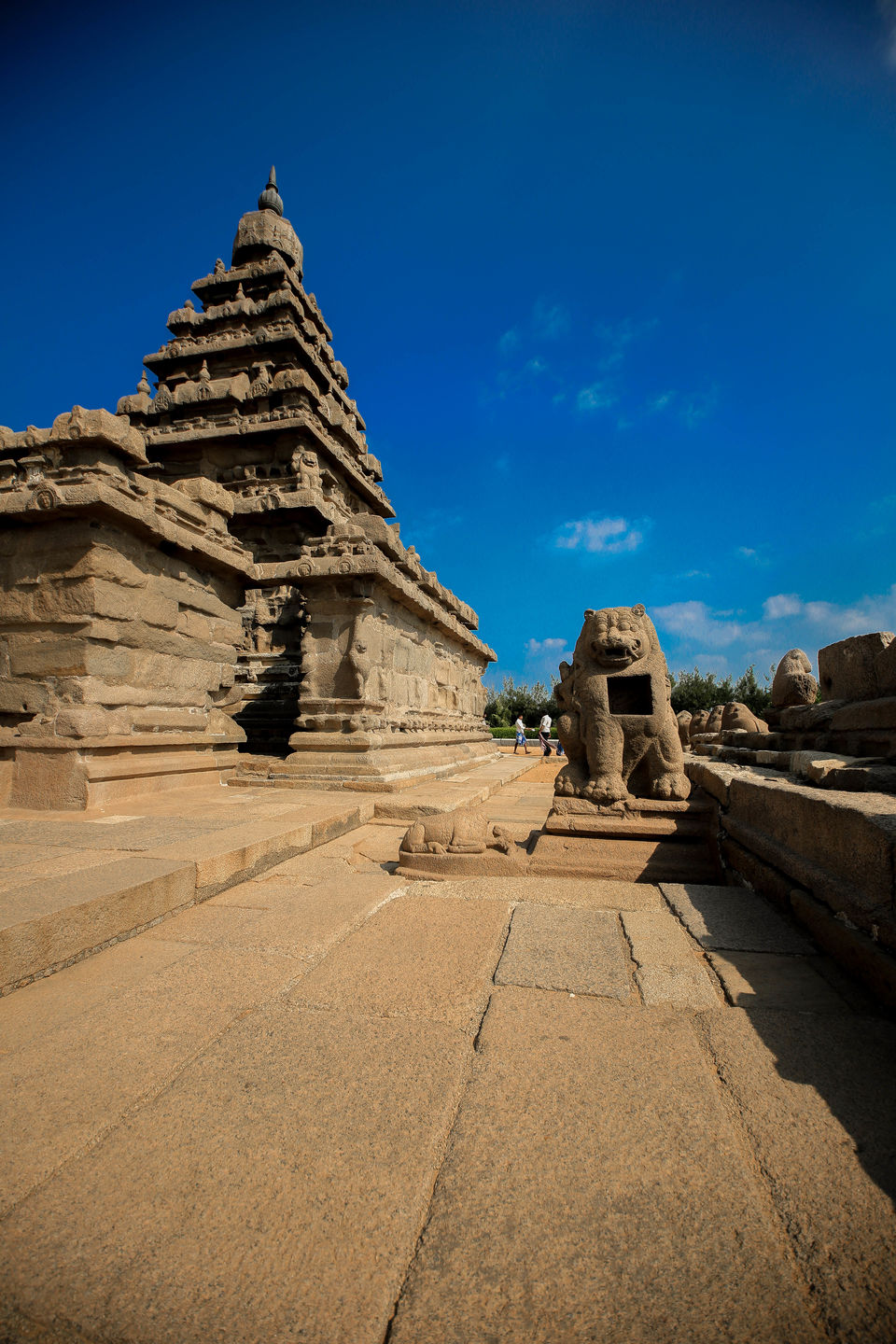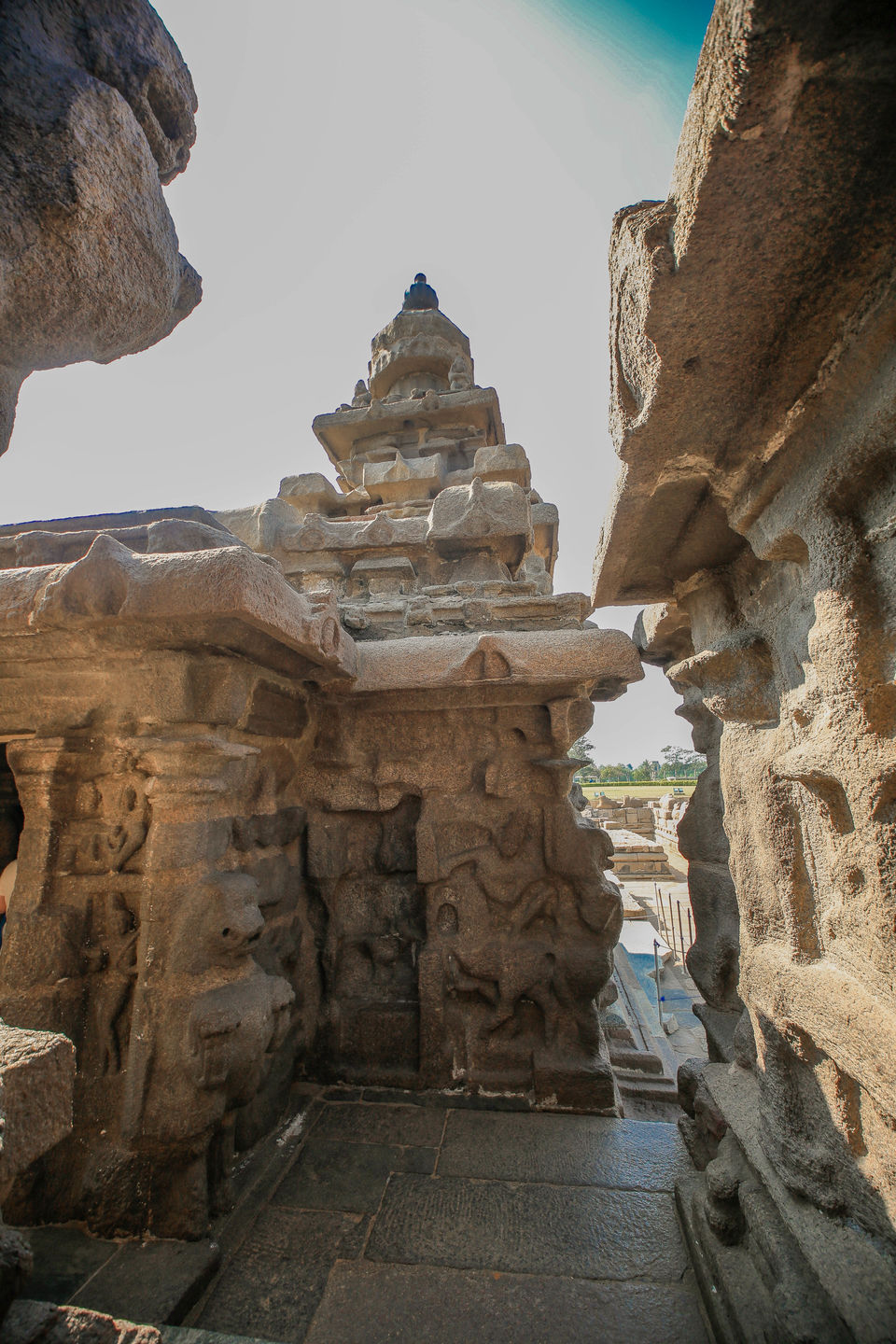 Since Mahabalipuram functioned as a port during the reign of the Pallavas, the Shore Temple possibly acted as a landmark for the navigation of ships.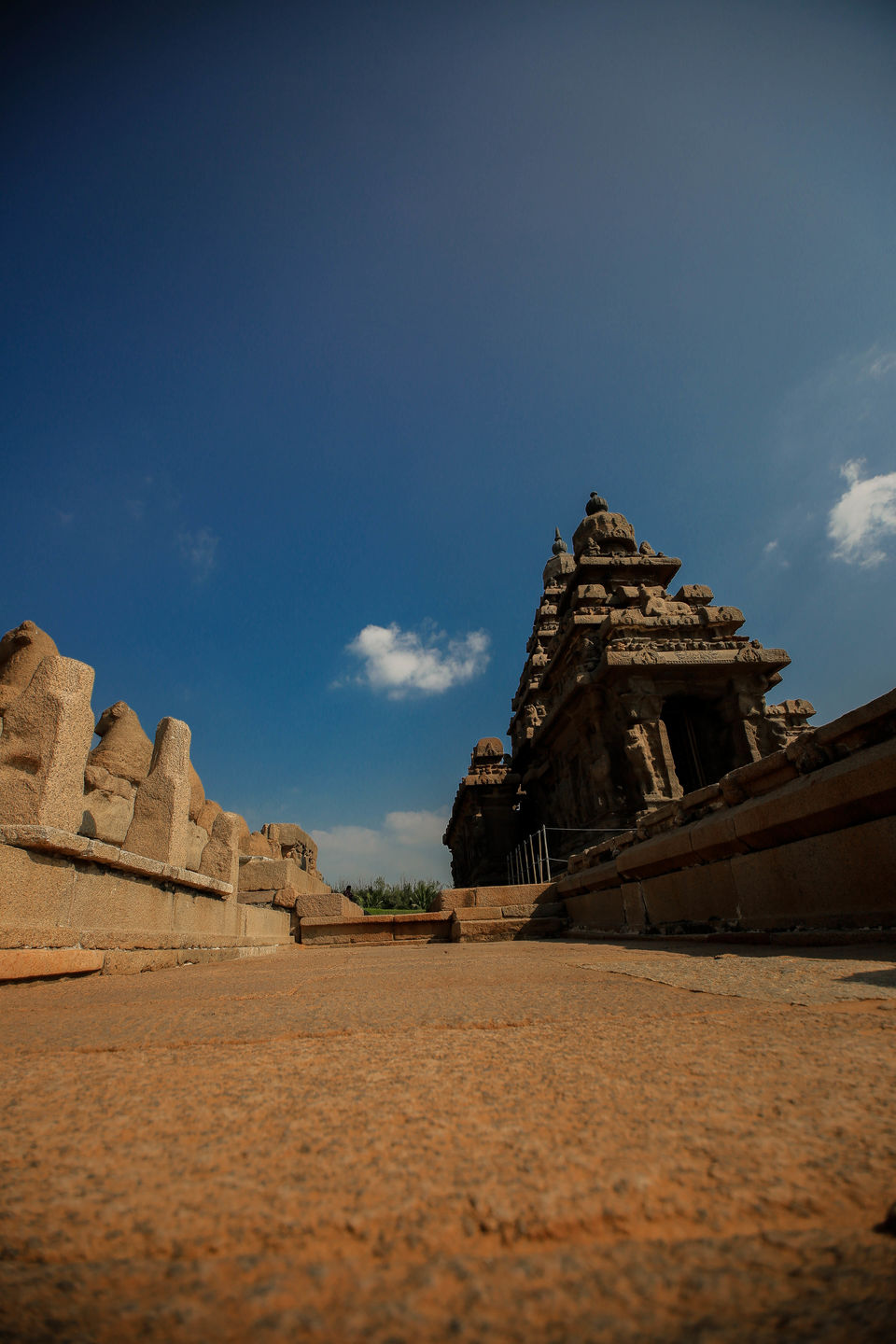 Listed below are a few points that you will not regret reading –
- The entry fee to the Pancha Rathas and the Shore Temple is INR 10 for Indian citizens, and US$ 5 for foreign nationals. Children under the age of fifteen get in for free, possibly for historic karma-points. Admission to the surrounding monuments is free. Sale of entry tickets closes at 5:30 pm IST.
- While still photography is allowed at no extra charge, INR 25 is charged for video shoots.
- The sites are open all seven days of the week, and timings for all the sites are standard – 6 a.m. to 6 p.m.
- Common sense dictates avoiding the sites between 1 PM and 4 PM IST, as the sun is at its highest and harshest then. Since sunrise and sunset add exponentially to the beauty of the sites, try visiting at dawn or dusk for best views.
- Do not forget to carry a good sunblock with UVA and UVB protection. A matte or gel-based sunblock is recommended, as the humidity may cause moisturizing sunblocks to get ultra-sticky. You can also pop a container of aloe gel in your bag, for some post-sun TLC.
- Carry an umbrella, or a wide-brimmed hat, and sunglasses. Remember that in beach towns, the sun is not always your friend, even in winter.
- Wear light-coloured and loose clothes. To avoid sun tan and sun burns, I recommend wearing clothes that cover – yes, it is really tempting to wear shorts and sleeveless shirts, but keep in mind that the harsh sun will do nasty things to your skin. I wore a cotton tank top and layered it with a light scarf, and a pair of floral cotton harem pants. Additionally, while Mahabalipuram locals get tourists in a melange of outfits by the truckload, it is best to wear clothes that do not shock/scandalize them too much – be a Roman while in Rome.
- In terms of footwear, comfortable sandals/flip-flops are recommended if you intend to walk around, as quite a few of the sites are located in sandy areas. These should work even if you intend to take a bicycle to cover the area.
- It bodes well to carry a few bottles of water; it is best to carry a PET bottle filled with water, but in case you buy water bottles from stores, please discard the used bottles (crush them first) into bins. The town will thank you.
There are several places to visit in Mahabalipuram, besides the two that we did. A little planning goes a long way, so try to create a basic itinerary to make the best use of your time at this historical town, without making enemies with the sun.